THE SURVIVAL TIN
All your survival essentials should fit into a tobacco tin, says bushcraft and survival expert John Fenna. Here's the best way to prepare for the worst when riding off into the unknown…
When travelling in remote areas, it's good to plan for the 'what ifs'. My long years of being out in the wilds have taught me that a survival tin makes for a good insurance policy. The adventure motorcyclist should have two survival kits; one which is small and light enough to carry in a pocket at all times (in case you get separated from your bike) and a larger bug-out bag that can be worn on a belt or shoulder strap, or attached to the bike luggage.
The tobacco-tin kit can live forgotten in a convenient pocket of your jacket or trousers so it's with you constantly. Several commercial tins are available on the market from sites such as www. lakelandbushcraft.co.uk for around £10.50 and these can form the basis of your own personal kit, to which you can add your own essential items. If you want to make your own kit from scratch, however, a clean empty tobacco tin is a good container. Tobacco tins are waterproof, dustproof, insect proof and crushproof (not to mention recycled!) which is why they're a popular choice.
Tobacco tin kit
✓ Waterproof matches and striker
✓ Firesteel
✓ Candle (tea light or joke self-relighting candles are good)
✓ Tampon or cotton wool tinder
✓ Water purification tablets
✓ Potassium permanganate (this may be difficult to find – try aquarium supply shops)
✓ Salt
✓ Sugar
✓ Condom
✓ Knife made from a hacksaw blade
✓ Wire saw
✓ Copper wire (several meters of thin but tough wire)
✓ Craft knife or scalpel blade
✓ Cord
✓ Sewing kit with safety pins
✓ Mini compass
✓ Snare
✓ Small fishing kit
✓ Tinfoil, approx 60 x 60cm
✓ Some adhesive wound dressings
✓ Pencil
✓ Survival instruction sheet
✓ Notepaper
✓ Whistle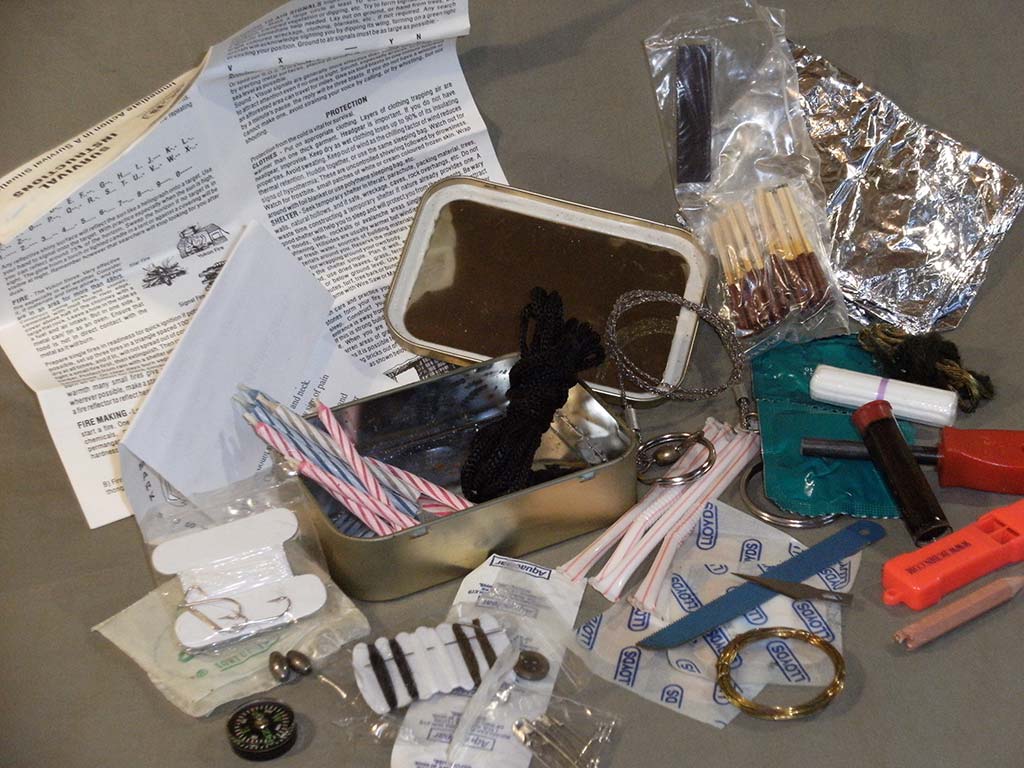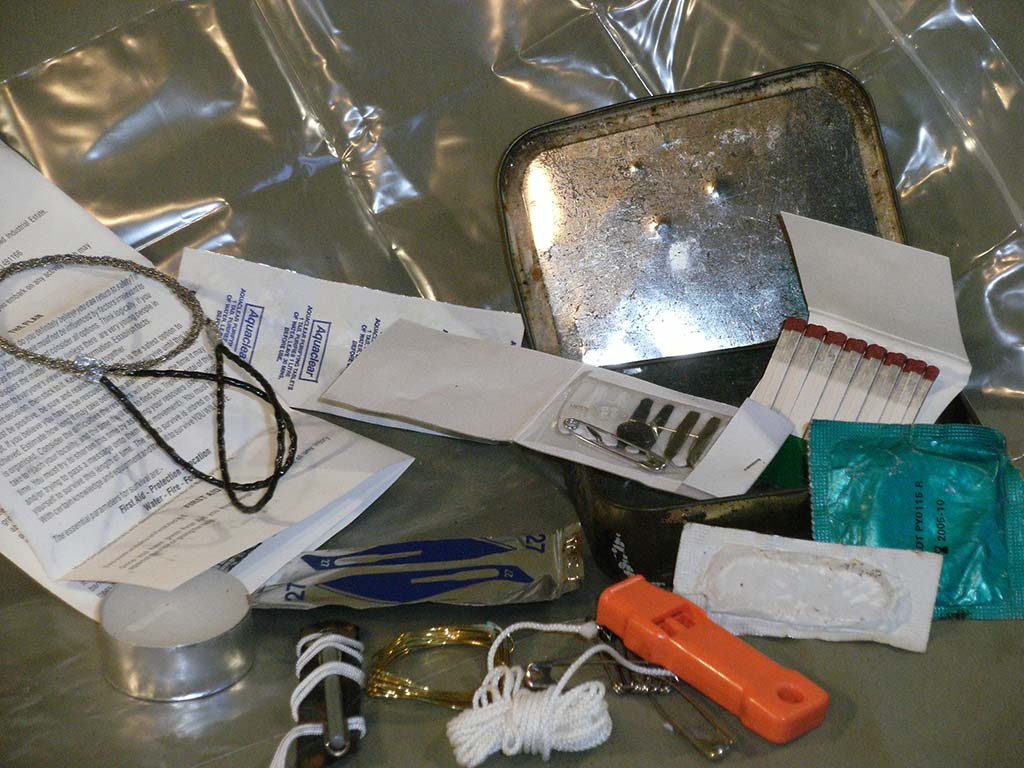 A military-type mess tin is ideal for carrying the larger bug-out bag survival kit. They're robust and easily sealed with re-usable tape. The items carried in the bug-out bag and mess tin should ideally be kept in their own waterproof containers, such as re-sealable polybags. The mess tin outlined here is a three-piece, non-stick version.
The bug-out bag itself is a response-pack design. It holds a surprising amount of kit and can be worn on a belt, a shoulder strap, or attached to your bike's load; it also has additional loops to which extra kit can be attached. I find this type of bag particularly versatile and comfortable to carry, though some motorcycle bumbags are equally useful. Both the mess tin and bug-out bag are available to buy fairly cheaply in most army surplus stores. To be really effective when needed, all your kits must be carefully maintained. Check them regularly and replace anything that's deteriorated or used up.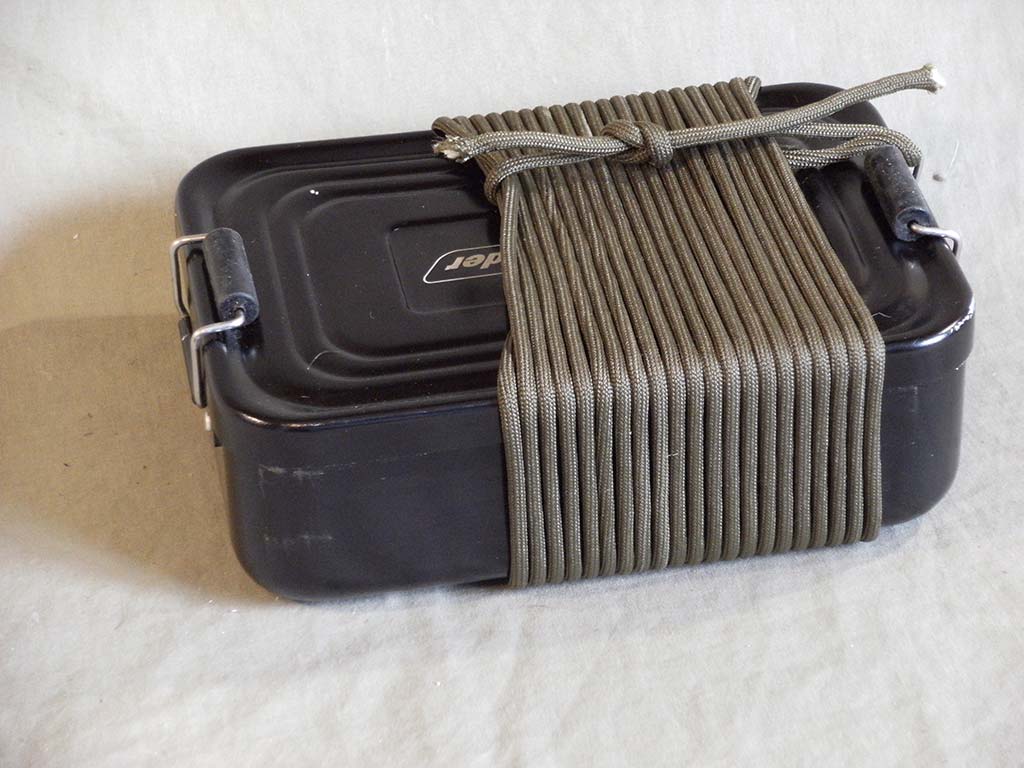 Mess tin kit
As tobacco tin kit but minus the hacksaw blade and with more wire, cord, dressings, potassium permanganate, water purification tablets, tampons, tinder and fishing kit, plus…
✓ Emergency poncho
✓ Space blanket
✓ Resealable polybag, approx 30 x 30cm
✓ Multi-tool or Swiss Army Knife
✓ Disposable lighter
(wrapped in sticky tape)
✓ Small tin of Vaseline
✓ Small signal mirror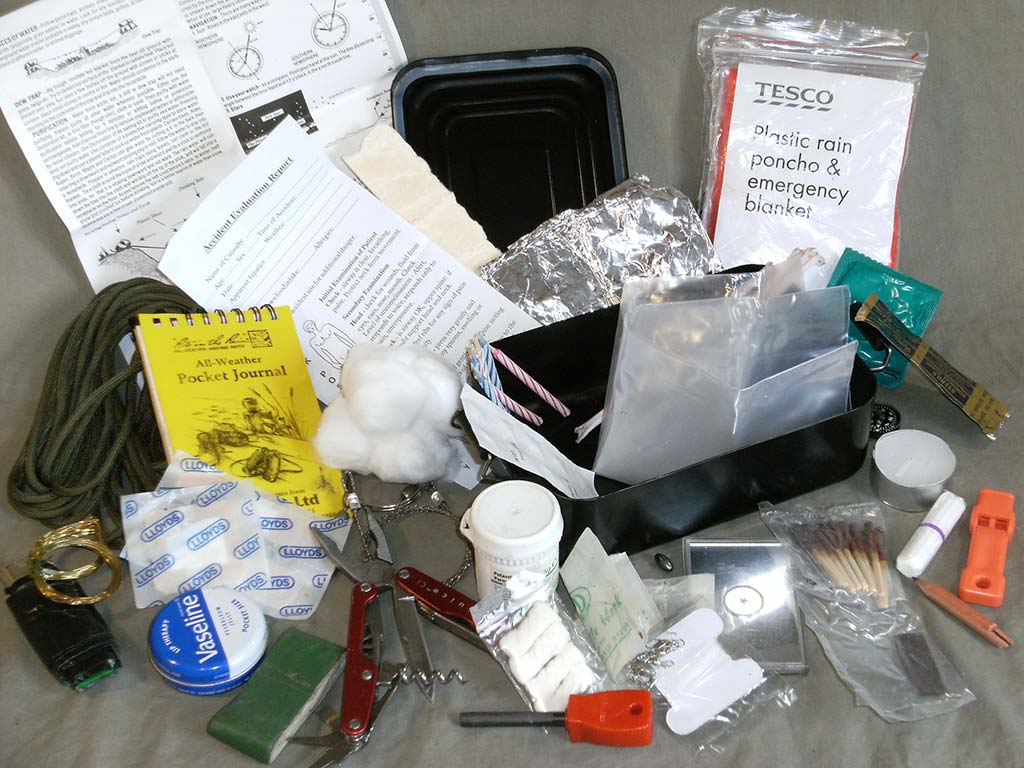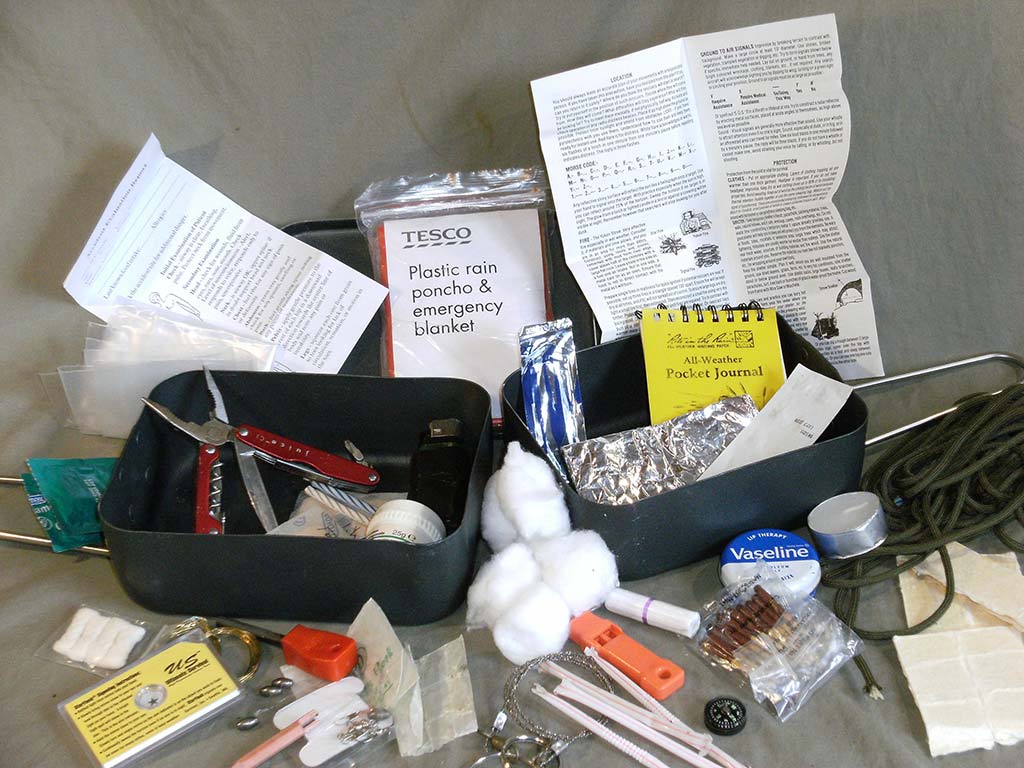 6 Survival Basics
After first aid, the main priorities you want to address when it all goes pear-shaped are:
1 SHELTER
Get yourself in a position where no more harm will come to you. You lose heat over 20 times faster to water than air, so getting dry is important
2 FIRE
Useful for not only heat and light but also for signalling, water purification, cooking etc, as well as keeping up your downtrodden spirits
3 WATER
You can survive for three minutes without air, three days without water and three weeks without food. So water, especially in hot weather, is a top priority. However, dirty water is one of the world's main sources of killer diseases, and a clean, safe supply of water is vitally important. Even going for short periods without adequate hydration can impair your thinking – potentially making a bad situation worse
4 FOOD
Naturally enough, being hungry affects your ability to work. It also reduces your resistance to the cold, to disease and despair. Having said that, you can survive on your body's reserves for quite a while if needs be; I wouldn't recommend a survival situation as the ideal time or place to start your crash diet though.
5 LOCATION
Make where you are more apparent to any rescuers, to help get you found. Where you are will also affect your survival chances. There may be better resources and hopes of being seen close by, so assessing and exploiting the best of your location will help you.
6 EVACUATION
In the majority of disaster situations, it's better to plan on help finding you than struggling to make your own way out. In some circumstances, when you know that no one will be actively looking for you or your position means that an extended stay will not be practical, then self evacuation may be needed.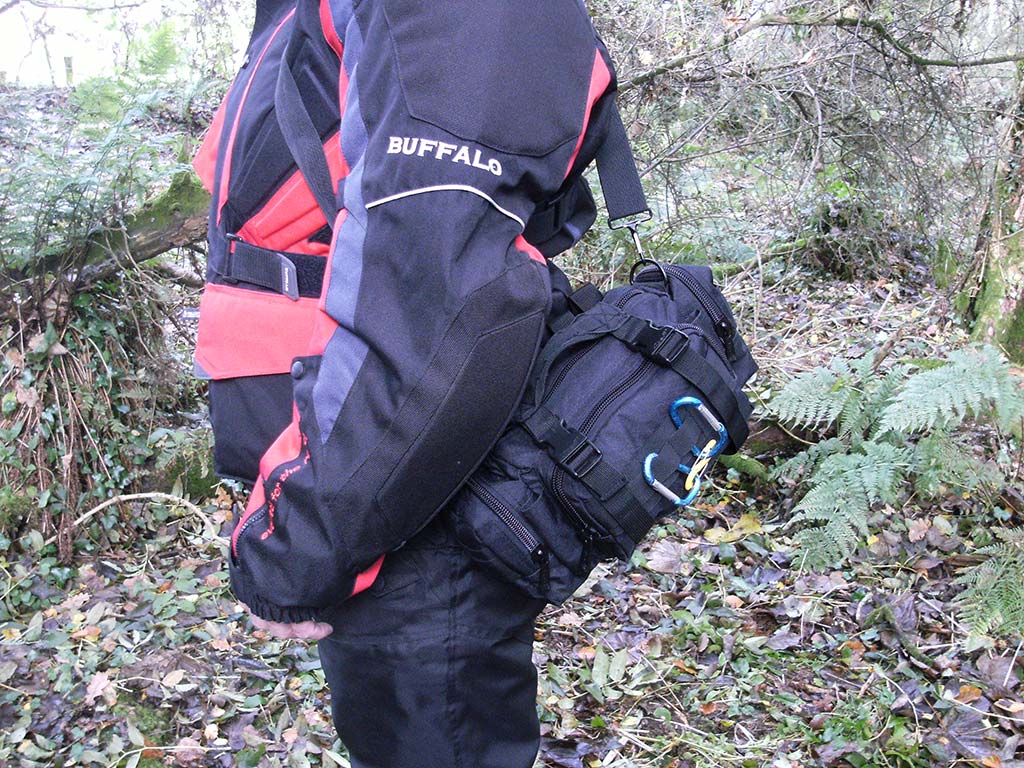 Bug-out bag kit
This can carry your mess tin survival kit and also:
✓ Large folding or fixed blade knife
✓ Sharpening stone
✓ Torch
✓ Spare bulb and batteries
✓ Small clump of wire wool
✓ Tea/coffee/sugar
✓ Solid fuel tablets such as Hexamine or similar
✓ A couple of small Karabiner clips
✓ Toilet tissue
✓ Boiled sweets, Kendal Mint Cake or energy bars
✓ Small first aid kit
✓ Personal medication
✓ Large polythene-type survival bag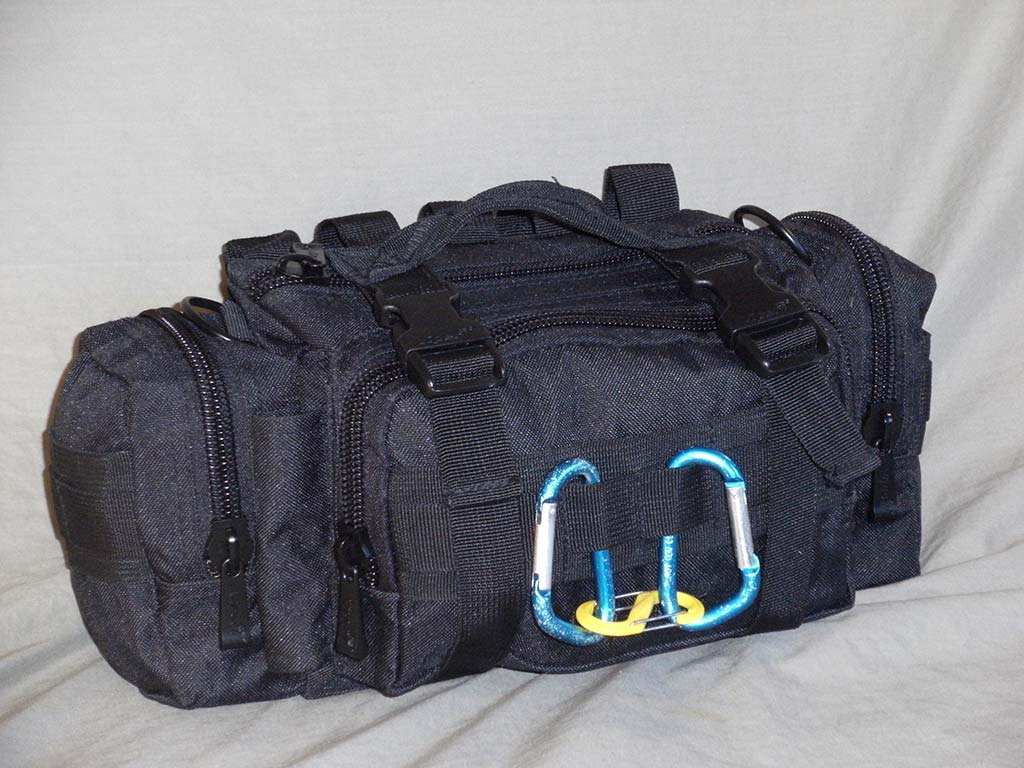 The kits listed here are geared towards travel in cold, wet, north-west European-type conditions and address the main survival priorities: shelter, fire, water, food, location and evacuation. In future issues, I'll be looking at these six survival basics using the survival kits outlined here, combined with bushcraft and survival skills. We'll also cover some tricks of the outdoor trade with regard to selecting your gear and how to use what you have around you in any given situation to your best advantage.
Who's writing?
John has been involved in outdoor education for over three decades. He has diplomas and certificates in everything from fashion design (he turned it to designing outdoor activity clothing – honest!) to canoe coaching. He's led expeditions in Eastern Europe, several African countries and Thailand, as well as literally walking the length and breadth of England. John started riding motorbikes at 16 and finally passed his car licence in his late 30s. Married to a very understanding wife, John lives in west Wales, but spends as much time as possible in wild(er) places.
My thanks to Roly, Greg, Mark and all the other members of Bushcraft UK and South Wales Bushcrafters who acted as models for the photos in these articles.