Green Lane expert Mike Beddows takes us on a tour of the Smuggler Trail, a hidden gem between the borders of Spain and Andorra…
Eight of us were enjoying some of the best tapas we had ever experienced during an evening in the campsite bar in Sort, Spain. We were getting to know our host, Peppe (barman and excellent chef) very well. He was smoking like a chimney all night and informed us that he made two trips a month over to nearby Andorra for cheap cigarettes. With the duty free limits at 300 cigs per trip we could see why this man needed multiple trips to satisfy his habit, and we believed him when he said he ran out on many occasions. What better way to show our gratitude for the fantastic food and cheap drinks than to head over to Andorra via the Smugglers Trail and bring him some tobacco back over, which would then serve as our tip for such a fantastic host. The following day's ride was planning itself. 
Six months previous myself and seven really good riding friends (who all met through ABR) decided on one of our many weekend jaunts around the UK that we should go abroad to trail ride. As I had previously been down to the Pyrenees trail riding it seemed a good option. I'd never ridden the Smugglers Trail and apart from knowing where Andorra is, I had no idea where the trail actually was. My extensive searching on the internet was not fruitful, but luckily for me I have several other friends who pointed me in the right direction. Maps were marked up and I knew where the Smugglers Trail was now. The rough plan was to sail down to Spain, ride the 170 or so miles to Jaca, then trail ride to Sort which we would use as our base for a few days. 
It turns out that the Smugglers Trail is an unpaved track leading from Spain into Andorra. Its primary use was for smuggling tobacco from the duty free principality of Andorra back into Spain through the border hamlet of Tor. The trail leads up to Port de Cabus pass at an elevation of 2,302 meters. The road on the Andorran side is paved. I have been informed that although there are no custom points on the pass there are sometimes roving patrols via the Andorran border control.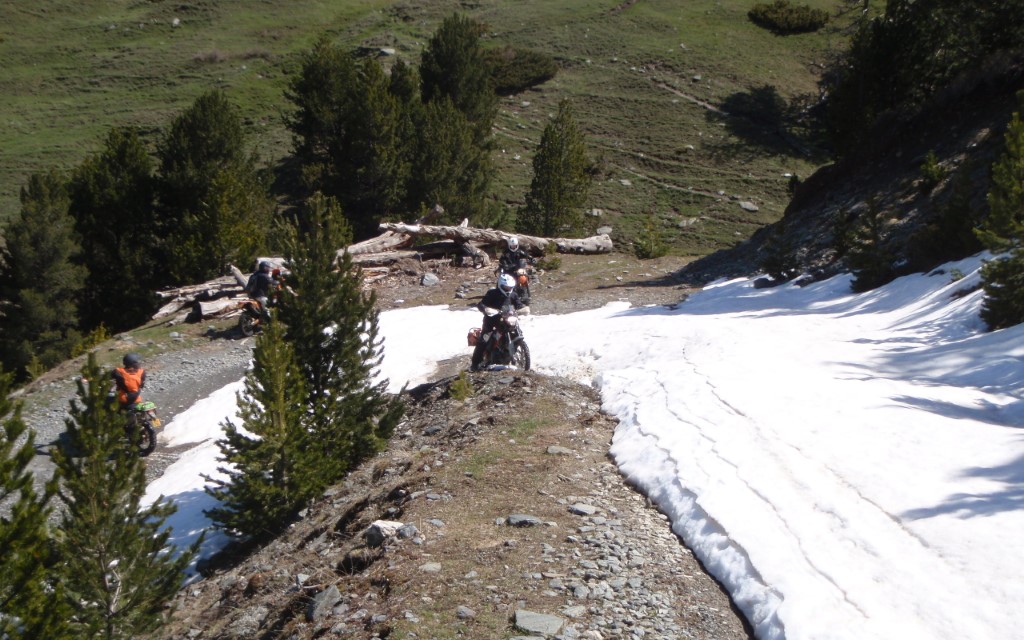 We set off from Sort after a good breakfast. It was approximately fifteen miles to Alins along the C-13 to Llavorsi, then the L-504 to Alins. This was a fantastic short road ride, the twists and turns in the road were fantastic. We all thought we were doing pretty well at 65mph on our trail bikes as we banked into the turns. That was until we were all startled when several sports touring bikes passed us at breakneck speeds, some carrying pillions. 
On approaching the village of Alins (1), where the Smuggler Route starts the views of the snow capped mountains ahead were stunning. As you pass through the village there is a small signpost for Tor. This is the small village halfway to Andorra and is on the Smugglers Trail. Take this turning. 
The first few miles are on a single vehicle width tarmac road. The road winds its way around two mountains, one at 1,459 meters and then back around the next peak of 1,515 meters. All the time following a raging stream of melt water, we had to negotiate several rock falls and fallen trees. Luckily for us, as this route leads to the inhabited villages of Noris and Tor, the fallen trees had been cut back allowing us to pass without any issues. Be aware that rocks and trees may block the route any time of the year, not just after winter storms. 
We continued along the single tarmac road until we reached a bridge crossing the river. Off to the right was a trail heading up the mountain. We started on this trail to have a look. According to the map it went to nowhere, but we were soon stopped by many fallen trees. We turned around and crossed the bridge below, following a signpost leading to Tor. 
This is where the tarmac ends and the dirt starts (2). A short distance later we reached the picturesque village of Tor (3). The track leading here is relatively easy with a soft muddy base that will no doubt be baked hard in the Spanish sun during the summer.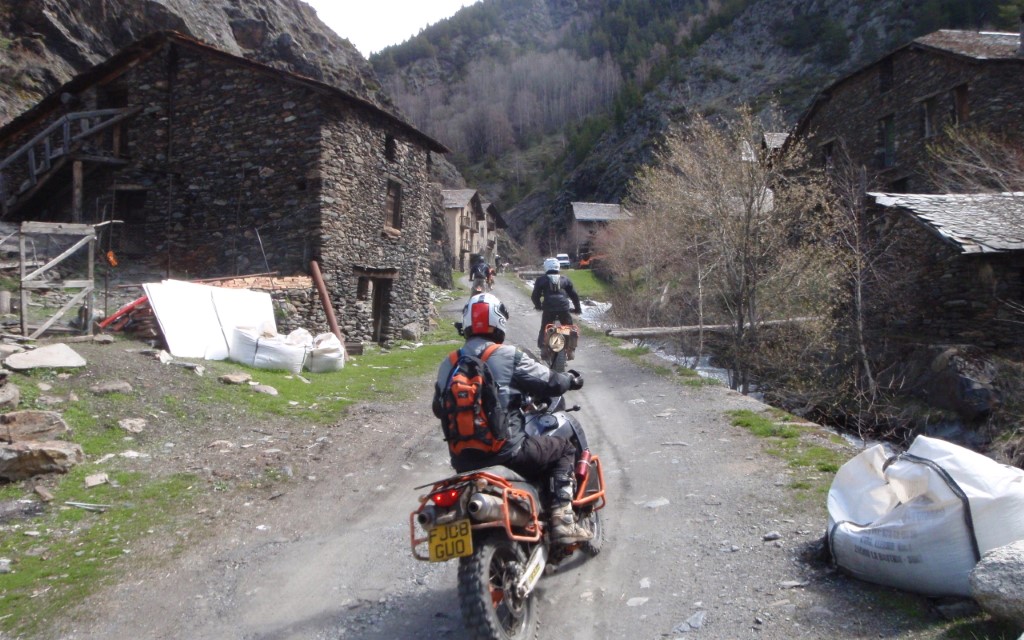 Driving carefully through Tor we turned right and headed further up the Smugglers Trail. The route started to get more challenging with a few rocks and more mud. After a couple of hundred meters there is a turn off to the left (4). Checking the map both this turn off and going straight ahead meet further up the mountain after both going different ways round a 2064 meter Peak. 
We opted to go left. After a short scramble up the trail we met snow for the first time. We tried sticking to the edge of the trail but soon realised we would not succeed. The snow was just too deep in-between the trees. The shade was delaying the melting even though it was up to twenty-degrees in the sun. We turned around and decided to check the other route. As it turns out, this way was fantastic. The trail was good, lots of twists and turns as it headed up and passed a mountain refuge called Bordes de Plaia. We continued on, splashing through many muddy puddles and eventually crossed through a ford (5). The trail immediately turned left and headed up the mountain. 
At the second switchback we were halted by snow. A large drift was blocking the way. No problem for our little trail bikes. We ploughed on. Unfortunately this was the end of the road for Ant on 990 ADV. There was no way he fancied battling on through snow on such a heavy bike, so both him and Stu (KTM 660 ADV) turned around (always better to stick in groups or at a minimum two riders on trails), whilst the remaining riders continued on battling through snow. We managed a few more drifts before eventually meeting the other trail that joined from below (7).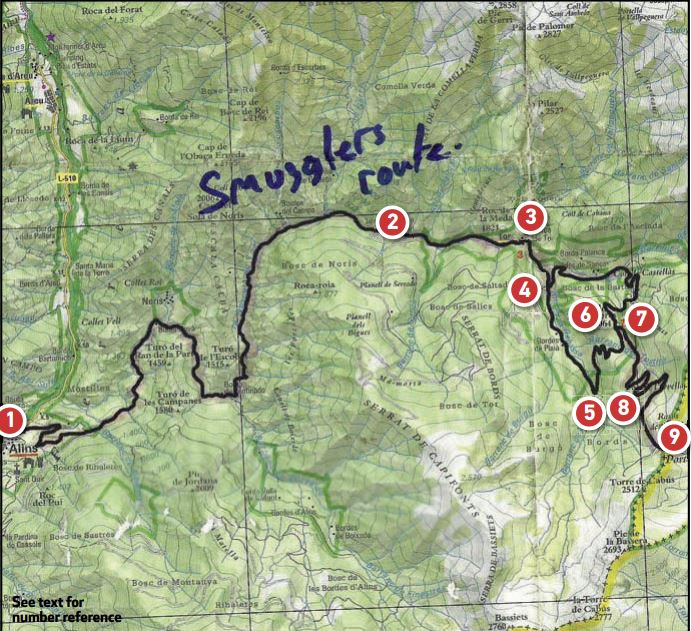 To our left was the 2,064 meter peak. I can definitely recommend walking the short couple hundred meters to the top (6). The views are magnificent. Unfortunately, from our elevated viewpoint we could clearly see the border 300 meters above, and the amount of white glistening snow caused our hearts to sink as we knew it would be virtually impossible to cross over to Andorra on the bikes. Being ABR's we continued and decided to get as far as possible. After all, you never know. Through more snow drifts we went until the road ahead was completely blocked with snow. We had come as far as possible. After checking the map I estimated we were 150 vertical meters, and about 700 meters from the border. We were beat (8). Time to turn the bikes around and head back down. Peppe would just have to make a trip himself via the road if he wanted more cigarettes and would just have to settle for cash as a tip… which he gratefully received.
Want to do this?
Getting There 
There's no getting away from the fact that Andorra is a long ride from the UK. Last year three of us trailered a DRZ and two KTM 950 ADV down, and from Runcorn Cheshire it was a thirty-one hour non-stop drive, alternating drivers. This year we opted for the leisurely option of the ferry to Spain. I think we all agreed it was the best option, but it's still at least a two day trip just to get to Andorra. It was a four and a half hour ride to Portsmouth, followed by a 24 hour (approx) sailing to Bilbao on the Cap Finistere ferry. From there it's a six to seven hour ride to Andorra. The way back was from Santander to Plymouth on the Brittany ferry flagship ferry, the 'Pont Avon', which was a quicker twenty hour (approximately) sailing. The ferry was £288 return each, this included the bike, and the rider sharing a four berth outside cabin (two cabins). The facilities onboard both ships were fantastic. I'd recommend not rushing the trip and making the journey part of the adventure. We didn't arrive in Andorra until day four having spent a couple of days trail riding to get there. This trip could be achieved in as little as a week, but I would suggest taking a few extra days and enjoying the time in Spain and Andorra. We took a leisurely ten days. 
What to take 
We all took our UK driving licenses, MOT certificates (if required), V5 logbooks, bike tax, personal travel insurance and European Health Insurance cards. But the most important 'luxury' was Breakdown cover. I would not suggest riding abroad without the knowledge that you and your bike can get home safely in the event of any misfortune. 
Where to stay
We stayed at a Campsite in Sort, about 15 miles South West of the Smugglers Trail (there's only one campsite in Sort). It is a very bike friendly place and they don't mind groups of lads checking in. This is an excellent base as the trails in the mountains lead off in all directions. I went last year in the height of summer and the campsite was heaving, but there was still space for us. This time we virtually had the site to ourselves. The host 'Peppe' was fantastic. The food he prepared was divine, and the beers and wine just kept flowing all night. Just think of the most food and drink you can consume, all for twenty euros each. All eight that went this year will recommend this campsite: Camping S.A. Noguera Pallaresa, Sort, Lleida, Cataluña-Catalunya, telephone +34 973 620 820 
When to go 
Unless you have a snow mobile it's pretty pointless trying this route in the winter months. Even at the beginning of May we hit the snowline at 2,100 meters. Considering the pass is at 2,302 meters it's surprising that we made it so far up the route. We estimated that it would be a couple more weeks until the route would be completely rideable. I would say the 'correct' time to go would be from the end of May to October. Remembering that it is a mountain and snow could fall at any time during the year which could block the pass. 
Maps 
The main trail from Alins to the Spain Andorra border can be found on the Pallars Sobira 1:50K map. If you wanted to form a loop back from Andorra to Spain via a different trail you would also need the Alt Urgel 1:50K map. When I bought the maps from Amazon and they were £9.95 each.
Photos: Mike Beddows