As a multiple world Enduro Champion, British rider Paul 'Fast Eddy' Edmondson was looking forward to a slower pace of life as a retired racer until he was thrust into a second career as a Hollywood stuntman. James Oxley caught up with the man who can currently be seen lighting up the silver screen in the latest James Bond movie, no time to die
ABR: Hi Paul, you're a retired multiple world enduro champion from the Midlands, so how did you end up becoming Daniel Craig's motorcycle stunt double in No Time To Die?
Paul Edmondson: It all started when I was asked to work on the last Jason Bourne film. There's a gentleman called Robbie Maddison, who's a very famous long jumper and freestyle rider. Anyway, Robbie was due to do Jason Bourne, but unfortunately, he got hurt. As is the way of these things, someone recommended me and before I knew it, I was down in London having an interview. With me retiring from racing, I thought it all sounded great fun.
So, I got the nod to do the Jason Bourne film. I did a big bike scene that lasted for a few minutes in the movie. It was pretty cool. It was me with a girl called Katie Bullock, who is a former trials rider. She was on the back of the bike and we were doing some real good stuff, drifting into corners and some real fast riding. So that's how I got into it (stunt riding). Then, I got the call up for Bond via Lee Morrison, who is the film's stunt coordinator.
It's been a great experience so far. I've done one Bond, Jason Bourne, and lots of other stuff. I also did a fair bit on Star Wars riding speeder bikes which were actually snowmobiles with crazy wheels on them. I'm never shy to try anything from the bike side of things.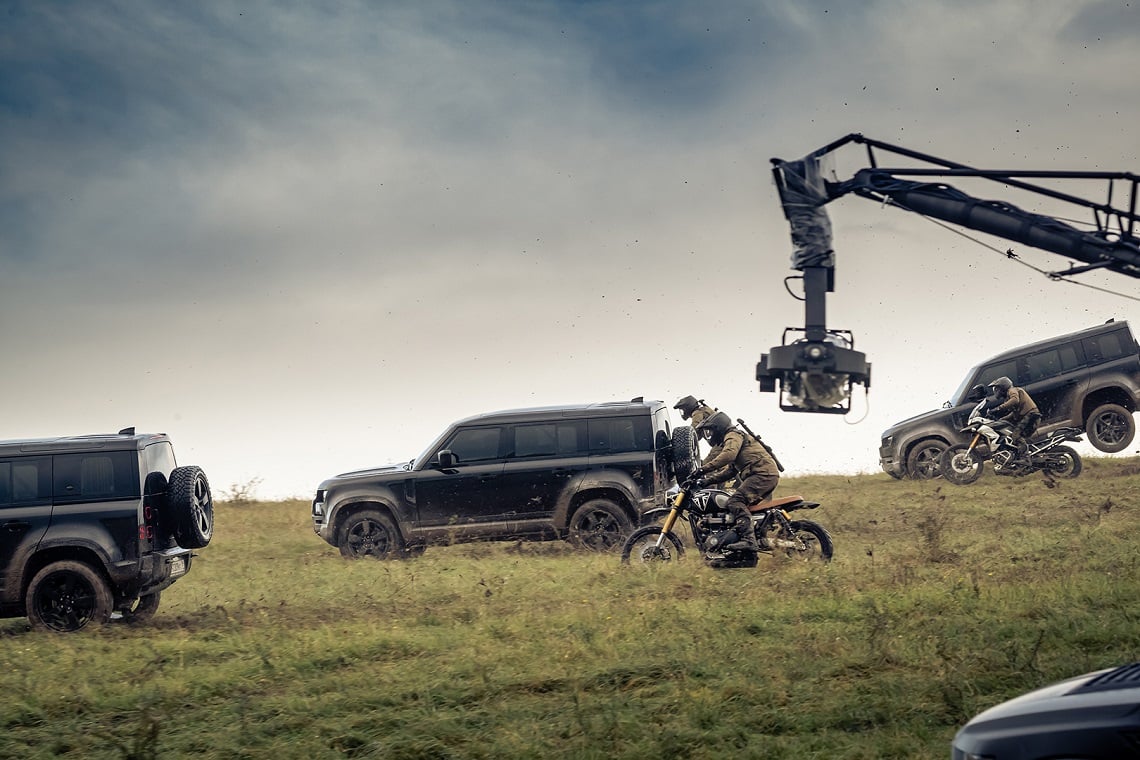 ABR: What did it feel like when the director shouted action, the cameras rolled, and you were James Bond riding a Triumph Scrambler 1200? Was it a boyhood dream come true?
PE: Yeah, it was very cool, although it actually felt far cooler just to get on a bike and abuse it knowing you're being filmed. I've been brought up as an enduro rider, so we have to appreciate bikes and we have to look after our bikes. Obviously, you don't want to break your bike because you've got to race it.
But when you're on a film set, they just want you to look as good, and go as fast as you can safely. It's all about really twisting the throttle. That was the fun part, just being able to be really aggressive with the bike and throw it around and slide it.
Although there is one part in the movie where Bond pulls up outside a hotel and we had to drop a bike down on the floor. That was breaking my heart, throwing it on the floor like that. But it was just part of what we were there to do. It was all a great experience, and to be theoretically James Bond is super cool as well.
ABR: So, you were on set each day with Daniel Craig who played James Bond. What was it like working so closely with one of the biggest stars in the world?
PE: He was a really nice guy and very appreciative that we were doing a lot of big stunts for him, and for the movie. It was a pleasure to work with him. At one point I was just stood around and he shouted over and said, 'let me buy you a beer'.
Something like that means a lot to me. It's like we're all a team, and when a guy of that calibre can appreciate what you're doing it makes it all worthwhile. He can actually ride, he can ride really well.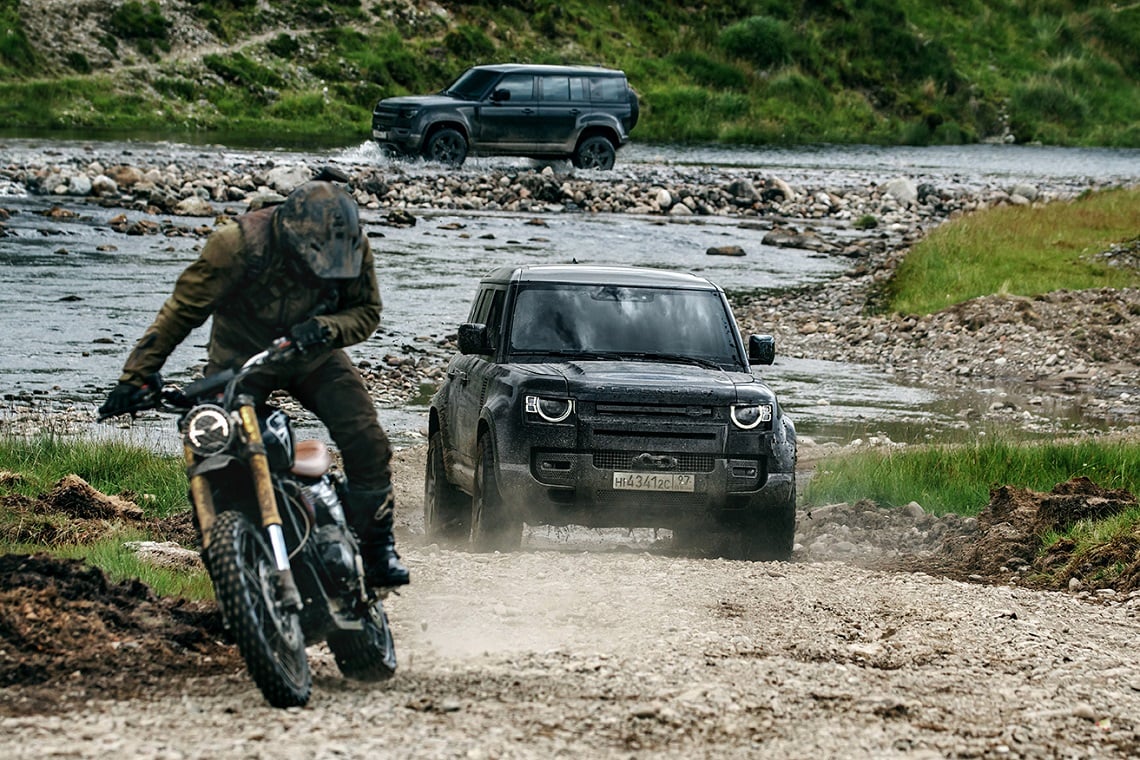 ABR: And how about Matt Damon, star of the Jason Bourne film you worked on? Was he a biker too?
PE: Matt was pretty funny actually. In one scene, he had a girl on the back and I explained to him that you've got to give the bike a little more throttle and slide the clutch out because you're carrying a bit more weight. He was mostly spot-on, but he stalled it the one time. Everyone on set went quiet, but he just started laughing, he didn't care.
Next time he gave it a few more revs and he was off. For me, I know they're big movie people, but they're also just normal people. I'm there to do a job and to also help them do their job if they're going to ride a bike.
ABR: One of the iconic scenes in No Time To Die sees you making a huge jump over a towering wall in the Italian town of Matera on a Triumph Scrambler 1200. How do you prepare for such a spectacular stunt?
PE: The stunt was never rehearsed in the UK, that was all designed and built-in Italy. We didn't really know what would happen until we got there. I knew there would be a big jump involved in the scene but I didn't know how big, where we were going to land, or where we were going to take off.
It ended up being a fair height. It's where I feel my experience as an enduro rider comes in. I'm able to judge things and that's when I can bring my A-game to the table. Also, knowing that I had a good stunt coordinator saying yes, you can do that, or no you can't, that's a big thing.
We did a couple of practice runs, and then they said just go for it. That's when the adrenalin kicks in. I'm not the type of person to back out. If I'm coming around the corner after being told we're going for it, then we go for it. What's nice is the fact that it's all done for real. I hate it when people see bikes in movies and they say that's not real or that didn't really happen, but I like the stunts I've done because I know 100% that they're real.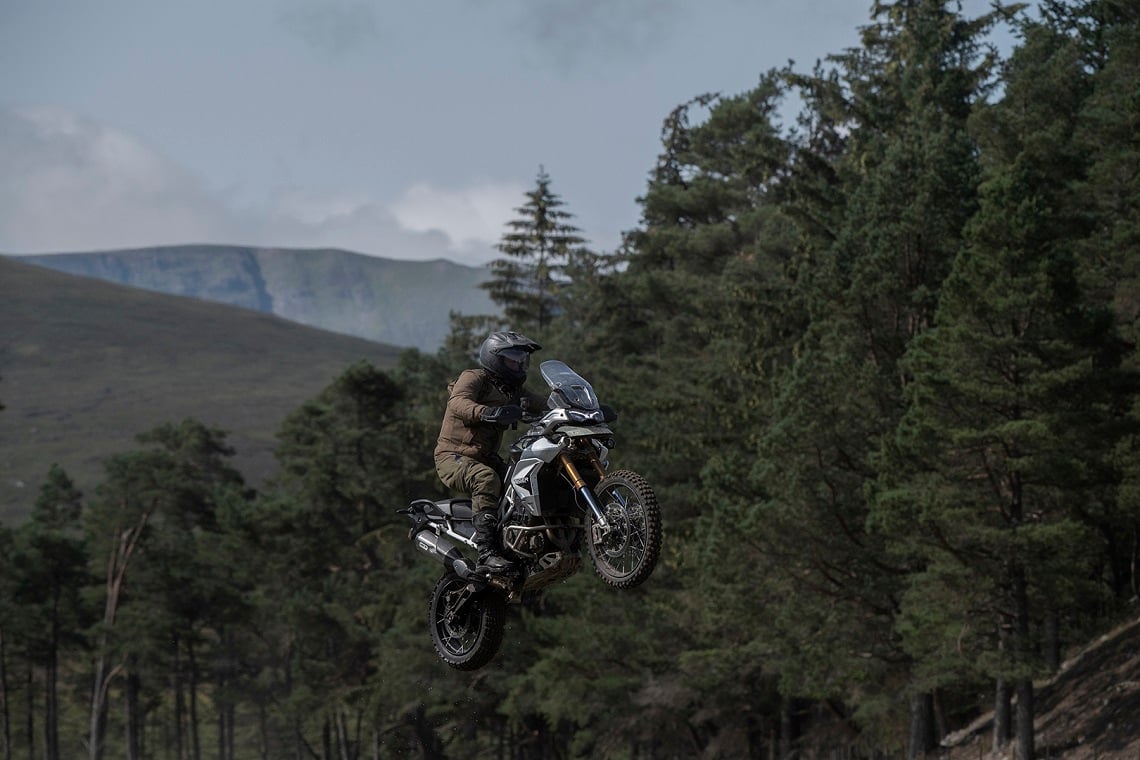 ABR: What was it like riding the Triumph Scrambler 1200 and the Tiger 900 in the movie. Both are great bikes, but they're big machines to throw around.
PE: It felt like they gave me the right bikes for the right job. In Scotland, I was on the Tiger which was brilliant because I was in a big chase scene and the bike was so torquey that I could catch up whenever I needed to. So, if I felt like I was falling behind, I could nail it and be bang in the middle of the action again. So that worked well, and it has got more suspension than the Scrambler, so for the jumps and stuff that was great.
I actually did a cool jump on the Triumph Tiger in Scotland which was a 60ft double jump on a fairly standard bike. It was a Land Rover we were flying over, but the worst part of it wasn't the Land Rover, it was the helicopter above my head that seemed to be too close.
But then in Italy, we were on the Scrambler and I could be quite aggressive with the power, with it being a 1200cc bike. So, when I dropped the clutch and lit her up, as I call it, she would naturally drift from side to side. If you notice on the film, there was a hell of a lot of low camera angles where they catch the bike naturally drifting.
That bike was ideal for that job because, if you're in a hurry and you're being chased, that's how you would ride turning a corner. Your feet would be thrown off the footpegs, your wheels would be sliding, and your right hand would be twisted.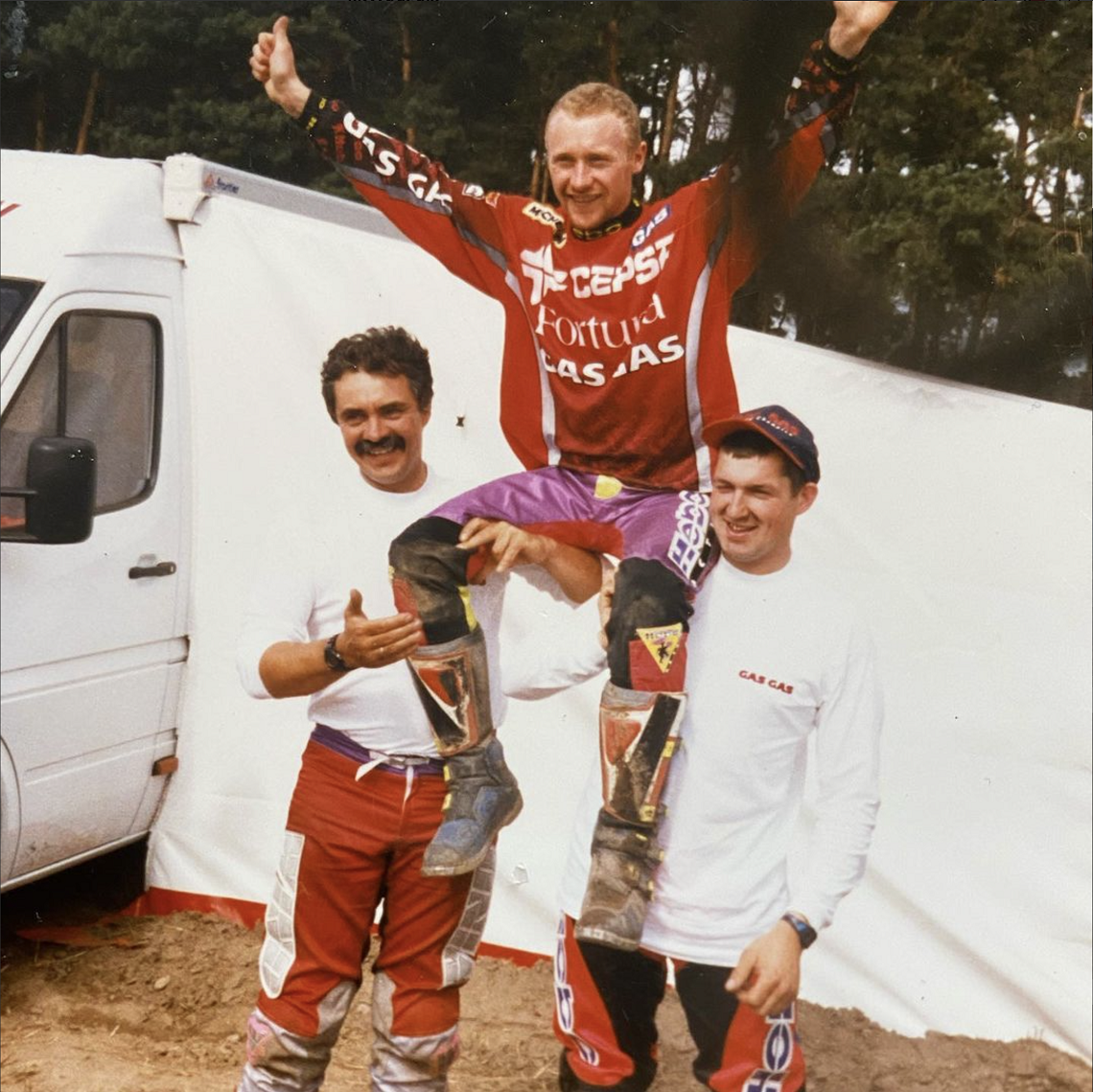 ABR: Do the stunts ever go wrong?
PE: We know anything can go wrong but, luckily for me, nine times out of 10, or 10 times out of 10, if it does go wrong, it's my own fault. On a movie set you need your wits about you because when you are filming a sequence where there's a lot of people involved, someone could be pushing a bin out in front of you or someone could be blowing up things as you ride. That's when I'm really on my game.
I've had a couple of times where maybe things haven't been set off at the right time. There have been sparks or stuff flying through the air. That's when I think it sinks in that it only takes one thing to go wrong.
What I've learned in the short period of time I've been doing this is to never take anything for granted, and certainly pay attention to what you're doing. Don't just look ahead but also look at the side angles, if that makes sense. Know your lefts and your rights because anything can come from anywhere. You just never know.
ABR: It's clear you need to be handy on a bike to do your job, but are there any basic riding skills you call upon time and time again that people would need of they wanted to pursue a career in stunt riding?
PE: Yes, there something called the Stunt Register and anyone who wants to go into movies would need to show they can do six or seven disciplines. If you're thinking about going into it on a bike, then you've got to be used to road bike riding, off-road riding, trials riding, a mixture of everything really. You need to be someone that can read surfaces and ride various bikes.
The only advice I would give to people is that you've got to be very versatile.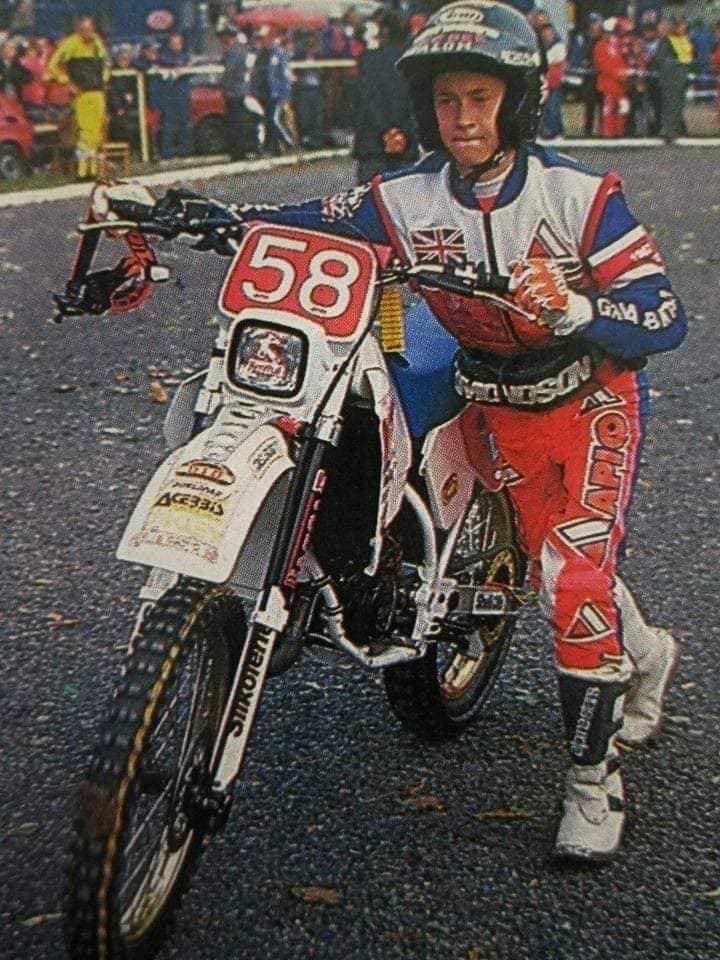 ABR: So, you've had a successful motorcycling career that led to world and European enduro championships, and a career as a Hollywood stuntman, but where did your love of bikes come from in the first place?
PE: I think my first International Six Days Enduro was at 16 years old, but I started as a trials rider as a kid and I did a little bit of amateur motocross. When you mix the two together, I ended up being an enduro rider.
From 1987, I was doing the European enduro championship and I had a great career which lasted until 2012 when I did my last International Six Days. It was a fair innings, a great one, and an enjoyable one as well.
ABR: And what about the future? You've played James Bond on the big screen, so how do you top that?
PE: Hopefully with some more movies. Being James Bond on a motorbike is pretty damn special so I don't know if I'm going to be able to beat it, but I'm certainly looking forward to doing more movies in the future.
I've also got two sons who ride and I was just in Portugal and France helping them, and we also have our main business which is a motorcycle shop in the Midlands. It's an off-road dealership. And we organise Fast Eddy Events and training, which are off-road orientated, obviously. So, that's what I do when I'm not swanning off being a stuntman.