Snow, rain and gale-force winds aren't the first things that come to mind when you think 'southern Spain'. Ian Neubauer battles the elements in a bid to ride some of the best roads in Europe
The whitewashed villages of Andalusia sprint across my field of vision as my Beemer roars around another perfect arc in the road that underrates over velvety green hinterlands. Behind them lie layer cakes of snow-capped mountains and ice-blue sky accentuated with brushstroke clouds. The conditions for riding are categorically perfect, bolstered by a tailwind that pushes me down towards the world-famous Costa Del Sol where a well-earned beer awaits me at the end of what has been a stupendously scenic adventure through the south of Spain.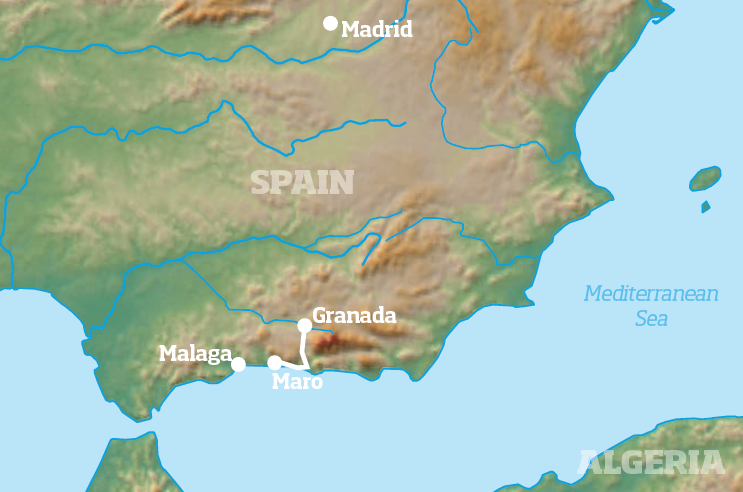 Yet it hasn't exactly been smooth sailing. Along with complex navigational problems, like road closures and a cantankerous GPS, I've had to contend with gale-force winds, landslides, snow, blizzards and torrential rain that soaked 95% of Andalusia the day I flew in from Australia and continued without respite until the second last day of my ride. Here's how I made the best of it…
DAY 1: MALAGA TO CARBONERAS
In most places riding along motorways is the stuff yawns are made of. But in the motorbiking nirvana that is Andalusia, they provide high-octane thrills. Spanning eight lanes, the Autovía del Mediterráneo is an engineering marvel with colossal steel viaducts bridging valleys and tunnels blasted into mountainsides up to two kilometres long. I gallop along gleefully like a wild animal uncaged after having spent the past two days staring at a thickly overcast sky.
With a king-size bed, full-size living room and wall-to-wall marble, my hotel suite at Puente Romano was as good a place as any to wait out a storm. But instead of abating, the rain gathered momentum.
When I could take no more of it, I caught a bus 30 miles east to Malaga, the largest city on Spain's southern coast. There I rendezvoused with Johannes Suppan, owner of Hispania Tours, a BMW Motorrad tour company with which I'd booked a week-long 'Especial Andalusian' self-guided tour.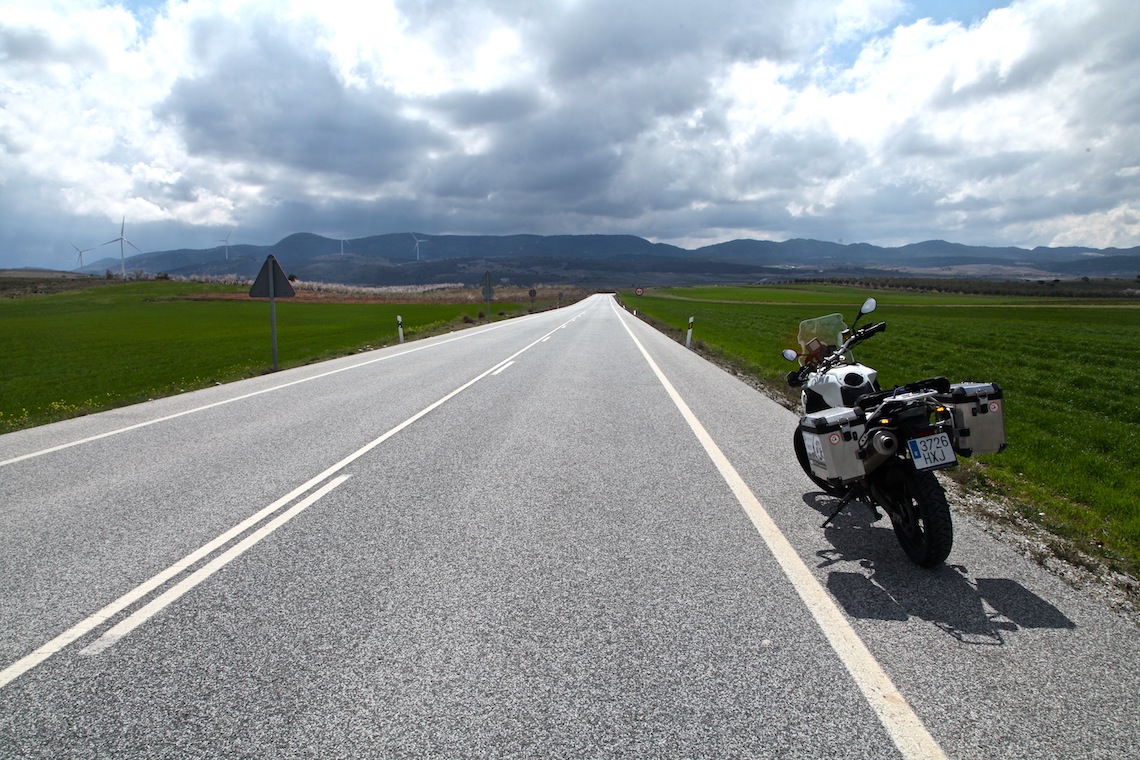 The Especial tour would be a wash-out, Johannes told me. But if I was up for an adventure, we could plan a customised route. Updated daily using real-time mapping and meteorological technology, it would – fingers crossed – allow me to see the best of Andalusia and avoid the worst of the rain. And so I found myself galloping along the Autovía del Mediterráneo towards Cabo de Gata Natural Park in the southeast corner of Spain, one of the only places in Europe with a desert climate that sees very little rain.
Cabo is a wild and isolated place characterised by sharp peaks and crags that descend to ochre-coloured coastal cliffs. The route Johannes pre-programmed into the Garmin GPS cuts a lonely path through vast empty salt flats and around volcanic domes and little coves. Just before nightfall, it deposits me in Carboneras, a laid-back resort town on the coast.
After checking into my hotel, I find a bustling tapas bar. I try a number of different plates and wines while striking up a conversation with a local called Jose. 'The northern Europeans, they all come here to bask in the warm climate of our soil,' he says. 'We may not have a lot of money in Spain, but we have good food, great wine and we really know how to live.'
DAY 2: CARBONERAS TO BACARES
Jose wasn't joking and to prove a point he dragged me from bar to bar and then to a house party and I only got into my hotel at 3 am. I'm a tad hungover the next morning when my smartphone alerts me of an email from Johannes that contains the day's route: a six-hour run into the Sierre de Los Filabres, the 2,000m-high range northwest of Carboneras. He writes that the weather in the mountains is clear for the time being but heavy rain will return in the early evening, so I better make tracks.
Doing so, however, is easier said than done. It takes me nearly an hour to plot Johannes' route into the damn Garmin SatNav. Then, as I'm about to take off, I touch an icon on the screen that somehow deletes everything! Thinking fresh, I switch the thing off, fish a pen out of my bag and simply trace Johannes' route onto a map.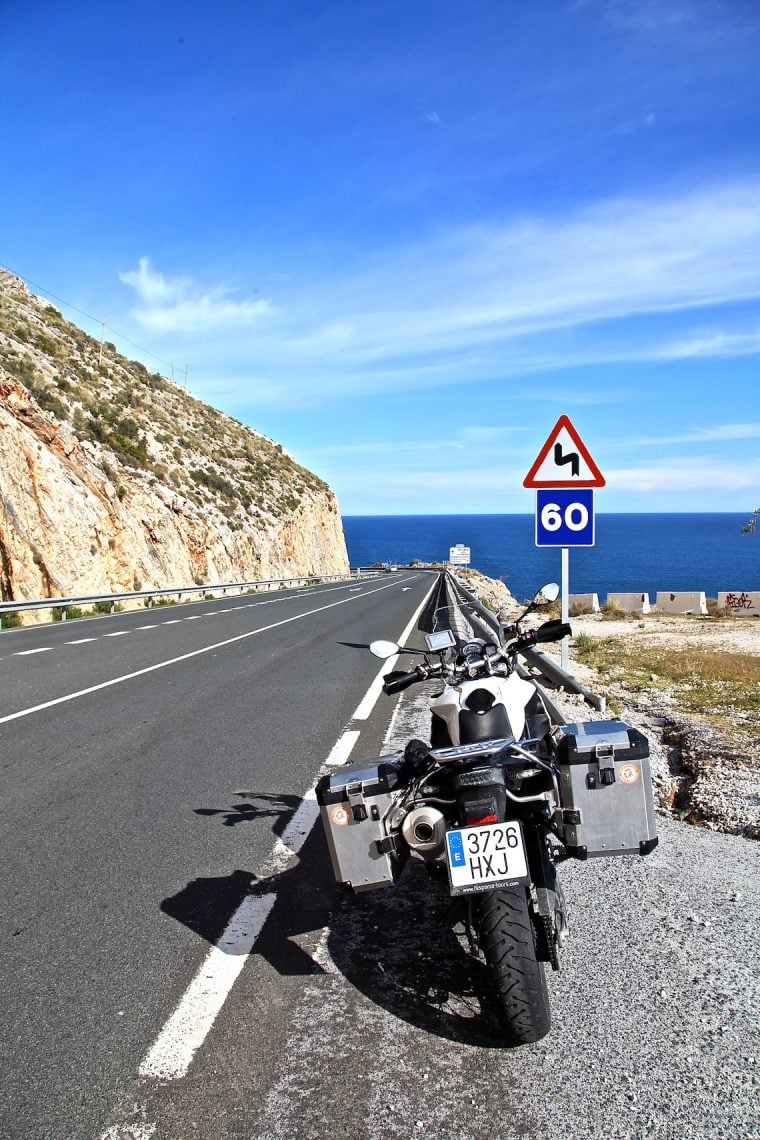 Everything's going to plan until I discover one of the key roads on Johannes' route is closed due to a landslide. I spend the next two or three hours riding until I find an alternative entry point into the Filabres.
But it ain't no highway. A vintage asphalt road eroded over decades, the route shrinks into a goat track that winds its way through thickly forested mountains that become larger and more beautiful with every pass. With nothing but olive groves, abandoned hamlets and pine forests in sight, I feel as though I've been transported centuries back in time. 'In Italy or Germany, or Austria where I'm from, you can find beautiful mountains like the Filabres,' Johannes tells me later on.
'But there will be another hundred bikers there and a car park and hotel and restaurant. Everything in those countries has been discovered. Andalusia is one of the last places in Europe where you can still find total isolation, where a rider can really feel alone.'
I spend the night in Bacares, a 500-year-old village set 1,210m above sea level with one hotel, one pub and one tourist – me.
DAY 3: BACARES TO GRENADA
The next morning I hit a major snag. Flash flooding during last night knocked out the Bacares' communication tower and I can't get online to check Johannes' updates or even give him a call. Divorced from the information superhighway, I'm forced to rely on my own devices.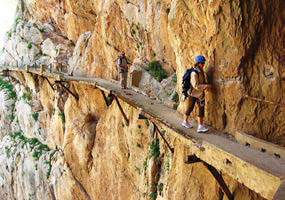 I forgo the idea of heading north where it's bound to be colder and opt instead to head 87 miles west as the crow flies to the inland city of Granada. But in the dramatic and ever-changing landscape of Andalusia, riding in a straight line is wishful – and boring – thinking.
My route takes me south from Bacares down a switchback-laden road where I come across something I, being an Aussie, have never seen while riding – snow! I pose for a selfie to show the folks back home. I can't help but feel disappointed when it disappears as the road climbs down the Filabres towards the Tabernas Desert in the valley below.
With cactus, tumbleweed and blood-red sunsets, Tabernas looks like Arizona and is home to Little Hollywood, a 1960s movie set from where Spaghetti Westerns like A Fistful of Dollars and The Good, the Bad and the Ugly were shot. Faux Wild West towns that were built half a century ago now operate as theme parks.
I have no time for such distractions and continue west along the southern flank of the Sierra Nevada, which, with a high point of 3,478m above sea level, is the tallest range in all of Spain.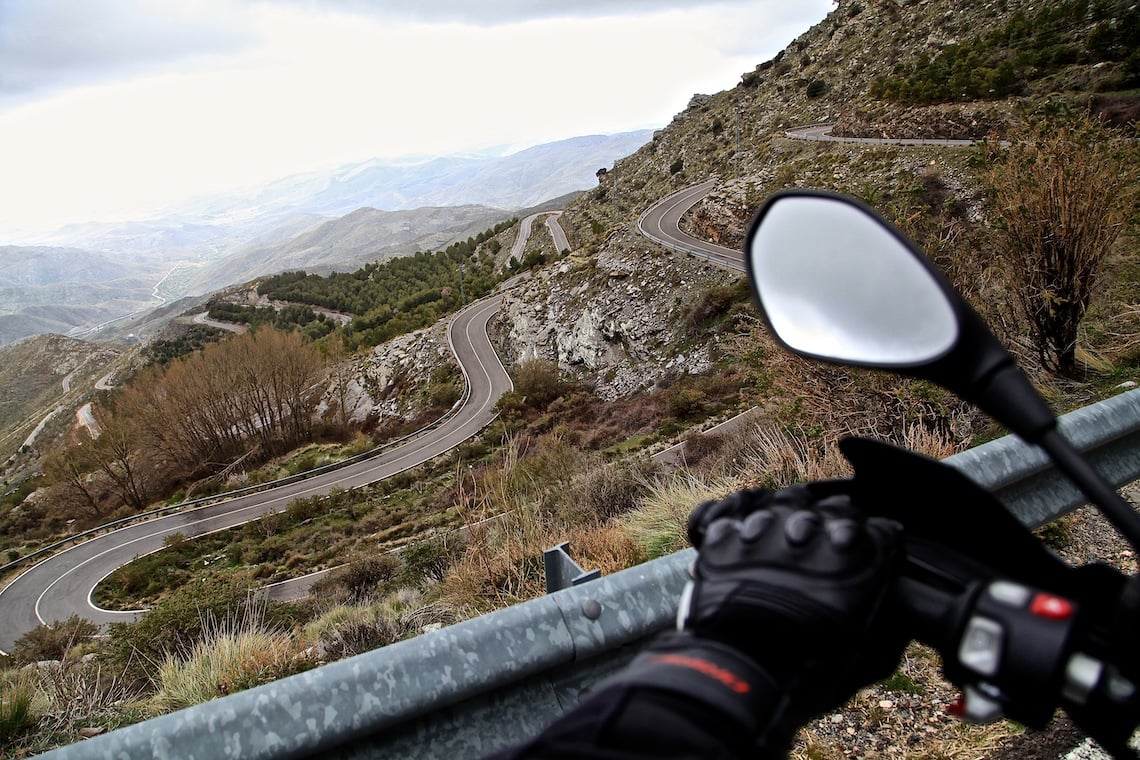 And there's only one way through it: Puerto de La Ragua, a 2,041m pass from where one can see all the way to Africa on a clear day.
But the Sierra Nevada are covered in thick fog on this day. By the time I reach the midway point, visibility is reduced to about 20m. The temperature drops like a bomb, with the thermometer on my Beemer registering a chilly 0°C. I pull over and do whatever I can to rug up, putting on a second pair of thermals, glove inners and a ski mask.
As I continue to climb the narrow mountain path visibility drops to 10m, then to 5m and then to about 3m. Then it starts snowing and within moments I find myself riding through a blizzard that makes jokes out of the piddly patches of melting snow I saw earlier in the day.
I progress at a snail's pace, beeping my horn repeatedly in case a car comes the other way while wondering how much higher I can climb until the Beemer's fuel lines freeze. Just when I can't take any more of the cold I feel a sudden change in temperature and cross the pass! The snow and fog all but disappear and I'm treated to a panoramic view of the sprawling green Andalusian countryside below.
DAY 4: GRENADA TO LA HERRADURA
With cobblestone alleyways and plazas, medieval cathedrals and a thriving arts and nightlife scene, Granada is one of the most beautiful cities in Spain. But I'm far more interested in biking through mountains than sipping cappuccinos with yuppies wearing bow ties and horn-rimmed glasses, so waste no time getting out of Dodge.
My virtual guide Johannes is back online and thrilled to hear about how much I enjoyed crossing the Sierra Nevadas. Today's route will take in another high-altitude pass across the Sierra del Chaparral mountains south of Grenada. It will then spit me out on the coast, where he's booked a room at La Herradura, a former fishing village turned tourist trap on the Mediterranean Coast.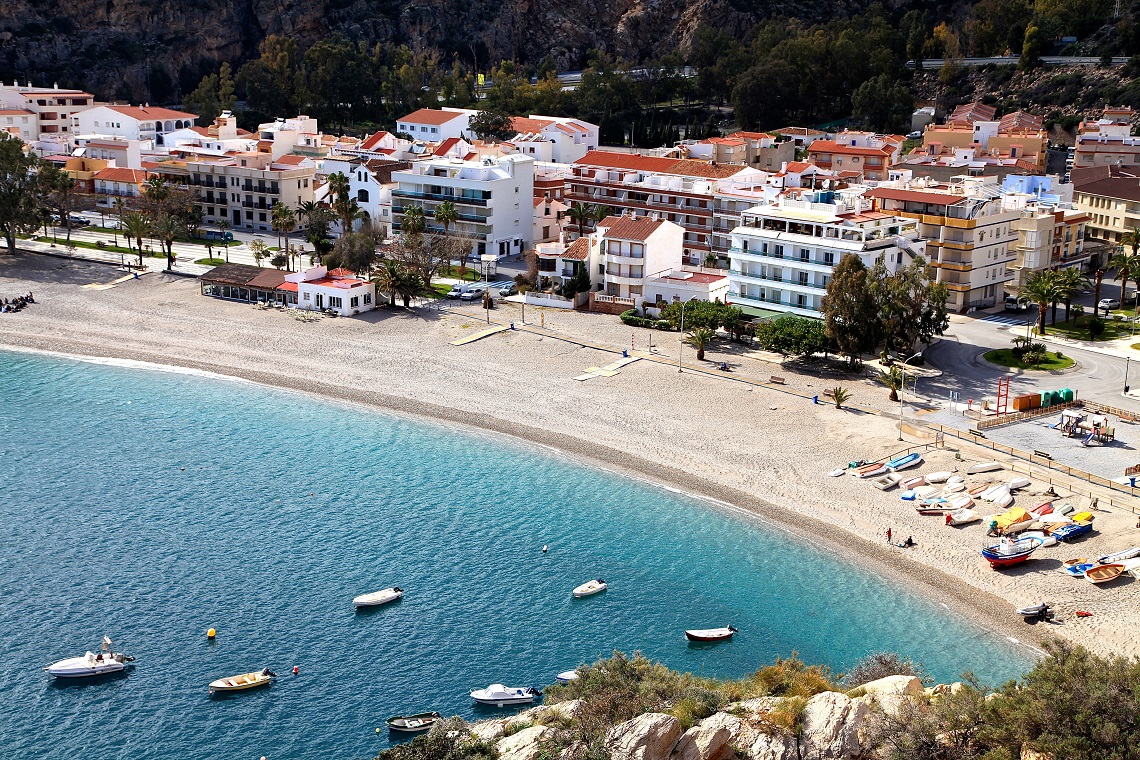 Over the course of the next two hours, I take in long-empty straights, curvaceous backroads and a boulder-strewn chicane that takes me to the shallow end of a 1,200m high pass. The view on the business end of the pass is absolutely ridiculous. Gigantic limestone cliff formations, sheer-sided gorges and stony scree slopes that tumble into the foothills and river-sluiced valleys far below, backdropped, as always, with snow-capped crags and peaks.
I park my bike by a rampart and am sitting there taking in the view when a fat splotch of rain lands on my sunnies. It's followed by another, and another again and within moments it's raining Noah-style.
With nowhere to seek shelter from the wet, I am left with no option but to jump back on my bike and descend along the seemingly endless series of switchbacks that lead to the coast.
Coupled with the odd landslip and sprinkles of gravel on the road, the rain turns what would otherwise be a mind-blowing ride into a dance with the Devil that leaves zero margin for error.
When I finally reach La Herradura the rain has stopped but the wind is blowing a gale. It's too cold and windy to enjoy a stroll along the beach let alone take a dip in the Mediterranean like I'd planned.
DAY 5: LA HERRADURA TO RONDA
The strong wind I encountered at La Herradura last night blows with even more ferocity in the morning. It throws my Beemer around like a kite as I head west along the Autovía del Mediterráneo and then north at a junction that leads to Montes de Malaga Natural Park.
Like something from the Swiss Alps but even greener and cleaner, the park covers 30 square miles of semi-mountain terrain and sub-tropical valleys brimming with wild boar, badgers, foxes, eagles and buzzards. It's also home to Andalusia's most iconic geological feature – a city-size megalithic limestone formation called El Torcal.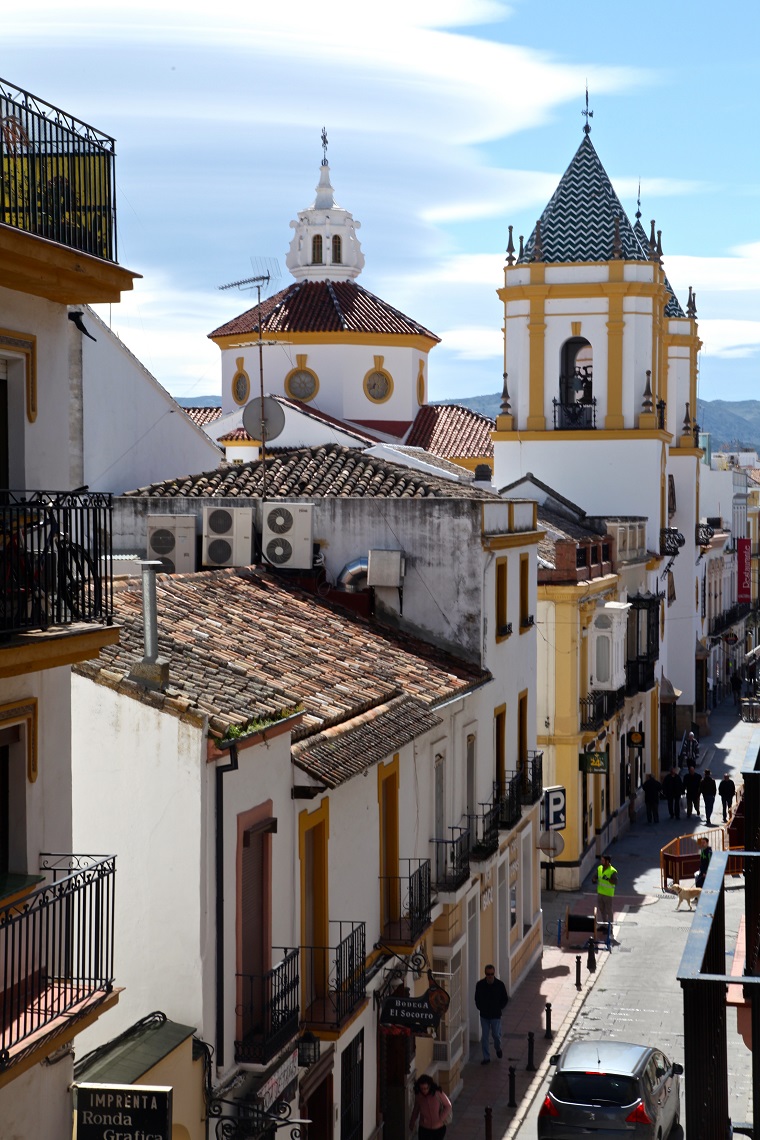 I ride around the back of the rock, on a road that cuts through rolling green hills that leads me to another iconic rock formation called El Chorro – The Spurt.
A giant flooded gorge, El Chorro has a train line running right through the middle of it courtesy of a set of tunnels and impossibly high bridges. It's also home to El Caminito del Ray (The King's Little Pathway), a narrow concrete path supported by steel stanchions that professional climbers rank among the most dangerous footpaths on the planet. Five people died trying to trek it in 1999 and it only recently reopened following a multi-million euro facelift.
I continue west to Ronda, one of the oldest white villages in Andalusia. Perched on an inland plateau and interconnected by three ancient stone bridges spanning a flooded canyon, like something out of a fairytale. I could happily spend tomorrow exploring the place, but there's no way I'm sacrificing even a minute of my last day on these stupendous roads.
---
Want to do what Ian did? Here's how you can…
The tour
Ian was riding on a Hispania Tours self-guided eight-night tour of Andalusia with six riding days and four-star accommodation. The trip costs €790pp (roughly £570) and you'll need to add €250 (£180) for a single room supplement. If riding with a pillion then it's an extra €450 (£325) and you can choose to pay €20 (£14) a day for optional premium insurance. Add another €570 (£403) for a nearly new BMW F700GS, €630 (£440) for a F800GS or €870 (£616) for a 1200RT. Fuel and dinner is not included.
Visit www.hispania-tours.com or call Eva on +34 952 172 172 for more information.
Alternatively, southern Spain is littered with fantastic trails that are just begging to be ridden. Trailblazers-Pro offers a fantastic two-day off-road tour, taking in the best trails southern Spain has on offer, for £420pp, including bike hire and accommodation.
Visit www.trailblazers-pro.com for more information.
How to get there
Flights to Malaga from the UK are plentiful and you can fly from most UK airports. It'll cost you roughly £200 and the flight time is approx. three hours. Alternatively, if you fancy making more of your tour and travelling down through Spain on two wheels, you can hop on a ferry from Portsmouth to Bilbao and then make the long journey south to Malaga. Brittany Ferries (www.brittany-ferries.co.uk) serves the route and prices start from £124 each way.
To hire or not to hire?
Hispania Tours offer rental of a number of different adventure bikes. If you want to ride your own bike Fly and Ride will transport it to Malaga for £575 one way, or £675 return. Once you've handed your bike overall you need to do is fly into Malaga where you can pick up your ride and enjoy the roads and trails of southern Spain. For more information check out www.flyandride.co.uk