Mike Leahy undertakes a remarkable and emotional journey to Monte Cassino on a BSA W-M20 for the 75th anniversary of the bloody WWII battle.
Seventy-five years ago, a monumental struggle was unfolding across Europe, and indeed the world, the results of which were to determine our future way of life. At the same time, an olive green BSA W-M20 rolled off the production lines to be purchased by the War Office for service with the British Army. More by luck than judgement, that machine somehow survives to this day. 
Even in the '30s the design of the old BSA was dated. Heavy, slow, with a side-valve engine boasting a low compression ratio of 5:1 and an asthmatic maximum power of only 13BHP, there was very little of merit about the bike, other than a remarkable toughness.
Undoubtedly, this quality led to the production of over 120,000 machines, making it the most numerous bike to see service with the Allies during WWII. More used to modern bikes, I love my W-M20, however, I really can't remember the monumental error of judgement and common sense that led me to ride the thing 3,200 miles in a 16-day return trip to central Italy. 
Many think D-Day was when the Allies first landed and re-occupied Europe, however, Allied forces had already been on the continent for many months. They had been fighting a series of extremely bloody battles in Italy as they forced their way north, and by November 1943, they met a major obstacle, the 'Winter Line' or 'Gustav Line'. It stretched all the way from the west coast to the east coast of Italy, preventing the Allies from making their way to Rome.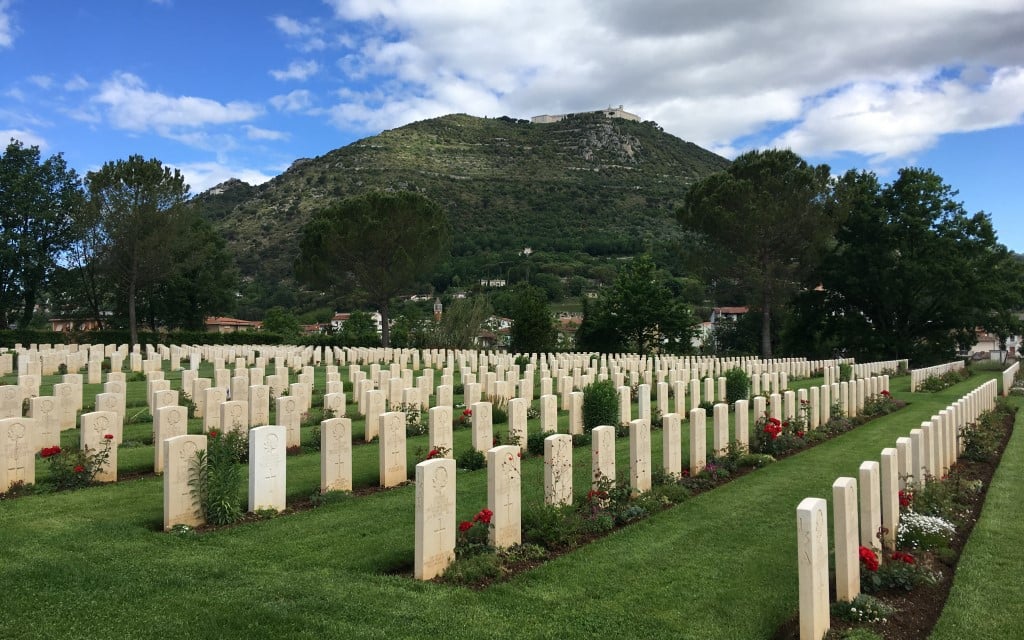 Towering above the Liri Valley was Monte Cassino, topped by a stunning Monastery. The Battle of Monte Cassino was a game changer, because this majestic building had a bird's-eye view of everything going on below. If a single German observer had been inside, he would be able to see any movement the allied forces made, even if they were miles away.
It had to be taken by the Allies, whatever the cost. Sadly, in comparison to D-Day, these battles have largely been forgotten. So, I set out to make my own pilgrimage, by carrying a poppy wreath all the way to Cassino on my 75-year-old BSA, and placing it at the centre of the Cassino War Cemetery at the 75th-anniversary ceremony honouring the 75,000 casualties there.
The plan seemed simple, but in all honesty, the BSA was totally unsuitable for the trip. Realistically, it was an adventure to get to the local shops and back! 75 years is a very long time, not only in terms of bike design and development but also in terms of wear and tear.
The thing was dog slow, with a 50mph maximum speed, the front 'girder' suspension was rudimentary, the rear wheel had no suspension at all, and the brakes were pathetic single leading shoe drum brakes only half the width of the hubs.
With puny 6V electrics, there were no indicators, the speedo was not illuminated, there was no electric start, no neutral light, and no ignition key for security. It also had no fuel gauge, not even a reserve tap, and if the tank was filled near to the top it would slop fuel all over me at each bump. 
Then there was the gearbox. Not only was it incredibly slow-changing, but it was on the 'wrong side' of the bike, being operated by the right foot, rather than the left. If that wasn't enough, to change down, the gear lever had to be pushed upwards and to change up, you had to push it down!
Even when I thought I was on top of everything, emergency stops inevitably resulted in me changing up, rather than applying the rear brake. The day before leaving, I was further frustrated when the rear stand fell off.
If this was a sign of things to come, I was in trouble. It was not only that lost nuts and bolts could be annoying, they were also very difficult to replace, being of different sizes and having different threads to modern fixings. This would make them all but impossible to buy in mainland Europe. 
Thankfully, a couple of mates liked the idea of the trip and offered to join me in case things went wrong, so, on an overcast and humid day in May, Dick Whitehouse and I looked up at the ominously dark and threatening clouds as we landed at Dunkirk, the site of the famous evacuations in 1940. Little were we to know that this was as good as the weather would get.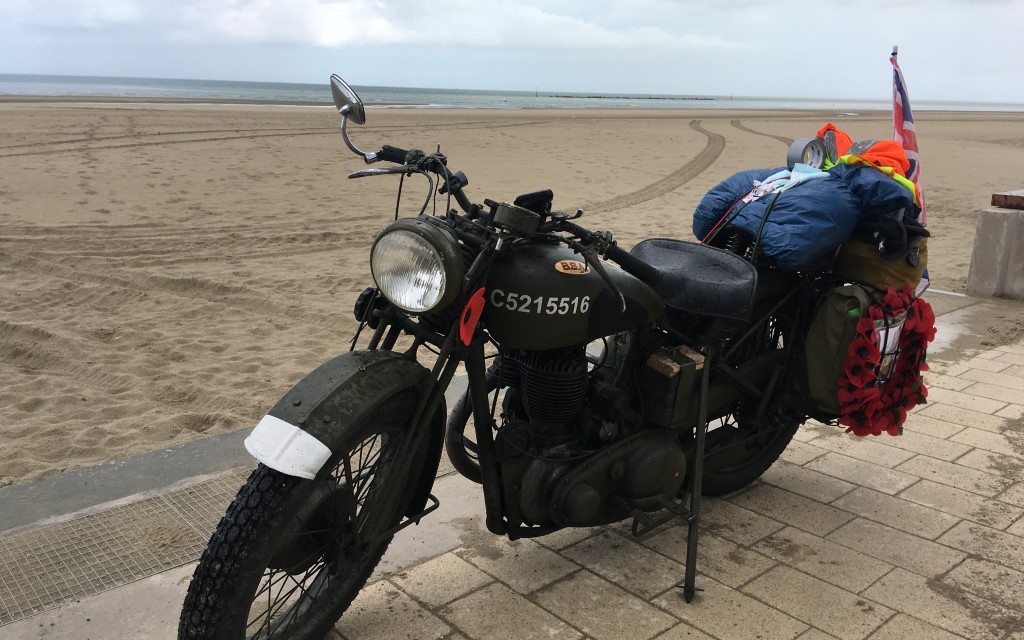 I was travelling light. The BSA had a pair of rather frail pannier frames on which canvas bags could be strapped, but they had a profound effect on handling if any weight was put in them. A realistic maximum for each pannier was only 5kg. This would have been fine, but I carried a heavy bodge kit including tubes, tools, levers, spares, and even a head gasket.
The only real option was to strap this to the pillion seat. Clothes went in one pannier, my tiny Argos one-man tent and camping equipment in the other, and the cheap single-season sleeping bag on the rudimentary rack, leaving me to carry the rest in a backpack. Once packed, the rucksack weighed around 10kg. No big deal on a modern bike, but on an un-sprung classic it was a pain. 
For years, I saw riding across northern France to be a necessary evil. A tedious journey with no virtue, but one which had to be endured in order to get to anywhere interesting. However, with Dick on his Royal Enfield Himalayan navigating us along minor roads at modest speeds it was fantastic. Deserted back roads occasionally gave way to deserted villages, before more deserted back roads. A total contrast to my previous rides through northern France. 
After a couple of days, we crossed the Jura mountains, through hail and violent thunderstorms, with lightning appearing to hit the road in front of us. It should have been warm in May, but this was more like an early morning commute across the Pennines in winter!
That afternoon, after 200 miles on the road, we briefly saw blue skies as we climbed the foothills of the Alps. We hoped for the best, but climbing the Col du Lautaret at 2,058m, we hit a snow storm. By evening, after 11 hours in the saddle, we reached the Alpine town of Briancon. 
The next day saw us finally reach Italy, again in torrential rain. It had been a slow ride over the Alps. With my lights periodically fading, tunnels became a challenge and I fitted my emergency mountain bike light to the handlebars.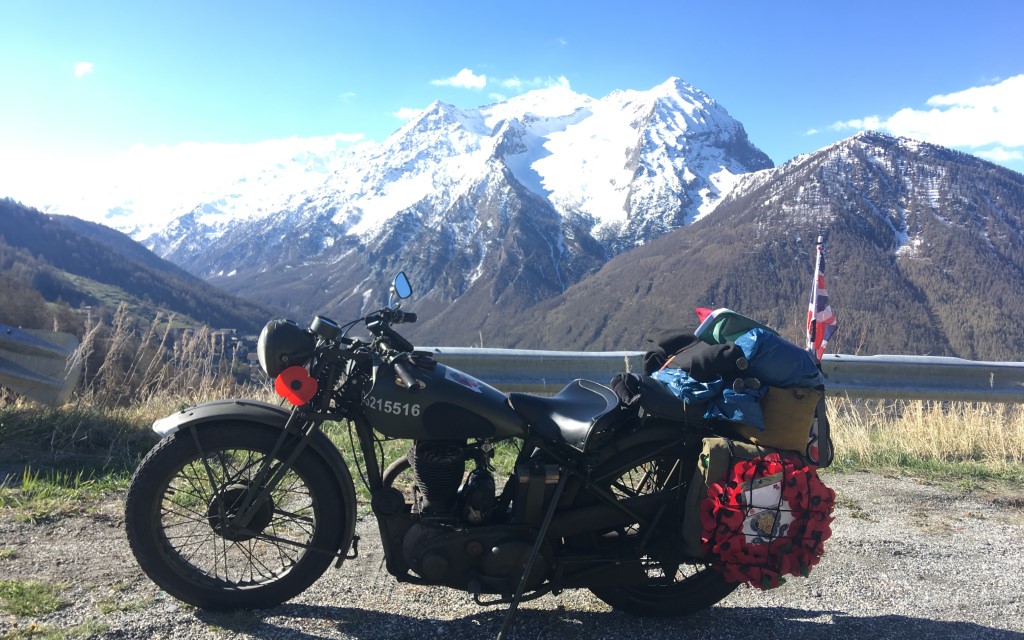 While the BSA actually handled quite well, oil over the rear tyre compromised cornering somewhat, although in fairness the substantial steel foot-pegs, which don't fold up, significantly limiting ground clearance, were more of an issue. Cornering in Italy was made even more perilous when smooth tarmac was randomly replaced with cobblestones on downhill hairpins. 
We had barely dried out for days, and the combination of wet leather, and engine oil attacking the soles, had pretty much destroyed my favourite German Para boots. With the exception of the shortest reprieves, we had been riding through deluge after deluge since landing in France.
A few hours into Italy, we crossed the tortuous Passo del Penice, which I had encountered two years previously on my Africa Twin during the Stella Safari, and finally arrived at a very wet Bobbio to hook up with Richard Foster, our third team member. 
It was about five in the afternoon, so we had time to inspect the BSA properly for the first time since leaving. It looked bad! Dick got to work making gaskets out of a beer box to seal up numerous oil leaks, while I used improvised equipment to repair three broken frame members.
The old BSA was slowly breaking up, and there was still a long way to go. I genuinely thought that everyone was right. We would never get the W-M20 to Monte Cassino. The feeling of failure was palpable, but I had no idea how tough the bike really was. 
Our arrival into Cassino was ignominious to say the least. We were soaked to the skin, and as I pulled over to the side of the road, the old BSA gave a gentle pop and died. I went to kick it over, but there was no resistance. The bike had suddenly lost compression. Thankfully, after a short rest, it decided to start again, albeit with a very long push, but it was running terribly. 
We only had two days in Cassino, so our first started early as the three of us placed the poppy wreath we had carried all the way from the UK on the memorial cross in the middle of Cassino War Cemetery. It was a very special moment. After days of struggling to get the wreath and the BSA to Monte Cassino, a journey nobody expected us to manage, we had succeeded. Job done! 
Having been warned that parking was limited, we took a few quick photographs at the beautiful cemetery entrance and pushed our bikes to one side of the small car park next to some waste-bins. However, this arrangement didn't last long as many of the visiting dignitaries and military officials attending the service wanted their photos taken with the bikes. Everyone seemed to have heard about our trip and wanted to see the machines. 
For us, two of the most important people there were veterans Ken Seager and Walter Nixon, both of whom had ridden M20s back in the day. I had been worried that my bike might bring back painful memories, but the veterans were here to remember, and it was a relief to see that the old BSA brought back fond memories and funny stories, rather than nightmares.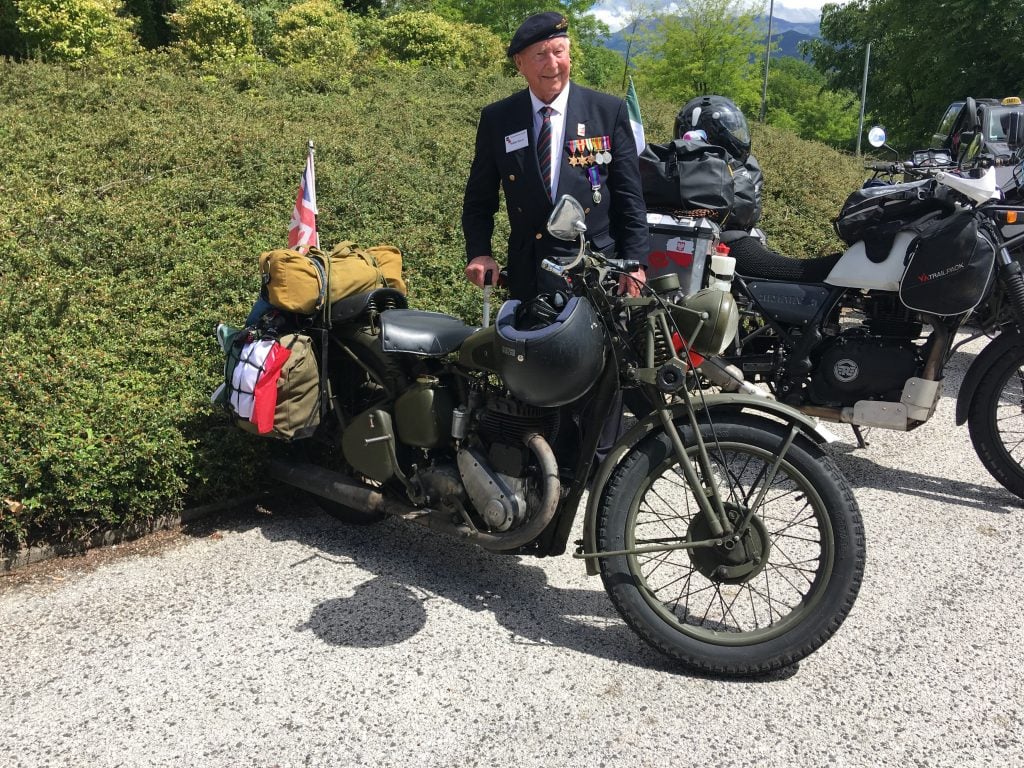 Ken Seager, aged 97, fought at Monte Cassino. After the war, he bought a BSA M20 and rode it over 100,000 miles, including on two holidays around Europe with his wife. During the second holidy, he fitted a Watsonian 'double adult' side-car in which to carry his baby daughter who, now middle-aged, had accompanied him to Italy for the commemoration. At the age of 101, his wife had 'decided to stay at home to do the housework' apparently! 
Walter Nixon was a dispatch rider in North Africa and later in Italy. His Grandson asked me to start the BSA for him. In his 90s, he was sharp and knew every detail of the bike. He recounted many stories, including one from North Africa, where he had a BSA early on in the war.
He was taking messages at night and he had a map but no light, so he joked 'that was bloody useless wasn't it'. He went on to talk about shortcuts to avoid sniper fire and described how heavy the BSA was when it fell on top of him in the desert, and the struggle it could be to crawl out from under it! 
The veterans of Monte Cassino are dwindling in number and we are about to lose touch with this valuable period of history. As it is, we can only touch it with our fingertips. 
After two hectic days in Cassino, my boots now entirely constructed of gaffer tape, it was time to leave. That nauseous sinking feeling returned as the realisation dawned on me that I had to coax the old bike all the way home again, but the ride would be absolutely nothing when compared to what Ken, Walter, and countless others had been through.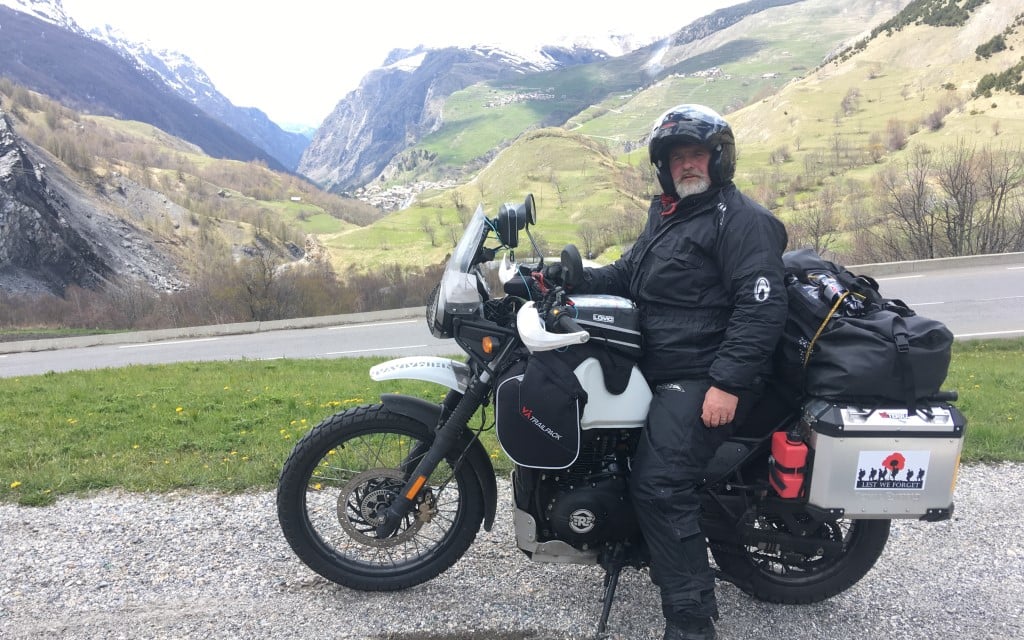 My last night in Italy was spent in a bed and breakfast in Massa. I might have felt refreshed had the crotch of my Kevlar-lined jeans dried out. The sky was grey, but for once it wasn't raining. I pushed the bike down the long drive of the house and out of the gate so that I didn't disturb the other guests. There, I tried to start the damn thing, however, it was even more resistant than ever. 
My first 100-yard dash had no effect at all, so I went for another sprint. It was then I felt a searing pain in my calf. I knew straight away I was in trouble. It was the return of a debilitating sports injury. Richard came to help, but nursing a painful injury himself, we were in a fix.
The pair of us limping along trying to start the recalcitrant bike must have looked amusing to passersby, but both of us were in agony. Thankfully, after several runs, the old BSA reluctantly began to wake up, dragging itself at a snail's pace along the narrow road. I decided that I wouldn't let the engine stop again until I reached my destination. Richard was heading back to Bobbio that afternoon, and I would be on my own. 
The rain became progressively colder as we headed back into the hills towards the Passo de Bacca, where we climbed between stunning rocky outcrops into the clouds. It was great to get out of the built-up coastal areas, and to get some miles in, but I wished that the weather was better because it was obvious that both the road, and the views were stunning. 
Approaching Genoa, we stopped at a service station. Leaving the BSA running so that I wouldn't need to start it again we compared maps, and rode off in separate directions, Richard heading back to Bobbio, me aiming to cross the border to France. 
At the French border, I found an automated petrol station where I could leave the bike running while I refuelled, then headed towards Digne, past the stunning walled medieval town of Entrevaux and into the Verdon Gorge. With all campsites closed, and still in pouring rain, I finally found a hotel that was open. It was expensive, with thin walls, cracked windows, and stained carpets, but I cut my losses, paid my money, and slept like a log, as usual surrounded by soaking wet clothes.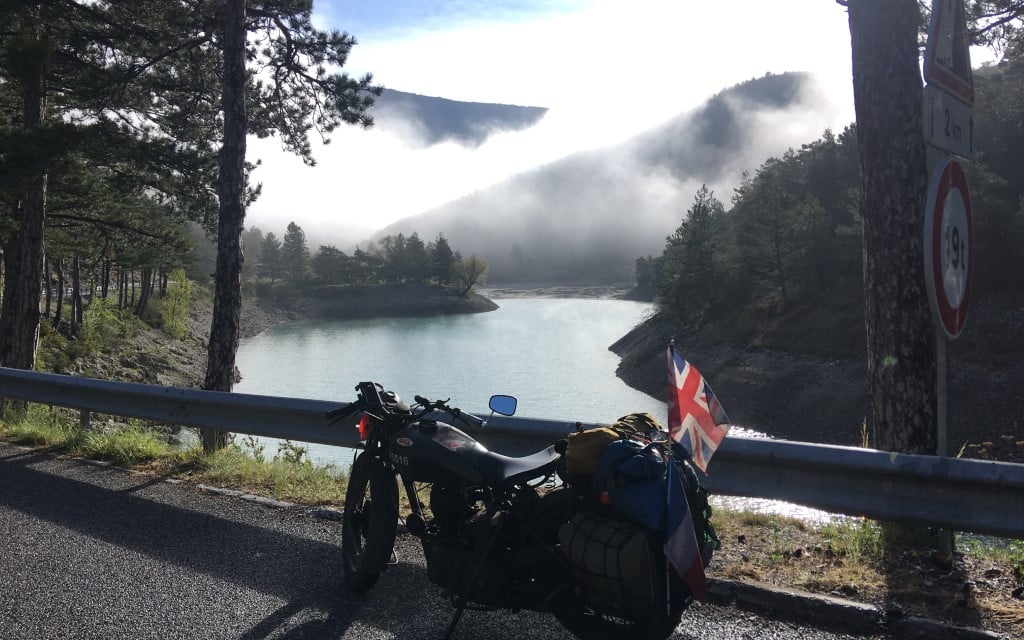 That morning, the bike was covered in ice, but the sky was blue. The scenery was stunning as low clouds cut across the vertical rock outcrops. All seemed well in the world until I noticed that my left foot had begun slipping around on the foot-peg. I needed fuel anyway, so pulled over into a filling station, leaving the bike running while filling up as usual. The problem was obvious. The barrel had become loose, and each time the piston went up it took the barrel with it for a short distance before slamming it back down again.
Oil was spurting out as if the engine was suffering from a severed carotid artery. Within minutes, the four offending nuts were re-tightened, and oil loss was much reduced, however, I had almost emptied the oil tank. That evening, I was able to camp again, but after an uncomfortable night spent in a very damp sleeping bag in a wet tent, I woke at first-light. In the chill of the early morning air I pushed the old BSA the couple of hundred yards to the camp-site entrance so as not to wake fellow campers. 
To my amazement, the bike started first kick and settled to a regular idle. Cruising slowly into the countryside, with the pallid sun tentatively peeping through the early morning mist I found myself totally on my own. Regardless of the noise I was making, wildlife seemed oblivious to me.
At one point, a small herd of deer watched inquisitively as I passed. A little later a wild boar charged across a field below the mist. I was shaking with the cold already, but it looked like the day would be a good one. By lunchtime, I had covered over two hundred miles, and by the end of the afternoon, I was fast approaching Calais, with around 400 miles under my belt. Split between staying at a camp-site close to the port or pressing on. I chose to keep going. 
Had the lights not packed up again that would have been the end of my adventure, but as I motored down the A2 on the way back from Dover in total darkness the lights went out altogether. This was suicidal, so I pulled into the forecourt of a car dealership. There I crawled into my damp sleeping bag under a starlit sky until dawn, and I was wakened by birdsong. By then I was freezing. I couldn't be bothered to mess around with maps and back roads, so took motorways home, challenging roads for such a slow bike.
It wasn't much fun, but it wasn't like I was risking my life charging against an enemy dug into a mountainside strewn with land mines, barbed wire and machine guns. What I had learnt about the Battle of Monte Cassino, and after meeting some of the few remaining veterans left me feeling totally humbled. In comparison what I was doing was at most a walk in the park, maybe even an irrelevance. 
I finally arrived at a local coffee shop shortly before seven. With no milk at home, I was desperate for a cuppa. I could barely move my fingers, and as I stopped the bike it nearly fell over as I tried to reach the ground, my leg being reluctant to move. I found that I could no longer speak and was unable to open my rucksack to get to my money, so used sign language to order a large cappuccino. I went to the toilet and glanced in the mirror. I was badly shaven, with a bright red nose, cracked eyelids, and blue lips.
My left hand looked red raw, and the fingers of my right hand were turning blue to match my lips. Hypothermia had crept silently upon me. I've done several thousand-mile days on a modern bike, but they pale into insignificance in comparison to 550 miles on the BSA, all at under 50mph, mostly on back roads, during a 24-hour period which included a ferry crossing and a few hours sleeping rough in a carpark! After 16 days, mostly in foul weather, I was spent, but I hadn't enjoyed a trip so much in years!