The Adventure Bike Rider Festival 2019 attracted all sorts of guys and girls from a variety of walks of life. John Norris set out to discover just who they were. Here, he shares their stories.
These portraits are essentially a record of my own experience of the ABR Festival 2019 when I set out to see who turned up at Ragley Hall. I knew things would roll well when I realised I had inadvertently put my tent up right next to the veteran motorcycle adventurer Sam Manicom. When legendary travellers Lisa and Simon Thomas put their tent up on my other side, I knew it would be a special weekend.
I set out to photograph people simply as I encountered them by chance, on the campsite, by the food stands or after meeting them at the bar. I came away inspired by people's stories, not just well-known folk like Elspeth Beard, whose excellent book I had recently enjoyed, but random ABR readers with their own tales and much-loved machines.
What better example of this than Jess and Bart's extraordinarily customised R1100GSs? If a brace of brand new Brough Superior SS100s had been parked next to their bikes, people would have walked straight past them to look at those well-travelled and much-loved pride and joys. There's nothing quite like a bike and rider partnership that's clocked up a few miles together…
Names: Jessica Leyne and Bart Lammaing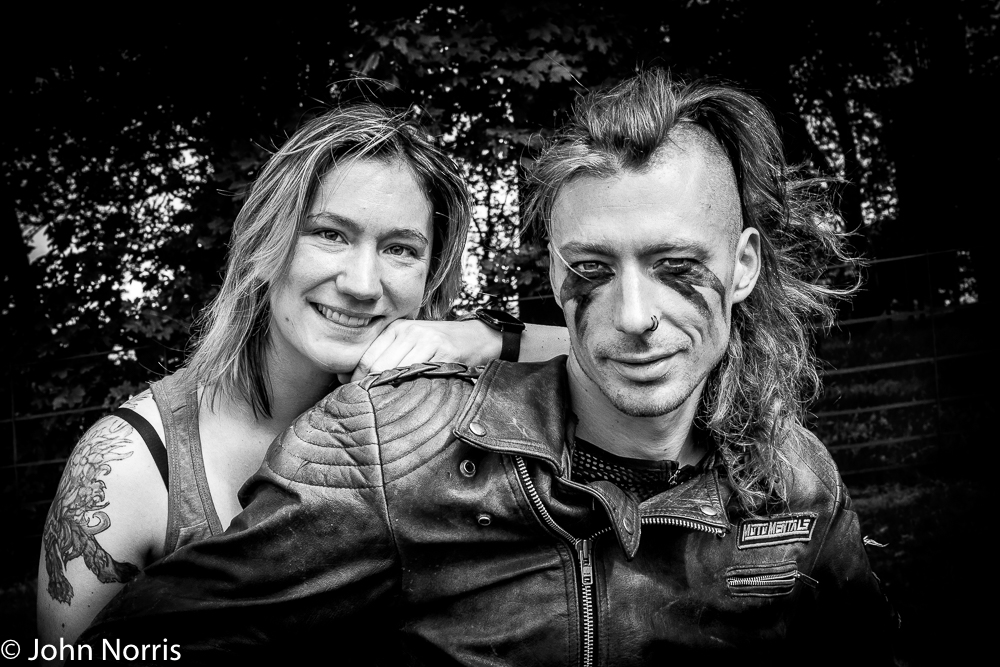 Bikes: Both on BMW R1100GS
Jess: I was formerly a maths teacher, but quit so I could explore remote parts of the world by motorcycle. I am lucky because I married a man who also loves to travel and ride bikes. I rode an Aprilia RSV Mille on track days (where I met Bart) before getting into adventure motorcycle travel. I have ridden in Norway, Romania, Slovakia, Italy, Albania, Japan and the USA. The love of my life is Hyperion, my uniquely modified BMW R1100GS from 1994 with over 233,000 miles on the clock. I've never had a bad day on my bike! Bart: When I was a little boy and life seemed to go along just too slow, I tried to imagine how it would feel to ride a bike.
At 16 years old, I got my licence and started to ride my parents' Peugeot 103 moped. Bikes were never just transport, but the whole scene, true life! Sleeping next to the bike under an open sky, getting drunk by a campfire in an unexpected place, sleeping between the bikes at -17C under an old rag… even crashes. Every experience strengthens the bond with the machine and feeds into the lifestyle. When I saw Ragley Hall, I couldn't believe my eyes, what beautiful countryside! We were the last to leave the campsite on Sunday and, after 2,500 people had left, there was not a piece of plastic or a bottle in sight… What an example!
Name: Jason McGiff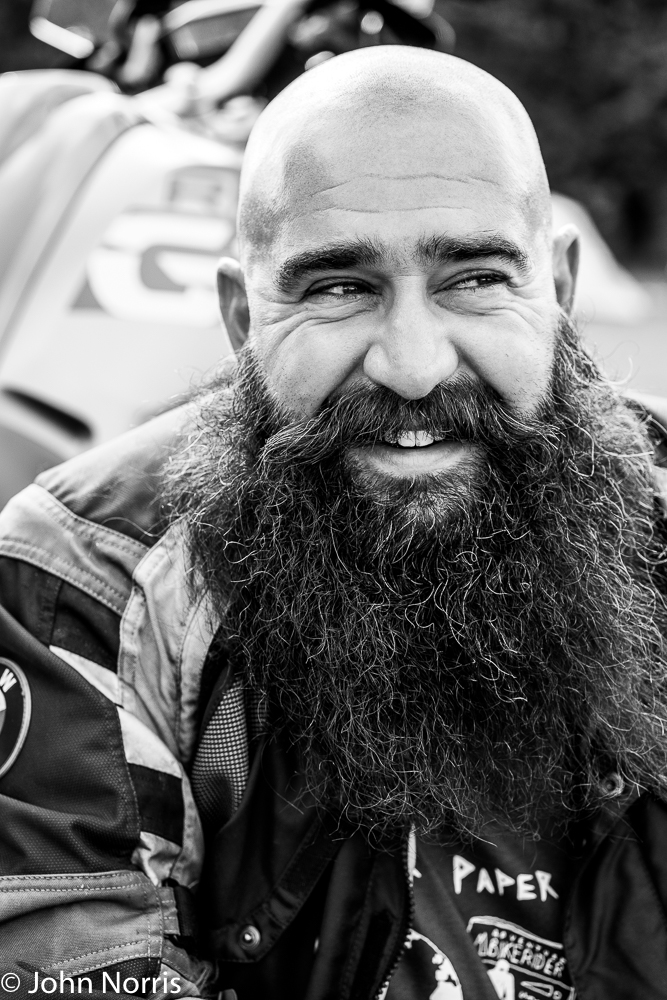 Bike: BMW R1200GS Rallye TE
My bike is a 2018 BMW R1200GS Rallye TE. I've been riding for 30 years and between road bikes have 'enjoyed' many injuries during a lengthy spell on various enduro bikes, mostly in the Lake District. I work as a car mechanic in the family garage. This is my second GS, the first of which replaced a Harley Sportster! Sublime to the ridiculous, or perhaps a mid-life thing, but I really enjoy this type of machine as you can load it to the gunnels for a continental trip or remove the luggage and scratch about on a Sunday morning. I try to travel as widely as possible and last year I visited five countries in as many days on a whistle-stop Euro trip.
Names: Matt Bishop and Reece Gilkes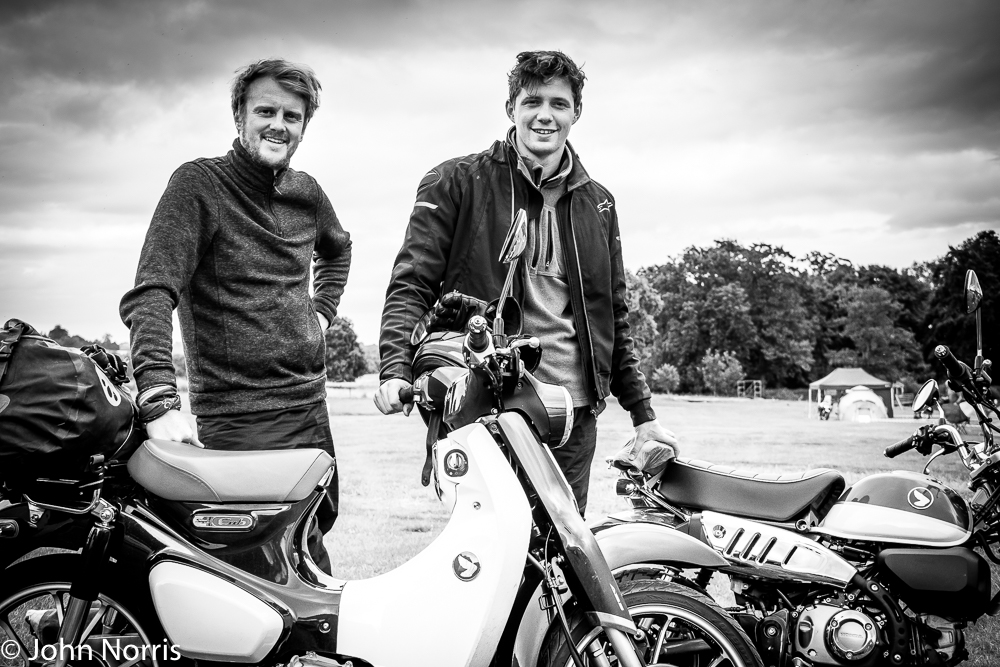 Bikes: Honda Cub and Honda Monkey Bike
At the moment we are riding a Honda Cub and a Honda Monkey bike, which Honda has lent us. They have been a lot of fun and get attention wherever we go. We have called in here at the festival on our way back from riding to John O'Groats. We hit rain on the way up and we have been in it all the way back down to here. I want to get a bike of my own soon, but I need to get my licence first! I've [Matt] just found a job as a fundraising manager at a charity called Comrades of Children Overseas and Reece is on the hunt.
We are both into bikes now, but it was never about the machines for us, it's about the freedom they give. Since completing our circumnavigation of the globe on a scooter and sidecar raising money for the campaign against modern day slavery on the way, we have been working here in the UK to raise awareness and more funds for this worthy cause.
Name: James Wooldridge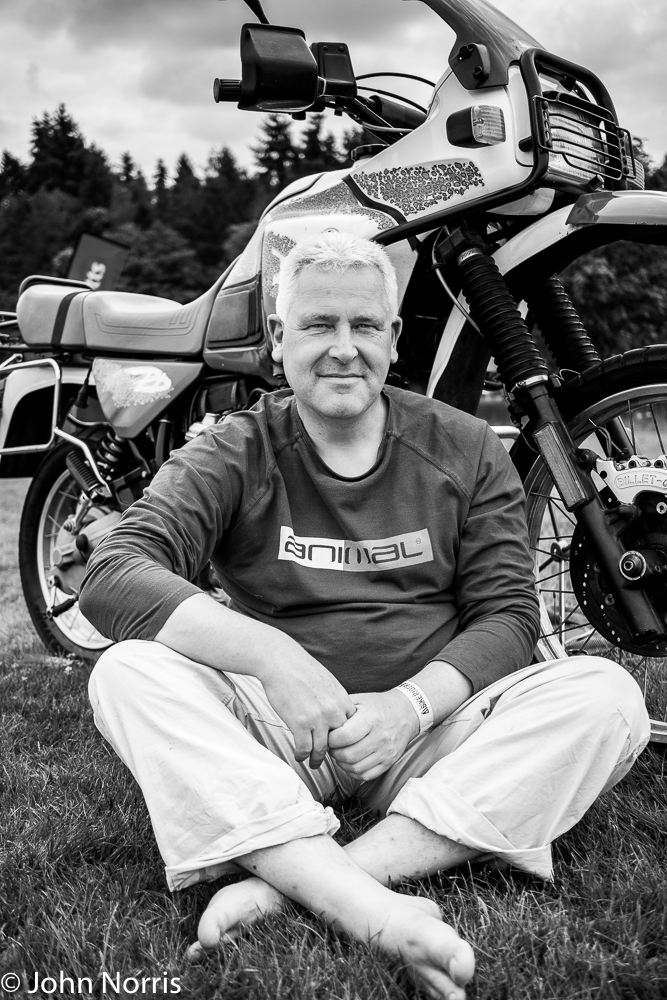 Bike: BMW R100GS PD
I provide motivational speaking and mental health training services through my business, Positive Notions. Riding my wonderful classic motorcycle is one of life's greatest pleasures. I had never even considered riding a motorcycle when, one day, I caught sight of a beautiful GS in a dealer's showroom. In a moment of impulse, I bought the bike and only then set about learning to ride and taking my test! I love the camaraderie and sense of belonging that riding bikes can give. I am planning to explore Exmoor and Dartmoor next.
Name: Dominika Grnova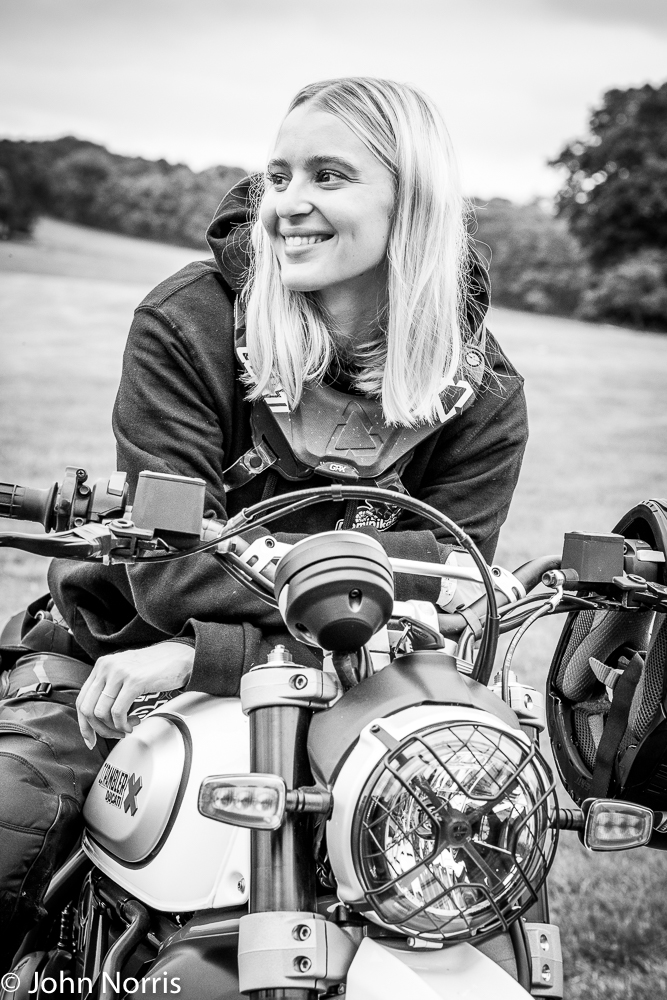 Bike: Ducati Scrambler Full Throttle
I always had a big love for motorcycles, but I never thought I'd have the chance to own one. Maybe because of our society, I never believed I'd ride one but in the summer of 2016 I passed my test and my motorcycle adventures began. My first bike was a CBF 250 that I bought from the Bike Shed, but once I'd tried the Ducati Scrambler Full Throttle I fell in love with it! I ride year-round, mostly in London, but shipped the bike to Greece for a month of riding there. I've been doing lots of flat track practice and events at the DTRA, Barnstormer and Ladies Dirt Camp riding Hondas. I've ridden Dirtquake in 2017 and 2018, twice getting second place.
Name: Elspeth Beard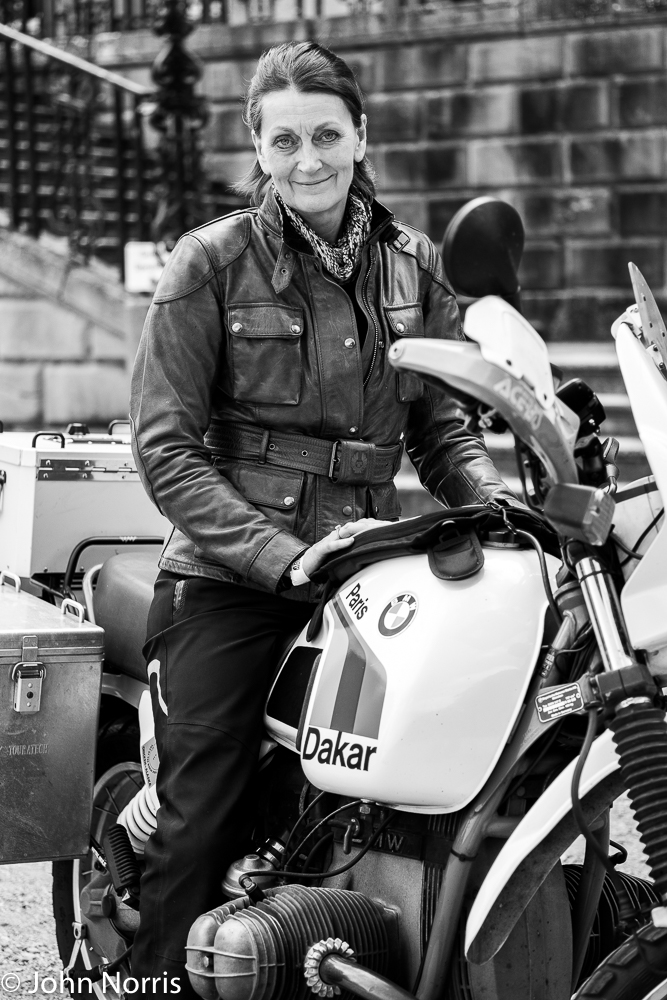 Bike: BMW R80GS Basic
My current bike is a BMW R80GS Basic from 1997, but my companion on my two years around the world (back in the 1980s) was my BMW R60. At the time, she was all I had in the world. We looked after each other and she became part of me, I could not imagine ever being without her. Although I love riding my newer R80GS, my trusty R60 is still special as she holds so many memories. My lifelong career in architecture was kick-started by the purchase and subsequently very challenging renovation of a Victorian water tower. I would never have had the courage to buy it at such a young age if I hadn't made that long motorcycle journey.
Name: Phil Parkinson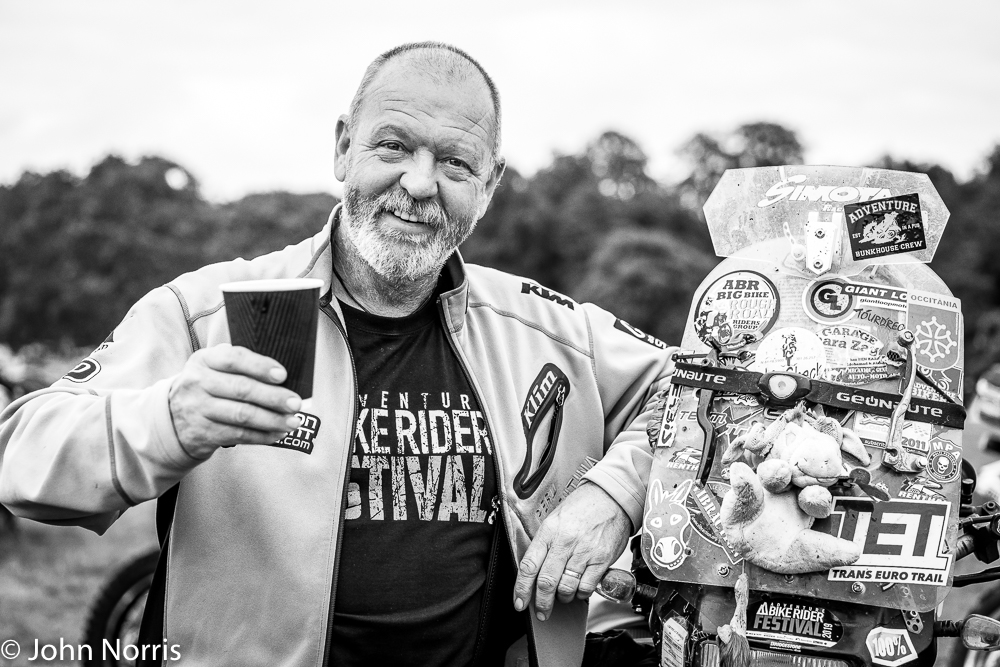 Bike: Suzuki DR650 SE
I ride a 1997 Suzuki DR650 SE, but also have four KTM 400s and a KTM 520 that I rent out from Jax Shack, where I live in France. I got into bikes properly at the age of 16 as a means to get to work and bought a Suzuki GT125 ram air (KFV392N). How sad that I still know the reg! Bikes are now purely for fun, an escape from reality and a way to see other countries.
I'd had a belly full of the UK, although I had a very successful company with all the shiny stuff, but realised I needed less. I sold the business and bought a plot of land in southwest France. My daughter is getting married in South Africa, where she lives, so naturally, I have sourced a bike hire place there for after I've walked her down the aisle. Plans are also evolving to visit the Stans, Red Square and ride some of the TET.
Name: Mick Extance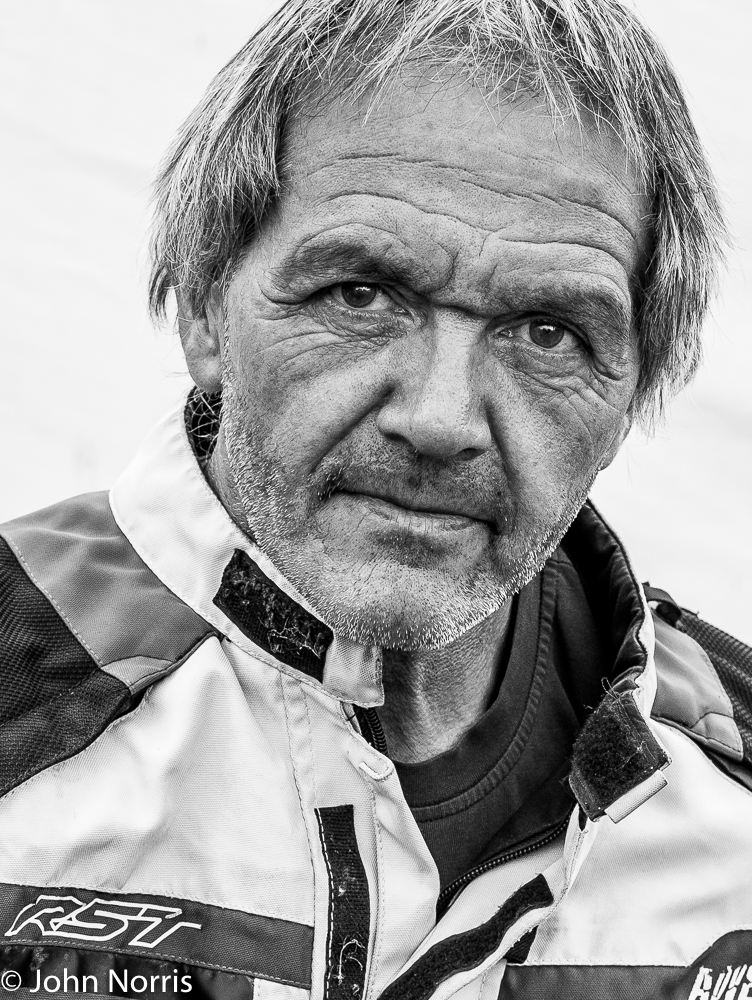 Bike: KTM 450 EXCF
I come from a very big biking family and my dad got me started in trials when I was about 15. I've had a lot of pleasure from my time in bikes. After my last Dakar, in 2009, I felt it was time to give something back, so the obvious thing to do was to start a training school and encourage others to share my passion for off-road motorcycling. For a while, I had this crazy desire to do another Dakar at the age of 60 years old, to see what that felt like. Then, in September 2017, out of the blue, I was diagnosed with a brain tumour which led to life-threatening surgery, intensive care and a tough rehabilitation.
Now, I want to inspire others who are going through a similar journey to not give up, to keep chasing their dreams. I won't give up until the Dakar is part of my life again. I'm working hard to get on the start line for Dakar 2020 in Saudi Arabia. The priority is to raise as much money as possible for The Brain Tumour Charity and also for the neurosurgical ward at Royal Stoke University Hospital, where the staff, without doubt, saved my life.
Name: Bob van Huijstee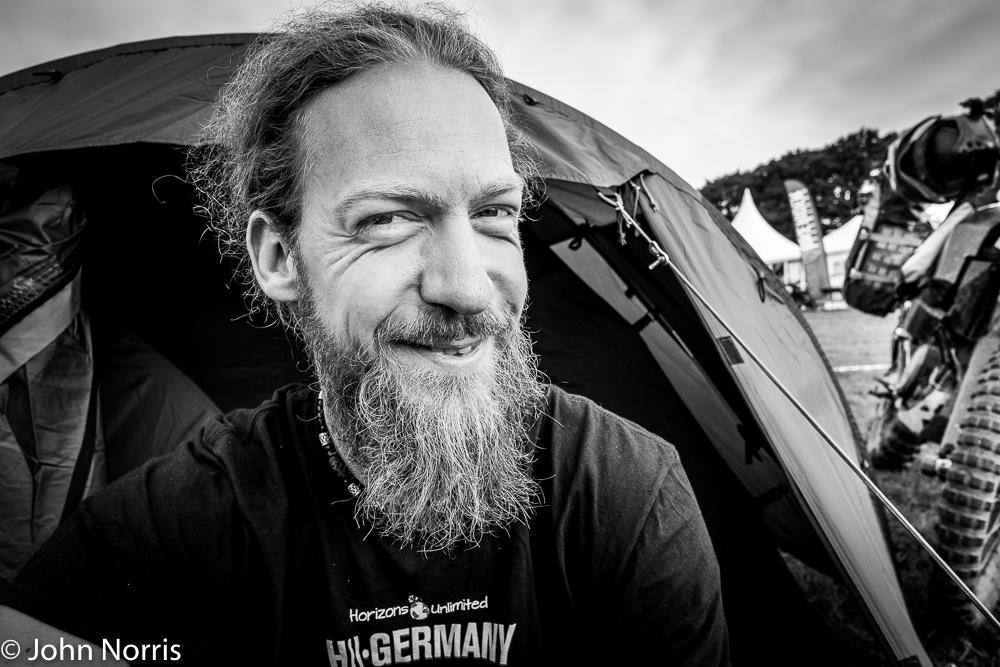 Bike: KTM 690 Enduro R
I ride a 2009 KTM 690 Enduro R and several other bikes. I first got into bikes through my dad, who also rides, and I've been riding for as long as I can remember. I work as a part-time motorcycle mechanic and don't even own a car. I have ridden a large part of Africa, much of western Asia and, of course, Europe, but I have more plans! I want to ride from Alkmaar, Holland to Nelson in New Zealand.
Name: Danielle Ward
Bike: Husquavarna 701
I had an XR250R once. Great bike, but once, on a TRF ride in Wales, after I'd dropped it, there was a comical line of exhausted people that had tried and failed to kick start it. Reluctantly, I had to let it go. I generally use a KTM 350EXC now for trail riding (it's light and has an electric start) and use the Husky 701 for travelling and trail riding longer distances. I started riding on green lanes as a learner at 27 (I am now 61). After my first bike experience riding pillion with my partner Dave, I was desperate to ride my own. He got me a DR125 and a black leather jacket.
Dave took me on numerous off-road expeditions over the miles of deserted army land around where we lived. It was ideal territory for trail riding and learning to ride, but it might not always have been entirely legal. I had only been riding six weeks when I went on my first TRF ride, which included the infamous Butser Hill… I almost made it! I am guiding runs at the ABR Festival with the TRF Lodden Vale group. I reckon riding green lanes in the UK prepares you for riding anywhere in world.
Name: Jim Greenhill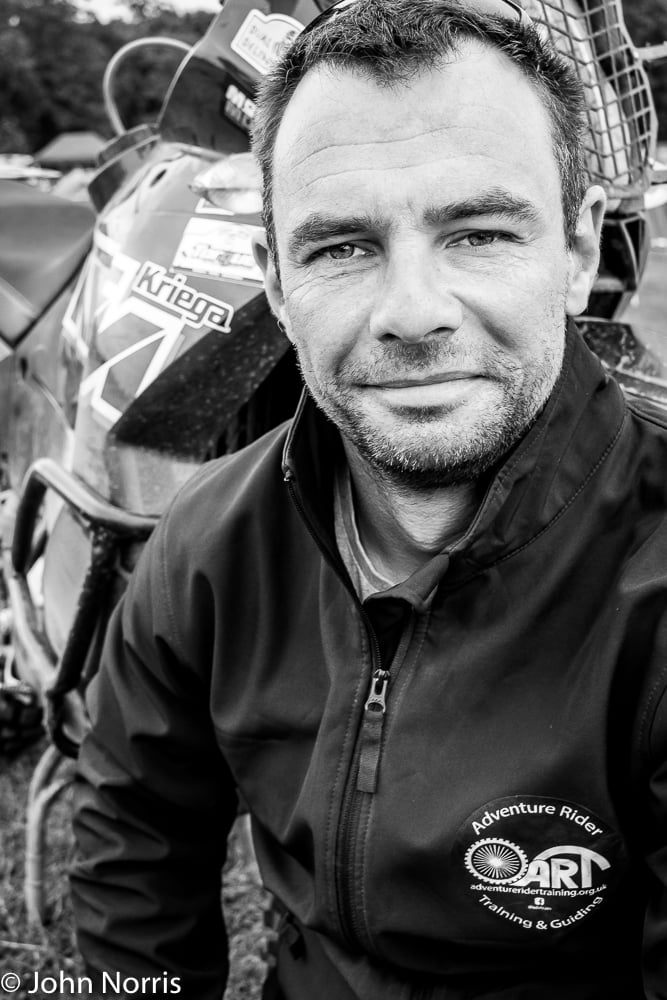 Bike: KTM 990 Adventure
I started on a YZ 50 and over time progressed to the two bikes I have now a KTM 990 Adventure 2012, and a BMW R 1200 GS LC 2015. I use them for my work, which is training and guiding, and also personal adventures worldwide. I have too many adventure plans to list, it's what I think about when I go off to sleep and the first thing I think about when I wake up!
Names: Mark and Denise Collins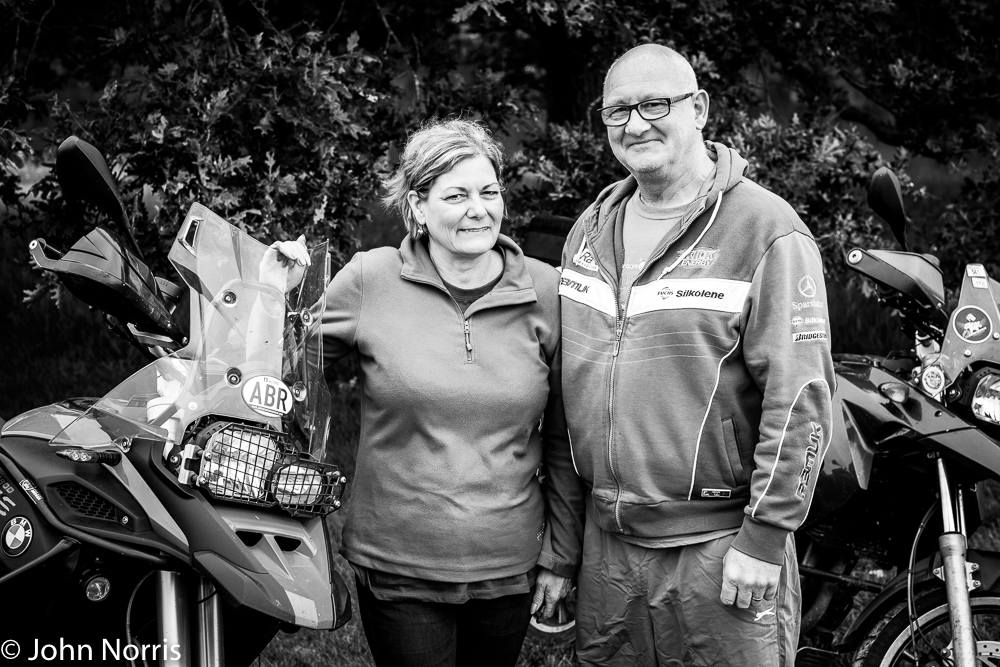 Bikes: BMW F 800 GS Adventure and BMW F 650 GS
I ride a BMW F 800 GS A and Denise rides an F650GS. We both rode bikes when we were teenagers, although I started when I was 10 years old on BSA Bantams and Velocette field bikes, and later on a sky blue Bultaco. We always souped them up, they were never fast enough! I progressed to proper trials bikes, but then the laws changed around riding a 250 as a learner.
In order to pass my test, I had to go back to a 50cc. We both come from biking families, but Denise gave it up at 18 years old until recently, when she showed an interest in riding her own bike. You see more as a pillion, but it is more interesting to go on a journey than to be taken on one. I encouraged her, as I do any female riders, and now we ride together, touring in Europe and taking part in Iron Butt rides.
Name: Patricia Moriarty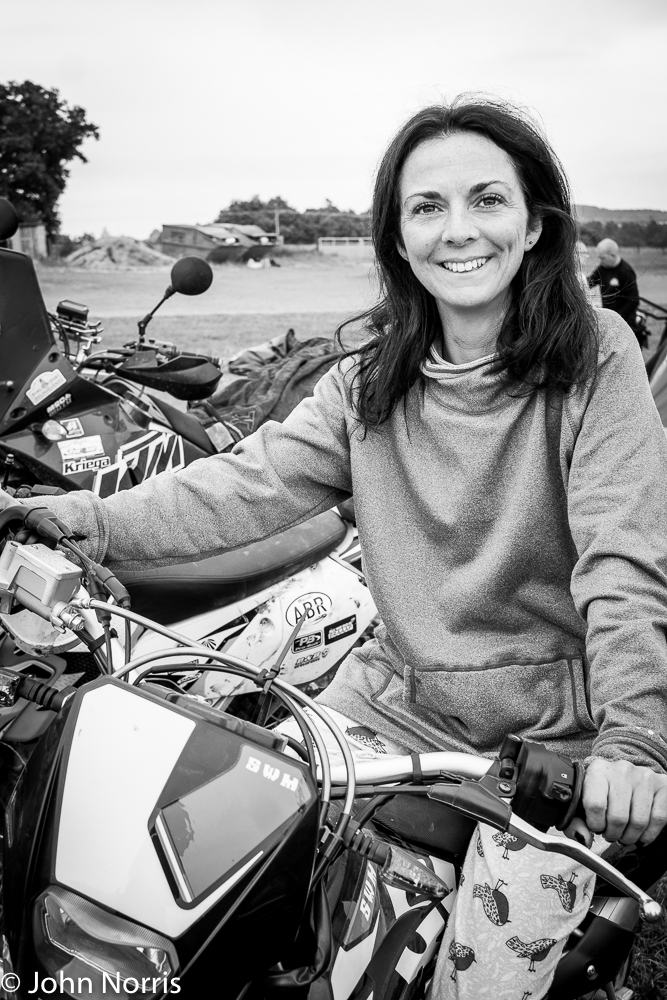 Bike: SWM RS 125
I ride the SWM RS 125 2018 that my partner Jim surprised me with at the ABR Festival! I rode motocross from 19 years old, but after nine years of it I had an accident and stopped. I plan on doing enduros and trail riding now, and I work with Jim on the rider training and guiding days.
Name: John Mc Larnon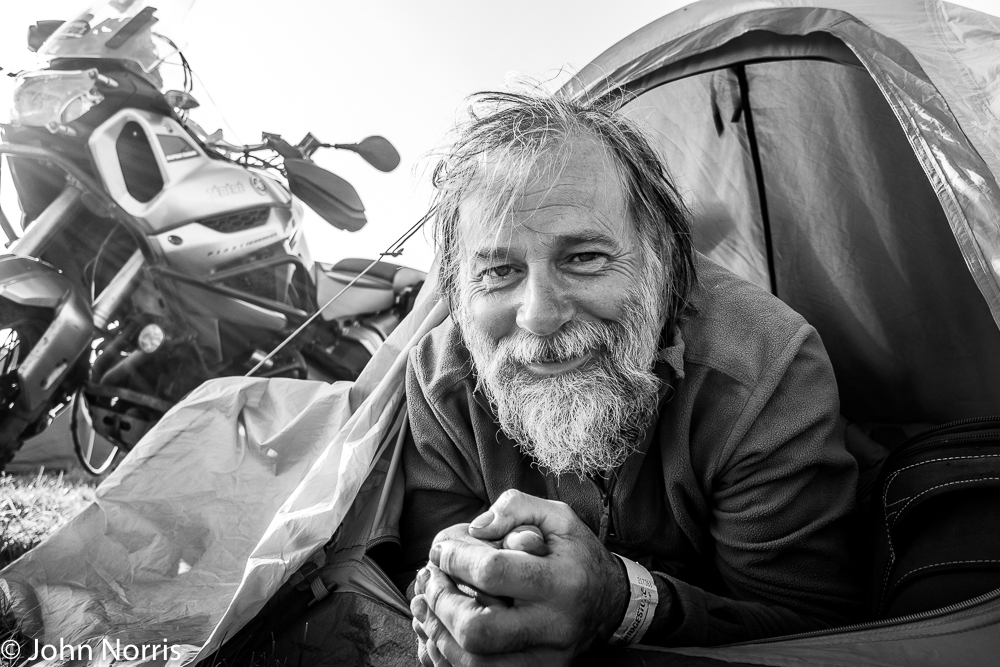 Bike: Yamaha Super Ténéré
My bike is a Yamaha Super Ténéré, 'Old Silver'! I have put 80,000 miles on it in six years and use it for both commuting and adventures. I started riding in 1991 on a Honda VF400, but my goal for the future is to go to India and tour through the Himalayas. My travel motto is: 'bring a tent and you'll always have somewhere to sleep, even if you get woken up early by a persistent photographer!'
Names: Simon and Lisa Thomas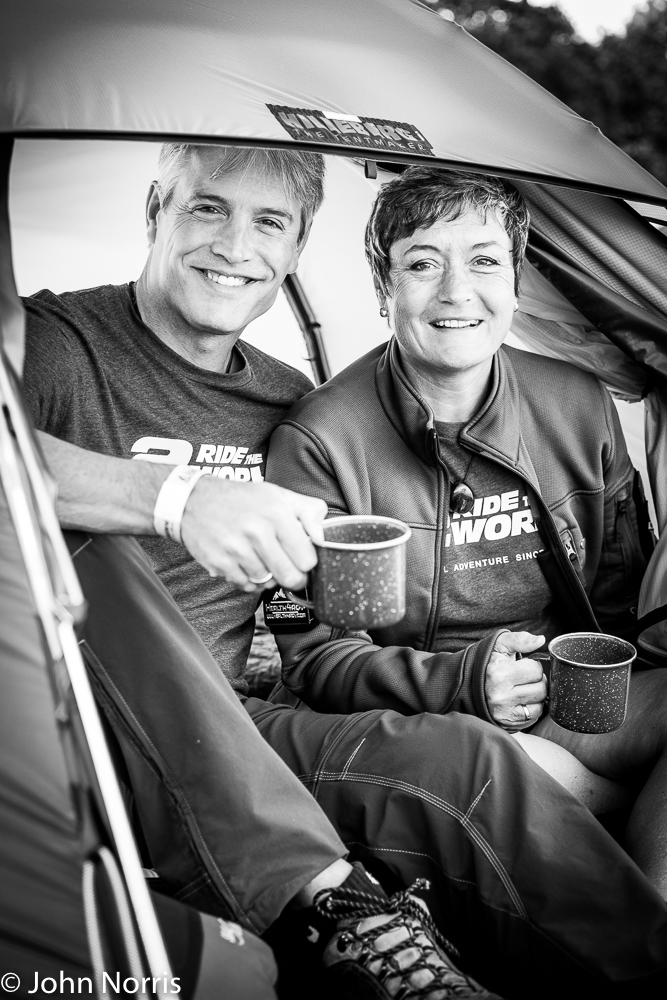 Bikes: BMW R1200GS Adventure and BMW F800GS
Simon: After a bike spill, 14-months of being bedridden and five surgeries to get me upright, something ignited inside my head in 2001 and by May 2003, Lisa and I closed the door to our home and set out to ride the world for 18-months. Half a million miles, 16-years and almost a hundred countries later, it feels surreal to be the ones on stage inspiring others to 'get out there!'. It's the oddest thing, sometimes I listen to my own words and if feels as though I'm describing things that happened to some other lucky sod because I can't possibly be worthy of a life this full. Our journeys have always been lit up by small but regular acts of random kindness, the world really is a far better, more generous and hospitable place than we've been led to believe.
When I'm on my bike I know exactly who I am, and I promise you, there's no better way to see the world. Ride far, ride safe. Lisa: I have three loves in my life; my original F650GS (Tarzan), my current F800GS (Taz) and my husband (Simon)… Often in this order! No, but seriously, after travelling for 16 years continuously I consider myself so lucky to have found a partner with whom to share this, sometimes dangerous, but always spectacular way of life. I never cease to be amazed at the kindness we have met from others during our travels across almost 100 countries, nor the camaraderie of other travellers; it's this that keeps me wanting more. Travel is a bug that gets under your skin and I don't think there is a cure… Other than just more travel.
Name: Chris Gale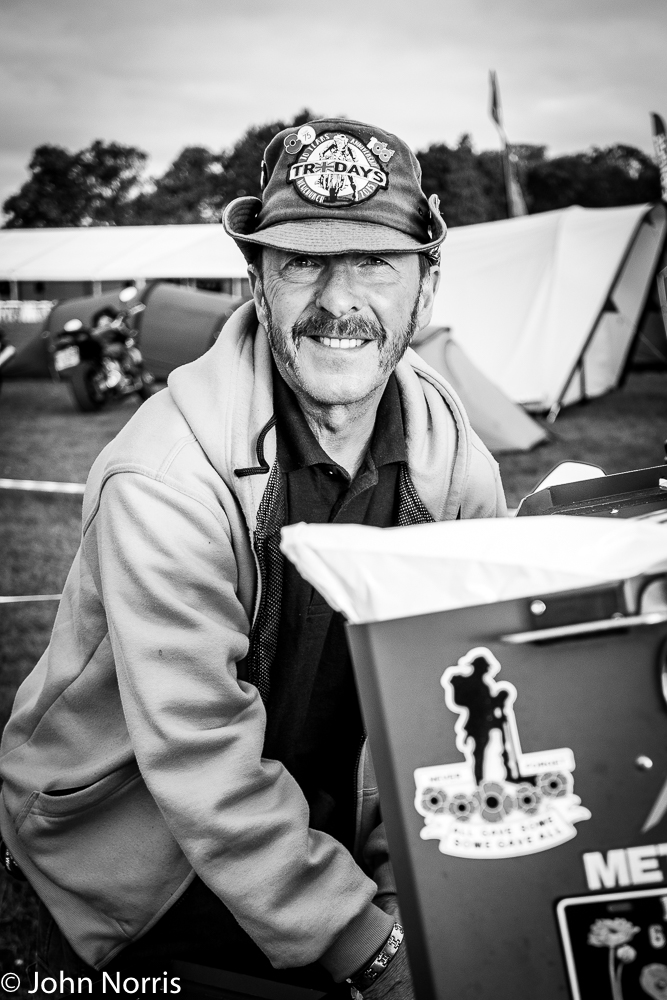 Bike: Triumph Tiger XRT
I am now retired after being a postman and a driver for Royal Mail for around 36 years. I have ridden bikes on the road since I was old enough to have a licence, having ridden my brother's bikes around the garden. I grew up around bikes with my uncles and father having them. When I was a kid, Dad had a motorcycle and sidecar that all the family (four children, mum and dad) got about in.
I've ridden in lots of great countries including New Zealand, India, Thailand, Laos, Cambodia, America and Europe. I have two sons who both ride bikes. I hope to carry on helping Bike Tours for the Wounded (BT4WT) and enabling others to enjoy the thrill of being on a bike.
Name: Chris Scott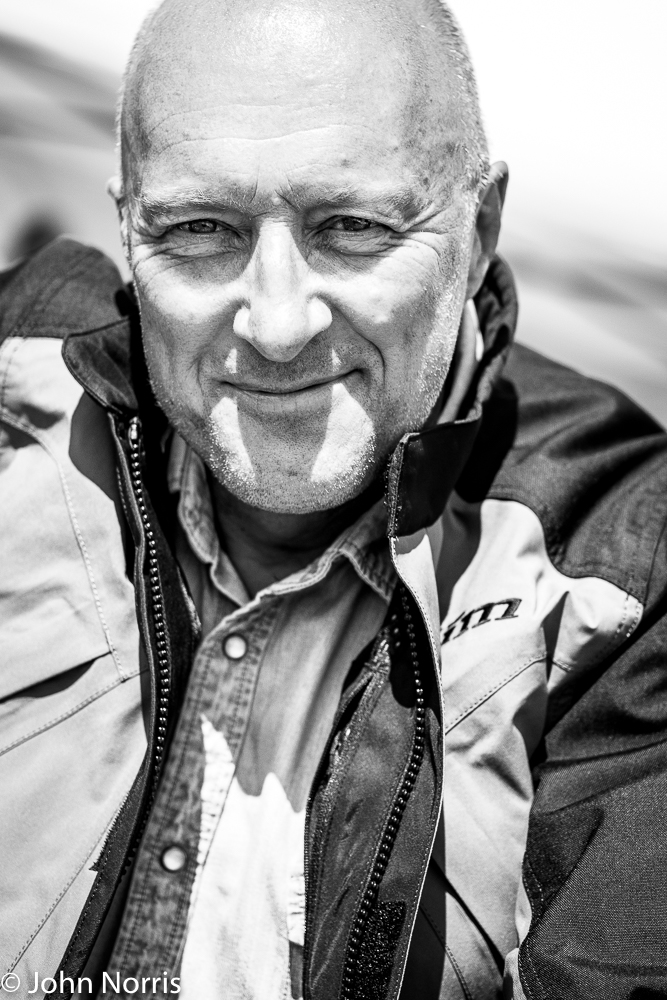 Bike: Royal Enfield Himalayan
I recently bought a Royal Enfield Himalayan with 950 miles on the clock and rode it for a month on road and trail in Morocco, its a great travel bike! I have also owned an XSR700 Scrambler and I can vouch for the brilliant CP2 motor in the desert, but I've been looking forward to trying the new Yamaha Ténéré 700 here at the ABR Festival. My first Sahara trip was on a crude XT500 and then in 1986 I returned to the desert, this time on my XT600Z Ténéré, which was desert ready out of the box. I rode it to Dakar, arriving with the rally of the same name.
Name: Stéphane Rocher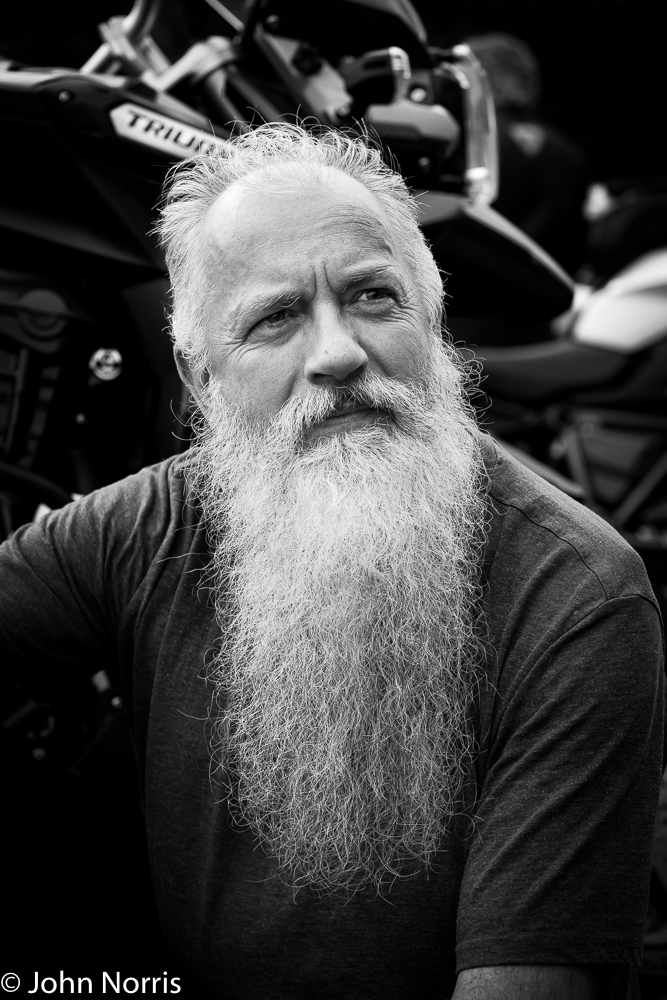 Bike: Triumph Tiger Explorer 1200
After a life in broadcasting, I am now a professional barber. I grew up in France but have spent 20 years living in the UK. I now ride a Triumph Tiger Explorer 1200. I did my motorbike licence together with my car licence when I was 18 years old (1979). Touring is my thing and in June I did a week's tour through Germany with my 13-year-old daughter.
She was the reason I had a break from biking (when she was born) and she is the reason I'm back on the bike after she begged me to get a new one so we could go touring together. The next tour planned will be Scotland (visiting lots of Whisky distilleries). I love touring in Scotland and the isles and have been many times. I have always stayed on road but would like to get into some green lane riding as well.
Name: Clint Randall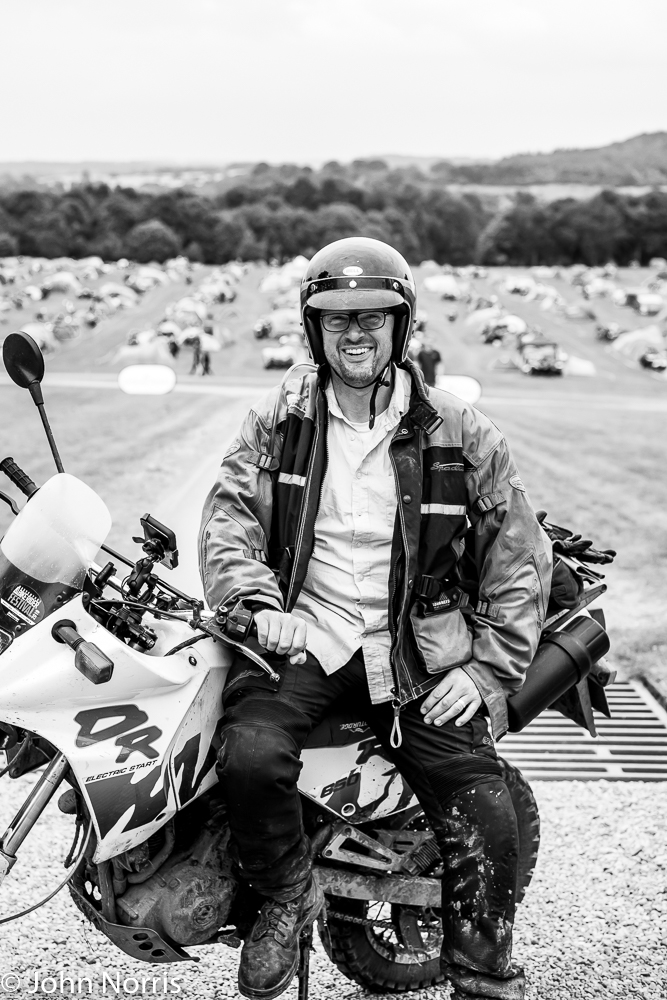 Bike: Suzuki DR 650 RSE
I ride a '92 Suzuki DR 650 RSE that I bought as a barn find this year, and I love it. It's like a two-wheeled Land Rover. I've been riding since 1986, starting on a Suzuki AP50. My favourite trips so far have been Everest Base Camp on an Enfield and Hanoi to Saigon earlier in the year on a Honda XR150. I am planning to ride more of the TET this year with my son Tom, who rides a 1987 XT600 Ténéré.
Name: Sam Manicom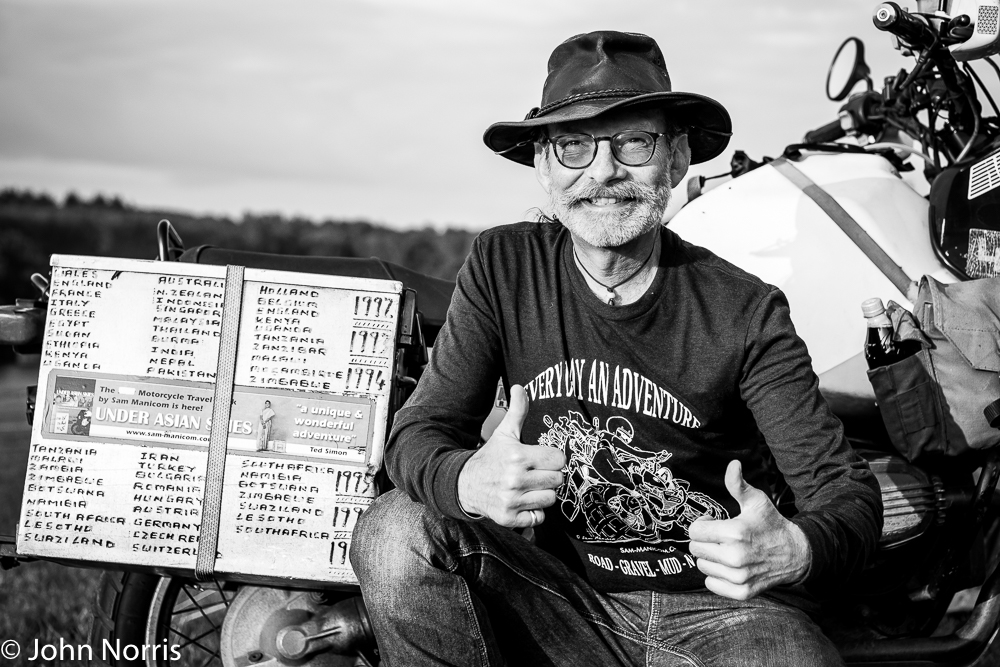 Bike: BMW R80 GS
I ride a BMW R80 GS with over 200,000 miles on her. She's called Libby, simply because I felt she brought me liberty… Freedom of the open road! Three months after learning to ride I set off into Africa on a trip that took me over 200,000 miles, through 55 different countries and lasted eight years. I learned that what matters are priorities, attitude and that the world is full of wonderful people. I'd never intended to write books as a result of the big trip, but with enthusiastic encouragement from others, I thought I'd have a go.
I think of them as being a way to share the fun of the open road with those who perhaps can't head out on a long trip, or as encouragement to those who think they don't have the skills to travel in this way. I'm off to the USA in September on a speaking and book signing tour and will ride a well-used BMW F 800 GS, well suited to the kind of riding I want to do there.
Name: Richard Underhill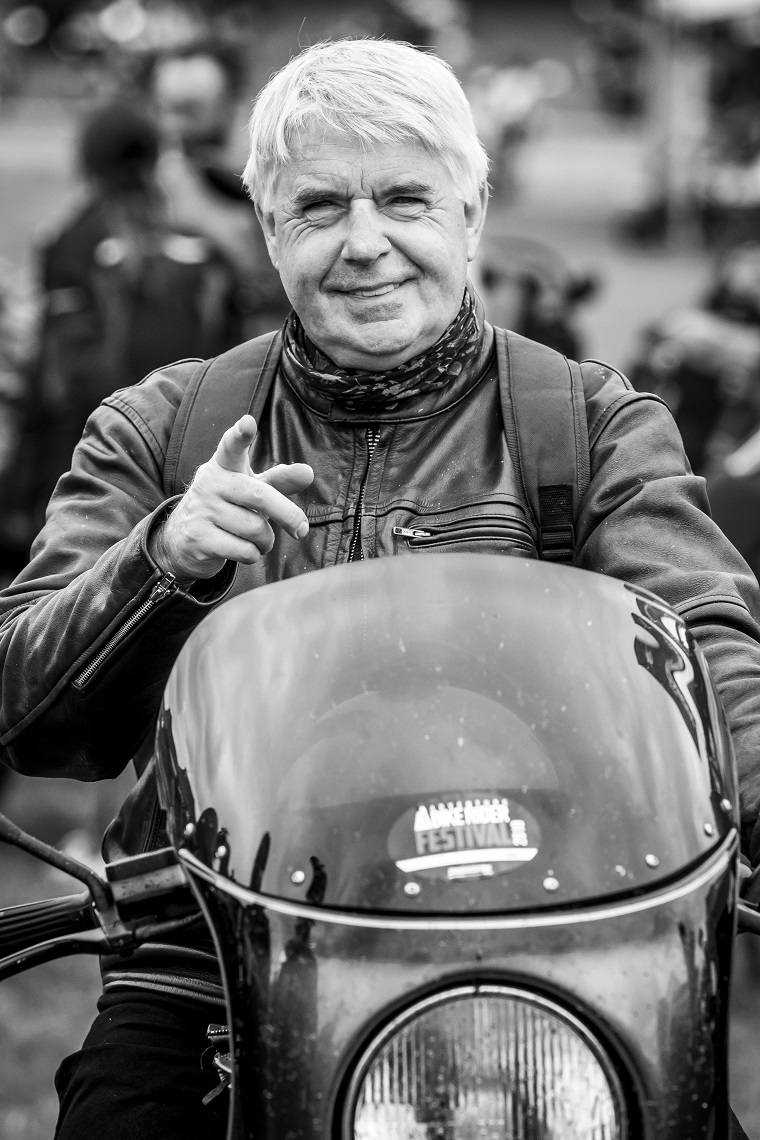 Bike: BMW R100S
I have several bikes, as does my wife, Sharon. The main road bike for me is a modified 1977 BMW R100S. I first rode a friend's NSU quickly around the school car park one night in 1973, I was hooked since then! We currently use our bikes for going to France, a bit of touring and general riding in the Cotswolds, and I'm hoping to get back into off-roading again. I used to green lane a lot in Hampshire in the 1980s, as well as riding enduros in southern England. I am an airline pilot, currently resting!
Name: David Fiddaman (aka Fid the Lid)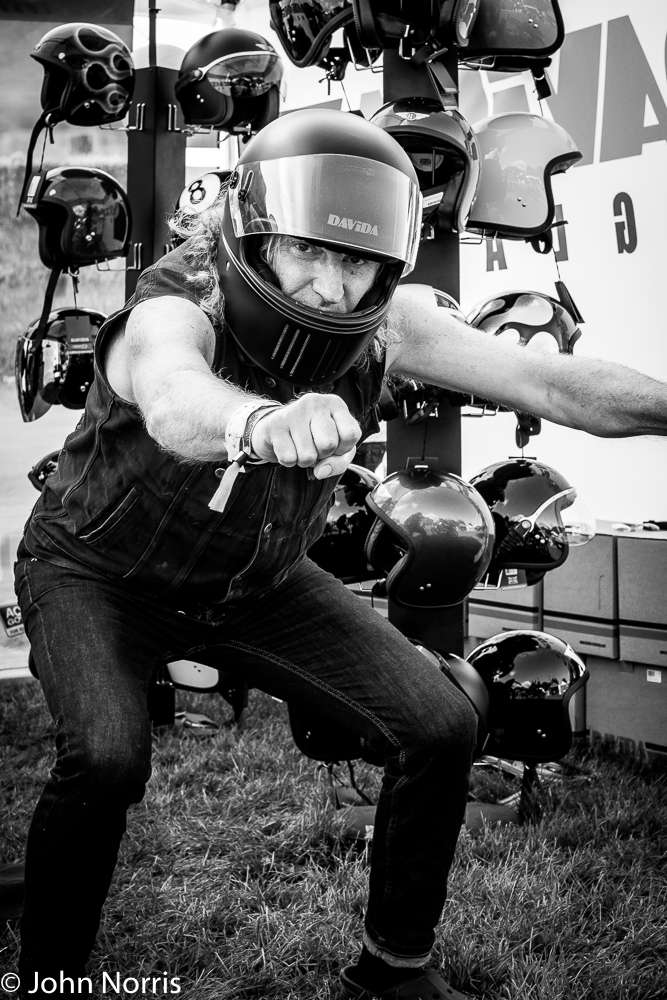 Bike: BMW GS 1100
I ride a Hayabusa 1300cc with 70,000 miles on it when I last looked, and my all matt-black BMW GS 1100, which has 90,000 miles on it… I spend a lot of money on tyres! I started riding on an NSU Quickly with a Mikuni carb fitted and a Suzuki 350 Rebel. I was always interested in bike helmets and I loved the look and quality of the first Bell Magnum helmets and eventually started my own brand, Davida.
We are a small UK, independently-tested manufacturer, but have more safety standard certificates than anyone worldwide of a similar size, and we do it all from our factory in Birkenhead. Sometimes I start the weekend early and take Friday off and head off on the bike. Recently, I went up north to the Scottish lochs, for example. I take a bivvy bag and a Thermarest everywhere and always find great views for a camp. It worked for the cowboys, it's safe and practical, you just stop when you need to!