THE DAY JOB
Living and breathing bikes, it's easy to lose a few hours a day thinking up new ways to improve the ride. But what if one of your fantasy farkles actually made it to fruition? Better yet, a new business opportunity! Meet Nick Ibbitson, maker and inventor of the Tutoro automatic oiler
Retired Home-Office worker Nick Ibbitson isn't an engineer; in fact, he's had no formal engineering training whatsoever, yet his passion for bikes and tinkering with them has seen him design, develop and manufacture an automatic chain oiling system to rival the likes of big names like Scottoiler. "All my qualifications are in business!" he laughs.
Nick's late introduction to engineering came courtesy of former colleague and experienced engineer Bob Payne. "Bob showed me how to use a lathe and encouraged me to learn all I could about engineering," he explains. "Rather late in the day, I discovered that I loved it."
Among Nick's early creations were steam engines, hot air engines, tesla turbines and even experimental pulse jet engines. But it was Nick's other big life obsession that gave him the inspiration he needed to hone his newfound engineering skills. "Progressing to my own motorcycle accessories and combining my two main interests seemed the natural thing to do," he says.
Early days
Nick first jumped on a bike at the age of 17. "It was only a Honda 50, but since I lived out in the sticks and had to rely previously on lifts or public transport to get about, it represented freedom and I've never lost that feeling," he recalls. Since then Nick's owned and ridden dozens of bikes. "I really enjoy enduro, green laning and European touring when I get the chance, but pretty much any excuse to get out on the road is ok by me," he smiles. His current ride of choice is a Triumph Tiger 900 and he has aspirations of owning something of an Italian persuasion in the future. "I've never had a Ducati," he says wistfully, "but I hope to put that right sometime."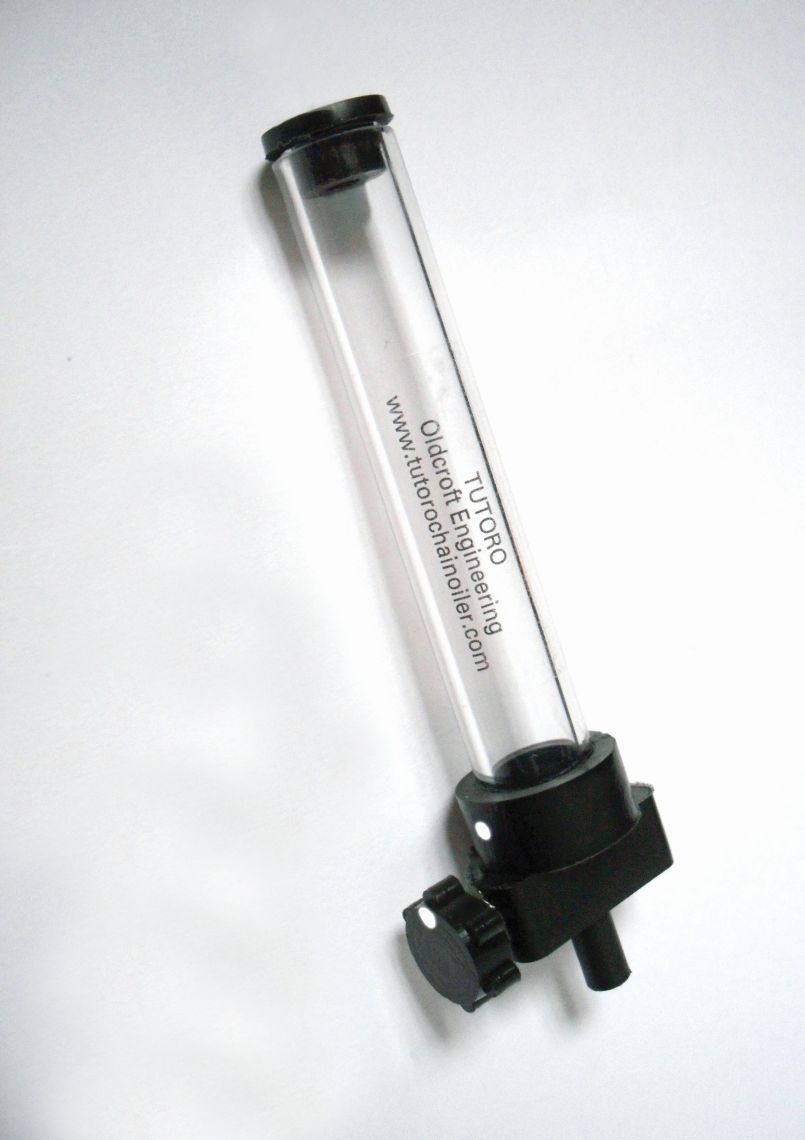 When he's not riding bikes, Nick loves nothing more than messing about with them. His passion and curiosity has led him to develop one of the most commercially successful aftermarket add-ons since Touratech began reinventing the wheel. "Initially I just wanted a chain oiler for my Kawasaki Versys," he says. "The bike didn't have a centre stand and I couldn't afford to buy any of the oilers that were on the market at the time." Ever the inventor, Nick got to work designing a universal manual oiler that could be attached to the bike without needing to be plumbed into any of its workings. "My very first design was the Mk1 Tutoro Manual Oiler kit," he says. And it turned out to be an instant hit. "Once friends and colleagues saw it on my bike they started asking me to make one for them, too!"
'Tutoro' is an acronym for the design and stands for 'top-up, turn on, ride off ', which is exactly what the product allows the rider to do. The Tutoro Manual is designed to be turned on at the start of a journey and off at the finish. Because it's gravity-fed, the oiler doesn't need wiring into any of the bike's systems and the single or twin-feed nozzles can be directed onto any part of the chain.
The basic manual system retails for £19.99 and is suitable for use on any bike. "It does an excellent job of oiling the bike's chain and continues to be a good seller for those looking to spend about £20 on a kit," says Nick.
The next step
Following on from the success of the manual model, Nick began work developing an automatic version of his Tutoro oiler alongside friend and business associate Cliff Hall, who's based in New Zealand. "Cliff approached me almost two years ago with an idea and rough prototype for an automatic chain oiler," explains Nick. "We worked hard together to jointly develop and bring the Tutoro Auto to market – not easy when such big distances are involved, but Skype is a wonderful thing!"
The Tutoro Auto launched in 2012. It has a larger reservoir capacity than the manual unit, and once primed, can be left turned on as it only dispenses oil once the bike is in motion. Like the manual model, the auto has been designed to operate on a self-actuating principle and doesn't need connections to any of the bike's electrical and vacuum systems; it's suitable for use on any bike and can be easily fitted by the rider, unlike other similar products, which require a bit more technical know-how. "As bikes are getting more and more sophisticated, manufactures are increasingly warning against cutting into any of the bike's systems and in some cases, doing so will invalidate the bike's warranty," explains Nick.
Tutoro now offers deluxe versions of both the Manual and Auto units, which contain everything including oil, two different types of nozzle and other useful items like a hose clamp set for neat installation. All units are manufactured and assembled by hand in Nick's small factory in the Forest of Dean. "We've recently been approached by several large dealerships who are very interested in distributing our products worldwide, so we've been concentrating on automating all our systems and training up new staff so that we can ramp up production in the future," enthuses Nick.
But getting the business to this stage has been anything but straightforward. "It was a slow process. Working full time and fitting things in around a young, active family life, I only had a limited amount of time each day to develop and refine the design," Nick concedes.
"Eventually, I built my own CNC milling machine, which I used to make the moulds for the Totoro's flow control valve unit. Then I built a plastic injection-moulding machine, to make the components in the moulds. I've bought two lathes over the past few years, and I'm in the process of building a new CNC lathe." And this, says Nick, was the biggest challenge of his Tutoro project: learning how to build and operate the machinery he needed to do the job.
After still more time spent sourcing materials and writing instruction leaflets, eventually the Tutoro was market-ready. "Because I only initially started selling the Tutoro Manual Oiler kits in a very small way on eBay, and because the project was entirely self-funded, I was happy to let things grow slowly," explains Nick. "The hardest thing was making the decision to give up my full-time job to further develop the product line. It was a big leap of faith but the best decision I could have ever made."
Forward-thinking
Nick's 'big leap of faith' has certainly paid off. Since being awarded Ride magazine's best-buy award in 2010 in its chain oiler comparison test alongside other well-known brands, and taking the Ride magazine Best Kit award in 2011, Tutoro has gone from strength to strength. "I was delighted when Ride's editor called to say that we'd won," recalls Nick.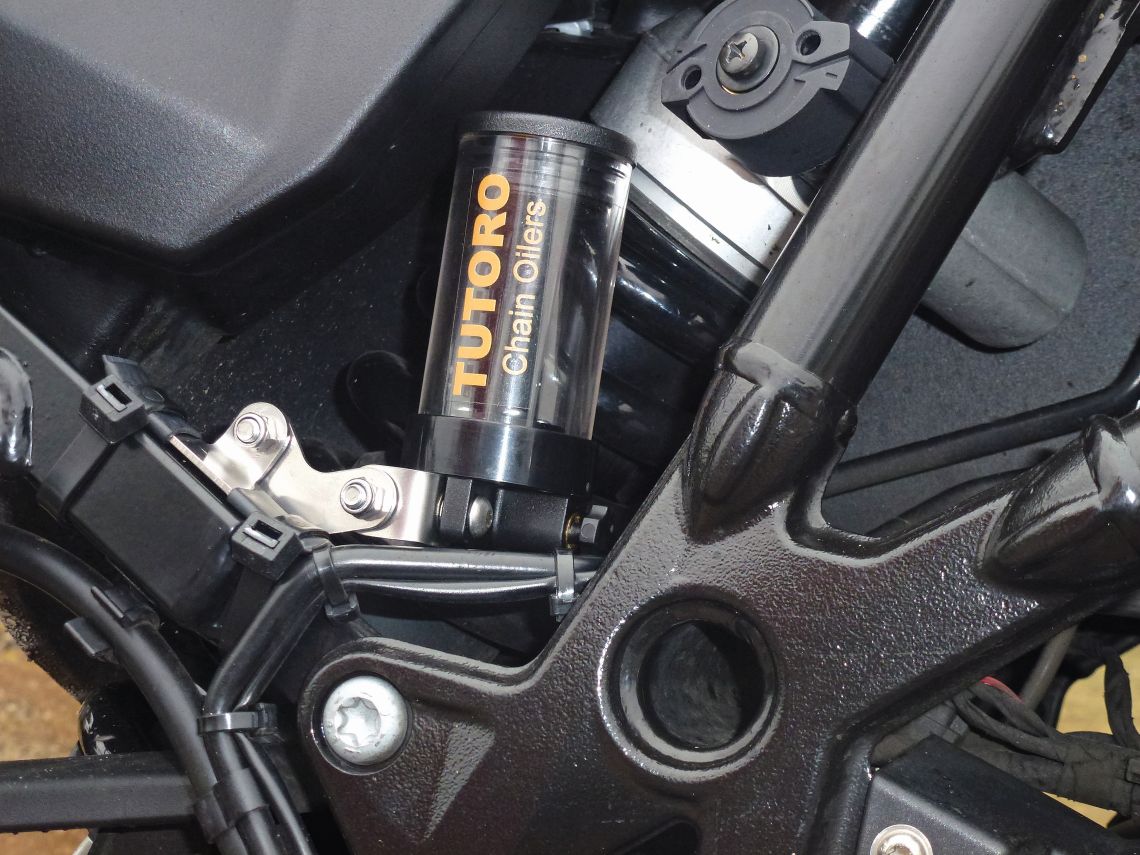 "From then on, I was barely able to keep up with orders and the rest, as they say, is history." Tutoro is very much a family business, as Nick explains. "My wife Jude has helped me in every step of the way and continues to be my right hand 'man'; our son has built our websites and helps with marketing and our daughter has helped with many jobs right across the business.
I love the fact that every day, I am doing something I enjoy with the people I really care for," he beams. The downside? "Not having enough time to tackle all the new ideas I have rattling around in my head!" Besides bringing his family closer together, Nick's self-made business has also helped him connect with other like-minded inventors and ABRs.
"I've been lucky enough to meet many interesting people over the past 18 months from the guys in my local engineering company to people who we are sponsoring on epic adventure round-the-world trips," he says. It's also paved the way for him to branch out into projects further afield. "I'm also involved with various worldwide schemes with friends I've met over the years ranging from eco tidal power to gas turbine-powered motorcycles."
So, with all his newfound skills and hard-won wisdom, what advice does Nick have for other ABRs who like to tinker with stuff in their sheds? "Always have a go and prototype your idea; remember: if you can, keep it simple.
Learn 3D CAD – it will help you visualise your ideas, and beware of armchair experts." You have been warned!
To find out more about the Tutoro and to buy online, see www.tutorochainoiler.com