Ever squandered an entire day just tinkering with your bike? Of course you have! Imagine fixing it up, troubleshooting, inventing and adorning, to create the perfect adventure companion… Now imagine getting paid to do it – dream job or what? But that's everyday reality for founder and owner of Rally Raid Products Ltd, John Mitchinson…
"The first bike I had was a Grieves Griffin," says Mitchinson. "Ever since then, I've just been obsessed by motorcycles. It's a sickness!" For someone who's been riding bikes since they were 13 years old, though, there comes a point when simply throwing your leg over one just isn't enough. "It's nice to buy a bike, but most bikes have their limitations so it's great as an engineer to look at it, assess a problem and say, 'What can I do to improve it?' How can I make it lighter or longer-lasting? I don't like to be beaten by anything metal; I like to come up with a better solution than what the factory has done. It's a bit of a quest for me really."
Bigger and better
This quest for improving and perfecting adventure machines led Mitchinson to open his own farkling business, Rally Raid Products Ltd, in 2009, which specialises in producing long-range fuel tanks and fairings for the KTM 690 Enduro, designed and engineered on-site at their factory in Rushden, Northamptonshire. "I've always made special parts for my own off-road bike and then, a few years ago, we started making rally parts for the KTM 690 Enduro when it first came out. That's how it all started really," he explains.
John set up Rally Raid Ltd as an offshoot of his injection moulding and engineering business, Mas Plas Moldings Ltd. "We'd raced KTMs before and when we realised there was no aftermarket fuel tank available for the new 690 when it launched, we decided to make our own," he says.
After making a few rally faring kits for the 690, which includes among its nifty bits and pieces a Nav Tower Plate, Roadbook Plate and a moulded plastic toolbox to fit inside the cockpit, Mitchinson was approached by several ABRs who wanted similar gear for the KTM 690, but in Adventure trim. Seeing its potential, Mitchinson took a sideways move into the adventure market and, in his words, "the company's snowballed from there. There's a big market for people who want to make their own products, but they haven't got the facilities to design and develop the prototypes," he says.
Kit bits
Following on from its initial success, Mitchinson's team of four has moved on to developing and testing new add-ons and kits for other manufacturers, including Honda, Yamaha and Triumph, on top of catering for the KTM 690 Adventure market, which makes up 75 percent of Rally Raid's customer base.
"People doing RTWs or big overland trips want to use our fuel tanks and other products for extra range and protection on the bikes," says John, who cites these fuel tanks and the 690 Adventure kit among the company's best-selling products. It's the fairing and screen in the KTM Adventure kit that Mitchinson is particularly proud of.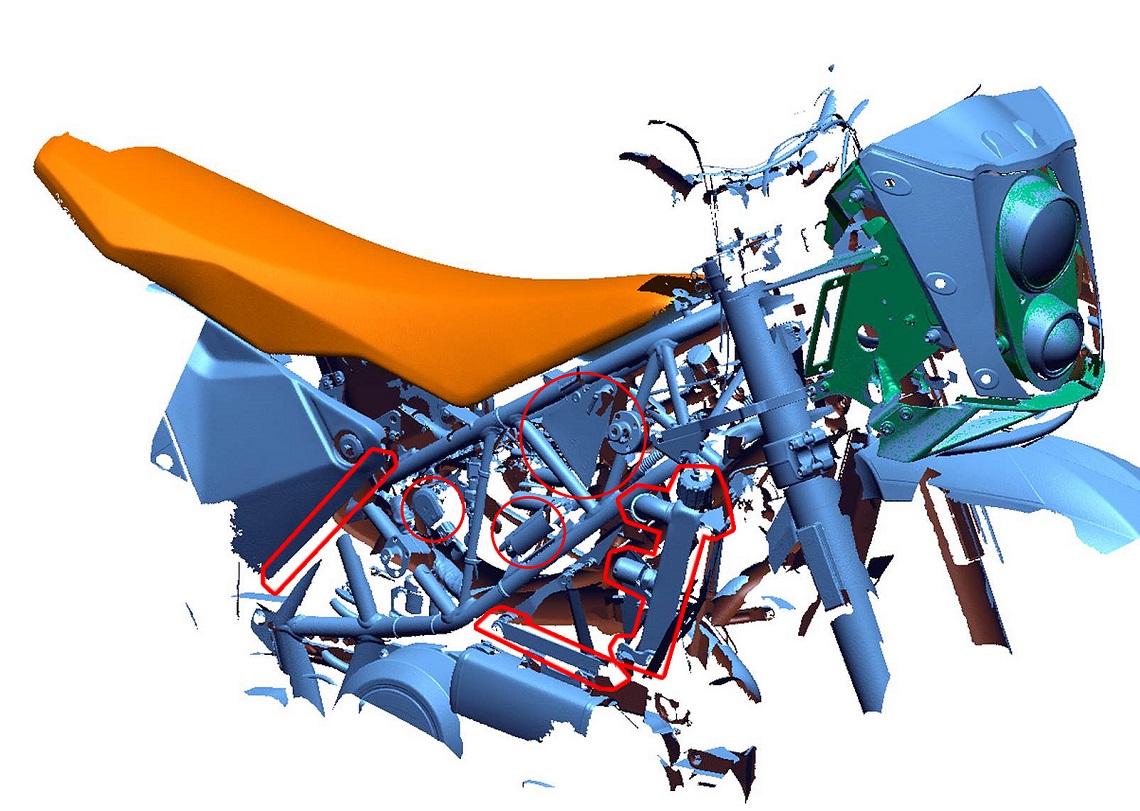 "To design the screen and the fairing, we used a local company that laser scanned the whole bike. This gave us the CAD data we needed. The company that we used does a lot of Formula 1 work and we were using the same facilities as the F1 team.
That was really exciting – to be working with a top-of-the-range team like that!" Rally Raid uses a combination of engineering expertise, computer-aided design (CAD) and computer numerical control (CNC) machines (automated milling machines that make industrial components without human assistance) to create its products. "All of our KTM parts are supplied by the KTM centre in Hemel Hempstead, with help from Mark and Jason, who aids a lot in the development," says Mitchinson.
Home and away
The company has built a strong working relationship with KTM. In 2010, the guys in orange asked Mitchinson and his team to put one of their kits onto a KTM test fleet. "They had us flown out to Austria to build the kit for them," recalls Mitchinson. "That was brilliant. To go to a KTM factory was one of my best wishes come true." And it's not all work and no play.
One of the most satisfying aspects of the job is getting to try out the new bits of kit. "We like to go to Morocco or Spain to test the bikes off-road. That's the best bit," John confesses. "My greatest moment off-road was probably getting to the top of the big dune at Erg Chebbi in Morocco two years ago."
One year previous, Mitchinson was defeated by this monster dune at one of Morocco's two Saharan ergs (large dunes formed by wind-blown sand), breaking some ribs and rupturing a kidney. "I just didn't see the top of the dune," he recalls. "It was like I was on a ski jump. I hit the top of the dune, landing first on the sand and then the bike on top of me." Ever determined, he tried again the following year and returned triumphantly.
From idea to ideal
When not adventuring abroad, an average day at Rally Raid begins with processing website orders, followed by a check-up on the injection moulding side of the business, before getting stuck into the development and testing of new products. Right now, the company is working on the Evo 2 tanks and fairing kit. "We hope to add to the style of the bike and add to its versatility and range. It's taken us seven months and we still probably have another month or two to go," Mitchinson explains. "To develop a new tank and fairing kit you're talking about investing £3040,000 for tooling and development time."
The design and development process all begins with an idea, of course. Convert that into rough sketches and possibly a hand-carved, foam model and you're on your way. The team then implements CAD, which helps to design a part that will coincide with the existing CAD data from a laser-scanned bike. Using CNC, the team produces a one-off prototype before sending that off for rigorous testing.
"Generally we'd test it on a bike that was being raced, or give it to somebody that we knew was going to do a long trip," says Mitchinson. "That's the best way to test the product, using it in an extreme situation." Sometimes the product is a winner first time and a larger batch quantity is produced, and then advertised online. Any design or product faults, however, go back to the workshop to be refined.
The last 12 months have been devoted to perfecting a soft luggage mounting system that can be used off-road. Rally Raid also produces custom-made navigation equipment and parts to turn the 690 Enduro into a rally-spec bike. Additionally, the company makes parts for Honda, Yamaha, Husaberg and some other KTMs including the 950, 990 and the EXC range.
Now, Mitchinson is looking at expanding the fuel-tank side of the business. "We've realised that a lot of the big adventure bikes because they're based on road bikes, tend to have a very limited fuel capacity, which is fine for road bikes, but if you're riding off-road, you're inevitably going to need more fuel," he explains. This doesn't come without its challenges, though. The team had to design completely new moulds for the fuel tanks, a whole new process that took several months to grasp and perfect.
In good company
As a small business, Mitchinson credits much of Rally Raid's success to the company's ability to react as the marketplace changes. "Big companies like KTM have to go through so many meetings and focus groups… for them to get something onto the market can take years and by then the market has moved on. As a small company, we can make snap decisions," he says.
Future plans include expanding in-house development and design facilities. Mitchinson admits that the only downside to the business is the occasional crash while testing off-road, which often means the whole team returning to the drawing board. And while they do spend many hours each week busying themselves in the workshop, this too comes with a lot of fun.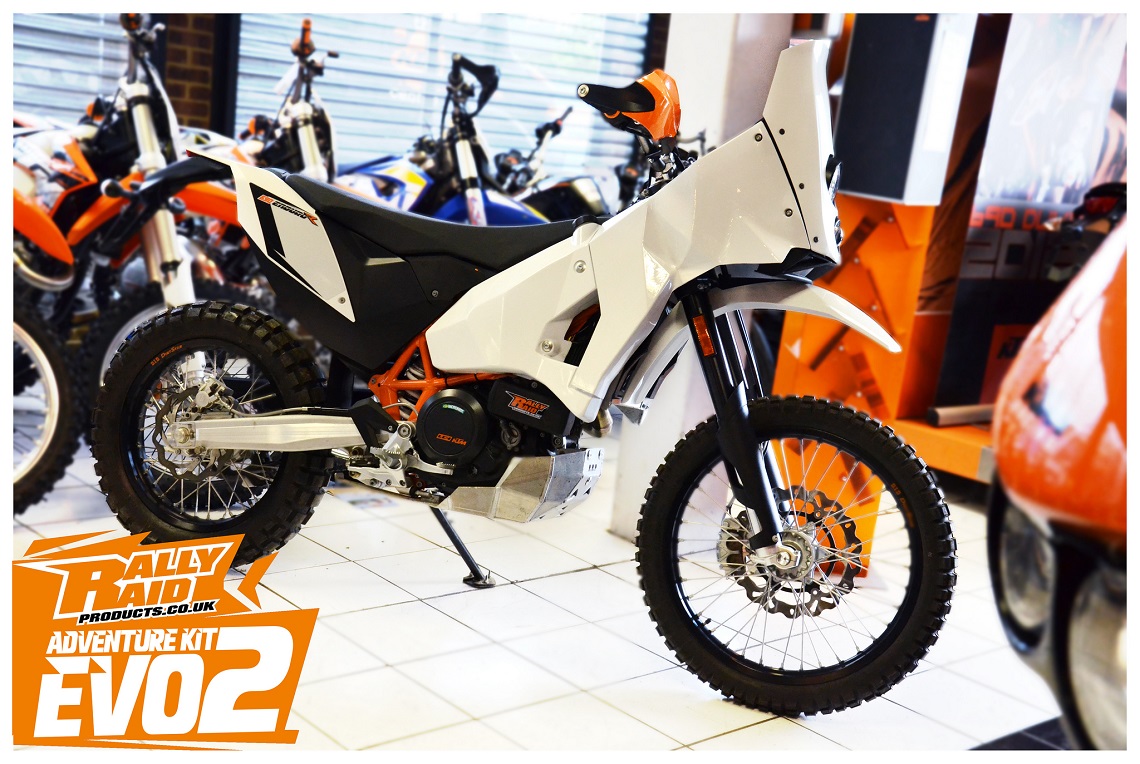 "We've got to meet a lot of customers who've turned out to be very interesting people," Mitchinson chuckles. "They stop off at the factory on their round the world trips to test and try parts." Recently the company worked on two KTM 690s for a pair of ABRs on an overland trip from the UK to Australia. "They came here for a week and we built the bikes for them and gave them instruction in mechanical testing, so if they were in the middle of nowhere, they knew how to fix the bike. That was a really great week," he smiles.
By all accounts, Rally Raid Products Ltd is on the right track for future successes with Mitchinson passionately leading the team through new and interesting ventures and the company's sights set on the adventure sector.
But what does he like to do when he's not working?
"I love riding bikes on my own, on new tracks and trails. I love going to new places and meeting new people. I think most people who ride bikes are younger in their minds. I meet riders who are 50 and they act 20; that's what I like about it," he says. We can't argue with that logic.
For more information about Rally Raid's products and services, see www.rally-raidproducts.co.uk