Do you dream of earning a living from the seat of a motorcycle? Ex-British Enduro champ Ian Burgess swapped the stuffy 9-5 for a bike-based business venture in Spain nine years ago, and has never looked back…
Some people, it seems, were born to ride and this is certainly true of Ian Burgess. His career started in 1974 when, at the tender age of seven, he hopped on a yellow Yamaha YZ80D and kicked a more experienced schoolmate's arse around a moto-x track. Fast-forward 10 years and Ian had risen through the ranks of Junior and Intermediate moto-x, snaring the coveted #1 plate in both Senior and Expert classes on Kawasaki's KX125B1, B2 and C1.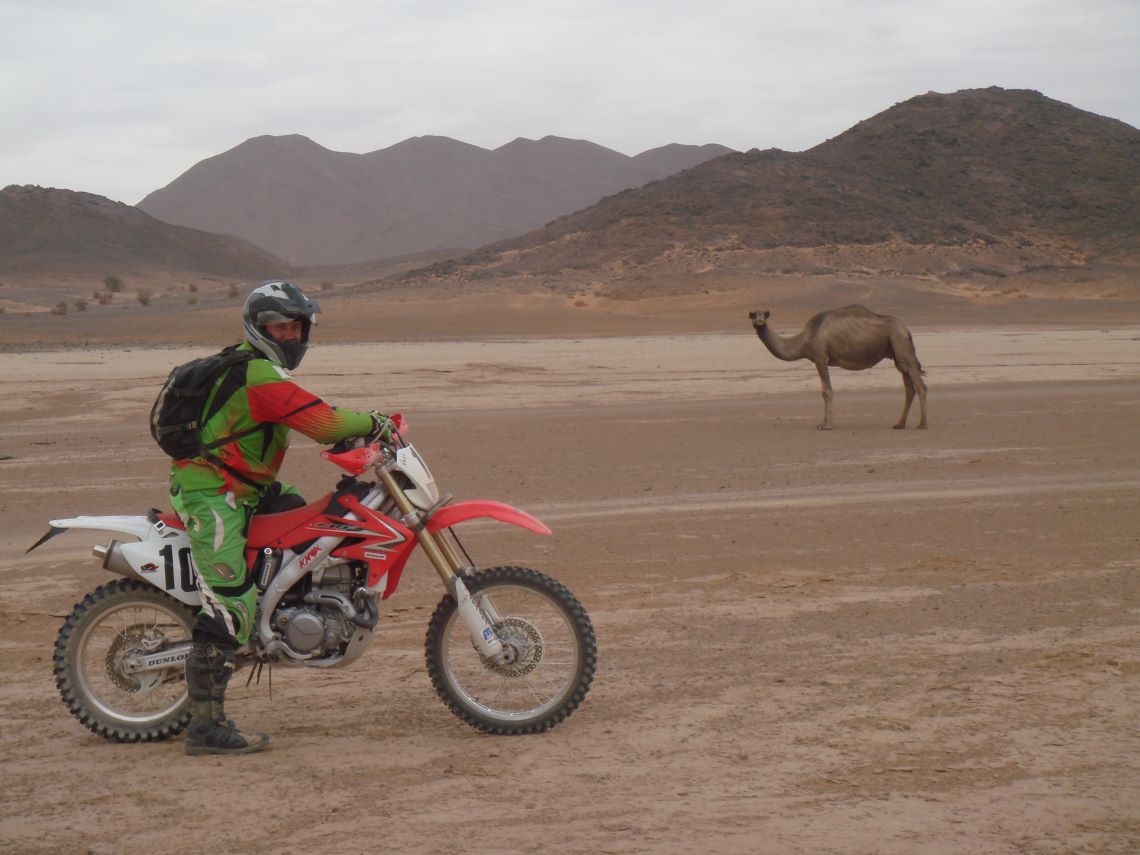 In 1984, Ian entered his first adult competition on a Kawasaki KDX200 in the Clubman Class. He spent a year on the training circuit mastering the art of reading time-cards and finding course markers before stepping up to compete in the 1985 International Six Days (ISDE) in Spain. At 18, Ian was one of the youngest entrants ever in the ISDE, and this event firmly cemented his future in moto-sport. The following year he won the British Enduro Championships, but for Ian, one race stands out above all others. "The biggest single hit of 'proud' I've ever experienced is finishing 33rd at the 1985 Weston Beach Race," he grins. "I was against 1,000 solo riders on a Husqvarna WR400, which clocked almost 100mph on the straight! Shit, that race was scary!"
Expert status ensued and Ian joined forces with Husqvarna. Competing on the WR240, 250, 400 and 430 automatic models, he seized Overall Premiers in the Cwm Owen, Yorkshire 2-Day, Welsh 2-Day, Dyfi and Tour of Wales events, becoming Northern Champion and British Champion in 1986. So, nearly a quarter of a century on, does Ian still wish we were racing? "I don't miss competing. I loved it so much and got everything from it that I wanted so now I don't have the craving for something I can't have," he nods sagely. "I stopped at the right time; 22 broken bones from racing for 25 years takes its toll. I'm still very fast, though," he adds, "and able to kick ass! I'm 89kg, 43 years old and can wheelie for miles!"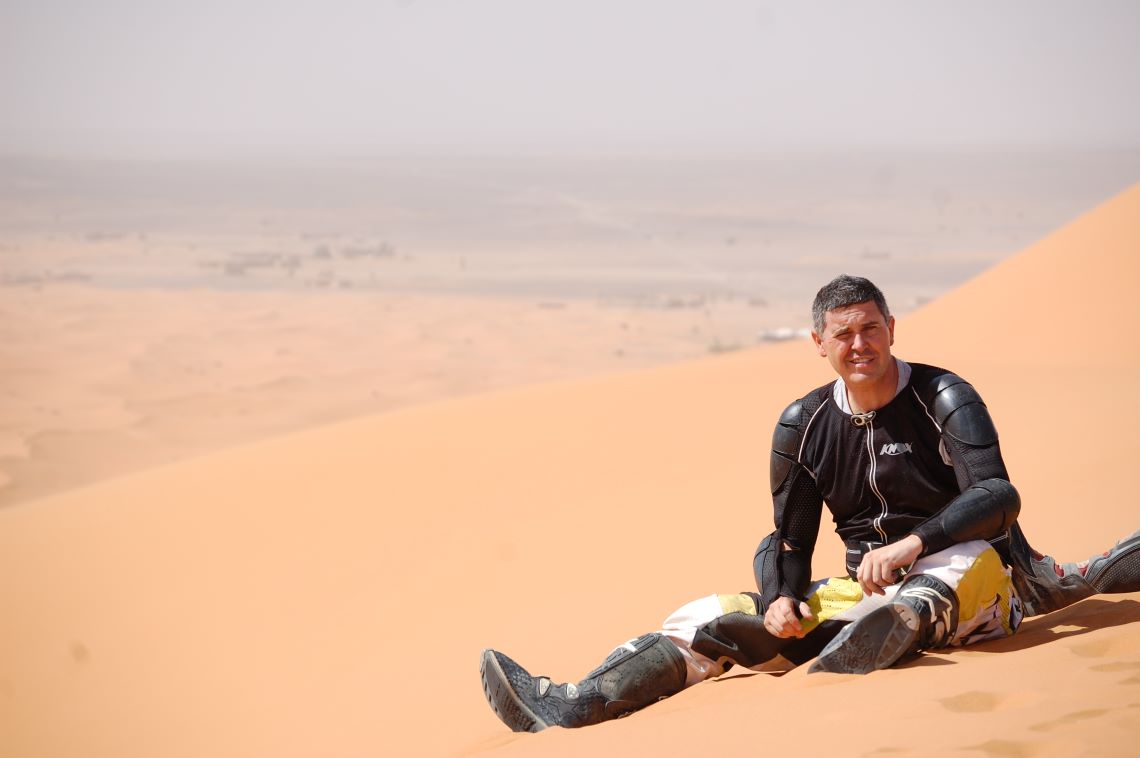 It's little wonder Ian's in such good shape. Nine years ago, he discovered the secret to eternal youth: open a business doing what you love and get the hell out of dodge. "My dad was diagnosed with prostate cancer and died on 19 October 2000, just three months after the diagnosis," he explains. "It completely changed my outlook on life. Until then I'd spent the last 12 years as a sales director for a Flexographic printing company (yawn!). I decided to go out and do what I actually wanted to do – make a living working at my hobby; get a life and not just exist!"
Buying out an existing bike business in southern Spain, Ian upped sticks with his girlfriend Sally in 2002 and established Redtread in Competa, a recreational off-road motorcycle riding experience attracting riders of all abilities from all over the world. In 2007, Ian teamed up with sponsors Honda and the business became an official partner: Redtread Honda. He's since broadened his biking horizons and established Redtread Honda Morocco on the edge of the desert in Ouarzazate, which he now calls home.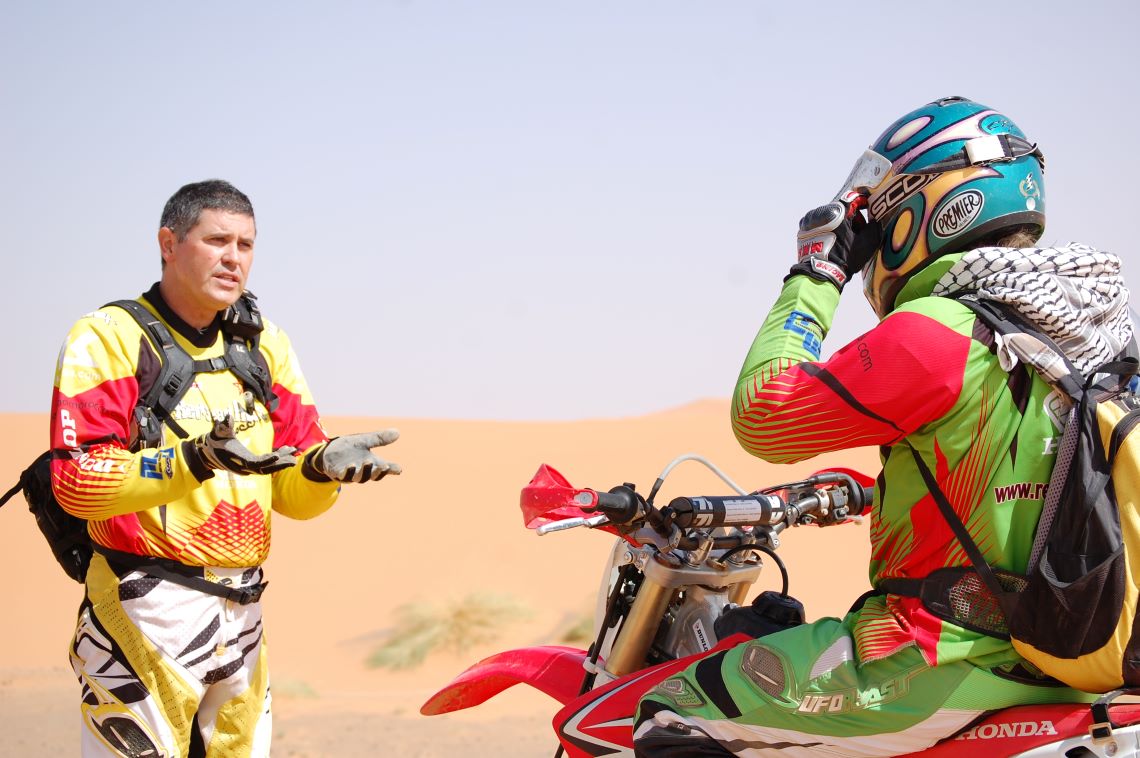 "Riding motorcycles has become my full-time day job," says Ian. "The best feeling is when, after a morning's tuition with me, an unsure rider has grown in confidence so much that they get themselves to the top of the biggest dune, or carve a great set of corners, or brake harder than ever before. The look on their faces is priceless!" And Redtread's clientele is diverse. "Anyone who can ride a motorcycle can ride off-road," Ian explains. "I rode in Spain for a day with a 73-year-old man who'd last been on a bike in World War II. At the end of his tour he said that if he dropped dead tomorrow he'd die a very happy man because he always wanted to be an off-roader!"
Ian's also seen his share of Candid Camera moments. "One of the funniest things has to be a guy we called 'Superman'. A bunch of Brummie lads and dads came for a long weekend. I gave one of the dads the brand-new bike thinking he'd take better care of it than a young 'un. He attempted an uphill climb, got it spectacularly wrong and catapulted himself and the bike into the trees. Fortunately he wasn't hurt, but I suffered groin strain laughing. Check out Redtread Superman on YouTube – brilliant!"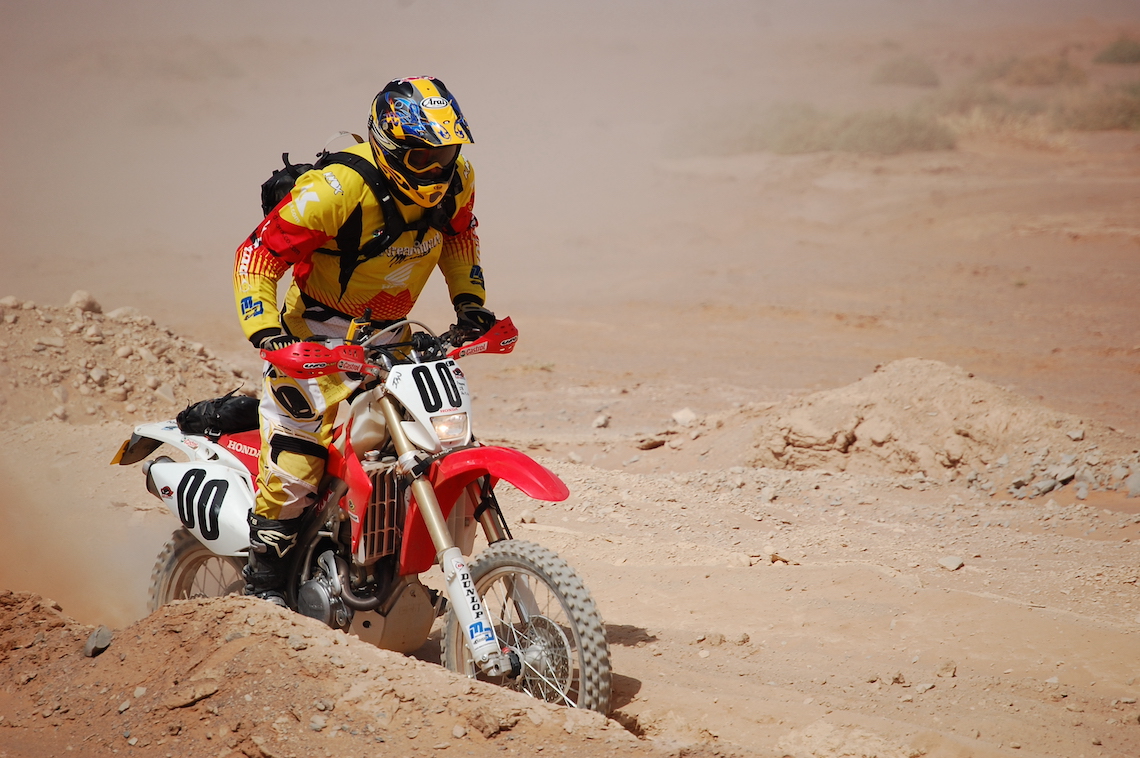 It's not all fun and big-boy games, though, and Ian's 30 years' experience is frequently put to the test. "The responsibility is sometimes quite hard," he says. "On the last tour in Morocco we were caught in a bad sandstorm. Visibility was less than 2m; if I lose a rider in those conditions he could die. It's 100% my responsibility to remain calm, focused and keep everyone working together. In these harsh conditions you rely on your kit completely. The bikes, GPS, sat phones and riding gear – nothing can fail."
For this reason, Ian spends virtually all his time outside the tours preparing and maintaining equipment, from servicing the 4.2 TDI Toyota Landcruiser and Leyland Daf GS244 4×4 support trucks to hand-cleaning and checking every one of Redtread's 26 Honda CRFs to a 40-point system. Ian's ride of choice? "A Honda CRF450X. The 450 suits my riding style; I prefer the characteristics of a bigger-engined bike. Short shifts, torque, plus lots of power. My dream bike is a fully kitted-up CRF450X with Ohlins suspension."
Sandstorms and cleaning duties aside, Ian doesn't regret leaving Blighty. "My advice to anyone thinking of leaving their homeland is 'do it!' You have to have a plan though. The first three years are hard. Different cultures bring with them a different way of life and you need a decent amount of money in your pocket," he advises. "I miss my family; pudding, chips, peas and gravy, but as for travelling two hours on the M62 to work and back every day, speed cameras, dark mornings, dark nights, rain, 40% tax and a moaning boss – that you can keep!"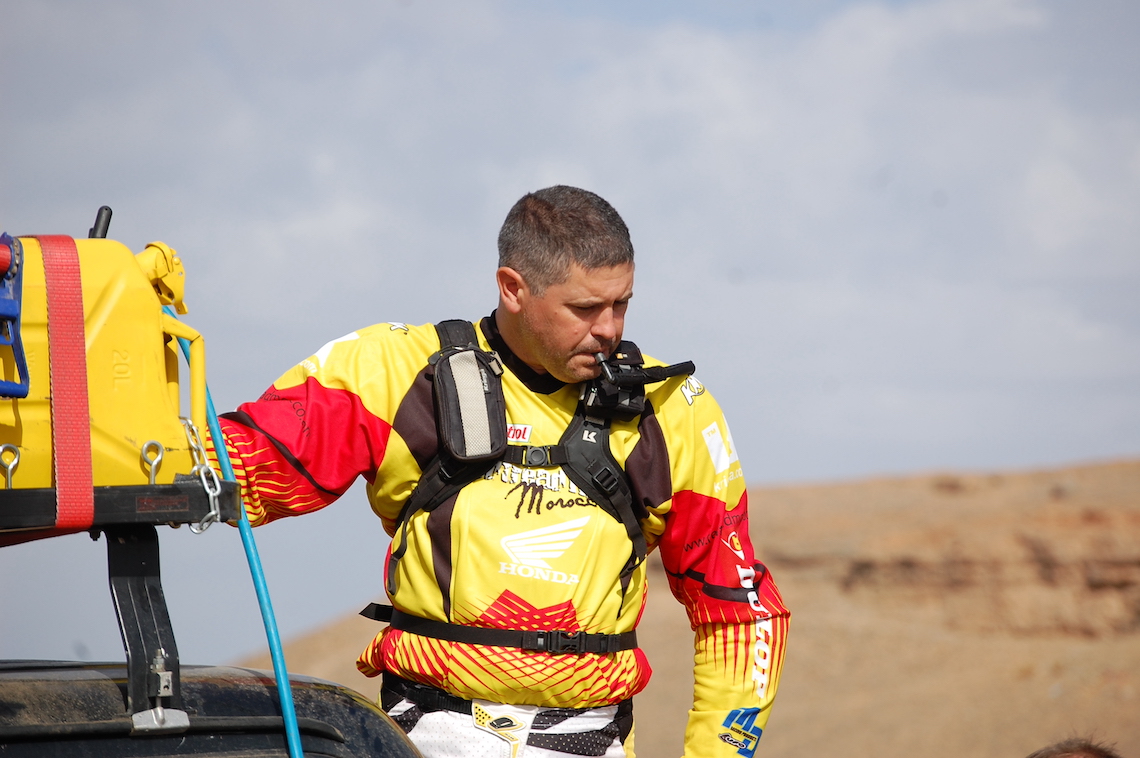 IAN SAYS
Age: 43
Occupation: Owner and guide Redtread Honda España and Morocco
What's the biggest challenge on your list of things to do before I die? I want to see as many places in the world as possible before I leave it.
What book or album would you wish for if you were stranded and why? If I was stranded with my girlfriend, I wouldn't need any books or encyclopaedias as she knows everything (joke!). I'd want the complete 1980s album of every song from every artist from that decade as it was just the best time!
What keeps you awake at night? Wardrobe monsters and money worries.
What's your ultimate indulgence? A cup of English tea with one of those Dairy Milk family bars (for just me).
What's your best characteristic? Truthful and trustworthy.
And your worst? I expect other people to try as hard as I do in everything they do; other people constantly disappoint me and frustrate me. I don't deal well with frustration.
What's your best tip for adventure bike riders? The six P's: Proper Preparation Prevents Piss Poor Performance.
What's your favourite terrain? Fast, rocky, winding undulating trails are my favourite where you know one mistake is really going to leave a mark!
What is the worst injury you've picked up thanks to your job? As far as the job goes, the worst injury was dropping a boiler on my leg and cutting the skin open so you could see the boney stuff inside. Ouch.
Who's your motorcycle hero and why? Steve McQueen. His genuine passion to ride motorcycles and compete to a good standard meant that to indulge his dream, he had to enter races under made-up names and hide his face behind his helmet so he wasn't recognised.
Who would you take as pillion on a round-the-world trip? My dad, God rest his soul. Ten years this month but I reckon he's with me pillion every time I go there.
You can grab yourself a slice of Redtread Honda off-road action in either Spain or Morocco at www.redtread.com and www.redtread-morocco.com. Call 02081445300 or email [email protected] for more