Do you yearn to earn a living from the seat of a motorcycle?
Global Enduro founder Simon Smith helps adventure riders realise their dream trip while raising money for good causes
Until eight years ago, father- of-two Simon Smith was a self-confessed member of the living dead. Working in an office every day from 9-5, his bank balance was healthy but he was far from happy in his work; out of this frustration came the inspiration for Global Enduro. "I wanted desperately to connect with the wonder of adventure and to help other people," he explains. "And I had this idea for a business that would enable me to do both."
Simon's plan was for a unique organisation which would combine good will and travel – a 'social enterprise' as he puts it, benefitting everyone involved in more ways than one. The aim was to deliver the trip of a lifetime to participants while also raising money for charity. Being an adventure biker, the trip of Simon's dreams was always going to involve motorcycles. "I've been riding on and off since I was seven. I was a big fan of Mr Sheen and I was also obsessed with Evel Knievel and later Eddie Kidd when I was growing up," he says. "I was never into Enduro in the traditional, competitive sense; motorcycle adventure and endurance is what I love – doing the impossible on motorbikes is great fun, especially when you can help others along the way."
A former club-owner and promoter, Simon had experience of organising largescale events but the first Global Enduro held in India in 2003 wasn't without its problems. "If I look back at how much I didn't know – eeek! The biggest challenge at the time though was persuading people that a 30-year-old 'geezer' from Essex wasn't going to run off with the money."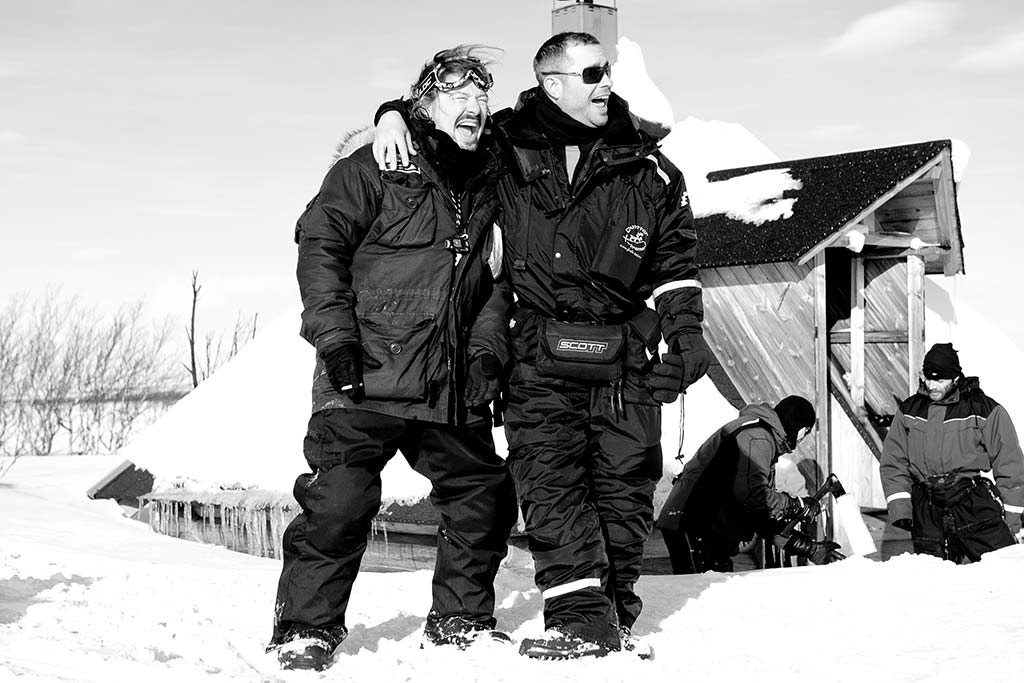 Seven years on, however, and Global Enduro has evolved into a multi-destination organisation, offering travellers the chance to explore places like South Africa, South India, the Himalayas and Cambodia by motorcycle, as well as the Arctic on skidoos and dogs and South India in 1950's cars. It's also contributed over £3.2 million to charities worldwide since its inception, including the UK-based Rainbow Trust children's charity, Nelson Mandela Children's Fund and Unicef.
"Global Enduro is more a movement or a family than a company," says Simon. "It belongs to everyone who makes it possible, from me the founder to our incredible team of dedicated souls in the UK and around the world. We're all about challenging our participants, meeting like-minded people and helping the communities we travel past."
Part of Global Enduro's success is the variety of rallies on offer to participants. Enduro India is a 2,000km ride on southern India's rollercoaster roads, Enduro Africa offers 1,000 miles of off-roading in SA's wilderness, Enduro Himalaya tackles the highest roads in the world while Cambo Enduro is a 2,000km off-road expedition through steamy muddy South East Asia.
"All the rallies have something the others don't; they're cultural adventures so by default they vary. Enduro Africa is a hardcore off-road event – a mix of trail and trials riding," explains Simon. "Enduro Himalaya tackles the biggest mountain range on earth and Cambo Enduro is hot and muddy." And, of course, each adventure calls for a different two-wheeled mean machine. "We own a fleet of 100 Hondas in SA, 146 Enfield's in India and we also use XR's in Cambodia." Now, try convincing yourself you're not jealous!
Simon's bike of choice is a 'handmade and insane' CCM Sledgehammer F710 – one of 30 no less. "I think motorcycling should be about expression and individuality, so when I saw the 710 I thought it'd be a nice change," he says. "I've recently got rid of an MV 910R, too." But with all these various motorcycling experiences at his fingertips, which is Si's favourite ride? "It would be impossible for me to go on every single rally. We do between 15-20 trips each year and each one takes around 12-14 months to organise. My favourite trip so far is one we did to India during the monsoon. It was raining so hard we had to pull in and shelter; the thunder was so loud it knocked four heavy Enfield's off their stands – that trip was hectic!"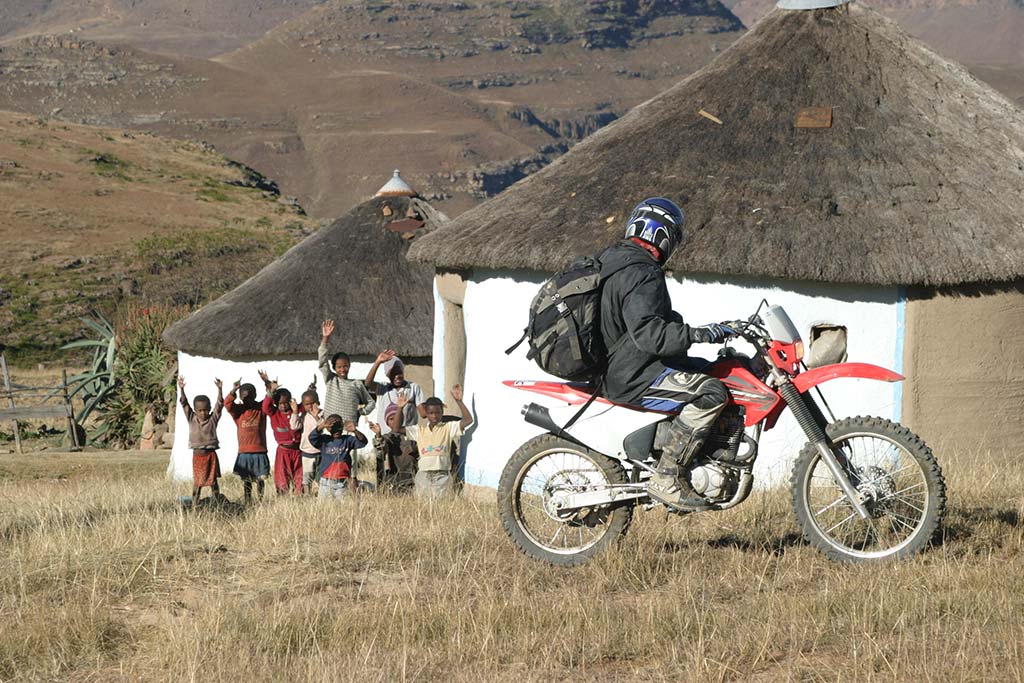 Besides indulging his passion for adventure, Simon loves the challenge of Global Enduro. "There's huge satisfaction in bringing people together, achieving what everyone says can't be done and of course helping so many people in need. It's a big responsibility working with so many great causes depending on us." The job also comes with a small degree of logistical stress. "Our most recent trip was Global Adventure Plus; for disabled riders and drivers. On our first trip we went to the Himalayas in terrible conditions. We got stuck for four days in between landslides, but finally got everyone home safe."
Simon says there's no such thing as a typical day at Global Enduro HQ in Bath. There's no such thing as a typical participant either. Princes William and Harry famously took part in Enduro Africa 2008. "They're Great guys, very close to each other, no frills, tough and funny," says Simon. "I was invited for drinks with the Queen and Prince Phillip at Buckingham Palace afterwards. The Queen questioned me on Prince Harry's behaviour during the event, effectively asking me to grass him up, which I thought was wonderful."
But Simon insists Global Enduro isn't about to sell out to celebrity. "I have a ban on famous people unless they're real people too," he says. "So far the princes are the only two I've said yes to taking part. All the others have been utter idiots. Billy Connelly contacted me a few years ago. I'd like him to take part; he'd be cool because he's real. But I like nothing more than seeing wonderful, creative, funny and dedicated individuals sign up. These are the people who've redefined my life since starting Global Enduro."
So what's next? "I'd like to run a Global Enduro experience in Botswana and one for Prince Harry's charity 'Sentebale' in Lesotho – and who knows, may be the moon? Watch this space."
To find out how you can get involved with Global Enduro and to book your own adventure, go to www.globalenduro.com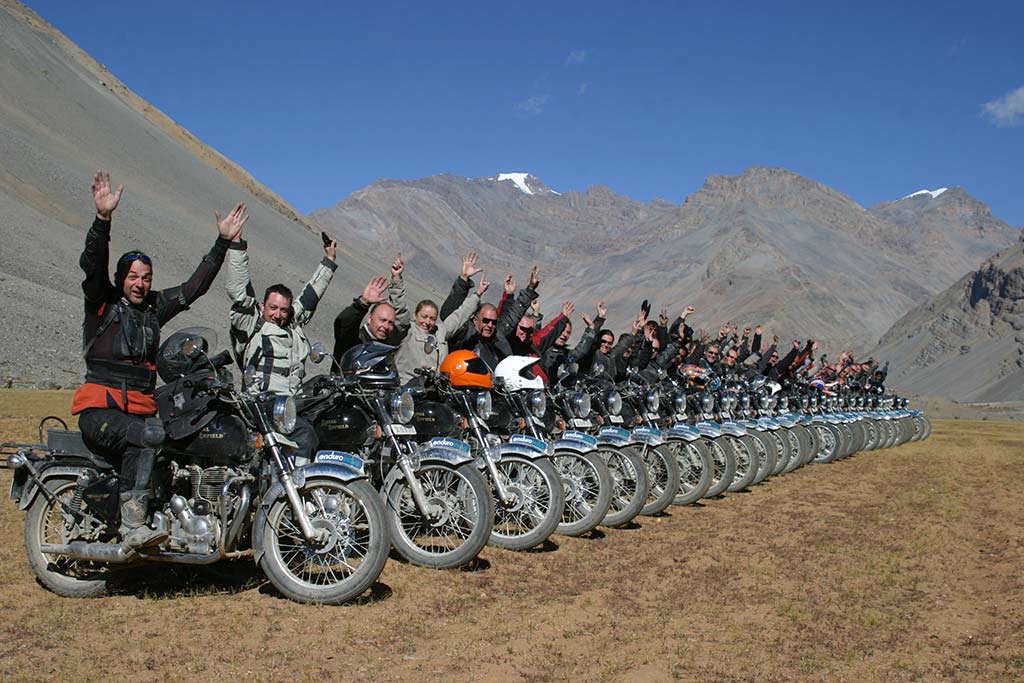 SIMON SAYS
Age: 37
Occupation: Owner and founder of Global Enduro
What's the biggest challenge on your list of 'things to do before I die?' Launch Moon Enduro.
What book or album would you wish for if you were stranded and why? Cat Steven's Tea for the Tillerman – buy it, it's the answer.
What keeps you awake at night? All the evil things I've done.
What do you miss most about home when you're away? All the evil things I do.
What's your ultimate indulgence? Finding time to go fishing.
What's your best characteristic? An ability to inspire.
And your worst? Psychosis.
What's your best tip for adventure bike riders? Get out there! You're only ever two panniers away from enlightenment.
Who's your motorcycle hero and why? My friend and employee Richie Finney.
If you could have one super power what would it be? To be like Richie.
Who would you take as pillion on a round-the-world trip? My son Harry, and Richie.
Which country have you not yet ridden and would like to? Why would you choose that place? I would like to ride Alaska, because I love wild places.
What's your favourite terrain? For biking, I love trails through the forest, mountains – anywhere challenging and wild, to be honest. That's why I love my girlfriend.