From a European road tour to a full-on African expedition a sleeping bag is essential if you're planning to overnight in the great outdoors. Alun Davies checks out the best lightweight summer rated bags for motorcycle adventures
You tend to learn quickly, and sometimes there will painful consequences, about the quality of a sleeping bag when your life depends on its performance. And I say that with near enough 30 years of mountaineering and expedition experience in remote corners of the world.
Sleeping bags range from big and bulky expedition-style bags that'll keep you alive in the Arctic or high altitude conditions right through to lightweight bags designed to keep you comfy on chilly summer nights. However, when it comes to choosing a bag the same principles apply no matter what the expected conditions. Especially so when you have limited carrying capacity, such as on a motorcycle, where weight and pack size are important features.
That said, hypothermia and frostbite can take the shine off even the best motorcycle adventure, so pack size and weight come second to warmth. In other words, the first thing to consider when you're buying a sleeping bag are the temperatures you expect to encounter on the trip.
In this review, we're looking at sleeping bags that are perfect for summer rides to Europe and beyond where the temperatures are unlikely to drop below zero. In fact, I'll be packing one of the test bags after I finish writing up this report for a trip down to the Alps and Pyrenees.
---
The golden rule
The first rule of quality outdoor gear is that the lighter the product the heavier the price. In sleeping bag terms, this translates into paying more for the technology, fabrics, components and construction techniques which will give you the highest warmth to weight ratio.
Yes, you can buy a summer-weight sleeping bag for under £20 in Tesco but that bag could be well over twice the weight and pack size of a quality outdoor product from a specialist manufacturer. And, you'll From a European road tour to a full-on African expedition a sleeping bag is essential if you're planning to overnight in the great outdoors. Alun Davies checks out the best lightweight summer rated bags for motorcycle adventures probably be buying your 20th Tesco sleeping bag when your mates Rab or Ajungilak is still going strong and keeping him warm.
---
Down vs Synthetic
The outdoor gear testing mafia have been squabbling for years over which insulator is best; down or man-made (synthetic) fibre? Generally speaking, a down-filled bag will be more expensive but will have a better warmth to weight ratio, pack smaller and will maintain its loft (and insulation properties) for longer. The disadvantage of down is that it is pretty much useless when wet and takes longer to dry out if it gets a soaking. That said, I can tell you from bitter experience that a wet synthetic bag is not much use either.
As most down bags come with a water repellent treatment on the outer fabric the chances of you wetting out a sleeping bag are low just as long as you're careful and don't dump your bike in a river. The rule is; down or man-made, keep your bag dry. Based on the above, if weight and pack size are absolutely critical buy a down bag. If price is the biggest issue go for a synthetic bag. Either way, stick with a quality manufacturer and you'll not go far wrong.
---
What's that on the swing tag?
The quality and quantity of down in a sleeping bag varies, so it pays to check the fill power and down ratio details on the swing tags.
Fill power – The fill power is the volume of space a set weight of down will take up, and a measure of its lofting ability. Generally speaking the higher the fill power the warmer the bag, however, this can be slightly misleading as the use of lower quality down can lead to a higher fill power as well. So as well as the fill power you'll also need to take account of…
Down content – If there's a bag with a 100% down fill, I've yet to find it. The fluffy warm stuff always comes mixed with feathers and this down to feather ratio is a good indicator of the warmth of the bag. So, a bag with a swing tag showing 95% down (95/5) would be a better quality insulator than one showing 80% down (80/20).
The combined down ratio and fill power figures are your best indicators to the insulation qualities of a summer weight bag but the type of construction used is also a major factor with heavier duty winter rated bags.
---
Temperature ratings
Manufacturers of sleeping bags usually quote three temperatures on the swing tags; comfort, limit and extreme. These terms can cause confusion as different manufacturers use different methods for measuring the ratings. In other words, two different manufacturers may quote 'zero' as a comfort rating but one bag may be warmer in use than the other depending on the measuring method used. Helpful, eh?
In the following test, we've quoted the manufacturer's claimed comfort ratings, which is the most important figure when buying. And if we don't think they measure up we've said so.
The 'extreme' is the temperature at which the bag will protect you from hypothermia – a just in case feature – and the 'limit' is generally the figure at which 'comfort' becomes 'uncomfortable'. If you sleep 'cold' go for a bag rated with a lower comfort rating.
As a matter of interest, in every sleeping bag test I've ever been a part of, the cheaper high street brands as sold by supermarkets have consistently overstated their comfort temperature when measured against the quality outdoor brands. You pays your money etc.
---
Sleeping bag liners
Using a liner (cotton or silk) will make your sleeping bag warmer and also prolong the life of your bag by protecting it from dirt and sweat. They are also far easier to wash than a sleeping bag and a good investment for frequent users.
---
Stuff sacks
Stuff sacks are okay at compressing the size of a sleeping bag for stashing in your panniers but a quality compression sack is much better. A compression sack has straps and buckles which can be pulled tight to extract all the air. It's amazing how small the top quality down bags can be compressed.
---
Storing a sleeping bag
A sleeping bag that's been stored for a long time in a stuff sack will lose some of its loft and insulation properties. When not in use it should be allowed to inflate in a breathable cotton bag – a pillowcase is good.
---
Features
Hoods
Hoods are not so important on summer-weight bags where the temperatures are not likely to drop below zero. However, a bag with an insulated jacket-style hood that fits snugly around the face would come in useful if you're a cold sleeper – as would a hat. Make sure the hood has a drawcord closure to keep out the cold.
Zips
When it comes to sleeping bags there's nothing more irritating than a snagged zip in the middle of the night when you need to get up and go. Check that the zips open and close smoothly and easily, without catching. A closure tab at the top of the zip to stop it opening during the night is also a useful feature. Half zips are less versatile than full zips when it comes to ventilation but can add warmth and cut down on weight. Left or right-handed versions mean you can zip up to your partner if you buy complimentary bags.
Security Pocket
A zipped off velcro pocket tucked inside the bag is useful for keeping important or valuable stuff close at hand, like bike keys, credit cards, passports etc.
Baffles
Baffles are insulation tubes that help retain heat and keep out drafts. You'll find them alongside zips and around the shoulder area. They can make a big difference to comfort when the temperature drops.
Foot Box
The extremities are the hardest parts of the body to keep warm. A well-constructed foot box with extra insulation helps keep feet snug. Not so critical on summer-weight bags.
Fit
The bag should fit you closely, but with room for wriggling. The mummy shape is the most useful, with the moulded profile meaning there is less air around the body to heat up. Most quality manufacturers make several different lengths of bag, so you can choose one to suit your build.
---
Snugpak Travelpak Lite
BEST BUDGET BUY
Price: £39.95
Weight: 800g
Fill: Synthetic
Comfort Rating: 7c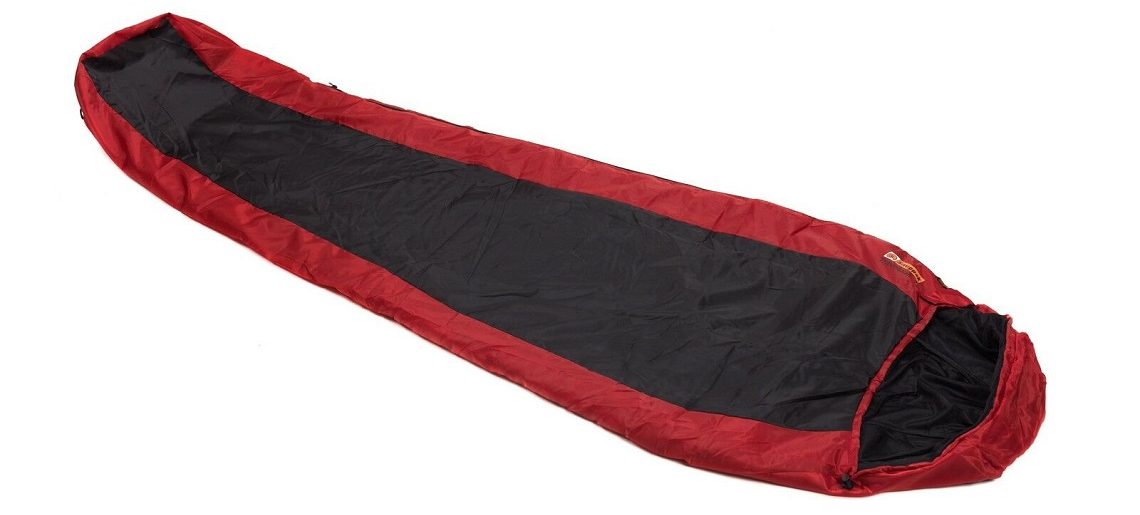 I've been using Snugpak sleeping bags for years and the consistent theme has been a great value for money coupled with features that count. The company stand or fall on the quality of their insulation kit (they specialise in sleeping bags and insulated winter jackets) and the Travel Lite is another product that'll keep this company firmly upright. When fully compressed it'll take up less room in a pannier than a small loaf of bread and weighing in at 800g it's a seriously lightweight synthetic fill bag. Features include a ¾ length zip with a full internal baffle to prevent drafts and heat loss. You get a security pocket, chest baffle and a full wrap-around hood with a mesh mosquito net to protect the face.
In a line: Great value, spot-on for summer Europe/North African adventures. ✓✓✓✓
---
Lifeventure Downlight 900
HIGHLY RECOMMENDED
Price: £89.99
Weight: 900g
Fill: Down
Comfort Rating: 5c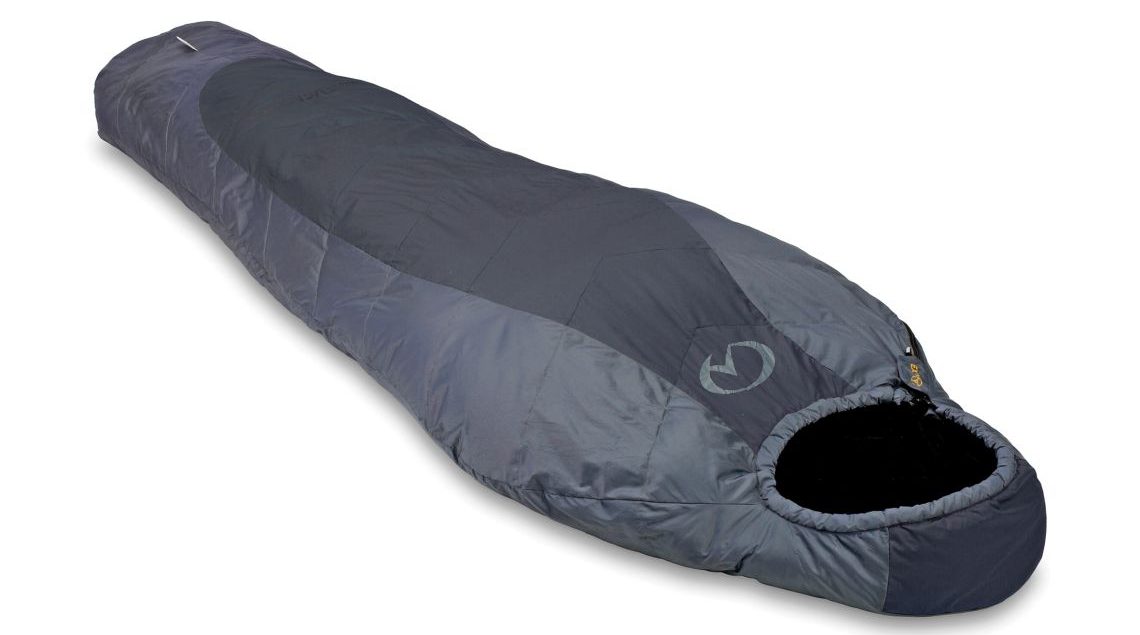 For a lightweight goose down bag with 300g fill power, the Lifeventure has an impressive loft and we reckon it's more than good for a comfort rating of 5c, in fact, we'd be happy at 3c or maybe a touch lower. This is a well thought out travel product that comes in a fully waterproof stuff sack that also doubles up as an inflatable pillow – two great practical features. Features include two zipped pockets for stashing valuables, a full-length two-way zip that offers good ventilation options, draft baffles where they're needed, and a well-insulated hood with drawcord. The bag is also treated with an anti-mosquito/bug/bacteria coating, packs down small and weighs in at a minuscule 900g.
In a line: Great features, top performance. We like this one. ✓✓✓✓
---
Vaude Kiowa 500
BEST BUY FOR THE LARGER MOTORCYCLIST
Price: £110
Weight: 1100g
Fill: Synthetic
Comfort Rating: 1c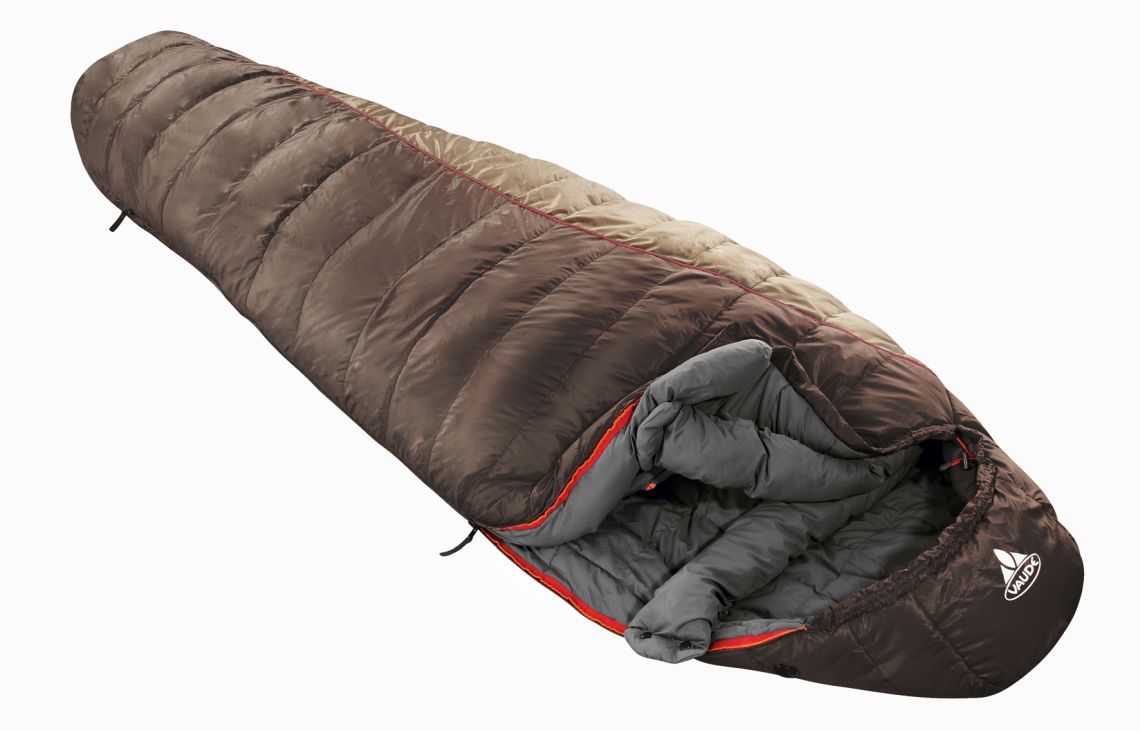 Vaude are a quality German outdoor company that understands the needs of the adventure motorcycle rider – the Germans have been at it for years. We've been told that a biker friendly tent will be launched this year to complement their excellent range of sleeping bags which includes the Kiowa 500. This is a top-quality synthetic bag capable of keeping most people comfy at a few degrees below 0, though the company claim a conservative 1c comfort rating. It comes with all the features you'd expect from a top outdoor brand and as it's cut on the large side would be a great choice for the larger motorcyclist. Look after this sleeping bag and it'll outlive you. Comes with a water-resistant compression sack.
In a line: Quality hard-wearing bag from a highly respected brand. ✓✓✓✓
---
Nanok Comfort Down 0
GOOD OPTION FOR COLD SLEEPERS
Price: £140
Weight: 1200g
Fill: Down
Comfort Rating: 0c

Nanok, as the Scandinavian name may suggest, is a Norwegian company that specialises in sleeping bags. The 'comfort' range is a slightly heavier and bulkier version of the companies 'performance' range and is aimed at the traveller who doesn't demand the absolute lightest equipment – motorcyclists being a good example – and would like a little more, er, comfort. With a comfy rating of 0c, we'd have no problem sleeping happily in conditions a few degrees colder. We've included this bag in a summer test as it comes with full length zips on both sides which means it can be fully opened out for ventilation on warmer evenings. The quality of the design, components and construction are top-notch as is the 500 fill 90/10 down/ feather insulation.
In a line: Excellent versatility provided by two full-length side zips ✓✓✓
---
Ajungilak Sphere Spring
LIGHTWEIGHT PERFECTION
Price: £225
Weight: 550g
Fill: Down
Comfort Rating: 0c

With a price tag of £225, the Sphere Spring needs to be something special, and it is. This is an extraordinary sleeping bag weighing in at just 550g, packing down to next to nothing and providing a comfort rating of 0c, and then some. Everything about this bag is quality; from the ultra-lightweight, water repellent and surprisingly robust fabrics to the high loft qualities and insulation properties of the top-spec 240gm 95/5 goose down housed in a technical Wave Box construction to minimise cold spots and maximise warmth – it also adds considerably to the cost. Even at the price, it's difficult to fault anything about this sleeping bag which also comes with a ¾ length side zip, draft baffles, cosy hood with drawcord closure.
In a line: The perfect lightweight sleeping bag ✓✓✓✓✓
---
GoLite Adrenaline 1+ seasons
HIGHLY RECOMMENDED
Price: £225
Weight: 709g
Fill: Down
Comfort Rating: 4c

We've been raving about Golite products for years. The companies founding principles are great performance at the lightest possible weight and, in almost all cases, they provide just that. The Adrenaline 1+ is an ultra-lightweight sleeping bag that delivers amazing performance and is capable of providing a cosy nights sleep at temperatures way below the company rated 4c comfort zone. The 800 fill down lofts exceptionally well for a bag that packs so small – a result of a technical construction technique. Features include a top centre zip (as opposed to a traditional side zip) which eliminates pressure points when sleeping on your side. The waterproof Pertex shell fabric at the head and foot areas protect against condensation and the hood is exceptionally well designed and insulated.
In a line: Topline product from a respected manufacturer. ✓✓✓✓