Dave Reynolds experiences two very different riding days from the saddle of the ABR V-Strom 650XT
These last few weeks have been really hectic for me and it's meant many of those little jobs that build up just haven't been done. I had a clear day recently so I made a list of those things that needed doing, and that my missus was good enough to remind me of.
First things first, I went into the shed to get some tools, and in the process, I had to move the Strom out to give me room.
So I did the obvious thing, screwed the list up, dove back into the man cave and got suited and booted, checked my pockets for money and fags and off I went.
Living near to the Cotswolds it's the obvious choice of destination, quiet roads at this time of year, (autumn), and so I just set the SatNav for home then took any lane that looked good. There are so many picturesque villages to stop at for a smoke and a brew. Riding the Strom along the many back lanes in the Cotswolds at fifteen-degree temperatures was the best way to relax after a busy period.
There may be better bikes to do the job but the Strom just seems so perfect. Light enough to chuck about with a wonderfully smooth and torquey engine that just pulls you around with so little effort. It is so nice to have the time to stop whenever you want for a picture, or a smoke, the beauty of riding solo.
The Cotswolds in autumn is so colourful with the trees and plants starting to move onto to winter.
Now, here's a tip. Do not format the SD card from your camera before you've loaded your day's shots onto the PC. I spent the whole day thinking 'I'm a photography god', but the card got wiped and I have nothing to show for it!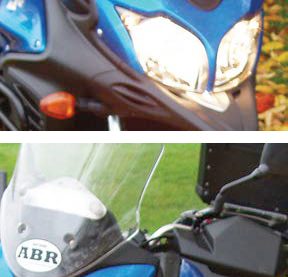 I needed to go to Stoke-on-Trent a few days ago in the late afternoon, early evening.
It was dark but still quite warm for the time of year.
In between Stoke and myself are the motorways through the Midlands, hardly fun riding but at least on a bike, I could filter through the many traffic jams caused by road works and just too many vehicles that all need to be on the road at the same time.
Within 10 minutes of setting off down came the rain, and lots of it. You know the scenario, dark, wet, cold and riding in a sea of red lights with the feeling that everyone wants to drive over you. It was, then, a good job that the Strom has bright headlights with a good beam spread.
After over three hours of that kind of riding, I was ready to get the wet gear off and park the bike back up.
So, two very different days riding on a bike that can do both just as well.