Dave Reynolds gets emotional as he bids farewell to our long term V-Strom 650 XT
It's nearly time to say goodbye to our long term test V-Strom 650 XT. Will it be a wrench to open the garage and find it missing? In a way yes, although something else will be replacing it.
This bike has grown on me over the time we've been together. Main reason? It's just so easy to get along with. It starts with enthusiasm, has a great luggage system and an invitingly comfortable seat that helps on long days. And maybe I'm getting old, but it rides so easy. It pulls strongly through all gears but pootles along nicely with the clutch out through the traffic.
Many years ago I owned a 1000 Strom and many people told me the 650 was a better bike. "How can that be?" I thought, "there's less power!" But I've now discovered that they were right. There is a definite leaning to lighter, less powerful adventure bikes lately, just look what's on offer from all the manufacturers now. Not the very light enduro influenced bikes, but mid-range sizes between 650 to 800.
They offer all the benefits of their bigger stable mates, good cruising speeds, luggage capacity and room for a pillion. Though they also offer the obvious fuel saving of a lighter bike over the big 1200 beasts, and just manoeuvring a bike around the garage or shed makes a lighter bike sensible.
A friend of mine called round the other day, he's owned a Suzuki GSX1400 for a few years. He had an accident at work some time ago causing a shoulder injury, and so riding his big GSX has been not possible for some months.
He had a look around the V-Strom and sat in the saddle. His opinion was he could happily manage to ride it, the wide bars and lighter weight being just what he needed. The next time I saw him he'd been into his local Suzuki dealer and had a test ride on the Strom, absolutely loved it but more importantly could manage it with his shoulder problems. So another convert to an adventure bike it seems.
The Strom has held up really well throughout our year of ownership, there are no rusty fasteners or paint flakes and all of the plastics are still attached and looking pretty much brand new. Apart from a little rubbing on the frame by the footrests from my boots, maybe some frame savers would help here.
So it's obvious that I like the bike and will be sorry to see it go. Maybe it's time for you to try one? It might be just what you need without knowing it.
---
Special Delivery
Honda CRF1000L Africa Twin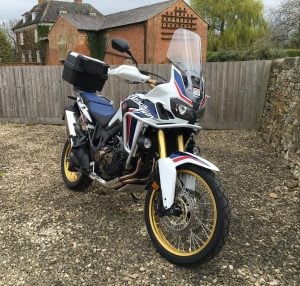 Just before we pressed print with this issue of Adventure Bike Rider magazine we took delivery of our second long term test bike of 2016, the new Honda Africa Twin with DCT. After we fell in love with it on the world launch in South Africa, and having ridden it off-road at the Honda Adventure Centre, we're looking forward to getting out on it over the next few weeks.
Check out the next issue of ABR to see our report after two months of ownership.