Dave Reynold puts on his pinny for a spot of spring cleaning, ABR style.
I've been using the Strom through the winter months, including a short commute. Purposely, I haven't protected it with any treatments, ACF50 is my usual choice, brilliant stuff. The reason for the lack of protection is to see how the bike's finish stands up to our winter, not because I'm an idle sod who couldn't be bothered. 
There's been quite a lot of condemnation of the finish on some of the current crop of adventure bikes. Corroded fasteners and spokes being the main culprits. I store the van I use for my 'proper job' on a local farm, so the Strom has been suitably covered in all sorts of winter crap, plus the salt used on our roads throughout this winter's cold spell. Roll on spring and summer clothes and riding is all I can say!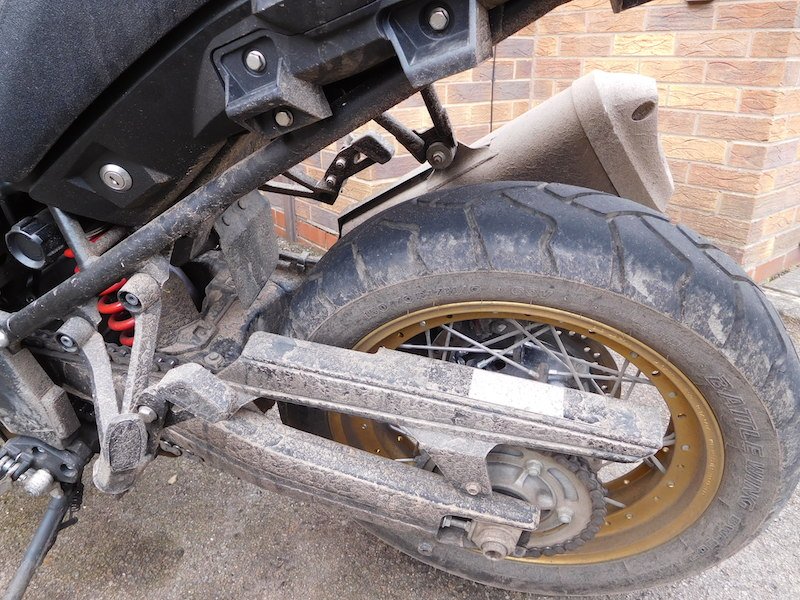 Yesterday morning I searched in the shed for my cleaning products to get the grime off.
I couldn't find what I needed so took a trip to the shops, uncoiled the hosepipe and spent a while fixing a leak which told me I should have stored it in the shed.
At last, it was time to wash, I squirted some traffic film remover all over and let it soak in, had a coffee and a fag then hosed it all off, then repeated the process to get off the muck I'd missed first time. 
Bikes are an awkward thing to clean. There are so many places the crud gets to which seem to be impossible to get at, in the case of the Strom, the double flanged spoked wheels; the bit in the middle between the flanges is a royal pain to clean.
I have a jet wash, but I'm not keen on using it on a bike as it's too easy to force water into places it should never be. I left the Strom to drip dry in the winter sun and retired to the warmth of the house to enjoy a bacon sandwich and a cuppa. 
It had actually come out very well, a wipe over in places with a product I found in Aldi to shine up mountain bikes concluded the valet. 
The result? No corroded fasteners, the Strom has stainless spokes so no corrosion there. The gold coloured rims still look factory fresh, general bodywork/plastics came out fine.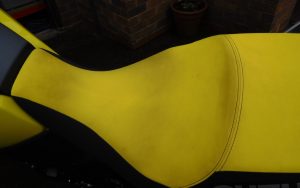 But, the yellow covered seat has me stumped as yet, I always thought it a strange colour for a bike seat, it showed signs of use quite quickly and only got worse as use went on. I'm not giving up on this, there must be a product that'll give it back its bright summer colour.