After being invited to Portugal by some riders he met in Angola, Michnus Olivier finds himself falling in love with Europe's westernmost country.
It all started nine years ago in Angola. We were five friends braving the near-impossible Angolan coast and Kunene River from the saddle of a motorcycle. An excursion that had us close to offering our bikes to the sea. Our ride became a famous trip report online, opening new adventures of its own.
That, however, is a story for another time, though it played a huge role in a world tour that started in 2010 for Elsebie and I. We travelled from South Africa through Africa to Europe with a stopover in the ex-Portuguese colony of Angola to show her the wonders and beauty of this unique country that I had explored before.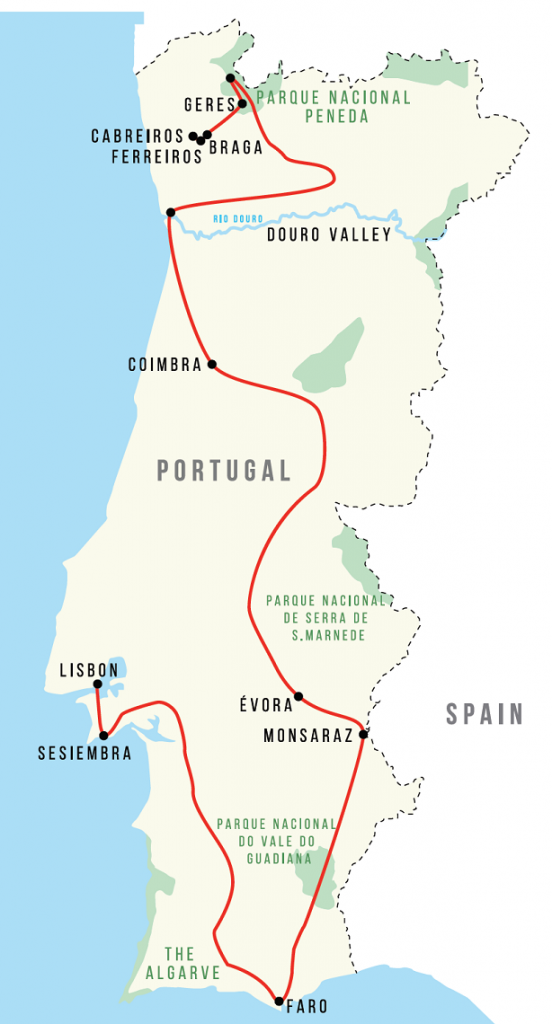 In the small coastal town of Namibe in Angola we met up with four bikers from Portugal who were inspired by our journal on the 2007 Angola trip. They duly decided to ship their bikes to Mozambique and rode all the way across Africa looking to enjoy the same fun and adventure that we had, especially since they still had family ties in Angola. Flabbergasted that I was one of the five guys that braved the coast, they extended to us a 'must-absolutely-visit-Portugal' invitation to be their guest. How could we say no? 
South Africans are only granted a 90-day visa for Schengen countries. We entered Europe from Africa via Italy by Ro-Ro (a car ferry). Our planning had to be precise to traverse the coast around France, Spain and Portugal and then store the motorcycles in Germany before the weather became unpleasant to ride in. Planning to spend approximately one week of the 90 days exploring in Portugal seemed fair as it's a small country. We felt this would give us time to reunite and abuse the hospitality of our Portuguese friends. 
But there are just some countries that get under your skin in no time, they make you feel welcome and at home. Portugal is one of them. That pure bliss 'get-into-the-vibe and click with the locals' welcome. Our one week turned into a month-long stay from the 90 days we were allowed. With a bit of luck and happenstance, we ended up spending a lot of time in a country that we would have otherwise just passed through.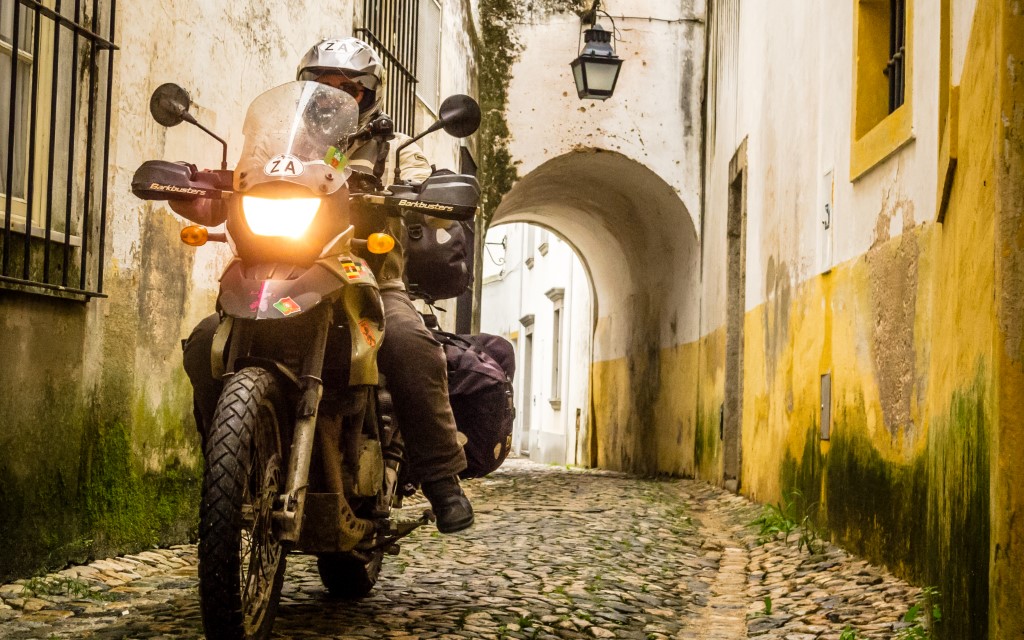 The country might only be about the size of an American shopping mall but don't let that fool you. Portugal packs a massive punch with enough architecture, history, culture and striking landscapes that a two-week adventure will feel like you have explored the world for a year. Being on the far end of Europe, not many people, let alone adventure bikers, frequent this amazing country in comparison to other western European locations. Portugal is ripe for adventure trails and exploration. 
We arrived from Spain at the top end of Portugal, and on directions and advice from our Angolan-met friend, Pedro, we headed back north towards Braga and then Gerês. Our first trip inland was a fascinating experience. We entered a small town and found a 'shop' selling old motorbikes. Well, wrecks are a better description. Anything from old Vespas to BSAs. 
It was evident that the Portuguese have a love affair with old bikes. Restoration and the new café racer scene are huge. No one could speak English, but the mutual admiration we showed towards the bikes was enough. A visitor started telling us in very broken English about more priceless 'motos' that could be found in a private collection consisting of around 1,000 motorcycles between the towns of Cabreiros and Ferreiros. He showed us some pretty rubbish out-of-focus cell phone photos of the classic motorcycles when the collector had had an open day for one of the motorcycle clubs. A few hours later, with no address and very vague directions, we headed that way. 
On entering the first town, we saw an oily old bike shop on the one side and I stopped to ask if anyone had an idea where the collector might be found. The shop owner's grasp of English was on the short side, though a visiting customer named Daniel who was hanging around the shop immediately took us under his wing. He knew about the elusive collection but had never seen it himself. He promptly got on the phone, then in his car and winked for us to follow him.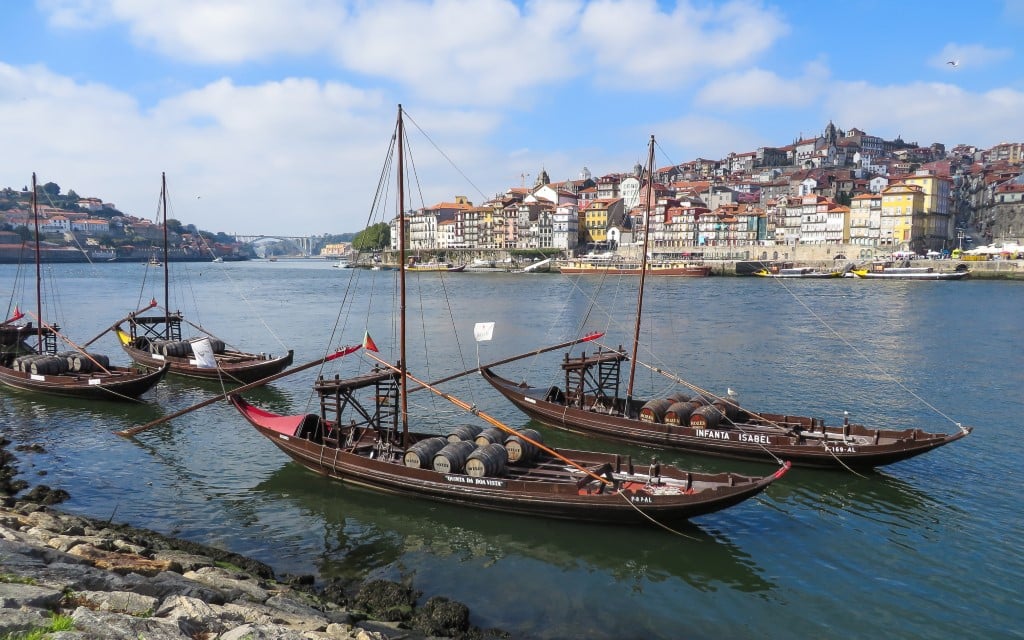 Long story short, we did not find the collector. The collection does exist and it must be a marvel to behold but instead we ended up spending a memorable day with Daniel and his family, enjoying the first of many hospitable Portuguese days. We were treated to a traditional lunch of oven baked chicken, beef and potatoes with rice. It reminded me so much of our South African 'boerekos' (fresh homemade food). We received numerous invites from complete strangers for lunch, dinner and stay overs. The kindness of the Portuguese was truly remarkable. We can confidently say that Portugal has been one of the most inviting and friendly countries we have ridden in. 
We made our way up to Gerês and the granite peaks of Parque Nacional Peneda. The park borders Spain and has some of the highest peaks in Portugal. The views over the valleys below Gerês are nothing short of spectacular. The thick growth and trees make for an old forest hobbit style setting.
We spent two nights at a very neat and affordable hotel, Cavalcho Adaujo, as it was raining constantly but I must say we would love to go back for some camping. We mosied around the streets observing tourists and locals alike, took rides on our bikes into the park and even got a glimpse of a funeral procession going through town. 
One gets the feeling of being back in the early 20th century riding through countless small villages with their old-fashioned traditions of village life decorated with distinctive blue and white tiles.
The interior mountainous area is sprinkled with hilltop castles and villages. The old fisherman villages still have an authentic style and feel to them. Men sitting outside small bars, roadside cafés and coffee shops sipping espressos and eating Pastel de Natas, a local custard type pastry bake, all so quaint and charming.
We quickly picked up this habit, packing camp at around 8am to get a coffee and pastry, normally at the closest roadside shop that we could find. Walking into these small coffee shops we were (mostly) courteously greeted by the locals with a few WTFs and 'where the hell did you come from' looks? Some souls would just continue sipping their espresso laced with a tot of Licor Beirão or Aquardente, local liqueurs.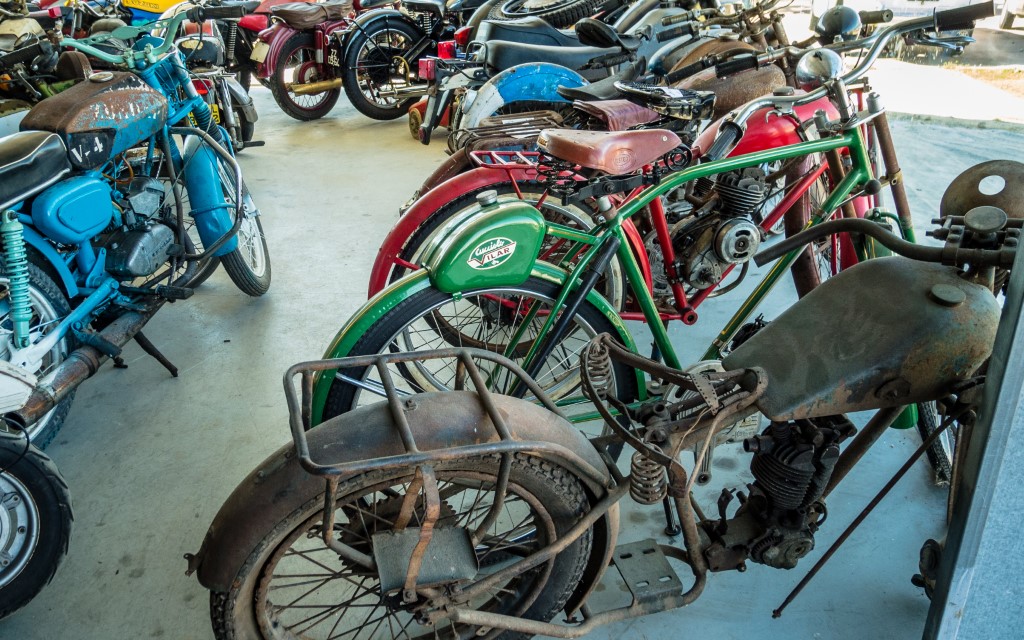 Our route turned back down to one of the most picturesque regions, the Douro Valley. The many small roads winding their way along the river are a gift from the biker gods. There are dirt road routes if you are prepared to search for them. The Douro River winds its way through wine lands and olive farms. Picture perfect, a wonderful mix of old farming methods meeting the new modern.
Now mix in some world-famous Port tasting stops and you have a fresh new heaven! We spent many lazy days outside dodgy old bars, eateries and hotel balconies overlooking the valley and Douro river. Taking in the gloaming deep red and orange colours whilst sipping Port from locally wineries. We could have easily spent another week or three boozing around the Douro valley exploring the wineries and food. 
Exploring abundant scenic back roads whilst crisscrossing Portugal we worked our way down towards the Algarve. The small size of Portugal allowed us to snake through the country then hit the coast and work our way back inland again. There's an endless amount of small, old fashioned charming quaint towns to explore, each with its own flavour.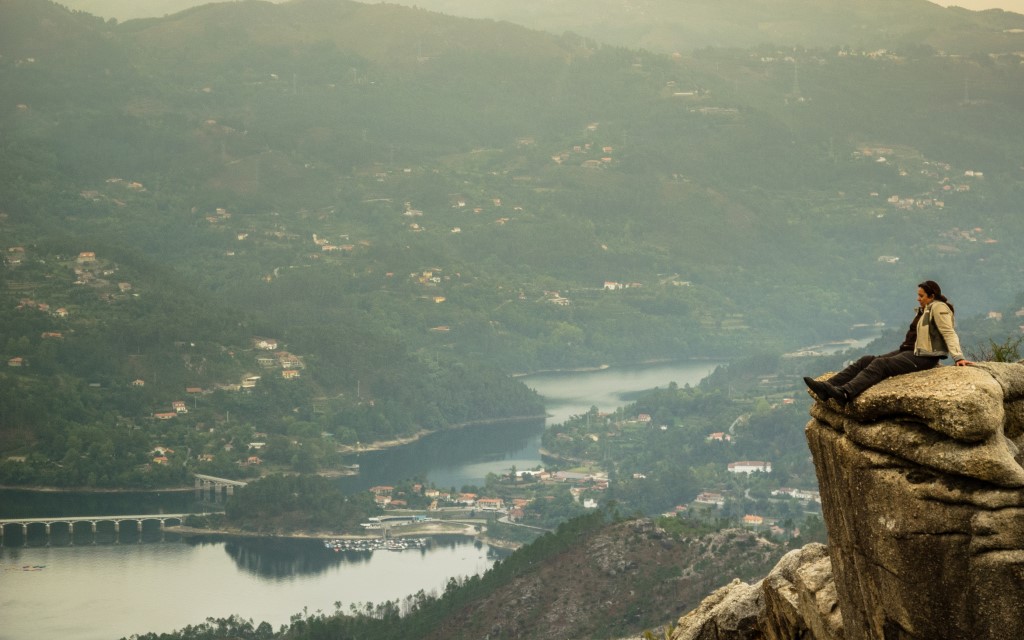 Places where people are laid back and relaxed going about their daily routine, seemingly oblivious of the 21st century rush and madness in the rest of the world. People sitting around street cafés and town squares chatting, laughing, and watching us roll through. What a pleasure!
Pedro and friends were kind enough to let us stay in their holiday home in Sesimbra about nine miles south of Lisbon. This allowed us easy travel to Lisbon and surrounding areas like Setubal with their multi-coloured painted Dolphin statues.
Sesimbra is an old fishing village, now more a holiday destination for local Portuguese people. The town is filled with unique fish restaurants and bars. I do not think there is a place in the world where seafood is more loved than on the coast of Portugal. With grilled seafood from sardines to octopus, you'll taste the sea like never before.
Portuguese cuisine is rich, fresh and full of flavours that have been perfected over generations. The Portuguese will also change your impression of cooking three different meats in one pot. And then there's Barrancos Ham – something you must eat before you die! We stuffed ourselves with Francesinha, a grilled cheesesteak sandwich in a beer sauce. Sagres and Super Bock are locally preferred beers and, for mainstream beers, they are actually damn good.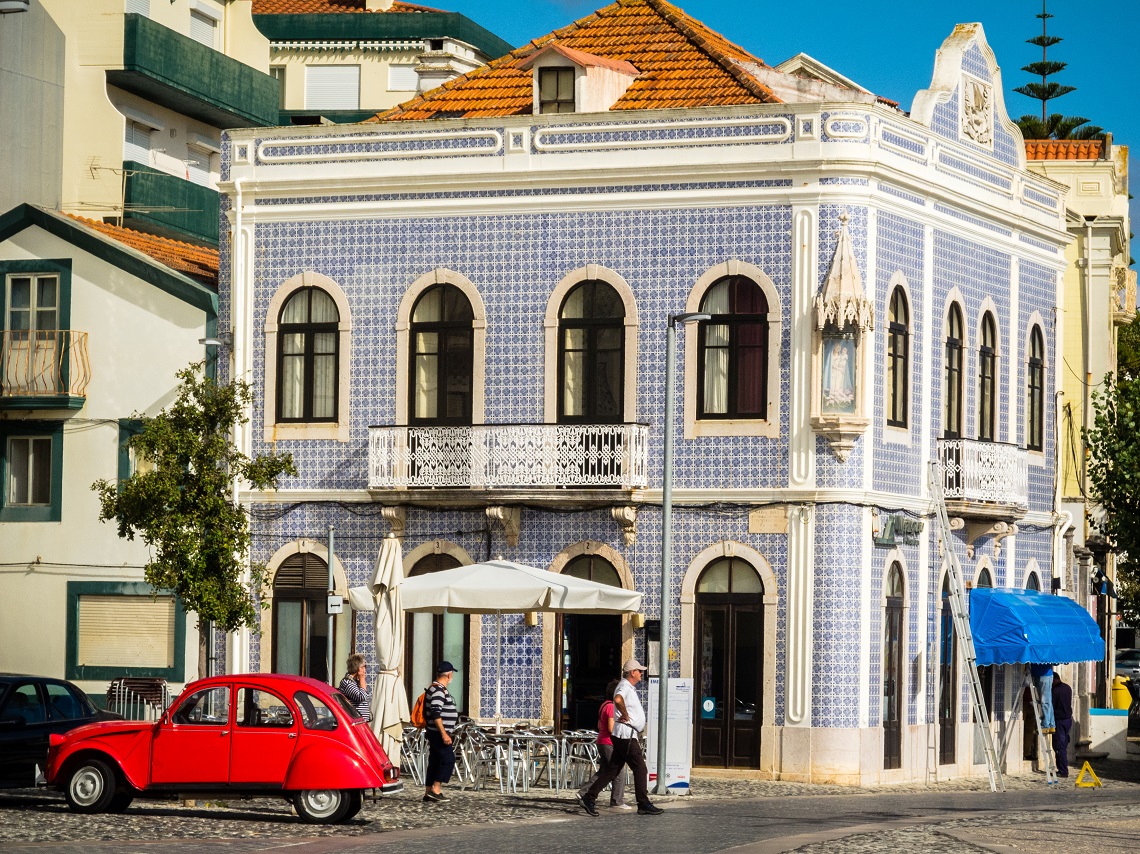 There is a magnitude of good campsites and places to stay in Portugal. Small hotels or bed & breakfasts are affordable and, if visited just outside of high season, pretty cheap. We camped most of the time as the campsites are, for the best part well run and clean and even have WiFi. Some campsites close to the sea, are within walking distance of town squares or the beaches. It is even possible to wild camp here and there, but best to keep it low key. 
We loved the Algarve region and the beaches. Okay, it's a bit touristy but you can't deny, spectacular. The entire Algarve region has a groovy laid back, old school, surfer feel to it. It's still sort of stuck in the past with authentic houses and architecture. Nothing happens fast – tomorrow is another day. Spending the days at café's drinking beer, surfing and grilling seafood – what a life! Small villages like Sagres have an 'end-of-the-world' feel to them. Its sea-carved cliffs and empty, wind-whipped fortress high above the ocean. Outside town are the stupefyingly impressive cliffs of Cabo de São Vicente. 
The beaches in Portugal are a bit more conservative than in France and Spain, and you won't see many topless girls around, rather your eyes are trained on the vast empty unspoilt golden stretches of sand. It has some of the most beautiful beaches in the world and they are, without a doubt, among the country's greatest highlights. You just want to look at the beach and commit it to memory for old age pension. Some are tame and exquisite, offering pure white sands and calm clear blue waters, others have a greater intensity where surfers dare some of the biggest waves in the world. 
We were having snack at a small eatery in Faro when a man walked up to us and told us about a motorcycle club not too far away that would host us for free. They have a huge club house with rooms especially kept for overlanders and visiting bikers. Although we wanted to get going into Spain, we decided to take him up on the offer, all the while hoping that it was not some palter scam story. It turned out to be a massive club and not some shabby clubhouse.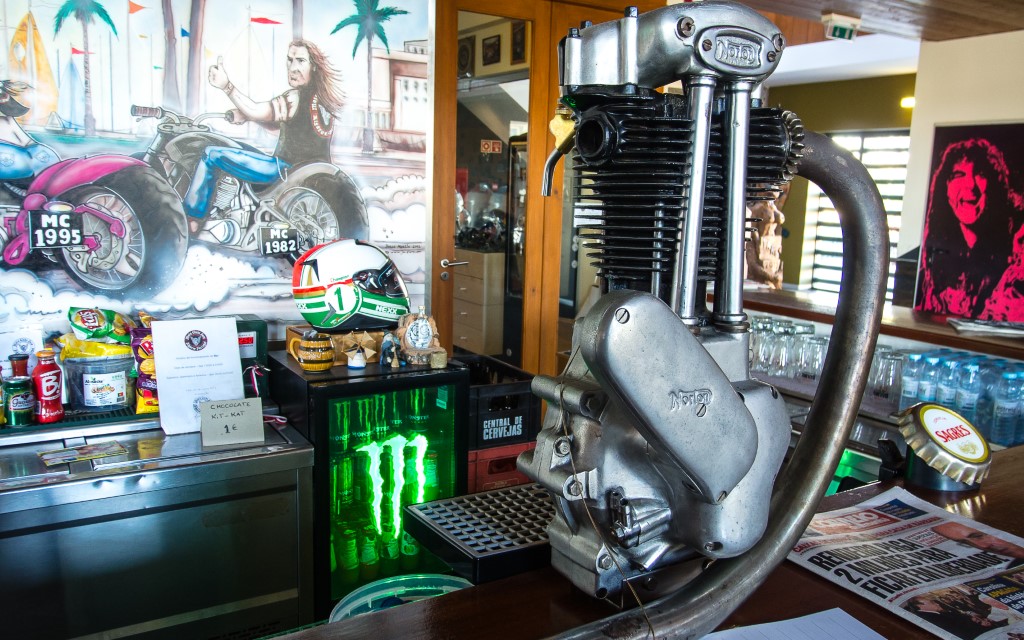 It's a damn impressive place with humongous stainless steel pipes resembling Harley exhaust pipes stacked up the side of the two-story building. Inside there is a bar with a motorcycle engine mounted on the bar counter as a beer tap. An inviting, family atmosphere fills the place. They welcomed us with open arms and we really went full out and stayed for a few days. 
For people who love mixing it up with others and making new connections, Portugal is the place. The Portuguese are loud, social, lively, warm and adventurous, with a romantic language and Latin roots. This is one of the first countries that we both agreed we could quite easily make our home. It is easy to get comfortable with local folk. 
It is not easy to say no thank you for an invite to eat and drink any time of the day. We loved the bold personalities that can be very entertaining and fun! Portugal is a real humdinger motorcycle adventure destination. There's so much to explore and experience. We were spoilt for a choice of places to stay and camp. 
Portugal is also one of the warmest European countries weather-wise which means it's perfect for motorcycle touring. It is truly a country for any type and taste of explorer. We will go back there for damn sure!
---
Don't Miss…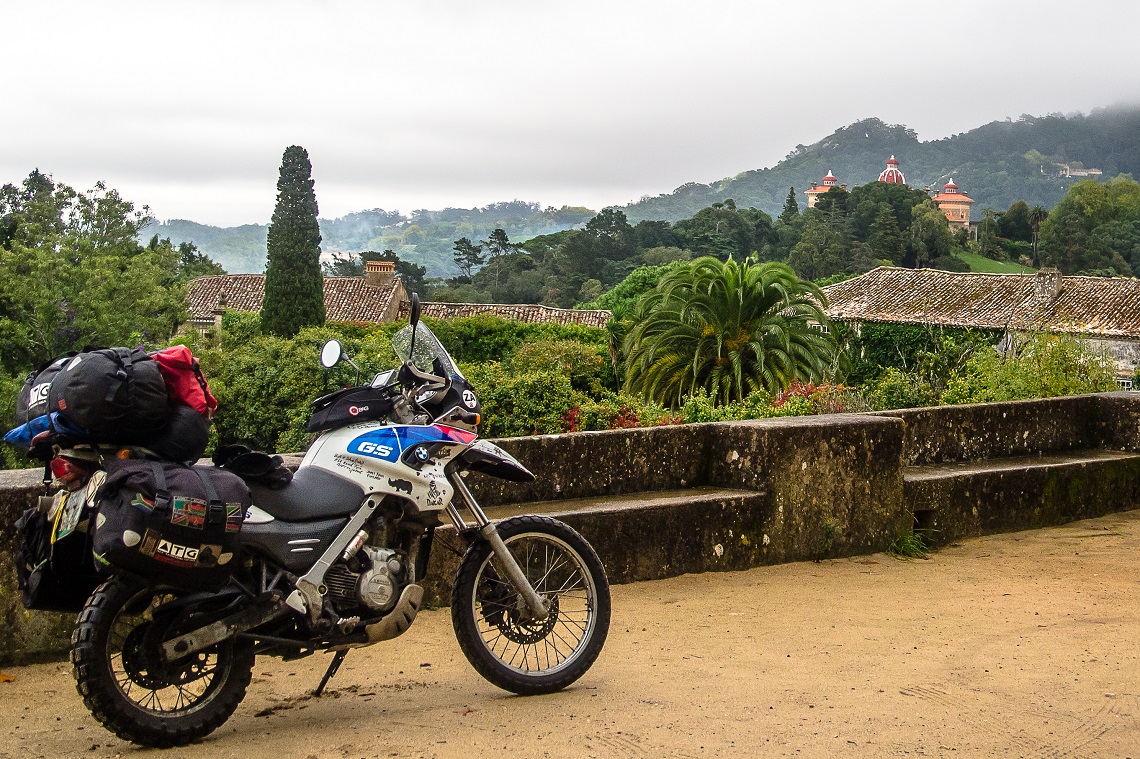 Just to mention a few remarkable places worth visiting while travelling through Portugal.
Evora – A perfect example of small-town Portugal, narrow cobblestone roads, old buildings and impressive churches. The Temple of Diana is a famous landmark but there is also the Praça do Giraldo, the town's main square.
Braga – The beautiful city with its Baroque monuments and Bom Jesus Sanctuary. The old and the new city are connected by the main square, Praça da Republica. The city's cathedral is the country's oldest.
Monsaraz – A charming village with an impressive castle, age-old cobblestone alleys lined with out of whack whitewashed cottages. Magnificent views over the Alqueva Dam and olive groves dotting the landscape. Close to Monsaraz is Mourão another whitewashed village with probably the best traditional food restaurant in all of Portugal.
Nothing outside shows it as a restaurant, but walk inside and you will find two or three men with rich deep tenor voices singing 'Pavarotti and friends'-like songs at an old bar. Huge magnificent old clay wine pots standing inside the cellar-like interior, proper authentic Portuguese cooking at its best. Wild hare and other mouth-watering venison dishes are so good they will numb your senses.
Pinhão – Home to the world's best port (to us anyway)! Tiny Pinhão sits on a particularly beautiful bend of the Douro river, roughly 15-miles upriver from Peso da Régua. The charming blue and white tiled train station stuck in time looks the way it did 100 years ago. It's a good place to stay for day trips around the Douro Valley and wineries.
Coimbra – The medieval capital of Portugal and home to Portugal's greatest university. On the east bank of the Rio Mondego is a multi-coloured collection of millennium-old buildings. Being a university town it is buzzing with people and has a great atmosphere.
Sintra – Dewy, thick, fern forest covered mountains, exotic gardens and dazzling palaces is the best way to try and describe this 'fairy tale' like town. Sintra-Vila is a UNESCO World Heritage Site. Pastel coloured buildings with moss covered clay roofs and their blue and white tiles are set along the hills. It's a very luxurious area and there's clearly a lot of money about.
Tavira – On both sides of the Rio Gilão river, is a pleasing little town. We were based in the town for a few days to explore the Algarve. The town still has an old castle and a Roman built bridge. It's best to walk through Tavira on the cobblestone streets enjoying the historic gardens and shady plazas. It is still possible to buy fresh fish from the small, active fishing port.
Porto – One of our favourites, sitting on the banks of the Douro River. Beautiful old colourful medieval art type buildings, baroque churches and ancient cobblestone alleys will keep you exploring this city for days on end. At the centre is the Ribeira district, a UNESCO World Heritage Site. Boats and restaurants line the banks of the Douro River where tourist and locals frequent bars and restaurants.
Lisbon – Portugal's capital city, does not have that typical big city, crazy feel. The city is on a hillside overlooking the river Tejo. It's a city with Roman and Moorish ruins, white-domed cathedrals and impressive grand plazas. The Ponte 25 de Abril Bridge, over a mile long, is a striking Golden Gate-style suspension bridge that links Lisbon with Almada.
The Catholic statue dedicated to the Sacred Heart of Jesus Christ, inspired by Rio's Christ the Redeemer, can be seen beautifully from the bridge. Lisbon shares the old and new but keeps its history alive. It's easy to spend a week in Lisbon without getting bored. Walking the town, riding the yellow trams or riding bikes are some of the best ways to get around.
---
Travelling in Portugal
Medical – As well as routine vaccinations, depending on where you're going in Portugal, you may need to ensure that you are immunised against Hepatitis A, Hepatitis B and Rabies (the latter may be recommended for travelers involved in outdoor and other activities in remote areas that put them at risk of bat bites (such as caving).
Documents – Valid passport
Language – Portuguese
Currency – Euro
Tipping –  Tipping in restaurants is optional. Most people in Portugal would just round up the total bill to the next euro.
Visas – Nationals of EU countries don't need a visa for any length of stay in Portugal. Non-EU nationals can apply for a tourist visa to stay in Portugal for up to three months.
How to get there – At current prices, Motofreight offers transportation from London to Portugal for upwards of £475 + VAT for a BMW R1200GS sized motorcycle.
Visit www.motofreight.com for more information.
Rules of the Road –
■ Ride on the right-hand side of the road.
■ Unfortunately, Portugal has a road accident fatality rate higher than the EU average due to aggressive driving habits and high speeds. However, the government has tried to address this recently with substantial fines for traffic violations.
■ Documents relating to the bike and its insurance must be kept with the vehicle, these include your own personal ID, driving licence, insurance certificate, vehicle registration or equivalent.