There's no debating that Britain and has some great places to ride, but there comes a time when you just want to head overseas and ride somewhere new and exciting. Whether it's a trip to the States, an adventure in Peru or a tour of New Zealand, you'll need a trusty stallion to ride.
Of course, you can choose to rent a bike, but there's something special about experiencing these amazing places on your very own machine. In this case, you're going to need to send your bike overseas, but if you've never done it before it can be a daunting prospect.
To help you out we got Roddy Warriner from bike cargo experts MotoFreight to give us the rundown on the options available when taking your bike overseas…
Modes of Transport
There are various modes of transport for freighting a bike from one point to another but not all are available on every route and not all are suitable to your requirements. In fact, some actually run a rather high risk. Here's what you need to know…
Ro-Ro: This is a form of ferry service which is often cheaper than other modes. The disadvantages are that some Ro-Ro lines don't accept bikes as they are rather exposed and bits often go missing resulting in the line paying out for claims. The lines have limited liability so if the bike suffers damage or losses then it is likely that your compensation will only be a small fraction of the value of the loss.
One issue is that a Ro-Ro operator's primary bread and butter consists of contracts with car manufacturers, thus you could find that at the last moment a regular customer increases their order meaning individual bookings are cancelled which can result in lengthy delays.
Containerised sea freight: The freight rates are often very cheap and this often persuades people to use this method. Be careful of the handling charges on arrival as they often exceed the freight charges themselves and in total can match or even exceed the cost of airfreight.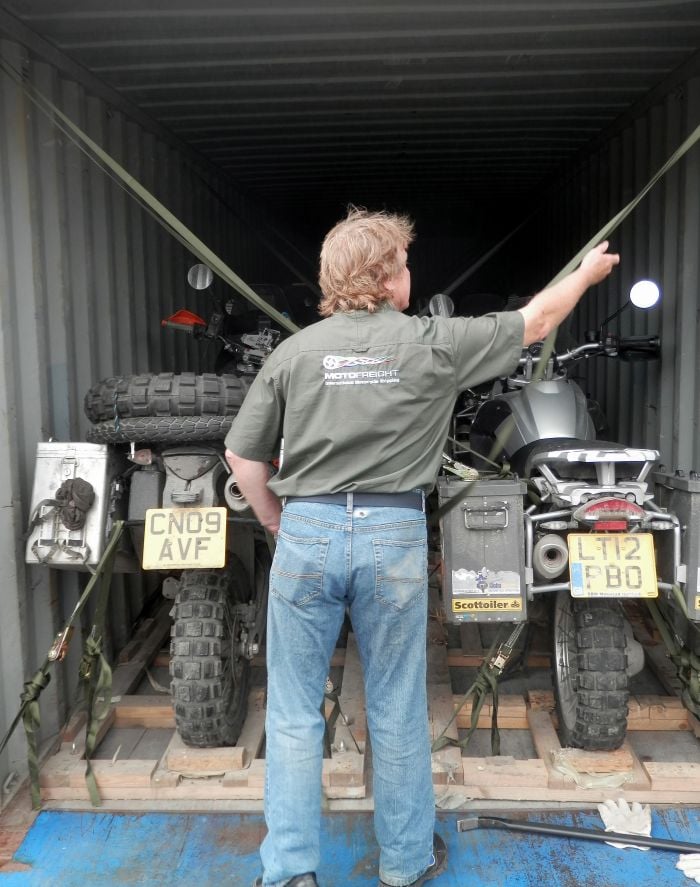 If you are travelling as a group then a dedicated container with no other cargo can be economical. The bikes don't need to be fully crated in this case which can mean a saving. We do recommend at least palletising the bikes and then securely lashing them into the container. However, when a bike is shipped in a shared container with mixed cargo the bikes should be fully crated for protection and this can be costly.
Transit times vary between routes so always check in advance and never assume a transit time. The biggest pitfall of sea freight is that when there are delays they are at weekly intervals. There is a risk that someone else's cargo in the container can be held up by customs which can delay the whole container. Other delays can be caused by bad weather at the port or at sea.
Airfreight: Although airfreight rates seem high, it often becomes cheaper in the long run as the handling charges are a lot less than sea freight. Unless there is a volcano in Iceland or another major disruption when airfreights are delayed it's usually for no more than a day meaning it erodes less of your travelling time and accommodation expenses while you are waiting. In addition, the bike is in transit for a much shorter period and is less exposed to potential damage.
Road: Long haul road transport often means that a bike can change trucks at a number of depots en route to the final destination which could mean a longer-than-expected transit time and more handling than air or sea. On some routes, this may be the only mode of transport available due to no sea service and airlines that only operate small aircraft. Unless the carrier is a specialist bike transporter, the bike should be crated for protection.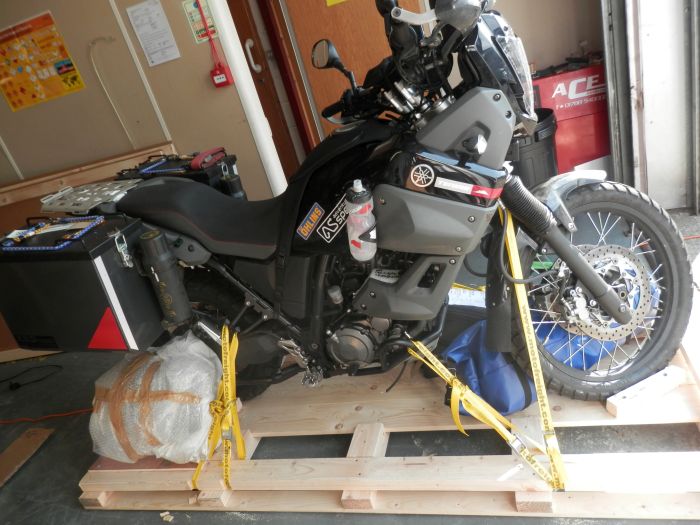 Points to consider
Always book well in advance as most modes of transport can be affected by seasonal and sensitive cargo. During autumn or harvest time the airlines will be carrying fresh produce. Airlines and some container operators consider a bike as a contaminant and usually don't carry bikes on an aircraft or in a container with perishables which will always get first choice.
Carriers and freight agents have varying degrees of liability built into their terms and conditions so if something gets lost or damaged do not expect to be fully compensated by them. Specialist freight forwarders usually offer transit insurance so be sure to enquire about this if you would like your vehicle to be fully covered. If you do opt for transit insurance there is likely to be an excess as there is with motor insurance. Insurers will not normally cover personal effects left with the bike nor pilferable items such as phones and sat navs.
Preparation for Freight
For sea freight, you may be asked to disconnect the battery and sign a form to state that the engine has been run until stalled to remove all fuel. For airfreight, it isn't a requirement to prepare in the same way as sea freight but many airlines will ask for this to be done.
Customs have the right to inspect all cargo so ensure that your luggage is left unlocked. If customs can't open the luggage then they may force it open without compensation. Any items that are hazardous in their own right must be removed. These include spare oils, gases, pressurised containers, puncture repair kits, matches, lighters and such like.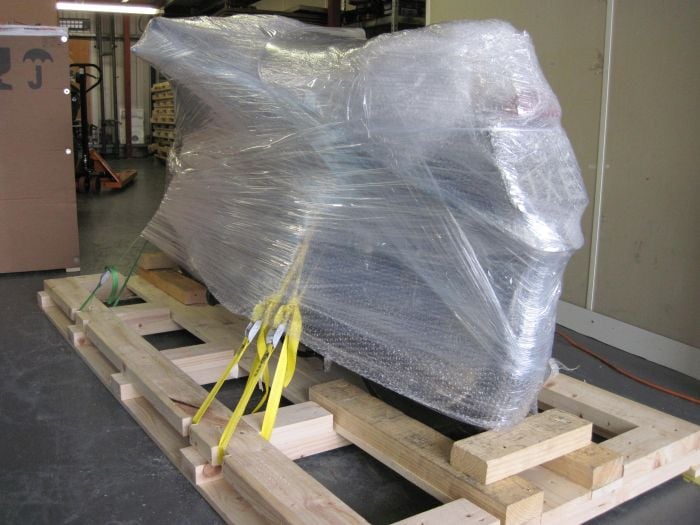 Some travellers like to crate the bike themselves to save money and if you are one of these people there are a number of things to consider. A person licenced to sign Dangerous Goods Certificates must be able to inspect the bike to confirm that it meets the aviation requirements. The wood content must be treated to ISPM15 standard and bear the Forestry Commission stamp confirming that it has been treated (click here for more information).
If cargo arrives at a destination and the wood doesn't bear the stamp the local authorities might require the crate to be destroyed by the health department at your expense. They could also insist that the bike be returned to origin intact at your expense and even more alarmingly, they also have the right to destroy the crate with the bike in it.
When using a used crate from a dealership do try to use one of a suitable size. If you have a sports bike or a relatively small bike, a crate that was designed for a Harley or a Goldwing could cost you 30-40% more in freight and handling charges than you would need to spend by using a professionally made crate.
Documentation
All countries have different documentation requirements but all will want to see your passport and registration (V5) documents and also may want to keep copies. Some countries will want to see proof of title or ownership and while many no longer require a Carnet de Passages, it is best to check with the RAC or your destination's consular website to verify which documents you will need. The USA require an exemption letter from the EPA (Environmental Protection Agency) which is relatively easy to get, but needs to be applied for in advance.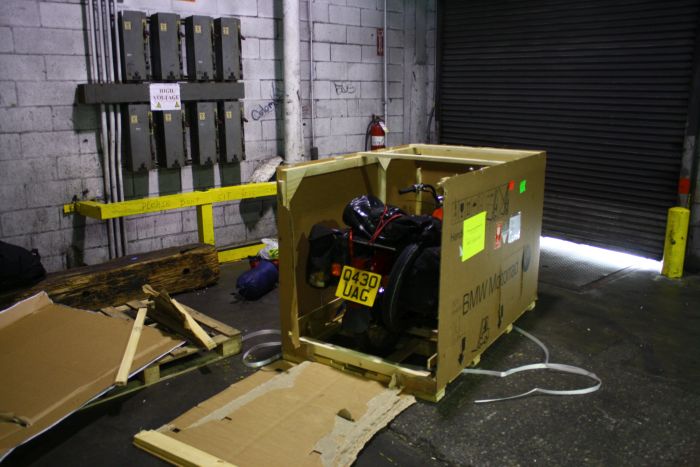 Motor insurance is a must in every country. Sometimes this is available in advance and many countries will sell you insurance at the border but bear in mind that generally, local insurance will be third party only which means that your bike itself will not be covered.
If you do your research on forums (and the more informative websites such as Horizons Unlimited) do pay attention to when the article or story was posted. What may have been true many years ago or even weeks ago may not be true when you travel and a country's rules and regulations, as well as documentation requirements, change regularly. The Home Office update their travel advisories regularly so check their website travel section when planning and again when travelling. If you travel in a country that the Home Office have an advisory against then your travel insurance policy may become void.
Although having the correct paperwork is your own responsibility, a freight forwarder who specialises in freighting for travellers is usually up to date with the requirements or may be prepared to research the requirements on your behalf.