SECOND SKIN
Bryn Davies strips back to base kits and dons some woolly under-layers to beat the winter chill
Think back to your last motorcycle tour and to the item of clothing that got the most wear. Sure your jacket and pants will have been worn a fair bit, but what about that base layer? In cold winter conditions you'll call it a thermal, when it's hot and sticky you'll call it your wicking layer, and when you're sitting in the pub after a long day's riding it'll be your t-shirt.
In contrast to jackets and pants, which you'll probably spend hours upon hours researching before buying, base layers tend to be no more than an afterthought and a last-minute purchase that costs a lot more money than anticipated. You could wear your cotton t-shirt under your jacket but what happens when you start to sweat? Cotton is great in the sense that it's comfortable to wear and it looks good, but when it comes to technical functions it's pretty rubbish compared to base layers, which are designed to wick perspiration away from the body, dry quickly when they get wet, and thermally insulate you when it gets cold.
What fabrics?
Instead of cotton, you'll find two types of base layers in this review; man-made (usually polyester, polyamide or polypropylene) or natural (wool, usually Merino wool). In a nutshell, all man-made base layers will do the following: absorb little water, dry quickly when wet, and wick sweat away from the body. Wool will do the same, but not as well as man-made products, though wool layers are usually more comfortable to wear and look better.
What to look for?
So, when buying a base layer, what should you look for? If you're after one that'll keep you as warm as possible, look for a thicker, heavier product and especially those with brushed, fleecy inners that'll help insulate the body from the cold. If you sweat a hell of a lot and are looking for a base layer that'll help wick all that moisture away from the body, then you'll want a close-fitting garment. These can be a little bit restrictive on movement and if you're carrying a bit extra in the gut area they're not the most flattering. It's worth paying attention to the seams of the garment, too, as the last thing you want when you're riding around Scotland in the snow is a seam irritating you; flat stitched seams avoid this problem.
We're testing 16 of the best base layers out there, not just from the world of motorcycling, but from brands that have their heritage in mountaineering and the outdoors. We figure it doesn't matter whether you're riding a motorcycle or climbing Everest, cold is cold, sweat is sweat and these guys must know a thing or two when it comes to manufacturing thermal clothing, considering the extreme conditions experienced in mountain environments.
There is another type of material (other than the polys and the wools) entering the market called phase-change material, and it's seen here in this review in the BMW Phase Change. In terms of fabrics, it's a pretty exciting concept in that phase-change materials can store and release large amounts of energy, or heat, on demand, which can keep the wearer warm when it's cold and cool when it's hot. The material contains loads of tiny little beads filled with these phase-changing materials and they work by changing state (be it from solid to liquid when heat is required, or liquid to solid when it's not) with heat being given off from the exothermic reaction they produce.
As phase-change garments need to absorb heat before they can work, a bit like charging a battery, you'll need to wear them in a warm environment (ie around the house) for a few minutes before you set off. This test is the first time we've tried phase-change materials and our first impressions are: excellent concept; monstrous price-tag.
RAB AEON TEE £27.00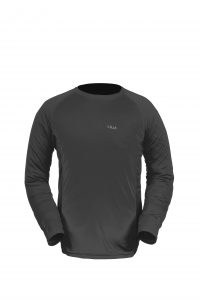 I've a bit of a soft spot when it comes to Rab products as I've yet to come across a piece of Rab kit which hasn't performed up to task. The Aeon Tee is made from a silkweight 100% polyester fabric, which is soft and comfortable against the skin. The benefits of this fabric are that it'll wick moisture very well and it'll dry quickly if you get it wet. The downside is you'll need to wash this garment more frequently than wool base layers as it'll start to stink after a few wears. It's surprisingly warm considering the weight of it, and at £27, I'm struggling for a reason not to buy one. You may be looking for a base layer with a bit more protection around the neck, but if this doesn't bother you and you're on a budget, the Aeon Tee is definitely worth considering.
In a line: Very comfortable and surprisingly warm for its weight
ABR Rating 7/10
KLIM AGGRESSOR SHIRT £34.96
Klim's (pronounced 'climb's') heritage in the skiing industry means that the company should know what it's doing when it comes to manufacturing base layers, and after using the Aggressor Shirt I'd have to agree. It's not a particularly flashy product; it's a simple, long-sleeved synthetic base layer that'll do the job. Its got a mixture of 90% polyester and 10% Spandex, so you get a good amount of stretch and comfort, and it handles moisture very well with a quick drying time and decent moisture dispersion. The Aggressor shirt has a loose fit (despite the Spandex), it hangs well, and is comfortable to wear.
In a line: A good technical base layer
ABR Rating 7/10
KNOX DRY INSIDE £34.99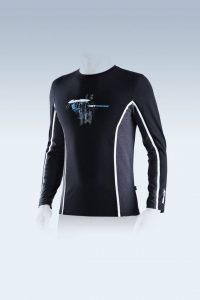 The Knox Dry Inside is base layer that's made from a mixture of 95% cotton and 5% elastane. While the swing tag (and the name) suggest that the base layer has 'great moisture management properties that allows the the skin to keep dry and comfortable when it's being worn', we'd have to disagree. In testing, the 95% cotton absorbed water rather than dispersed it; it had a slow drying time and was cold when wet. That said, as it's a cotton-based product, it's probably one of the best-looking base layers on test and it's very comfortable to wear. While we do like the product's styling and the fit, if you sweat a lot or are planning to use this on a warm day, we'd suggest a more technical garment.
In a line: Comfortable and good-looking but poor moisture management
AR Rating 5/10
USSEN BALTIC NORJ PRO £35.00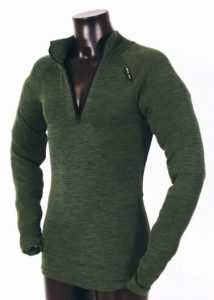 It may sound like a foreign brand but Ussen is British through and through and its products are manufactured in the UK. The Baltic Norj Pro is a very impressive item of clothing and a good example of how it's not just the big names that make the best kit. Ideal for winter riding, the Baltic Pro provides excellent comfort against skin, brilliant warmth and thermal qualities. The collar comes up high on the neck, the fit is great and the long arms have thumb holes to prevent the sleeves riding up when you stretch or put your jacket on. A nice touch. The base layer's 100% polypropylene but the inside has been brushed and has a very soft and comfortable feel to it; it also handles moisture very well, drying especially quickly.
In a line: A great base layer that's definitely worth a buy
ABR Rating 9/10
EVOLUTION PROTEX TEE SHIRT £39.99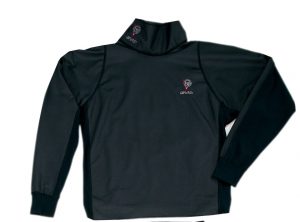 The Evolution Protex shirt is a budget buy windproof base layer that'll be great for you if your jacket has cold spots. It's windproofed in all the right areas (on the front and down the upside of the arm) and a high windproof collar provides nice protection for the neck. The windproof fabric has poor moisture management properties, though, so it's not one to wear in warm conditions, but it feels robust. The rest of the shirt, however, feels flimsy, particularly the hem around the waist, which started fraying on the first wear. To prevent colds spots developing from oncoming wind, the zip for the collar is skewed off to the side of the neck, a good idea in theory, but its poor execution and the lack of an internal zip flap mean it will scratch against the skin when worn.
In a line: It's windproof in all the right places but poor construction quality lets it down
ABR Rating 6/10
MARMOT MIDWEIGHT CREW LS £40.00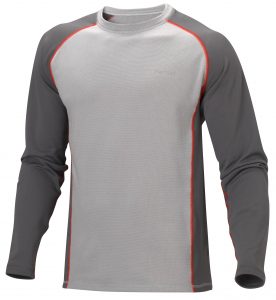 The Marmot Midweight Crew is almost more of a lightweight jumper than a base layer, such is its thickness and warmth. You're probably not going to want to wear this on a summer's day for fear of overheating but for winter riding it's great. It uses a Polartec Power Dry fabric along with Cocona technology, which is basically recycled fibres from coconut shells. These give the Marmot Midweight Crew brilliant moisture management properties and excellent drying times, and as a plus the Cocona has a natural anti-microbial, which won't wash out over time, to help keep it smelling fresh after a few sweaty uses. It lacks a high collar to make it perfect for biking, but you can always wear a separate neck scarf or Buff.
In a line: Ideal for winter use if used in conjunction with a neck warmer
ABR Rating 9/10
JOFAMA HALVARSSONS WINTUR £40.00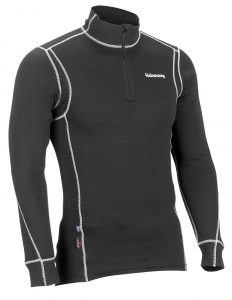 The Halvarssons Wintur base layer is a mixture of synthetic and Merino fibres (51% acrylic outlast 49% Merino wool) so you get the benefits of both. This means that the base layer handles moisture fairly well, dispersing it over its surface area so it can dry quickly. It works well at keeping you warm, too, and it retains these thermal properties somewhat even when wet. The fit of the base layer is great; long sleeves and a long back give you plenty of room for manoeuvre, and the chest zip allows ventilation if you get too warm while wearing it. Looks-wise the Wintur is one of the nicest in test (the white stitching on the black looks great) and we wouldn't mind being seen in the pub wearing one.
In a line: An affordable half-Merino-wool option
ABR Rating 8/10
REV'IT GLACIER SHIRT £44.99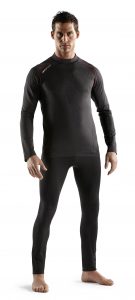 The Glacier Shirt from Rev'it is a technical base layer that's been designed specifically for colder weather riding and features heavier insulation on spots of the body susceptible to chill. Looking at the base layer closely you can see that different cuts, seams and stitching have been used around the body to help get the best fit possible and in areas that are likely to be in contact with armour (shoulders, elbows, back). Different knits have also been used to aid breathability. It's really well put together and the close fit is comfortable to wear. The Glacier is made of a mixture of 93% polyamide and 7% elastine so it wicks moisture very well, dries really quickly and has a nice stretch to it. Its also been treated with an anti-bacterial so you won't smell too bad after a few days' riding.
In a line: Very well constructed technical base layer
ABR Rating 8/10
BERGHAUS ACTIVE THERMAL ZIP TEE £50.00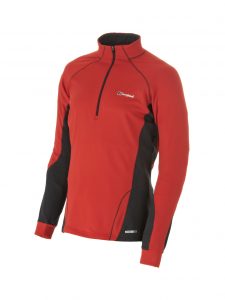 If you're after a super-warm base layer for riding in freezing conditions then check out the Berghaus Active Thermal. This base layer, which is part of the company's 'Extreme' range, has been designed for use while hiking in the winter and it features gridded thermal insulation on the inner to provide a lot of warmth. On the outer, Berghaus has used its Argentinum fabric, which is embedded with silver ions to prevent stinky pits after a few days' wear. The base layer is brilliant at dispersing moisture, contending for best in test, and it dries extremely quickly. The collar comes up high around the neck for added warmth and the zip allows you to ventilate when you get too warm.
In a line: For seriously cold ride-outs; take this to the Elephant
ABR Rating 9/10
ICEBREAKER LS ATLAS ZIP £54.95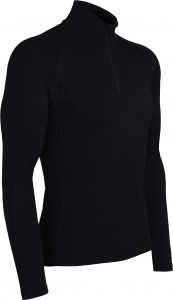 They may be expensive but we can't fault the quality of Icebreaker's Merino wool base layers and the LS Atlas Zip is a great example of why Merino wool products are taking sales away from man-made fibre garments. The LS Atlas zip is made from 100% pure Merino wool, it's incredibly comfortable to wear, it looks great and it fits well. The quality of the Merino wool means you don't get the usual itching associated with other wool products and it's got flatlock stitching so you don't get any chafing. Although the Atlas is a very thin garment it's surprisingly warm. Like all Merino products, even after days of constant wear the LS will smell fresh. One thing to pay attention to is the sizing, an XL seemed more like an L to us, so it's best to try before you buy if possible.
In a line: So soft, so comfortable, so worth investing in
ABR Rating 8/10
WEISE ALL – ZIP NECK BASE LAYER £57.99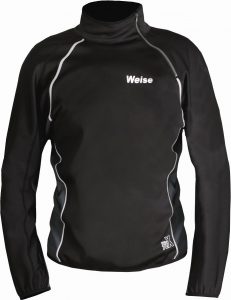 The Weise All-Season Zip Neck base layer is a windproof garment similar to the Evolution Protex shirt but it offers more wind protection as the windproofing covers the back as well (as opposed to just the front). This serves the purpose of keeping the body really warm in cold conditions and if your jacket has cold spots you'll be wanting a base layer like this. We wouldn't recommend using it in warmer temperatures, though, as you're likely to overheat and drown in your own sweat due to the fabric's inability to deal with moisture on the inside. The collar comes up around the neck and the zip is skewed towards the side to protect it from oncoming wind blasts.
In a line: If your jacket has cold spots this is the base layer for you
ABR Rating 8/10
SUB ZERO FACTOR 1+ THERMAL BASE LAYER £59.99