Matt Bishop and Reece Gilks head off in search of adventure along the infamous Lagunas Route in Chile and end up being pushed to their limits.
You'll just have to suck it and see, boy." That was the piece of advice that Richard Prescott, one of the guys who had built our sidecar, had given to me before we set off on our attempt to circumnavigate the globe, using the rig he and his brother Charlie had constructed.
Nearly eight months later, our plucky little Honda SH300i outfit had taken us halfway around the world and, to my surprise, I found myself taking that advice literally. For the first time in my life I was trying to siphon fuel and I really was just going to have to suck it and see. 
It was our second day on the road in Chile and we were heading north from Santiago with our sights set on Alaska. The first day had gone swimmingly and, having waited a month to get the sidecar from Cape Town to Santiago, we were itching to rack up some miles. We had decided that we would blast through Chile and head for San Pedro de Atacama in order to take on the infamous Lagunas Route.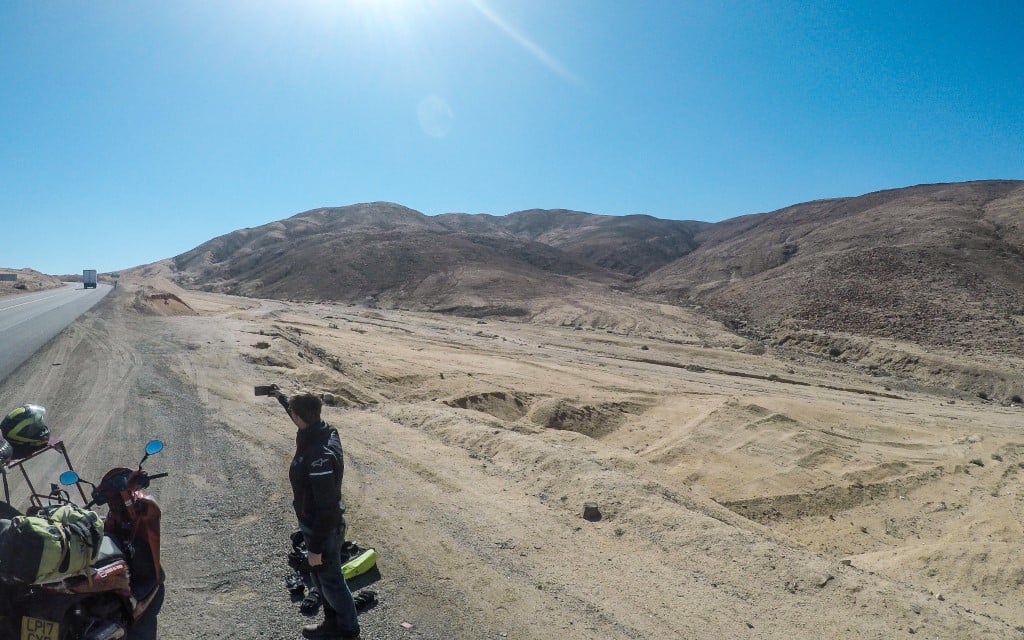 We had never heard of the Lagunas Route before touching down in Chile, but we had met a guy on an Africa Twin in Santiago who had said it was this incredible dirt mountain pass that cut off hundreds of miles and was full of amazing sights. He had just ridden through and said it's a tough ride, but "you'll be fine"! We figured that was all the research we needed, so we decided to take it on. 
First though, we had to get there. That part should have been an absolute joy. We had visions of riding along Chile's rugged coastline and tasting the local seafood as we went, but the only thing we were tasting was dirty fuel. Learning how to siphon the hard way is truly disgusting.
Neither Reece nor I had ever tried it, but we knew that the basic premise was to put some kind of giant straw in the tank, give it a suck, remove your mouth before the fuel gets to you and let physics take care of the rest. If only it was that easy! 
I was the first to try – I sucked our giant straw and my lungs filled with toxic fumes. I coughed and spluttered before scurrying off to get water. I didn't have the straw in the fuel so, after pushing it down a bit further, Reece had a go. He managed to get it flowing, but it was too fast for him to get out of the way and he was soon spitting petrol all over the forecourt of the nice BnB we had retreated to the night before.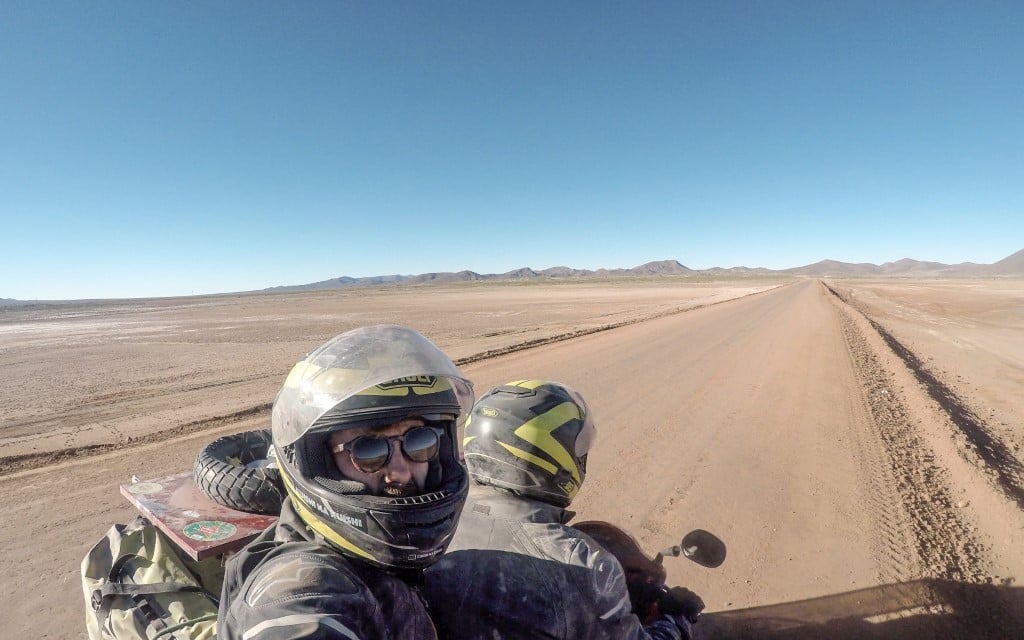 Over the next hour and a half, we drank, spat and occasionally siphoned our tank dry, before mopping out a load of dirt and declaring victory over the fuel problems that had stopped us in our tracks on our second day. Our methods were unorthodox, but after eight months on the road, we were practically mechanics! 
We set our compass north again and headed for San Pedro. The first hour or two went great and we found ourselves cruising along perfect highways through the Atacama Desert. The Atacama is an incredible place. It's the highest, driest true desert on the planet and it's completely beautiful. We were left in awe by its mighty dunes as we scooted through at a solid 50mph (which is really good going if you're on a scooter and sidecar). 
There we were, happily taking in the scenery when we were rudely brought back to reality by a sharp jolt to our right. The scooter had lost power momentarily, which meant the sidecar overtook it and pushed us towards the side of the road. A minute later and another jolt, 30 seconds later and another. It was the fuel again. The same as the day before. We hadn't fixed anything. We had been drinking fuel for fun. 
We pulled in on the side of the road and whipped out a flask of tea to assess the situation. We were out in the middle of the desert and with nobody around to help we had to get ourselves out of trouble. We would have to try and fix it again. We figured it had worked properly for an hour or so after we swapped the fuel for clean stuff so, if we did that again, maybe it would work for longer.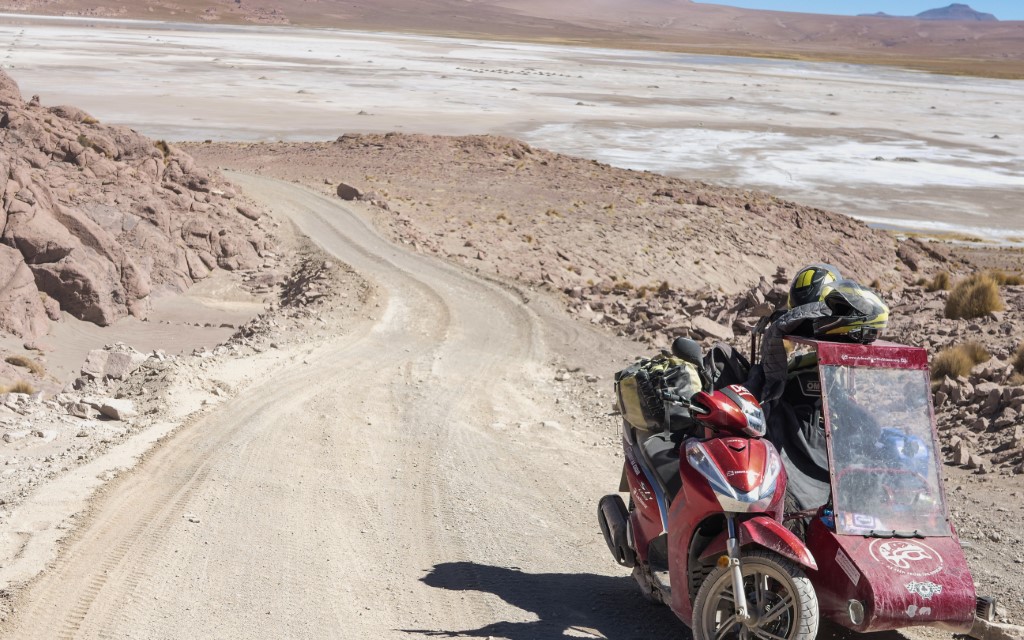 Another 30 minutes of petrol drinking later, and we were back cruising at 50mph. It lasted pretty well for the rest of the day and just before sunset, we pulled off the main highway, rode down a gravel track into the middle of nowhere and set up for a completely remote wild camp. 
Camping in the Atacama is one of the coolest things I've ever done. We had camped in the Sudanese Sahara, which was amazing, but the Atacama is a completely different experience. In Sudan, there's always someone or something around. You can always hear the singing of the local farmers or an animal of some description, but here it was just completely and utterly silent. The stars above were great at first, but clouds formed before we could see them in all their glory. It was a welcome sign to get an early night – we were spent after a hot day riding and repairing in the desert. 
The following morning, we set off once again and our fuel problems persisted. We visited a mechanic in a nearby town, but he was none the wiser, so we just continued with our cycle of siphon, splutter, scoot, repeat until we finally arrived in to the town of San Pedro de Atacama. The ride up to San Pedro was tough for the scooter. It marked the start of our ascent into the Andes and the higher we got the more the scooter struggled for breath.
At around 2,500m above sea level, we were at full throttle, stuttering with the fuel problems and barely getting 30mph. The views were worth it though – as you approach San Pedro, you drop down onto a plateau and the road, cut into the side of the sandy mountains, twists and turns its way down to the town.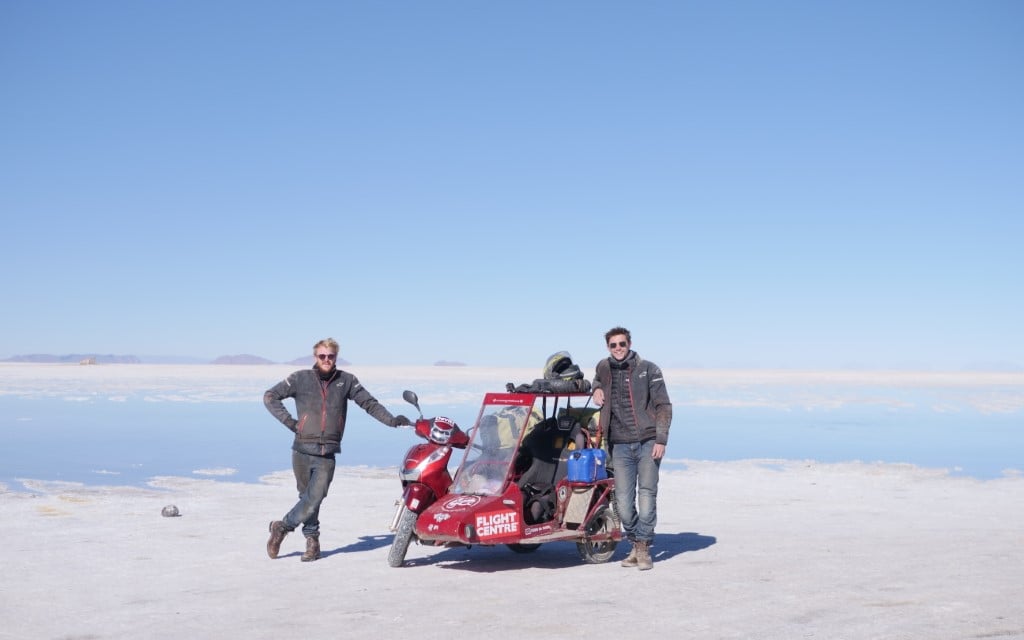 The town itself doesn't really feel like a centuries old settlement, formed around an oasis, enabling indigenous people to survive in one of the harshest environments on the planet. Instead, it's just like any other tourist town you will visit but with more sand. We passed upon the opportunity to join 'Happy Hour' on the strip and instead went to a French patisserie in order to get hold of a decent WiFi signal.
We got one, along with a £4 cup of coffee (which I moaned about for hours) and instantly posted up a call for help on our Facebook page. Our team of expert followers were only ever a post away with the advice we needed to fix whatever problem the rig may have. They all agreed that we likely had a dirty fuel filter. 
The next day, we learnt what a fuel pump looked like and managed to clean the filter attached to it. The filter was completely filthy, and it seemed like the lads may have been on to something. We got everything back together, went into town to pick up some supplies and headed off towards Bolivia.
That first day we did about 25 miles, but we climbed about 1,000m. It took us a solid three or four hours and by the time we set up camp we were at about 3,500m above sea level. The bike was struggling for air, but it managed to keep plugging away at the tarmac slope. It was tough for everyone riding that way, especially the cyclists we rode past and the lorries that slalomed their way up using both sides of the road. 
When we had made it to a suitable middle-of-nowhere spot, we pulled off the side of the road and set up camp for the night. At 3,500m the altitude sickness can start to affect you, but we were okay. Pretty relaxed, we kicked back with a beer (part of the supplies we had picked up) and watched the stars.
Temperatures soon drop at that altitude and throughout the night it can get really quite cold – we woke up to a frosty tent and a chilly -5C. A cup of coffee and a bowl of cold porridge later and we were riding for the Bolivian border, the start of the Lagunas Route proper.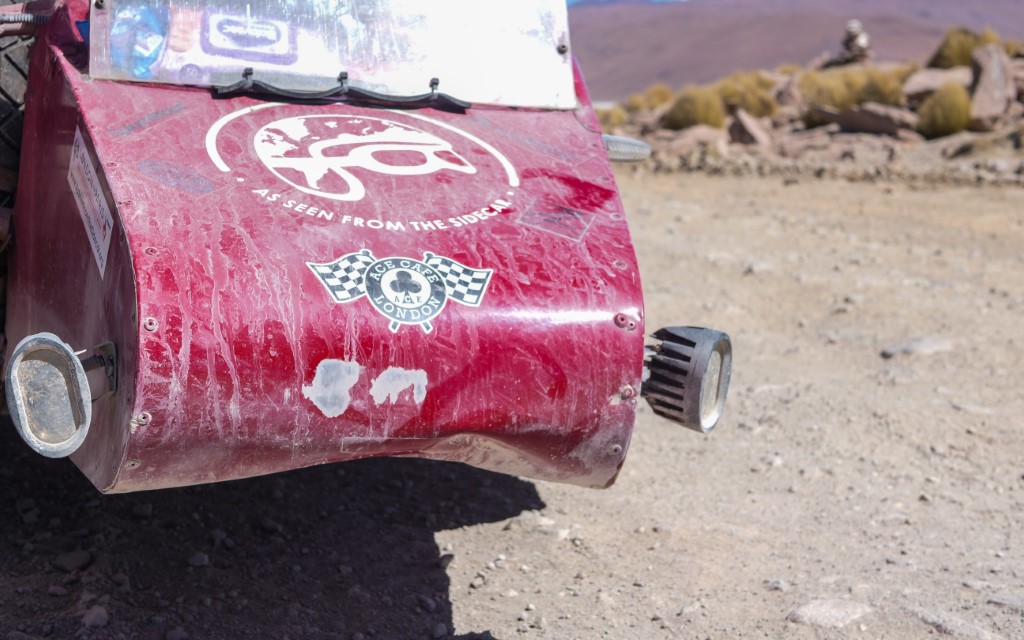 The Lagunas Route isn't really a route at all. It's more just a term for a general direction. An encouraging title that describes the need to get from one side of the Eduardo Avaroa Andean Fauna National Reserve to the other. The Reserve is home to some of the most incredible natural phenomena.
There's the Laguna Verde (a green lake), the Laguna Colorada (a red lake) and seemingly endless salt flats, incredible mountains and spooky rock formations. But we were planning to miss most of it and just take the main road through the Reserve. The Africa Twin guy from Santiago had said we would be able to get through on the main drag, but anything else would be too much.
The main track was about 250 miles of intense washboard, but it was mainly flat. Even though it meant missing the Laguna Verde and Laguna Colorada, he suggested we should stick to that main road or we could run into trouble. 
We arrived at the Chilean border control at about 8am that morning. Frozen to the core from the night before, and with the wind whipping across us, we left the last piece of tarmac behind and headed to the Bolivian checkpoint.
Along with a couple of other overlanders in a 4×4, we crammed into the tiny shed that was the Bolivian passport control. Here, we expected to begin the process of clearing the bike and paying our $20 visa fee. Unfortunately, the officials had other plans. 
It turned out that all foreign vehicles heading north had to report to the Bolivian customs checkpoint at the top of the reserve. It was a huge detour from the main track and, worse still, it was situated at 5,200m above sea level! Then the customs guys told us that we also had to pay a $50 fee each to enter the park as well as our visa fees.
This completely cleared us out. In fact, we didn't even have $140 on us and we had to borrow $50 from the other overlanders and promised to pay them back on the other side!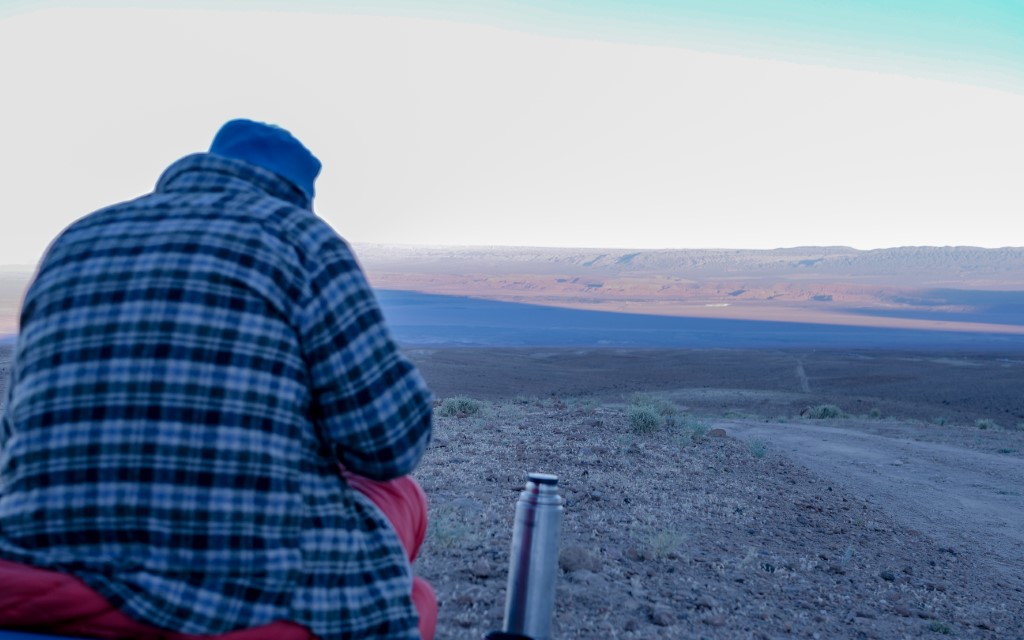 At this point, we should have turned back. We had about $5 in change in our back pocket, one big bottle of water, a few bags of crisps and a couple of bread rolls. Ahead of us lay an impassable (by scooter and sidecar standards) off-road track that would be made up of thick gravel and steep inclines, all at 5000m above sea level. It was madness, but we carried on regardless. 
In fact, we did more than carry on. We decided to venture off the main track before we needed to in order to get a look at the Laguna Verde. This was a terrible idea. The road was seriously thick gravel and if we didn't keep moving, we would struggle to start again. It was like a motocross track with steep drops and climbs.
We would floor it down the drops in order to get up the other side, often meeting the bottom of the hill with a huge crash. In order to maximise our chances of keeping the rig moving, we decided that the guy in the sidecar would hang off the side. That would enable him to jump off and push when it got slow and then jump back on bob-sleigh style when it got going. 
This technique ended in tears for Reece when he was flung off the side when I hit a big divot. Fortunately, he was wearing all of the proper gear so no serious damage, but it was quite the tumble!
The lake was barely even green so, with the wind still whipping across us, we hid behind a rock, drank a cup of coffee and agreed to take the easiest possible route we could from here on in. Another hour of tumbling along the rocky washboard track and we came to a little spot of paradise.
A café situated next to some geothermal hot pools. It was a stop off for tourists coming through, so we had a word with one of the guides who told us that we would have no problem getting to the Bolivian customs office. Great news! 
We couldn't afford any proper food from the café, but we weren't going to pass on a jump in the pools. It was absolute bliss. I just can't stress how good it was. The water was almost scalding hot enough to bare and we sat in it for a good hour just watching the llamas graze in the distance beneath the towering mountains… Towering mountains that we were going to have to climb… 
It was probably one o'clock before we set off again and turned off the main track towards the customs office. The track pointed straight uphill. We were currently at around 4,000m and we would be climbing another 1,200m on really rough, thick gravel. The sidecar soon got stuck and we resorted to pushing the rig uphill at altitude. Altitude sickness hit us instantly.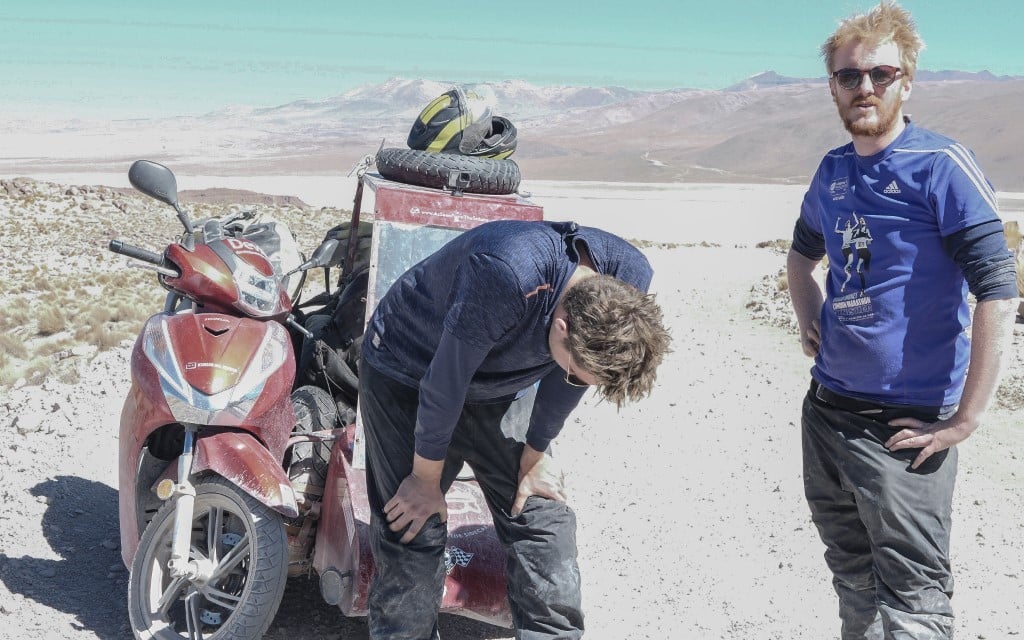 Up to this point we had been fine because we were sat down, not using much oxygen, but suddenly we were pushing the outfit uphill and it weighed a tonne (not literally – it's about a quarter of a tonne). We were gasping for air that just wasn't there. Our heads started throbbing. Dizziness hit. Both of us felt sick.
We should have turned back and taken a day to acclimatise at the pools or something, but again we pushed on regardless. The higher we got, the harder it got, and we were either pushing the rig or walking alongside it as it carried itself. To make matters worse the track was going off in all directions.
Maps.me and our Garmin were no use out here. All we had was a little tourist map with a black dot on it, given to us by the border officials. We just kept going, hoping we were going the right way. It was the wrong thing to do but we got lucky and at about 6 pm we rolled into the Bolivian customs checkpoint.
Amazingly, the officials were still there, and they got us processed pronto. They didn't seem to be surprised whatsoever that two English blokes on a scooter and sidecar had made it to their ridiculously remote office and just treated it like an everyday occurrence! 
By this time, the sun had started to set. We should have asked to sleep in the waiting room, but instead we pointed the rig downhill and headed towards the Laguna Colorada, which was now on our route. We were feeling really beat up, absolutely worn out and with killer headaches, we would have been happy to just sling the tent up and get some rest, but we were freezing cold and it was set to drop to around -15C that night.
We pulled over and spotted on the iOverlander app that there were a couple of houses lined along the far side of the lake. Other overlanders had stopped there with the local people for a couple of dollars for the night. It was the wrong side of the lake for us but if there was half a chance of getting inside, we had to go for it. I took the bars and decided that I was going to just smash it as fast as I could downhill until we got to the house. 
The road was really rough, and the bike was getting constantly battered. I was battling to keep it on the track as we flew down the hill. The vibrations from the rough road were ripping through my arms but fortunately, my fingers felt no pain, I had lost any feeling in them thanks to the cold.
After about an hour the sun was nearly set, and the sky turned a dark red. As it did, we approached the Laguna Colorada, the water was as red as the sky and apart from a small lip of dark mountains my entire surroundings were glowing all different shades of red. It was the most incredible thing I have ever seen.
A sense of euphoria came over me and I was no longer desperate to get down. I could have continued riding along that lake all night if the sun would have stayed where it was.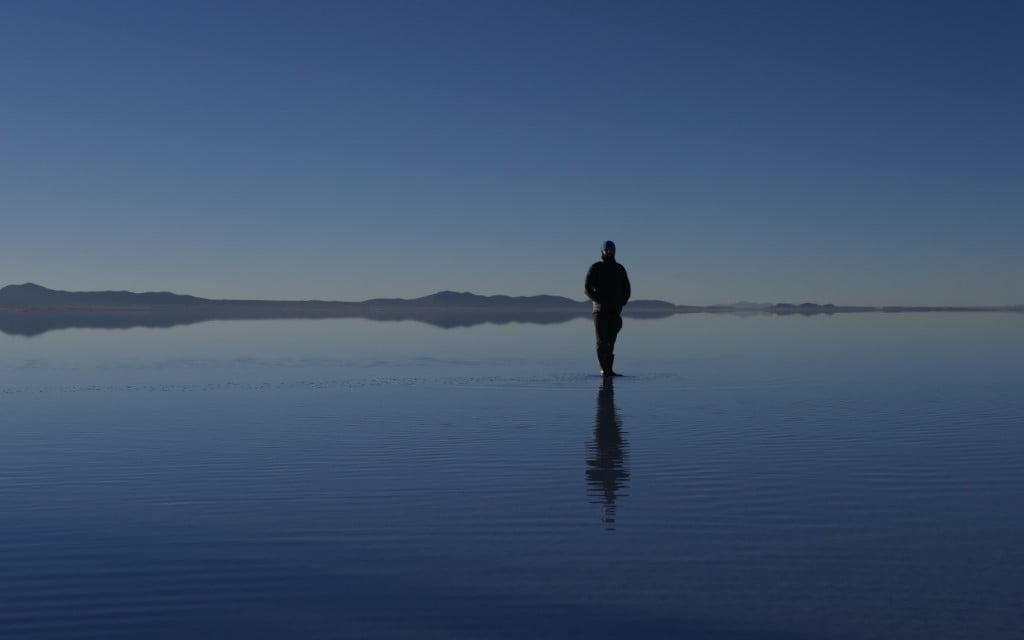 Just as it turned pitch black, we pulled up to the house we were heading for. We knocked on the front door and to our amazement, a young girl opened it, she couldn't have been more than four or five. Taking one look at us she instantly said "No!". We replied with a calm, "por favour, get your mum and dad"! Grandma turned up a couple of seconds later and welcomed us in. We spent our last five dollars on two beds for the night and two bowls of piping hot soup. We were saved! 
We crawled up into our beds as soon as we'd eaten and bizarrely, we watched London has Fallen on Reece's laptop. Both still pumped full of adrenaline, we couldn't sleep but we needed something to take our minds off our headaches. Gerard Butler did a good job and I passed out just after he saved the president. 
The next morning, we found ourselves the wrong side of the lake with a long way to go, but we were through the worst of it. We spent the morning getting lost and stuck trying to navigate our way back to the main drag. Then we spent the next five or six hours smashing along the washboard towards the main road.
By this point, we had a massive crack in our sidecar wheel, but it was somehow still holding. At the same time, three of our five sidecar joints had cracked off and the sidecar was dragging along the floor if one of us sat in it, so we had to ride pillion for the rest of the day. We eventually hit tarmac and after a long scoot into the night, we arrived into the Bolivian town of Uyuni having survived the Lagunas Route by the skin of our teeth. 
Ride the Lagunas Route
The Lagunas Route is a 260-mile long route from San Pedro de Atacama in Chile to Uyuni in Bolivia. Reaching an altitude of 5,084m, the track is unpaved and can take three days to ride. Fuel is scarce, but the trickiest part is dealing with altitude. It's worth the troubles though, as you'll get the chance to ride through an alien landscape of endless desert and lakes that are shades of green and red. If you want to ride the Lagunas Route, Moto Freight currently offers air freight from London to Santiago from £1,495 for a BMW R 1200 GS-sized motorcycle.
Head to www.motofreight.com for more information.