Sam Manicom has ridden the world and written four incredible books. But what about the bike that took him so far…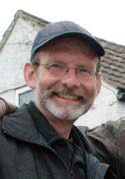 My bike's called Libby, which is short for Liberty, as that's what she gave me over the 200,000 miles she took me around the world (she now has 275,000 miles on the clock). She's an 800cc 1991 BMW R80GS, and when the two blokes in the pub recommended her as being both bulletproof and idiot-proof, I'd no idea of two things: How right they were, or where she'd end up taking me. After all, I was only supposed to be riding the length of Africa…
Before setting off I put on a 43-litre fuel tank and to compensate for the extra weight up front, and for the fact that I suspected we'd hit a few potholes, I put in progressive fork springs. I upgraded the rear suspension to a WP shock. I also stuck on a couple of handguards and an engine bash-plate, plus a bash-plate on the centre stand so that the exhaust system was protected too.
A stainless steel 10-litre water tank and another 10-litres of fuel were fitted on the other side, though I only needed the latter once. I extended and strengthened her side stand, and made a larger foot. I put on compression plates to help out when the fuel was particularly poor. So actually she's fairly standard.
Over her lifetime she's had four drive shafts – the first one I broke, the second I wore out, and the third was a combination of wear and a bubble in the casting. Most of the work has been general servicing and on the trip, I tried as much as possible to do servicing at half intervals, particularly when I was riding in really hot, hard-going places. Cables, filters etc and new wiring loom around the four-year mark, but that was preventative work on a just-in-case basis. Electrics are black magic to me.
Around 5,000 miles ago I had the gearbox rebuilt for the first time. She's on the same pistons but has a new set of valves and guides. More recently we've fitted an EME charging system to her. I occasionally run a GPS and use heated grips and a heated jacket as I ride year-round.
Anything else? A Jawa mud flap, Land Rover indicator stalks, Toyota indicator lenses and a Harley Davidson blinker relay.
Her leather saddle cover was handmade in a small workshop in Washington State. The modification I'm most proud of though is her instrument panel.
After a 17-bone fracture off in the Namib Desert, this and a stack of other parts were made for me by a local bloke living in a hut at the edge of the desert. Sadly, this is the last of his creations left – I fell off on the rest. One final bit of on the road class? Libby's aluminium panniers were made by an 80-year old Australian millionaire in his garden shed. Now that's travel for you.