Ross Noble is best known for his impressive improvised stand-up routines and his appearances on the BBC's Have I Got News For You, but he's also one of the biggest bike nuts you will ever meet. Rob Slade speaks to the funny man to discover his biking history and delve into his greatest motorcycling moments.
Award-winning comedian Ross Noble has earned a reputation for being one of the North's greatest exports since chips and gravy, and he's been making people laugh with his distinctive style of stand-up since he was 15.
His second love, though, is motorcycles, and it's a passion which is obvious within minutes of speaking to him. "I'm in a rather clichéd situation, I'm currently in a motorway service station talking to you on my phone as I lean on my adventure bike."
As it turned out, Ross was on his way to a gig in Watford but had just ducked into a service station to have a chat with us. Conscious of keeping him hanging out in a car park for too long, we dove straight in.
Ross first got into bikes when he was a young lad of around 17. He had just moved down to London but needed a way to get around. "My insurance on a car was massive, so I thought I'll get a motorbike, and it turned out the insurance was even more on a motorbike. So I ended up buying a pizza bike, a 50cc Honda City Express."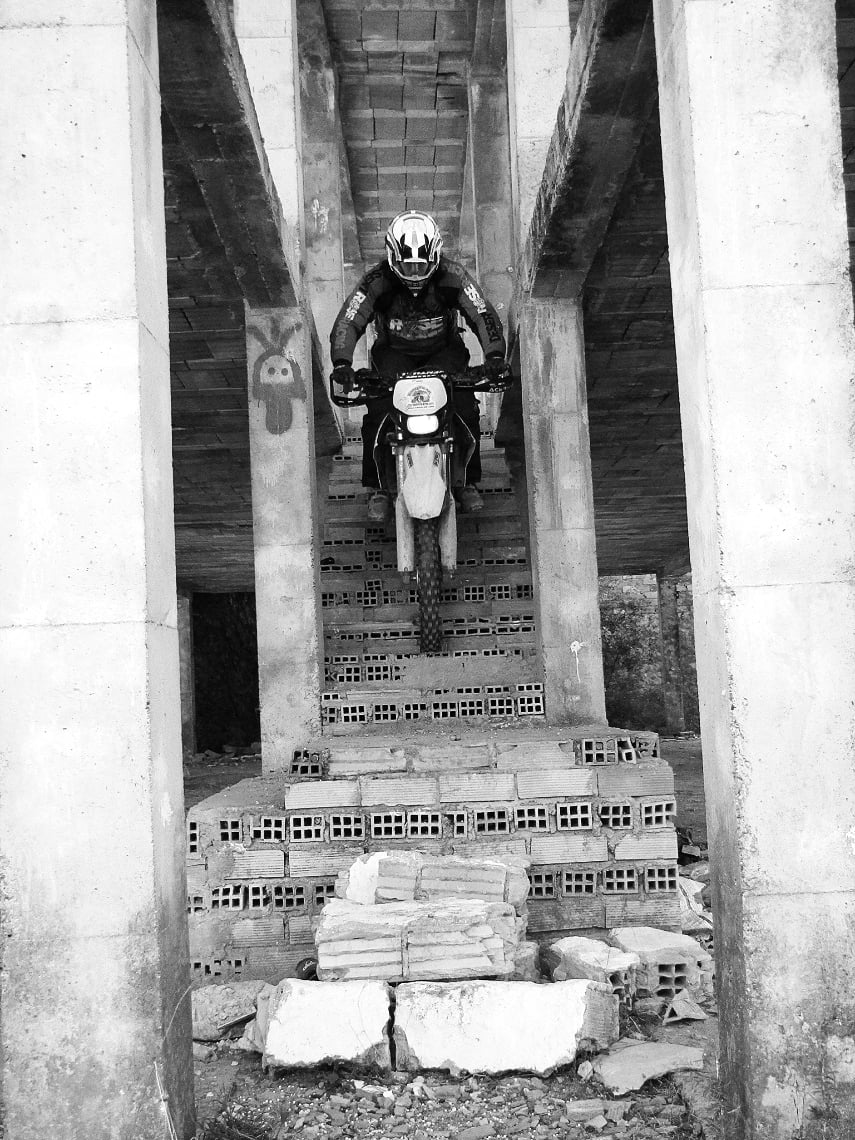 For a while, it more than did the job and Ross used the bike to get to all of his gigs in and around London. "But then I started doing longer and longer trips, and I started doing these all day because it only went at 30/40mph." With greater distances becoming the norm, the bikes that Ross found himself in possession of started to get larger and more powerful.
Fast-forward to the present-day and Ross now has a substantial collection that includes a KTM 1290 Super Adventure (his main "going-out" bike), 1976 Norton Commando, KTM 300 two-stroke and a Beta 250 trials bike. "I sort of scaled down a little bit. I had about 15 bikes at one point and it was just getting silly," he explained.
"I had a bike for every occasion, you know, I had an adventure bike and then a track bike and it just got to the point where I thought, you know, just whittle it down." But his collection doesn't stop there.
"I was making a TV show where they go back and you talk about the old vehicles you used to have, and they found one that was identical to my old pizza bike. The guy brought all the paperwork with him, so I said 'can I buy it off you?' and he said 'yeah, go on then', so I went to the cashpoint, got the money out and rode home."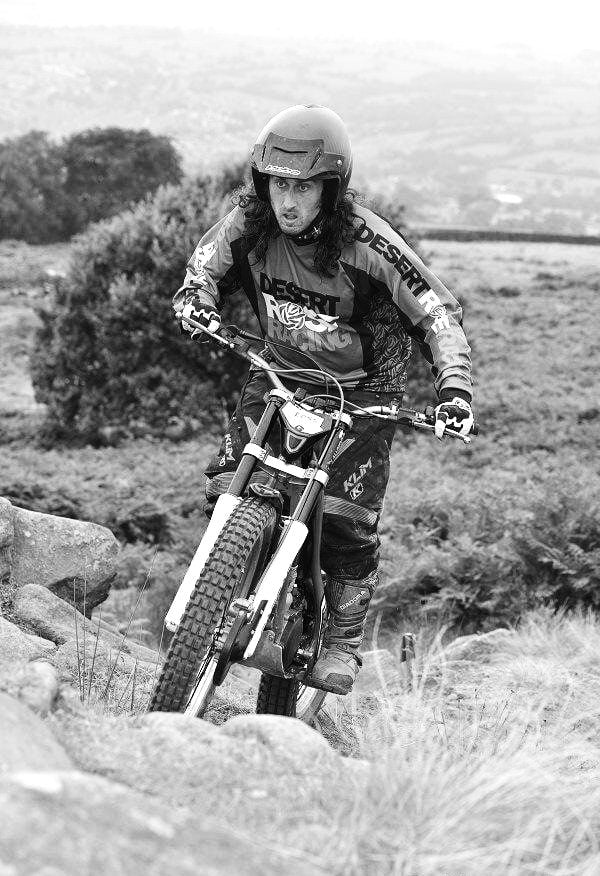 Over the years, Ross has spent many, many hours in the saddle. His interest in dual-sport started when he lived in Australia and a friend of his wife's would go out riding in the bush. "I just started joining him, riding out for the day." From there, he started getting into trials and subsequently, green laning.
Next came a deep interest in enduro riding, some of which stands out as the most adventurous and memorable biking he has ever done. He won the clubman race at the 24-hour Dawn to Dusk and also finished the Red Bull Romaniacs. Speaking of the former, he said, "That was not only one of my best moments on a bike, but it's probably also the most relieved I've ever been, you know."
In terms of pure riding enjoyment, however, he says his most memorable moment is between riding in the desert of northern Australia with no one around and riding to the top of Cathedral Dune in Erg Chebbi, Morocco. "Just the joy of riding to the top of the dune, stopping your bike at the top, and turning off the engine and seeing massive sand dunes for miles and miles all around."
Some of his other trips have seen him ride around Australia on a BMW R1150GS, which he got on with really well, and more recently he headed to Devon for an off-road adventure with Austin Vince, exploring green lanes, sleeping rough and eating nothing but rice pudding.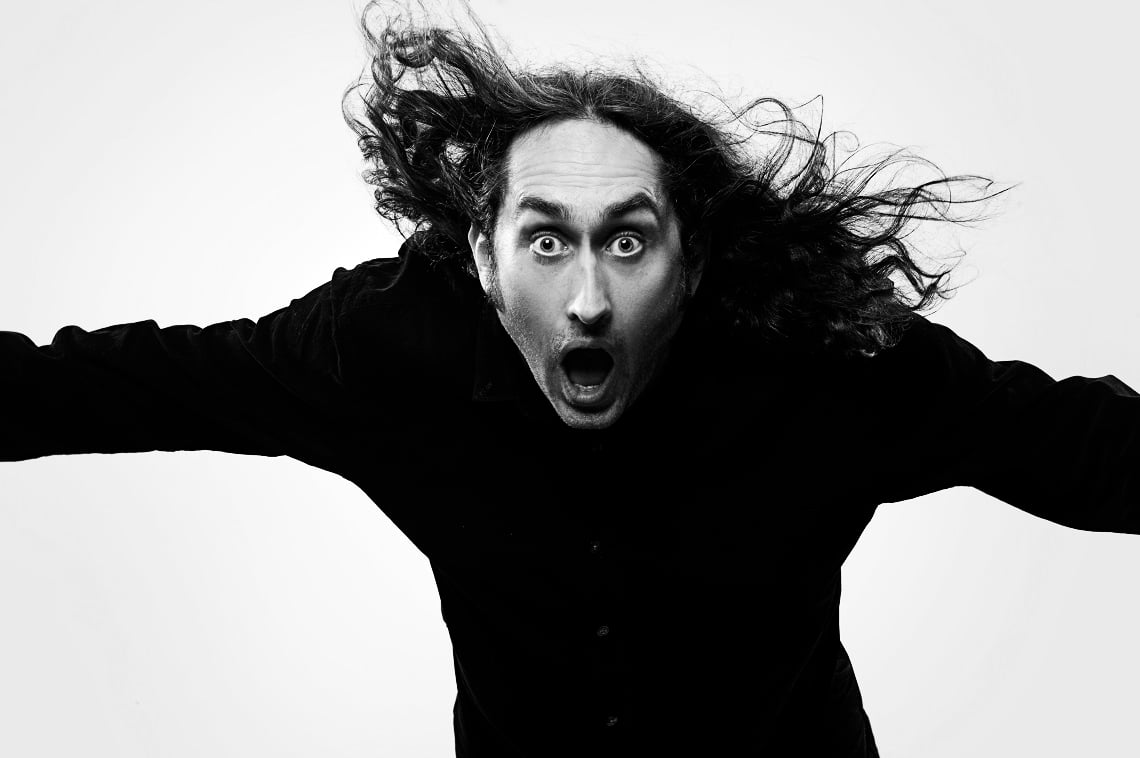 "He's very like, 'why would you bother with a big adventure bike?', and I was on my Super Adventure… Some people get an adventure bike and they're too scared of dropping it or hurting themselves, whereas my philosophy is to get the biggest bike you can find and then just see what you can do on it.
"But it was good fun having him shake his head while we'd be going down these rocky green lanes and I was there going, 'Yeah! Wahooo', smashing the bike around."
To say Ross goes on pretty intense comedy tours is an understatement, and it's impressive that he manages to fit in so much riding. His current tour runs from late October through to February next year, and he has gigs at least every other day, with several on the bounce a regular theme.
You'd think that he'd struggle to find time to get out and about on two wheels as a result, but that's not the case. "I'm about to bring my mate with me, so he comes on tour and we have a van and we just drive around in the daytime before we've got gigs. We bring our trials bikes, and then we just go off and we either we meet up with mates around the country or we go and find places to practice in the week."
Having ridden his motorcycle in many places already, we were interested to hear if there was anywhere in particular that appealed to him. "Yeah, I've not done South America. Erm, I like the look of Mongolia and that neck of the woods, you know." Another place he is keen to visit is Iceland, a place he has ridden in before, but in the middle of winter.
On that trip, Ross and his friend only had four hours of daylight, so they rode the ice lakes when it was light and crossed deep, snowy terrain when it was dark. "If you took your helmet off, all the sweat in your helmet would instantly turn to ice. It was -20C, but it was great fun, you know, riding in the dark, knowing it would kill you if you went off. But yeah, I'd like to go back to Iceland in the summer time when it's not quite as mental."
One place Ross has spent a lot of time is Australia, where he lived for a while. As such, he is certainly no stranger to the dangers of animals venturing onto the road. It happens everywhere around the world, but in Australia it's a particularly big issue.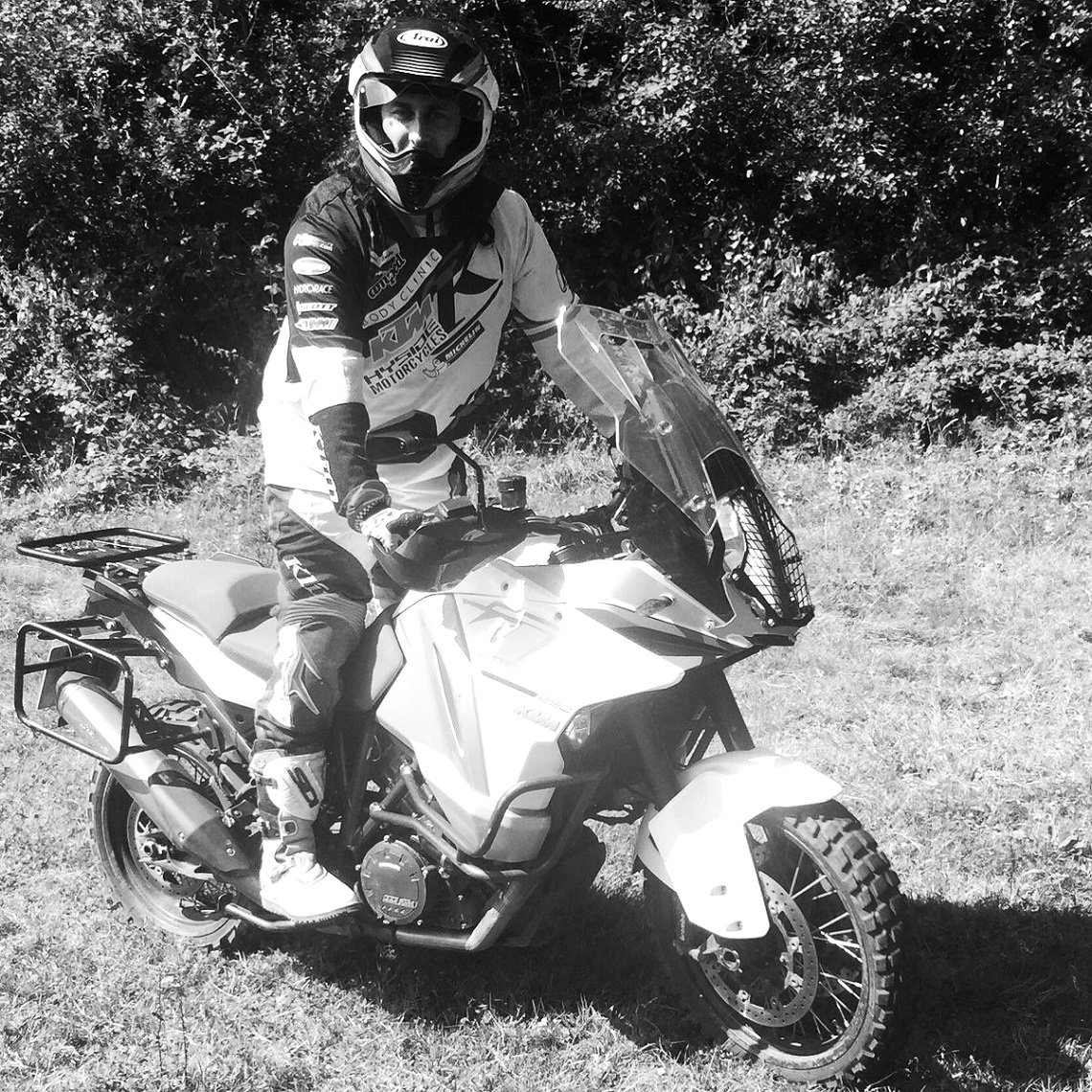 One of his closest calls came when he had only just picked up a brand new sports bike (a GSX-R750) and the only miles it had done was from Melbourne to his house. The only thing was, the final few miles of the journey took him on a heavily corrugated dirt road that made its way up the side of a hill, so there wasn't much grip at all.
"As I was riding along, a kangaroo just jumped out on me, and was bouncing alongside me. I knew I couldn't hit the brakes, 'cos the front would have just gone, and I would have just skidded, so I just held the throttle and looked across at the kangaroo, and it jumped in front of the bike. And you know when you see dolphins in front of a boat, it was like that, so I just held the throttle on and then slowly just bought the speed down, and off it went, you know?"
While he had a lucky escape with the kangaroo, there have been other occasions when he hasn't been so fortunate in the saddle. Ironically, one of his most dangerous moments came when he was at a music festival. On entry, the access road was pristine concrete, but, by the time he came to leave, the road was covered in small stones from the thousands of people crossing it.
"I went round the corner and just lost the front end. I snapped both bones in my wrist, and my wrist was just hanging out, but it was just a low-speed stupid thing. I ended up having to go to hospital and have all sorts of pins and metal plates."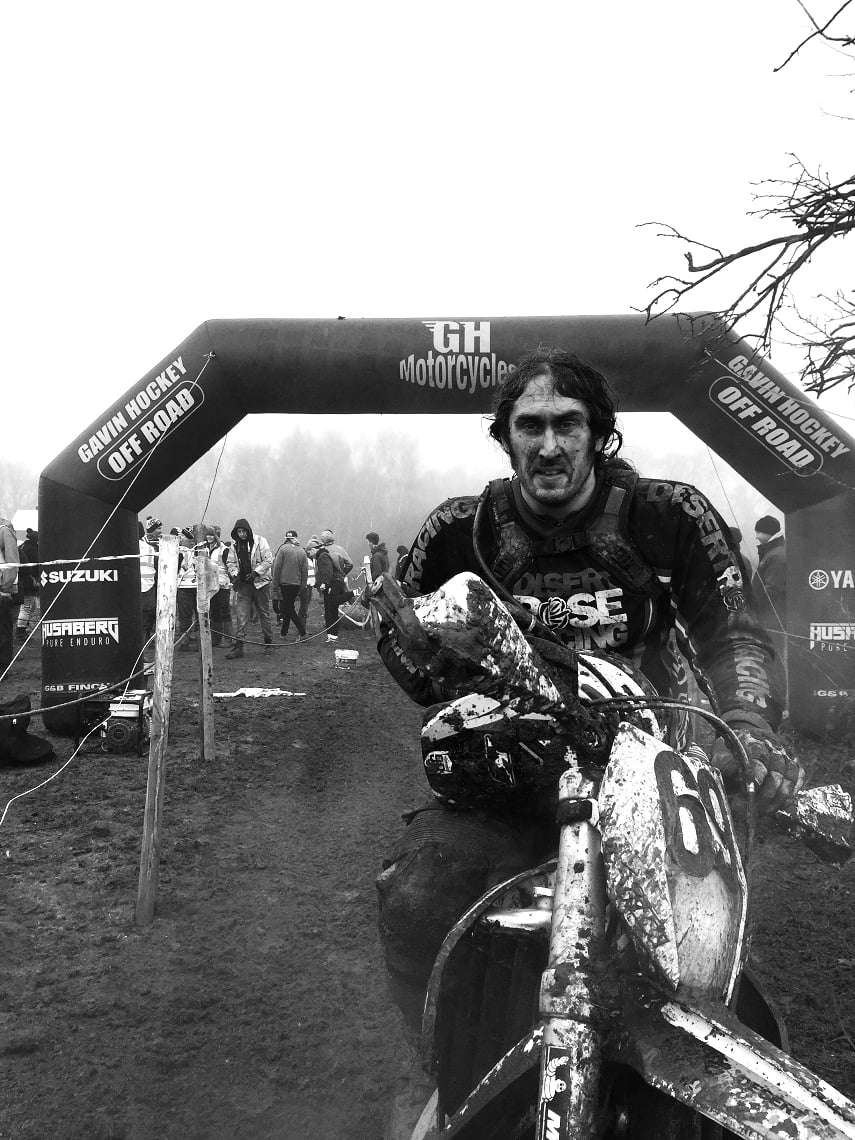 As our conversation started to come to an end, I quizzed Ross about what it is exactly that makes motorcycling so special to him. "Well for me, the main reason is that my head's quite noisy. Just the nature of doing stand-up, there's always a lot of noise, and it's not always constructive noise. And when I ride a bike, that sort of goes away. It's a bit like meditation – you can just sit there and switch off.
"It switches your brain so you're thinking about what you're doing, but you're not, and it sort of stops your self-conscious from throwing up all this shit that it normally does, you know? So I find it very relaxing from that point of view."
Ross also enjoys how it's like a cross between a computer game and physical exercise, but instead of it just being adrenaline, your life is at stake. "You're actually there, you're actively engaging with something instead of just being passive. So much of life is actually like people just pacifying themselves, whereas motorcycling, you have to engage, you have to be in that moment, and that's the same as stand-up, y'know?"
Ross Noble's 15th stand-up comedy tour, 'Brain Dump', visits venues nationwide from 27 September 2016 to 16 February 2017.
Further information and tickets are available from: www.rossnoble.co.uk.