After stumbling across a group of outfit riders in the middle of Morocco, Lawrence Bransby and his son Gareth tag along for a few days of epic piste riding
So, we'd completed the first two pistes from Merzouga to Zagora and Mhamid to Foum-Zguid; both we and the bikes had taken a bit of a battering and were in need of some serious R&R. I was looking forward to a day or two of stress-free riding, a gathering of reserves before we attempted the next piste, a two-day desert crossing close to the Mauritanian and Algerian borders. That was the plan.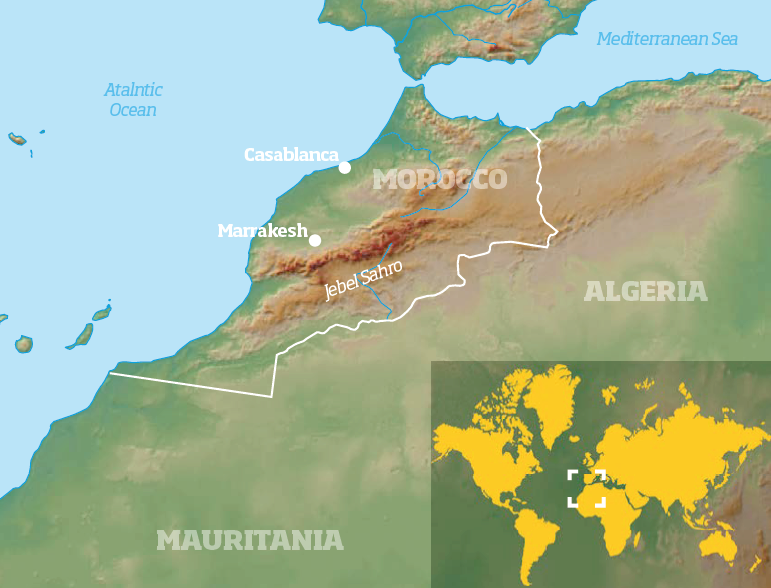 Of course, on trips like these, plans have a tendency to be shouldered aside by circumstance, like the previous year when we met a bunch of Russian bikers on a jolly to Severodvinsk and were invited to join them.
Shortly after leaving Foum-Zguid on the long run south, we passed a tatty garage outside of which were parked some strange-looking contraptions that could have come straight from the set of Mad Max Fury Road. Of course, we had to turn back and investigate.
Parked on the side of a dusty road in central Morocco was a sight that would make the heart of any lover of outfits and adventure travel beat a little more erratically. Dusty and travel-worn, four custom-built outfits, pared to the bone, rested, as if gathering strength for whatever next Africa was about to throw at them. These were hand-built, sidecar cross bikes with designs that spoke of strength and resilience, specially constructed for long-distance, off-road travel. There was a utilitarian robustness about them that drew one's eye.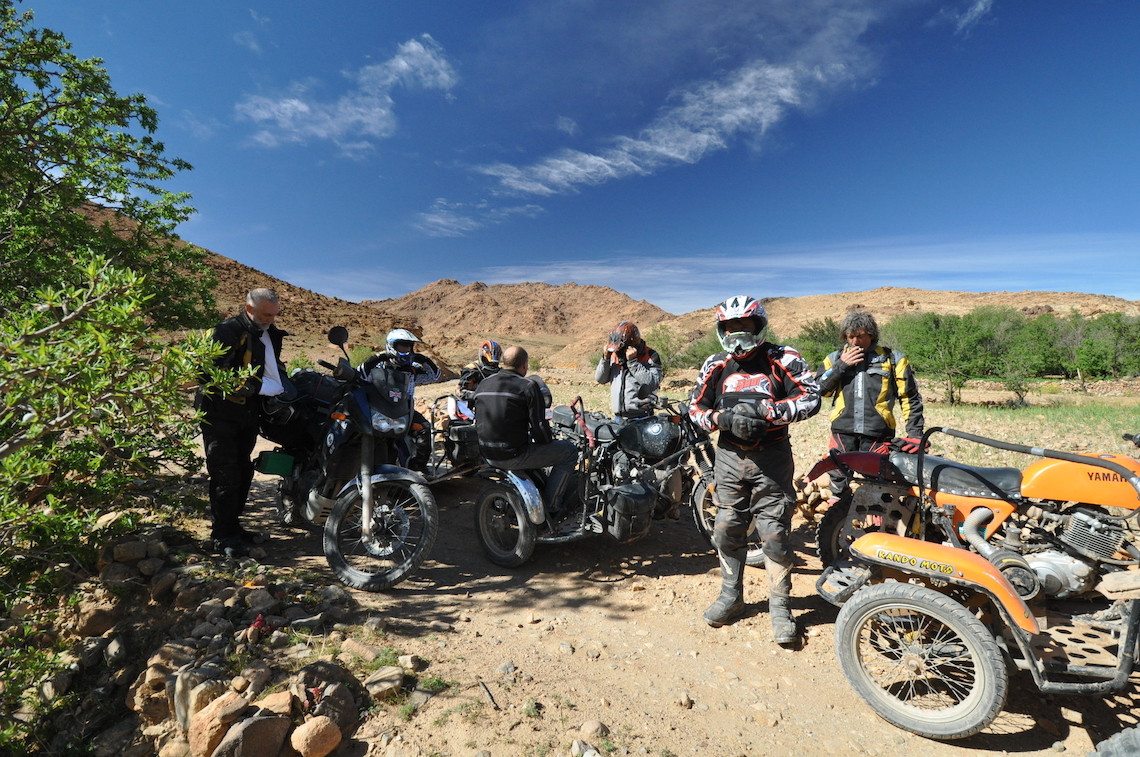 We checked them out, less discretely now, noting the design of each. A cunningly mounted heavy-duty air cleaner here, a switch-operated electric motor to engage the sidecar wheel for extra traction through mud or soft sand tucked away there.
Toolboxes and spares carefully stowed, heavy-duty bar for the standing sidecar passenger (sometimes known as the 'monkey', for obvious reasons) to cling to while leaning to counter the massive centrifugal forces generated in the turns. It was clear that these bikes had been modified and refined on the test track of extreme journeys. Nothing for show, nothing extraneous; each bit bolted, welded and strapped into place for a reason.
We were intrigued and wanted to meet the riders. It wasn't long before one of them, a wiry-looking Frenchman with red-rimmed eyes and hair matted with dust strolled over. His hands were calloused and leathery. Lumps of knotted muscle corded his forearms. His grip could have crushed bones.
Introductions were made. They all looked dusty and trail-worn. With them was another Frenchman riding a KTM300 trail bike.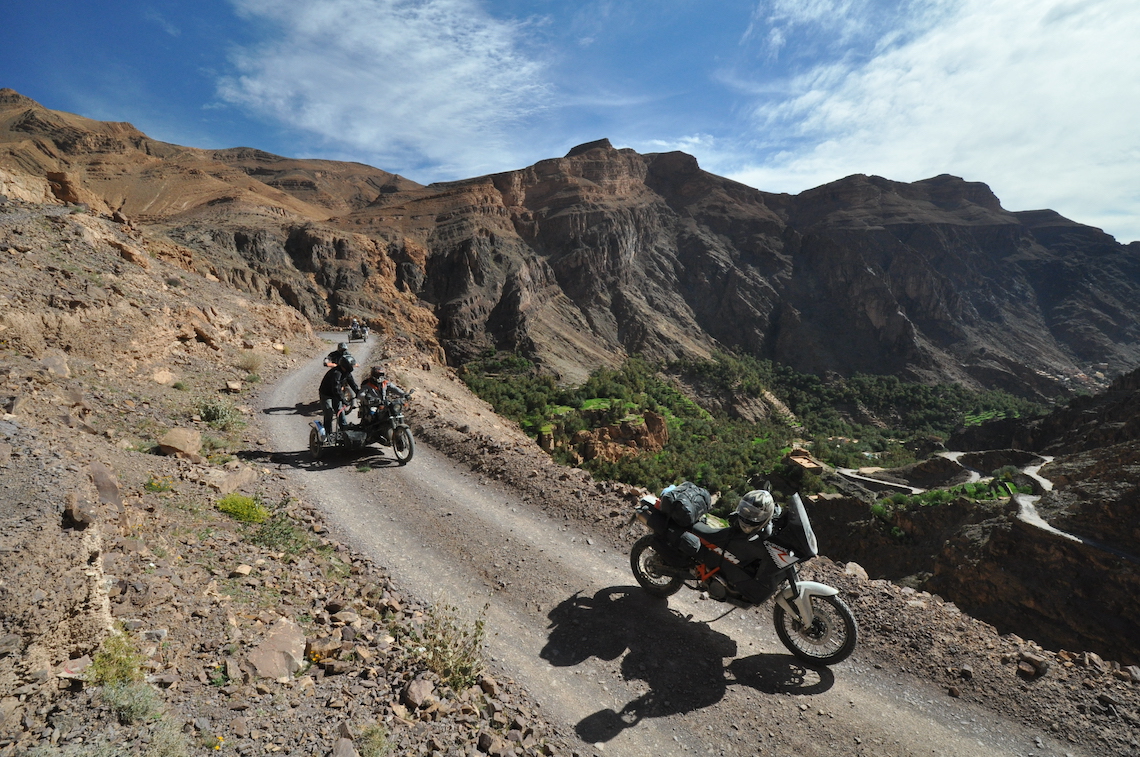 Our French was non-existent, their English poor but we understood that they were a loosely cohesive group of outfit riders who liked extreme challenges. They embarked upon one major trip each year, alternating between Africa and some of the more extreme parts of Europe (where, for some strange reason, they revelled in travelling in sub-zero conditions just for the hell of it).
This year it was Africa and they had hired a guide, with two 4X4 back-up vehicles, who was leading them into some of the more remote parts of Morocco. They were, in fact, on the point of heading into the Jebel Sahro Mountains, following pistes that are not found on conventional maps. The plan was to bivouac (their word) in the mountains that night. They asked if we had food, tents etc.? If we did, would we like to join them?
Gareth and I looked at each other and grinned. We did and we would. Suddenly, I didn't feel tired anymore. All thoughts of R&R were left on the roadside by the garage. If tagging along with them would be anything like the time we spent with the Russian Black Bears, we were in.
We quickly filled our tanks and spare fuel containers at a nearby garage and looked for food and water to last us the next two days in the mountains.
Purchases completed, bikes fully fuelled, we joined the Frenchmen drinking coffee and were introduced to their guide and fixer – Bruno, an ascetic-looking paraplegic, thin and darkly tanned, his nose aquiline, shoulder-length grey hair tucked into a worn baseball cap. Despite his apparent handicap, he was very involved in rallying. A member of an international rally coordinating committee, he gave advice on routes in Morocco including sections of the Paris-Dakar.
He employed a driver for the lead 4X4, his pared-down wheelchair – as utilitarian as the outfits he was leading – stowed in the back of the ageing Range Rover.
Coffee finished, we set off behind the leading 4X4, heading south. About twenty miles out of Tissnt, we turned onto a rough dirt road that followed the bed of a wide river valley into the mountains towards Taliouine in the north. At midday, the leading 4X4 pulled off across a stretch of soft sand and stopped next to a small clump of palms, kept alive by water seeping through the rock to pool in a natural depression. In the still air, the desert was oppressively hot. Lunch was provided for the French outfit riders while we sat in the sand, apart, not yet integrated into this group who had so kindly invited us to join them.
Then it was on again, heading deeper into the mountains. The valley narrowed as we climbed, the road degenerating into a track that followed the oed, repeatedly dropping down steep-sided banks to cross the dry river bed, boulder-strewn from numerous flash floods that characterise the flow of rivers in this desert terrain.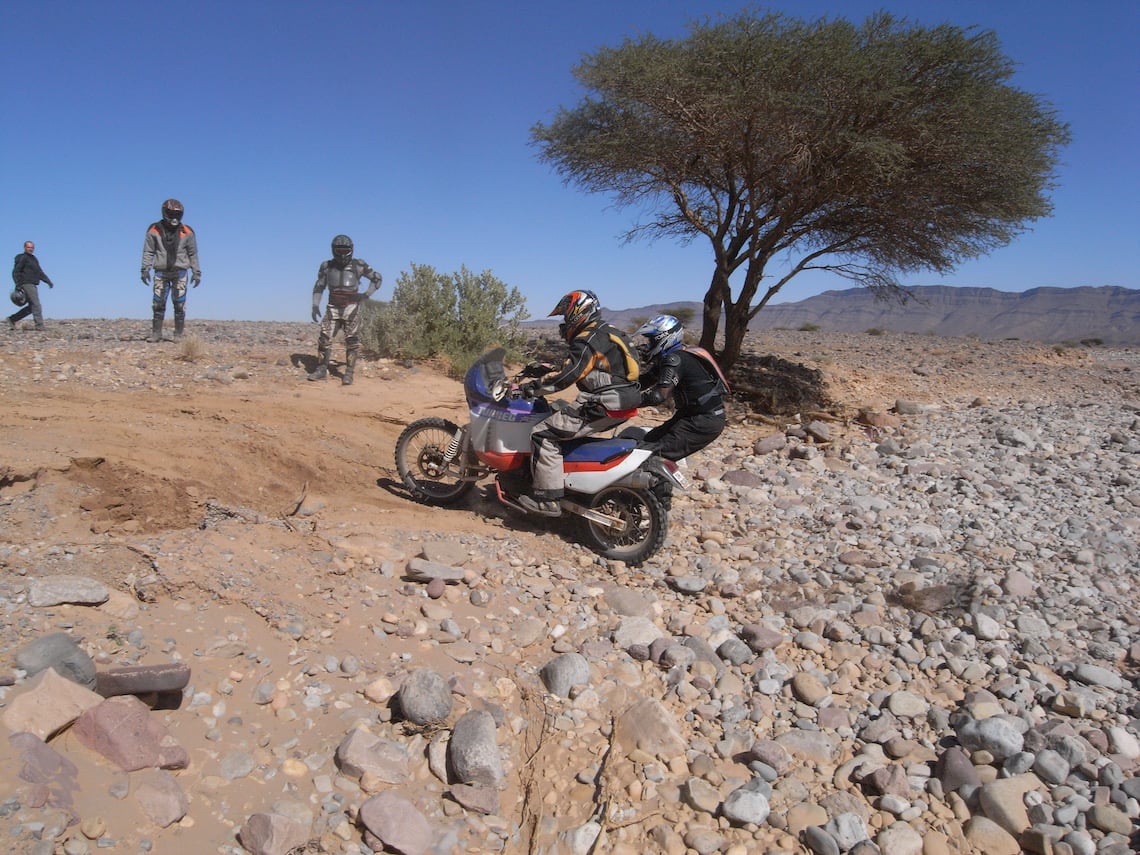 So much for our period of R&R. The day before it had been sand, today it was rocks.
With one 4X4 in front and one at the back, the Frenchman on the KTM300 ranging about whenever we crossed a wide, rocky river bed, looking for the track again on the other side, we rode up and up through desolate mountain valleys, usually following dry river beds along tracks cut out of the sides of the mountains. Occasionally we lost the track and would have to ride over wild, rocky terrain to find it again. My bash plate took a hammering as, heavily laden, I bounced and slithered over rocks the size of footballs that littered the river beds.
In the late afternoon, we stopped next to the sandy bed of a small oed and set up camp. Almost immediately the outfit riders started pulling their machines apart, doing maintenance and repairs. They carried trunks of tools and spares in the two 4X4 support vehicles. If I had to do an arduous trip across forbidding terrain, far from garages or help, these are the kind of bikers I'd be happy to travel with.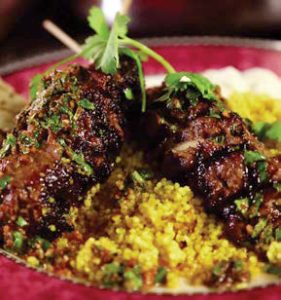 While the spaghetti was being cooked in a massive aluminium pot, one outfit rider, Vincent, got down to work and replaced his bike's worn rear tyre with a new knobbly, then replaced his chain and the sidecar's shock absorber, working until well after the sun had set.
Slowly we began to integrate with these hardy, rough, but most likeable French men. We sat down just outside their circle to prepare our meal, not wanting to presume to join them without an invitation but one of them held up a bottle of red wine and we were drawn into their close-knit circle. As the evening progressed, we clustered around a gas lantern, sitting on jerry cans, tin trunks and spare wheels, them talking animatedly amongst themselves about the day (I assume) while we sat, part of the group, absorbed into their camaraderie.
One of the French riders, we learned, was a seven-time Paris-Dakar entrant. No wonder they seemed to know what they were doing.
Much later, under a crisp desert sky, bright with stars, a bottle of sake was produced and passed round until it was finished. Then out came a plastic bottle of whiskey. This too was passed round in the same fashion. The sense of bonding was quite palpable.
The next morning, before the sun was fully up, some of the Frenchmen were already working on their bikes, preparing them for the day. We set off after breakfast on another day riding through the mountains.
At about midday, we came across a small village almost hidden in a deep cleft in the mountains, the houses built from the same rocks into which they were nestled so that, from a distance, they blended in and seemed to become part of the cliff face itself. In the valley floor grew hundreds of palms, their dusty olive green fronds shrouding the road in places so that we seemed to be riding through a shaded tunnel between the mountains.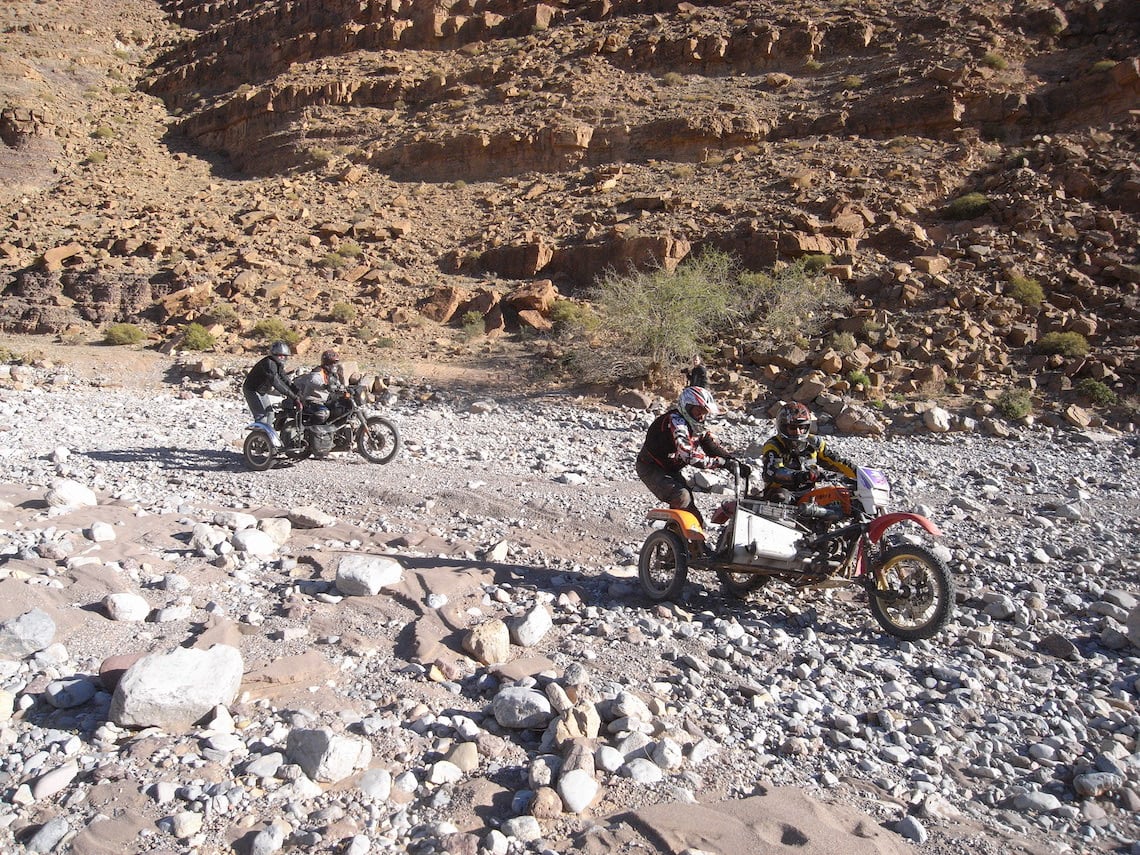 We rested there for a while, walking into the dense thicket of palms and seeing the intricate network of small canals leading water to their fields, bright green with new wheat, all with raised earthen borders to contain the water. Women in brightly coloured djellaba worked the fields – purple, lilac, red, orange, yellow – so bright they looked like iridescent beetles against the background of dun earth and dark rocks, gentle-faced women who eyed us shyly as we passed, slim-bodied and sleek of skin like whippets.
Then the track began to climb up the side of the valley, a narrow ledge of road cut from the rock that zig-zagged its way up to above fifteen hundred metres onto a high, wind-swept plateau. It was intensely beautiful and, when we looked down on the village from near the top, seeing the splash of green from the palms, the small rectangular stone houses, I had to pause quietly and absorb it, willing my mind to take and hold it like a mental snapshot.
Making our way down into another valley, we realised that we had lost the KTM rider who often roared ahead on his own, exploring. We paused in the sand of a dry riverbed and waited. And waited. Some of the outfit riders headed back the way we had come, looking for sidetracks he might have taken by mistake; others rode on ahead to look for him, checking in the dust for his tracks.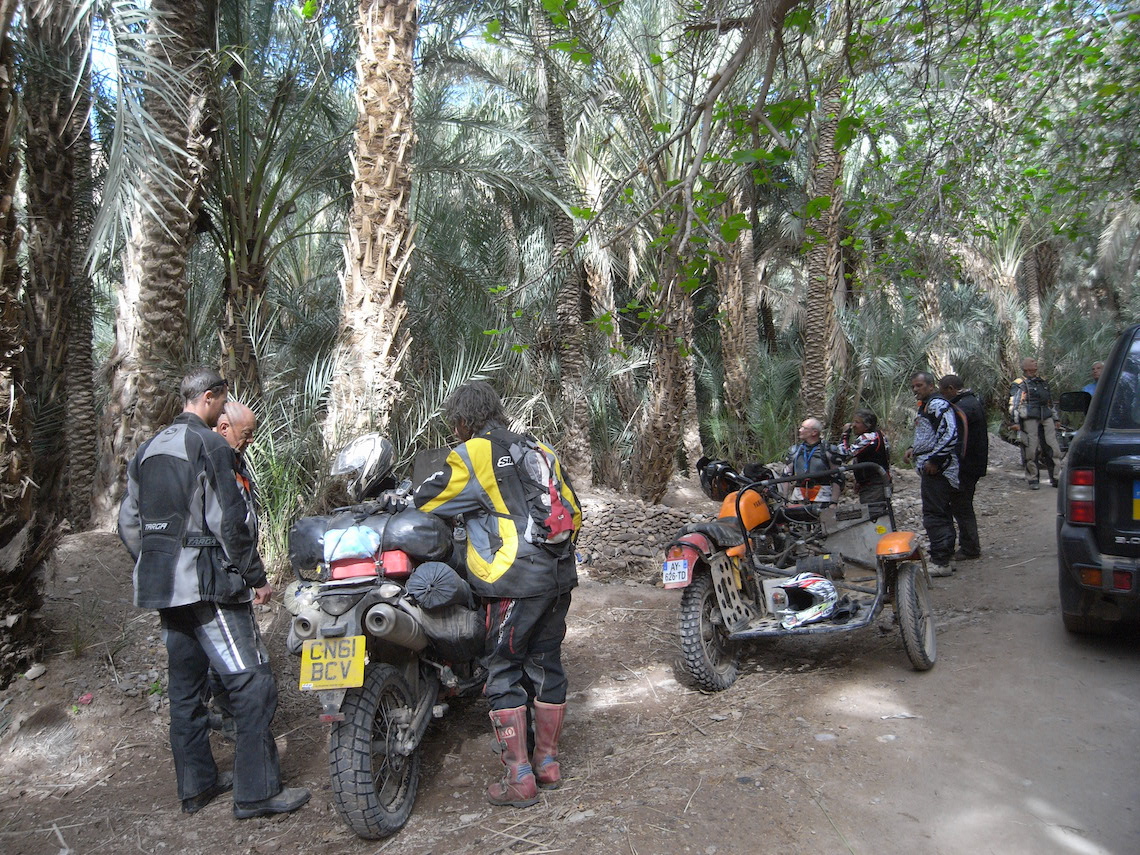 After a while they returned – nothing.
The 4X4 driver/mechanics settled down to do some maintenance: petrol was leaking from the tank and oil dripping from the transfer box. They lay under the truck, removed the prop shaft and repacked the oil seal. There was still no sign of the KTM rider. The mechanic had sorted the prop shaft so we packed up and headed on until we reached the next village where again we stopped and waited for over an hour.
During this time, as always happens, we were surrounded by little boys who clustered around the bikes touching things. They climbed onto the sidecars and were allowed to rev the engines, much to their delight. A small group of girls, hijabs covering their heads like young Madonnas, held back, smiling shyly but turning away warily if we approached them.
Still we waited. The KTM rider hadn't turned up nor could any of the French riders find him.
Vincent was entertaining a crowd of giggling boys, teaching them to sing: 'Alouette, gentille alouette, Alouette, je te plumerai…' followed by a spirited rendition of 'I like to move it move it!', much to their delight. Then he filled his mouth with water and chased them screaming around the dusty village square. A silent group of adults gathered on one side and watched, smiling. They did not approach us.
Later some of the Frenchmen set off again to look for the lost rider and, this time, they found him. He had taken a wrong fork a while back and then broken down. They managed to cram his bike into the back of a passing van and repaired it the next morning.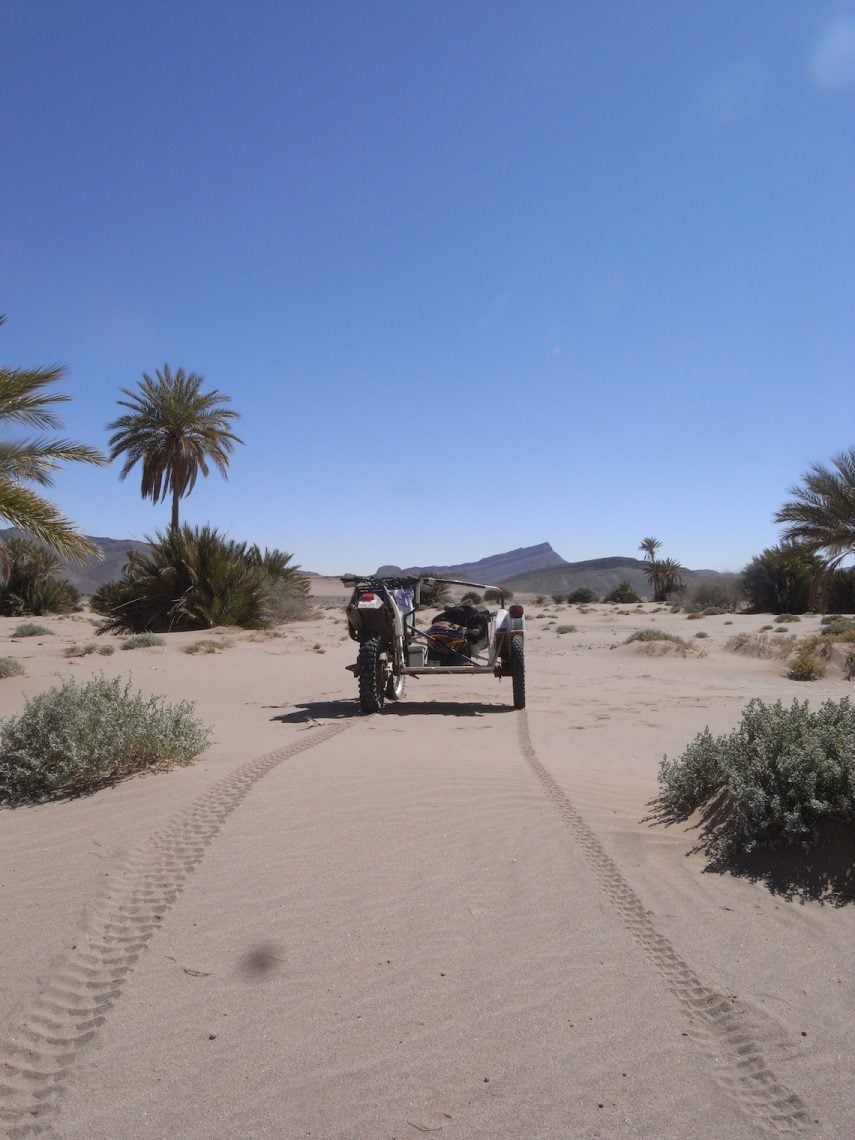 Finally off again, we left the 4X4s behind and rode fast across a vast high plateaux. Forty to fifty miles an hour along a rocky, undulating track, snow-capped mountains in the distance, until we reached the main road again.
That evening during our meal, Vincent asked us whether we would like to ride with them for another day. They were heading north, following a similar piste higher into the mountains up to four thousand metres. One of the other Frenchmen, usually silent and reserved, said to us in faltering English, 'It has been a pleasure to have you with us.' It was a very special moment.
Sadly, when we woke the next morning it was raining hard and Bruno decided it would be too dangerous to head into the mountains because the rivers would be high. It was not to be.
That is my one real regret of the trip – that we missed out on spending one more day in the remote High Atlas Mountains with this very special bunch of Frenchmen, that we hadn't had a chance to ride one of their outfits. They had given us lasting memories – and what a privilege it had been getting to know and riding with them.
So we parted company in the rain: they, making their way to Marrakesh and then home, we, heading south to attempt one of the very long pistes near the Algerian/Mauritanian borders before making our way home.
---
Want to do what Lawrence did? Here's how you can…
While it's not guaranteed that you'll stumble across a band of French outfit riders who will take you under their wing, it's certainly possible to get out to the area where Lawrence was riding and tackle some great pistes! Here's how…
Get there
There are two obvious choices for getting to Morocco. Riding your own bike down or flying in and renting. If you ride down, allow yourself at least three days each way for travelling, regardless of whether you decide to ride through France or get the ferry to Bilbao. In terms of flying, you can make your way to either Marrakesh, Agadir, Tangier or Casablanca. If you want to ride the pistes mentioned by Lawrence you'd be best off flying to Marrakesh as it'll afford you more time in the area! Most flights to Marrakesh will go via Casablanca and will cost upwards of £280.
Tours
If you'd rather go as part of a group, Motoaventures offers three different off-road adventure tours to Morocco, catering for all abilities. Prices start from €1,450 (£1,029) for a four-day biking tour and everything from the bike, fuel, accommodation, food, beer and equipment is included in the price, you just have to get there. For more information visit www.motoaventures.com
Am I covered?
If you decide to take your own bike to Morocco then you'll need to ensure that your insurance provider covers you for riding in the country. If they don't you can purchase insurance at the port of entry for a small fee (roughly £60 for ten days).
Currency
The currency used in Morocco is the Moroccan dirham, going by exchange rates at the time of writing you can get 15MAD for £1.
When to go
Morocco is an ideal motorcycling destination as it's accessible all year round, though there are better times to go than others. In the winter some mountain roads may be closed due to snowfall, while in the mid-summer temperatures reach potentially dangerous figures. It's best to plan your trips for spring or late summer when the days are still long.
Paperwork
For riding your own bike in Morocco it's essential that you have your V5 document, and advisable to bring your vehicle and travel insurance documents. You also must, of course, have a valid passport and it must be valid for at least six months after the date you intend on leaving Morocco.