RIDING THE REVOLUTION
John Kean and Yann Vautrin are in Egypt on the first leg of the Coloured Seas Trip, a 7,500-mile journey taking in the Red, Black and White Seas aboard a pair of KTM 990s
Photography: John Kean, Franziska Schneider, Yann Vautrin
The Egyptian Red Sea region is best known as a world-class scuba diving and holiday destination. However, with year-round sunshine, clear roads and a recent increase in motorcycle manufacturer representation, it's fast becoming a bikers' paradise too.
This morning, there is an unusual sight inside the pristine grounds of the Four Seasons Hotel, Sharm el Sheikh; a golf cart escorting two riders on their KTM 990 Adventure S bikes, loaded to the gunnels with scuba diving gear. The purring of our big Austrian engines isn't out of place in this five-star resort; KTMs are classy bikes and the Four Seasons began as a motor hotel back in the 1960s.
Our early morning start is the beginning of 'The Coloured Seas Trip', the first long-distance motorcycle and scuba diving journey ever made. It all began with a simple text message from Yann Vautrin, a fellow diving instructor, biker and photographer from Brittany, France.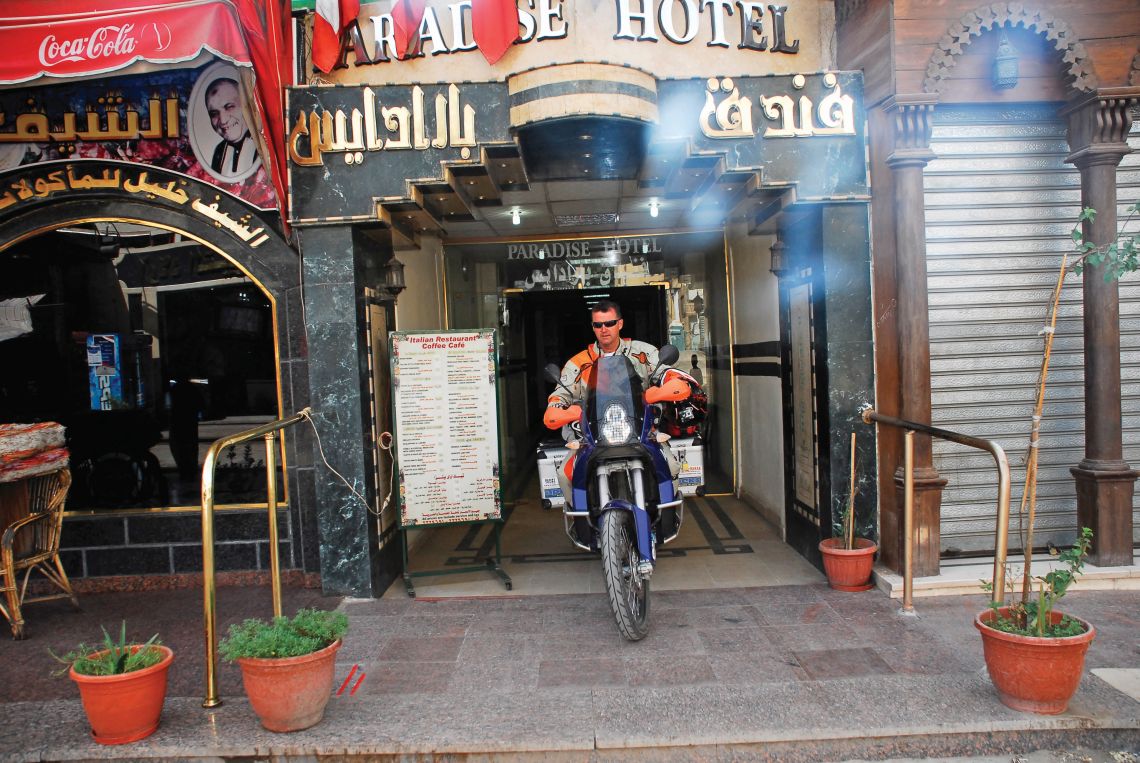 Yann came up with the idea over three years ago to ride and dive for more than 7,450 miles, carrying all our diving gear and essentials on the bikes with just the scuba tanks and weights being provided at the dive sites.
The only problem might be getting out of Egypt as the traditional bikers' routes through Jordan, and Syria or Libya and Tunisia were closed due to unrest in some of those countries. So for starters, we decided to stick to Egypt.
Sinai and the Suez Canal
Having just dived the famous WWII shipwreck the SS Thistlegorm sunk in 1941 by German bomber planes, we hit the 60-mile road to Dahab, our next stop. It has a healthy variety of straights, bends, inclines and declines that takes us 660m above sea level. On this road, the mountains and desert flank the tarmac and the views are stunning. Dahab is more laid back than Sharm el Sheikh with a greater Bedouin influence and less development. There are also hundreds of dirt bikes to rent. It's easy when the whole town is technically 'off-road'.
At noon, we surface in a 1m swell above a colourful reef and are soon off again towards Nuweiba; an even quieter town another 45 miles up the Sinai coastline. Unlike Sharm to Dahab, the Nuweiba road is single lane and in poor condition, but that will soon change as the Egyptian road renewal programme continues.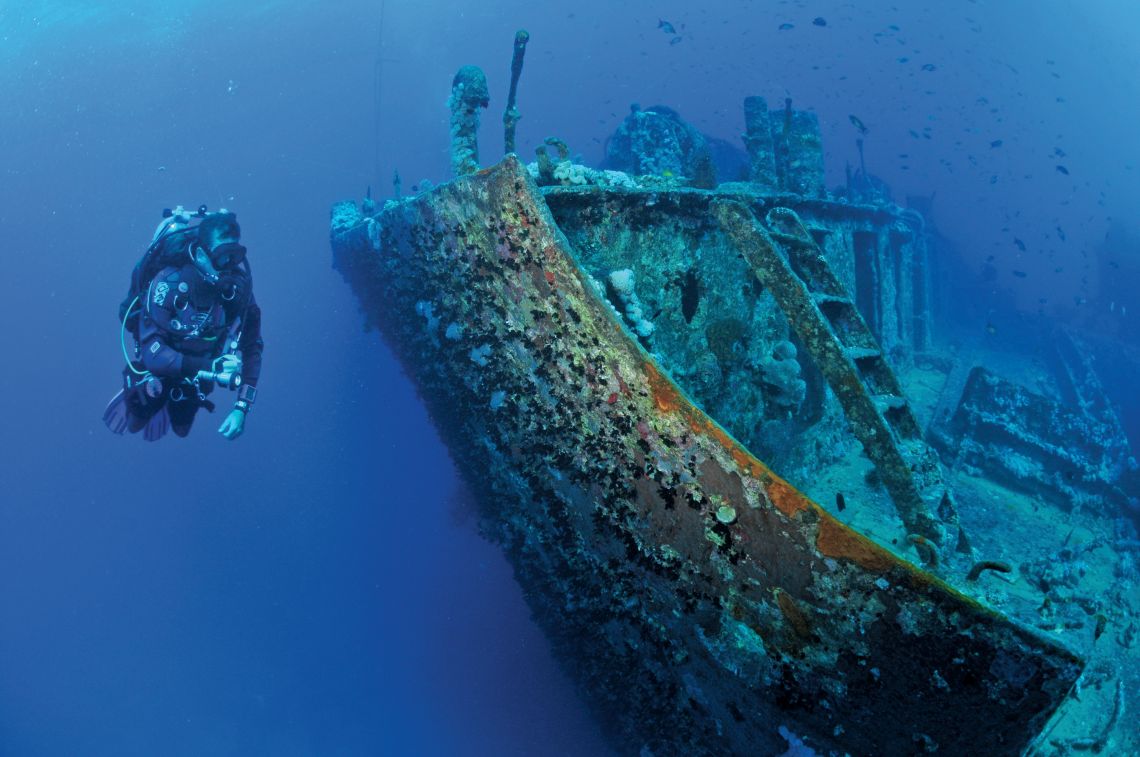 This route still has great mountain and coastal scenery and we pull over several times to take pictures. The Megana Camp in Nuweiba is typical of the new camps springing up all along the Red Sea coastlines. They have basic straw huts, wooden villas or rooms made half of stone and half of wood, some even with air-conditioning and en suite bathrooms. Better still, you can park your motorcycle securely alongside your hut or room.
The Red Sea is about six feet from my raised wooden villa. Luckily, the tidal range isn't much. Riding through the middle of the Sinai Desert between Taba and the Suez Tunnel is a humbling experience. Taba is the last town in Egypt before the Sinai stops at the Taba-Elait border by Israel.
This middle desert road was for many years a desolate place where few vehicles ever ventured. The new surface, however, is as flat as a snooker table and has three fuel stations over the 180-mile stretch from coast to coast.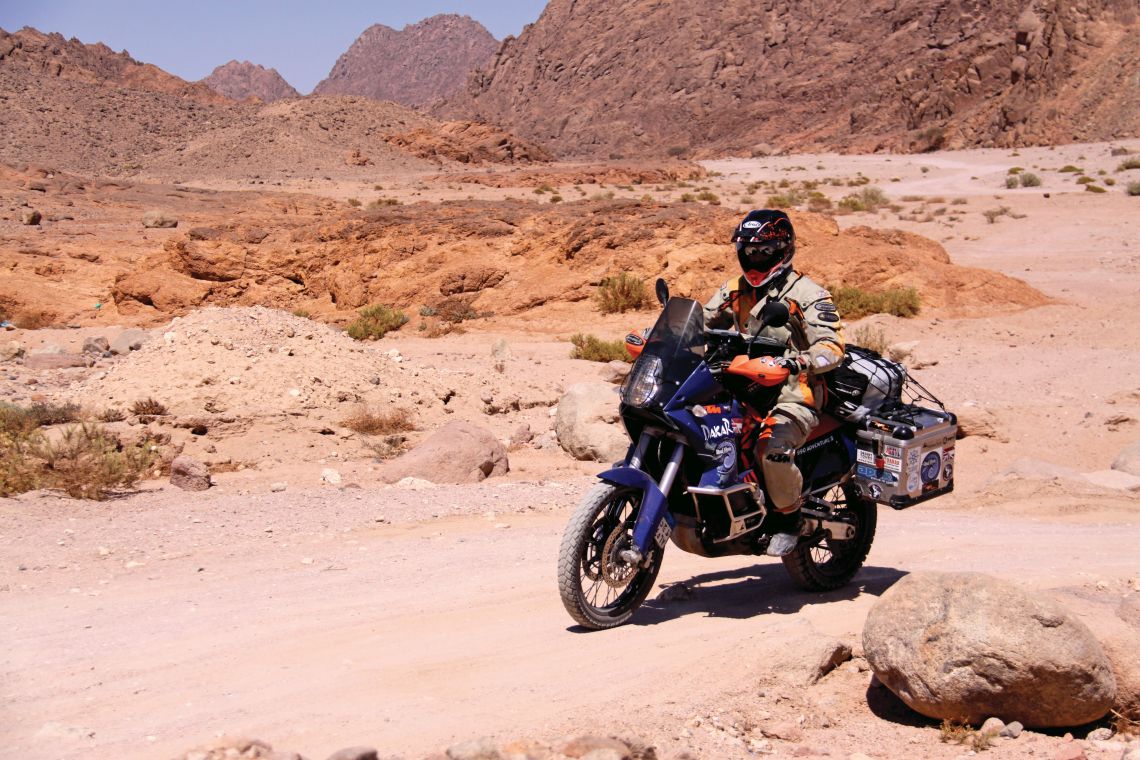 There are sections of this road that run straight for nearly 6 miles, but the scenery makes up for that with desert plains and mountain ranges either side. We push on through the desert and at sunset emerge at the Gulf of Suez. Passing through the Suez Canal tunnel involves a brief stop at the army checkpoint. There are many on the roads of Egypt and since former President Hosni Mubarak was overthrown the police and military who man them are noticeably friendlier and more welcoming.
Yann and I always get pulled up simply because they want to admire our heavily loaded blue-and-orange machines. After 15 years living in Egypt, I can safely say that the driving habits match the rumours and speculation surrounding them. I have an old 1994 edition of the Guinness Book of Records that states the easiest driving test in the world is that of Egypt. Skills in lane discipline, overtaking techniques, keeping safe distances and beam use are about as common here as snowfall! The good news is that once you learn to slip into local driving etiquette then much less will catch you by surprise.
The road to Alexandria
The Red Sea Hotel (£15 a night including breakfast) in Suez town hasn't changed since the 1950s and you could probably film a period drama here without making any changes to the décor. The Suez Canal runs for nearly 480 miles and we ride alongside most of it on the way to Alexandria. It's not every day that you get to overtake a 60,000-ton ship travelling through a desert!
The roads after Suez are a mix of old and new with much new surfacing in progress and a share of bumps, gravel and the dreaded grooves. Under the extreme heat and the constant pounding by heavy trucks, the tarmac on many main roads starts to dip and form ripples depending on where the tyres carve into them. Riding it is a bit like being on a pair of water skis, trying to avoid the wake of the boat in front.
We head north towards the Med riding through Ismailia and the famous furniture town of Damietta, which boasts an almost zero unemployment rate. Everyone works in carpentry and many of the vehicles on the road have chairs and tables dangling from the roof racks. Damietta also has the biggest population of motorcyclists we've ever seen; hundreds upon hundreds of workers all darting around on their Chinese bikes.
The national sport of 'how many people can you get on one bike' is the most popular in town and the more accomplished athletes manage up to five, including whole families with the nappy wearing infant at the front, grasping the handlebars with dad. We stop at a small shop and are swarmed by 20 riders all wanting a chat and the obligatory photograph.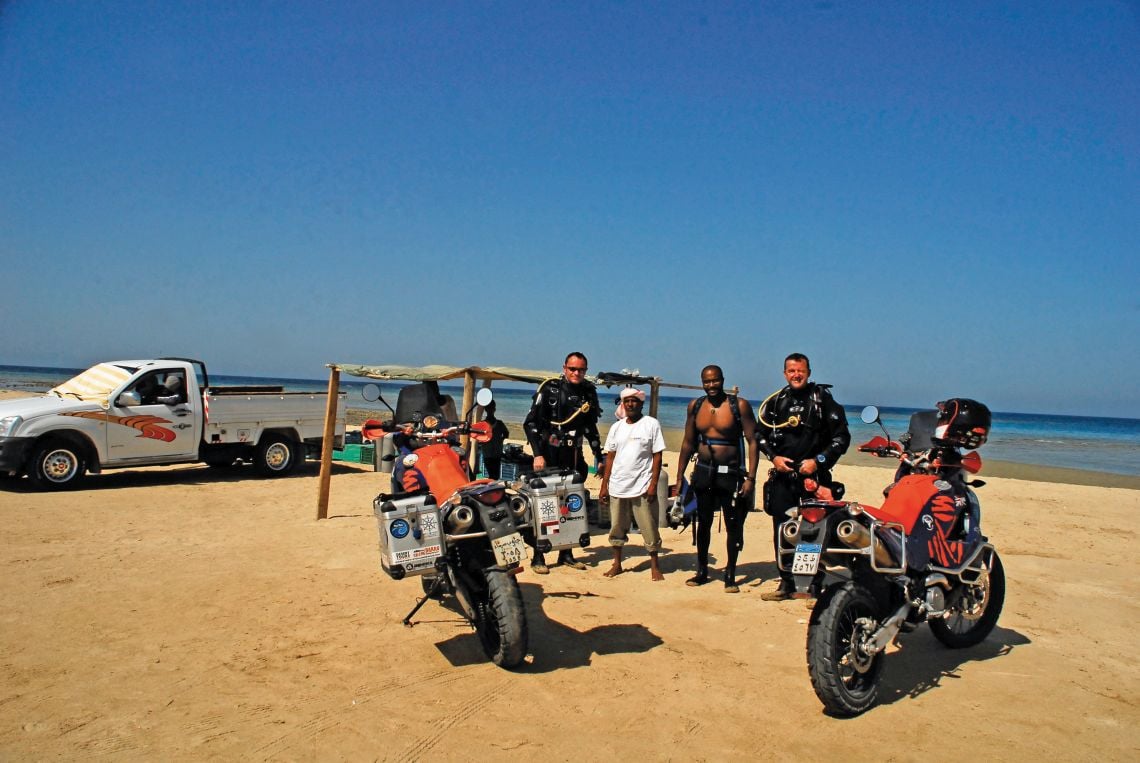 They kindly escort us through Damietta city centre towards the Alexandria road. We arrive at the Four Seasons Hotel in Alexandria around 11 pm. It's located on the busy seafront street with several lanes of traffic. The Four Seasons in Egypt is one of our sponsors for this ride as many of the directors belong to custom bike clubs such as the Cairo Harley Owners Club.
For the rest of the trip, we won't be lucky enough to have such grand accommodation; it's campsites, B&Bs and even the floor from here on out. A long-held ambition of mine is to dive the ancient sunken city of Alexandria, which was lost during an earthquake in the 14th century. We do three dives here, but leave knowing that we've seen just a small fraction of what lies buried beneath the sand and water.
The northern coastal road runs along the Med towards Marsa Matruh and Libya. Short of here, 65 miles from Alexandria is the War Memorial of El Alamein. It's a respectful and moving visit. Nothing brings home the tragedy of conflict greater than seeing the hundreds of headstones that represent the deaths of real people.
Visiting such a place is a stark reminder that wars are to be avoided at all costs. Adjacent to the Commonwealth memorial site is the museum. It displays many old WWII vehicles, weapons, photographs and uniforms of the many international troops who fought here.
Cairo and Luxor
The desert road to Cairo is a run of 230 miles with the usual traffic approaching a big city. The chill is significant at high speeds such is the proximity to the Med. Our KTM Rally clothing is coping well, though, and the vents and zipped compartments help manage both extremes. After Cairo, it'll be long, fast roads and little traffic.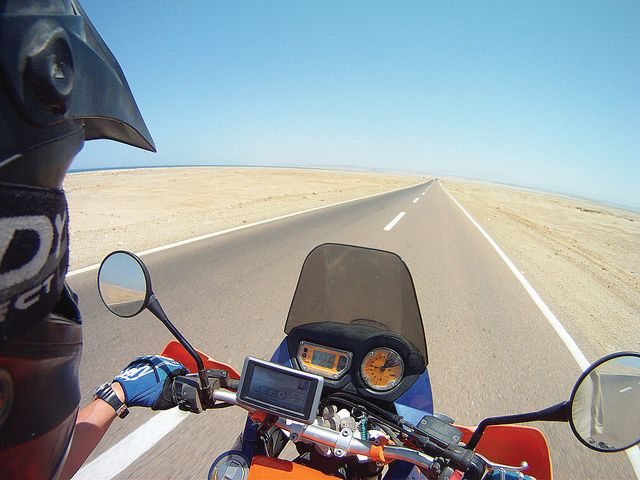 The Great Pyramid, built for the pharaoh Khufu, stands alone in structures that defy modern building techniques. Rising majestically from the sands, it seems to say, 'Come on then, work out who built me and why; you're not even close yet!' We take a tour near the outer perimeter wall and run into the horsemen of Giza. These highly skilled riders trot alongside our KTMs and then quicken their pace, beckoning us to keep up. It turns into a friendly race until we run out of road and they suggest that we have a full-on charge at each other!
We leave Cairo early and head towards the all-new Ain Suhkna road running 60 miles to the coast by the Gulf of Suez. Halfway along we spot the Egyptian Riders Club having a weekly meet at a huge roadside coffee shop popular for the many emerging bike clubs of Cairo. It seems like the whole membership is out today with their spectacular array of machines; Suzuki Hayabusa, Honda, Yamaha, Kawasaki and several Harley Davidsons form a neat line of superbikes.
I briefly swap my KTM for a 1,800cc customized Honda and ride around the car park for a few minutes. Heading south again we pass an incredible wind farm near Ain Suhkna. It runs for over 12 miles and in places is over half a mile deep. Well, they have the wind alright; we spend most of this stretch leaning into it. If yesterday was biking day then today is diving day on two big shipwrecks near Safaga; The Salem Express and the Al Kahfain. Both are big ferry boats that sunk in 1991 and 2005 respectively.
Our KTMs continue to be the centre of attention. The police stops are becoming increasingly frequent with more photos and more handshakes, but we're always on our way before long. We head to Luxor 250 miles away. The road is similar to that which runs through the Sinai with more mountains, desert plains, winding bends, wadi systems and the occasional high winds. We roll into town at night and find a whacky bar named Genesis.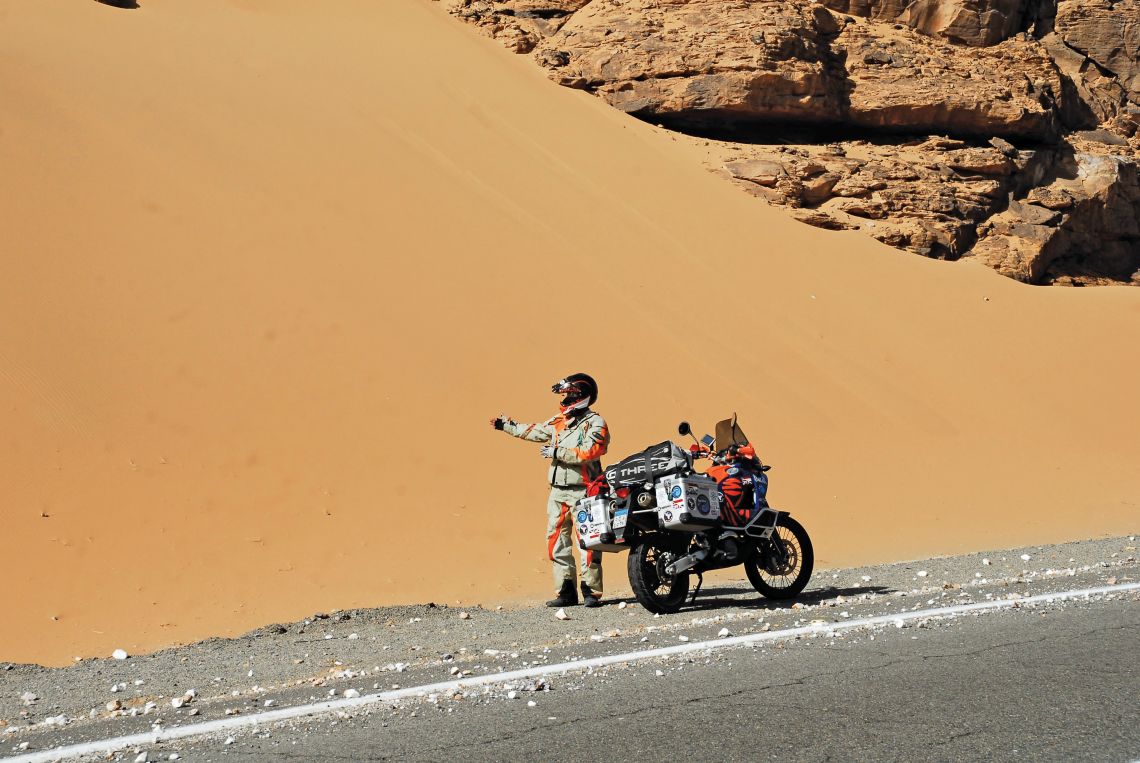 It's a real oasis for Europeans fancying a taste of home while seeing the famous attractions in this part of Egypt. We down a few Sakara beers and nice big steaks while listening to various Karaoke attempts in the background. The landlord's dog isn't impressed and spends the evening lying on the floor covering its very large ears! The car park of the Hatchepsut Temple in Luxor can easily accommodate over one hundred coaches but today there is just one and our two bikes.
The ancient sites are breath-taking but the emptiness leaves me wondering what kind of pimps are selling Egypt these days when, in reality, there's nothing wrong or unsafe with its best features and attractions. We photograph all that's good in this beautiful, timeless place and head south for Aswan. We reach it at 7 pm after crossing the huge dam, which reassuringly holds back 5.7 trillion cubic feet of water.
Aswan to Marsa Allam
In Aswan, I fulfil another ambition: riding a motorbike through a hotel. Those spoil-sports at the Four Seasons would have none of it but the manager of the Paradise Hotel allows us to park in his reception area making something of an in-house exhibit of our bikes. Yann also manages to persuade the local traffic police mechanic to give him a set of replacement rear brake pads. The Aswan police mostly ride Yamaha 900s and the fit is good.
The road between Luxor and Aswan and along the Nile route is colourful and lush, often flanked with palm trees and green fields. It's also very remote with few tourists even in normal times. The local means of transport is donkey and cart. Some of the locals carry big old brown rifles like the British 303s but they are more of an accessory than a weapon.
There are few roads between the Nile and the Red Sea but the best one links Aswan and the resort of Marsa Allam, which is nearly as far south as most visitors get in Egypt. This road is truly Christmas time for a biker with its winding stretches, open plains, mountains, beautiful untouched yellow sand dunes and planet-Mars type rock formations. It's time to turn on the headset and play some tunes. This road requires some serious biking music!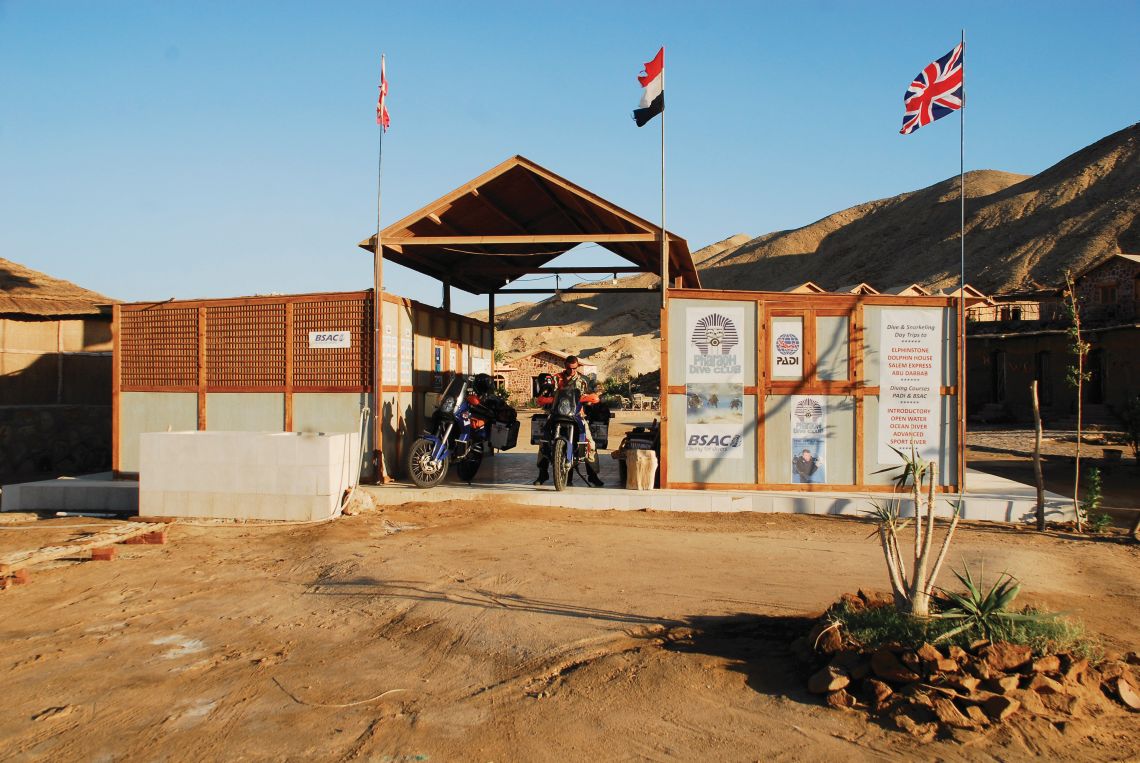 Just over 150 miles later, courtesy of Grateful Dead and others, we're in Marsa Allam, but not before a flat tyre stops us in our tracks at the halfway mark. A bottle of Green Slime and a few minutes on a three-quid foot pump have us going again; the tube is repaired at a local garage. Marsa Allam is a wilderness of tranquillity with an unspoilt sandy coastline running for many miles. All development is low key with many laidback campsites and bamboo-roofed diving centres.
We stop at the famous Deep South Camp. The views and sunsets here are breathtaking not to mention the underwater paradise that is the southern Red Sea. We pack the diving gear onto a jeep and follow it on the bikes 50 miles south to Abu Ghuzun where we dive a shallow wreck in remarkably good condition. It's nice that we're luggage-and pannier-free today. We give the KTMs a good burst along the Red Sea coastal road.
The next stop is the Roots Camp in El Quseir. The circular courtyard and high wooden structures make it look like the prison camp in the film Bridge over the River Kwai. Luckily it's the only resemblance in this well-run and very hospitable camp. El Quseir is a small and friendly coastal town with little tourism. After a dive in clear blue water among great marine life with Pharoah Dive Club we pack the panniers, give the 990s the once-over and leave El Quseir late in the afternoon.
Home dry
Hurghada is one of the biggest resorts in the Red Sea and unlike Sharm is located on the Egyptian mainland about 90 miles north of El Quseir. Despite having full tanks leaving Hurghada, I run out of fuel 20 miles from the next petrol station. This is due to the unbelievably high winds causing inefficient fuel consumption. I surely broke a record by stopping three cars all at once with one thumb.
Yann retrieves a thin plastic tube, to draw fuel from the first car, and then, one by one, we each end up on our knees gasping with burnt lungs as we suck raw benzene fumes from the depths of the driver's Hyundai. Nothing works, so the driver kindly takes me to the next fuel stop where lacking a petrol can, I search around a rubbish tip for some empty plastic mineral water bottles which I wash out and fill with 92 Octane.
Surprisingly, a weirdly dressed bloke standing at the desert roadside carrying a plastic bag full of petrol poses no issues to passing motorists and I am offered a lift back to Yann within a few minutes. I don't think this little caper would have been so successful in the UK.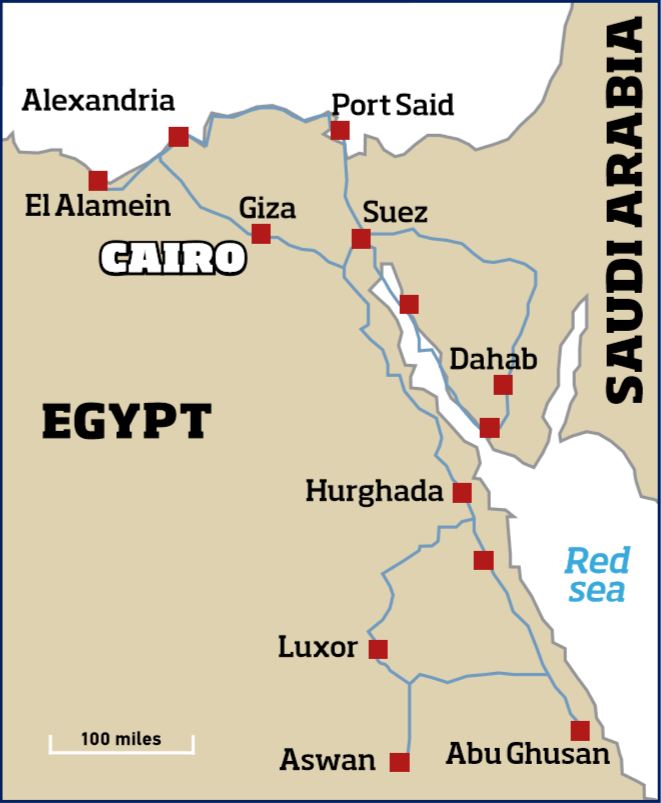 We move on and arrive at the huge resort of Stella Di Mare in Ain Suhkna, which is right at the entrance of the Suez Canal. Located among heavy industrial plants, this unlikely resort is lush, spacious and accommodates 1,800 villas and three hotels including a five-star golf hotel and course.
After making two dives very close to the entrance of the Suez Canal, Yann looks at his watch; it's now 1:30 pm. If we have a quick getaway then we'll reach Sharm el Sheikh by early evening. There are few better sounds than the amplified noise of the big Austrian KTM engines echoing off the Suez Tunnel wall – music to the ears. With the sun on our right, we ride the homeward stretch along the Red Sea coastline, passing the outpost towns of Ras Sudr, El Gharanda, El Tur and finally Sharm el Sheikh.
The 300-mile trip takes in more dramatic rock formations, winding wadis and the view of big ships moored out to sea awaiting their turn through the Canal. The stunning red mountain ranges run all the way along the Sinai coastal road and are now glowing a dark orange colour as the suns finally sets. We arrive over an hour late at a sports bar popular with bikers, but the whole crowd is there to welcome us back from the first leg of our Coloured Seas Trip.
Now the wait is on to get out of Egypt and into Turkey, to begin the Black Sea tour and beyond. It's been a great adventure, through some stunning scenery, meeting some great people, and the best of all, the adventure isn't over yet… Thanks to our many sponsors of the Coloured Seas Trip and the riders and divers we met along the way.
For further details of the trip, see www.divingbikers.net.
The Bikes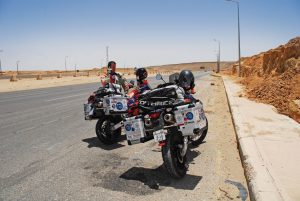 John and Yann's bikes are 2008 KTM 990 Adventure S Dakar models. "I never wanted extra power from my bike as it delivered everything when asked for," says John, "a larger fuel tank maybe, although add-ons are easily available for lengthy off-road ventures." The bike's height allows a masterful view of the road ahead, which is especially useful in Egypt, he says.
"I've owned my 990 for two years and put more than 31,000 on the clock. It's also carried huge loads and still handles beautifully. It's only ever required basic routine maintenance and replacement parts for the normal wear and tear items. It loves long distances but is no slouch in the big Egyptian cities like Cairo and Alexandria.
Top five tips for riding Egypt
Stay hydrated by topping up with fluids all day long
Show respect in Egypt, which is a Muslim country
Give small tips wherever you receive a service or pull in for fuel
Learn a little bit of Arabic, it goes a long way and will be much appreciated
Be polite at the numerous checkpoints.
They usually just want to chat about your bike
Want to do this?
How long does it take?
John and Yann took three weeks to cover over 3,100 miles and nearly all of Egypt, but that did include time off the bikes to go diving.
When to go?
You can ride at any time of the year in Egypt; however, bike riding is best between October and April when it's much cooler and more manageable.
Get there:
The national airlines serve Cairo and a selection of charter flights such as Monarch, EasyJet and Thompson handle the many resorts.
Fly or hire?
There are few specialist touring and bike hire companies in Egypt, although anyone can buy and sell a bike. To rent a bike privately, all you need is the owner's bike registration card plus your own licences. Nothing beats having your own bike, but getting it to Egypt involves riding to Italy or Turkey where ferries run to Alexandria and Port Said.
Alternatively, James Cargo Services Ltd can transport a BMW 1200 GS to arrival into Cairo for £1245 by airfreight or to Alexandria by ocean for £695. See www.jamescargo.com
Paperwork for you:
You'll need a visa to enter Egypt, which can be obtained at any ferry or port for around $15 (£9) and lasts up to a month; they're renewable for up to six months and can include multiple entries. An international licence is also required.
Paperwork for your bike:
You'll need a carnet to import your bike into Egypt and clearing customs can be a lengthy and costly process. As a guide, the carnet for a GS valued at £10,000 will cost £9,135, with £4,350 refunded when the carnet is returned. A cheaper bike will drastically reduce this, but riding Egypt on your own bike is pretty costly