It might not be the first place that springs to mind when you're looking for an overseas trail riding trip, but you could do far worse than heading to Romania's Transylvanian Alps, as Alan Rose discovers…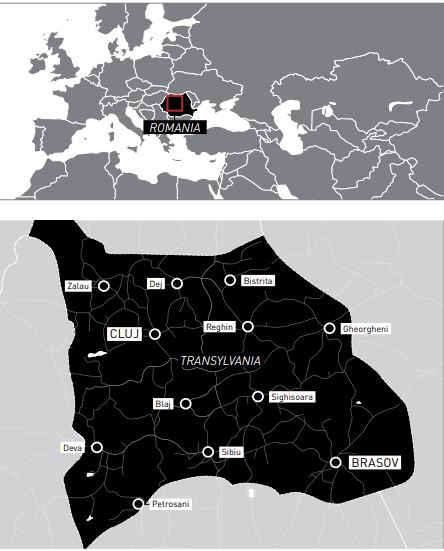 What's the first thing you think of when it comes to Transylvania? Castles? Sure. The birthplace of Dracula? Certainly. Trail riding? Probably not, but maybe it's about time you should.
Seven of us booked a two-day tour with Transylvania Trails in the middle of April this year. The all-inclusive price covered accommodation and food for three nights, bike hire, personal protective equipment/clothing and a guide for two day's riding.
All that was left for us to do was turn up eager to explore the best that Transylvania had to offer. 
Our guide Gabriel (Gabi) collected us from the airport at Cluj and took us to what was to be our base at Nucet, near Sibiu. Bio Haus Cioran Guest House is a large timber-framed chalet backing onto an orchard, with forests beyond.
Gabi introduced us to our hosts Mioara and Emil who showed us our rooms. Back downstairs, beer in hand, Gabi showed us the bikes and explained the differences between the Sherco 300 and the 'factory' edition.
The nine bikes were lined up at the back of the house, all clean and shiny, lying in wait for our adventure. "Shall we help you lock them away?" we asked. "No need," was the reply. "They'll be fine here." Not like the UK then.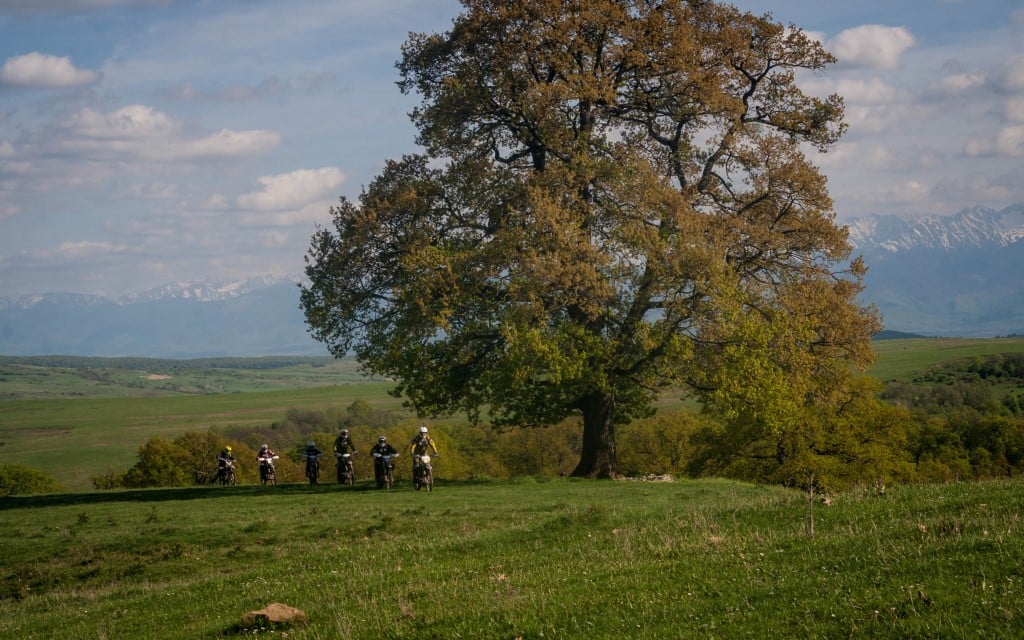 The food at Bio Haus is homemade and homegrown traditional Romanian fare. Romanians love their soup and each meal started with a bowl so big you could have skipped the main meal and not been hungry. Homemade wine and schnapps completed the delicious three-course meal. 
The next morning, after a substantial breakfast, Gabi gave us our riding equipment, including helmet, boots, shirt, trousers, body armour, gloves and goggles. Most of the kit was brand new and we had to take it out of the bags and take the labels off before using it.
We then had a pre-ride briefing, where Gabi told us about the bikes, about following his wheel tracks as far as possible and about the dangers in the forests: wild boar, deer, dogs and brown bears!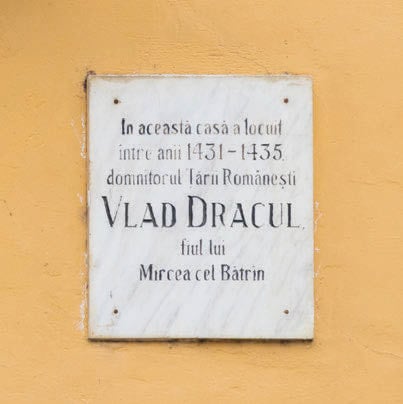 We were led along a track running right next to the guest house, following it uphill and into the countryside beyond.
Gabi then left us in a clearing on top of a hill to get used to the bikes. Ten minutes later he was back, and we were off. 
I had only been riding off-road for about 10 weeks, although I have had road bikes for the past 40 years, and have just bought a Honda CRF250L. The braking and changing gears standing up still felt new to me and, coupled with new motocross boots and the snatchy throttle of a much more powerful bike, I wondered how I would cope.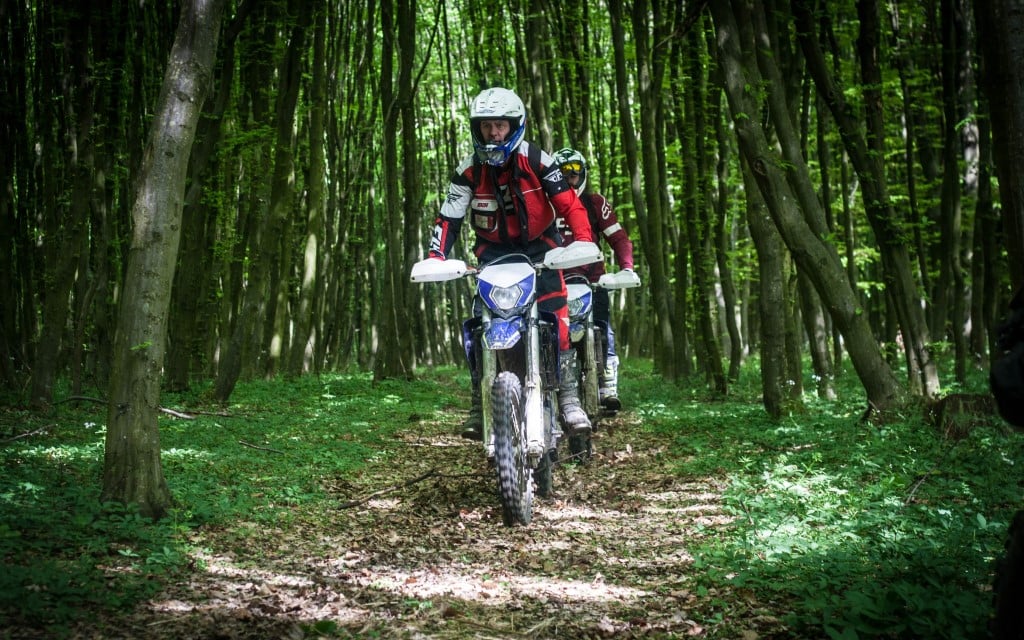 We set off over the hillside quite gingerly at first, but then the pace picked up a bit as our confidence grew. The Romanian countryside is quite different to that in the UK. There are no fences or walls and what livestock we did encounter were herded together by dogs with a shepherd present.
Gabi had warned us of the dogs prior to setting off. They are the size of Pyrenean mountain dogs and chased us away if we got too close to the sheep. Andy, our most experienced rider, was frightened of dogs so he employed the tactic of putting other bikes between him and them as they chased us.
This meant he wasn't picking the best line or concentrating fully and, of course, he subsequently fell off. At that point, the dogs had fortunately lost interest in him and returned to the flock.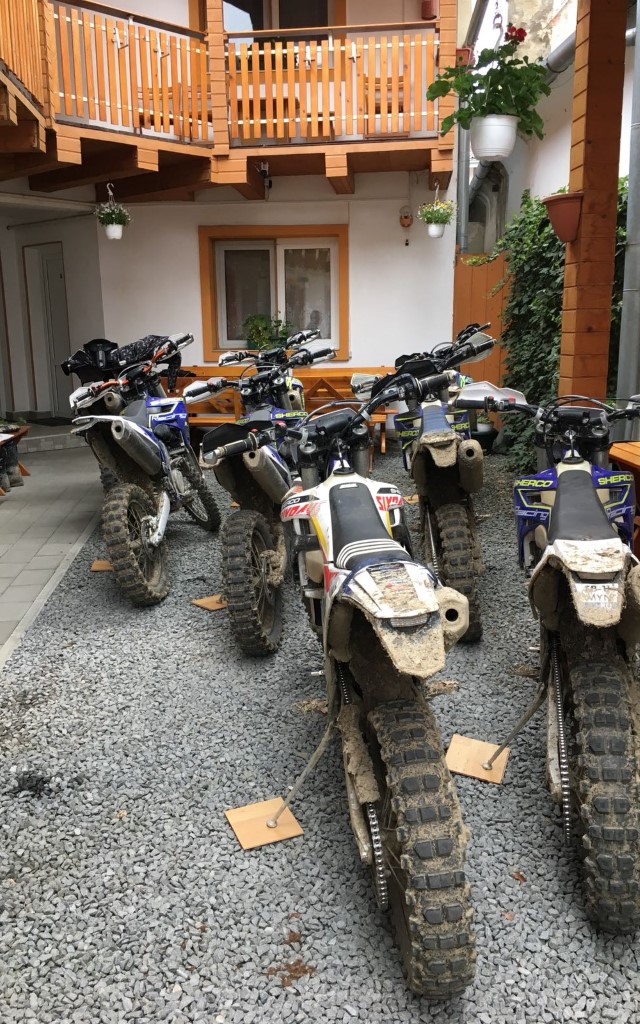 Once Gabi judged we were more comfortable with the bikes we entered the forest. For most of us, this was our favourite section. It was quite open and well lit, with very few bushes. The ground was soft and loose, covered with leaf litter while a few hills, streams and a little mud kept things interesting. In short, it was perfect. 
Gabi explained that most of the countryside is state owned and the farmers rent the land for 99 years. There are some private properties, but it seems by and large that you can ride where you want. Having said that, Gabi then showed us a valuable lesson.
After a fast-open section, he stopped and gathered us around. We rode slowly a little further and stopped at what appeared to be a small drop. In fact, what lay before us was a sheer drop of at least 30m!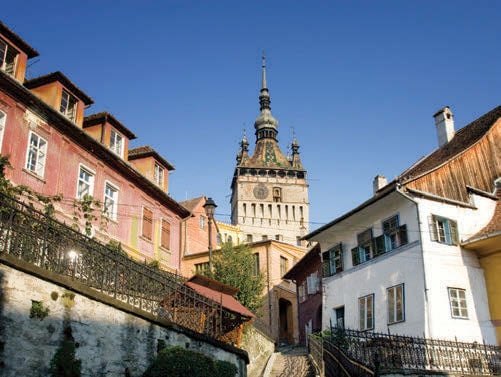 A short road section through a traditional Romanian village led us to a fortified church on a hill. This was to be our lunch stop. A lot of the roads in this area are dirt and the drainage is by a ditch on either side. Don't even think of lampposts and footpaths, as they don't exist.
Nobody in these villages has cars, but there are one or two horse-drawn carts. Everyone in the villages seemed pleased to see us. The old men sitting under the shade of the trees waved while the barefoot kids at the side of the road put their hands up for us to high five as we rode past. 
We took off our riding gear, hung it up to dry and lay on the grass for 10 minutes to get our breath back while Gabi re-fuelled the bikes from containers he had previously dropped at the church.
We were led into a traditionally decorated stone room within the restored fortified walls where a table was laid for our midday meal. All meals here are sit down three course affairs. Soup, of course, traditional chicken stew, and cake, which seemed to be made from cheese and currants.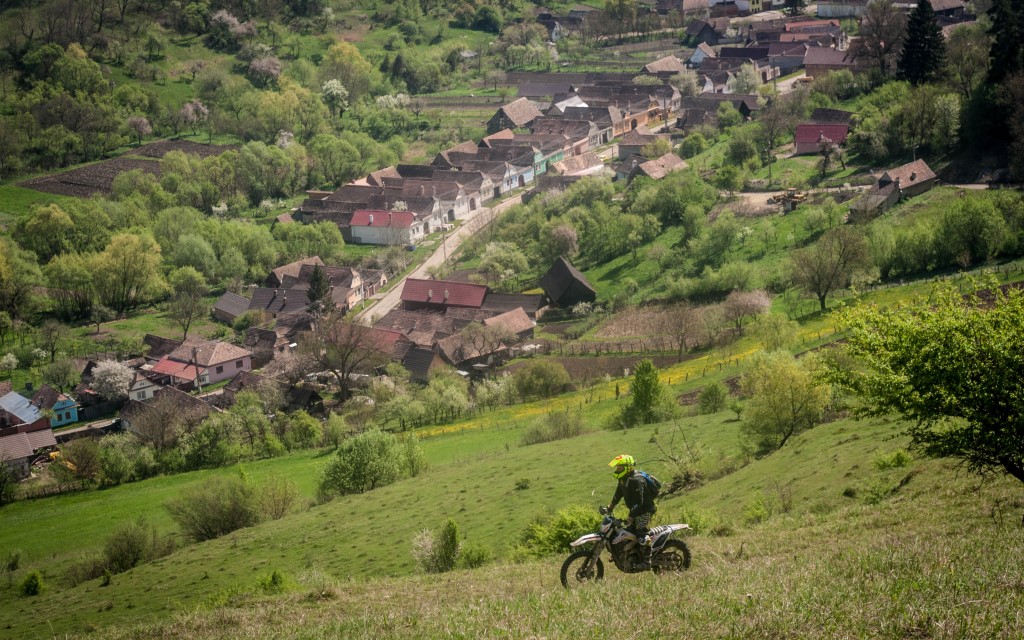 We set off again, this time at a more leisurely pace, and after about an hour one of the bikes seemed to be starting with a clutch problem. The bike had only done 150 miles from new, but Gabi decided rather than have a problem in a remote area we would wait in a village for a replacement bike.
A quick phone call and 45 minutes later, his father-in-law arrived with a replacement bike in the back of a pickup. Gabi has designed each tour to incorporate as much varied terrain as possible.
By this time, I was feeling more comfortable on the bike, getting used to the immediate power delivery, even in 'soft' mode, which I was learning could get me out of trouble where my CRF would bog down and stall. Standing up on the pegs all day was taking its toll, however, and the shoulders and back were beginning to ache.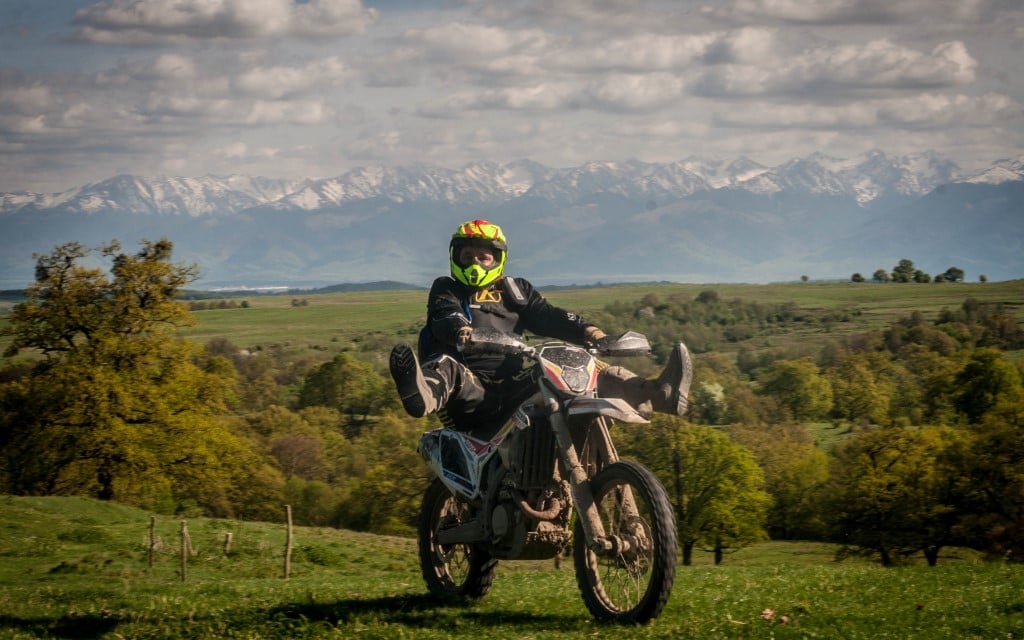 A lot of the soil in the Transylvanian Highlands is red clay. Even where it was dry, the farm tracks we encountered were slippery. In fact, when we came across deep, wet ruts (my nemesis) on an uphill section, it was almost a relief to gently fall off, coming to rest in the bushes, which stopped me from rolling down a steep slope.
I looked at my back wheel, which had turned into a clay-coloured slick. No wonder. More meadowland, wilderness, and farm tracks followed and at 9 pm we emerged from the forest to arrive at our lodgings for the night in Sighisoara.
This small town is dominated by an imposing castle on a hill that was once owned by Vlad Dracul or, as we know him, Vlad the Impaler, the inspiration for Bram Stoker's Dracula. In these parts, he is known as a hero as he was alleged to have persecuted only those 'nobles' who were taking advantage of their position to the detriment of the 'peasants'. 
We pushed the bikes into the courtyard of the little bed and breakfast we were to stay at. Once showered, we walked across the road to a traditional Romanian restaurant where we were shown to our table in the basement.
Gabi interpreted the menu for us and, of course, there was soup. Andy was intrigued by a starter that Gabi described only as lard. Once it arrived, it turned out that it was indeed a small bowl of lard sprinkled with paprika! It came with a side salad, which he left.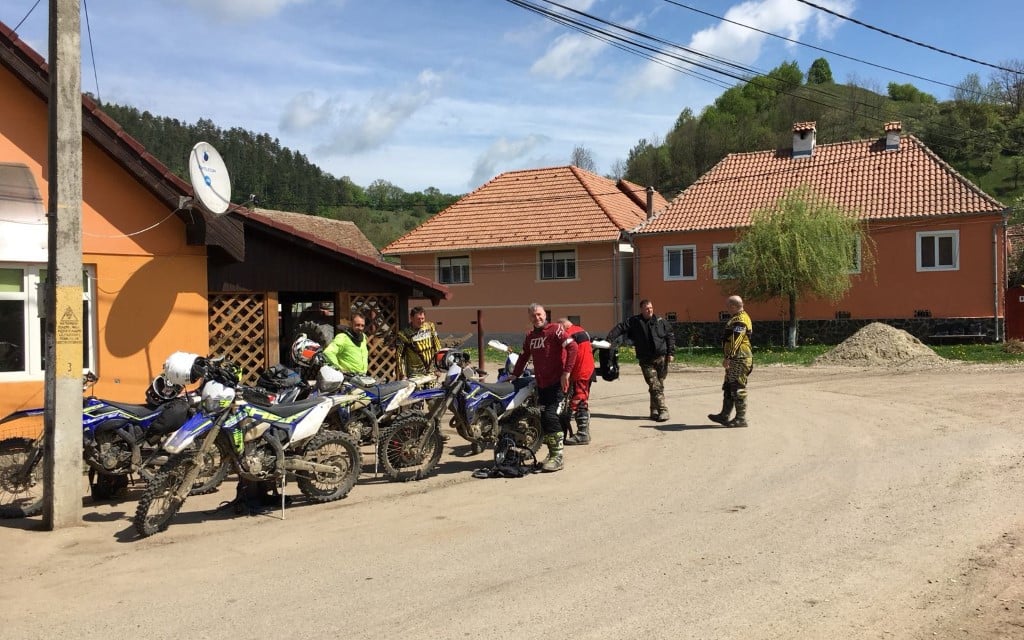 All the food was locally sourced and homemade. We left the restaurant just before midnight and it seemed fitting that Gabi gave us a guided tour of the castle. 
The next morning, one of our group wasn't feeling well and decided to give it a miss. The rest of us set off back to the first night's base via a different route, all off-road of course. The previous evening, Gabi had asked us what kind of riding we wanted to do that day and one of the group had mentioned hills.
"Ride across that field as fast as you can. By the time you hit the jump you need to be flat out in third gear, then enter the forest and keep going straight uphill". Easier said than done… The best I managed was two-thirds of the way up before stalling, falling off and tumbling about 10m before I could even stand up.
Exhausted after my third attempt, I took the chicken run around the side of the hill. I was learning all the time. Choose your line, head up, weight forward and use your clutch. If I'd had the energy to go a fourth time, I might have made it. 
The afternoon of the second day was what life's memories are all about and it was an afternoon I will remember for many years. Riding standing up, flat out across miles of undulating open meadowland with the forest on one side and the stunning snow-capped Carpathian Mountains on the other was bliss. It's hard to keep your eye on where you should be going with views like that. 
We all loved riding in the forests and so that's where Gabi took us to finish off the second day, weaving in and out of the trees, up and down the hills and through the streams. Every now and again we'd catch a glimpse of a deer as we startled it and it ran away. Fortunately, no brown bears though.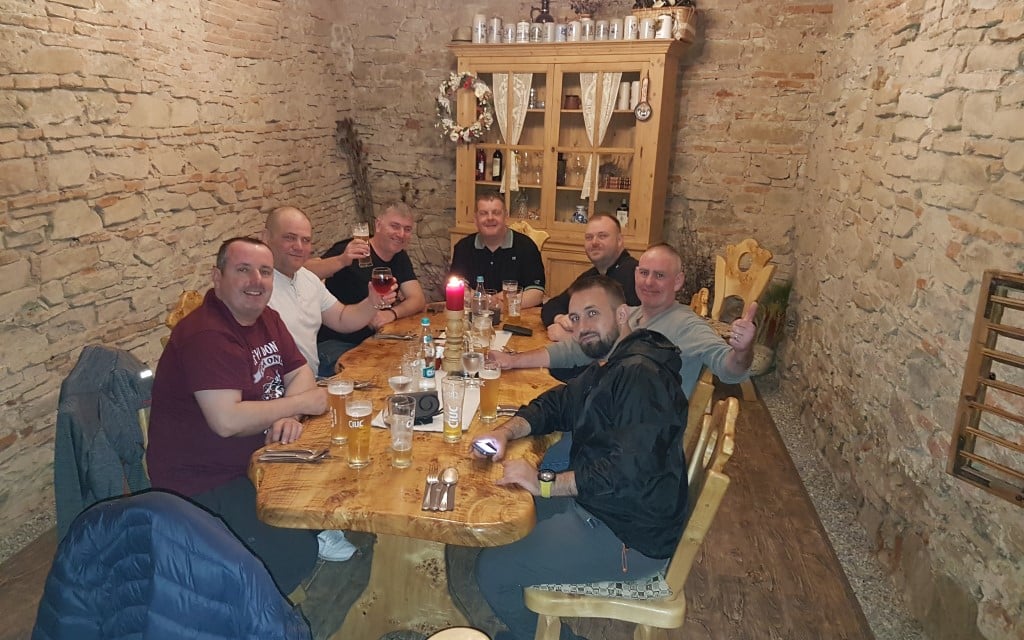 The second day ended at the place where it all began; where we had been practising on the bikes when we first got them. We were back to Bio Haus for 6pm, where Emil was preparing that evening's barbecue. We parked the bikes and collapsed on the sprawling porch overlooking the orchard, tired and aching, beer in hand.
We had ridden 180 miles, all off-road. Had we enjoyed it? Well, as soon as we got home we booked to go back again in September. This time for three days instead of two. I'd better hit the gym. 
The Transylvanian Highlands is a stunningly beautiful area, completely unspoiled. The riding can't be compared to anything we have in the UK. My green laning experience, for example, is limited to rocky tracks in the Peak District and is completely unlike the open rolling countryside or the technical hilly forests we travelled through. 
The whole area is steeped in history as, time after time, the country has been invaded and the various occupants have added their traditions and culture. Tourism in this area seems to be in its infancy and the general thrust seems to be for skilled craftsmen to restore buildings using traditional materials and methods.
There also seems to be a conscious effort for tourism to benefit the local towns and villages, and we'd implore you to see what its about. You won't regret it.