Ian Neubauer heads off on a mission to see Java's spectral Blue Fire crater.
The Indonesian island of Java is one of the most volcanically active places in the world, with 39 potentially unstable volcanoes and 20 craters and cones. When they're hot, they're just about the last place on the planet you want to be. At all other times though, they're extremely beautiful and fascinating places to visit. 
Five years ago, I journeyed to Java to see two of its most noteworthy volcanoes: Mount Merpati, or Fire Mountain, which bellows smoke more than 300 days a year; and Mount Bromo, a massive moon-like crater called the Sea of Sands.
I did the trip on two wheels, covering 450 miles between the two sites, albeit on a less-than-ideal motorbike: a plasticky Indonesian-made Kawasaki 150 KLX. It was underpowered, undersized and the seat – a thin wedge of plastic – was pure torture. But it was the only bike with off-road capabilities I could get my hands on. 
Last year I returned to Java to see one of the most awesome volcanoes of all, Ijen Crater, site of the Blue Flame. The term refers to sulphuric gases that escape at high pressure from cracks in the volcano wall and ignite on contact with oxygen, shooting bright blue flames 5m into the sky. The phenomenon takes place 24/7 but can only be seen at night.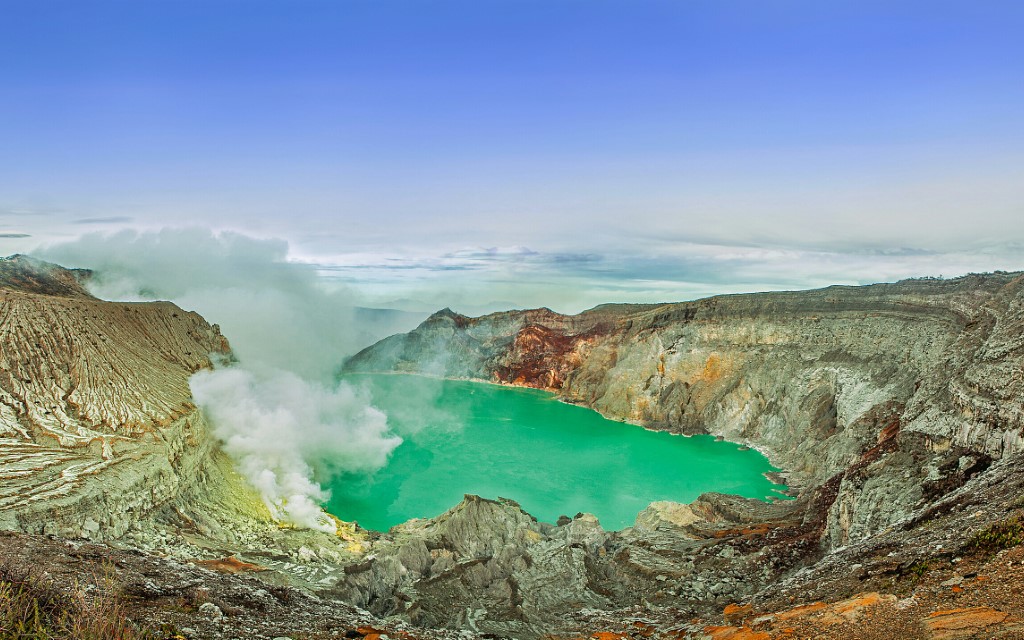 Once again, I decided a motorbike would be best to get me there, but there was no way in hell I was going to suffer even another hour on a little Kwaka. So, I flew to the neighbouring island of Bali, where the Internet told me there were dozens of motorbike rental stores. 
The Temple of Enthusiasm 
I found all kinds of motorbikes for hire in Bali. Rates started at around $3 a day for a scooter and you can go all the way up to a Harley Davidson or Husqvarna trail bike. But none of the rental companies would hand over the registration papers I needed to transport their motorbike on the ferry over to Java.
Offering more money and even my passport as a deposit didn't help. Once a bike left the island, they said, it was as good as nicked. 
The next day I met up with an old mate from Sydney who is now living in Bali. We got together for breakfast at a cafe on Echo Beach, a popular surfing spot in the village of Canngu.
When I told him about my problem he said that he had an idea, and took me to the Temple of Enthusiasm, the local headquarters of Australian custom-motorbike builder Deus Ex Machina.
There I speak to the general manager – a 20-something-year-old barefoot hipster – about my plan to ride to Java to see the Blue Fire. He thinks it's 'way cool', says Deus would love to get involved and that they've got the perfect bike for the job: a Kawasaki KLX 150.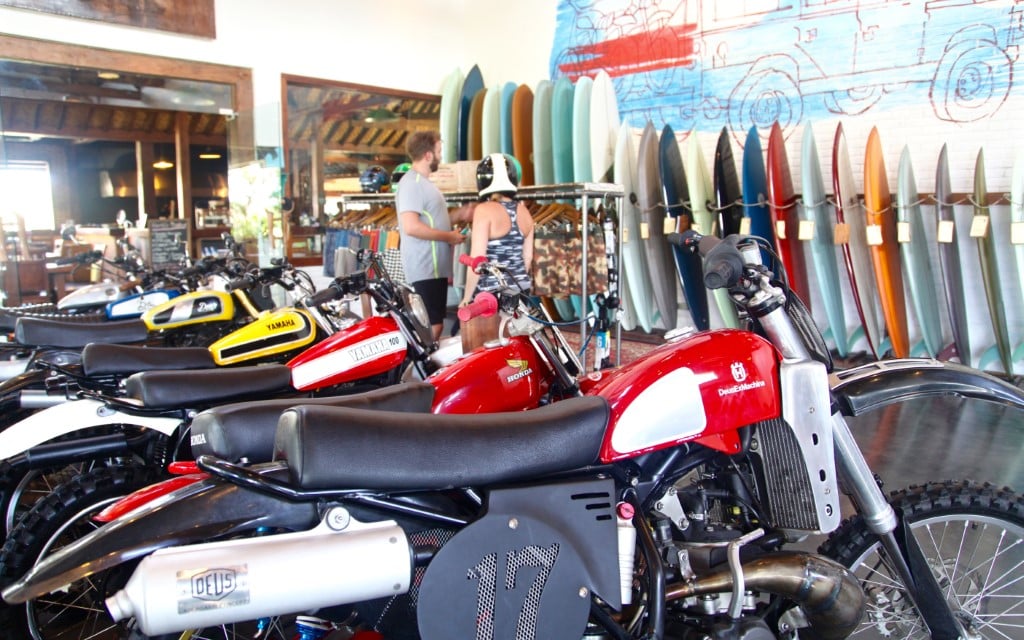 I'm about to vomit in my mouth when the hipster takes me to the workshop and shows me the bike in question. Reimagined in the Deus spirit, it is an altogether different beast to the puppy dog Kawasaki farted out of the factory. The 150cc engine has been rebored to 185cc.
The fenders, headlight and other gaudy plastic bits have been replaced with high-quality polished metal. It has a long-distance custom-moulded petrol tank, a tall and wide hand-stitched leather seat, after-market CLD pipe, off-road bars and all kinds of grills and plates.
The rear sprocket had been upgraded from 44 to 50 teeth and the swingarm has been completely redesigned. The speedometer had been binned and the Kwaka's standard lime green stickers were also gone, replaced with a no-nonsense black and white livery. When I switch it on and twist the accelerator, the bike growls at me like a mongrel dog ready to explode from its leash. It's the bike I'd been looking for. 
The Truth about riding in Bali  
The first leg of the 190-mile round trip to Ijen takes me along Bali's southwest coast, a semi-urban area where emerald green rice terraces still outnumber houses and shops. It's pretty as a picture and there's always something to look at: girls in bikinis on scooters, a colourful ceremony at a temple, a huge ten-headed statue of a Hindu god plonked in the middle of a roundabout.
But these distractions make riding in Bali dangerous, too. The previous day I read about a drunk 15-year-old who got on a scooter in the underground carpark of the hotel he was staying at with his parents. He didn't even make it out onto the street, ran straight into a concrete divide and died.
According to the Australian Department of Foreign Affairs, scooter accidents are 'the most common reason for injury amongst young people travelling to Bali'. 'Fights in nightclubs', the department says, are the second most common.
So I ride carefully, slowly, in the searing heat. When I stop for a cold drink an hour later, my smartphone tells me I've only covered 13 miles! The going doesn't get any faster when I reach Jalan Raya Denpasar, the 60-mile long coastal road that runs to all the way west to Gilimaluk and the ferry terminal for Java.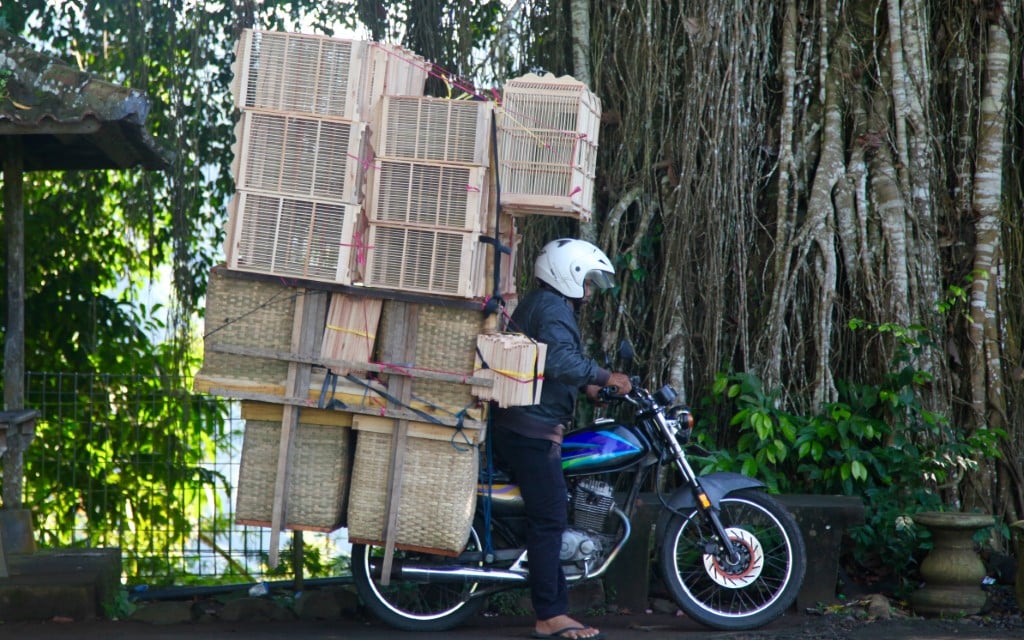 It's supposed to be the arterial lifeblood of the island but with only two lanes, traffic gets held to ransom by painfully slow-moving trucks that create long, snaking convoys of cars that can't overtake. I move a little faster, weaving in and out of traffic, risking my life every time I leave my lane. 
Thinking fresh, I detour down a dirt road that spits me out onto the black lava beach hugging the coast. There I unleash all the Deus' pent-up anger on fine black sand interspersed with pebble beds. The bike roars, stands up on its rear wheel and slingshots back to the future, making short work of creek crossings, flat grey stone boulders, and flotsam and jetsam in my path. It's bullshit good fun.
The Secret Surfey Beach & The Giant Tree 
A couple of hours later I reach a seawall that forces me off the beach and into dusty little village called Medewi. I park under a banyan tree on a rocky beach where a dozen-odd tourists, mostly surfers in their forties, sit in front of a little kiosk sipping Bintang beers.
Behind them, liquid ramps of perfection break over a reef, bringing other surfers to shore. The sun begins to set, painting the sky red and gold as soft Rasta music flows from the kiosk. 
I'm now only 30 miles from the ferry at Gilimaluk, but it's ill advised to ride at night in Bali. So, I ask one of the surfers if he knows of a place to crash. There are a few pricey options on the beach, he says, or I could room at his homestay for only $20.
There's a fan and an outdoor shower and cold beer. Sounds good, I say. His name is Mike and I follow him and his girlfriend on their scooter and their surfboards down a dirt road that leads to a villa surrounded by rice fields. After a quick shower, I join my host on his patio for a few beers and a smoke.
Mike tells me this village is a secret surfing spot, that he stumbled upon it by accident, quite like I did, while travelling and surfing around Asia seven years ago, and liked it so much he's never left. We eat some fried chicken for dinner and talk and drink and smoke some more while listening to Led Zeppelin. This is why I travel. This is is why I ride.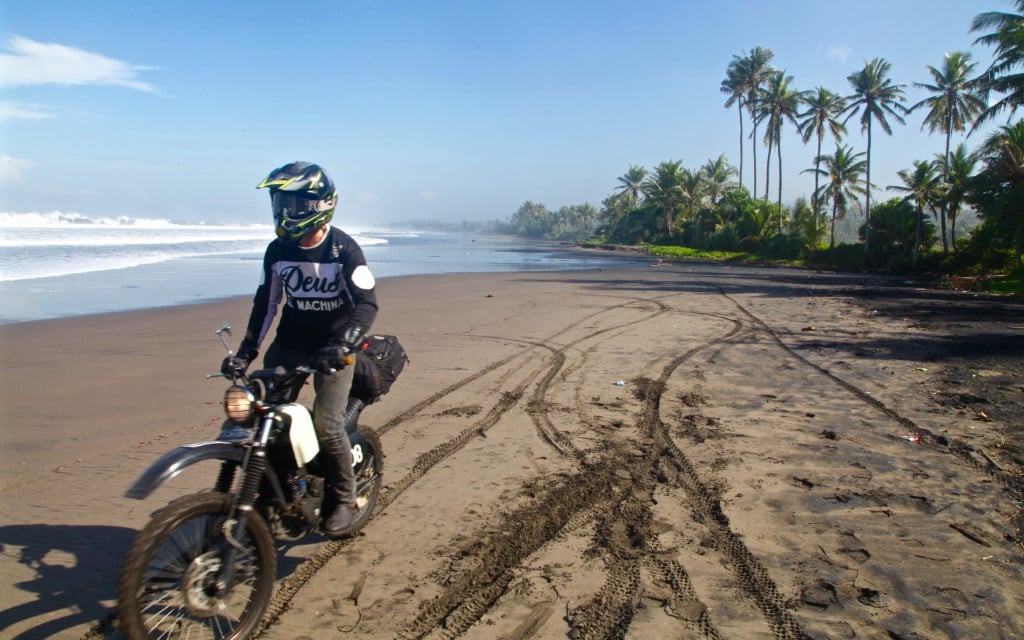 At 4:30 AM, I'm awakened with a jolt by an insomniac rooster. At 5:45 AM, as the first light of dawn creeps over the rice paddies, I'm off like a bandit. After re-joining the highway, I continue west for five minutes until I detour inland onto a gravel road that curls into the hills.
I want to see something Mike told me about last night – a banyan tree he said is so big, the road runs through the middle of it. It's called Bunut Bolung and I find it about five miles from the highway in the misty green highlands overlooking the coast.
Like Mike said, it's so big the road runs through it. The hole, however, isn't formed by a gap in the trunk but from roots that grow over and around the road, with the trunk on top. Either way it makes a killer photo opp.
The fine  
The traffic back on the highway is much lighter in the morning. There are a few overloaded trucks but the Deus shoots past them with horsepower to spare.
The sun is shining and everything is as it should be until I round a steep bend to see a dark ominous mushroom cloud hovering over the entire west coast of Bali. It's the dry season in Indonesia and it's not supposed to rain, but within half an hour it's raining in sheets. 
I ride a bit when I can, but when the rain gets too hard, I pull over and seek shelter. On one occasion, I'm hunkered down by a bunch of trees, trying to stay dry, when a guy wearing a pink polyethylene raincoat – essentially a pink rubbish bag – pulls over on a scooter.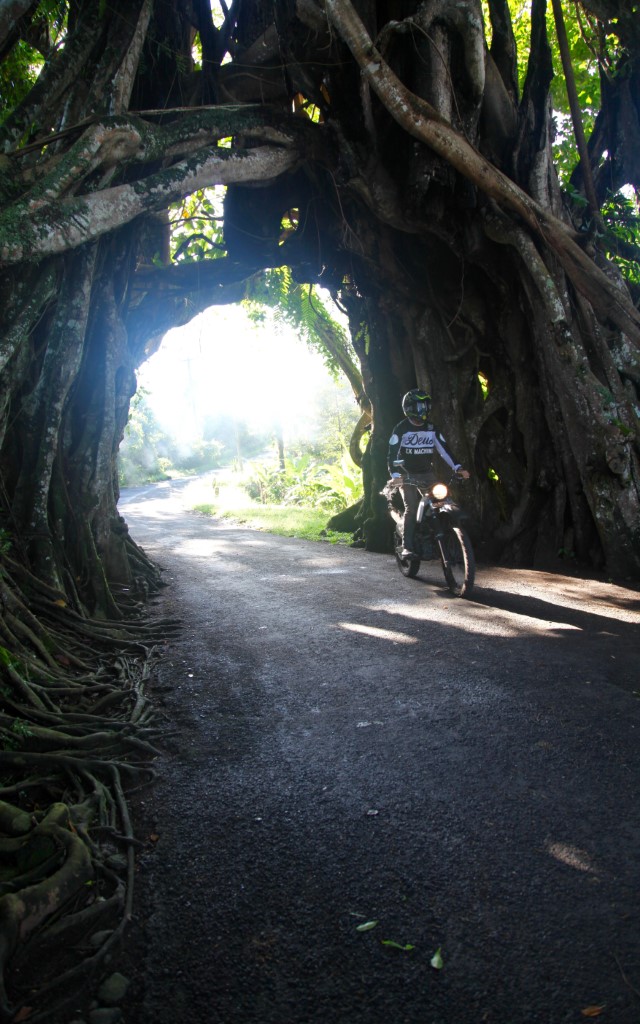 He's deaf and dumb, he can only mumble and then again only in Indonesian, which I don't understand. Then he pulls out a packet of pink raincoats and it becomes clear he's selling them at the bargain price of $3 each. I buy one, more so out of charity than desire to be seen riding around in a pink raincoat.
But when the rain refuses to relent, I throw on the raincoat and give the Deus a whirl. Surprisingly it keeps me semi-dry and I'm able to continue riding despite the rain all the way to Gilimaluk. 
The ferry terminal is huge and looks like an international border crossing. Before going in I have to visit a police checkpoint, where a copper asks to see my registration papers.
Then it hits me. In all the excitement, I forgot to ask the hipster Deus for the registration papers – and without them I can't cross to Java! Making matters worse, the copper, who has now taken me into an interrogation room, reckons I'm up for a fine of half a million rupiah!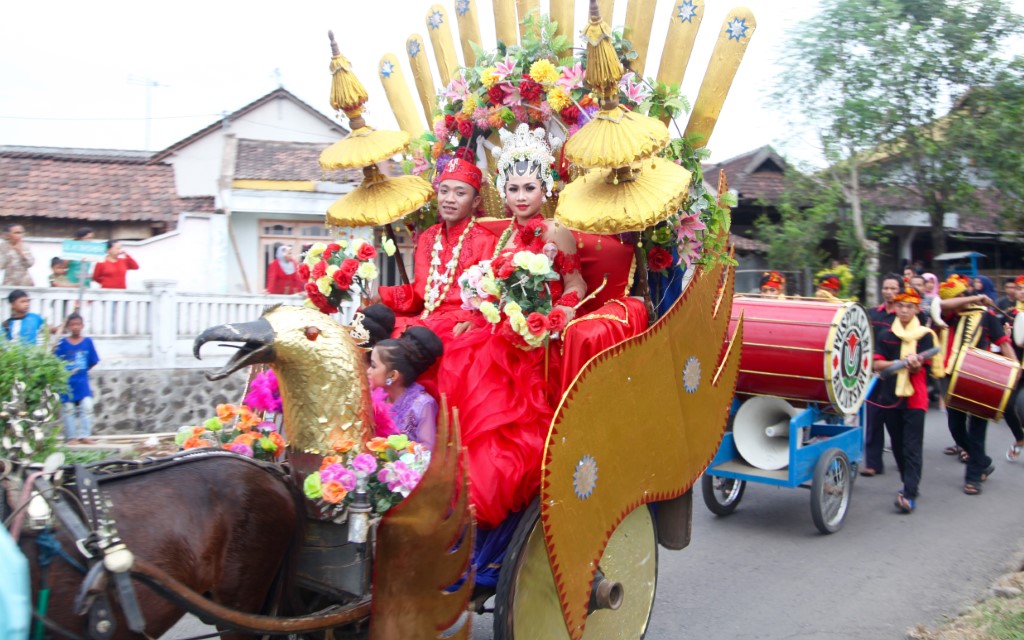 I do the maths and covert the figure. It comes to only $50 – a princely sum for your average Indonesian but no big deal for me. I'd spent a grand and change getting this far and if $50 gets me out of trouble, it's a bargain. I pull out my wallet and lay the cash on the table.
The copper looks at me all disappointed-like, as though he were looking forward to an argument, before begrudgingly writing out a receipt, stamping it to make it official and letting me go.
The Crossing
An hour later I'm sailing across the Bali Strait on a rusty old cargo ship. Indonesia is the world's largest archipelago nation and ferries are a popular and cheap way to get around it. But safety regulations are poorly enforced. Less than two months ago, a ferry sunk here and five people drowned. 
Fortunately, my ferry makes it to Java in one piece. Unfortunately, the rain refuses to stop, spoiling my fun as I zip down south along the coast before veering west and sprinting into the hills.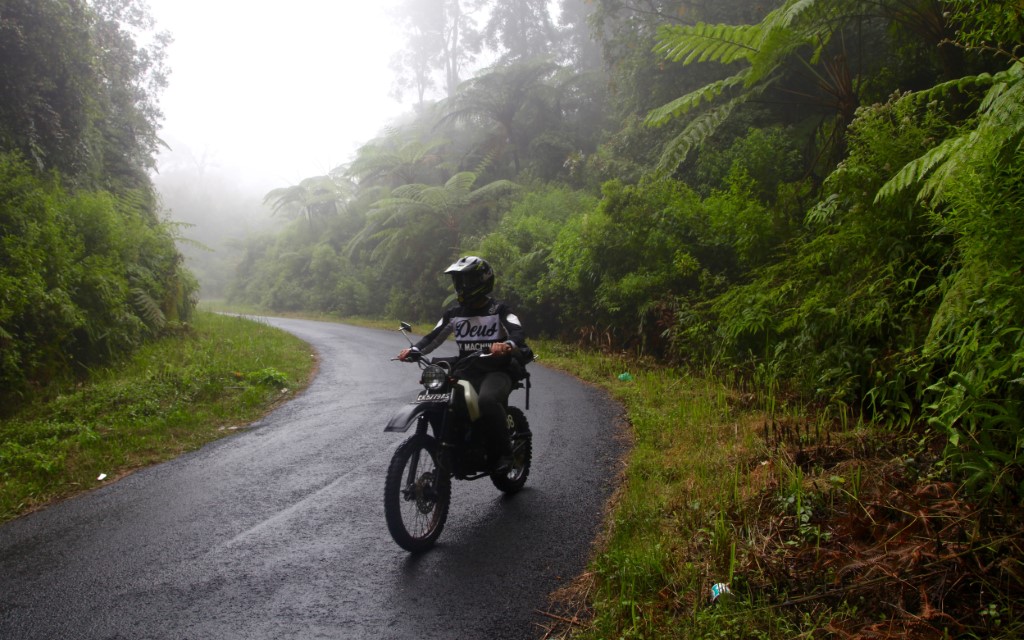 As the road climbs higher, signs of life on what is the world's most heavily populated island become fewer and farther in between. Within an hour I find myself deep in the highlands, the sky thick with mist and no one around at all. I then enter a thick, thick rainforest, a prehistoric place where giant bristly ferns trees and tall hardwood trees nearly black out the sky. 
I'm shivering with cold when I reach Ijen base camp. I try getting a room in the rest house but it's full. Instead I hire a small tent and sleeping bag from a little shop, where a nice lady called Alice lets me sit by her bonfire. She even makes me a packet of prawn-flavoured instant noodles to warm my insides. A simple remedy, but it works like a treat.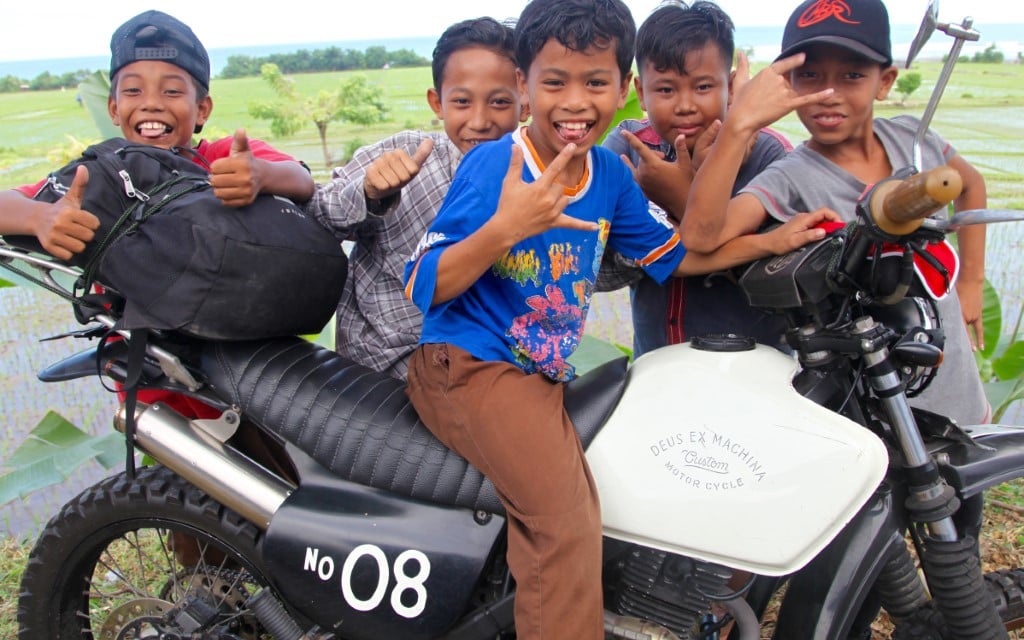 By 9 PM I'm tucked into my tent planning the final leg of my journey. According to Alice, I'll need two hours to climb to the top of the Ijen plateau and another hour to descend into the crater to see the Blue Fire. The sun comes up at 5 AM, so I'll need to be dressed and ready by 1 AM – less than four hours away – in order to get one hour's viewing time of the Blue Fire before dawn. 
As I lay back and close my eyes, I think about all the people back home that tell me they wish they had more adventure in their lives. Yet I wonder how many of them would have the gumption to do what it takes to pull it all together: ride in the rain for hours on end, place blind faith in a leaky ship, camp out in the cold and trek for three hours at night into the heart of an old volcano? All of that, just to see a blue flame. 
---
More Information
Medewi Surf Homestay on Bali's mid-west coast has fanned rooms for $20: www.medewisurfhomestay.com
Deus ex Machina's Temple of Enthusiasm in Canggu makes great burgers and bikes, with free live music on Sunday nights: www.deuscustoms.com
To learn more about Ijen Crater and the Blue Fire visit the official website: www.indonesia.travel