James Oxley hits the road with his newly-divorced mate, Pierre, but can the thrill of a European tour mend a broken heart?
Just like your first love, I'm told you never forget your first motorbike. Mine has 24,000 miles of memories etched into my mind forever. But pulling out of yet another overtake on a steep Alpine road, there was a nagging feeling in the depths of my stomach that my beloved Honda CB500X and I were growing apart. 
The plucky engine poured its heart and soul into providing the power my greedy wrist wrenched for, but its 47 bhp just wasn't enough to conquer the steep Swiss incline in time. I was forced to throttle off and slip back into the line of traffic moments before a fast-approaching camper van whooshed past in the opposite lane and hurtled downhill. 
I tried not to blame my motorbike. It was designed for commuting to work and lazy Sunday rides in the country, not 2,000-mile treks over Europe's tallest peaks in little over a week. Again, that nagging feeling bubbled over. We'd been through so much together, but it was becoming clear we needed different things from life. 
At exactly 5 pm the previous Friday, I switched off my office computer and within minutes felt the subtle vibration of the smooth Honda engine telling me it was ready and eager for an adventure. 
Nine hours, three espressos and two motorway closures later, I arrived exhausted in Deal, Kent, to be greeted at the door of a terraced house by my long-time travel companion and best friend Pierre. He thrust a gin and tonic into my hand moments before I collapsed onto the sofa. Lulled into semi consciousness by the warmth of an open fire, I drifted off to sleep cursing the fact we'd booked such an early morning ferry to France.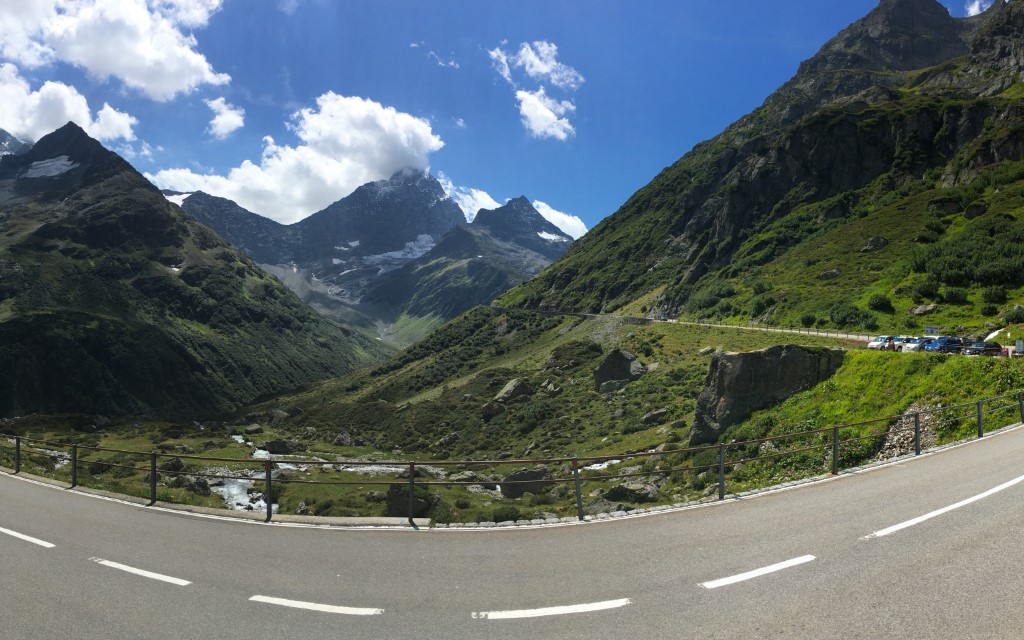 I felt surprisingly awake as we rolled into Calais, buzzing with excitement for the journey ahead. With just nine days until the return boat home, we'd decided to sacrifice exploring northern France and instead programmed my TomTom Rider 410 SatNav to plot a route to Germany's Black Forest.
Our plan was to ride the iconic B500, or simply 'the 500'. We'd been told on numerous occasions this was the best motorcycling road in Germany thanks to its endless sweeping curves and perfectly smooth surface. In my mind, I'd built it up to rival the likes of the USA's Route 66 or Australia's Great Ocean Road and I was itching to find out for myself just how good it was. 
Before sampling the delights of the 500 we had some distance to cover. We were merely cruising through France and Belgium towards the German spa town of Baden-Baden, the gateway to the 500, when it suddenly hit me. I was swamped by a tidal wave of exhaustion.
My brain simply stopped functioning properly and it took a worrying amount of concentration to simply stay in the correct lane. Over the past 30 hours I'd completed a full day's work and ridden around 650 miles, snatching only four hours sleep.
I was knackered and needed to stop. After garbling something to Pierre over the intercom, we identified a nearby German campsite a few miles outside Saarbrucken and a made a final push for it. 
With one last burst of energy I picked my way over a rutted stone and mud track leading through a forest to the campsite. Standing on my pegs, I relished the feeling of the Pirelli Scorpion Trail tyres slipping over the loose surface below. Despite my tiredness, the thrill of turning off the road and venturing down an unknown track could still be felt, even if the experience dulled by a soggy mind. 
On reaching the campsite, we were greeted by a stench of sewage coming from the toilet block right next to the pitch we had been allotted by the less-than-friendly proprietor. I was too tired to care. It was time to sleep.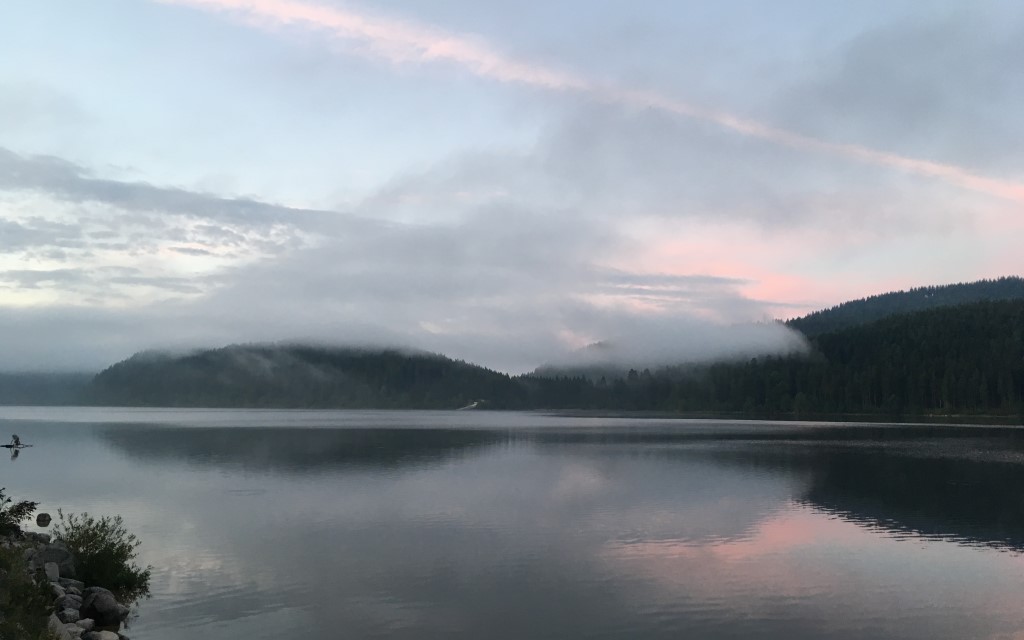 Waking refreshed but to the same ghastly smell, we packed up early, itching to discover the fabled 500 for ourselves. While it may not quite be Route 66, my God the 500 is a wonderful road to ride.
Long, sweeping curves linked together seamlessly for mile after mile, the road's silky-smooth surface enticing our tyres to gorge themselves on the obscene levels of grip on offer. Pierre rode ahead, also on a CB500X, carving a beautiful, free flowing path through the Black Forest, sweeping past cars and camper vans with ease.
These weren't the steep hairpins turns of the Alps. They didn't need to be. This was effortless cruising through Europe feeling liberated by the joy of motorcycle travel. 
I strongly believe travel by any means is a potent antidote to the stresses and strains of modern life. Proof of this came in the form of Pierre's beaming smile as he took his helmet off at Mummelsee Lake, an emerald green body of water perched 1,000 metres above sea level.
My friend had recently separated from his wife, his first love. To be brutally honest, the split had broken him. He'd become a shadow of the spirited, mischievous, sometimes infuriating, but always kind-hearted person I'd come to know over the past decade of exploring the world together.
That moment, soaking up a glorious view of the Black Forest was the first time I'd seen him truly smile in months. Motorcycle travel hadn't cured his ills, but it was certainly helping to fix him. 
Keen to sample the culinary delights Germany had to offer, we each wolfed down a currywurst (sausage in curry sauce) in an overpriced and horrendously busy lakeside cafe. The novelty of staring at the coach loads of tourists milling around got old quickly and we were about to escape when a group of people asked Pierre if they could take a photo of his bike.
Somewhat bewildered, we both looked on as photo after photo was taken with his CB500X, while a string of Ducati, BMW, Harley Davidson and other premium brand motorcycles stood a few feet away, completely ignored. I was desperate to find out why Pierre's little Honda had aroused such admiration, but none of the group spoke a word of English. 
We cruised the 500 for the rest of the day, basking in the knowledge we had no destination to reach and no deadline to meet. Life was simple. Keep moving forward to discover what's around the next bend. We made a short stop at the tacky tourist town of Triberg which makes a huge deal of celebrating cuckoo clocks.
Somewhat weirded out by the whole affair we grabbed a quick coffee, took a look at the rather beautiful waterfalls and let the road lead us south again. Eventually tiredness kicked in and we pulled over at a campsite next to the 500, nestled on the shores of the beautiful Lake Schluchsee.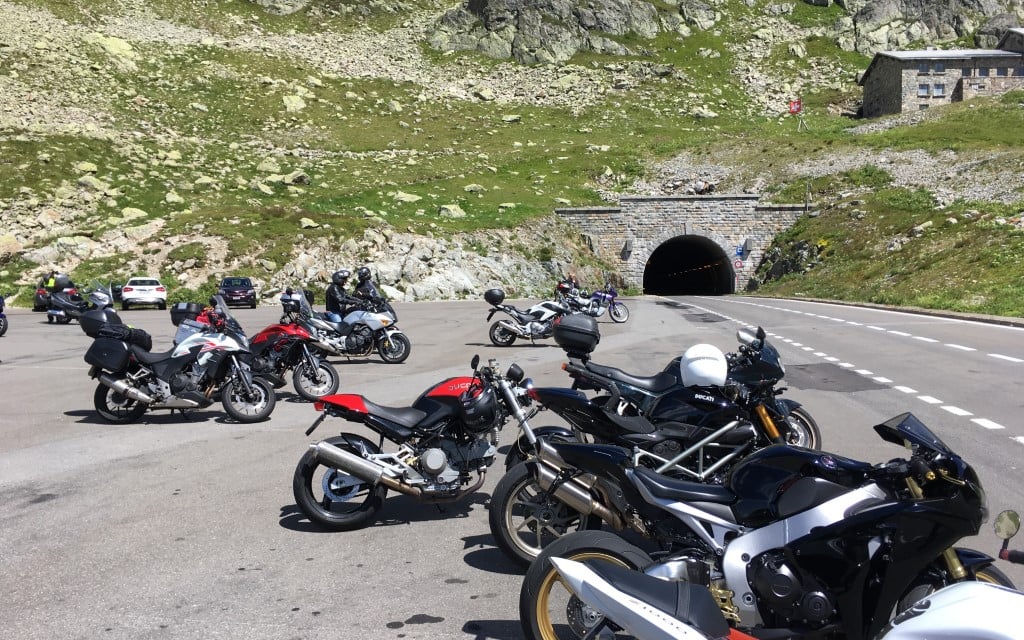 The next morning, I heard Pierre get up before daybreak. He was gone for a couple of hours and I left him alone. There's a time to talk and there's a time to reflect. I hoped feeling the warmth of the sun rising over the shimmering lake waters would help clear some space in his head. Even if it didn't, he couldn't remain glum for long. Today, we were heading into the mountains! 
Earlier in the year, my heart had ached as I dashed across Switzerland. I was forced to ignore signs for the likes of the Furka and Grimsel Passes in a bid to make a ferry home that my girlfriend and I had left far too little time to catch. I promised myself then I'd be back, and so it was that Pierre and I found ourselves crossing the border into Switzerland at Koblenz, ready to let rip on the best roads the Alps had to offer. 
People are usually aghast when I tell them I hate rollercoasters. Hurtling along a twisting track with no control over your fate to give the illusion of danger. It holds no appeal. But riding into the mountains that day made me feel like a kid walking through the gates of Disneyland. The mountains are a theme park for bikers. Its roads are your own personal rollercoaster, with the added thrill you'll probably die if you get a bend wrong. 
We spent the next few hours leaning into hairpin turns, scraping pegs and snatching glances at pristine vistas before snapping our attention back to the road. Riding a smaller capacity bike on mountain passes means using the entire power range.
My CB500X screamed at me each time I dropped down a gear, engine breaking as I approached yet another gorgeous corner, keeping the throttle steady in the lean until that magical moment I could open her up and accelerate through the bend. The mighty Furka and Grimsel Passes went by in a kaleidoscope of tight turns, gear changes, overtakes, braking and rushed waves at the hundreds of fellow bikers on the road.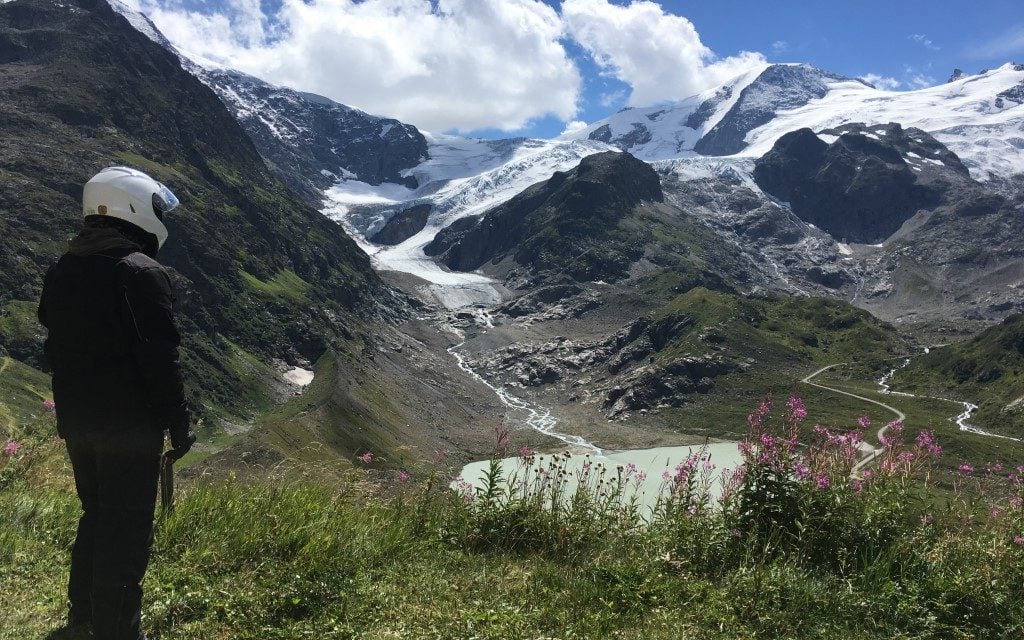 The bike was eager to please, but the weight of two loaded panniers, a top box, tent and camping gear meant I had to keep the revs high and be spot on with gear selection up the steep inclines. On a clear road I was in wrist-aching heaven, but all to soon I would come up behind a dawdling row of cars and RVs. I just didn't have the surge of power required to slip past the traffic like the larger capacity machines ahead of me. 
As I failed to complete yet another overtaking opportunity, a mixture of frustration and mechanical sympathy clouded my mind. I was asking my little Honda to compete with sports bikes and adventure tourers with more than double the engine power.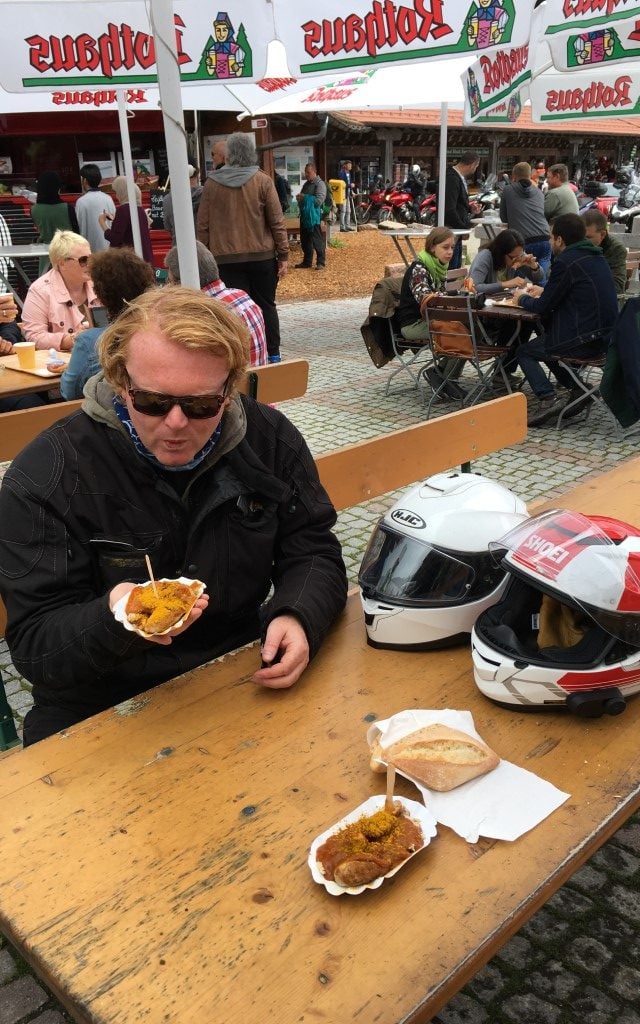 I could have simply slowed down, but I had become a speed addict, desperate to feed off the release of adrenaline surging through my brain as I leaned further and faster into each new turn. 
I could see Pierre having similar overtaking issues ahead and I winced as he escaped being wiped out by an oncoming car by milliseconds. 
"You lucky bastard," I called over the intercom. There was silence for a few seconds. 
"Fuck me," he finally replied. 
A few minutes later we sat atop the Grimsel Pass in Switzerland sharing a plate of outrageously overpriced chips (11 Euro), joking about avoiding the seemingly inevitable middle-aged motorcycle purchase, the BMW R1200 GS.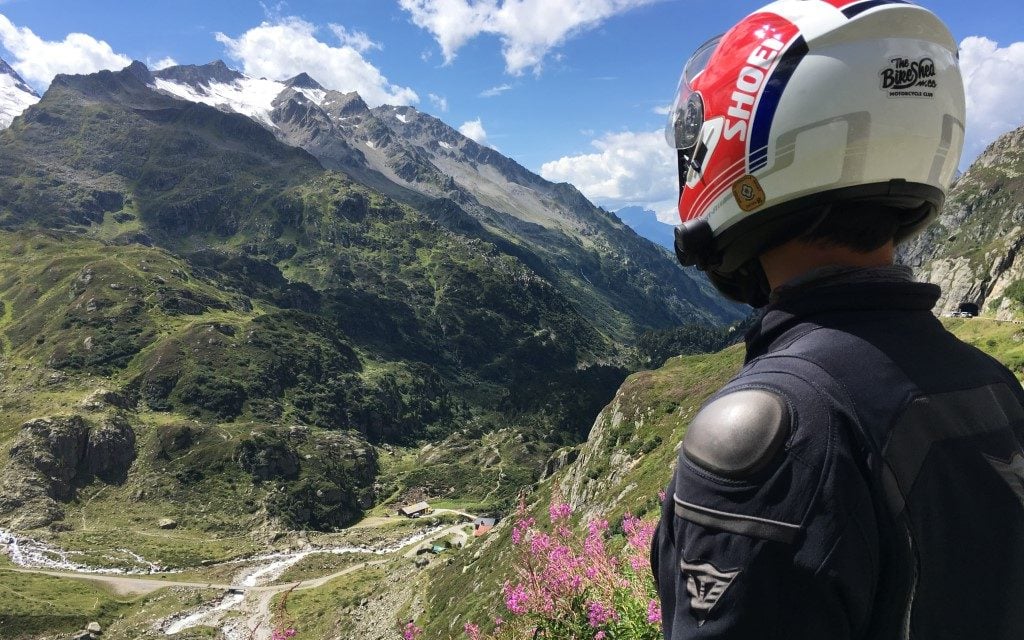 We needed to decide where to go next. Riding these incredible mountain passes had been immense fun but there was something nagging at me. I was ignoring the world around me in pursuit of the adrenaline hit each new turn would bring. Surrounded by so many bikers, it felt more like a track day than a motorcycle adventure. I'd had an incredible time, but I was itching to leave the masses behind and tread my own path. 
"Do we ride to travel, or do we travel to ride?" I mused, immediately regretting trying to sound profound. Pierre sighed and opened up Google maps on his phone. 
"Italy doesn't look too far away," I said, mentally tracing a line over the mountains to the land of passion and beauty. 
"Let's go for a swim in Lake Como," I added. "George Clooney lives there, so it's got to be nice." 
I'm not sure if it was George's seal of approval or the thought of belle signore riding blood red Ducati Multistradas, but Pierre agreed and we careered our way through the mountains to Italy. I don't why I love Italy so much. The roads are crap, the buildings often crumbling, and the drivers are awful, but my God it's a beautiful country full of people whose intensity of emotion about life is delightfully addictive. And the coffee is the best I've ever tasted. 
Winding our way around Lake Como, I couldn't help but be mesmerised by the shimmering expanse of water. It was ringed by luscious green hills and terracotta villages perched on the shoreline, dwarfed by distant mountains.
But by far my favourite part of Lake Como was the narrow little road that snaked its way around the edge, similar to something you might see on the Amalfi Coast. It was so much fun overtaking battered little cars and fashionable looking couples on scooters who seemed to pay little attention to the rules of the road. It was exactly how Italy should be. 
We were heading for a ferry which would take us to Bellagio, a beautiful town protruding into the middle of the lake on a peninsula. Gemma, a friend of mine back home had mentioned she'd stayed at a campsite in the town, so we decided to give it a try.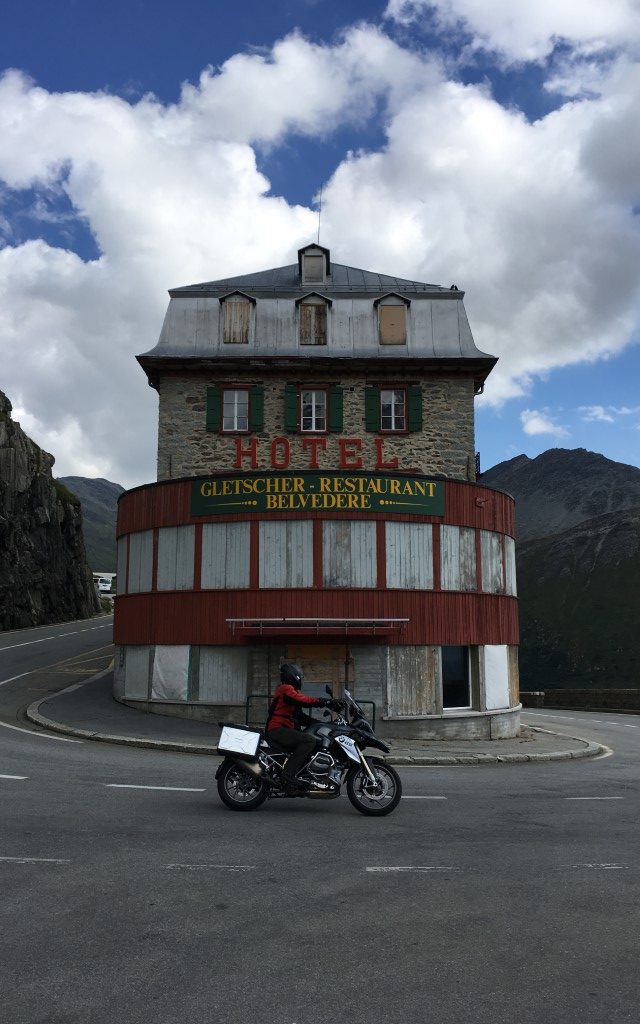 "What's the campsite called," Pierre asked, after we had ridden off the ferry into Bellagio. 
"I haven't got a clue," was my honest reply. 
We asked a passerby where the nearest campsite was but they looked blank. Had I misheard Gemma? I was sure she said she'd visited Bellagio, but she does talk a lot so maybe I'd heard wrong. 
"Hello," said Gemma's slightly bewildered voice on the phone from Cornwall. "Aren't you meant to be on holiday?" 
The good news was the campsite she'd stayed at was in Bellagio. The bad news was she too had forgotten the name of it, but she was able to give us some shaky directions. 
We wound our way up a hillside along narrow little roads until we finally found Camping Clarke. It was a slice of paradise ran by an English woman and her Italian husband. The view overlooking Bellagio and Lake Como was exquisite.
We put our tent up, had a cold beer and soaked up this perfect little corner of the world. For me it was camping at its very best. Small, relaxed and sociable, surrounded by friendly fellow travellers in tents and classic camper vans. 
Strolling through the narrow, cobbled streets of Bellagio that night, I soon realised we had stumbled upon the most romantic town in Italy. Everywhere you looked couples walked hand-inhand, smooched in the street and sat lovingly on cobbled steps listening to music hanging in the evening air.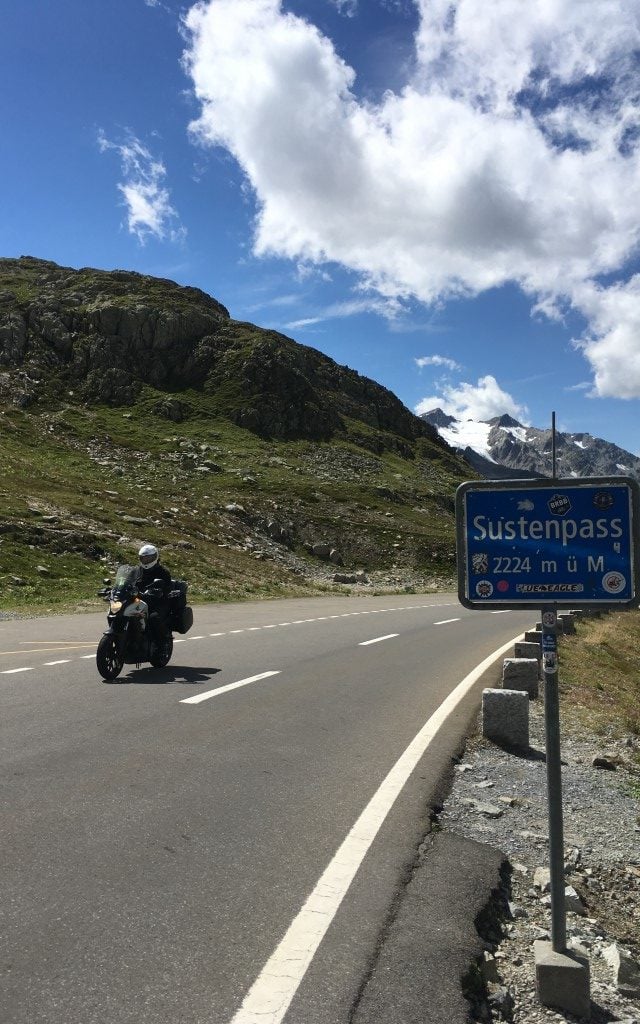 It became clear this was not helping Pierre's state of mind as I watched him cry into a plate of pasta at dinner. Gazing around the dimly lit courtyard at our fellow diners, all I could see were couples staring lovingly into each other's eyes, a haze of sexual tension permeating the air. I turned my attention back to Pierre, his crumpled face burning crimson in the glow of candlelight burning between us. 
I couldn't help but think I was in part to blame for this catastrophic downturn in his state of mind. After all, I had brought a man newly separated from his wife to this epicentre of romance on the shores of Lake Como. I wracked my brain for something comforting to say, words of encouragement to ease his emotional trauma. 
"It could be worse mate," I ventured meekly. "We could have gone to Venice." 
The next morning, we plunged headfirst into the cool refreshing lake waters. It was impossible not to feel at peace floating on my back, gazing up at a brilliant blue sky. It really was a special place. 
Shrieks of fear and delight accompanied our lunch as we watched a group of kids leap into the lake from a floating platform, the bold among them encouraging the timid to take a leap of faith and experience the joy of plunging into the unknown. 
I could have spent the next few days lazing on Lake Como if it wasn't for that nagging curiosity demanding to know what's around the next corner. Some romanticise it as the 'call of the road'. My mum tells me I've got itchy feet. It's why I ride a motorbike, because there's no better way to round that next corner than leaning into it on two wheels. 
We fancied riding west to the Stelvio Pass, but the weather forecast was predicting heavy thunderstorms in the area for the next couple of days. 
"How about Milan?" I asked as we poured over Google maps. "David Beckham lived there for a while," I added inanely. 
Knowing nothing about football, Pierre asked: "Isn't he the bloke who took a Triumph Bonneville to ride through the Amazon rainforest? Poser." 
And with that the decision was made. Now I've got a guilty secret to tell. I love motorcycling through cities. I find the energy of passing through the lives of thousands of people infectious. The thrill of slipping through traffic, senses heightened by 360 degrees of madness, intoxicating. I even enjoy puzzling my way through a maze of narrow streets.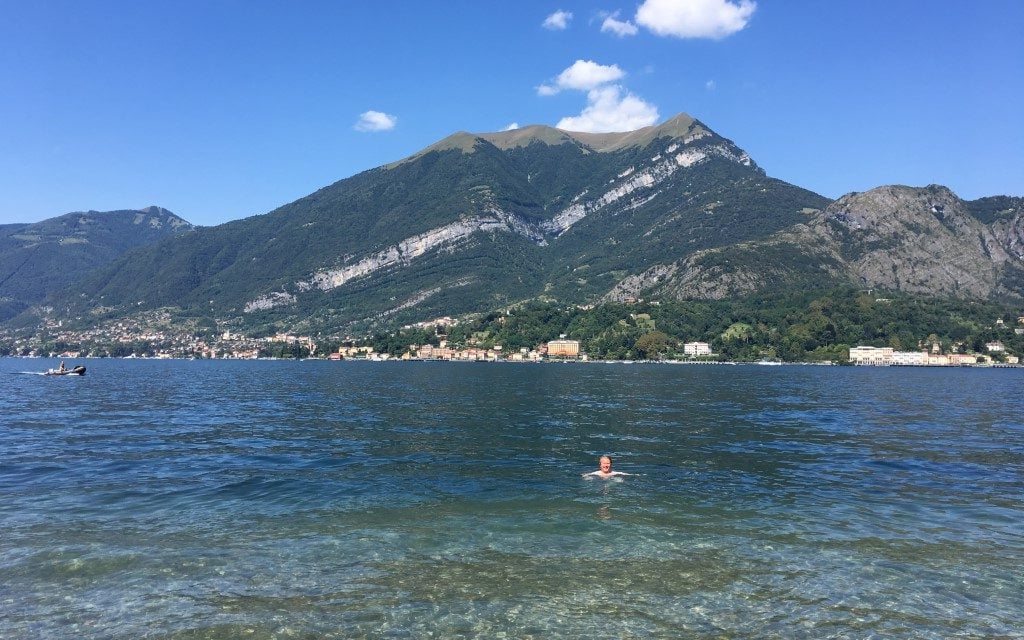 But riding into Milan was a very different experience. The city was empty. The streets eerily deserted. It was like an episode from The Walking Dead without the zombies. We rode along an arrow straight boulevard for what seemed like miles. Our only company was a guy riding a Harley Davidson. Three bikes accelerating and stopping between endless sets of traffic lights in a deserted city. It was like Milan had been evacuated. 
As we entered the historic centre, we finally came across a little hustle and bustle. Milan is a beautiful city and it was a privilege to wind our way through narrow streets, open boulevards and city squares, all boasting beautiful architecture.
We finally found our hostel down an ancient narrow street, parked up and sank a cold beer. Life was good. Locals told us we had stumbled into Milan on a national holiday, the Feast of the Assumption of Mary which celebrates the Virgin Mary's death and bodily passage into Heaven. It explained why the city had seemed so empty.
We had another beer but neither of us was in the mood for a big night out. I hoped the Virgin Mary didn't mind. 
The following day represented that pivotal moment of the trip when we had to turn back and start heading for home. I could sense Pierre's mood drop as his mind became clouded once again with the turmoil he'd have to face back in the UK. However, in reality we were only just over half way through our time away and we had a lot of new places to explore yet. 
We decided to head for Chamonix, a town in the French Alps nestled in the shadow of Mont Blanc. We rode north west out of Milan toward the Biella province of Italy, following the wiggliest roads on the map we could find. It wasn't long before we stumbled upon some of the most perfect riding I have ever experienced.
Beautiful twisting roads snaked their way up and down hillsides for mile after mile, interspersed with quaint little towns and villages. Our eyes gorged themselves on lush green vistas stretching to the horizon and distant views of mountain tops. 
The region felt as though we had left the world behind and travelled back in time 50 years. It truly was authentic rural Italy. The roads were not in the best condition, but that just added to the adventure as we leant into turn after turn.
The difference between this and the Alpine passes was that we had these roads all to ourselves. Periodically we would stop and simply soak up the natural beauty around us, content to say little to each other.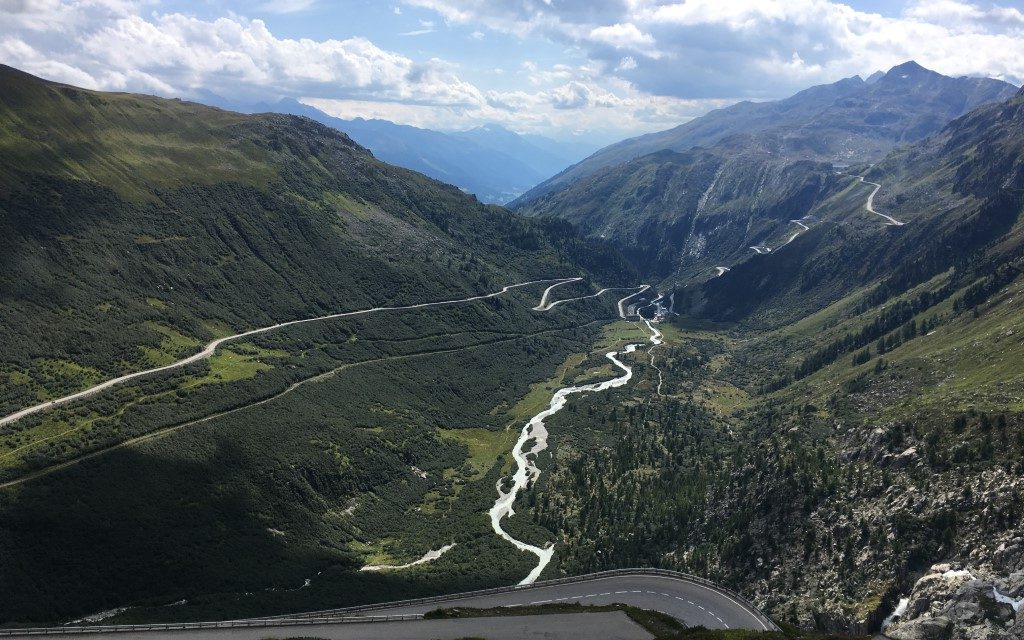 The only downside was my aching legs and numb bum which were complaining after a thousand miles or so in the saddle. The CB500X is physically smaller than a lot of the big adventure bikes, which is fantastic when you're throwing it around off-road, but the rather acute leg to foot peg angle is not the most comfortable for intense periods of cross continental travel. Again, I felt the pull of a larger bike tugging at my heartstrings and wallet. 
But it's amazing how a combination of mountain roads and Nurofen can cure even the most aching bottom. The pain had all but disappeared as we crossed the border into Switzerland riding over the Great San Bernard Pass, savouring yet more sumptuous views and revelling in the feeling of having ridden to the top of the world once again. 
As usual we forewent the main road and followed the wiggliest route we could find on the map to take us into France and to Chamonix. This turned out to be both a blessing and a curse. Turning off at the town of Orsieres, we ventured onto what became the twistiest road I have ever ridden.
It became an orgy of peg scrapping around the tightest bends known to man. My left hand ached like hell and I could feel my rear brake wearing thin. It was wonderfully technical road riding, but I admit to savouring the short stretches of straight road in between turns, simply to give my body and mind a rest. 
We reached Chamonix in the early evening and checked into my favourite campsite in town, Camping de l'Ile des Barrats. It's a relaxed place with clean showers and a friendly crowd of people enjoying being outdoors. You also get a wonderful view of a glacier from your tent.
We knew we were in the right place when we pitched our tent next to a KTM 1090 Adventure and BMW GS800. The KTM was a beast of bike fully kitted out for off-road riding. We looked on jealously. The bikes were owned by a Dutch couple, Koos and Monique, who spent their holidays each year riding through different parts of the world.
They were fantastic people and we were soon swapping tales of the road and motorbikes over beers then whisky late into the night. 
I particularly remember the look on Koos face as he talked us through his motorbike history, relishing the memories of each one as if they were a lost lover. He had a particular twinkle in his eye reliving past rides on Ducatis. 
"Like a beautiful woman," he said. "Gorgeous and fun, but they cost you a lot of money? And when it gets rough off-road, they fall apart." 
We took a day off in Chamonix, drank coffee, slept in the sunshine and marvelled at the world around us. A day with nothing to do is a rare privilege in my world and I made the most of mine by doing very little. It felt glorious.
But soon enough it was time to hit the road again and head for home. Before leaving I somehow managed to bend my ignition key in one of my pannier boxes. Thankfully, I always carry a spare abroad and after I remembered where I had stashed it, we rode off amid waves and smiles from our new friends.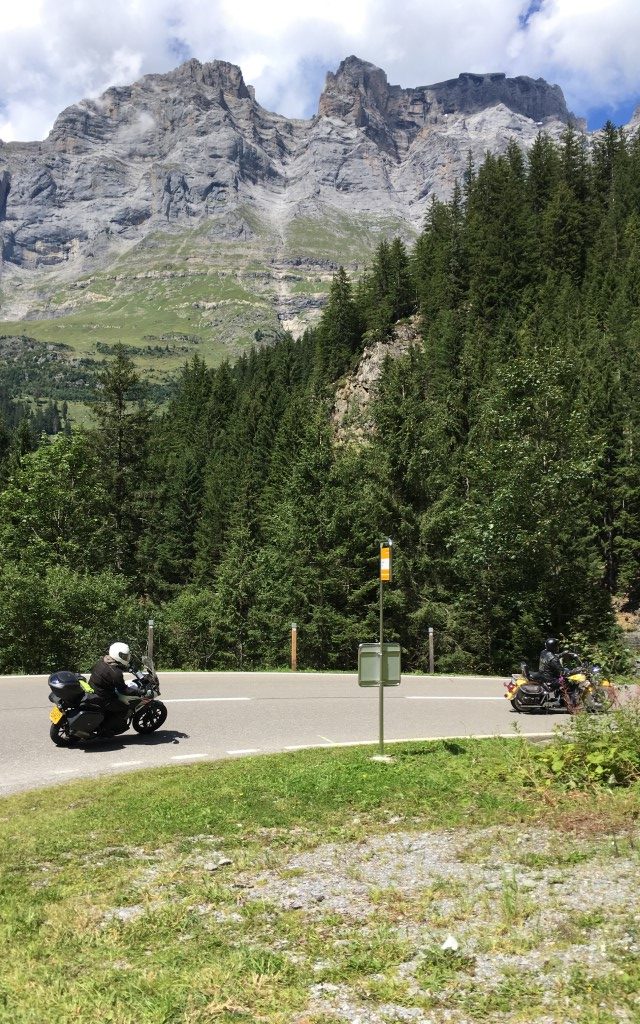 We blasted up the fast roads through Switzerland, passing through a very affluent and clean Geneva, around the tip of the famous lake the city stands on, before crossing the border into France for the last time on our journey.
We sped through rural France throughout the day, camping next to a lake somewhere in the national park north of Nemours. I honestly couldn't tell you exactly where it was because I didn't bother to look at the time. We sat eating a pizza by the lake contemplating what had been and what was to come. 
Pierre's mood had dropped off the scale. I could see he was trying to appear upbeat, but he was drowning in misery and there was nothing I could do about it. 
"I think it's being closer to home," he said. "It brings you back to reality. Although I haven't been able to stop thinking about things the whole trip. It just numbed them a bit when we were exploring new places."
 It's tough to know what to say when a friend is in such a dark place. My solution had been to take him away on a motorbike trip, but it was now clear that could only been a temporary fix. 
"I guess no matter how far you travel," I said. "You always wake up with the same person – you. You can't escape your own mind." 
As we lazed in the sunshine queueing for the ferry at Calais, a man from a nearby people carrier walk over and struck up a conversation about our bikes. 
"How do you find your bikes for touring? What can they do – 60mph on the motorway?" 
Resisting the temptation to tell him Ted Simon rode around the world on 500cc bike, I replied that the CB500X cruises comfortably with luggage at 80mph. I refrained from talking about the experience of accelerating to overtake at that speed.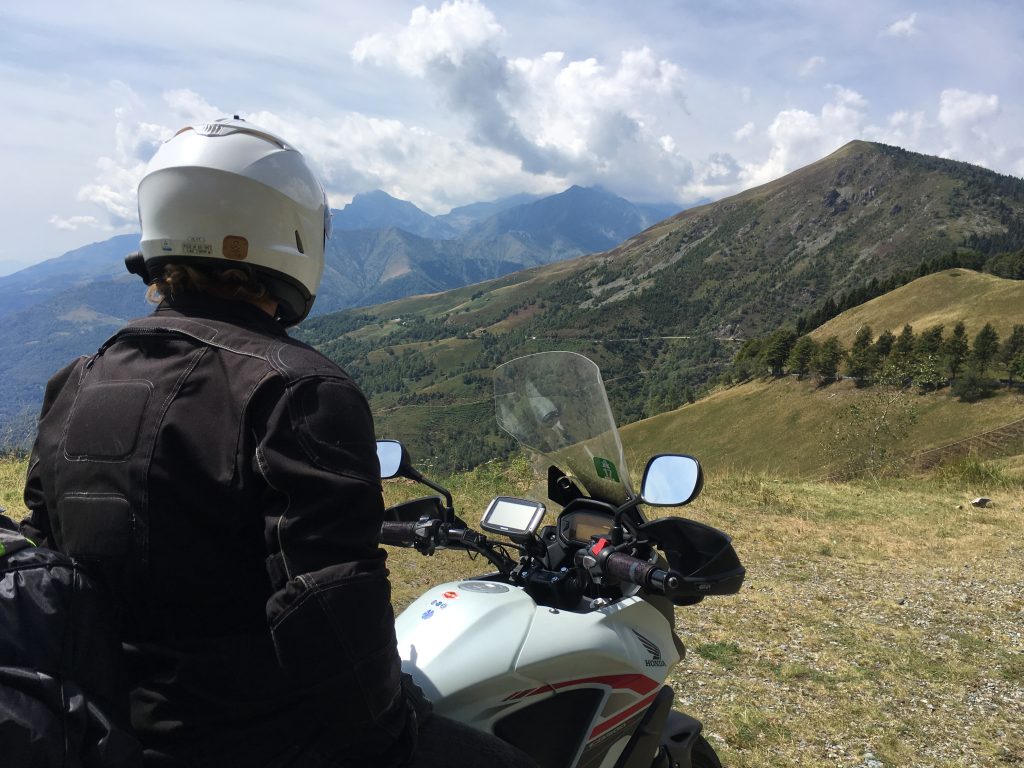 "I ride a 750 but would want a bigger engine if I ever go touring in Europe," the man said. 
Bored of the conversation already, I asked if he had ever taken his motorbike any distance. 
"No," he replied. "My wife wouldn't let me." 
Suddenly feeling very grateful I have an understanding fiancée at home, I patted my 'little' motorbike and thought about all the distant places it had taken me without complaint. It also made me think, the best adventure bike is the one you own, the one in your garage you can jump on today and go discover unridden roads.
Any bike will do. It's up to the rider to add the adventure. I suddenly felt a bit stupid for yearning for a bigger bike so much over the past week. 
I turned to Pierre: "It could be worse mate. Your wife could have stopped you from riding your motorbike like that bloke." 
Pierre paused for a moment before replying. "She did tell me I'd have to sell my bike if we ever had kids," he said. 
And then with a glint in his eye added: "That may have been the beginning of the end."