It's been 20 years since editor Alun Davies rode on Irish lanes, but now he's back, with a BMW GSA 1200 and his old mate, Death
Death paid me a visit on a warm, late-summer evening in 2011. As I stood next to the GSA, looking out over the Vale of Evesham from a north-Cotswolds hill, he told me, 'You're going to die,' in a voice that sounded very much like my own.
He then went on to say, 'This life of yours has rolled way over the half-way line, and you're not going to have another, so you'd better get the hell on with it and ride on over to Ireland.'
At 52 these 'touching mortality' moments happen every now and again, but not in the morbid way you could be forgiven for thinking. They focus my thoughts and help tap the energy and conviction needed to do the things I've been meaning to do but would otherwise have put on the back burner and never got round to doing. They also inspire me to go on a diet and with great expectations buy jeans with a smaller waist size; they also make me think very seriously, but not earnestly enough, about returning to the gym. I have a monumental pile of unworn 34-inch jeans if anyone's interested.
I see Death as my ultimate alarm clock, a reminder that there are bikes to ride, places to go, people to meet, adventures to be had, there's Guinness to be drunk and a zimmer frame to forward order. In short, he helps me justify (to those I need to justify it to) a big chunk of my time and even suggests the next overseas destination. What a helpful guy.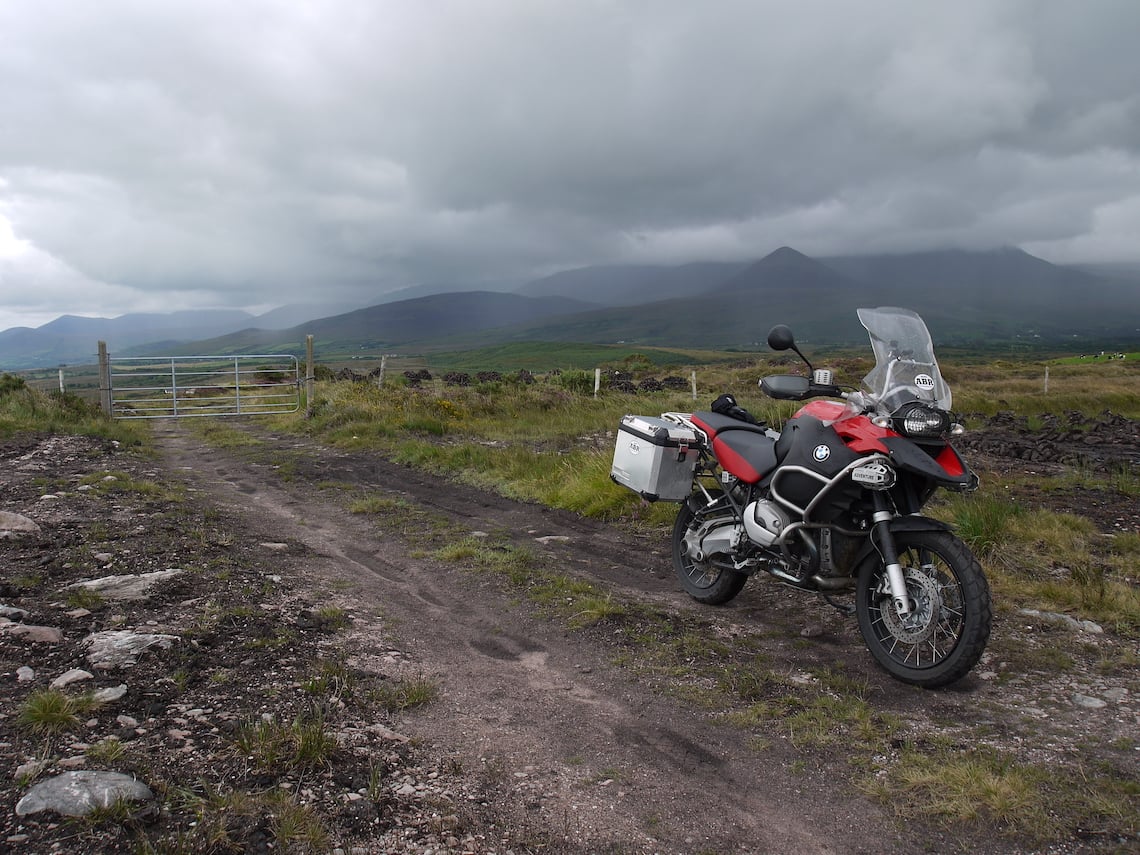 Close encounter
Three weeks after my flirt with the grim reaper it was the morning after a heavy night on the black stuff in Killarney in the south west of Ireland. And it was looking as if my mortality was about to be questioned again, only this time by the physical presence of a rural representative of Co Kerry.
Somehow (that's the only/best excuse I can think of right now) I'd managed to end up on an off-road trail cutting through the middle of the mountains called Macgillycuddy's Reeks. The sign in the hedge up ahead was way-marked The Kerry Way, which I knew from many years plodding around in hiking boots was a walkers-only path. What's more, the extra large, fit-looking guy striding purposefully towards me from a farm just across the field looked as if he was about to remind me, in no uncertain terms, of that fact.
"I've been looking at getting hold of one of those BMWs myself, how are you finding the beast?" he said with a welcom- ing smile on his face.
"Great," I replied, "but the Sat Nav's not so hot."
"That's what the last biker who rode past here told me before I put a few pellets in his arse," he said grinning a little more.
We talked bike and shop for the next 30 minutes with not a single mention of lead shredding my undies and then my newfound friend offered the following advice: "Carry on down the trail and you'll cross the road in about a mile or so; just keep an eye out for the walkers and be sure to take out a few of the feckers with that machine you have there. Now come and have a cup of tea and a sandwich before you go."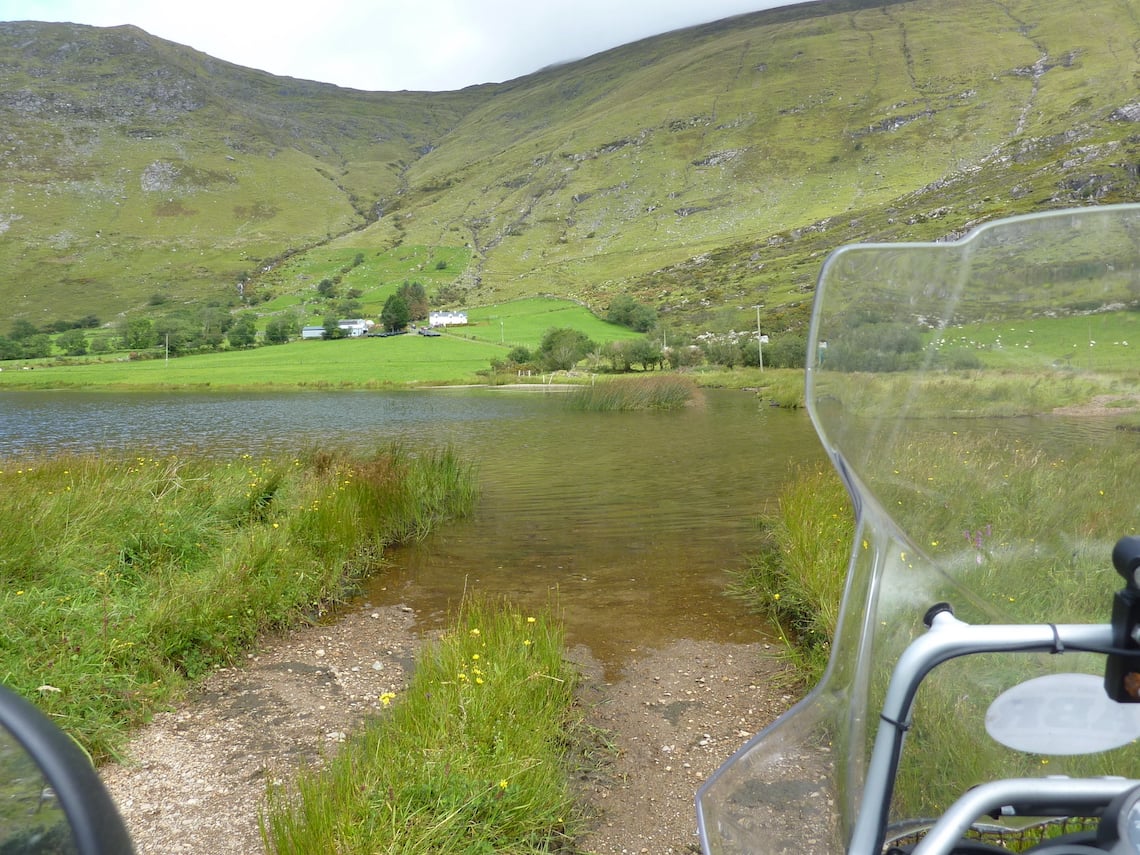 Time to return
The Celtic Tiger had sprung into Ireland and crawled back out bloodied and bruised since I'd lived in the Republic back in the late 1980s and early 1990s. Some say the legendary goodwill and craic of the Irish had gone the same way too. But if that meeting in the spectacular mountains of Co Kerry confirmed anything then it was that the warm, friendly, humorous, live and let live Ireland I once knew was alive and surviving the fallout of the economic madness of the past decade.
My trip to the Emerald Isle was way overdue as it was almost 20 years since I'd moved back to the UK and I hadn't returned since. My job back then had taken me all over the island, from Donegal in the north to Kerry in the south and from Dub- lin in the east to Galway in the west. The country was littered with fond memories that I wanted to unwrap and re-examine and it was time to look up once close friends and re-discover how life affirming it can be to talk shite and fall down.
It was also my first overseas trip on the GSA, a bike I'd recently bought totally off the cuff as an act of friendship rather than because of need or desire. With its magic carpet suspension I reckoned it would be ideal for the roller coaster, pothole-infested ride on the back roads of Ireland – quite the opposite of the rocket ship ZX10 and hard-tailed Harley chop I'd owned back in the day.
The plan was to spend the first night in Dublin with an old workmate, before riding down to the Cork and Kerry mountains for a few days of exploring the hills and lanes on the BM, and then returning via the south coast to Waterford and back up to Dublin for a night with my ex boss. To round off the trip I'd head up and over the Wicklow Mountains via Sally's Gap (it's a mountain pass, not a euphemism for dropping in on an old flame) and on into Wexford and Rosslare and the ferry over to Wales.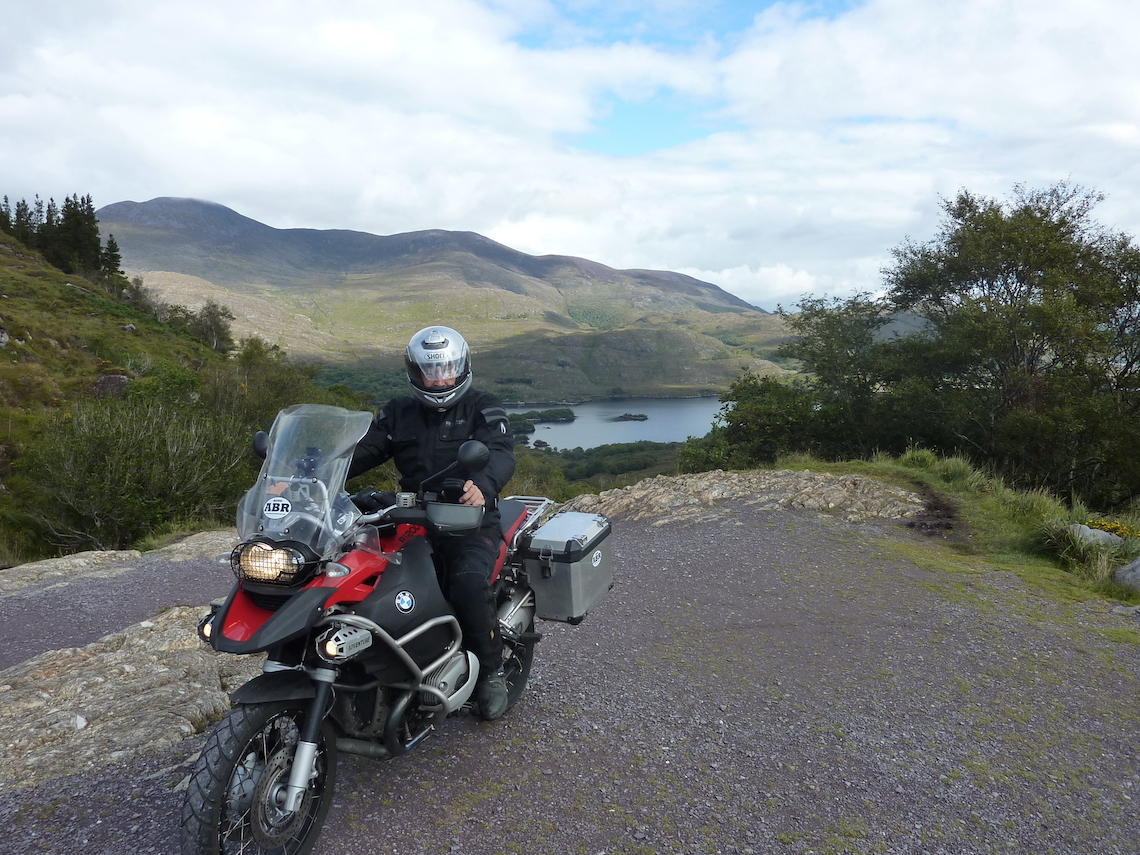 Familiar faces
Riding off the boat into Dun Laoghaire I headed north into Dublin and was surprised at how attuned the old Davies memory was. Sure the place had changed and there were faceless new developments where there were once characterful streets and buildings, but the layout was still familiar even down to taking a few short cuts into Ballsbridge and on into the ever lively city centre.
My old mate Pat, who lives just to the north of the centre, was putting me and the GS up for the night. He was also insistent that I put to rights the fact that, as he put it, I'd not had a decent pint for nigh on 20 years. A couple of hours later I was gulping smooth, velvety Guinness in Fagans Bar, a traditional drinking hole in Drumcondra, within listening distance of Bertie Ahern, a former Taoiseach (Prime Minister) of the country.
I can't say I was particularly surprised at Bertie's presence as 20 years ago, when he was a young, aspiring TD (MP), I'd often see him standing at the side of the road in Drumcondra trying to curry votes in the constituency and Fagans was his local then as it is now. That said, there can't be many countries in the world where a former Prime Minister props up the bar in his long-standing local without a hint of security.
Taking the old road
The next morning I was up and off across Dublin after a white pudding and bacon sandwich courtesy of Pat. Dublin had changed all right. The 'dirty old town' was past the glittering highs of the rocketfuelled property bubble of the noughties but it was plain to see that greed, hope, money, debt and madness had not long passed through. It was even more apparent to the west of the city as I rode the 10 or so miles to the village of Clane where I'd once lived. Back then Clane was a sleepy little village out in the country; now it's almost a suburb of Dublin.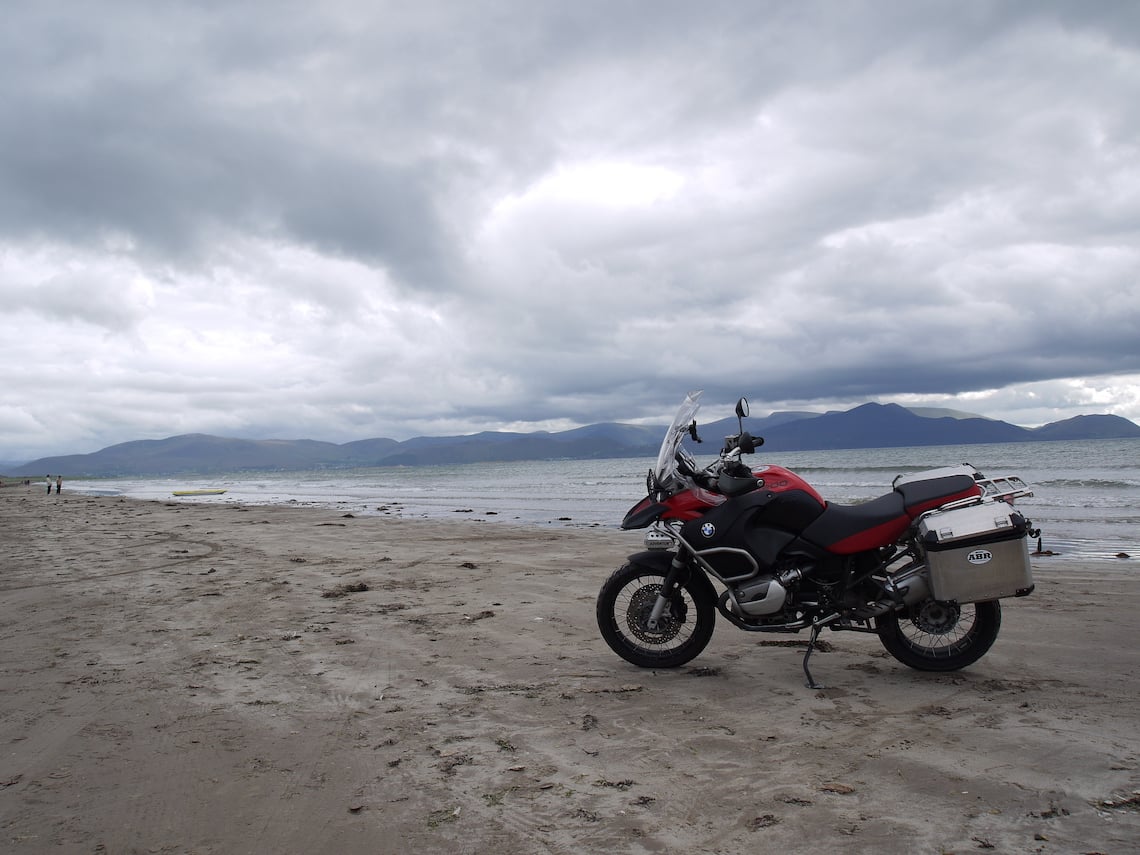 The scale of development was astonishing. Just what were the canny Irish thinking? How could they have possibly found enough people to buy and live in all those new houses without sending marauding packs of house buyer press gangs overseas? And, more to the point, how was anyone going to earn enough money to buy them at those astronomical prices once financial order and prudent lending made an inevitable return? As I was to discover, ghost housing estates are a feature throughout the country.
Heading out of Clane I decided to give the new motorway a miss and head south on the old Dublin to Cork road. It was a good decision. The road was as bumpy and uneven as I remember, maybe even more so, and the GSA was in its element.
I passed by the old maximum-security prison in Portlaoise and stopped off to watch an England v Ireland World Cup warm up match with a bunch of farmers in a bar in Abbeyleix. I rode under the Rock of Cashel, pulled up for coffee in an atmospheric old hunting lodge overlook- ing the Knockmealdown Mountains and played enthusiastically on the fantastic motorcycle roads between Mitchelstown and Killarney.
Biking heaven
Killarney, as I recall, used to be a party town for ageing Americans and (and I always thought this a bit strange) Japanese tourists on 'touching mortality' coach trips around Ireland attempting to discover their Celtic routes. These days it's far more Essex girls on a hen night but there are still enough septuagenarians from over the pond to keep a few bars open and alive with traditional music and craic.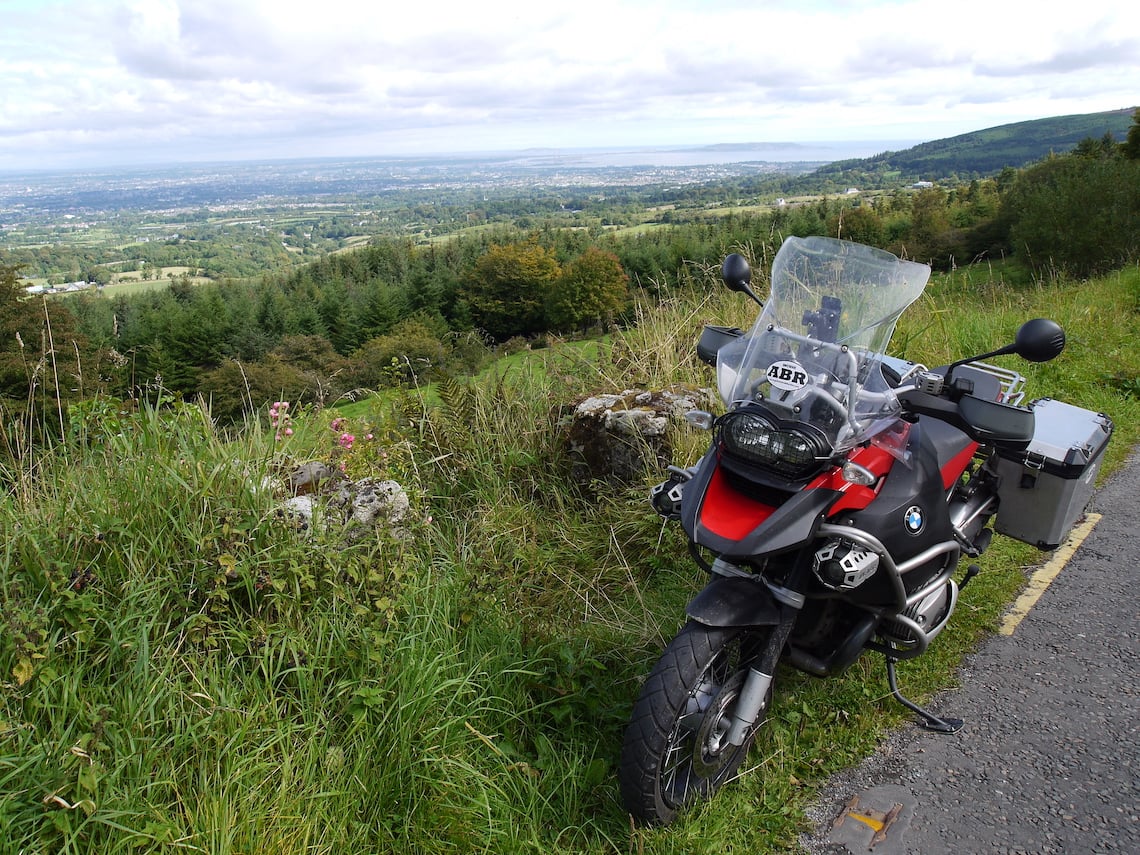 The next two days were biking heaven as I set off to ride the single-track lanes through Macgillycuddy's Reeks. The mountains and scenery in this part of Ireland are on a par with the Lake District and Snowdonia only there's far less traffic once off the main 'Ring of Kerry' road. In parts there was more grass growing on the tarmac then there was in the fields, and with the help of a detailed OS-quality map and an inclination to take the trail less used I found myself on some fantastic roads in among the finest of vistas the Republic has on offer.
I rode down lanes that turned into tracks and then disappeared into lakes. I came across what must be the remot- est coffee shop in the country at the end of a narrow lane that comes to a dead end below the southern slopes of Carrauntoohil, which at 1,038m is the highest mountain in Ireland. On the last afternoon I took the coastal road down the spectacular Dingle Peninsula and spent time riding on the beach at Inch then checking out a remote track near the almost-Alpine Mount Brandon pass with a spirited local on a KTM.
The weather was kind on the ride back up to Dublin as it was the following day as I explored the single-track roads of the Wicklow Hills. As I rode the final few miles into Rosslare I reflected on the Ireland I'd just spent time in and the one I'd left behind some 20 years ago, and then a strange, familiar thing happened… Death paid me a visit within sight of the ferry and, in a voice that sounded very much like my own, said, 'that was great, you'd better come back again next year.'
The bike – a BMW GSA 1200
Here's the thing: if I'd taken a test ride on a GSA then I wouldn't have bought one. My initial impression was that it was far too big, heavy and agricultural to be of any use or pleasure. But I didn't take a test ride, I bought the bike from a friend who needed to move it for cash, quickly, and the offers he'd received from dealers were, in the circumstances, distinctly unfriendly. So without any real need or any big desire on my part I ended up with a GSA.
However, and this is a big however, having owned the bike for the best part of a year and put quite a few thousand miles on it I can now say that this is the finest adventure-style touring bike I've ever had. It's not the quickest, obviously; it's not the most comfortable (I've taken a spin on a Gold Wing) and it's far from being anywhere near the most capable off road. But I can't think of a better machine for the type of trip and conditions I experienced in Ireland.
Four 'must do' activities in Ireland
Ride through this lake (clue: it's in the hills above Killarney)
Have a pint of Guinness in Fagans Bar in Drumcondra, Dublin. The bar is an institution of old and its claim of having the finest pint in Dublin has been put to the test and confirmed
Ride the beach at Inch. The ride down to the Dingle Peninsula is a good enough reason for heading out west but throw in the chance to play Dakar on this huge expanse of sand and it's unmissable
Have coffee and cake in the shadow of Carrauntoohil, Ireland's highest mountain. I'm not going to tell you the name of the cafe – the fun is in finding it