What's the best gas camping stove you can buy for under £50? Bryn Davies fires up six to find out which one you should pack in your panniers this summer
After a long day in the saddle, the tent's pitched, your gear is unpacked and it's time to fire up that camping stove and cook up a culinary delight that would make Gordon Ramsay weak at the knees, but which stove do you choose for your camping kitchen? In days gone by dining out in the great outdoors involved collecting a few sticks, setting them alight and roasting whatever food you could get your hands on. These days, on the whole, things are a bit more civilised and when it comes to choosing a stove you'll no doubt notice that there's a fair few on the market and deciding which one is right for you can cause quite the headache.
Whether it's choosing between multi-fuel or gas, freestanding or not, there are a few things to take into consideration when making the decision, and as no one stove has it all, cooker selection can be a frustrating experience and you're probably going to have to compromise on a set of pros and cons, we'll go into that later, but for this review, we're going to be looking solely at gas camping stoves. If you're venturing far out into the wilds then we'd advise a multi-fuel so you can run it off petrol, but for your standard European tour or a brief foray into Morocco, you can't go wrong with an easy to use, maintenance-free gas stove.

Furthermore, as times are hard (aren't they always?) we'll be looking specifically at those under £50. It's pleasantly surprising to see what you can get at the budget end of the price scale and while we'd probably opt to spend a bit more money if we were looking to cook in seriously cold or high environments, all of the stoves we have featured are more than suitable for touring in the warmer months.
Stove/fuel types
Although there are other forms of fuel in use, for practical purposes camping stoves come under three general categories, gas, multi-fuel or alcohol.
Liquefied gas stoves (propane, butane, isobutane)
If you want a stove that works like your cooker at home then liquefied gas is the way to go. In use they're no-fuss, adjusting from a light simmer to a full-on boil with the turn of a knob. One of the best features of gas stoves is that they burn pretty clean and maintenance is kept to a minimum.
On the downside, canisters can be expensive to buy and tend to offer reduced performance in sub-zero conditions (though if you're considering a spot of winter camping, Primus has released a new 'Winter Gas' which is said to offer better functionality in the colder conditions).
If you're touring in Europe then a gas stove will be, on the whole, the cheapest, most convenient and best overall choice. It's worth noting, however, that canisters can come with different fitments and finding the right one for your stove can become a problem, this has been the case on more than one occasion when I've been travelling and had to go without fuel as I couldn't find the right canister.
Multi-fuel Stoves
If you're going to be adventuring further afield or in more remote areas where gas canisters are going to be hard to come by then a multi-fuel stove is a great option. These burn just about anything from paraffin (kerosene/ diesel) to leaded and unleaded petrol. If you're going to be burning fuel from your bike then it's worth taking into account the fact that you're going to have to keep on top of the cleaning and maintenance of your stove. The safest fuels are Naptha products (Coleman and MSR do specialised stove fuel).
Alcohol Stoves
If you're going even further afield and venturing into the most remote areas, or parts of Africa, for example, then an uncomplicated meths-based stove is probably the way to go. These stoves have a very simple construction (you can even make your own from an old can of pop) but they also offer very limited operation functions, i.e. little temperature control. They tend to be painfully slow to bring water to a boil (in comparison to gas and multi-fuel stoves) but they burn clean and are less toxic.
---
Gas stoves, tents and deaths
It sounds pretty ominous but it's worth us mentioning that gas stoves produce carbon monoxide, some more than others. You can't smell or see it and in an enclosed space (read tent) it can kill you. Make sure you always cook in a well-ventilated space so if you're forced to retreat into your tent porch due to the weather, open all of the ventilation points on your tent.
---
Gelert Titan Backpacker Stove
£19.99 | 200g www.sportsdirect.com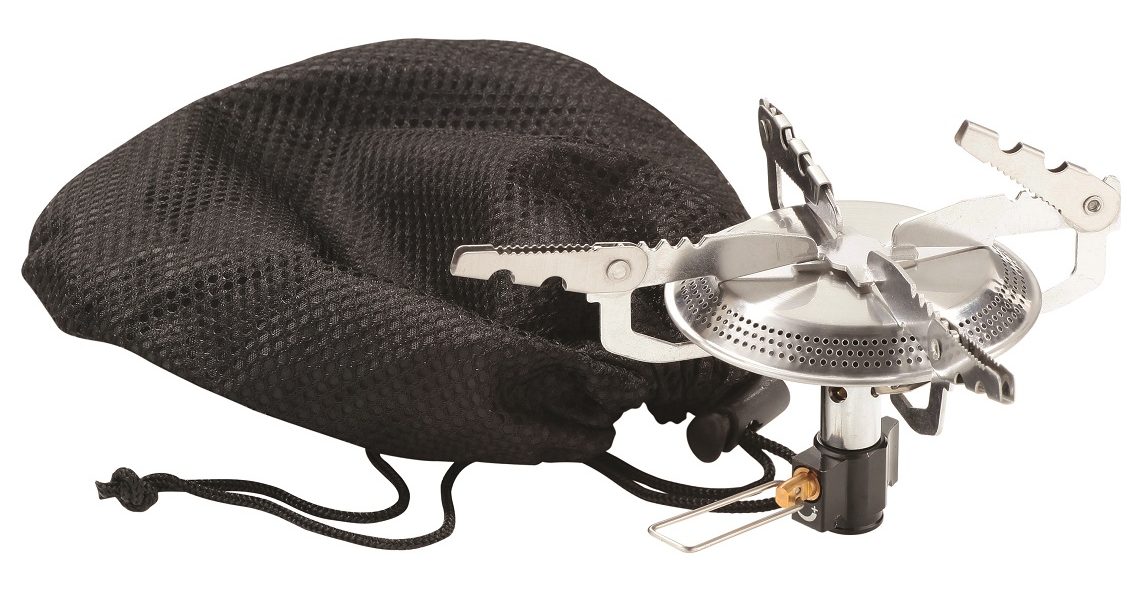 It's been a while since I've tried any kit from Gelert but from my memory I've always been pleased with the products that the Welsh-based company has put out, the balance of affordable pricing and decent quality seemingly met on most occasions. The Titan Backpacker Stove is a gas camping stove that's made from heat resistant stainless steel and it features a Piezo ignition for lighting up in the absence of a match or a lighter, plus you get a handy storage pouch thrown in for good measure.
A quick look on the Gelert website will reveal that the Titan is now available to purchase for just over £5, and at this price, it becomes hard to be picky about it, I mean as long as it heats up your food and boils your water, it can't be too bad. And in terms of boiling water, in our tests, it took six minutes to bring 0.5l to a boiling state, not the fastest or most efficient gas stove then.
I love the wide pot support that the Titan offers, and I presume that's where the name comes from. When unfolded they span a huge 18.5cm and for an on-canister stove, it's surprisingly stable. Where the Titan disappoints, though, is in its overall quality. It's nice to have a Piezo ignition included, but it's very temperamental, only working on occasions and I'd be inclined to save the hassle and just use a lighter. The other worry is just how weak the stainless steel becomes after it's been heated up, even once it's cooled down again.
ABR Rating: 6 out of 10
In a line: Cheap as chips, but you get what you pay for
---
Alpkit Kraku
£25 | 46g www.alpkit.com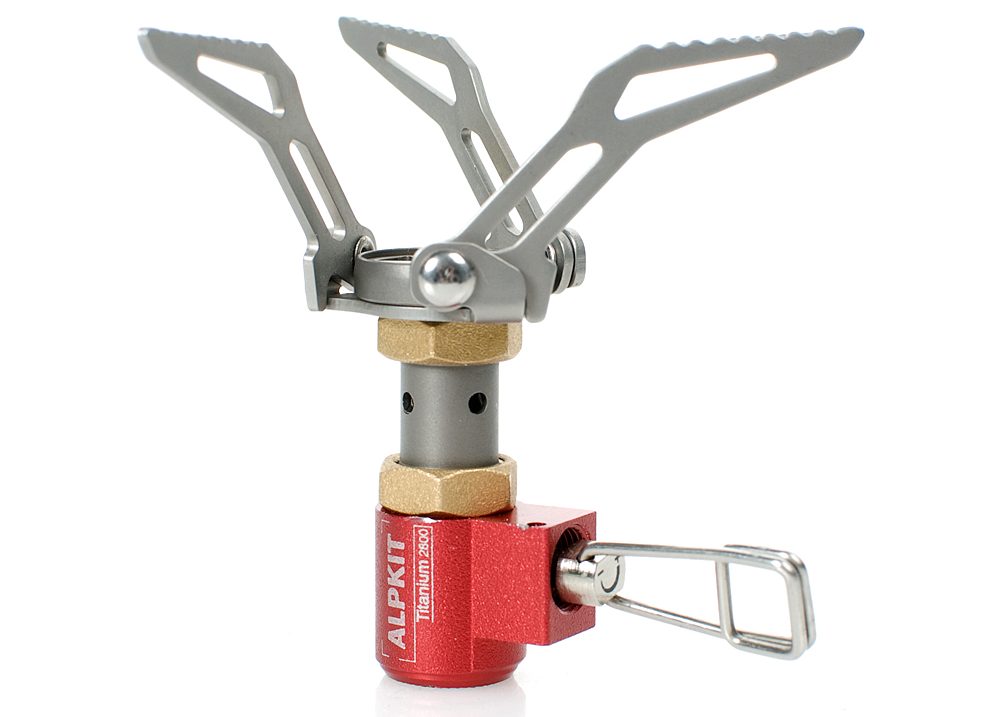 Every time I try gear from Alpkit I seem to enjoy using it, and on the whole, if you're looking for good quality products at affordable prices then they're a company for you. The brand was started by four pals with a passion for the outdoors and their website says that they go to the Alps and they produce kit, they don't want it to be complicated! And the less is more ethos really shines through in the Kraku Stove.
Designed for the solo adventurer it weighs a minuscule 46g and sits in the palm of your hand (when folded down) to a clump that's no larger than half a pack of Polos. Initial thoughts are that a stove so small must only be able to offer a pathetic flame, but boy was I wrong. The Kraku, once screwed onto a gas canister, was able to bring 0.5l of water to the boil in just under three and a half minutes, one of the fastest boil times in this review.
The featherweight is down to the use of a titanium body, a minimalist gas control dial (which strikes a brilliant balance of reducing size but still offering acceptable functionality) and a small burner head. As you might have guessed, the combination of a minimalist and on-canister design mean that it's not the most stable stove to be cooking on. Stirring food while the pot balances precariously on the three small pot supports is a nerve-racking affair but if care is taken then you'll be OK.
ABR Rating: 9 out of 10
In a line: Incredibly light and small and surprisingly powerful
---
Vango Folding Gas Stove with Piezo
£27.50 | 225g www.vango.co.uk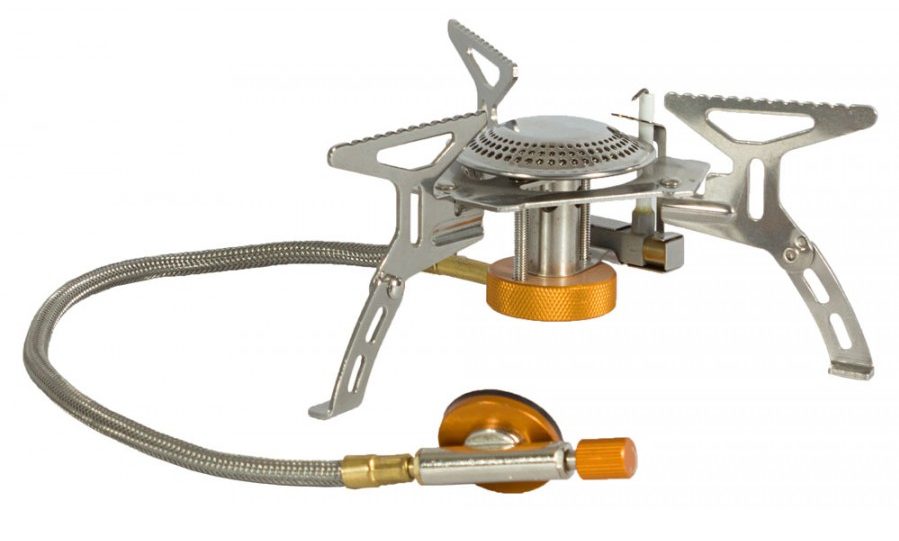 The standard Folding Gas Stove from camping equipment giants Vango has long been a favourite in the ABR offices. At such a reasonable price you get a solid, tough and extremely stable free-standing stove, and for this review, we've been given the Folding Gas Stove with Piezo to try out. As you might have guessed from the imaginative name, it's essentially the same as the standard model, but it features a Piezo lighter on it so that you can get it going without a match or lighter.
As is the case with the standard model, the Folding Gas Stove with Piezo offers a low centre of gravity and very large pot supports to provide an incredibly stable base from which you can do your cooking, even when using a large pot. The legs fold out to further stabilise the base and all of the moving parts feel well made and sturdy. The Piezo lighter is a great addition and it works, more often than not, on the first click saving you the hassle of having to root around in your panniers for a lighter (it's still best to bring one with you as backup in case a Piezo fails, no matter which stove you opt for).
The stove is fed via a 35cm fuel line which easily connects to a screw-top gas canister and once lit there's a nice level of heat adjustment to play with. In terms of efficiency and boiling times, when turned up to full heat the stove took three minutes and thirty seconds to boil 0.5l of water, a time that's comparable with the best in this review. To aid with the storage of the stove you get a brilliant, plastic storage box that keeps the stove neatly together while protecting it from potential damage.
ABR Rating: 9 out of 10
In a line: Steady as a rock, a great stove
---
Outwell Appetizer 2-Burner Folding Stove
£29.99 | 1.8kg www.outwell.com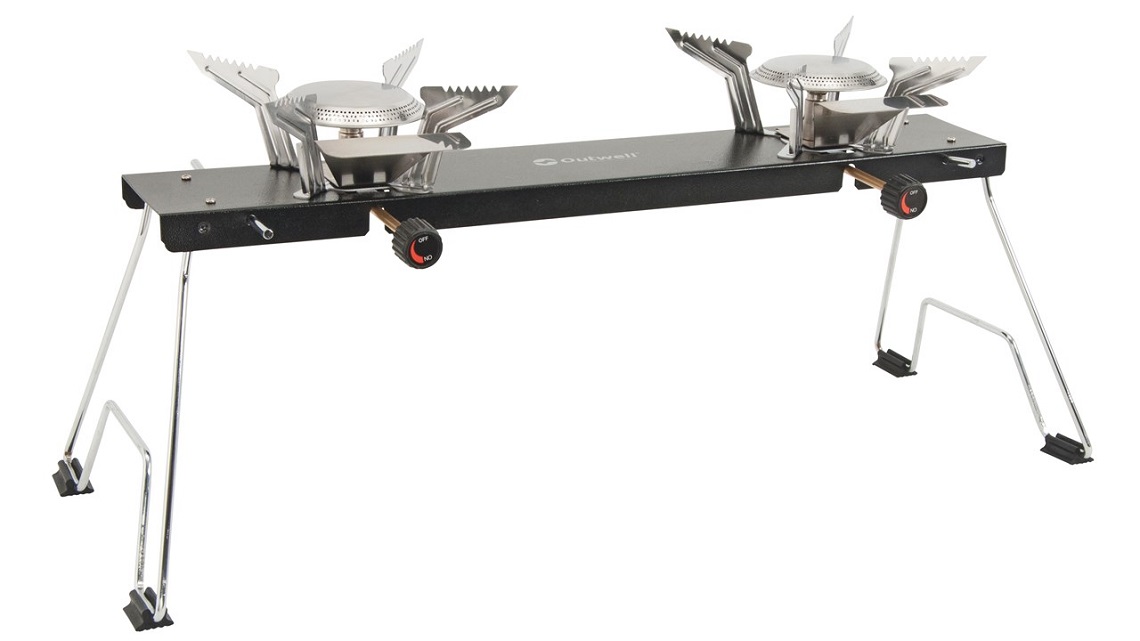 In complete contrast to the Alpkit Kraku, we have the Outwell Appetizer 2-Burner Folding Stove. Where you'd be happy with stuffing the Kraku in your pocket, the Appetizer is a stove that you're only going to bring with you if you're happy to strap it to the outside of your panniers.
The Appetizer features, as the name suggests, two burners that run off independent gas canisters (so you'll need to buy two if you want to take full advantage) and if you're after a luxury camping experience where there's minimal concerns about knocking a pot of boiling water off a stove and you'd like to cook your meat at the same time as your pasta, then this is the one for you.
The stove stands on two stable legs and the pot supports resemble the sort that you'd fi nd on home cookers. This leads to an incredibly easy and hassle-free cooking experience and the two temperature control knobs allow for a great deal of heat control, from a gentle simmer to a full-on boil. In terms of boiling times, the Appetizer was a bit slow off the mark though, taking just under six minutes to bring 0.5l of water to the boil.
While the boiling time may be slightly longer than the backpacking stoves in this test it's a nice reminder of the intended use of the Appetizer. It's not for those who want to hunker down in the tent and get back in the saddle at first light. No, this is for fair weather campers who are looking to spend the evening relaxing in a camping chair with a beer in hand while swapping stories with mates at a rally.
ABR Rating: 8 out of 10
In a line: Maybe too big, but if you can strap it on your bike it's a brill stove
---
Karrimor Alpine Stove
£44.99 | 169g www.sportsdirect.com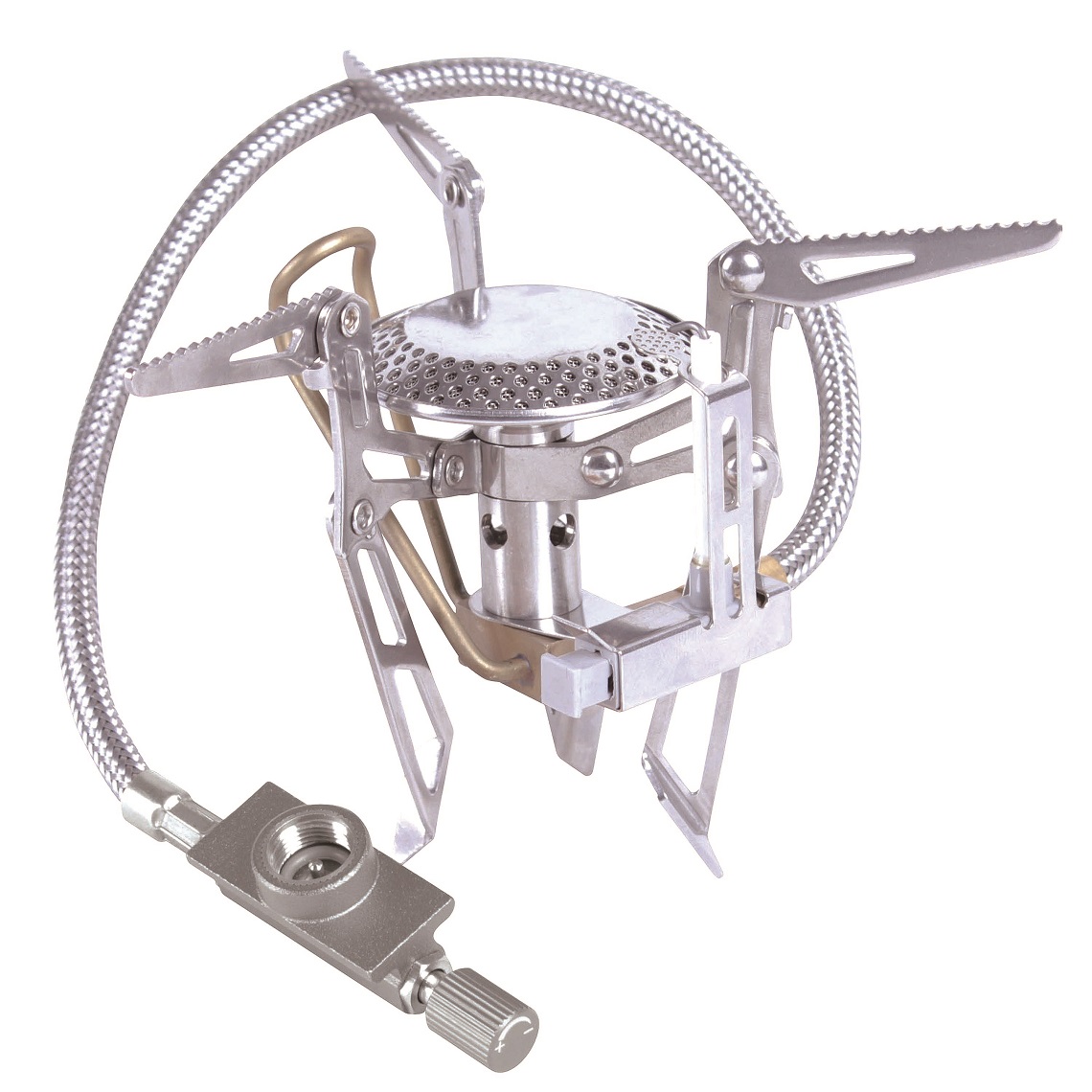 Over the years we've become quite fond of Karrimor kit, the brand made excellent rucksacks, boots and jackets and even in more recent years (after being bought by Sports Direct) when all production was moved to the Far East, the kit was still up-to-scratch, be it for a different level of outdoor activity. Their entry for this review is the Alpine Stove, a free-standing gas stove that features Piezo ignition and a useful storage sack, and it's actually a very good stove.
While the retail price of the stove is given as £44.99 you can pick it up for about £17 online, at this price the Alpine Stove is a perfect example of value for money and if you're an occasional camper then I don't see why you'd need anything more than this. In our tests, the Alpine Stove brought 0.5l of water to the boil in four minutes, while this wasn't the fastest time it's certainly not bad.
What I really like about the Alpine Stove is how stable it is in use. Of course, that's the advantage of having a free-standing stove, but it felt positively solid and the centre of gravity is low enough to not cause any toppling issues while the wide pot supports ease any worries of an unstable cookset.
There's a nice amount of heat control provided and it's also great to see a pre-heat tube that will allow more efficient and smooth use in colder temperatures. The included Piezo lighter works well on most occasions, lighting on near enough the first click, and is a welcome addition.
ABR Rating: 9 out of 10
In a line: Superb value for money
---
Edelrid Kiro TI
£45 | 73g www.edelrid.de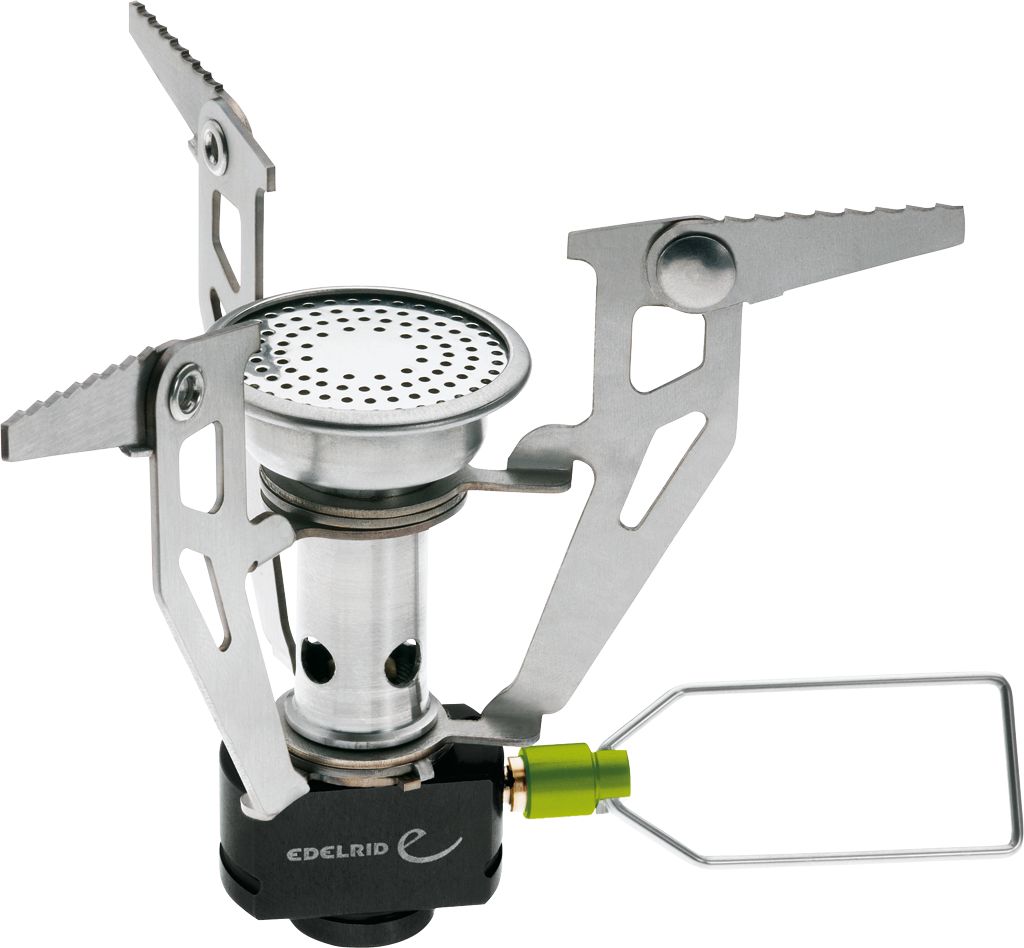 Edelrid's entry to this review and the most expensive out of the six stoves on test is the Kiro TI, a lightweight (73g) on-canister stove that has a titanium body and an included stuff sack which offers neat and tidy storage.
First impressions of the Kiro TI are good, the stove offers a look and feel over and above the other sub £50 stoves in this review, everything about it feeling solid and well made. And for such a lightweight stove it has surprisingly wide pot supports that offer a stable platform for cookware to sit on (they fold out to allow for smaller storage) and it's about as stable as you're going to get for an on-canister stove.
Performance is good with the boil time for 0.5l of water being up there with the best in this review at three and a half minutes and the temperature control is precise and the oversized wire control knob allows for easy adjustment. With the pot supports folded away and the wire controller neatly bent back on the stove, the Kiro TI offers a very small pack size that's going to be spot on for even the most weight and space-conscious of us.
While the pot supports feel sturdy enough to take quite a bit of abuse the only slight issue we had was that they became a bit stiff to unfold after a few uses. This, however, can be remedied by lubing up the joints every now and then.
ABR Rating: 9 out of 10
In a line: Great quality and lightweight