With two weeks' holiday and all of Europe to explore, Jared Thorp and James Hartness are making the most of their 'Big One'
After a smooth Channel crossing to France, we decided the first stop would be the Nurburgring! We blasted up the motorway to Germany on our respective steeds, a BMW R1100 GS and Yamaha XTZ 660 Tenere, before coming o. the autobahn and taking the scenic route as we neared the pretty Eifel National Park. Disappointingly the ring was packed and we decided to forgo the queue in favour of setting up our camp in the lovely surrounding woods, which also gave us a chance to get in a bit of off-roading.
Germany is so picturesque and polite, it was a shame to have to leave it, but our next stop was the Czech Republic and then on into Prague, which is scruffy and overrated in my opinion. We were both worried about leaving the luggage, but we had a look around the city anyway, and I'm glad we did – the beer was just 70p a pint!
We continued the journey north into Poland, staying in Krakow and eating at the 'Soiux', where I enjoyed the best steak I've ever had. Krakow is such a friendly place and very pretty. There's also lots of interesting things to see, like the Schindlers factory and Auschwitz concentration camp. There are few words to describe this place; if you're ever in Poland it's a de    finite must-see. Just to experience the sheer breathtaking size of it was incredible.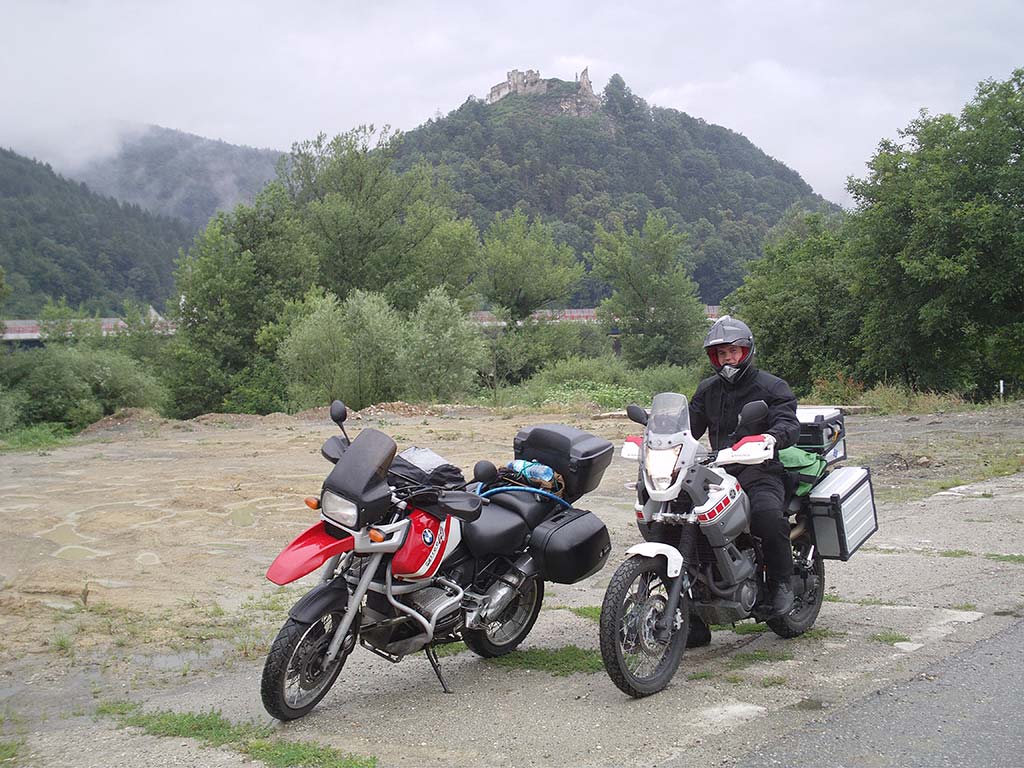 We rolled out of Poland and into a Slovakian rainstorm. Our attempts to seek refuge in a bar were thwarted when we were informed that there was 'no euro' there, so we stood under a bus shelter until the rain stopped. Having sorted our currency issue out, we had a brilliant night out in Trenchin where the locals were friendly and keen to show us a good time.
The next day we set o. into Hungary, then Austria. We'd been riding non-motorways since Belgium, and Austria's awesome A-roads were packed with bikers – no surprise really! The miles . ew by as the roads went from left to right, up and down mountains and across rivers. It was brilliant! The Beemer really came into its own here and at times I had reel myself back in and remember I'm not Valentio Rossi. Another 200 miles later and we were at The Eagle's Nest, 1,981m high and the views were immense!
Time was catching us up and with only a few days left before the ferry home we missed out Switzerland and went north into Germany. We lost two days here, visiting Dachau concentration camp and Regansburg, but also waiting for the torrential rain to stop. It didn't, and with only 36 hours to cover the 566 miles back to Calais we had no choice but to take the boring motorway home. It had been an amazing two weeks though, staying in unusual areas and o. the beaten track.