READERS' RIDES
Sixty-six-year-old ABR and motorcycle dealer Jeff Pritchard is on an 11,000-mile journey from North Wales to Thailand. We join him in China, one of the many highlights of his trip
My adventure started 20 years ago with the arrival of the brand-new BMW R100 GS PD. Eddy Orioli had just won the Paris Dakar on one and it was the perfect bike to travel round the world on. Unfortunately, as a motorcycle dealer principal, I just didn't have the time to realise my dream, so I sadly waved goodbye to the BMW and watched as one of my customers rode it off into the sunset.
Fast forward to 2012, and I discovered that the very same bike might be for sale. After finally making my dream purchase, it was time to start planning my own adventure! I started out researching rides to Mongolia, but soon stumbled across a company called Moto Xplorers. It was organising a trip to Thailand, through China, a country I've always longed to visit but found the red tape impossible to overcome. Mongolia would have to wait.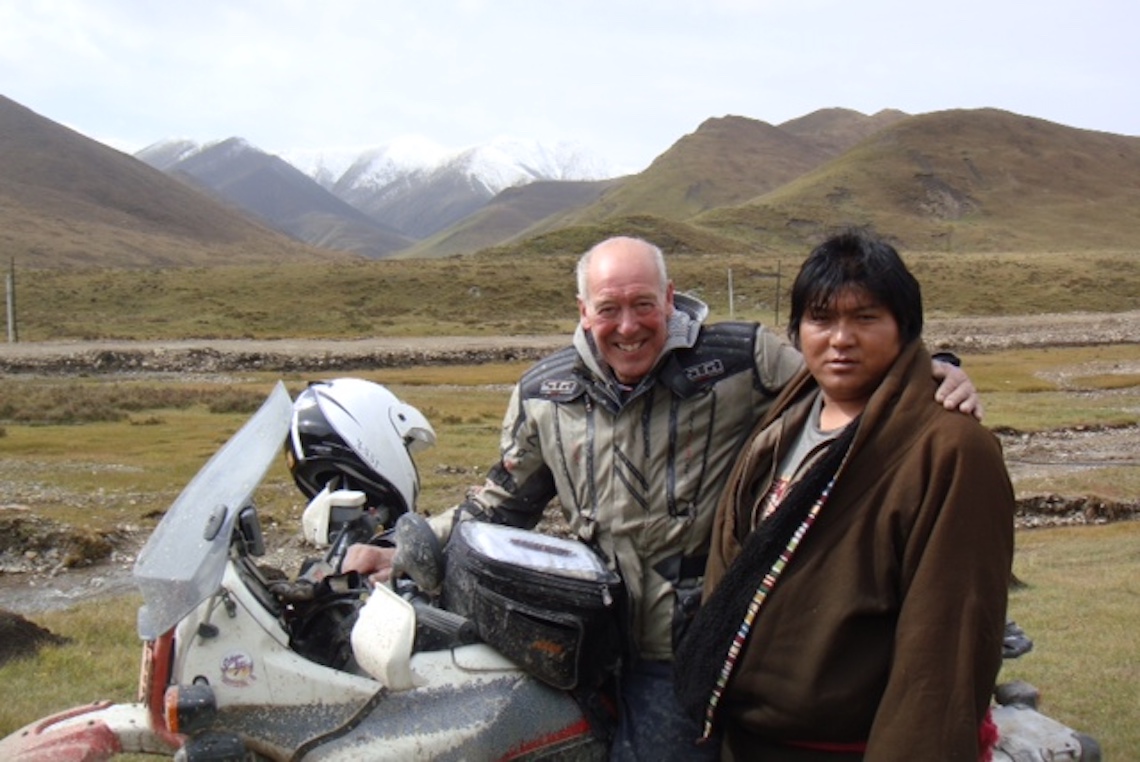 With my leaving date set for 18 August from Colwyn Bay, North Wales, and my itinerary, which included Slovakia, Romania, Ukraine and Russia, all planned out I was scheduled to meet the rest of the group and our guide in Kazakhstan. From there we'd ride onwards together to China, Laos and Thailand, and that's where my story begins:
Travelling through Europe, I settled into the rhythm of my trusty companion and eight weeks later I was in Kazakhstan. It's known as 'The Land of Blue Horizons' and I could see why. Huge skies full of eagles with six-foot wingspans seemed to stretch on forever. The architecture of the country and the sci-fi-like glass buildings are incredible. As for the roads, your bike will need good suspension, tyres and plenty of spares.
Upon arrival at the Chinese border I learned that foreign riders must be under 60 (I'm 66), but it must have been my lucky day as somehow I got in. After a sleepless night at the Railway Station Hotel in Leshan, Sichuan Province, (it really is right among those damn trains!)
I got ready for the day ahead. Leshan is a 'one-road-in, one-road-out' type of place, it reminded me of a Wild West film; in fact the only thing missing was John Wayne.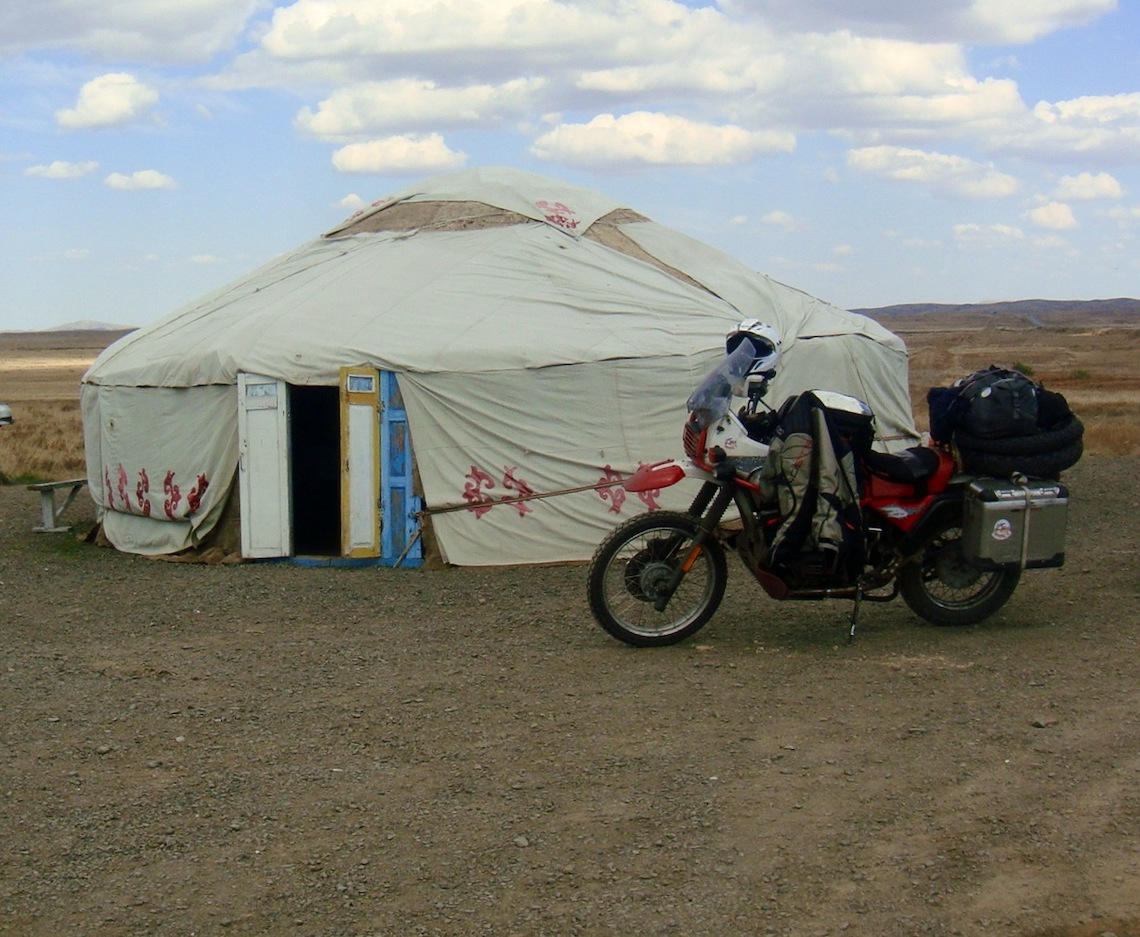 We'd followed the G319 for most of our journey through China, but in leaving Leshan we came to an unmarked crossroads. Opting to go left, I dutifully obeyed my GPS and followed it onto a hard-packed mud/stone road. It ran both straight and flat for five miles but gradually dipped deeper into the valley, the hills became steeper and the river running parallel to us started to encroach on the now-muddy bog of a road. With no other vehicles in sight, I was beginning to doubt the chosen route, but with only 35 miles to the next town, we decided to continue. One hour and just 10 miles later we were struggling with deep ruts and totally lost. In stopping to try and work out our route the immediate silence and grandeur of the mountains, all 2,500 metres of them, suddenly hit us and we once again appreciated just how amazing this experience was.
Then, out of nowhere, three local lads riding CG125-lookalikes appeared and we asked them for directions. One of them, who looked like a monk, beckoned us to follow him. Having nothing to lose, we did just that and after 10 miles or so the track became impassable and my cylinder heads were dragging in the ruts. Our monk-like guide opted to take us further off the beaten path and we began riding, with trepidation, in and out of some serious ditches, but at least we were making headway. Unfortunately, it was while crossing one of these ditches that my riding buddy, Ignace, got his foot trapped under his pannier; he found out months later that he'd actually broken his ankle.
It took us eight hours to ride 35 miles before we eventually arrived into the small village of Banna Hat, exhausted and covered head to toe in mud. For just two dollars, the bikes and us riders were power-washed down ready to get some shut-eye.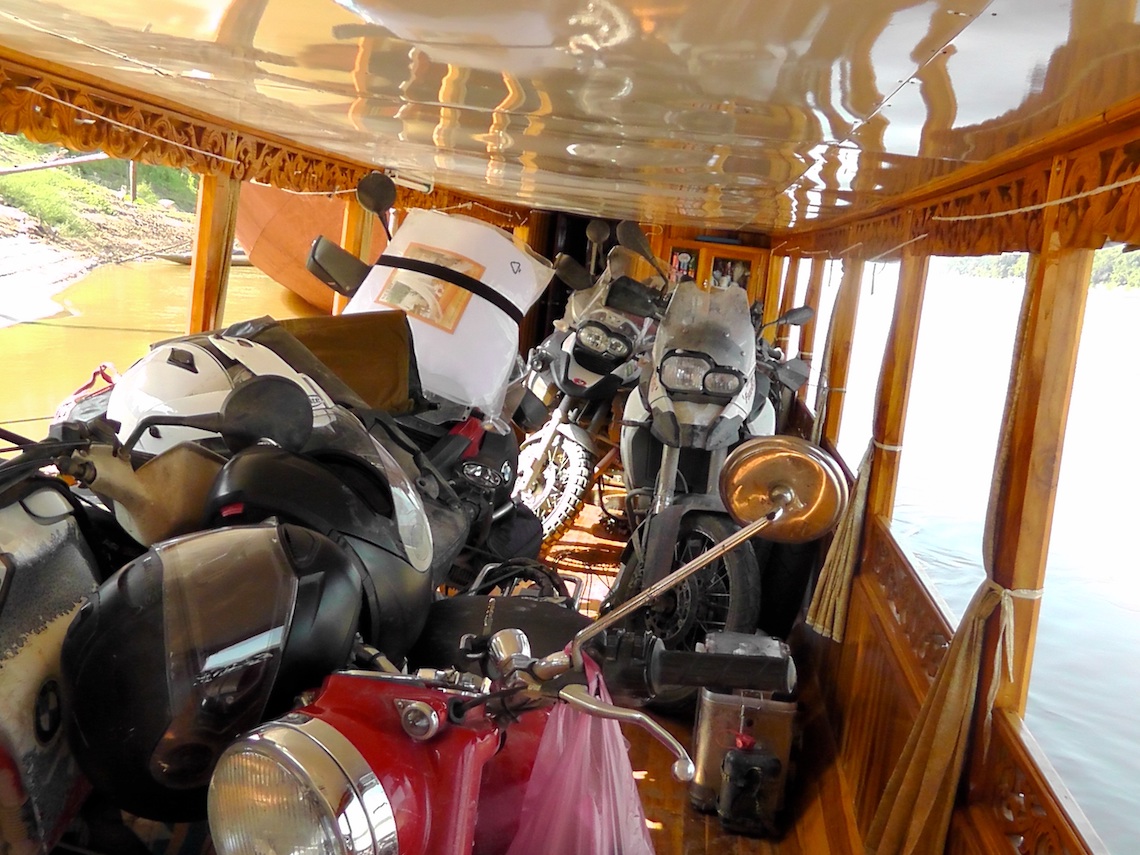 From China, we crossed the border into Laos and I suppose this was how I'd imagined China to be. A country of mud huts, dirt roads and landslides. In every village we rode through, throngs of children and teeny tots would run after us, waving. We also noticed a distinct lack of men over the age of 50, a sad reminder of the devastation the Vietnam War caused.
One of our stops in Laos was Luang Prabang which has the fabulous Mekong River running alongside it. One of the lads thought we should charter a boat to go to Vientiane, 200 miles downstream. I was slightly worried as the river is full of rocky islands and very fast rapids. Despite my fears, the next day we met up with the 21-year-old captain and what looked like a decent-size vessel, about the size of a small fishing boat. 'Perfect,' I thought, 'that'll do nicely'. As we approached with our bikes, however, a traditional long boat pulled out from behind the bigger vessel and my heart sank.
One hour, several trapped fingers and a whole load of swearing later, the bikes were on board. The scenery was fabulous; such lush forest on each side and the river was seriously huge. We camped that night on a sand bank and built a bonfire, while all around us the mist descended spookily across the river. We woke up at 5am and I drew the short straw to find food for our lunch. At the nearest village, I haggled over the price of two chickens and a really fat duck. More difficult than the negotiation for the poultry was catching it – it's a lot easier at a supermarket!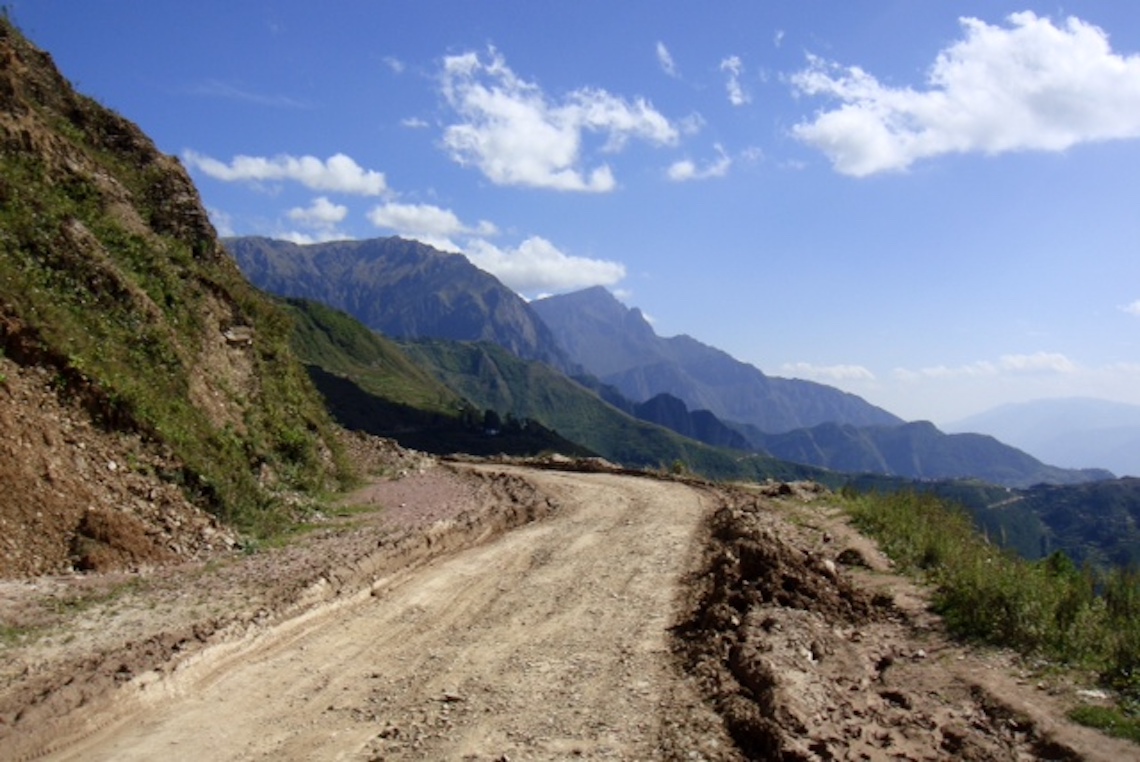 After just an hour back on the boat, the captain pulled over at Keng Tounpai and demanded more money for fuel. We'd paid the owner of the boat in full to take us to Vientiane, which was another 60 miles away. After a heated debate, we unloaded the bikes. This was actually the best thing that could have happened; the challenge that lay ahead was intense but out of this world. The road was red sand and had the consistency of flour in places. After a thrilling couple of hours' riding, we stopped for our lunch of eggs and bread (in getting off the boat we'd forgotten our poultry). Never mind getting sand in your butties, this red-flour substance was in our lunch, our eyes, everything!
After a short rest, we embarked on one of the most dangerous bits of road I have ever seen, let alone ridden. We had to overtake wagons, which were crawling and weaving along in order to avoid the pot holes, some of which were the size of a small car. The red dust meant that we were practically blind when overtaking and if that wasn't exciting enough there were the bridges. Often 50-feet high, each bridge had horizontal iron girders one metre apart and wooden planks to drive over. As a motorcyclist, this meant balancing on slim wooden planks while taking care not to drop a wheel onto the iron. There was a lot of clenching going over those bridges. We did eventually make it to Vientiane, though. What a day!
In leaving the magical country of Laos it was onwards to the wonders of Thailand where we enjoyed a stay on the infamous River Kwai, visited the intensely moving Hellfire Pass and played with tigers at the Tiger Temple. Sadly, all too soon, it was time to leave. There's something so addictive about this kind of riding. I hope to continue my adventures someday and meet with the lads for more exciting times. I suppose I'd better get a move on as I'm 67 years old this year – bloody hell!
This journey was so much more than an adventure to me. Words cannot describe the people I met along the way and, I found, the further east I went the more I fell in love with people's friendliness and kindness. It did make me question who's got it 'right'; how we live here in the west or is the eastern way of life the one we should aspire to?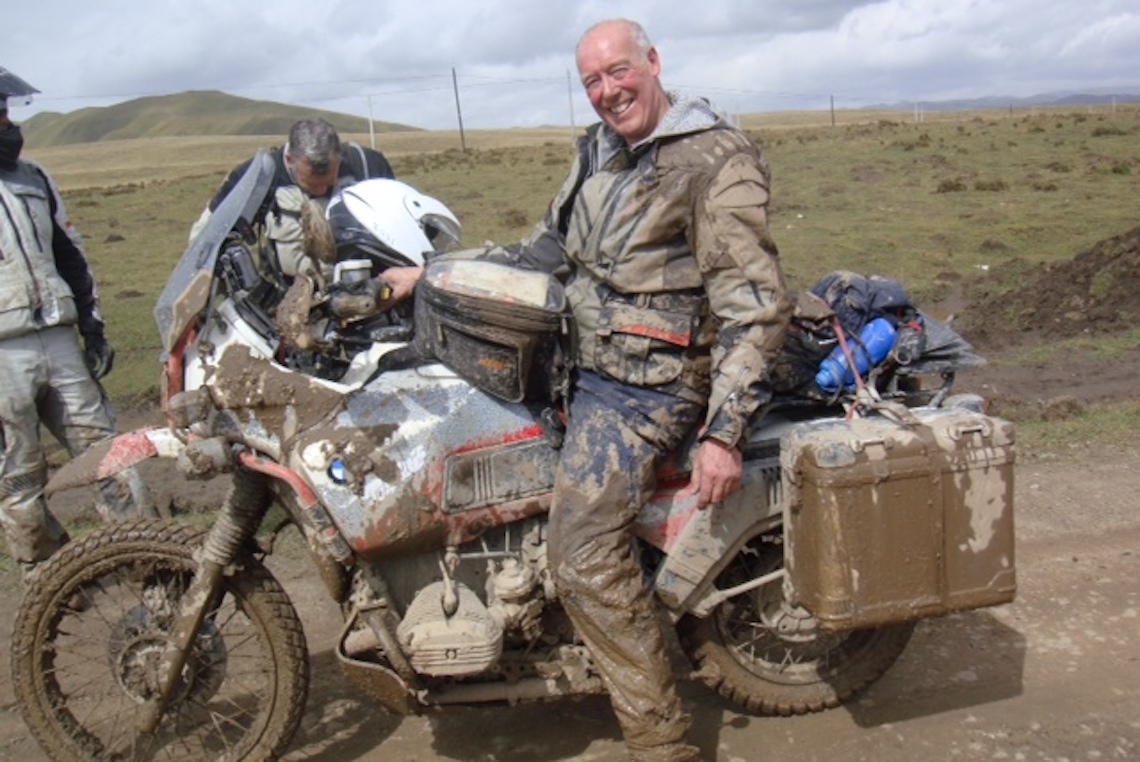 Photos: Jeff Pritchard