NAME: Asta Dovydenaite
AGE: Forever eighteen plus some years of experience
OCCUPATION: Sales & marketing
FIRST BIKE?
Yamaha Virago 535 with some very fancy German custom tuning.
CURRENT BIKE?
A blue BMW F650GS twin
DREAM BIKE?
I wouldn't change my current bike to anything else, but I'd love to get myself one more – a dirt bike!
MOST EXPENSIVE MOTORCYCLE ACCESSORY EVER BOUGHT?
I don't remember which one was the most expensive, but I know the funniest one – I chose the most expensive brake disc lock as it had the most sensitive alarm function based on vibration. It was so sensitive I would trigger it every time I tried to take it off.
LIFELONG AMBITION?
To keep motorcycling a part of my life even when I'm a funny old lady in my late seventies or even eighties.
IDEAL TRAVEL PARTNER?
The one I already have. Not only for travelling foreign countries together, but for the 'journey of life'.
MOST DANGEROUS MOMENT?
Crossing a roaring river in Atlas mountains while travelling in Morocco last summer.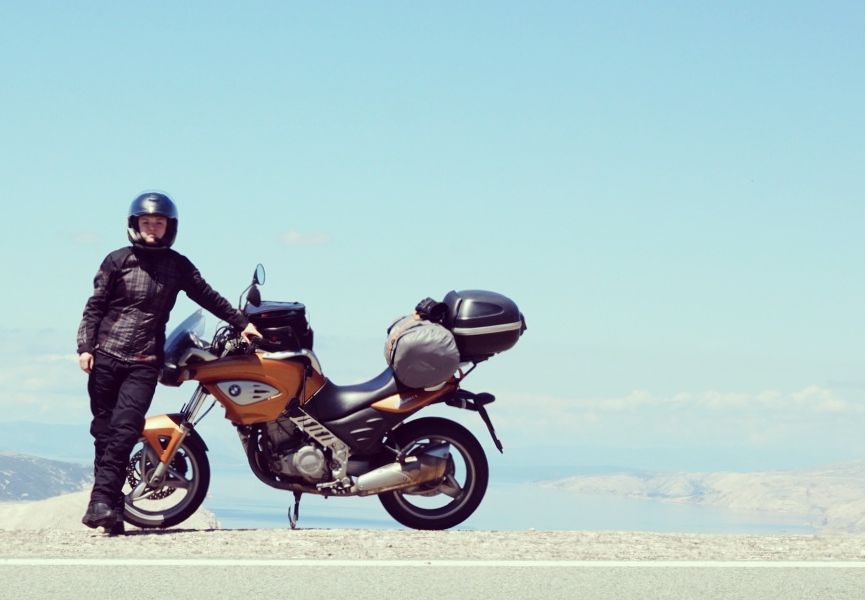 MOST MEMORABLE MOMENT?
My first real time off-road on a street bike BMW F650CS in the mountains of Bosnia & Herzegovina. Our SatNav had no map loaded for that country and we did not have any paper maps either. The only road available was a narrow mountainside track made of big loose rocks…
WHAT DO YOU MISS MOST WHEN TRAVELLING?
My adventure-loving self does not miss a single thing when travelling, while my lazy self would sacrifice the world to have a day or two just laying on the beach and doing nothing…
PERSON YOU WOULD MOST LIKE TO MEET AND THE QUESTION YOU WOULD MOST LIKE TO ASK THEM?
At this moment I would most like to meet the first owner of my previous bike and I would like to ask him how in the world he managed to keep it in such great condition for so many miles…
FAVORITE CRAP JOKE?
Here in Lithuania crap jokes are not that common, but I have a short line that unfortunately is a true story… I keep loosing weight, but it keeps finding me…
WRITE A 50-WORD PERSONAL AD FOR YOU AND YOUR BIKE AS IF YOU WERE BOTH GOING TO JOIN AN ADVENTURE BIKE RIDING DATING SITE
A smiling young lady rider and her 798cc iron horse are looking for adventure. Preferably on tracks not ridden before. Both not easy to handle but great fun to ride with. Any terrain suits except loose sand… unless you enjoy picking up dropped bikes…