This is your chance to get your mug in the mag; share your adventure stories and tell us all about your two-wheeled dream machine
Name: Greg Pepper | Age: 43 | Occupation: Self-employed businessman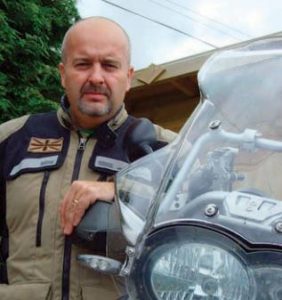 FIRST BIKE: Yamaha DT50
CURRENT BIKE: BMW R 1200 GSA
DREAM BIKE: I'm fortunate enough to have it in the shed already!
FERRY OR TUNNEL? Always the tunnel, otherwise known as the 'Elongated Coffin', which I helped build
MOST EXPENSIVE MOTORCYCLE ACCESSORY EVER BOUGHT: My Zega pannier system
LIFELONG AMBITION: To ride top-to-toe through Africa. (I don't have to wait long as I'm going this December!)
IDEAL TRAVEL PARTNER: My wife, of course! Or my friend Paul Phillips
MOST DANGEROUS MOMENT: Being arrested at gunpoint while sat on my bike in Uzhgorod on the border with Slovakia and the Ukraine in 2011; I think a little bit of pee came out
MOST MEMORABLE MOMENT: Three weeks in to a six-week trip to Iran in 2011, waking up in the morning with a feeling of absolute freedom. I'd not experienced that feeling since I was a young boy in short trousers
WHAT DO YOU MISS MOST WHEN TRAVELLING?
Nothing! Honestly…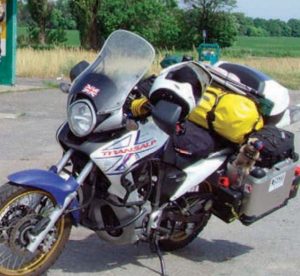 PERSON YOU WOULD MOST LIKE TO MEET AND THE QUESTION YOU WOULD MOST LIKE TO ASK THEM: To the Mayor of Hirosima: "So, how loud was the bang?"
FAVOURITE CRAP JOKE: If you think that nobody cares whether you're dead or alive, try missing a few payments!
WRITE a 50-WORD PERSONAL AD FOR YOU AND YOUR BIKE AS IF YOU WERE BOTH GOING TO JOIN AN ADVENTURE BIKE RIDER DATING SITE: Angry, 6ft, neurotic, balding, partially blind ex-circus lion tamer turned adventure motorcyclist, comes with a collection of warning labels, a new bike in tow, and a passion for covering lovers in sour cream and axle grease. Seeks exotic female, heavily tattooed piercing fanatic, preferably hairy and stinky, for bizarre sex, whippings and fashion consulting – no freaks!

If you want to be a reader exposed in a future issue of Adventure Bike Rider, email [email protected] and we'll give you a free one-year subscription. You can't say fairer than that, eh?