ABR readers get in touch to tell us all about their two-wheeled adventures…
The Lod way round
At the beginning of 2019, Loddon Vale Trail Riders Fellowship Committee wanted to run an event to promote the TRF's green road conservation and responsible trail riding education work within the local area, by organising an event to raise money for the Thames Valley Air Ambulance. This is an organisation that undertakes incredible work while receiving no government or lottery funding, relying solely on public donations. 
Our hosts for the day were Loddon Brewery who kindly provided a BBQ in the evening with the landowner, Coppid Farm Enterprises, providing a venue and allowing camping on their farm. 
Whilst wet weather plans were in place, one thing we had not anticipated was one of the hottest days of the year, with temperatures reaching 33C. Over 40 riders set off from the brewery across six groups to enjoy routes that took in the lanes of Oxfordshire, Berkshire, Surrey, and Hampshire, with the most adventurous covering almost 200 miles on the day.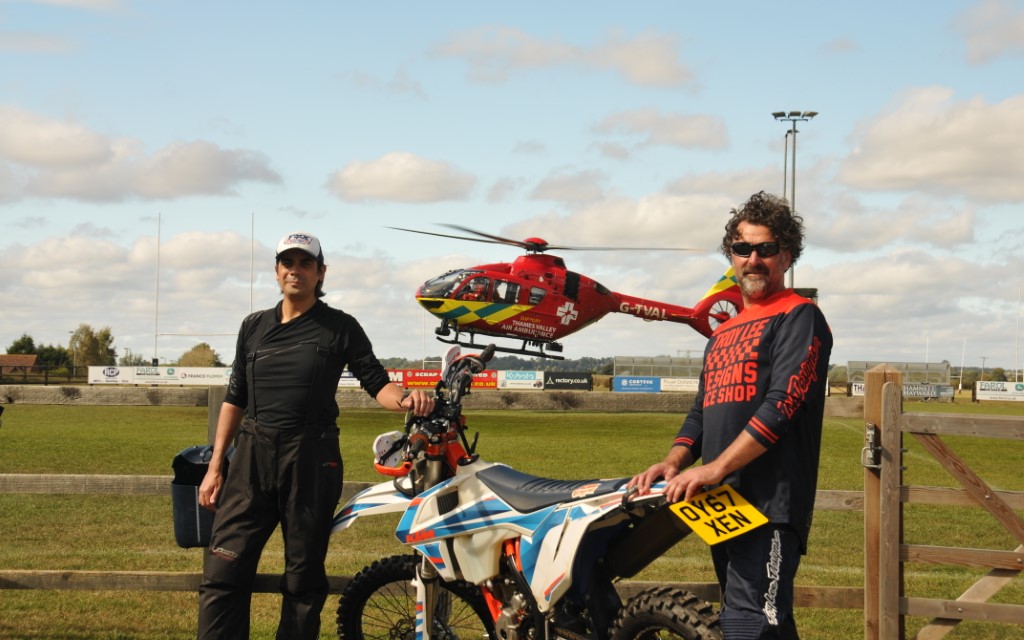 We were able to secure a number of local sponsors including 3Bs motorcycle holidays, BikeSeal, Hatfields Honda, MX Racetime, Endurotyres.com, Premier Bikes, Super MX and Tri-Counties Motorcycles, all of whom provided prizes for the raffle which contributed almost £500 to the overall money raised. 
There were also prizes of a 12-month subscription to Adventure Bike Rider awarded to the top three fundraisers of Grant Ely, Drewe Noble and Andy Bryant. 
Being our first event of this nature, we had set a modest target of £1,500, so were amazed and delighted when the members embraced the event to raise an incredible £5445, once Gift Aid was included.
Graeme Collins
Life is too short
In 2001, aged 33, I bought my first bike, a Honda VFR 800. I got it mainly because my brother had gone out and bought a Suzuki Bandit 600 a few months earlier, and because I'd thought about owning one ever since watching the movie Top Gun with Tom Cruise.
Almost 12 months later, my brother and I were having coffee at a BMW dealer on a ride out. I was browsing the 1150 GS when I was approached by a salesperson convincing me of the merits of the ugly, as I referred to it, GS over my VFR. One test ride and 20 minutes later and wow! It was a better bike and experience for me than the Honda in both comfort and handling. I bought one. 
A few months later, our dad bought a Honda because he wanted to come along on our ride outs, having been a biker in his early years. After some discussion and persuasion, a trip to Ireland was planned. Since that trip, Scotland, France, Austria, Germany and Switzerland have all followed with some brilliant memories and riding experiences. 
Sadly, in 2009, I went through a divorce and a health issue and the bike was sold. For a couple of years thoughts of biking again were put on hold but never left me completely. Finally, after a long break and both my father and brother no longer having motorbikes, I went to the NEC bike show in 2018 with my current partner and began researching another bike, gear and the possibility of touring again. My partner bought me a year's subscription to Adventure Bike Rider when she saw the stand and we had a good chat about it all on the way home. 
In December 2018, a BMW R 1200 GS Adventure Triple Black was purchased with panniers and SatNav. A warm-up NC500 solo trip in Scotland was planned and completed a few months ago which was simply brilliant. The ride from Bealach na Bà to Applecross and up the western coastal route to Scourie was one of the best I have ever had. 
There were stunning views, the sun was out, and there were loads of sweeping roads. Meeting and speaking with other bikers, and visiting the list of must-see sights, I never once felt alone. This only re-affirmed my plans to tackle Norway as my next trip. 
Getting a bike again has been like a new lease of life. It puts a huge smile on my face just thinking about it. To anyone out there who is thinking about doing trips or adventures or has had a change in circumstances – shit happens. Life is too short not to do the things that make you happy. 
Your excellent magazine should be monthly as I find myself waiting for it soon after reading the one just received, and I thoroughly enjoy reading about other people's experiences, letters, the trips to other countries and product reviews. 
Steve Knights
Picos De Europa 
During the first two weeks of September 2019, seven of the Northern Ireland contingent of ABRs (minus Flintlock, unfortunately) headed off to the Spanish Picos mountains for a 10-day adventure. Now, Northern Spain is almost on our doorstep thanks to Brittany Ferries and the Cork to Santander ferry route. 
After a smooth 26-hour crossing, we left behind the clouds of our native island and were deposited in the Spanish sunshine. Over the next eight days, we zig-zagged and crisscrossed the western end of the beautiful Picos and the largely untouched and underexplored Sierra De La Demanda. The roads are a truly unbelievable joy for those who love well-surfaced roads of a twisty nature and an almost inexhaustible choice of off-road options. Better still, certainly, in September, the entire region appeared deserted. 
Other than the usual great craic, and ridicule for me for only bringing one small pannier and a couple of bags (to save weight for the aforementioned twisties), our one point of note was the hard-learnt lesson for one of the groups, our good and normally loud friend Gubbo.
He departed on a 1,600-mile adventure trip, including off-road elements, shod with a pair of 'at their sell-by date' Michelin road tyres. Fine for the lovely dry roads, but for the off-road work? The inevitable occurred and naturally, none of us mentioned the obvious. The unfortunate thing was, it didn't keep him quiet for long. 
The Picos are sometimes embarrassingly cheap, utterly beautiful, with an empty road network to die for, and plenty of offroad options. They aren't as hot as the rest Spain and are relatively easy to get to, what's not to like? Go with good tyres though… Adventure tyres if necessary!
Gavin Mason
The Spanish TET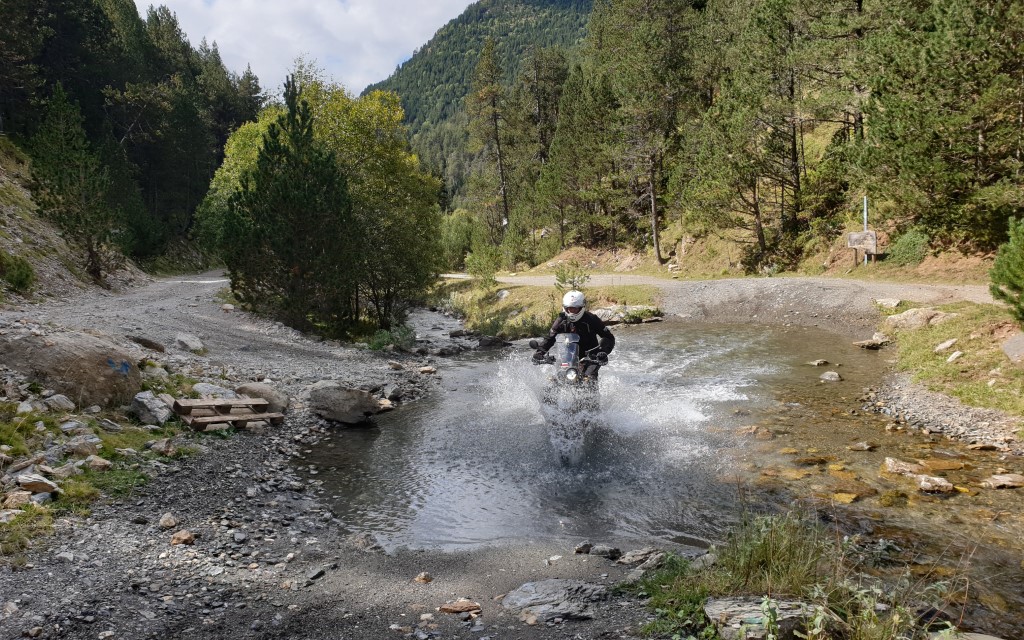 Inspired by both the articles and rides in ABR magazine, and some beer-laden conversations with fellow bikers at the ABR 2019 Festival, a friend and I decided to organise a trip to northern Spain to ride a few sections of the Spanish Trans European Trail (TET). 
He on an Africa Twin (big brother) and me on a CRF250 Rally (little brother – I swapped my AT for the Rally earlier in the year). Following a decent ferry trip from Plymouth to Santander, we headed over to the Pyrenees near the border with Andorra and hit some trails. We were lucky with the weather and the trails were sublime. They weren't overly technical but had a real sense of remoteness and adventure against the spectacular backdrop of the Pyrenees. 
Andy then headed up through France on his AT and back home via the Chunnel. Meanwhile, I headed west back toward Santander and did a couple more days solo on the TET around the Bardenas Reales desert region. 
Both bikes performed admirably. The AT had the edge on the pavement, but when we turned to the trails, the boot was on the other foot and little brother CRF250 Rally had the upper hand. Fellow bikers, pick your adventure, get it booked, and share your stories! 
Roy and Andy
Win a subscription to ABR
Want to see your name in the magazine and win a year's subscription? At Adventure Bike Rider we love to hear from our readers, so if you're planning an adventure, want to tell us about a previous one, or just want to share your thoughts on anything bike related, get in touch!
Send your letters to:
[email protected] and if yours is chosen as 'star letter' you'll win a year's subscription to Adventure Bike Rider magazine.