ABR readers get in touch to tell us all about their two-wheeled adventures…
Riding Solo
It's never too late to start a solo adventure. Having taken back to two wheels after a thirty-odd-year sabbatical, I had enjoyed a handful of trips with either a mate or a group, including rides to and in the Scottish Highlands, the Alps and the Himalayas, but my attraction to the Norwegian Fjords didn't suit any of my friends. A solo trip was the only way forward.
My bike was shipped out to Oslo courtesy of Tony at Eurobiketrans, meaning I could spend my full 14-day holiday in Norway, allowing me to visit Nordkapp, the Lofoten islands, Trollstigen, Geiranger and Lysebotn. Accommodation was a combination of camping when the weather was suitable and using the plentiful supply of Hytte (camping huts) when the mood took me.
The trip wasn't without its challenges, mainly due to the frequent and heavy rain showers, but like I kept reminding myself, "you can't have enormous waterfalls without a bit of rain!". Here a few of my favourite photos from the trip including the North Norway Arch, which felt like an enormous triumph after some of the worst riding conditions I had ever encountered.
Chris Southcombe
The proposal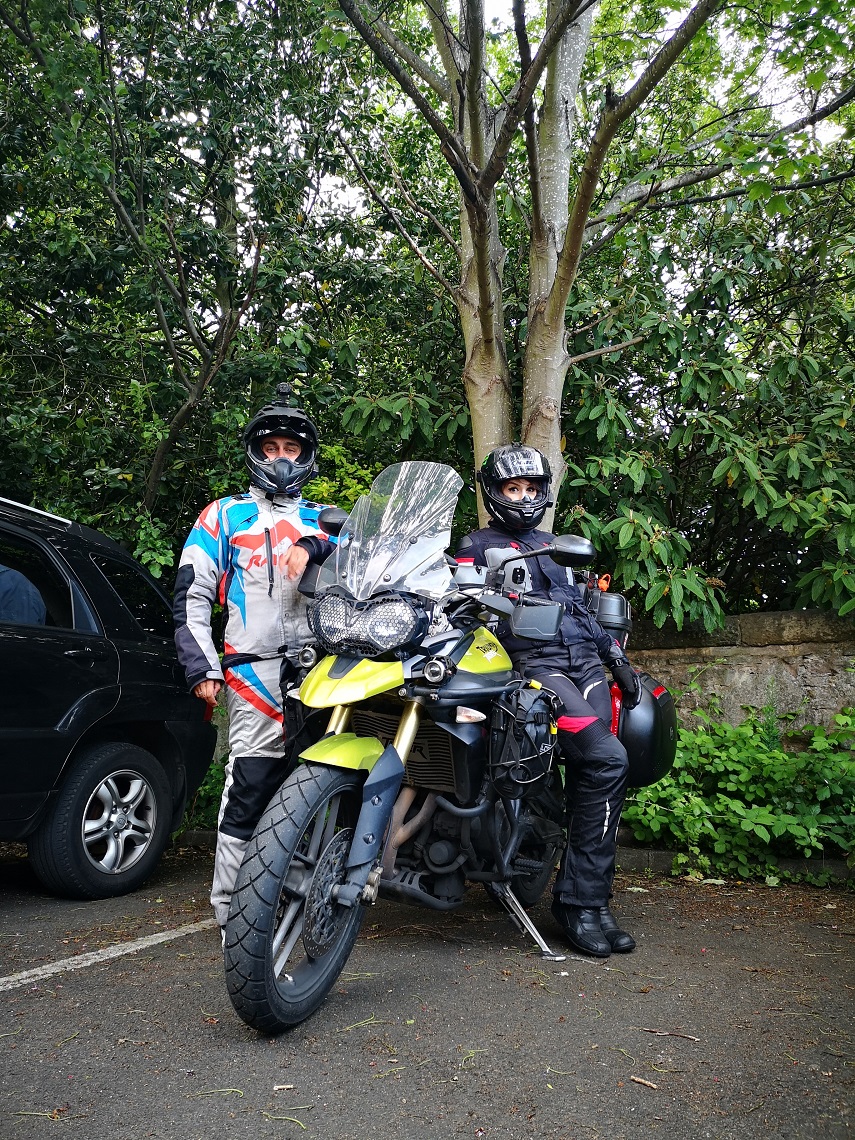 Mario and his girlfriend
I would like to share my recent trip to Scotland, where my girlfriend and I did 1,668 miles in six days. It was her first time on my motorbike for more than a couple of hours and I wanted to do the North Coast 500. My weapon of choice was my 2011 Triumph Tiger 800 and boy, did it deliver. We didn't have a single issue.
I wanted the trip to be memorable and any girl who spends three years putting up with our motorcycle craziness and who wants to go on such a touring adventure, well, she's a girl for life. We started the journey as boyfriend and girlfriend and finished it, fiancées.
I proposed to her in Dornoch and the answer was yes. Of course, Scotland is beautiful, the roads are amazing and riding the twisties to Applecross was challenging, especially in the rain.
Mario Rebelo
A rainy Welsh adventure
In desperate need of some time on the motorcycle after some knee surgery in December, I wanted to ride the Wales Coast to Coast trip and join that with the Snowdonia Discovery Route. To make this trip a little more adventurous, I decided to use my phone as my GPS, with the newest Scenic 2 beta app (as one of the 60 people testing this great app). I was able to download the GPX trip from your website and imported it into Scenic 2. The trip started on July 29 in Belgium at around 5:30 am to get my boat in Dunkirk.
After two hours on the water, I arrived in Dover and immediately headed off to Wales. Coming in from Belgium, I split the Coast to Coast trip in two parts: day one would bring me to Brecon, day two would be there for the rest. I arrived at the starting point of the Coast to Coast route at around 2 pm. The GPS wasn't that happy on my first day, but it's still a beta where only one guy is working on it. It made me do about 80 miles extra, but I really loved it. The weather was good, it was my first day, and I was still on schedule to make it to the hotel in time: no problem.
Day two and the weather forecast was: rain, rain and more rain. I had a waterproof all-in-one, so no problem. This kept me dry for about 30 minutes and from then on I was completely wet. I passed a small petrol station that also happened to be a KTM shop! I bought a new waterproof set, from Richa, the Belgian brand which is made about 20 miles away from where I live… Now I was ready for the real stuff, what I really wanted to do here in Wales: the off-road part around Claerwen Reservoir! What a wonderful view and 'road'. Due to the rain, a lot of bumps were now water-splashes. I was already wet, so why not!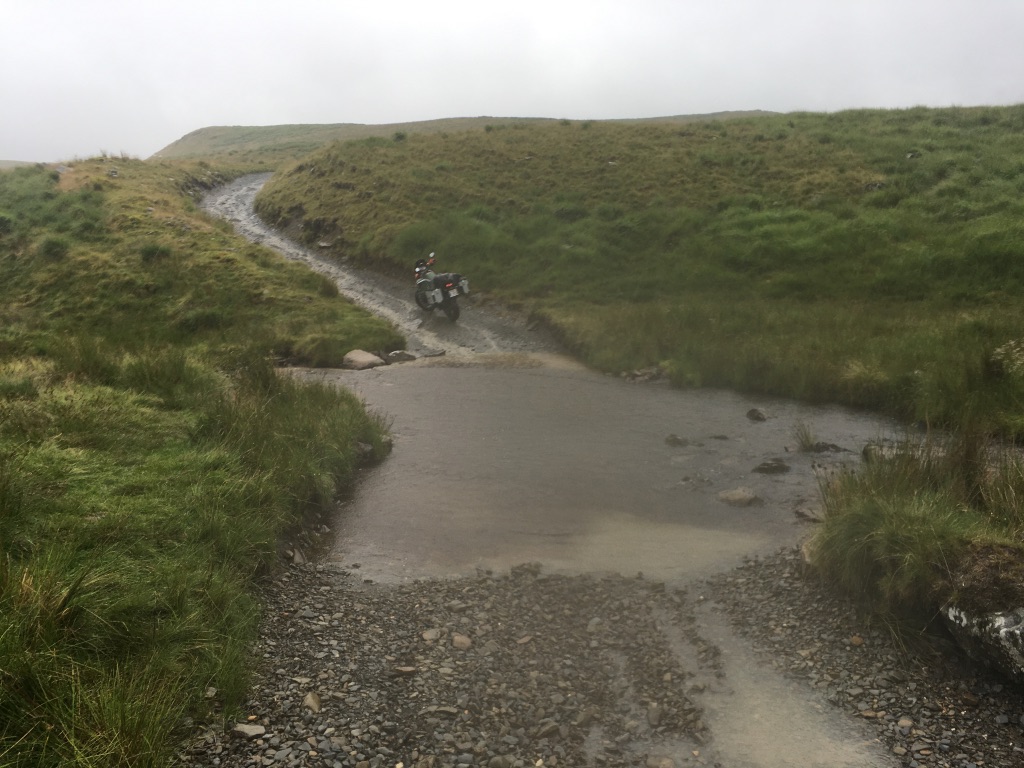 Rain filled water splashes
Once I arrived at the farm, I went through the first gate. At the second gate, there was a clear sign that stated no motorised vehicles. I tried to locate the farmer but, due to the bad weather, I gave up quickly. I returned via the same road but was very curious to see what was on the other side, so I did the complete detour to find out. I was able to locate it and rode up until the river crossing. The pictures are crazy cool, but I didn't do the crossing itself. There was too much mud coming into the river and visibility was gone. Being all alone, this wouldn't have been a smart thing to do.
Just before Aberystwyth, my phone battery died (my charging cable shorted in the rain) and I still had to book something for the night! My spare cable saved me here! I was able to book a nice guest house and found my way through the city. Day three started pretty clear. I wanted to do the Snowdonia Discovery Route, also from your website. Great tour! As I got higher and higher into the mountains, it got more and more foggy until visibility was about zero. I spent the evening in the Lake Vyrnwy Hotel and Spa.
This was great, and I was able to eat in the bistro! The view you get from the hotel room is amazing. It's not cheap, but this view and the marvellous breakfast are included. Since the weather wasn't that good on day four I decided to get closer to Dover. The quest of the day: get somewhere south of London without using a motorway. There was a motorcycle cafe a little off route (Loomies) and I decided to make the detour to have some chats with some local people over there.
I enjoyed talking with the bikers, but the bar itself wasn't that special. I ended the day in an Airbnb in Tongham. For the last day, I only had to get from near London to Dover and then back home, so I took only the small roads. Some parts reminded me of Wales and I was only 30 minutes away from Dover by then. The nicest part of the trip? The off-road part next to the lake! I guess also the pass between Lake Bala and Lake Vyrnwy, but it was pretty foggy then. The hardest part of the trip? Missing my almost two-and-a-half-month-old little boy, Tiemen! He made me the happiest man on Earth when I returned on Friday around midnight and he woke up and immediately started laughing at me. Wonderful.
Stijn De Groote