ABR readers get in touch to tell us all about their two-wheeled adventures…
A father and son adventure
Oliver is my youngest child. He has a Yamaha MT07 which I gave him such a hard time about when he told me he was buying it. But he bought it anyway. That was in 2016. When we spoke about his forthcoming 21st birthday he said what he'd like to do was a road trip with me. 
There were two problems. I had no licence and no bike. But he awakened a dream. That was in the autumn of 2017. By June 2018, I had passed my various tests and got my licence. 
I had also been to Motorcycle Live at the NEC and shortlisted three bikes, the BMW GS, the Africa Twin and the bike I was to buy, the Triumph Tiger 800 XCX. It was delivered in May 2018, I got my licence in June and in July we took off for the Hook of Holland and a trip to the Stelvio Pass in Italy. 
Pulling into the car park lanes at the ferry terminal at Harwich I fell off pulling on the front brake while making a slow left turn. What an idiot, and it was right in front of the other bikers waiting to board the ferry. 
I think I can say I returned to Harwich two weeks later a confirmed and addicted biker, thanks to the utter joy I discovered during the 2,000 miles or so we covered, the patience and good advice of my son, and the friendliness of the biker community across Europe. Thanks also to the Tiger below me. What an incredible machine. 
To all those bikers who passed me and who I failed to acknowledge, it was only because at that particular point I was concentrating on something else, a bend or gear change usually. But to all the others, it took me a while to realise you were not trying to point out a problem with me or the bike, but simply that you related to me as a brother biker, a bro. 
So, for 2019 we headed to northern Spain with Brittany Ferries, heading west to the Picos de Europa mountains and looping back to hit the festival of San Fermin, at Pamplona, and above all realising that there are so many roads I need to ride and not all on tarmac.
 I would not have imagined I could have tackled what we did. Even finding ABR magazine. There it was itching to be read (and later subscribed to) on the coffee table. Fate. 
So, Oliver and I have just booked weekend tickets for the ABR Festival. I hope to see fellow bikers there. Oliver has also been out this morning on the KTM 790 Adventure R. It's catching this adventure bike thing. 
For those of you who have been doing this a long time, I now know why. For those of you who have just picked up this magazine in the waiting room somewhere perhaps, take it from me, biking life is fun, addictive. And you are never too old or young, to start. I love it. 
Stephen King
Oxford Continental Advanced Trousers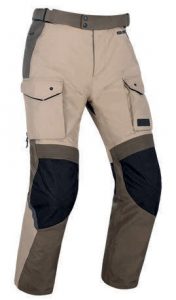 I recently received the Jan/ Feb copy of ABR which has a test on four-season outfits. The report on the Oxford Continental Advanced trousers has an error. The thermal liner and the waterproof liner can in fact be removed. I know this because last Monday I bought the Continental jacket and trousers. This makes the trousers a more attractive proposition to potential buyers and I feel it would only be fair (especially to Oxford) to acknowledge this in the next issue. Thanks again for a great magazine. 
Phil Langford
(Ed – thanks for spotting the mistake and letting us know Phil. The Oxford Continental Advanced trousers performed well in our test and represented great value for money. Having the ability to remove the thermal and waterproof layers will aid venting and help you to stay cool on hot summer days).
---
Win a subscription to ABR
Want to see your name in the magazine and win a year's subscription? At Adventure Bike Rider we love to hear from our readers, so if you're planning an adventure, want to tell us about a previous one, or just want to share your thoughts on anything bike related, get in touch!
Send your letters to:
[email protected] and if yours is chosen as 'star letter' you'll win a year's subscription to Adventure Bike Rider magazine.