ABR readers get in touch to tell us all about their latest adventures…
Happiness only real when shared
Hi ABR,
In 2013 my Tiger Explorer took me over to Poland and Hungary on my first ever overseas bike tour. I was massively overloaded (I can't seem to master packing light), but the bike was faultless and I was grinning from the second I rode on to the Eurostar train.
In 2014, I opted for a northern route, via ferry and again a heavily laden Tiger Explorer took me from the Hook of Holland all the way up to the Arctic Circle (where I could update Facebook thanks to a 3G signal….yet I can't get one in my garden in Leics) via Denmark, Sweden and Norway where I saw some of the most jaw-dropping scenery (and beer prices) ever.
I've loved these trips, travelling solo and going where I want, but at the end of the day, it would have been lovely to have shared the day's experiences with someone I'd ridden with.
Thankfully I'm getting my wish this year, when I ship my faithful Tex over to the US along with my girlfriend's Bonneville for a tour of New England (for us) and across to Seattle and San Francisco (for me), starting in Chicago in June. I can't wait…
All the best,
Paul Jones
---
Trail riding in the Emerald Isle (featured image)
I do a bit of trail riding here in Ireland and if I'm not doing that I am off around the back lanes of my country on some bike or other. Many thanks for a great mag!
Bye for now.
Griff, Co. Wicklow, Ireland
---
V-Strom: bring it on!
Hello Bryn, In the last year I have met Nick Sanders, Ed March, collected ABR magazines and grown a passion for adventure motorcycles. I recently bought the excellent Suzuki V-Strom 650XT. An excellent bike that I am very pleased with. With a desire for an adventure, I have booked a ferry to Bilbao, and will travel through the Pyrenees, through France, then back to the UK. My good friend Kevin will join me in our first mini adventure in June this year. It is fun to buy kit and items for our journey. The bike is ready, we are ready too. Bring on the journey.
Best regards, Andrew Aston, Hertford
---
Scotland's military roads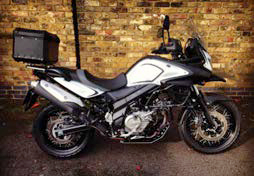 I had just taken delivery of my new GS Adventure and was running in the engine as advised on some nice twisty hilly roads, with the beautiful scenery as bonus. This route, if you have a map handy, connects Balmoral (near the Queen's residence on Deeside) to Donside in Aberdeenshire.
We are very fortunate to have so many wonderful biking roads in this area.
I spent all of September in the Alps last year and covered 4,000 miles. Starting in France, then into Switzerland, back into France, then Italy, France again, Italy, then back into Switzerland. I have some amazing pictures of all the passes which would make for a very interesting article.
David Morris
---
Photos from our social media…
| | | |
| --- | --- | --- |
| Twitter – PEACHMYSTER | Instagram – MOTOCANDOPORAI | Facebook – STEVE AUSTIN |
| | |
| --- | --- |
| Facebook – STEVE NORMINGTON | Facebook – ROBERT TOROK |
We want to hear from you
Want to see your name in the magazine and win a year's subscription? At Adventure Bike Rider we love to hear from our readers, so if you're planning an adventure, want to tell us about a previous one, or just want to share your thoughts on anything bike related, get in touch!
Send your letters to: [email protected] and if yours is chosen as 'star letter' you'll win a year's subscription to Adventure Bike Rider magazine.