ABR readers get in touch to tell us all about their latest adventures…
Vecors Adventure
The September/October 2015 edition of Adventure Bike Rider magazine featured Europe's most dramatic roads with an amazing front cover photograph. I told my boyfriend, "I want that picture, we should go". 21 July 2016 was my day! Months of planning, writing and re-writing my packing list, worrying about getting my Tiger 800 on and off the ferry I was incredibly nervous.
I've never driven abroad, let alone ridden my bike on foreign soil. Our 11-day adventure was a fantastic experience. The ferry was a doddle, French roads a joy to ride and we marvelled at the beautiful scenery. After all that time staring at the magazine thinking, 'I wish', I felt such pride when I rode through that infamous archway.
It was a dream come true. I'm not a hardcore adventure rider, I've only had my Tiger three years, my licence for four. I think the magazine inspires normal people like me to give it a go whatever your experience or ability. I saw only one other solo lady motorcyclist on our 1,550-mile trip. All the other ladies were riding pillion.
More needs to be done to encourage ladies to break out on their own. If I can conquer Col de la Machine, anyone can. Thank you for a great magazine, where to next? We will wait for the next issue!
Michelle Saxby
---
Issue 35 Green Lanes
Read with great interest your exploits over the Bwlch y Rhiwgwr. During the 1970s-1980s I was organising the North Wales Trail Rides group based in Deeside. We used the loop from Bontddu up and over the old London to Harlech coach road down to Pont Scethin and back via the Rhiwgwr.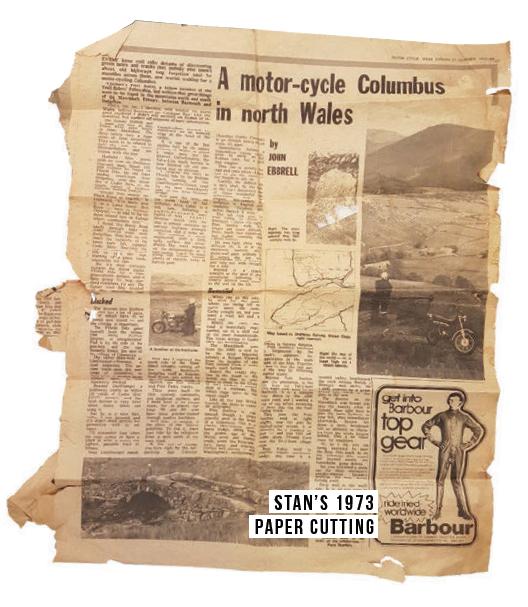 From the gate (which Mr Jones occasionally padlocked due to moto crossers racing over his hill) up the hill and fork right by an old milestone on the left. Continued climbing until a gate in the wall, turn left and continue across the shelf, one boggy spot en-route and then you come out on the edge of the climb where you did your clutch in!
Descending on your right you should see a memorial stone to Janet Haigh who would still walk the route in her 84th year! We never attempted the route in reverse.
I have enclosed a cutting from Motorcycle, from October 1973 by John Ebrell (who was sadly killed on his bike in Scotland shortly after this). Also, a book I found very informative is The Drovers' Roads of Wales by Fay Godwin and Shirley Toulson. Great days and weekend away!
Stan Whitaker
---
A North American Adventure
My wife and I have recently discovered Adventure Bike Rider and are enjoying it very much. Here are some photos from our recent trip from Victoria, B.C. to Alaska via the Cassiar Highway and home via the Alaska Highway, Jasper, the Kootenays and Whistler; just over 10,000km.
The first image is of me at the Canada-USA border crossing between Chicken, Alaska and Dawson City, Yukon.
The second is the bikes with the peaks of the Thompson Pass near Valdez, Alaska in the background taken in the Blueberry Lake Campground.
Third is Michele's Suzuki V-Strom 650 in the Keystone Canyon heading into Valdez.
Fourth is me on the dirt road between Dease Lake and Telegraph Creek, B.C.
Fifth is a shot of me with the mountains near Stewart, B.C. in the background.
Last is Michele's bike with the Nisga'a Tribal Building in the background. Keep up the good work!
Paddy
| 1 | 2 |
| --- | --- |
| | |
| 3 | 4 |
| --- | --- |
| | |
| 5 | 6 |
| --- | --- |
| | |
---
Win a subscription to ABR
Want to see your name in the magazine and win a year's subscription? At Adventure Bike Rider we love to hear from our readers, so if you're planning an adventure, want to tell us about a previous one, or just want to share your thoughts on anything bike related get in touch!
Send your letters to [email protected] and if yours is chosen as 'star letter' you'll win a year's subscription to Adventure Bike Rider magazine.