ABR readers get in touch to tell us all about their two wheeled adventures…
A Scottish adventure
For all the adventure sports we have been involved in, we had long since written motorbiking off as 'too dangerous'. However, this year, needing a quicker way to commute, my husband bit the bullet and took his test. Not to be outdone, and not content as pillion, I followed soon after, taking my test early to surprise him!
Bike already waiting in our instructor's lock up, it was quickly insured ready for a 200-mile ride up to Newcastle that night. A baptism of err… Rain followed as a normal three-hour journey in the car took over five on the bikes – even with my brave attempts at filtering! 
A few weeks down the line, inspired by adventure talks at this year's HUBB and Overland events, we set about looking for our next overseas adventure. Then a series of articles in ABR piqued our interest, and with a wedding invite to Inverness, we set our sights closer to home with the winding roads of the North Coast 500.
Unlike previous holidays, which were planned to the nth degree, this time we were armed only with an official 'NC500 map'.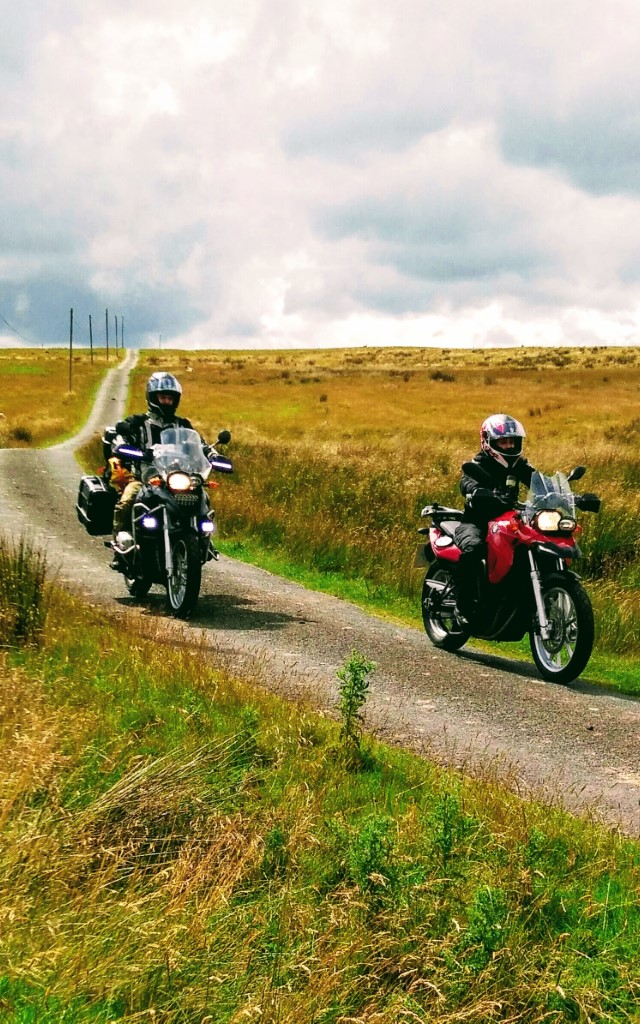 With the weather looking sketchy, we left the tent behind opting for bothies and Airbnbs instead. So ensued eight days of near continuous rain and wind. Although the locals referred to it as a mere "wee hoolie", the remnants of the devastating hurricanes battered us at every turn.
Our bike skills were put to the test and honed on a daily basis. The winding roads led us from sea to hill top and back again, over moors and into valleys. If you haven't visited this part of the UK before, it needs to be on your bucket list!
Having returned from two months touring New Zealand at the beginning of the year, it is safe to say that Scotland's highlands match New Zealand for sheer beauty, wildness and awe. We nearly doubled the official route in distance clocking up over 1,000 miles, making detours to the Isle of Skye, Orkney and any other route which looked interesting!
Finally, I managed to get my mates off their sofas to go on a motorbike adventure around the Pyrenees in September. 
We took the ferry to Santander with four KTM 690s, a KTM 950 and a Husky 701, all loaded up for 12 nights around France/ Pyrenees/Catalonia finishing with a ride around the Picos Mountains in Spain. We planned on and off-road rides and boy didn't they deliver.
As soon as we were off the ferry we discovered great riding on tracks, gorges, a desert in the parque Natural de la Bardenas, great mountain ridges with stunning views and also did some of the Trans European Trail. We covered 1,200 miles with only two punctures!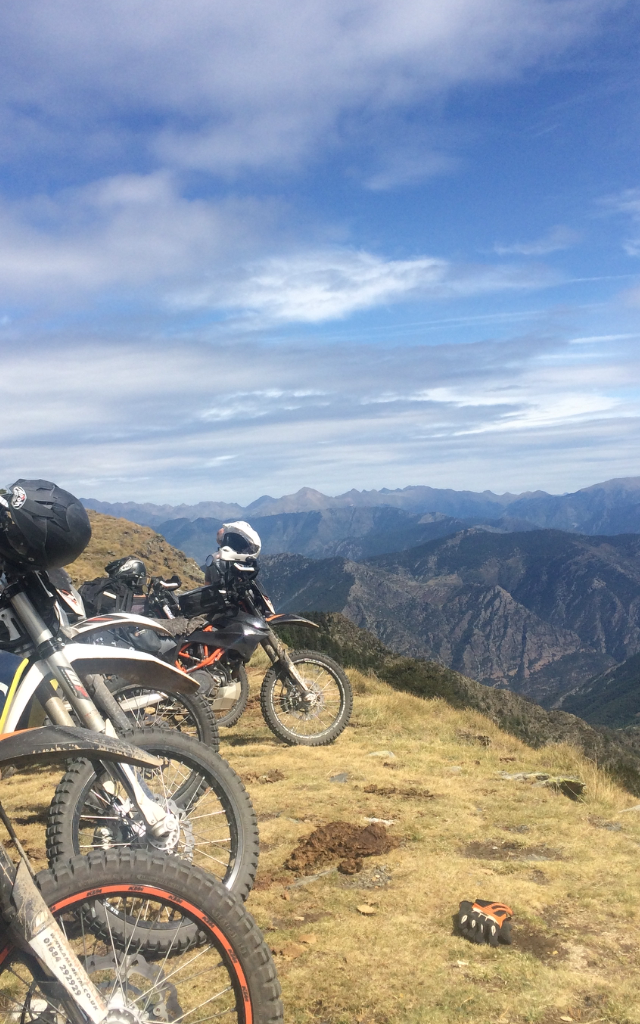 Would love it if you could print at least one of my photos. Thanks
Dave Griffiths
ABR Yuletide Joy
What a great event, somewhere around 40 bikes, a little down on last year but some of the northern guys woke up to snow on the Friday morning, some even came in vans just to join in. 
You had the option of either pitching your own tent or using the bunkhouses, some of the guys managed to get into the staff bunkhouse which had more creature comforts. 
Devon John's food was exceptional as usual, first night was a stew, followed by a 44kg hog roast. There was plenty of real ale on tap which slid down a treat. 
The Saturday night auction was a great success, the ABR bikers were very generous, everything from drink and chocolates to hunting knives and camping accessories, ABR donated some tee shirts and calendars which all sold. The total from the auction was over £650.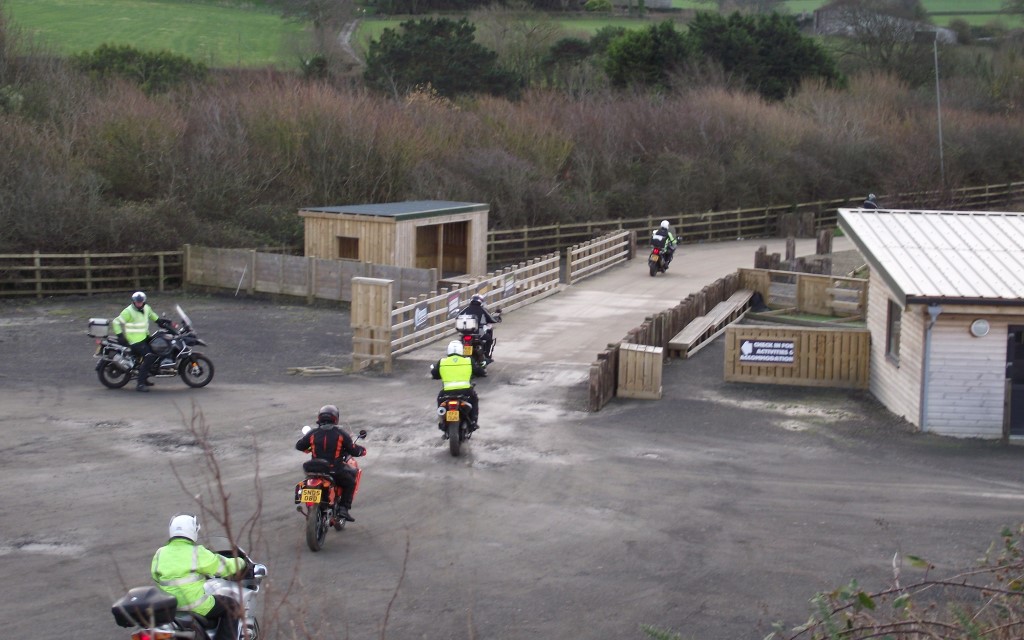 Rob McIntosh led the off-road ride out, along some of his favourite green lanes in North Devon, numbers for this were a bit thin on the ground, the cold weather may have had something to do with it. 
The road ride had what must have been 25 bikes, Rob from North Devon Rospa led an interesting ride out with two stops, one at Tiverton and one at the Driftwood Cafe near Minehead, amazingly no one got lost or wet! 
The main purpose of these events is for all the ABR bikers to have a great time, catch up with old friends and make new ones, if you've not been to one before you don't know what you're missing, but it is always good to raise some money for the air ambulance, this year it was around a £1,000, not bad!
The owner of the adventure centre even donated all the money from the cooked breakfasts that we all enjoyed on both mornings to the cause. 
Keep an eye out on the ABR forum for details of our next meet which is in Malvern in March.
Tim Selwyn, aka "Tredown"
Beauty on your own doorstep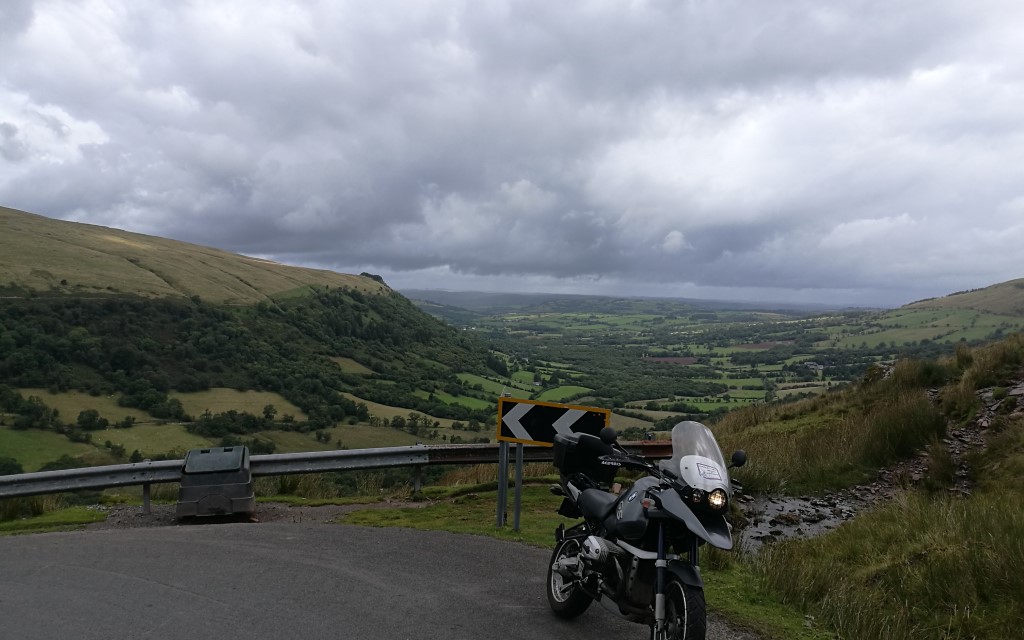 Love ABR and always seeing great photos from exotic locations on FB. Just wanted to demonstrate the beauty on our own doorstep, from the wonderful Brecon Beacons. 
The first is the view back, just above The Devils Elbow, and the second is the stunning drove road from Abergwesyn towards The Devil's Staircase. 
Keep up the good work. Many thanks 
Michael
---
Win a subscription to ABR
Want to see your name in the magazine and win a year's subscription? At Adventure Bike Rider we love to hear from our readers, so if you're planning an adventure, want to tell us about a previous one, or just want to share your thoughts on anything bike related, get in touch!
Send your letters to:
[email protected] and if yours is chosen as 'star letter' you'll win a year's subscription to Adventure Bike Rider magazine.