ABR readers get in touch to tell us all about their two wheeled adventures…
A Scottish success
I have to tell you about an Adventure Bike Rider inspired trip I have just had with my newly motorcycle converted wife to the west coast of Scotland.  
We stayed in a wonderful BnB near Dornie (great biker hosts), which was perfectly placed for my SatNav planned Isle of Skye and Applecross – Torridon runs. The weather was extremely kind to us, which always helps, but I was completely unprepared for the beauty which hits your every sense whilst riding these roads.  
We rode around the Shiel Bridge/Glenelg/Corran, as recommended by our hosts, which also has fantastic views and restful riding, along with the small ferry crossing to Skye, which is worth a run.  
The Isle of Skye itself was breathtaking. The roads and views are well worth the circular ride around the island and we were able to divert off the main run to Glen Brittle/Fairy Falls, which was well worth it. 
Bealach na Bà, including the viewpoint, on over to Applecross and then to a cafe at Torridon, by the coastal road was the absolute clincher for the recent convert on my pillion seat. I thought at times about turning our intercoms off to save my ears!  
After reading the articles last year, I got straight to it and booked us on, loaded the SatNav and hoped for the long wet winter to end and boy, what an unforgettable trip.  
We are reading with interest the Southern Ireland articles and who knows what the next trip will bring. Thanks for the inspirational mag.  
Richard Blakey
---
Wrong jacket image! 
In the last issue of ABR magazine, I read with interest your review of laminated motorcycle jackets as I'm in the market for a new one. I couldn't help but notice that you used the wrong image for the Rev'it! Dominator on page 151! 
Matt Moore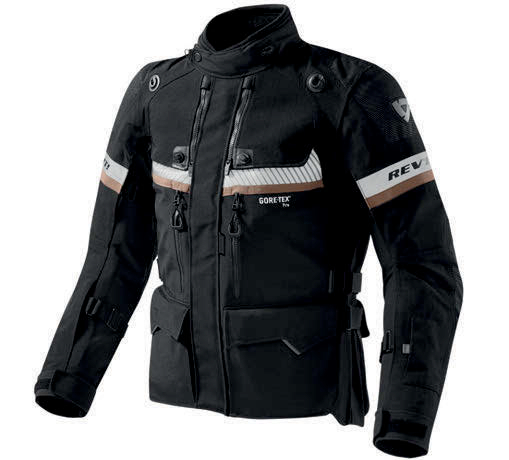 Ed's reply: Well spotted and thanks for pointing this out! The Rev'it! Dominator GTX was highly rated by Alun Davies, scoring 9/10, and an unfortunate error led to the wrong image being used (and price, it actually retails at £999). Here's what the jacket actually looks like, and in case you didn't get chance to read the test, the review can be summed up by: "An exceptionally well-made, practical, stylish and tough jacket that should prove to be an excellent long-term investment." Bryn Davies (Editor)
---
Kenyan Adventures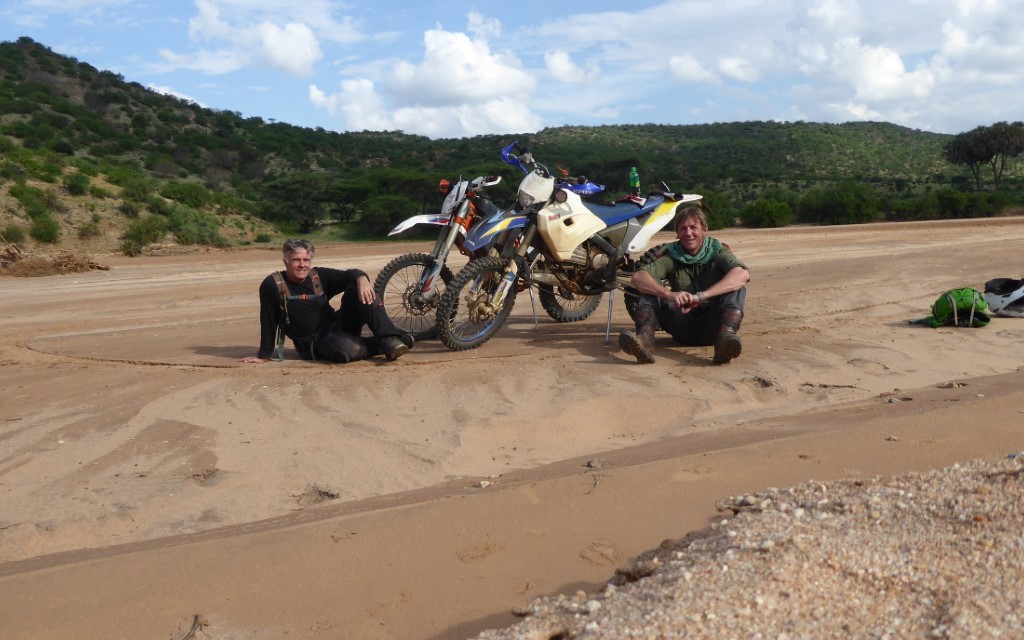 Likely some of the best 'lugga' (riverbed) riding ever! Somewhere in northern Kenya (location – top secret!), Easter time 2018. Two middle-aged Dakar wannabes get into Samburu tribe and elephant country for some epic riding, and not one puncture in three days! 
Mike Watson and Simon Dugdale C/O Northern Kenya
---
The Great Plain 
The constant desire for some kind of off-road adventure that coursed through my veins ever since my father took me to watch motocross racing as a child was once again tormenting me. It was something that never went away, and it was time to find an outlet once and for all. 
Dreams of travelling the world on a shiny new Africa Twin ensued, but for now I would set my sights on simply enjoying the freedom that only the experience of riding a motorcycle can bring, and as far from the madding crowds as possible.
The winter had been long, and as the 'Beast from the East' finally gave way to blue skies and a mini heatwave, I seized the moment for my long awaited two-wheeled escape to Salisbury Plain.
However, as much as I love my Honda CRF250L, the thought of two hours of bone-shaking motorway riding and 'A' roads on a small capacity dual sport bike wasn't very appealing, so I threw it in the back of a hire van and headed on my way with a big smile on my face. 
I was as prepared as I could be for a newbie adventure rider. In my backpack I had an OS map, several bottles of water, energy bars, fully charged phone, spare tyre tubes, a pump, cable ties, and any tools I might need on the trails. I realised I would never be too far from civilisation, but to be stuck in the middle of Salisbury Plain with a puncture would be no picnic. 
I had heard so much over the years about the Plain that it had a kind of mythical status to me. A Mecca for motorcyclists and 4×4 drivers alike, it has often been described as an off-road paradise. This proved to be an accurate description on this unusually scorching Thursday in mid-April.
Hundreds of trails leading in all directions, offering varying terrain, from tank track-induced ruts to chalky off-camber roads, along with plenty of standing water to deal with in some areas.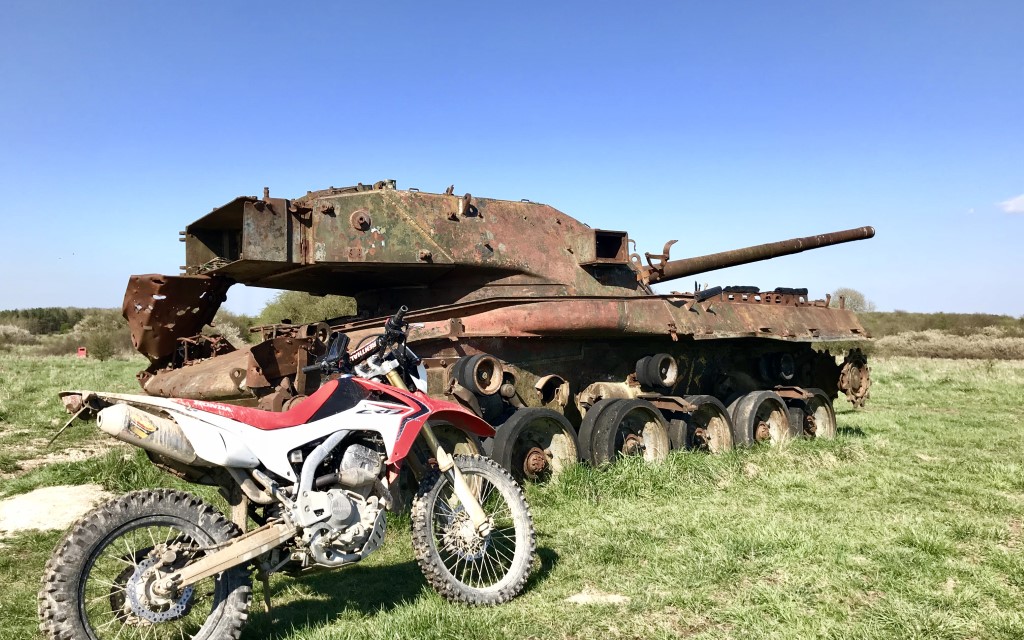 The conditions were perfect – the cloudless blue skies in contrast with green grass as far as the eye could see was a sight to behold. 
As I left the tarmac for the first time and headed onto the perimeter byway I was soon meeting a plethora of MOD vehicles whilst an Apache attack helicopter swooped overhead.
Eventually, I came across the ghostly sight of two rusting tanks and pulled up for a closer look. Apart from the MOD personnel, I barely saw another soul all day. 
When the time came to take a break, I stood next to the bike in all my gear, caked in chalky mud, and took in the surrounding views. One could hear a pin drop were it not for the sound of birdsong and distant artillery exercises.
At that moment it felt like everything I had done up to that point in terms of acquiring my full bike licence, buying a bike, and investing in some adventure gear had all been worth it for that single moment – it was almost a spiritual experience. 
Simon Small
---
Win a subscription to ABR
Want to see your name in the magazine and win a year's subscription?
At Adventure Bike Rider we love to hear from our readers, so if you're planning an adventure, want to tell us about a previous one, or just want to share your thoughts on anything bike related, get in touch!
Send your letters to:
[email protected] and if yours is chosen as 'star letter' you'll win a year's subscription to Adventure Bike Rider magazine.