ABR readers get in touch to tell us all about their latest adventures…
Young Adventure Bike Riders on the UP!
I'll set the scene here for you… I'm 23, buying my first house with my girlfriend, working in a motorcycle dealership in Stoke. I'm surrounded by quality machinery all day, gleaming super naked, glistening chrome cruisers, shiny sleek sports bikes etc. and of course the humble adventure bike!
I'm what most of you readers, probably, would call young. I should be hooning around on a big brutal naked on the back wheel down twisty B roads. Which I have been, but mostly on two wheels…
I've just got rid of my KTM 1290 Super Duke and Triumph Explorer XCX to save some money for the house. I've previously owned a Tiger 800 XCX and a Daytona 675. You can probably guess what franchise the dealership is.
I've just taken possession of a brand new shiny KTM 1290 Super Adventure R, swapping two for one. It does everything I could want! It is bonkers like my old Super Duke, and nearly as comfy as the Explorer. But with more gizmos and gadgets thrown in as standard, which is nice coming from the Triumph.
How on earth do you get better than this bike? I can do all day riding in complete comfort and at the push of a button I can put it in sport mode and it turns into a superbike on stilts with no compromise to handling and a better view of the road ahead, with added safety nets to keep me in shape should the red mist get a bit too hazy.
Working in a dealership I get the benefit of seeing where most motorcyclists end up. Since the big boom in the adventure bike market, that is where most are parking their bottoms. I've just ended up there a little earlier. Cutting out the middle man of backache, painful wrists and cramped legs.
I'm seeing more young people heading that way too. It certainly seems to be the young ones tackling the round the world trips and braking records lately too. With this follows more social media coverage and exceptional stories and trips to dream about in your lunch hour whilst reading a copy of Adventure Bike Rider magazine.
Arran Bell
---
Last Issue's Star Letter
As a comment on the star letter, Sept / Oct 2017 issue, I would like to say this to Jamie and anyone else on any machine, especially adventure bike riders.
As a biker with up to 27-years' experience, ten years ago I purchased a GS 1150, which was a leap of faith for me being into the 'streetfighter' scene. After this, I then paid my money and completed the World of BMW off-roads skills course.
This was approximately 10 years ago, and I can quite honestly say it was the best money spent for anything motorcycling related. I now had the skills to be better able to use my GS on any track I fancied. I had a crack at this year's Stella Alpina.
Then about three years ago I gained full membership of the Institute of Advanced Motorists, the skills learned from my observers have made me a much better and more aware road rider, even now after 34 years of riding.
In short, get some formal training done. There are sites for most manufacturers, and you'll be amazed at what you and your adventure bike can do.
Ride safe and have fun.
Richard Dawe, AKA DOS
---
What To Do With A Spare Three Days In Vegas
So, you have three days in Las Vegas to kill between work. What do you do? Gamble? Drink and party? Eat in Gordon Ramsay's? Visit some of the, err, Gentlemen's Clubs? Or rent a couple of BMW F800GSs and head out to stunning terrain a few hours away? I know… My mate Danny wanted to try the penultimate option too!
Back at the end of June we took the option of the BMWs and were glad we did. An amazing trip that started at 03:30 am on day one with a ride down the Las Vegas strip before heading up Highway 15 to some of the most stunning scenery in the world. We visited Kolob Reservoir before taking a 24-mile dirt trail through the mountains to Cedar City.
From there we visited Cedar Breaks National Monument before heading to Bryce Canyon for the night. We had intended to ride through Brian Head, but due to a category five wildfire (60,000 acres would burn) we had to detour around this.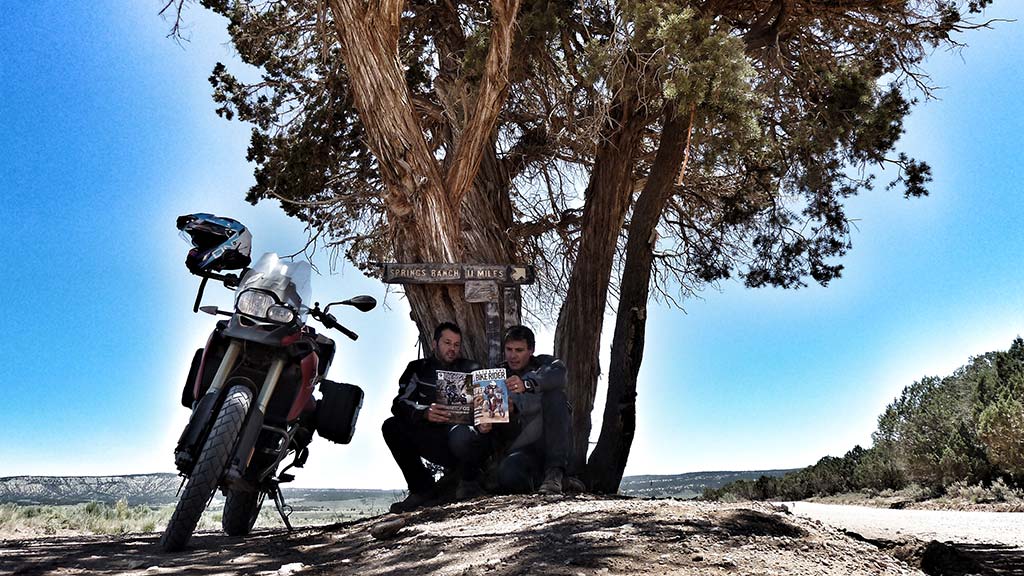 The next day we rode through Bryce Canyon and along Highway 12 to Escalante. A great highway. We then took a dirt trail from Cannonville to Glendale, riding 55 miles in the middle of nowhere – a new experience for us coming from the UK where you are never more than a few miles from a road or house.
Then the highlight of the trip – riding into Zion National Park from the east. This truly is one of the most amazing and beautiful sights I have ever seen. It simply takes your breath away.
On day three, having ridden the road through Zion a couple more times for good measure, we headed back to Vegas. We were met with temperatures of 46C and traffic crawling through the city. Well, you can't have everything your own way!
So, I'd like to thank you all at Adventure Bike Rider for inspiring us to get out there and explore. We took a copy along on the ride too.
Mike Weeks
---
14 River Crossings In One Day
To celebrate the opening of the new Queensferry crossing between our homes in the Kingdom of Fife and all roads south, my friends and I decided to cross the river Forth on as many different bridges as possible.
Myself, Colin, John and Tony met up at our usual meeting place in Kirkcaldy under dull but brightening skies. After crossing the new bridge in bright sunshine, we immediately turned off on the A904 towards Bo'ness, tracing the river westward.
The A905 then took us around Grangemouth to the Kincardine Bridge. A swift right turn onto the A977 took us to the A876 and the Clackmannanshire crossing, three down. Our Fourth Forth crossing was achieved on the A91 where a coffee at Wallace Monument café took our fancy, lovely.
Back on the road again, heavy traffic made our fifth crossing at Causewayhead on the A9 a bit fraught, however we were soon headed for our sixth crossing on the A84. This crossing was one of several about turns to continue our aim, thus allowing us to join the M9 and head to Dunblane, thereby making crossing seven, another about turn saw us return to Stirling to pick up the A811 west.
To make crossing eight we joined the B8075 north until we reached the A84 then turned south on the A873, B8031 and the B822 to re-join the A811, thus crossing number nine was dispatched. An unmarked and unmade road took us to crossing ten, possibly the nicest of the bridges, steel framework and wooden decking, but the road… Oh dear!
Having once again retraced our steps we re-joined the A811 to Arnprior to pick up the B8034 to Port of Mentieth and crossing number eleven. After leaving the A81 at Cobleland campsite on another unmarked road, we succeeded in chalking up crossings twelve and thirteen before entering Aberfoyle and completing our quest, crossing the river at Manse road.
14 crossings of the same river on separate bridges complete, box ticked!
Sitting in the sunshine at the edge of the river with coffee and buns made for an almost perfect end to the trip, however the road home was still to be enjoyed, so without further ado the Duke's Pass, to Kilmahog, was soon dispatched and the road north led us by Strathyre to Lochearnhead.
Spinning our way alongside the loch brought us to St Fillans and Comrie before we reached our next port of call, Crieff Visitor Centre for, you guessed it coffee, scones and a comfort break, not necessarily in that order.
Our time-honoured route through Glen Devon and the south side of Loch Leven resulted in the inevitable break up of our happy group as we took our leave of each other to find our respective ways home.
What can I say to impart the real joy we had as we had thoroughly enjoyed the roads the weather and not forgetting each other's company?
Alan Campbell