ABR readers get in touch to tell us all about their two-wheeled adventures…
Get Out there
I don't own an adventure bike, nor does my brother, Jools, but we do have motorbikes and a sense of adventure. So it was that my Yamaha FJ1200 celebrated its 30th birthday in Switzerland, having carried very full panniers and my 14yr old son, Sam, from Norfolk. My brother's Honda NTV650 managed likewise, albeit a little slower.
Our first day on the roads of Europe were brought to a premature halt in Rheinbollen, Germany, where we stayed in a lovely hotel which shared its plot with an erotic shop that doubled up as a swingers club.
Some of the comings and goings were unusual but did not prevent us from getting a top night's sleep Sweltering conditions welcomed our progress south as we rode past the crowds to the German Car GP at Hockenheim. We followed a couple of filtering German motorcyclists.
Yes, we know it's unlawful in Germany! We made Grindlewald, Switzerland by evening. Wowing at the site of the glacier first seen from Interlaken. Camping under the Eiger, we spent three days enjoying the scenery. Motorcycling up to the Wetterhorn, site of the world's first cable car. Walking the 2,671m of the Faulhorn.
It's hardly the north face of the Eiger but, for us flatlanders, it was taxing enough. Then we took the rack and pinion cog railway from Grindlewald through the Eiger and up to the Jungfraujoch. It's a real tourist trap, but what an experience.
Walking on a glacier isn't an everyday experience in Norfolk. Then it was back to the bikes and some of the Central Swiss passes. The Susten, Furka, Gotthard and Nufenen gave us roller coaster rides with the sort of scenery Alton Towers will never have.
Watching the locals and some Italian bikers attack these passes I tried to ride quicker, but ultimately I slowed to allow my brother to catch up and to gasp at the scenery which seemed to improve with each hairpin. It also allowed me to look at something other than the guard rail as my helmet approached it too rapidly for my liking.
Despite sharing his Lincolnshire heritage, Steve Plater I am not.
We travelled over the Col de Forclaz out of Switzerland and into the French Alps giving Sam a chance to see the Mont Blanc massif. Despite the Col d'Izoard and the Gallibier being close by, to quote Deep Purple, Swiss time was running out, so we turned for home.
The temperature never dropped below 35C, and I took a Stanley knife to my wax jacket lining as well as drinking more water than a patient with kidney stones. It still made no difference, we all cooked! Both Sam and I rode with only our Knox armour shirts on under our jackets.
This contrasts with two newish riders we met at a service station who were dressed in maximum protection mode. They were nice guys, but I think my suggesting that overdressing was more likely to lead to overheating and a loss of focus which could cause an accident, fell on deaf ears. On arrival at Hoek, we found ourselves talking to a biker from Sweden on his K1600GTL who was part of a group heading to Skye.
He pointed out his wife on her Harley 883 Sportster which had already covered 2,000 miles since leaving home. They were both sharing an adventure from different perspectives. An adventure can be about where you go and that can be enhanced by what you go on. The key is to get out there!
Jez Briggs
Winter fun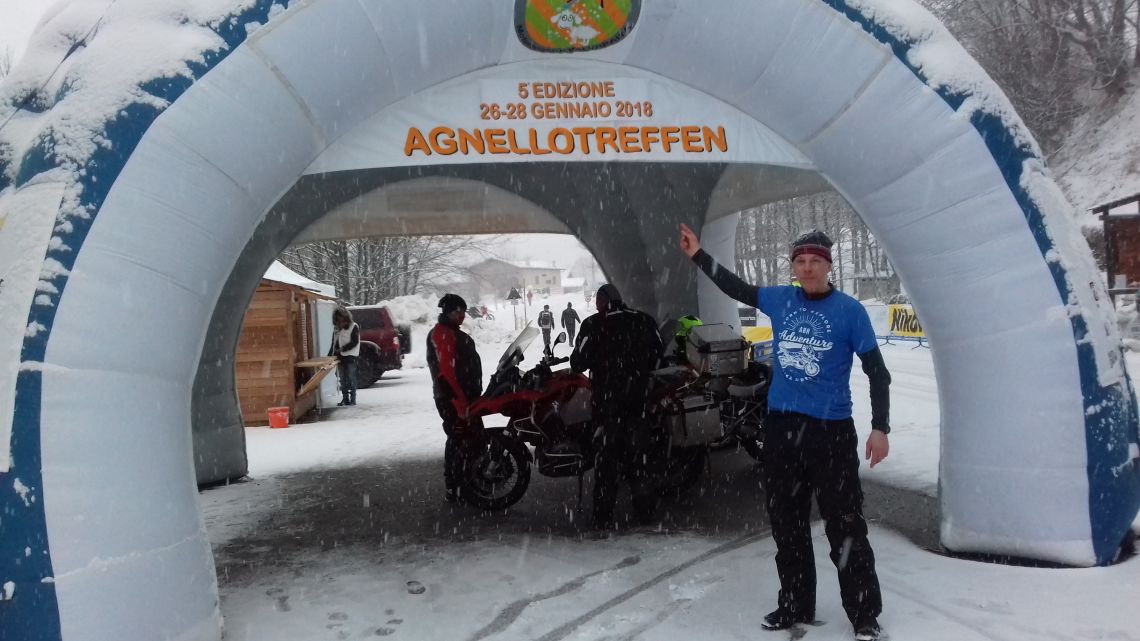 I happily got back into biking a few years ago, having some great little adventures on my Chinese AJS. Two years ago, I was fortunate enough to win one of your TomTom SatNavs from the Discover Britain series and used that to take my then V-Strom on adventures further afield, with a toe finally into France.
Sadly, that bike was stolen but, with a few Dragon Rallies under my belt, and a second-hand Versys 650 to put to the test, I wanted to see what I and the bike were capable of. So, this year we rode down to the Agnellotreffen in Italy for a spot of snow-laden camping and properly toured France afterwards.
I was inspired by your 'Idiot's Guide to The Elephant Rally' to do this. It was a great trip and if anyone's thinking of doing a winter rally, my advice is just to do it.
Your article was right to state this also. Don't be put off by tales of doom from people who've never done one. I took snow chains but never used them once. Instead, I had my first experience of Alpine riding and hopefully improved my skills. Your magazine has also inspired me to take up green laning.
I'm terrible at it but it's amazing how much adventure you can have within a short distance from home.
For this, I use a beaten up, cheap and cheerful Suzuki DR350 and I entered the Taffy Dakar last year on it, which offers a brilliant introduction to off-roading in Wales.
Again, I hope the green laning has made me a better rider. If anything, I think the moral in all this is that adventure can be had on any bike and anywhere. There really is no limit. Please keep up the good work. It's my monthly dose of inspiration.
Maurice
New beginnings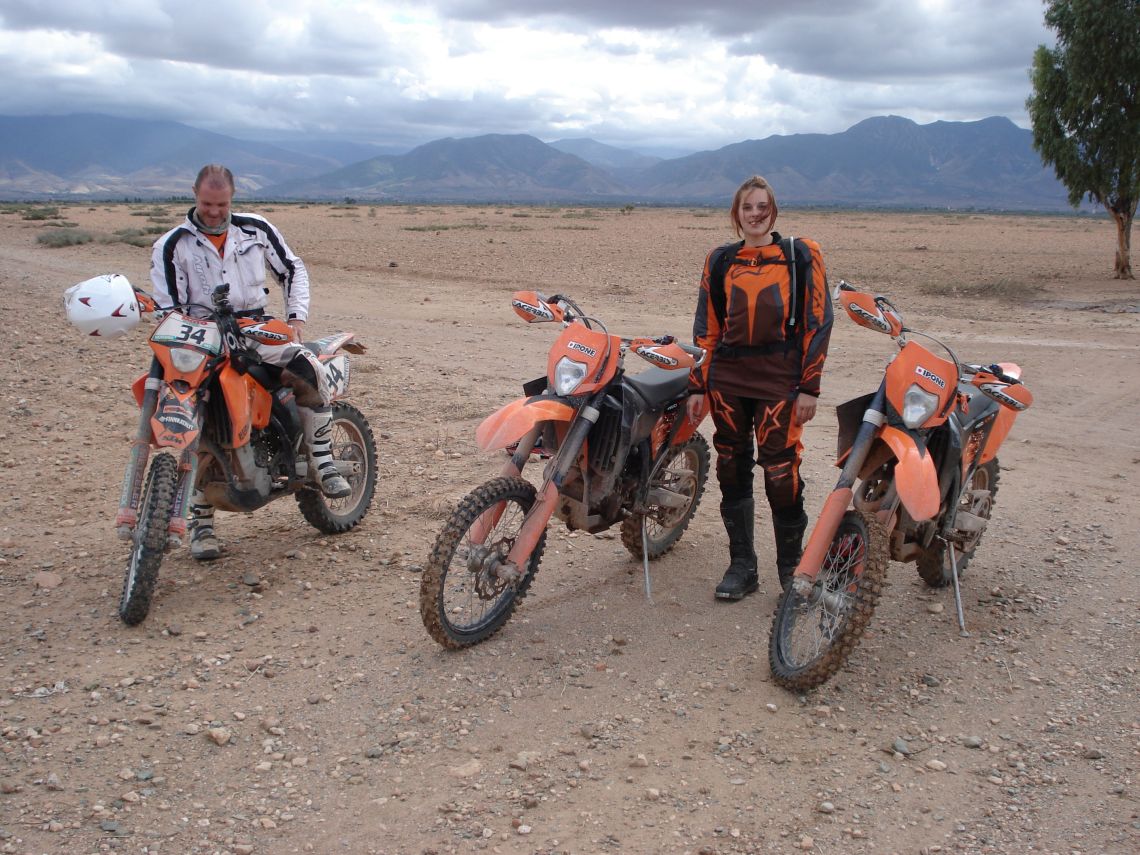 Last year my father was diagnosed with terminal cancer. I'm not telling you this for sympathy or for pity. I only tell you because it's important and it started a new chapter in my life. My father and I had always had a difficult relationship but now we had run out of time.
I decided to spend as much time as I could with him. It didn't make it easy with him in North Wales and me in Hastings. I would make the long journey up to see him, sometimes only for a few hours and then make the journey home again.
The visits were hard, but the journey home was harder, knowing I would have to put my grief aside and work the next day. On one of my visits my mum drove me up in the car. We stopped at a service station and I walked into WHSmith to pick something to read.
I have never been a Grazia or Hello type person, so I was looking for something out of the ordinary when I saw a copy of Adventure Bike Rider, on the cover it said Explore Morocco.
I sold my bike years ago after an accident, but I picked it up anyway. I opened the magazine and flicked through to the article and the pictures were familiar. Years before I had been part of a motorbike trip up the Atlas Mountains in Morocco and the pictures looked so much like the places I remembered. I brought the magazine and sat in the car reading the article. The more I read, the more I remembered my trip.
How I felt on that motorbike, in the middle of nowhere on a KTM, flying across the desert. How I looked across the horizon and felt like everything I could see and feel and touch belonged to me. I have never felt so much like a moment in time was so entirely mine.
That's when I knew I needed a motorcycle in my life again. More than that, I needed adventure in my life again. I wanted to see the world, to travel, to take myself to incredible places.
I wanted to feel how I felt on that bike in the desert. And I wanted to write my story, the story about riding the bike in Morocco. I wanted to write that story and have more adventures and write about them. I had been thinking a lot about my father's life, about how sedate it had been.
Death has a way of making you assess your own existence. I didn't want to get to the end of my life and look back with regret, wishing I had the courage to make changes or do something spectacular.
I have managed to get my hands on a battered old XT600 to start my journey. I have been riding alone, going to new places and enjoying my newfound freedom. All the time reading and researching and planning for a big trip next year.
I often think of my father when I'm on the bike. If I hadn't been on my way to visit him I would have never been in that service station. I wonder what would have happened if I hadn't picked up that magazine.
I wonder if motorcycling would have still found its way back into my life somehow. I would like to think so. From one of the hardest times in my life I have found solace. I have rediscovered a part of me I had forgotten about, the part that wants to take on the world and explore.
I don't know where this road is going to take me, but I will write it down so I can tell the story.
Christina Rapley