ABR readers get in touch to tell us all about their two-wheeled adventures…
The 18,000-mile challenge
Hi Bryn,
I loved Issue 51. Ice Ice Baby was excellent. As a sidecar combination rider, I admire Matt and Reece's nerve and resolve. It also shows that our preconceived ideas of what people may be like in a country are often wrong, a point further highlighted in Billy Biketruck's tour of Mosul with Claudio.
Well done on the 18,000-mile challenge. In a time of low annual bike mileages encouraged by PCP bike ownership limiting mileages and the negating of motorbikes to leisure toy status from regular transport, it's a real undertaking.
It will be interesting to see how you all get on. I own four bikes including my combination. As the youngest is 30-years old and the oldest 42 years, I thought it'd be interesting to see how their yearly mileages averaged out.
They worked out at a paltry 1,268 miles per year, or 317 miles a year for each! Well, I've averaged 6,000 miles a year in total in my time of ownership, so that number will continue to increase. I encourage all ABR readers to get out there.
Each motorbike ride is a mini adventure connecting you to the environment and allowing you to travel through the harsh beauty of that environment drinking it in. It really is good for the soul. Not everyone can live as a tiger, even if they would wish it, and our admiration for those who do, like Matt and Reece, is great.
But we can all have a little bit of the tiger in us. The 18,000-mile challenge gives us all the chance to aspire to it that bit more. So, leave the car and take the bike. You will rarely regret it.
Jez Briggs
What makes a great trip?
We had a funeral service for a great biking buddy this month and whilst it was a sad and emotional affair, I have been remembering how he and I started our biking lives together. Whilst he had cut his teeth on a Pan European many decades ago, we were both essentially middle-aged, born-again bikers in the early 2000s. Me with a Deauville quickly traded in for an air-cooled GS, and Bruce on his Honda Varadero. We struck out on our many biking adventures.
Starting with baby steps, we would have day trips in Wales growing to two-day overnight trips building up to week-long breaks in Ireland and culminating in 3,000-mile trips in Europe. Looking back on how we started out on cheap, old bikes, inadequate clothing, maps taped to tanks and minimal experience, we still managed to have a fantastic time.
The frustration of breaking down in rural France on a motorway over a public holiday weekend and having to push the bike up a slip road to save a few Euros on recovery is now, on reflection, all part of the experience and part of biking.
Each trip (they were always 'trips' and not 'holidays' so as to not count as days away from our respective wives!) would herald a new purchase from a lesson learnt from our previous trip. Waterproof suits came in handy after one particularly wet trip to Ireland, and a SatNav was added after getting hopelessly lost in Spain (albeit a car SatNav hard-wired into the electrics that necessitated gloves off every time a new waypoint needed to be entered).
I can't quite work out the turning point of us both owning textile suits costing more than our first bikes, our pride in our £600 Shoei Neotec helmets with paired comms and, in the case of Bruce, a new FJR and me my third and only new GS, both costing, well, as readers of this will know, more than bikes should cost, and of course fitted with £600 integrated SatNavs! They were all used to great effect on what turned out to be our final 3,000-mile trip to the Czech Republic last summer.
We were ever chasing better bikes, clothing and gear to improve our trips – to make them more comfortable and easier on our ageing bodies I guess. But I now realise that these things are not important and not necessarily what makes for a great trip.
It is the company of a good friend, the banter and mickey-taking all day long and ending up in the evening reliving the day and planning the next together over a beer that is truly important. The bikes and gear get replaced, true biking buddies are a little harder to come by.
Nigel Godbolt
Lucky newcomer
I only started biking relatively recently, having been introduced through the essential scooters for hire in South East Asia. As I spend a proportion of my year in India, it seemed logical to attempt to get accustomed to the roads there and get out on some adventure rides.
Riding a Royal Enfield Classic 350 around the Leh area was my first and I was rewarded by great roads and amazing views. Shortly after, it was a weekend trip on a Bajaj Avenger, the Indian manufacturer's attempt at a cruiser.
Notably, some of that was spent hiding out with some amused locals in a remote bus station while a massive thunderstorm raged around us. After that, it was another Royal Enfield Bullet in Kerala, followed by visiting a beautiful hill station within striking distance of Bangalore on a Bajaj Dominar.
This felt like a natural progression bike-wise, with slightly more power available on each trip, and balancing experience with the practicality of covering big distances in India (everything always seems to be at least 100 miles away).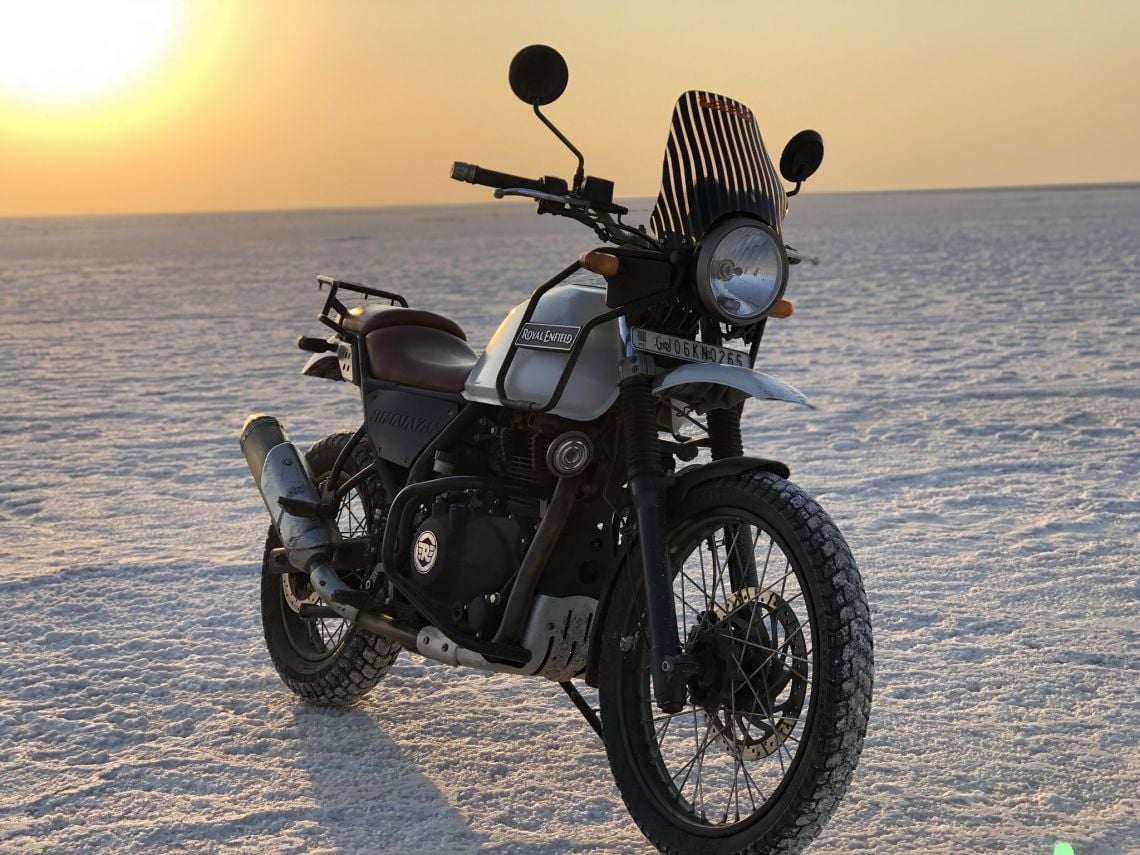 My last trip was the one I enjoyed the most, possibly because of feeling slightly more comfortable with the crazy nature of driving on Indian roads. Driving from Ahmedabad to the coastal town Mandvi, and then back up through Bhuj for multiple days exploring areas close to the Rann of Kutch, a beautiful white desert in Gujarat.
My companion for this trip was the Royal Enfield Himalayan. I was quite looking forward to trying this bike, but my enthusiasm was somewhat dampened after riding the Classics previously, which were great, but a lot of hard work for various reasons.
The Himalayan was fantastic throughout. Apart from the desert itself, the roads were actually in very good condition, and the Himalayan always ran predictably, with no unexpected quirks to catch you out at a bad time in heavy traffic or in navigating misplaced highway obstacles.
We ran into a small group who happened to have followed us on a very similar path and it turned out, through a booking mishap, I had taken the Himalayan they had reserved some months before and were given a BMW G 310 GS instead.
I didn't feel too guilty, except maybe when I cruised off into the desert while they were collectively stuck in some soft sand near the border entrance. We were lucky to arrive on the night of a full moon, which was a beautiful way to see this place.
I wouldn't recommend India for everyone and each trip had its own stresses, but for those who do you'll certainly be rewarded, it's consistently magnificent and every region (and bike!) has something to offer that you'll never forget.
Adrian McShane