New to off-road riding, we hear from Aldona Juozaityte as she takes part in the country's APL Rally
It's morning. But no need to get into armour, rush for breakfast, pack up stuff or get on a motorbike anymore. After seven days and 2,000 kilometres of off-road riding, I wake up at home again. My body aches a lot: legs and hips because of falling and that seriously burning muscle in my back. But what a great feeling it is! I've done what I've been dreaming about. And, most importantly, I want more!
The APL 2014 was the 11th annual event organised by the Enduro club of Lithuania. Around 80 people compete in teams of four to six riders following a route that sticks as close to the state border as possible. Each day consists of around 300 km following which we all camp, rest and share stories of the day's adventure.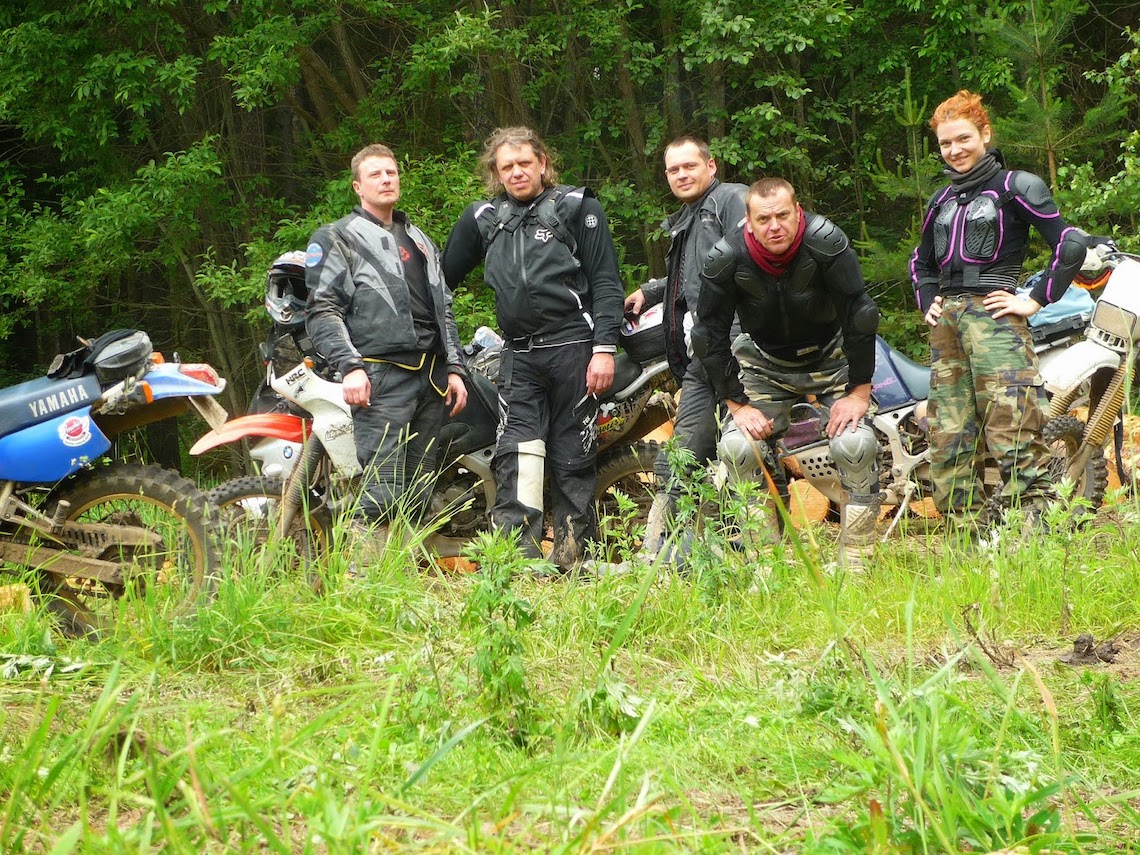 At 400 km the first day was the longest, riding across meadows, through forests and always plenty of mud. My team took our time and we all loved it that way, where we could just enjoy nature and the enduro ride. We'd often find ourselves stopping just for a smoke or to have a chat, not exactly what you'd call competitive riders but we enjoyed every minute.
The second day was more challenging with one of the bikes having a series of technical problems caused by a water pump which was broken after hitting a rock. The boys, very inventively, managed to glue on a cover and set up a hydration pack as a drip so that we could move on. Throughout the day we had to top up the drip from the morass (muddy or boggy ground) we were riding though. We finished at midnight and the guys took a sauna – as you do – and I went straight to sleep.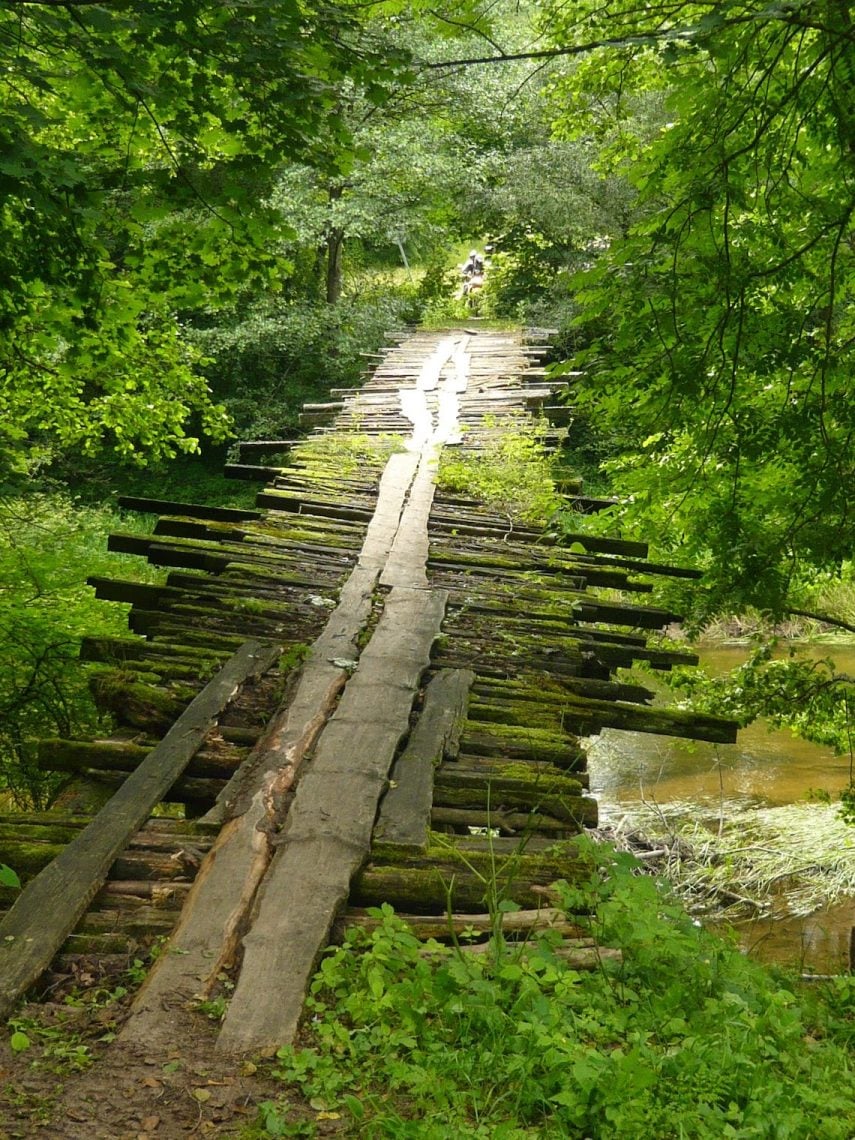 The next morning was dull and raining. First off we had a tyre to fix, before taking on the fun and challenges of the trail. That night we slept in dunes by the sea under a silvery sky and it was cold enough to make getting out of the sleeping bag more of a challenge than the enduro riding.
The next day was a 'free' day with only 100 km to complete. At the campsite, we rode in the sand, smoked freshly caught fish and I squeezed away three massive blisters on my right palm. We then organised a motorcycle football tournament in the dunes and chilled out at night.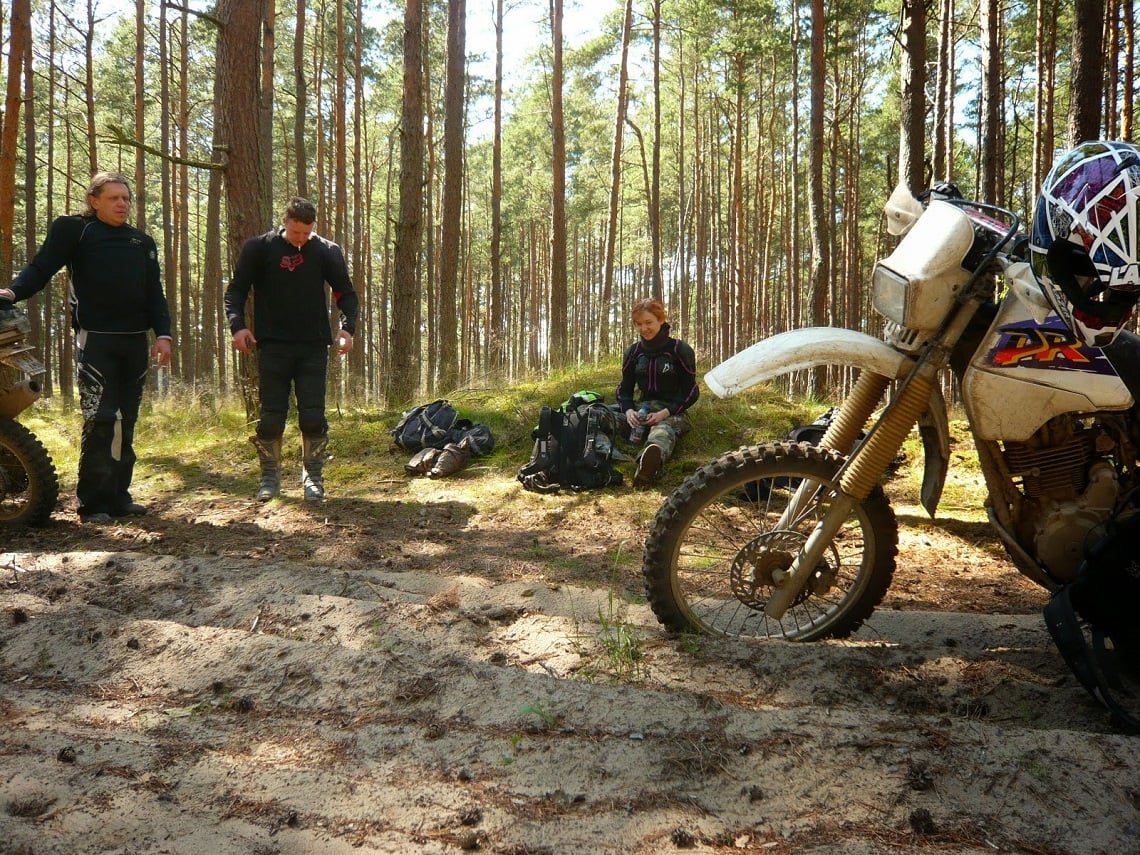 Day five was more fantastic riding through beautiful countryside and a relaxing campsite aside a lake under a full moon. A perfect day. During the day one of my teammates asked if he could open the throttle and so did I. We both rode fast on gorgeous single track forest trails and I fell in love with my Suzuki DR350. I started to feel, respond and live with the bike.
On the last day, I was suffering from a lack of food and water so I felt exhausted and started to fall off more than usual. On one occasion I was lying in the sand with the bike on top of me waiting for one of the team when a woman with a knife ran out from the forest shouting at me. 'Oh no, not now' I thought; fortunately, she wanted to help.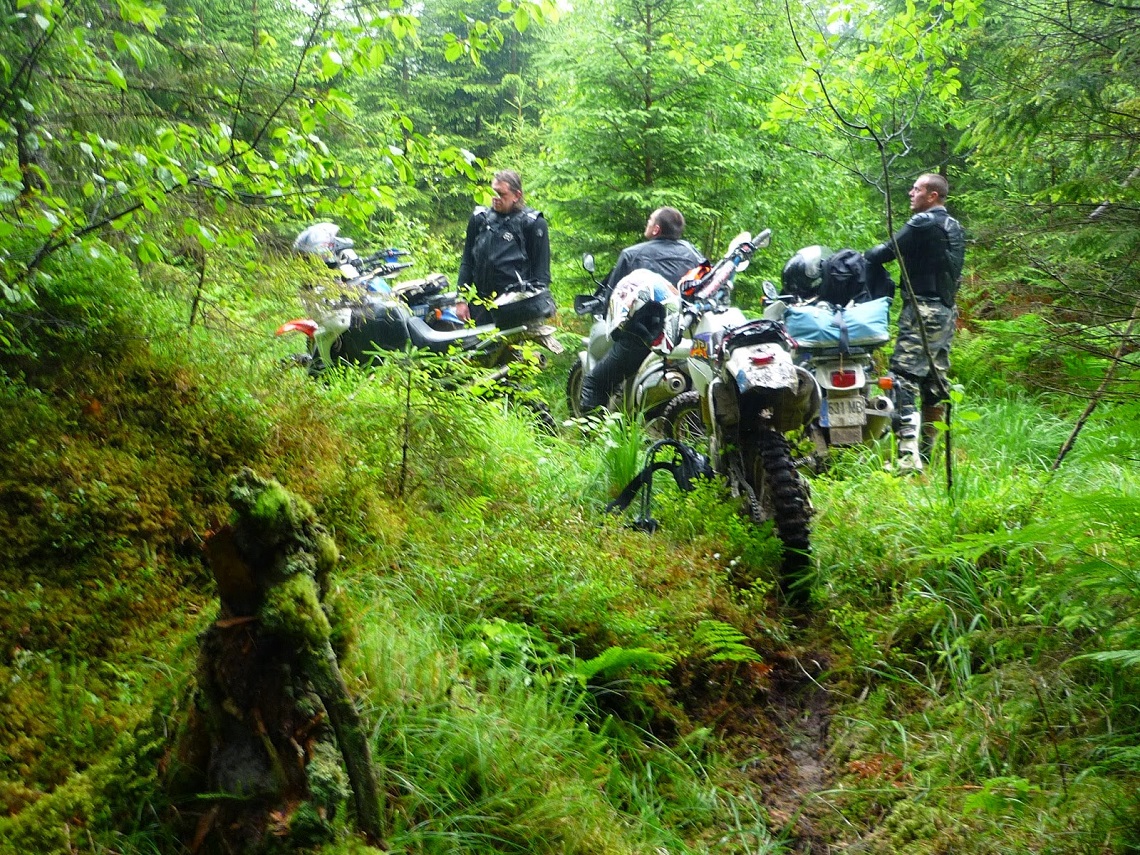 Unfortunately, a colleague's bike broke down (gears jammed) just twenty kilometres from the finish line. We called for a service bus to load it. Tired, but happy (and lucky) we all celebrated the journey at the point we had started – the enduro rider's bar in the capital city Vilnius.
The enduro was an amazing adventure and a great experience. Plus, as I'm an enduro rookie, (four years of a street motorcycle riding on lazy tarmac doesn't count), it was about encountering the new and attempting to deal with it in a relaxed and joyful way. More precisely, I had only ridden off-road for a couple of hours before entering APL 2014 and now I had completed it. Maybe it's time for you to do the same!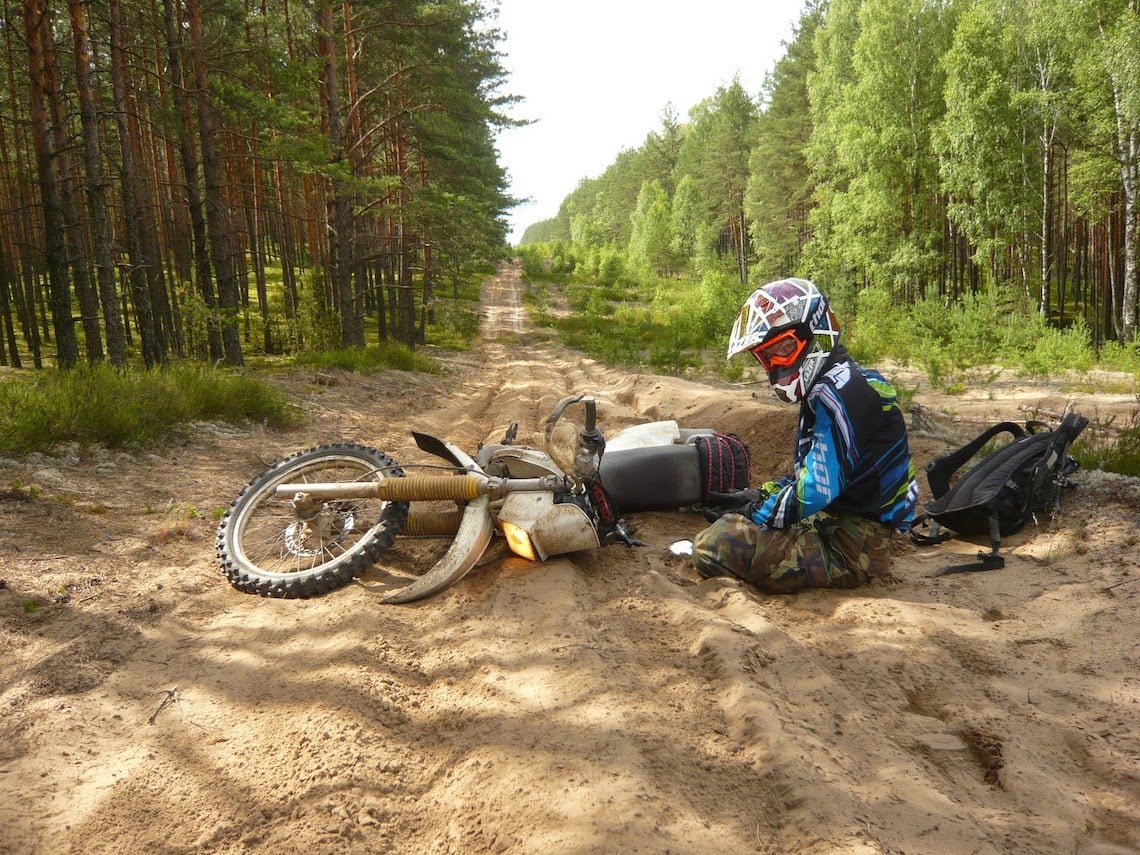 The APL is an off-road rally around Lithuania, made up of as many as eighty riders, split into groups of 4-6 riders riding around 300 kilometres each day. Aldona was taking part with a team of four other riders: Baika, Palaima, Asta and Zuvedra. Three of them had participated in APL Rally for the 4th time, only Aldona and Zuvedra for the first time.
---
Q&A WITH ALDONA
Who are you and how long have you been riding?
I am Aldona Juozaityte, a motorcyclist lady, keen to explore and expand my riding limits. I have been riding for 5 years now.
What do you normally ride?
I used to ride Kawasaki ER-5, but now I am in a way to buy enduro motorbike.

What did you ride for this event?
Suzuki DR 350.
How did you find your first experience of off-road riding?
Breathtaking and so true! I felt I found myself in this world.
Was it easier or harder than you thought?
It was as I expected: hard, but beautiful!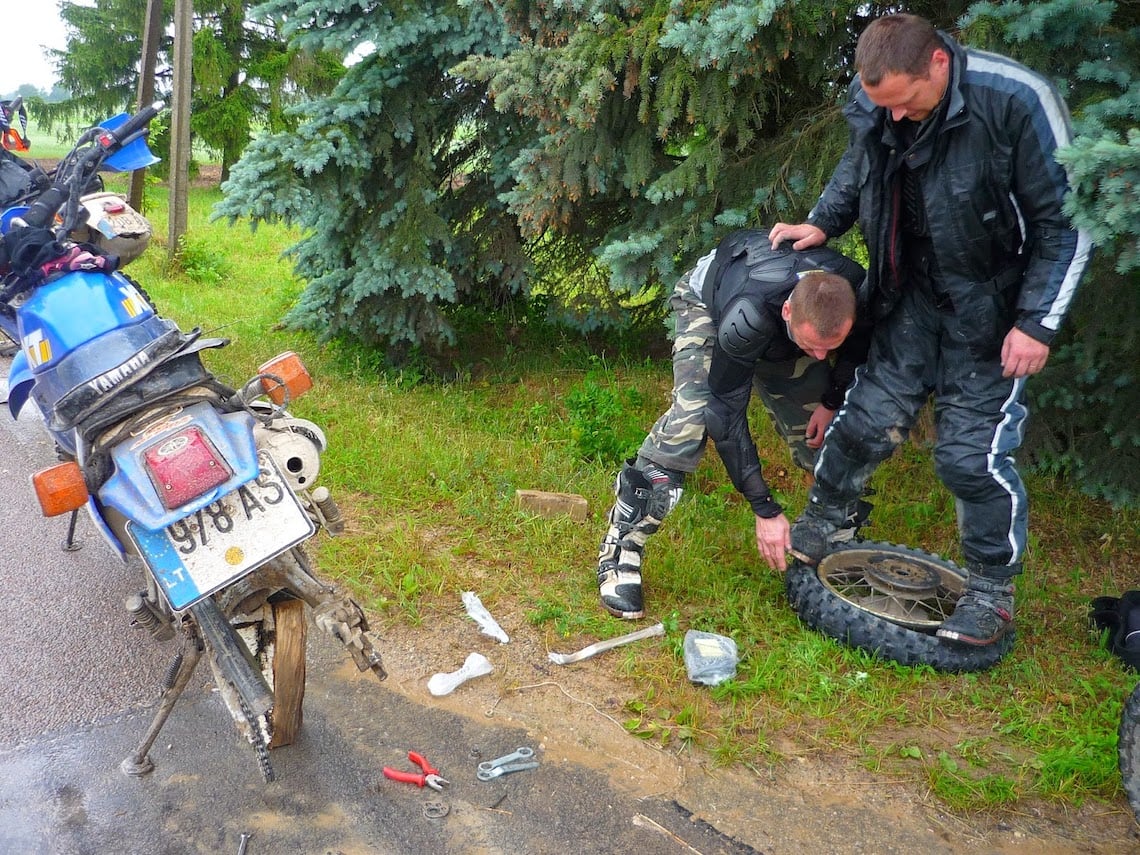 What's Lithuania like for off-road riding?  Are there any laws as to where you can and can't ride?
You can ride everywhere on vehicles' tracks/ routes.
What about camping; are you allowed to camp anywhere?
It is required to camp at specially made up campsites.
What's the best time of year to visit Lithuania?
Usually, we have deep snow in winters with -10-15 C degrees and July is up to +35 C degrees. So the best enduro riding is at the end of spring, early summer and autumn.
What should I see whilst I'm there?
Not only popular sites or cities. Just go anywhere to find awesome landscapes or simple, cute villages drowned into green nature too.
What's the APL Rally?
2000 km off-road fun. The best holidays ever!
When is the next one?
At the end of June 2015.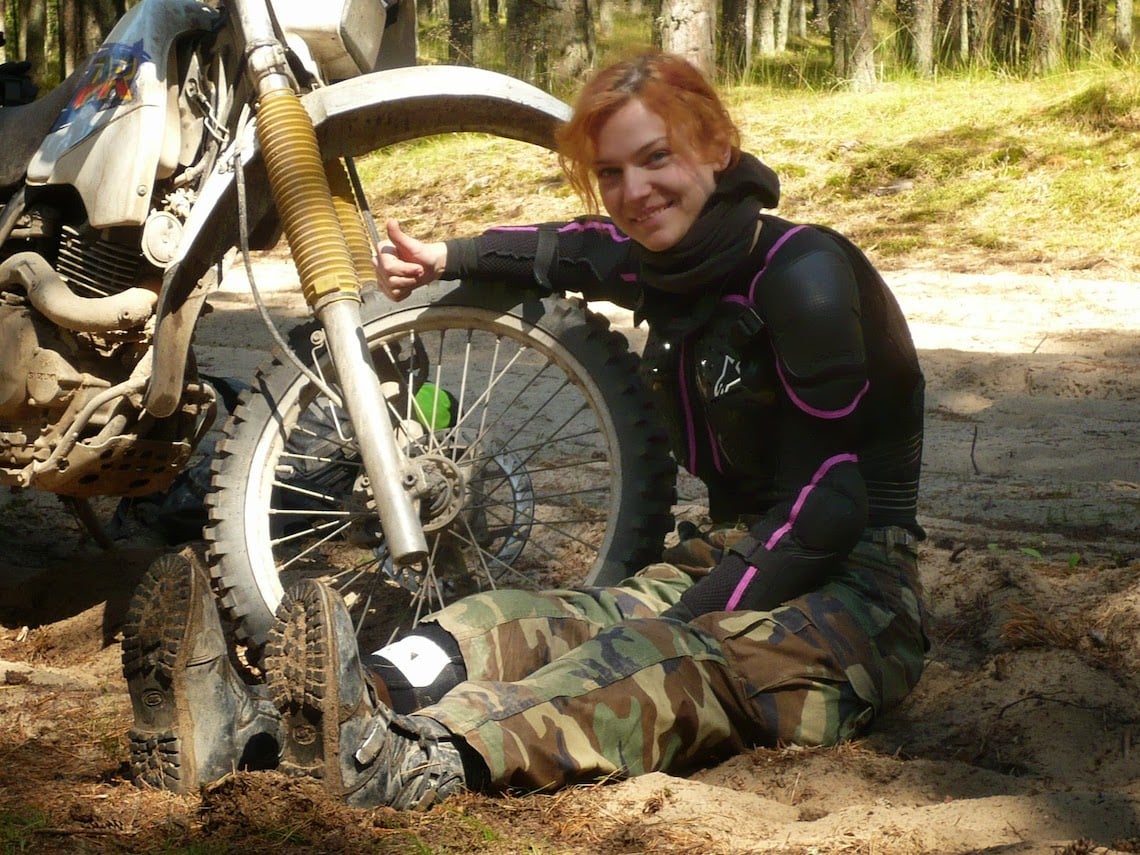 Is it open to foreign riders?
Of course and yes, please!
How much is a litre of petrol in Lithuania?
Around £1.
How much for a night in a budget hotel?
It is possible to find a hostel as cheap as £10, while the budget hotel average price is £20 per night.
How much for a meal at a local cafe/ restaurant?
£6-10 pounds.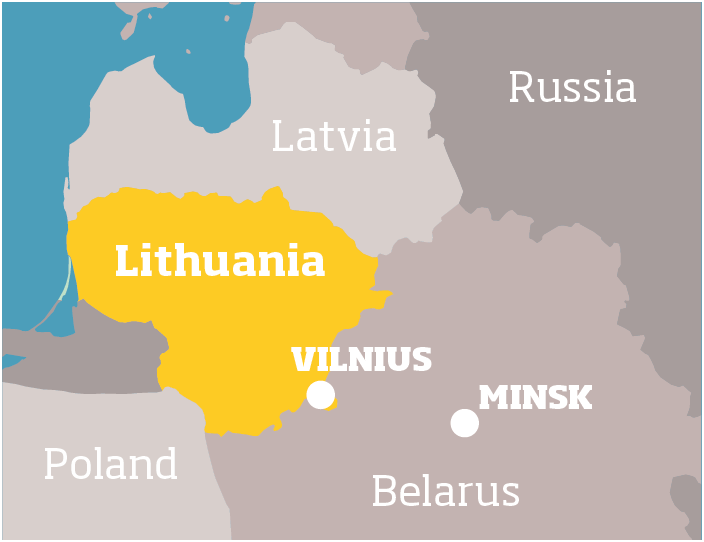 Are there any maps that highlight the off-road routes?
Not yet as we are quite fresh and young country in off-road riding.
Where in the country are the best off-road routes found?
Anywhere, actually! There are plenty of forests, mud and sand.
Are there any good websites/ communities for getting involved with riding in Lithuania?
www.endurolithuania.com www.enduroclub.lt
Are there many motorcycle garages and repair facilities in the country?
Yes! Plenty of workshops of skilful masters and some official dealers too.
---
Check out details of next year's APL at the web addresses listed in the Q&A above. Other great destinations for riding include Romania and Bosnia. Hopefully more on those locations in future issues.