Having decided on a change and opting for a big one, Lisa Morris and Jason Spafford sold the house, quit the 9-5 and packed everything they thought they'd need into panniers and a roll bag. Here Lisa documents their journey through the Americas with a series of photographs taken while on the road…
One (Feature above)
Hearts stolen at first sight by Alaska, our eyes glided over countless snow-capped mountains and gigantic glaciers that did anything but disappoint. Jagged edges to razor-sharp points glowed blue as we inched into wild Alaska. Our wilderness-seeking habit would be well-nourished here.
Every fibre in my being wide awake, gripped by the raw beauty and solitude. Happiness cartwheeled out of my body and tumbled across the snowscape. Sometimes the shadows of clouds dragged against the mountains, and patches of sunlight touched down everywhere.
Ski planes— miniaturised by the mammoth mountains—flew overhead them, like toys. That's Alaska for you, she'll dig deep into your heart and likely never let go. She did me.
---
Two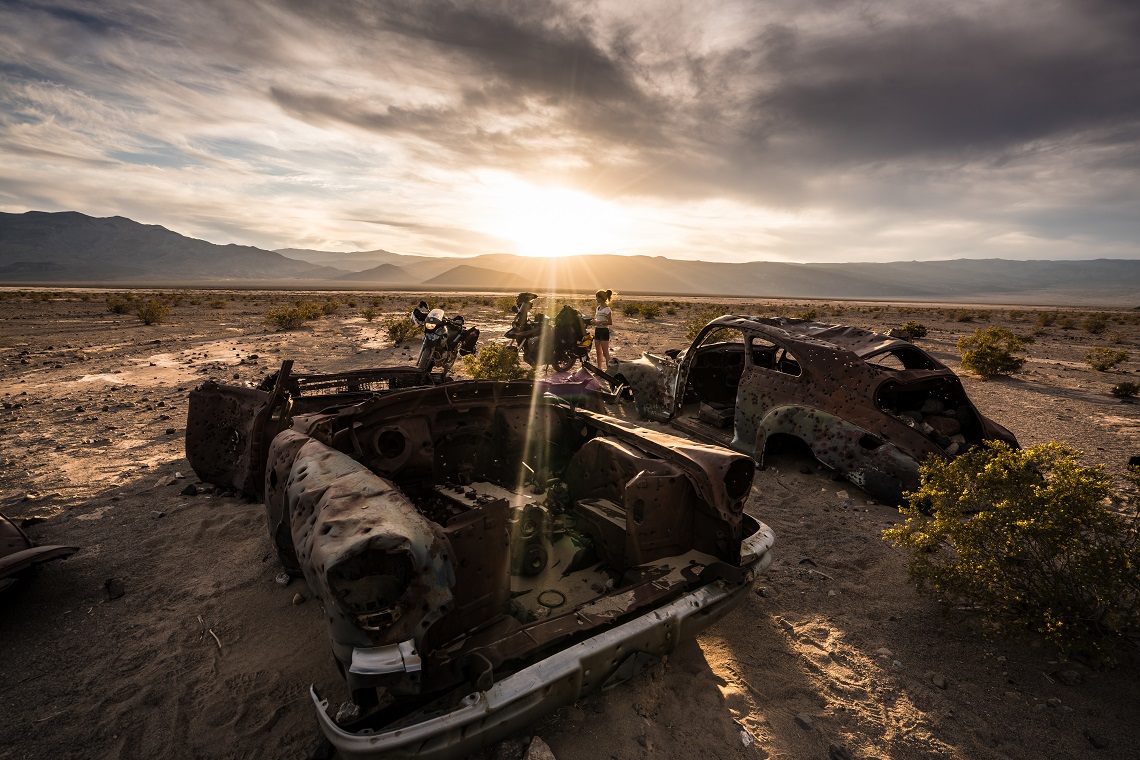 Venturing into Death Valley National Park from the south—the hottest, driest and lowest land in North America, which straddles Nevada and California east of the Sierra Nevada Mountains—we made our way towards Shoshone, a town in Inyo County. Impassable washes halted us from taking the faster route deeper into the interior, where diverting onto an off-road route had ill-prepared me for just how soon I would need to jolt my muscle memory.
"Please Lisa, just promise me you'll stay in second gear once we head down this trail and give it the tiniest amount to stay positive when it feels twitchy," Jason pleaded. Knowing he was referring to both the gas as much as my temperament didn't take a lot to unravel. "Basically, you just need to suck it up, I can't ride your bike for you," was his pragmatic conclusion. Looking back, I think it's the reason you never hear the phrase 'male intuition'.
Wheels humming to a song of an off-road route, a 4,000ft climb to more bearable temperatures and a long, straight series of sharp gravelly dips led us to Panamint Butte, on a spur road off Panamint Springs. Its butt battered by the elements and in need of a little polish, an old Cadillac sat adjacent to an old classic roof topped shell of a vehicle, just as clapped out and corroded.
Even the cars succumb to Death Valley's unforgiving nature. In the very dreamy and earthly locale in which I now found myself, I perched on the wing of the sandblasted Cadillac before easing myself into its interior filled with rusting springs, jagged edges and sand.
---
Three
Plopping ourselves in the desert not far from Gold Nugget Road just outside of Quartzsite, Arizona: a Mecca for rock hounds every winter where it stays warm and the RV boondocking capital of the world (an American term that means pulling off the highway to stay at free rural spots).
What we'd call sleeping under the stars. As I lay on the moon-whitened desert floor, I paused to shine my dying beam of the flashlight on whatever the dark couldn't gobble up. In every direction, the landscape stretched out featurelessly and farther than the eye could see. Tired from a day munching the miles, I sank like a stone into sleep.
---
Four
El Salvador greeted us with the gentle lines of conical volcanoes and the soft floppy ears of Brahman cows grazing by the roadside. Others were poised and perfectly still, basking in the sun on the highway amid massive US-style trucks, cars and motorcyclists zooming either side of them.
So docile in demeanour was this Gertrude-esque group of road users, little and less could be done to entice them to budge. I slammed the brakes on to stop just in time and watched one liberally lay some 'pipe'; a welcoming gift if you like.
Eight hours of biking through a trio of countries in over 40 degrees celsius – becoming the subject of intense observation from some unabashed staring at us astride our wheels, over the day that just 'kept on giving'—took us to a utopia around 45 miles from the border of El Salvador and Honduras.
Playa Río Mar was situated between Playa de Shalpa and El Zonte, a small, secluded palm-backed beach next to the tourist jam-packed resort.
The stretch of sand before us was deserted—I'm not sure our day could've ended any better. Making a beeline for a gorgeous spot to make camp amongst the tall shady palms on a soft grassy green, laying out only the sleeping mats and ditching the squelchy suits for our swimmers.
I couldn't lose the layers quick enough, get in the sparkling blue water! In the campsite manager's absence, access to a supply of fresh, or even brackish water, remained cut so we resided ourselves to a cat-lick in the Pacific. The water was tranquil and tepid, and although I came out less a layer of sweat and sun cream, I was covered in patches of sand. Who the heck cares, I ask you?
---
Five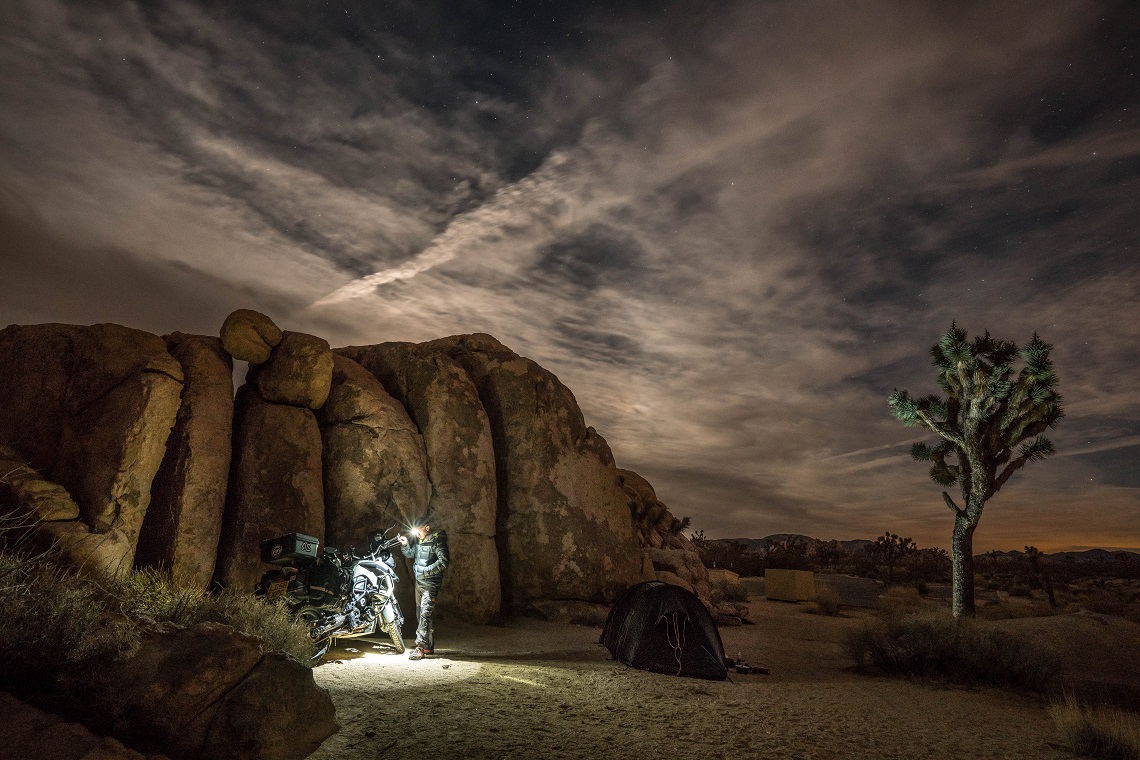 An overnight pit stop in Joshua Tree National Park—a tent utopia as it goes—saw us once again ensconced in its ecological melting pot, lined by a jumble of stacked boulders and walls of imposing granite. The convergence of two great deserts: the Mojave and Colorado, blended together in a barbed landscape adorned in Sonoran flora and fauna.
Such marvels of dry arid regions simply keep going about their business, adapting to the relentless sun, little water and temperatures from below freezing to above 36C.
As a non-desert dweller, I pondered how the park's hardy residents conserve enough moisture and beat the heat. However they seek sustenance to ensure their survival, my soul gets nourished in such faraway places. Sometimes I wonder if it's a biological need or a DNA mutation that compels me to seek the excitement that comes in a place unfamiliar to me.
I never know if somewhere will pull, prickle, tickle, tease, challenge or enlighten me. Admittedly, as a wilderness seeker in a lifelong pursuit of natural beauty, the southern states were doing quite a job; all of them binding me to the boundless joy and warmth in this life.
---
Six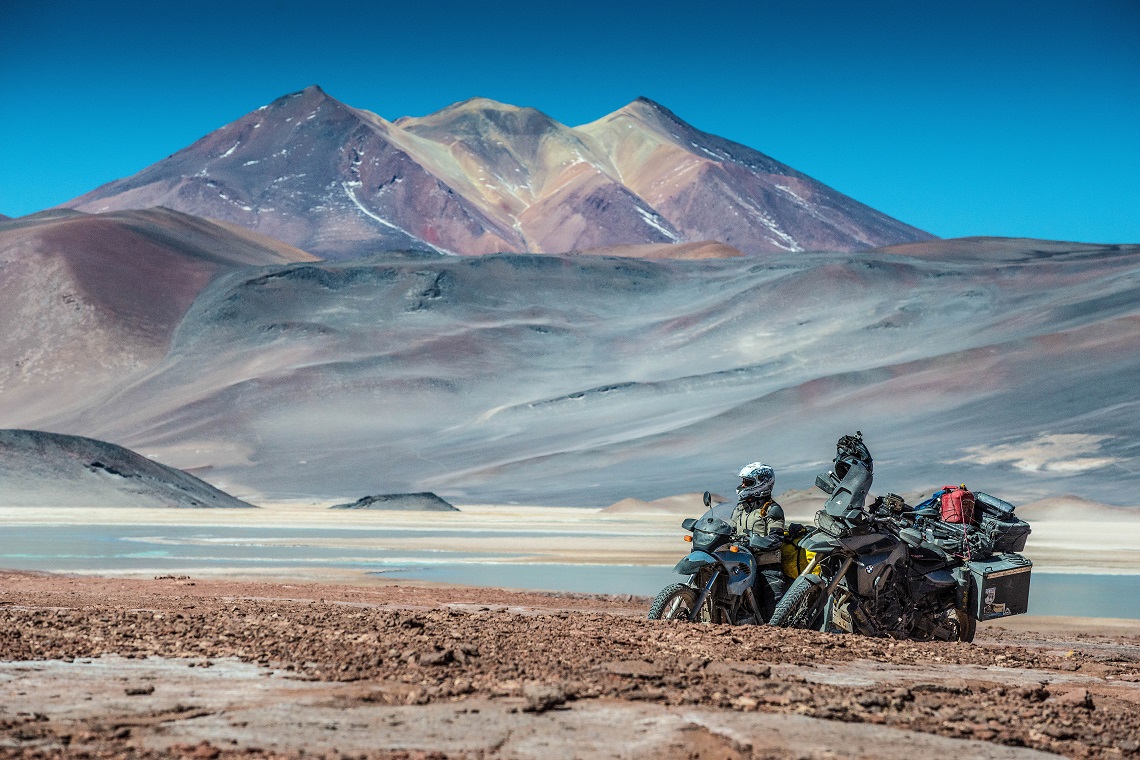 After an umpteenth exploration on the outskirts of San Pedro de Atacama, I knew categorically, more by feel and sixth sense than by appearance, Pearl, my bike, im- parted to the sandy gravel itself a sense of sureness and a generosity of spirit.
She exuded poise as much as purpose that took me in, urging to keep her steady on the twisting trails. She told me just by the touch of her handlebar grips and reassuring body to which my knees assertively squeezed.
Despite fishtailing, we weren't squirming. Instead, the pair of us sewed our way around the hem of a rah-rah skirt of a route through the Atacama, without fraying a single nerve. Finally, biking bliss for me and Pearl.
---
Seven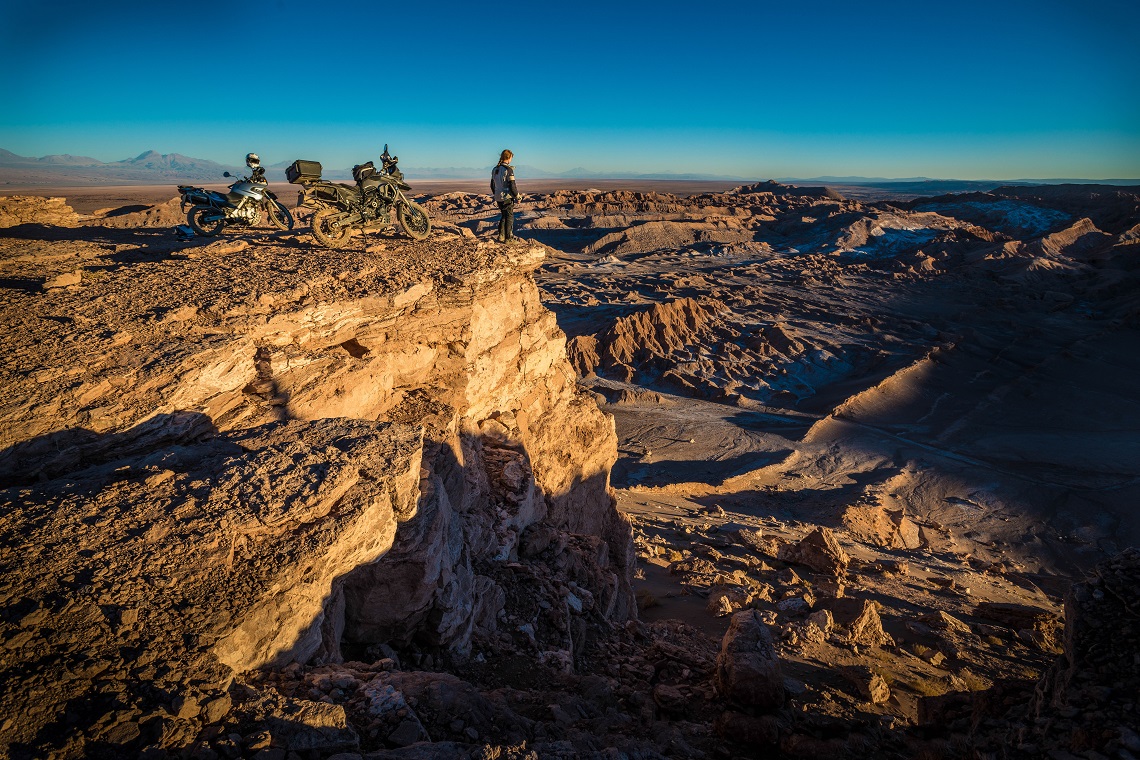 The beauty of having your own wheels means we executed our own little sorties each day into the Atacama Desert while using San Pedro as a base. Our first foray into the desert took us to the Valley of the Moon. I'd clocked the coaches carting around the day-trippers but thankfully the park was big enough to disperse everyone.
Its resemblance to the surface of the moon was remarkable, owing to its different stratifications and salt formations.
Taking ourselves on a cruisy circuit stopping when the desire took us; sauntering over the odd sand dune; bouncing over the bumpiest salt-stiffened road; snoozing in the sun after lunch and indulging in a good book. Later I overheard one young woman who, after completing a guided walk in the Atacama faced her tour guide and exclaimed, "Well that was absolutely not boring!"