With only two weeks off work, Patrick Collins heads to Patagonia in search of adventure.
I've broken it. My heart sank. The throttle was wound right to the stop but the bike was slowing down. There was definitely something wrong. The speedo, which had been reading a steady 110kph (68mph) for the last few miles, was rapidly dropping through the nineties into the eighties. Funnily though, I couldn't hear anything amiss with the engine.
The faithful Yamaha Ténéré single was still thumping away as it had done mile after mile, day after day for the last couple of weeks. I pulled over at the earliest opportunity. The engine still revved well enough. Then the truth dawned on me. The road had turned to the west and, for the first time, we were riding directly into the full force of the legendary Patagonian wind. "Viento! Mucho Viento!" as the locals will tell you with pride.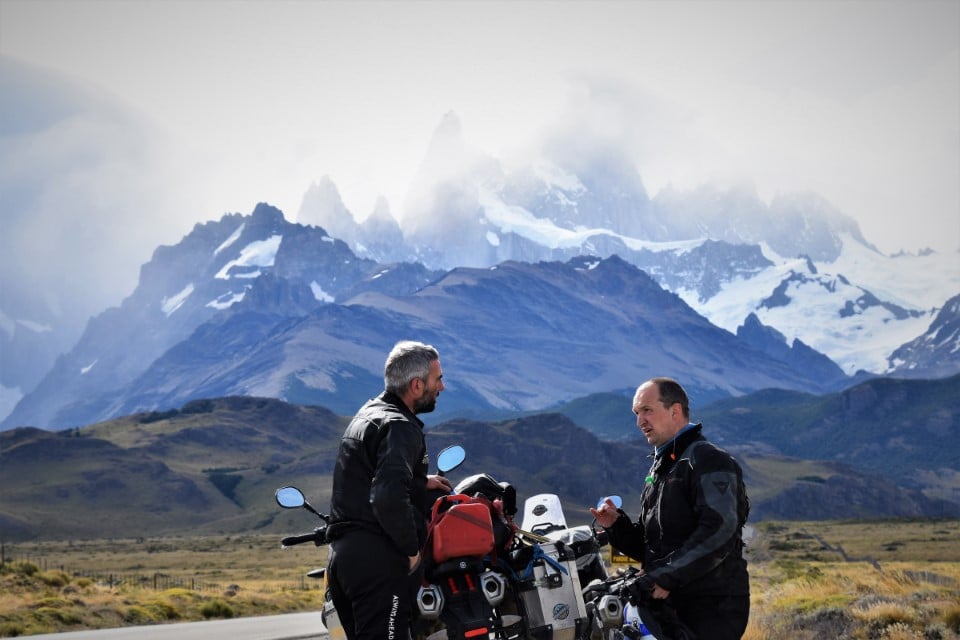 Like many who've been inspired by accounts of long-distance motorcycle travel, I'd read about the Patagonian winds that whip down from the mountains on the east side of the Andes, challenging any rider bold enough to set two wheels upon these southern stretches of Ruta 40. For the last few days, ever since we'd ridden off the ferry at Puerto Natales and headed for Tierra del Fuego at the southern tip of the Americas, we'd been buffeted by winds on exposed sections of road. However, these paled into insignificance compared with the battering we were now taking as we headed back north along Ruta 40.
My concerns about this road's fearsome reputation were largely based on stories I'd heard about the difficulty of gravel, known as ripeo, and the treacherous mud that we were sure to encounter. However, those fears seemed rather irrelevant now that I was struggling to make progress even on one of the better tarmac stretches. What on earth was I, a novice with just two years riding under my belt, doing in a place like this in the first place?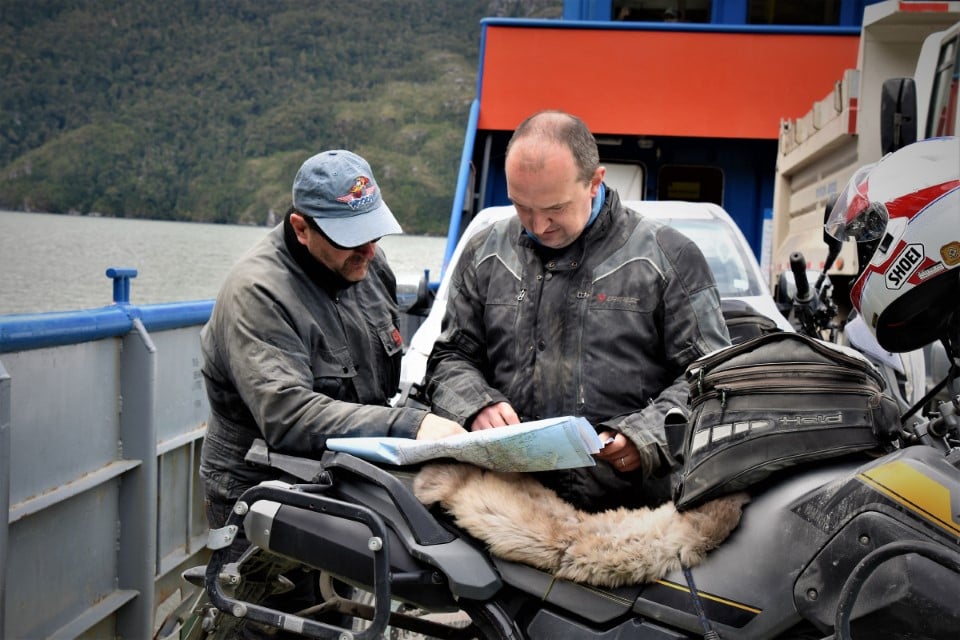 The answer to that question lies in the back of a Land Rover Defender traversing a section of neighbouring country Chile's equally infamous Carretera Austral during the late 1990s. On two occasions, I worked for the UK-based youth development charity Raleigh International as a sea kayak leader on expeditions in Chiles's remote Chonos Archipelago.
Deployment to the coast from Raleigh's local base in Coyhaique required us to endure several hours in the back of Land Rovers. The scenery, or as much of it as one could see from the small rear windows of a Defender, was truly stunning. We'd passed a good number of long-distance motorcyclists traversing that same road and it was something I knew that I had to do myself if I ever returned to Chile.
I had been meaning to get my bike licence ever since I returned to the UK in 1999, but being a committed kayaker and canoeist at that time, it seemed that there was always just one more waterborne adventure that demanded my time and finances, so motorcycle training and acquiring a bike kept getting deferred. Even the chance to buy an immaculate Transalp from my good friend and fellow Raleigh veteran, Tim, just before he'd emigrated back to Chile hadn't spurred me into action.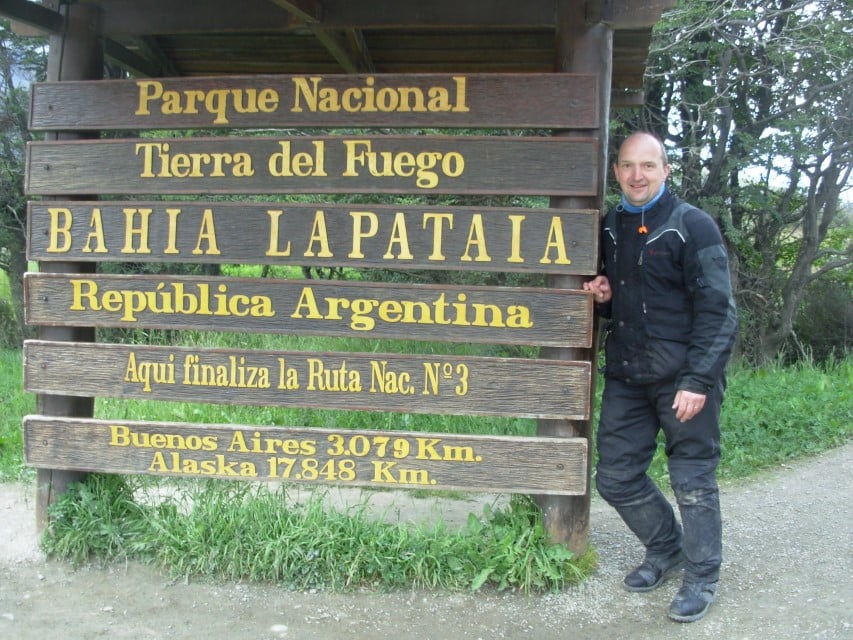 It was an email from Tim that had rekindled my interest in motorcycles. He'd been riding with friends in Patagonia and had sent me a video link showing where they'd been. I was hooked, as was another friend Rob (an experienced rider with 30 years under his belt) as soon as he saw it. I decided there and then to return to Patagonia on a motorcycle, which just left me with the task of finally doing something about a bike licence. Fast forward two years. I put a direct access course and motorcycle test behind me and I spent as much time in the saddle as I could before arriving in Patagonia. 
Rob and I started our journey in Coyhaique, the principal town in Chile's remote and often rainy XI Region but, due to work commitments, Tim would have to meet us later on in the journey. Coyhaique is also the mid-point of the 745-mile-long Ruta 7, the fabled Carretera Austral, that links this remote southern province with the rest of the nation. Our original thoughts had centred on riding the Carretera Austral to its end at Villa O'Higgins, two days south.
After spending some time talking both with Tim, who has lived in the region for the last 15 years and with Wilfredo Yacconis, founder of local motorcycle outfitter and tour operator Moto Rent Adventure and from whom we rented our bikes, this modest plan had grown substantially. By stretching our time away, we could make it all the way south to Ushuaia and back. The southbound leg would take us from the end of the Carretera Austral to Puerto Natales, via the ferry route from Puerto Yungay, a new innovation since my last visit to the region.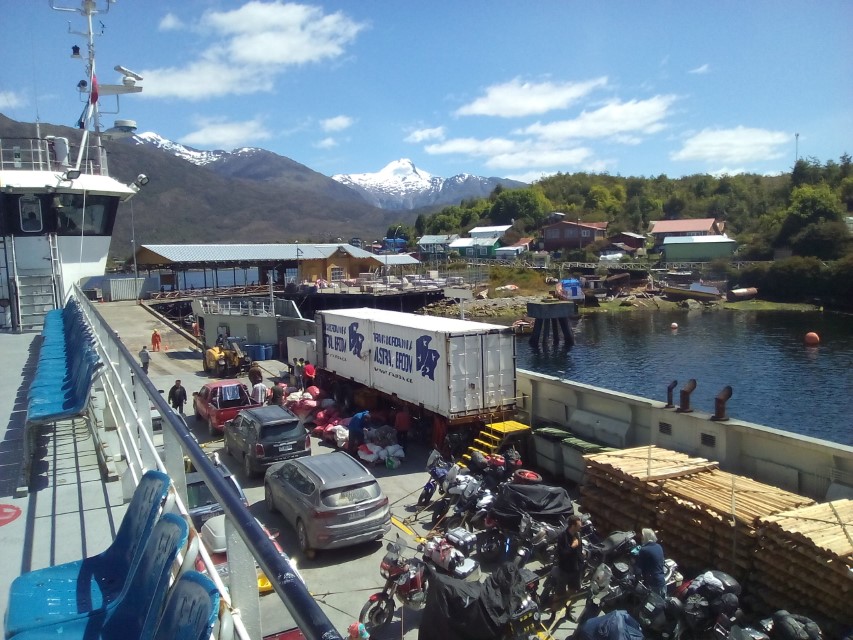 Then, after traversing Tierra del Fuego at the southern tip of the Americas, we could return north via Torres del Paine and Ruta 40. It sounded simple. On the map it looked relatively straightforward. Much of the route was on gravel roads that either required some off-road experience or for a visiting rider to undertake a very steep learning curve. Never one to shy from a challenge, I opted for the latter. 
Region XI's roads are much improved compared with my experiences with them 20 years ago, but they are still challenging. 
While some stretches have been paved, the majority is still gravel and can easily catch out the unwary. While well-compacted ripeo is not unlike riding on B-road tarmac and rapid progress can be made (a different story when it's wet though), the surface can change dramatically in just a few metres. We frequently encountered mechanical graders spreading new, loose gravel which in places can stop you dead in your tracks and swallow a motorcycle up to its brake discs.
Riding on this ever-changing surface was initially pretty scary but we soon grew accustomed to it and, after a couple of weeks, I can honestly say I enjoyed riding on ripeo, well most of the time. Any issues we had were usually the result of reverting to our default settings as road riders.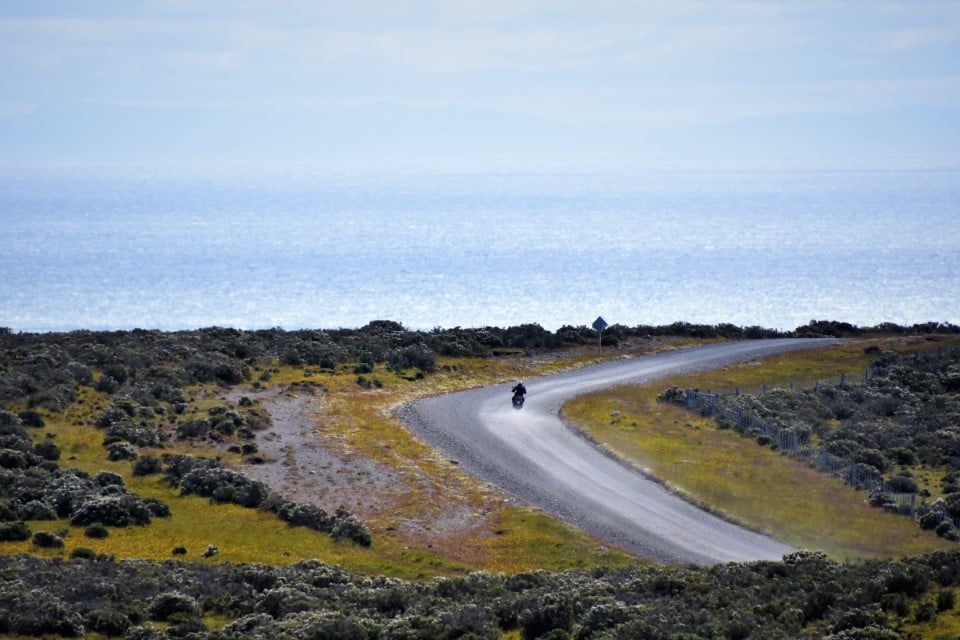 The Carretera Austral was created by the Chilean Army in the 1970s and 80s which blasted through temperate rain forest and rock to create this iconic road. It peters out on the shores of Lago O'Higgins, just south of the small town of Villa O'Higgins, some 370 miles south of the starting point for our journey in Coyhaique.
Even reaching the final stretch of the road required a short hop by ferry from Puerto Yungay, across Fiordo Mitchell, to Rio Bravo. Any further progress south from O'Higgins was blocked by the mighty South Patagonian Ice Field, the largest outside of Antarctica or Greenland.
The only way to reach Chile's neighbouring Region XII, other than to cross into Argentina, was to retrace the last 60 miles back to Puerto Yungay and embark on the weekly ferry service that connects the Carretera Austral with Puerto Natales. is is a popular option with motorcycle travellers and we shared the 40-hour voyage with riders from Belgium, Germany, Russia, the USA, Costa Rica, Brazil and Chile.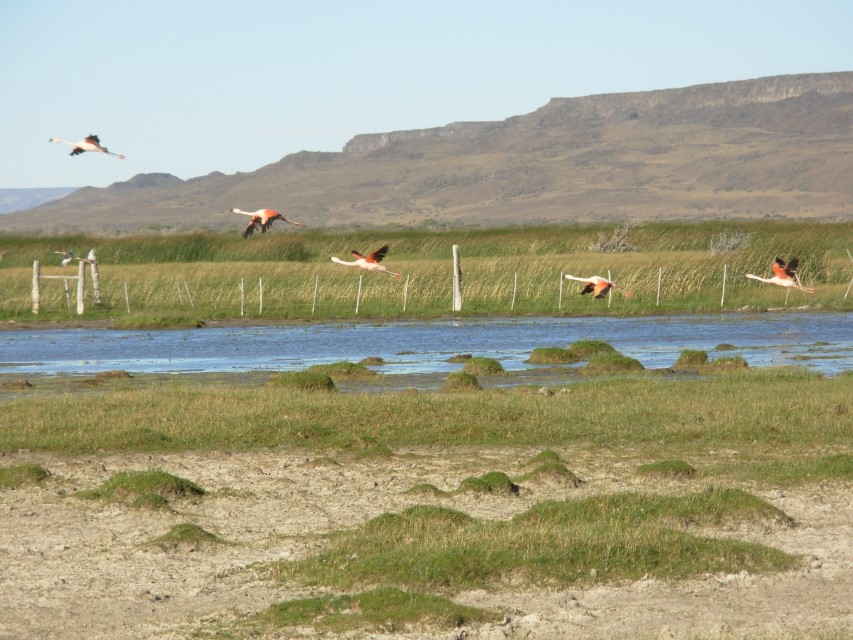 On arrival at Puerto Natales, we left the mountains behind us and made rapid progress across the vast open expanse of Patagonian steppe, or desert, to reach the Straits of Magellan, before crossing to the Tierra del Fuego archipelago by another ferry.
The next day we negotiated our first crossing of the Argentine border before heading south down the windy Atlantic Coast via Ruta 3 to Ushuaia, the city nestled at the southern tip of South America, also known as the city at the end of the world. Most of Tierra del Fuego, which is split between Chile and Argentina, is a windswept steppe populated by llama-like animals called guanaco and thousands of sheep.
Ushuaia, in Argentina, is the largest community on the archipelago and sits on the south coast looking across the Beagle Channel to the Chilean owned Isla Navarino. Access to the city required a climb through the Darwin mountain range via the Paso Garibaldi and, during our all too brief visit, we experienced everything that the weather could throw at us in these southern latitudes, riding in freezing temperatures and snow. This is in the middle of the summer!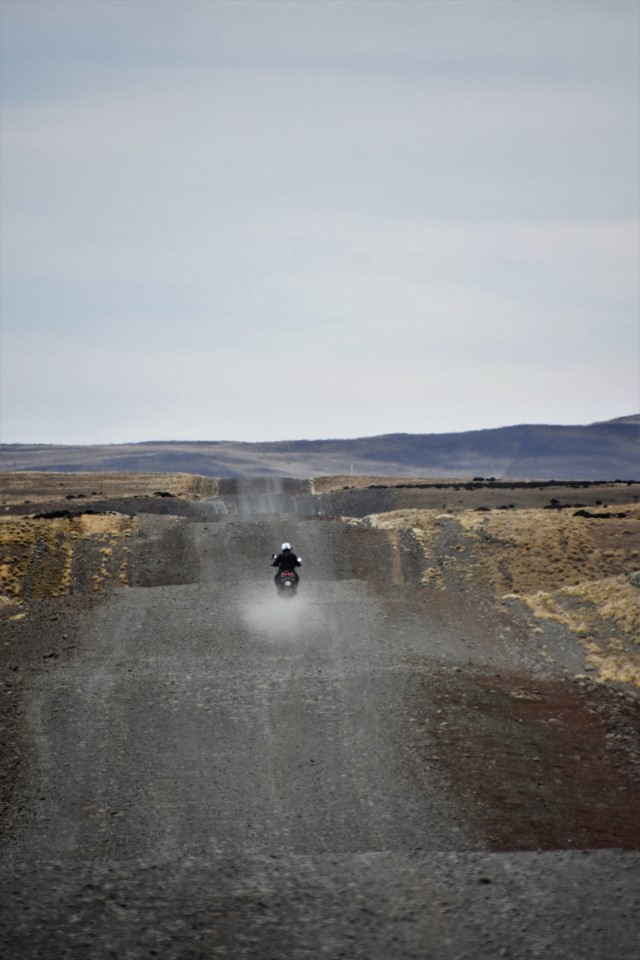 We spent just one night in Ushuaia, long enough to visit the end of the road in Parque Nacional Tierra del Fuego and to dine out on Patagonian lamb. Having reached the end of the road, there is only one thing you can do – turn around and head north again. Two days of riding took us back across to the Chilean side of Tierra del Fuego and then, via another ferry, to the mainland at Punta Arenas.
Like Ushuaia, it is a city with a long history and is synonymous with tales of exploration and adventure. I rather like Punta Arenas but, as this was my second visit, I wasn't too sad to depart early next morning for a long day that would see us travel some 370 miles back across the border and north to the city of El Calafate, but what a day it was. 
Our route took us north back past Puerto Natales and through the majesty of Torres del Paine National Park. I was fortunate to spend a week trekking and wild camping here back in 1998. Generally considered the greatest of Chile's many national parks, these splendid mountains stand sentinel over the surrounding steppe.
Our limited time meant we wouldn't be able to trek into see the impressive Torres (Towers) del Paine mountains themselves, but our route along the park's road system did give us great views of the equally imposing Cuernos (Horns) del Paine. After this brief detour, we continued on our long journey to El Calafate, crossing the border among coach loads of tourists at Cerro Castillo. Only a few miles later, we reached a remote petrol station at Tapi Aike and turned onto the legendary Ruta 40.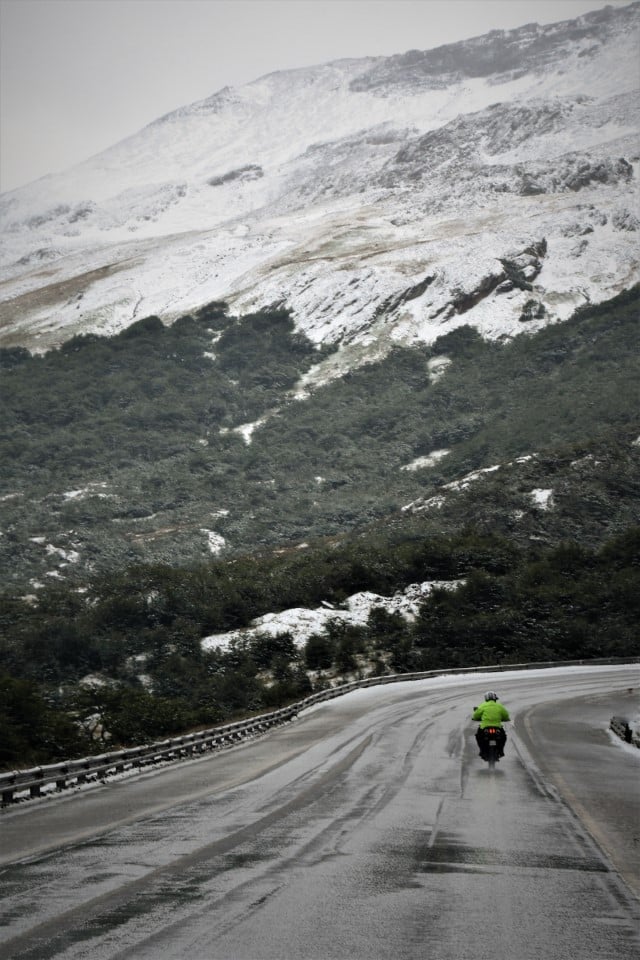 While the Carretera Austral traverses lush temperate rainforest, Ruta 40 crosses an arid, windswept steppe or semi-desert that, at times, can resemble a moonscape. Both landscapes are beautiful and captivating. Friends in Chile had warned us about the roads in Argentina. Apparently, the ripeo in Chile was easy compared with what we would encounter across the border. These words had stuck at the back of my mind and I was more than a little nervous.
The undulating surface was very loose and my speed dropped as the Ténéré's suspension and my unskilled riding technique were put to the test. Those two hours may just have been the longest of the whole adventure, the continual pounding of both bike and body broken only by the occasional appearance of guanaco or a glimpse of flamingos on a nearby lake.
Ruta 40 alternates between these truly challenging sections and long stretches of well-built tarmac roads (with an occasional smattering of potholes big enough to swallow an unwary motorcyclist). Such was the case, and after the first 45 miles, we emerged more than a little relieved onto a smooth and fast stretch of highway that took us to the junction for El Calafate, our overnight stay. 
The next day was a relatively short hop, just 90 miles or so, north to El Chalten. Nestled at the foot of the imposing Mount Fitzroy and regarded as Argentina's trekking capital, the town was founded as recently as 1984 and is still growing. Our plan was to rendezvous with my friend Tim here. Work commitments meant he'd been unable to join us for the whole trip but had undertaken an adventurous two-day solo ride from Coyhaique to join us for the last four days of the adventure.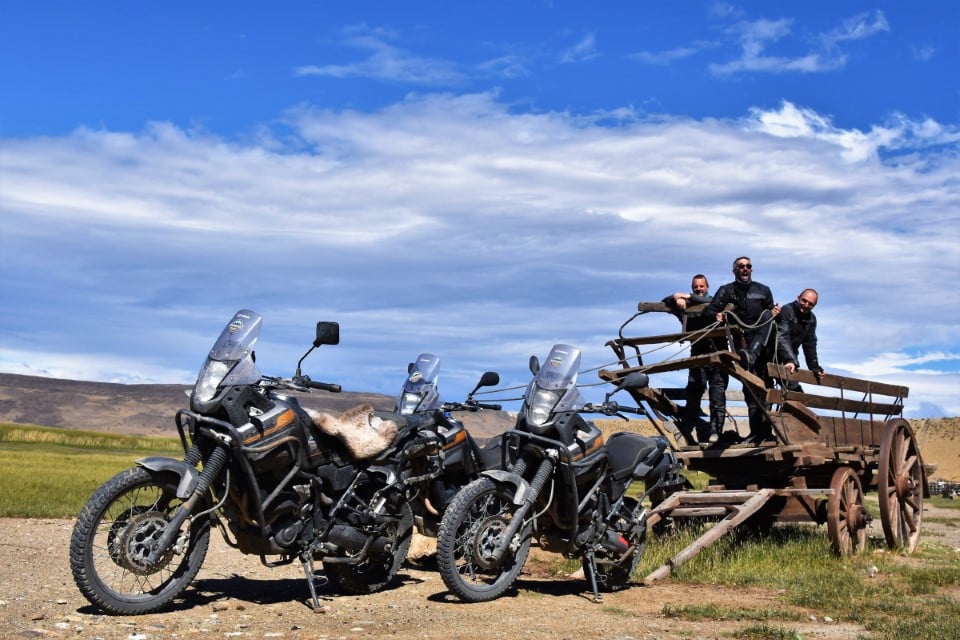 After so much time in the saddle, we all needed a rest day. Naturally, we spent it trekking for eight hours in Los Glaciares National Park, experiencing the forest, the wildlife and the stunning mountain scenery. 
Resuming our journey north the next day, we were increasingly subjected to the full force of the infamous Patagonian winds. It really does have to be experienced to be believed. The fearsome wind, combined with long sections of loose ripeo and treacherous mud, meant the next couple of days were challenging, although our overnight accommodation on remote estancias, or ranches, proved to be the ideal way to wind down each evening. 
On our penultimate day, we turned our backs on Ruta 40 and headed west towards Chile, which we re-entered via the remote Roballos Pass. This is definitely a less well-travelled route with stunning scenery dominated by the snow-capped Cerro San Lorenzo, easily on a par with the sights we had already encountered.
The contrast between the barren moonscapes on the Argentine side of the Andes and the green valleys that we encountered just a few miles further on as we re-entered Chile was truly remarkable. A few hours later we were once again on the Carretera Austral riding amid lush forest parallel to the blue waters of the Rio Baker.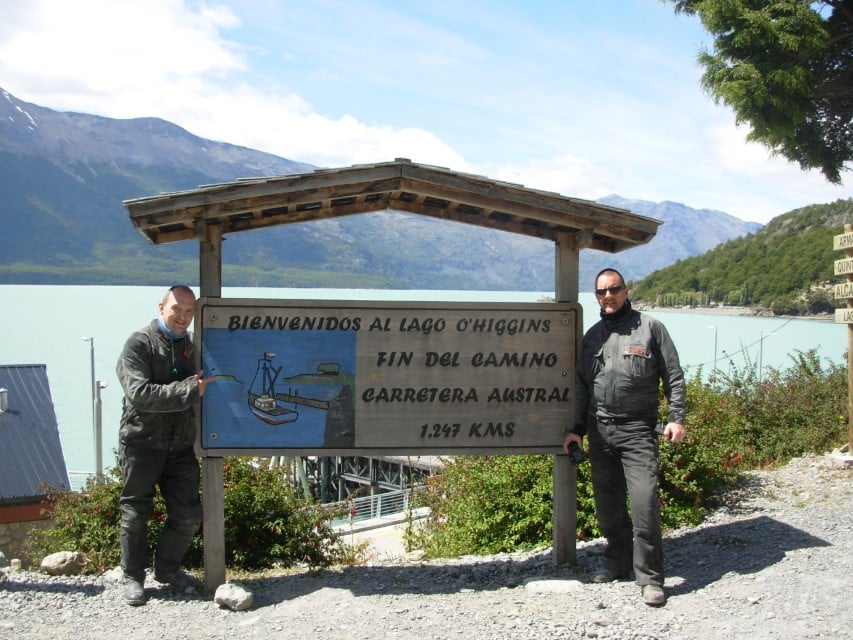 Early in the afternoon, we turned off the Carretera Austral again and headed east along the southern shore of Lake General Carrera (like other lakes straddling the border, it changes its name on the Argentine side where it's known as Lago Buenos Aires) towards the lakeside town of Chile Chico. The lake, the second-largest in South America, covers some 700 square miles and is both beautiful and extremely windy. This proved to be the sting in the tail of our trip.
There was ripeo for its entire length as the road followed the curves and the contours of the lake's shore. It was also used by relatively large volumes of local and tourist traffic and wasn't for the faint-hearted. Some big drops overlook the lake and, with few barriers in place, the consequences of a serious mishap don't really bear too much thinking about. A tense few hours followed. 
Our plans to cross General Carrera Lake from Chile Chico to Puerto Ibanez the next day fell apart when we couldn't get space on the ferry. This resulted in a further crossing of the border into Argentina and a ride round the eastern end of the lake, via some very wild ripeo, before re-entering Chile (our sixth border crossing) and making our return to our journey's starting point at Coyhaique. Our 2,500-mile odyssey had come to an end. 
It had been a challenging but enormously rewarding journey. We may not all be able to give up work and travel the world but I think we proved that, with some planning and compromise, it is possible to grab an opportunity and have a truly worthwhile adventure in a remote region.
---
Want to ride Patagonia?
We flew with Iberia from Heathrow to Santiago, via Madrid, and then south to Balmaceda (the airport for Coyhaique) with LATAM. British Airways also fly direct to Santiago. Spend time looking online, we managed to find some good deals. Don't assume you can make a connection with a flight to Balmaceda on the same day so budget for a night in Santiago each way. We stayed in a mix of hotels, estancias and cabanas and also camped.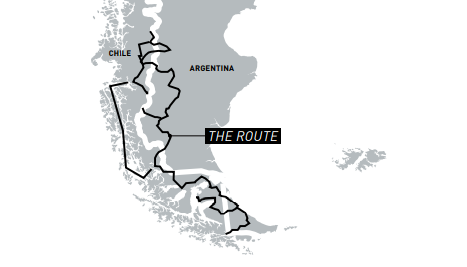 ---
Security
There has been some civil unrest in Chile since October 2019, sparked off by rises in Santiago Metro fares but actually caused by much deeper problems within Chilean society. Marches and demonstrations have been confined to the larger cities. As ever, check with the Foreign and Commonwealth Office, treat media coverage with caution and speak to the people out there. As it stands, I'd go again tomorrow if I had the chance.
---
The Bike
The Yamaha XT660Z Ténéré, what can I say? A fantastic bike and ideally suited to the levels of abuse that any machine must survive in such an unforgiving environment. It's a little on the tall side which did cause me the odd dodgy moment, but on the whole, I have nothing but praise for the bike. I can't say that I suffered unduly from any engine vibration, although given the roads we were riding, any mechanical vibration was of little consequence.
---
Ship your bike to South America
Patrick decided to rent a bike in Patagonia, but what if you want to experience the joy of riding your own motorcycle in South America? At current prices, Moto Freight offers airfreight for a XT660Z Yamaha Ténéré (or similar size bike) from London to Buenos Aires or Santiago for £1,640. Visit www.motofreight.com for more information.