PAINTING THE DESERT
We join landscape painter and motorcyclist Geoff Ells on his quest to paint the Sahara…
It started three decades ago when I happened to be in Ouarzazate, Morocco. Someone said, "That road goes into the desert". From then on I had this dream to ride a bike into the Sahara, and it stayed with me for years as an impossibly unrealistic fantasy. Then last year I joined friends on a biking holiday from Santander through the Pyrenees to Normandy. Fantastic trip, but during which I thought "Hey Morocco is actually possible from here". Combine that with my fondness for painting and all of a sudden a plan started to grow; to ride into the desert and paint it.
Why mix biking with landscape painting? Well, to paint landscapes you really have to visit the place, which means travel. Cars are good for carrying all the stuff required but have the drawbacks of limited parking and difficult access to the best views. Aeroplanes (and subsequent local transport at destination) used to be good, but current airport paranoia has outlawed the carrying of oil paints in luggage despite them being nonflammable and less combustible than suntan oil. Bikes are better for access to awkward places and specific viewpoints but have obvious challenges when it comes to carrying all the gear required. Plus bikes are more fun!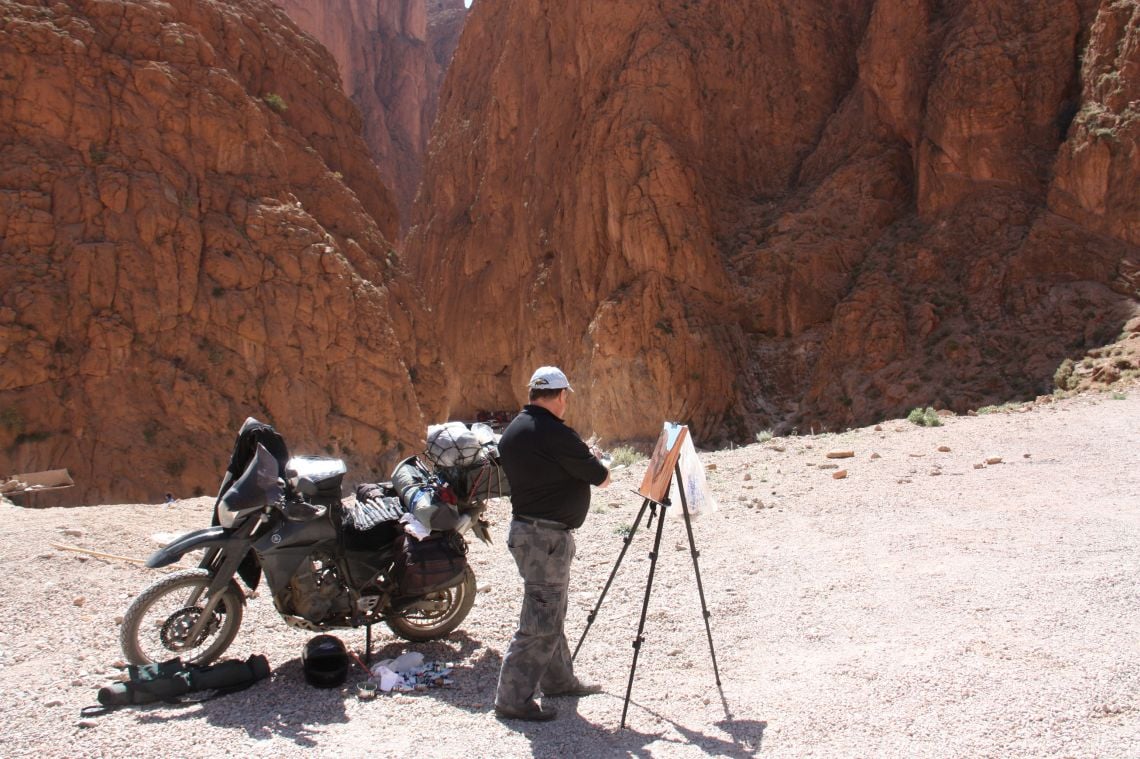 As I work in oil paints, the main issue to resolve was transporting canvases safely, both dry before use, and wet after painting. Oil paints take about three to five days to dry in hot climates. That's a lot of potential for mess when bouncing on the back of a bike.
To overcome this I made a side loading wooden top-box, mostly from plywood. The insides have lines of screws only partly screwed in, which act as pegs, or shelves. Thus each canvas will sit on its 'shelf', and can only bounce up to the four screws above it. In this way a wet canvas will only have four small bounce marks in the painting, and these are right at the edges. All the travel canvases have to be the same modular 16" x 12" size, and a similarly-sized disposable palette with rip-off sheets also fits in this wooden box.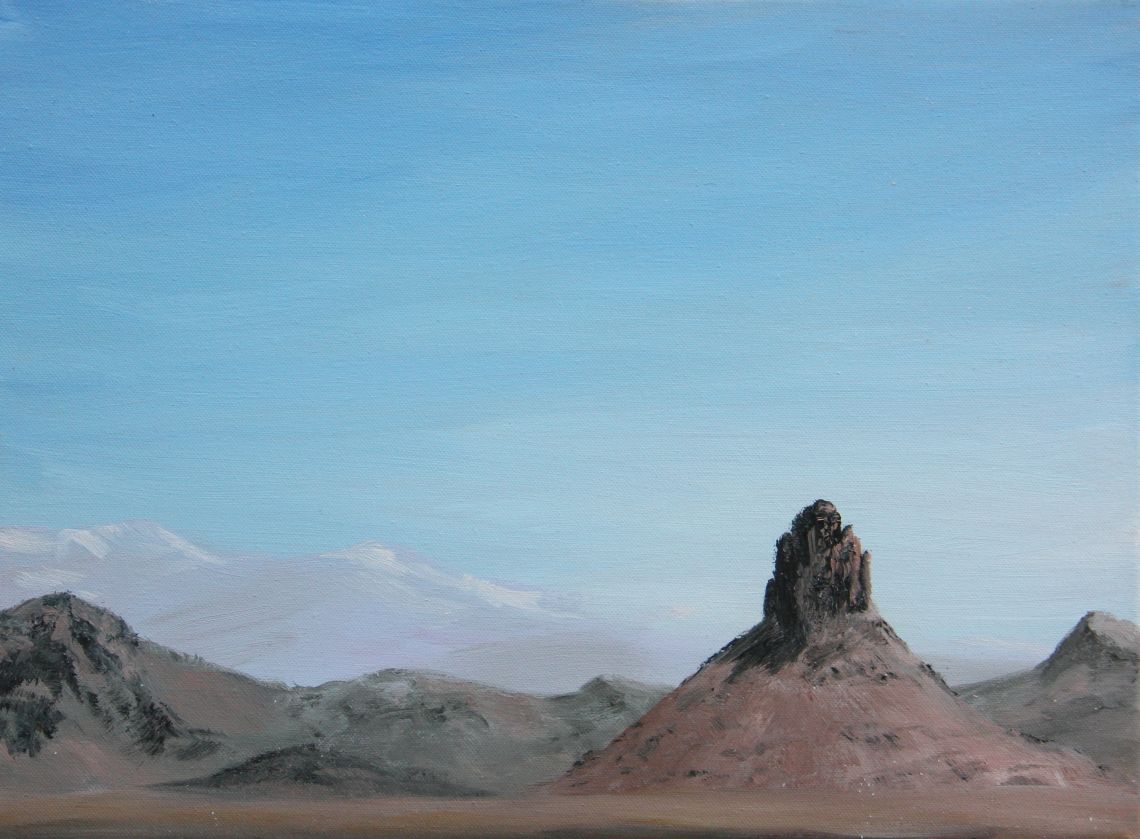 Other art materials are a simple act of packing. A travel easel goes in an easel bag. In the pockets of this is a simple carrier bag with tubes of oil paint and quick-drying alkyd medium, a small brush washing tub, a bottle of white spirits, a roll of brushes, and several precut rags. With practice, I have got the cleaning-up process down to about five minutes and just one or two small rags.
When choosing a place to paint, firstly it has to look special – a view to evoke memories. The lighting is also important, for example, if the sun is at an angle it often picks out light, shade and texture well, or looking into the sun there are often nice effects of glistening reflections, light shimmer etc. Or if the sun is really low the colours on the landscape and in the sky can be glorious. Photographers and artists call this 'the Golden Hour'.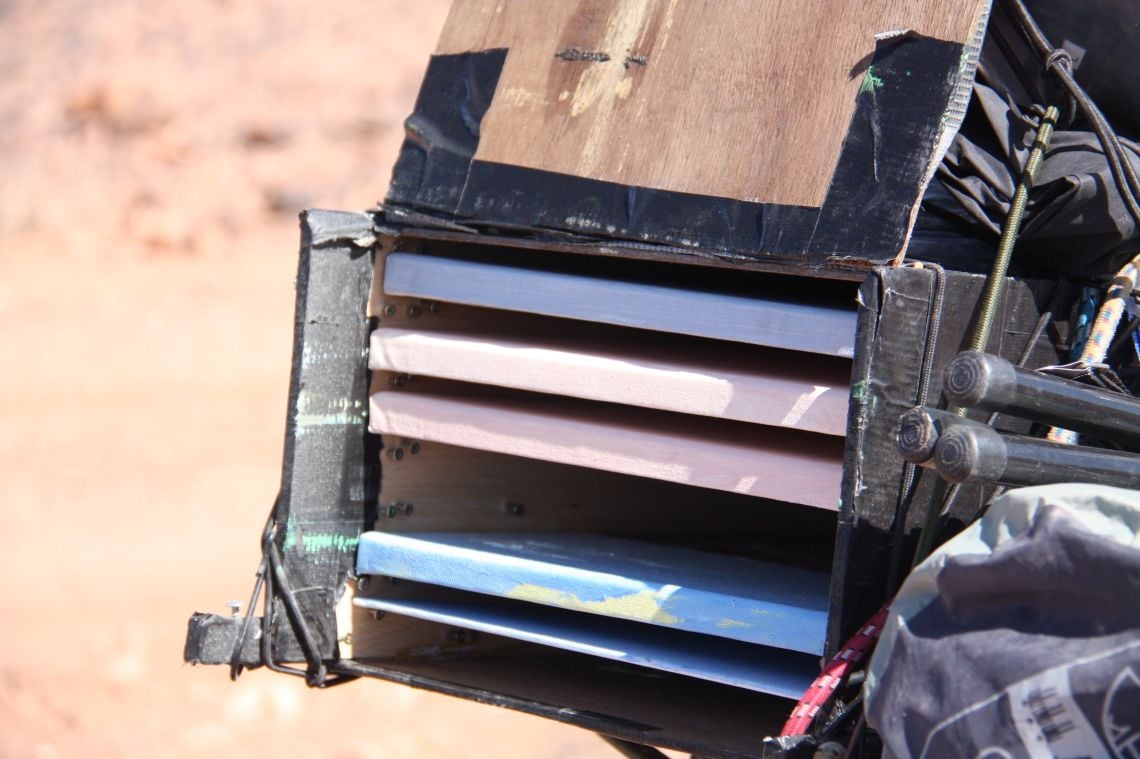 Second to the artistic requirement are the practical issues, like somewhere safe to park, and not too far a walk with the kit from the bike to the best viewpoint. Also, shade to work in if it is the hot part of the day. Lastly is knowing my limitations. I don't mind passers-by stopping to look and talk, but not too many. So I prefer reasonably out of the way positions. Painting people and vehicles are not my strong point either (and they don't keep still anyway!) so they don't feature much in my paintings.
The process of painting the desert depends on when I come across a view to paint. On my most recent trip, I was riding with a vague idea that I had time to stop on certain days, keeping a lookout as I was riding for something special, then stopping to paint it. I had an ambitious schedule for distances on each day, so on my latest trip, it worked best for me to ride for over an hour and get some miles done, then stop to paint for a couple of hours, then ride on again until lunchtime. I try to avoid the middle of the day if I can, partly because the light and shadows are the least interesting. Also, it's too hot.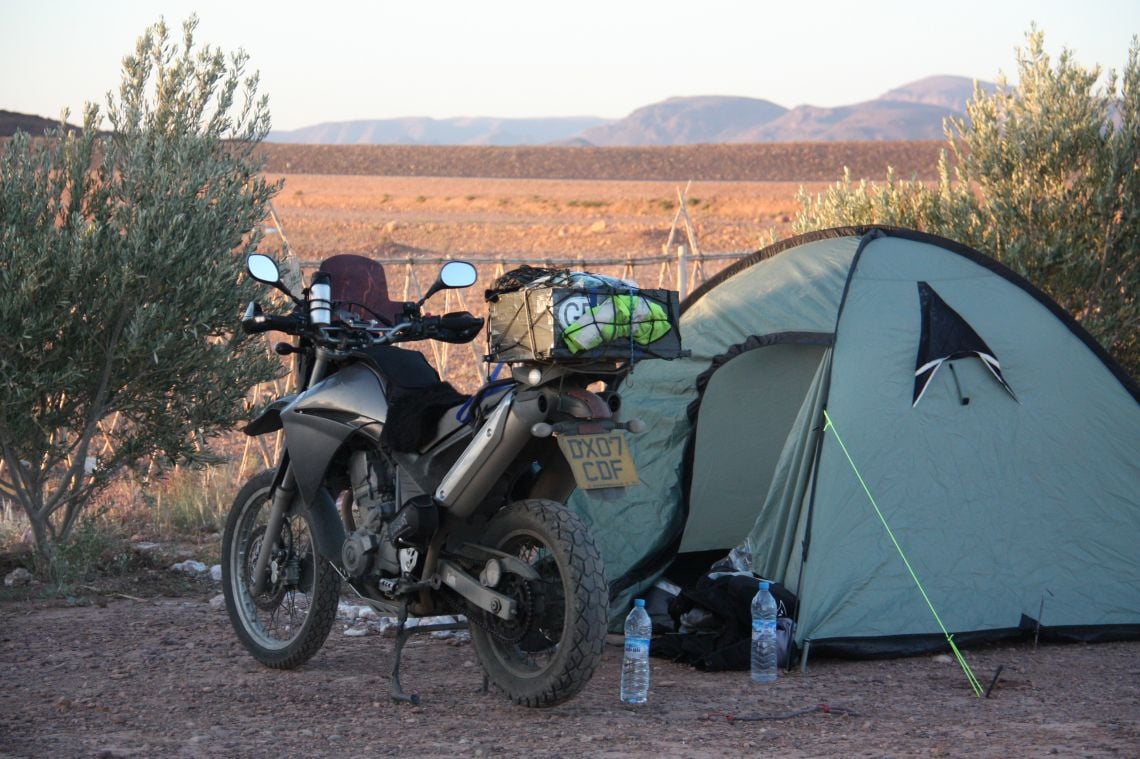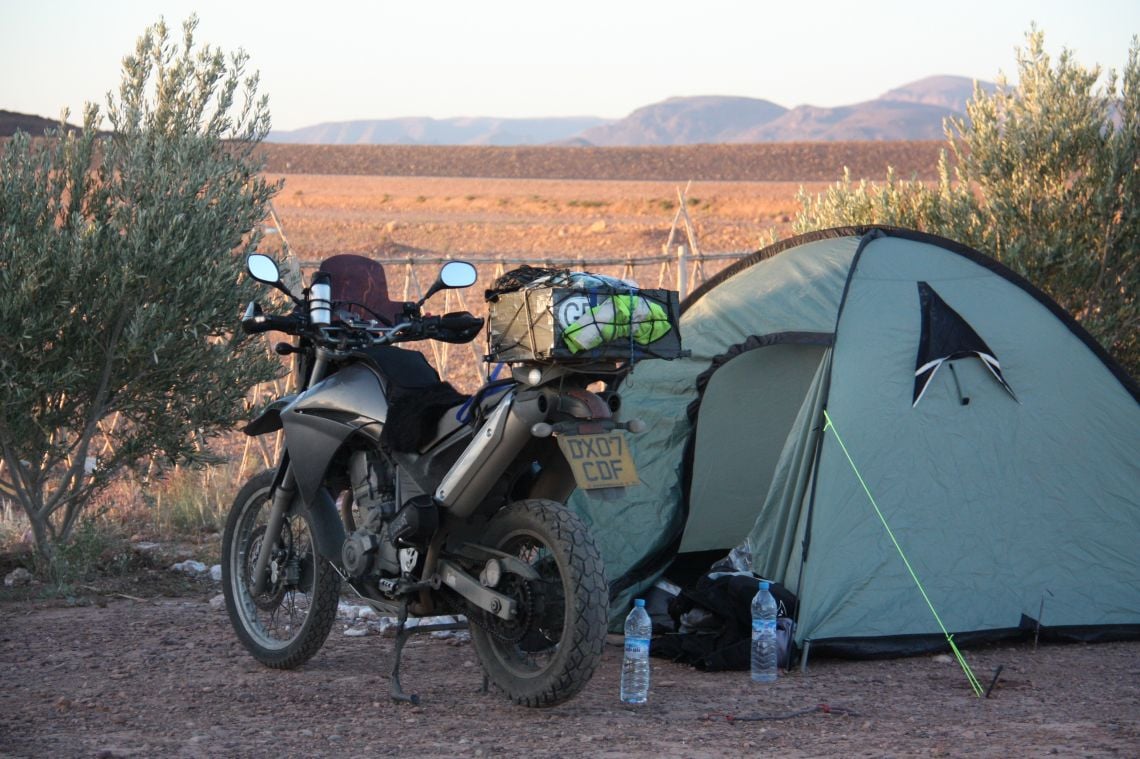 Once parked, I would set up my easel and put a canvas in place. I then unpack the paints, brushes and white spirit – laying them out on the ground or a boulder or the bike seat. After a quick rough layout, I would then paint the sky first, followed by the distant objects, and work my way forwards. I would finish it all in one sitting, with normally only the signature to add later. Once complete, I slide the wet canvas into my top-box rack system, close the flap, clean up the brushes and ride off with the painting still wet.
When painting outside, the techniques are vastly different to when inside a studio, having to work faster and looser. Consequently, I have often found that the first painting on a trip is sometimes too fussy and not as good as the ones that follow. Also, the first one of the trip is often the one most affected by the stress of painting in a strange place never visited before.
Being a naturally creative person, I thoroughly enjoy creating a picture from paints. Some people like playing the guitar, I like moving colours around a picture.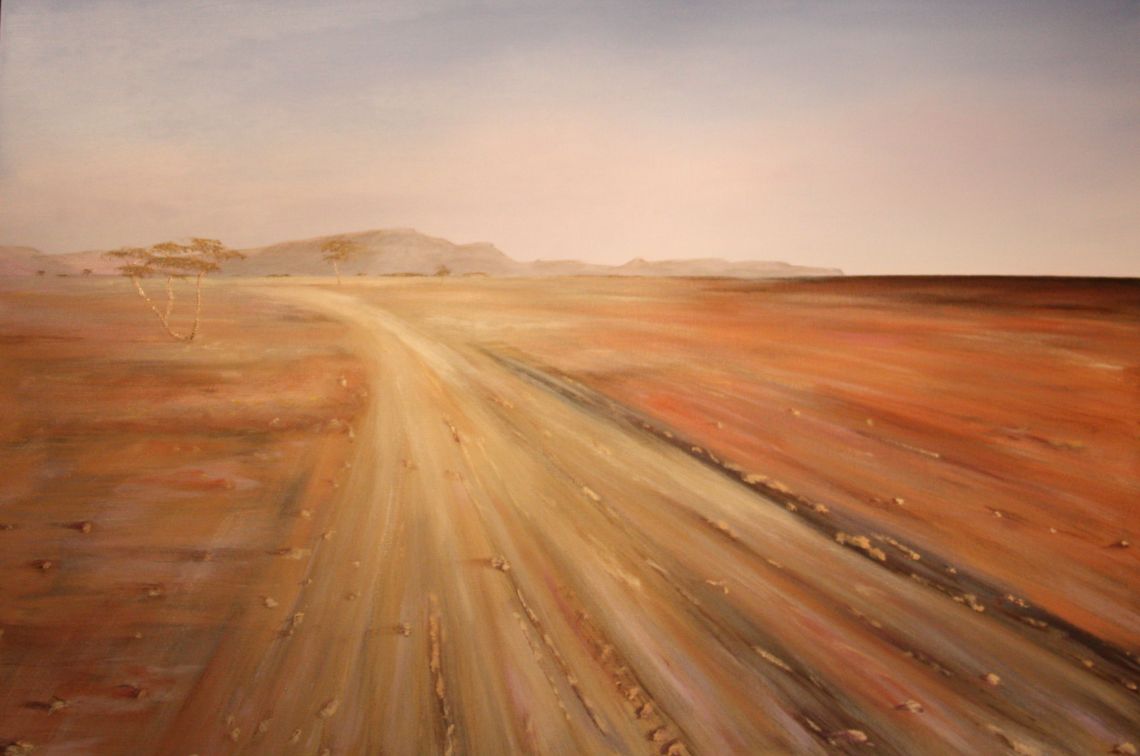 When painting alone outside you feel at one with God's creation, mixed with the elation of creating something new. For me this always feels 'more so', the bigger and more of a wilderness the place is.
Other than revisiting the Sahara, and hopefully doing it better and deeper now that I know what to expect while travelling there, I would also like to paint the Serengeti, some of the more remote areas of Canada, also some vast snow-covered landscapes. For me, the more you like a place, the more rewarding it is to paint. And as I enjoy peace, quiet and wilderness, a desert makes a good peaceful place to paint.
I paint the pictures as holiday memories really, but I also use them as colour and atmosphere reference for other work I do once home, such as the 36×24 inch landscape of the desert floor I have just completed following my most recent trip into the Sahara.
For those interested in painting on their travels, don't think something cannot be done and don't listen to naysayers. Work out what problems you will face, then plan how to overcome them in advance. Make good plans, and be flexible to change them – because invariably you will need to at some point. When plans change, don't think of it a failure, rather as 'enjoying the adventure as it unfolds'. Nearly anything 'impossible' can be done with a bit of imaginative planning. But that applies to almost any challenge, not just painting or biking.
For more of Geoff's paintings – not just of the desert – visit www.etsy.com/shop/geoffellsart
The bike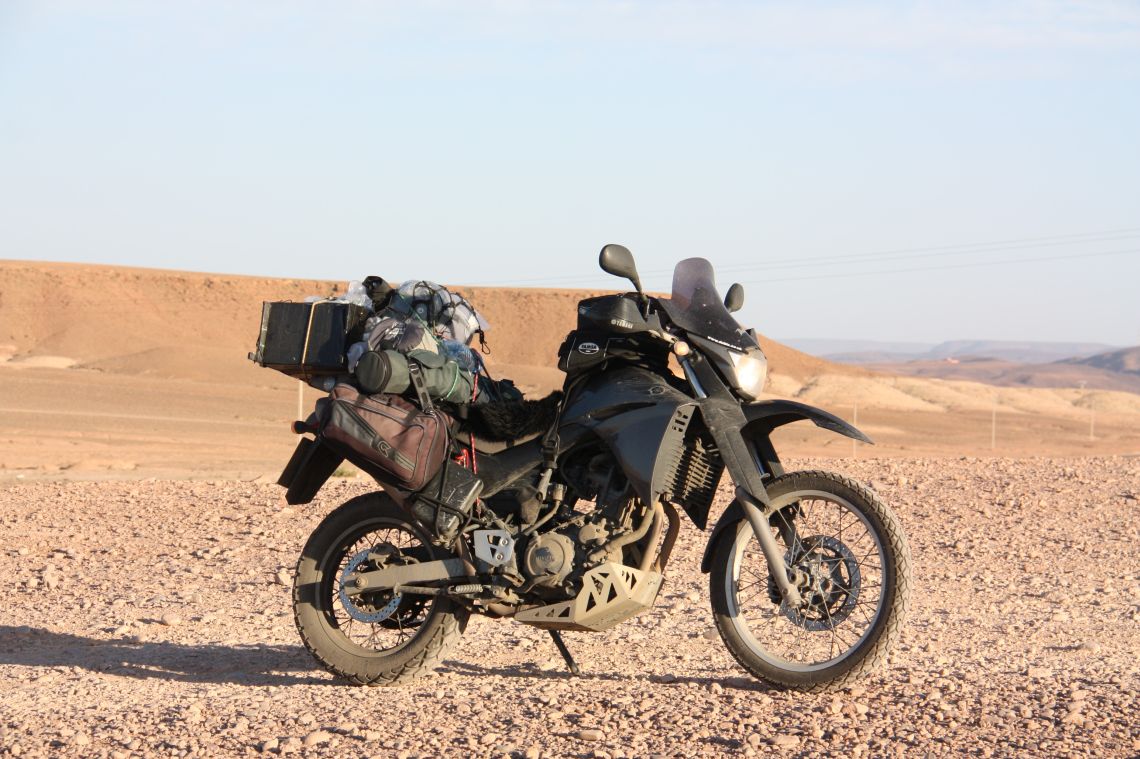 A few months after my 50th birthday my wife very kindly bought me a Christmas present of a '07 XT660R to replace my very old LC350. The XT was already fitted with a high screen (very useful), a Givi rack, Acerbis handlebar protectors, a superb Honda heated grips system, and the most annoying Datatool alarm going, which has so far destroyed two batteries.
I have kept adding to it with a centre stand from the XT specialists www.off-the-road.de, brilliant for chain maintenance and wheel removal, but it adds to the weight. Also from OTR, I have bought a good-sized sump guard that took many hits from stones and rocks, some nice little rear chain adjusters, a sidestand cut-out switch protector and a FAMSA tank bag. For panniers I chose soft luggage partly as in a fall they are softer with no sharp corners, but really because they were cheaper than aluminium.
As the tank is only 15 litres, good for nearly 200 miles, I also took a small two-litre petrol container strapped to the frame just in case. One of the best value additions has been a bicycle drinks holder that fitted to my left mirror stem. Under a tenner from Halfords, it enables an easy drink at traffic lights or any other brief stop.
A good friend and experienced off-road Morocco explorer, Robin, lent me a GPS unit and mount, as well as plenty of sound advice. Tyres used for the trip were Michelin Siracs, good for everything except the driest sands.