NORWEGIAN GOOD
When ABR Joel Gouin received a provocative email with pictures of some deliciously curvy Scandinavian… twisties, he set about planning a route to Norway's Atlantic Road
For the majority of us with fulltime jobs and family commitments, it's hard to get away for long periods of time with our beloved two-wheelers. That's why all of my adventures are built around the principle of 'little and often'. Norway is fairly close to the UK, yet still wild and different. I already had it on my radar as a possible summer destination but my interest in it really piqued when my mate Paul sent me an email with pictures of 'The Atlantic Road', an 8km stretch of twisty tarmac linking the islands between Molde and Kristiansund in the western fjords. It was made for biking. We marvelled at the scenery, found out its location, chatted to a few biking mates, and in no time we were up to seven riders, all eager to make Norway this year's annual expedition.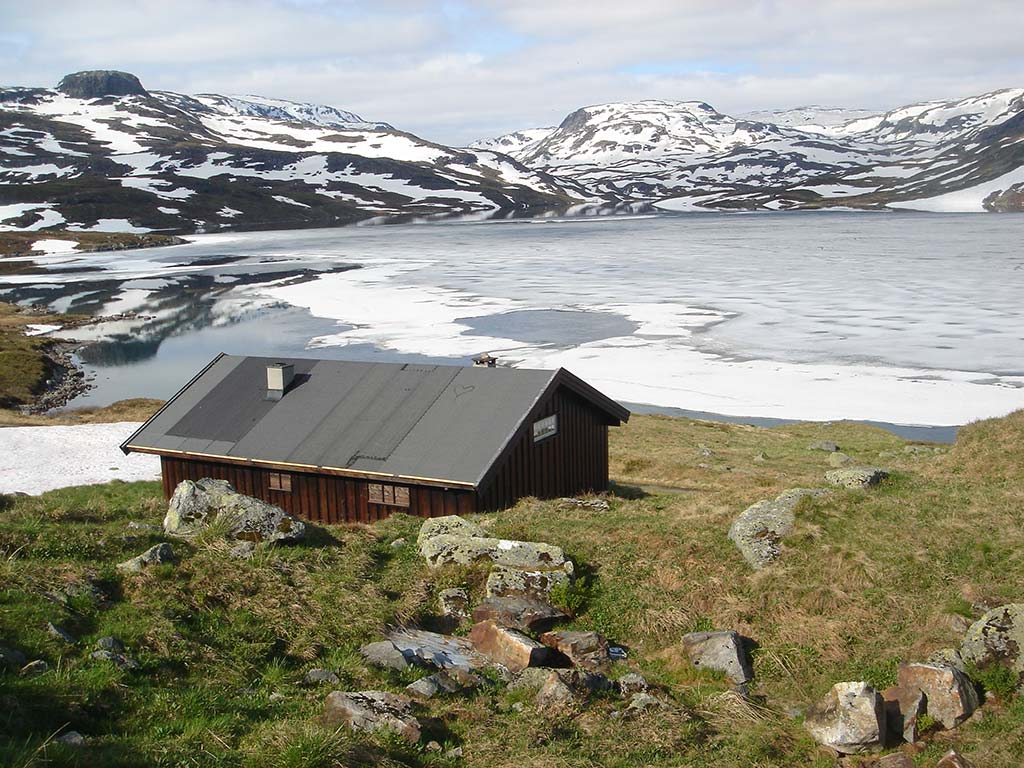 And They're Off
Armed with maps and sat navs we fine tuned our plans. We had bookings for the overnight ferry from Harwich to Esbjerg (Denmark), plus a second ferry from Hirtshalls (Denmark) to Kristiansund (Norway).
In between we had a half day to explore Denmark. We were also booked at the Norwegian HOG Rally in Sandefjord. This gave us five days to go north as far as Kristiansund, and then back South to attend the rally, after which the group would split into three factions with different agendas.
The Harwich ferry was filled with bikes and cost about £140 each for a six-man cabin (return), not bad value, I thought, though steer clear of the beer at £5 a pint! Ex-pat and fellow rider James was waiting for us as we pulled into Denmark. Now the group was complete.
We purposely avoided the motorway and rode along Denmark's west coast. This trip was going to be all about Norway, but why not take the opportunity to see more than just Denmark's black stuff? We were welcomed by rows of wild lupins. The area was windy and loaded with sand dunes and lagoons. By early evening we arrived at Blokhus camping and settled into our first of many cabins.
The next morning it was a short ride to the port at Hirtshals. We sailed by Sea Cat to Kristiansund and by 2pm we were heading north through Norway, following Route 9 until a detour on 45 took us to a recommended route through Dalen. Here we got a taste of hairpin bends, beautiful scenery and rogue sheep strolling out into our paths. We easily found our booked cabin at Edland but discovered that all the shops shut on Sunday. With only meagre provisions, a few of our crew had a very unsatisfactory dinner. Luckily, we had some dry goods and liquid refreshments tucked away, but the first lesson was learned: carry some rations just in case. At this point I remembered that the next day was a Bank Holiday as well…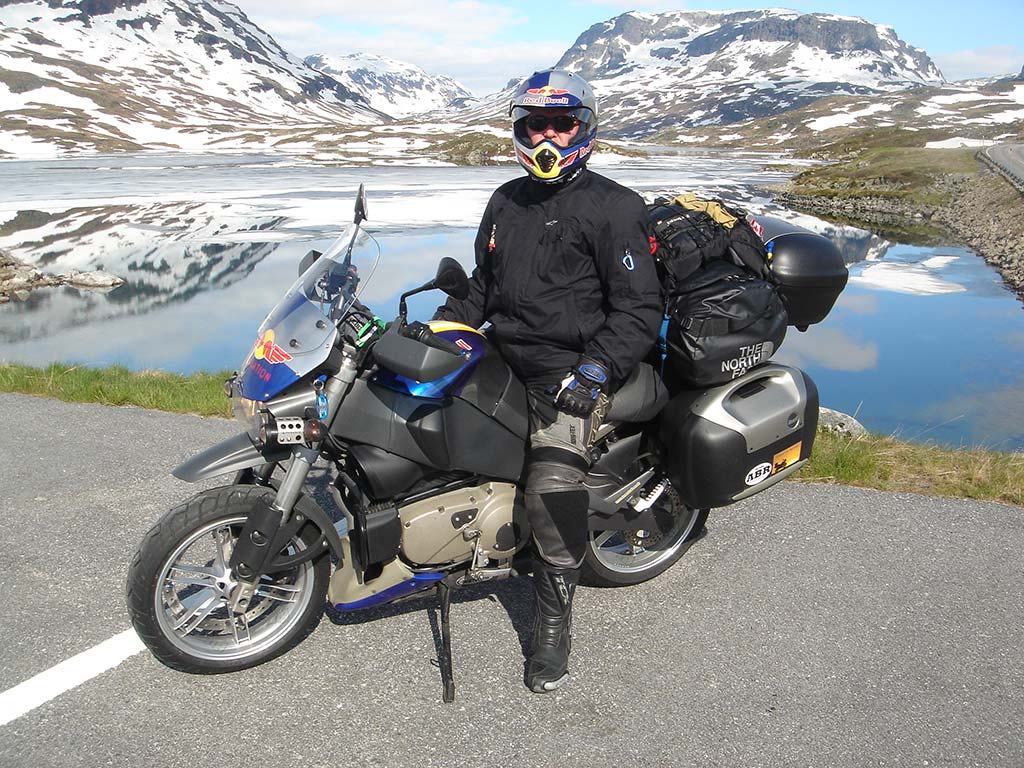 Fall Guys
We knew day four was going to be a big one with many miles ahead of us. The scenery was amazing right from the off, which hindered our progress (in future I'd allow extra time for photo ops). The weather was stunning as well and almost too warm. But then, suddenly, it seemed to be raining as we rode right through a huge waterfall. This was Latefossen, the first of many breathtaking waterfalls, but the one that we'd get closest to.
Shortly after the day's first ferry trip, from Utne to Kvanndal, Johnny and Linda decided to break away and take the train ride at Flam, one of Norway's biggest tourist attractions. I decided to forego this in favour of a particularly scenic stretch of Route 55 and a ride along Sognefjord. At over 200km, it's Norway's longest fjord; I was not disappointed.
Linda and I had studied the map and come up with a route that allowed the group to be reunited by the end of the same day. When we met that evening at our secluded cabins near Skei, we proudly showed our snowy photos from the day's ride. I'd encouraged JP and Linda to seek the so-called 'Snow Road' which had looked a tortuous delight on Google Maps instead of using the Laerdal Tunnel. Their photos of Flam and the train ride, plus those of the Snow Road made me feel like I'd missed something special, even though we'd had what would turn out to be my best day's ride of the whole trip on Route 55.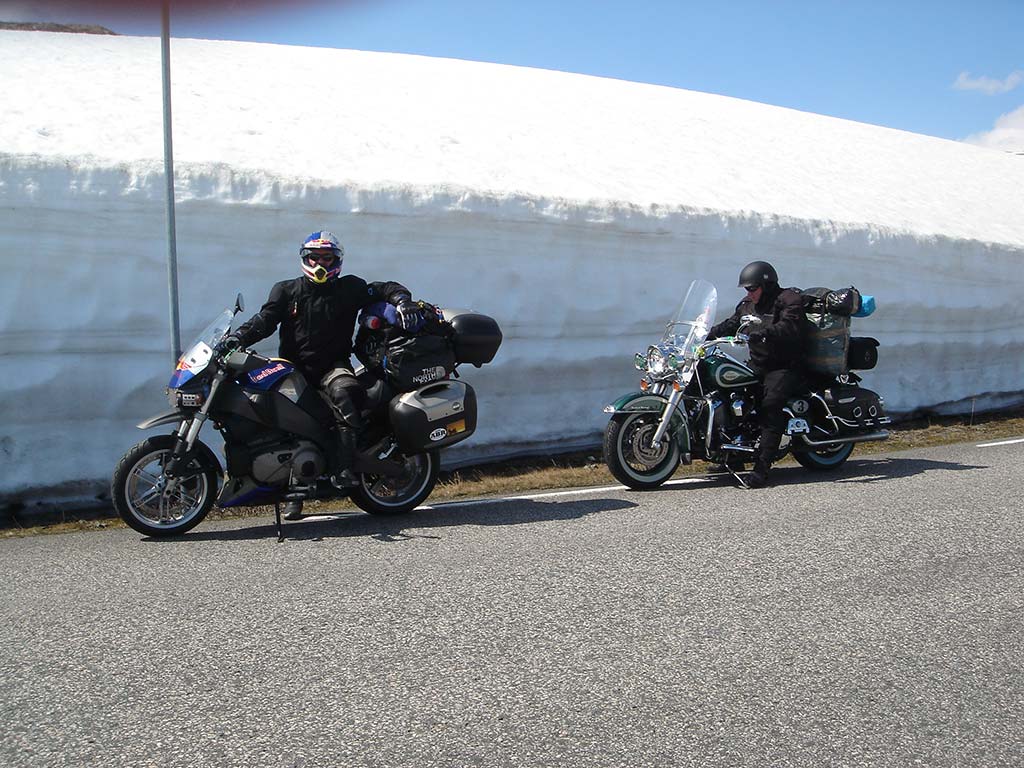 Troll Road
The following day was another biggie, with lots to do and see. We split ourselves into two groups but followed roughly the same path. From Skei we headed north through Stryn. The views continued to delight us along the way. First was Nonfossen, another great waterfall, then we stopped to admire the view from Geiranger. From here we headed north on the much-underrated Ornevegen (Eagle Road), which was a sheer delight as we climbed and powered through the continuous turns. These were technical enough to challenge yet sweeping enough to enjoy.
Taking the ferry from Eidsdal to Linge we reconvened for some lunch and anticipated the Trollstigen (Troll Path), a sweeping uphill tarmac road leading right up to the visitors' centre, after which the views became more intense as did the technical aspects of the road. Hairpins and waterfalls now replaced the twisty sweeping turns. Waterfalls such as Stigfoss sprayed the road in places and photo opportunities were abound.
We carried on through Andalsnes and on to the ferry at Afarnes. This took us across to Solsnes and from there we travelled through Molde and on to our cabin near Bud; this would be the highlight of the trip. The luxury cabin was right on the water's edge and included the use of a small motorboat. We embarked upon a waterway tour of the coastline before retiring for the night, with thoughts of tomorrow's ride to our most northerly point.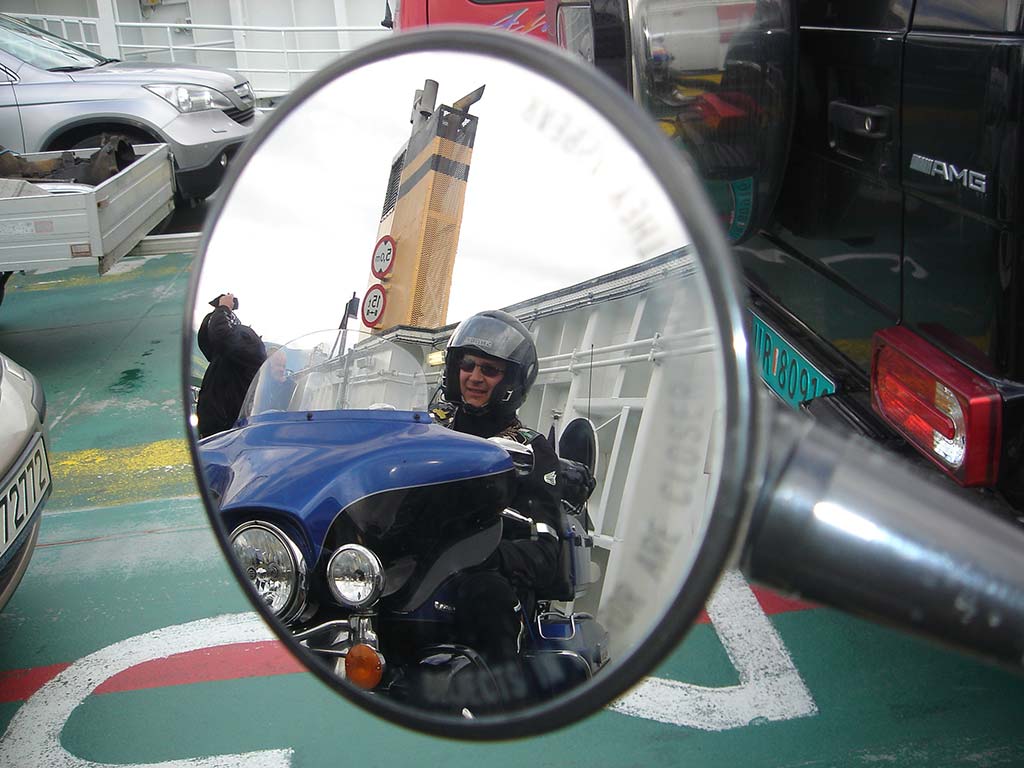 Riding The Atlantic
From Bud we rode a small road which took us to the beginning of the Atlantic Road. Even before we arrived, there were glimpses of the iconic shape of the main bridge which we had seen on the web. This road was very interesting but quite short, and so we did it a few times in each direction before moving on through Kristiansund and then turning south. We were met with more amazing scenery and although the weather turned the views kept our spirits high through Sunndalsora, Oppdal and on to Dombas.
We checked for vacancy at a campsite near Sjoa just beyond Otta on the E06, but it was flooded due to the nearby river bursting its banks. James came up with a plan to get away from the riverbank and his sat nav lead us 10km uphill and off the main road with stunning views of the valley. We booked two cabins and I decided to sleeping on the front porch, snuggled up inside my sleeping bag for one of the best night's rest on the whole trip.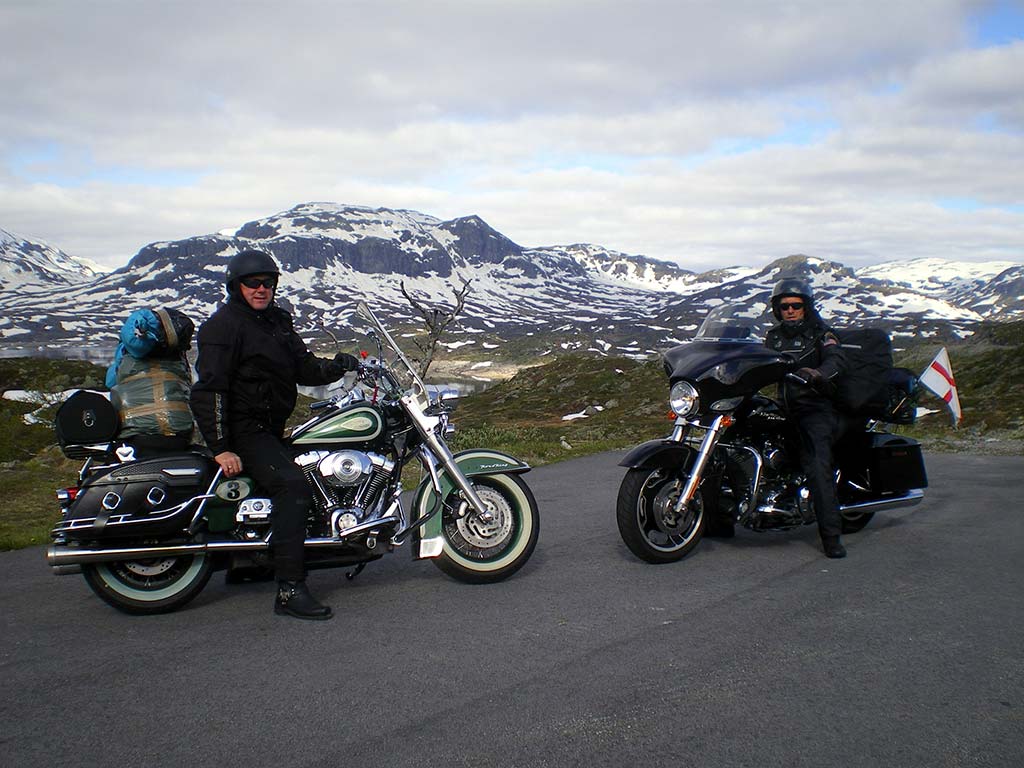 Hog Heaven
Day six was our final push to Sandefjord where we planned to camp for a few nights. Our booked site was a few miles away from the HOG rally, but first we had some more stunning Norwegian landscape to cover. We were beyond being optically overwhelmed by this point – assaulted by Norway's sheer beauty. While some of the group headed to Oslo for a quick look around, Bob and I searched for wiggly lines on our maps.
Near Lillehammer we headed west on the 250 to Dokka and here we struck a true nugget. The road was wide and sweeping and utterly enjoyable despite where some of our comrades had already set up camp.
We enjoyed the HOG rally in the usual fashion (ABR has edited these pics to protect the innocent!) and the friendly locals enjoyed chatting to the Brits who'd travelled approximately 1,900 miles across their fine country to get there. We also met some true Vikings who liberally shared some Norwegian Fire Water with us – now that's an experience, I can tell you!
The group split the following day feeling a little worse for wear. While Grinnie and Skelly headed straight home, James began his odyssey towards Nordkapp, and Bob and I headed north to the Vigeland Sculpture Park, Oslo, which was a surreal experience. We then meandered our way back towards Kristiansand using Route 41 which was very enjoyable indeed. The trip back to Blighty was far less so, largely due to my belt brakes. Perhaps that's a story for another time. Ask me at an ABR event and I'll regale you with it around the camp fire with a nice cold beer. Suffice to say there are worse (and cheaper!) places than Norway to find yourself stranded for a week while waiting for parts. Despite this last-minute hiccup, we all made it home safely in our own time. And everyone enjoyed the trip immensely – even JP. The only question now is: where to next year?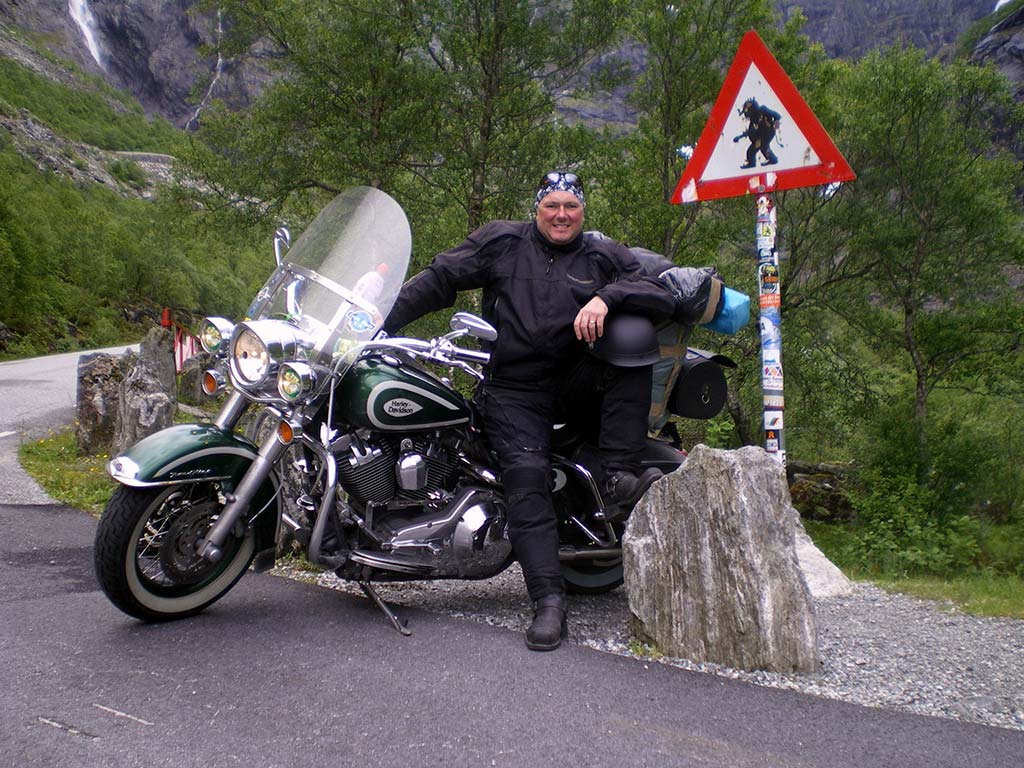 Trolls
Trolls are are a big part of Norwegian folklore. Legend has it that these ugly little blighters inhabit the mountain caves up near the fjords. They have very poor eyesight and can't bear daylight; if they're caught out in the sun, they turn to stone! They're also incredibly bad tempered – think Victor Meldrew with hemorrhoids. The Trollstigen (Troll Path) is a breathtaking mountain route in the heart of Romsdal – especially stunning when seen by bike. Just keep an eye out for the cave-dwelling locals!
Top Five… Waterfalls In Norway
ACCORDING TO WWW.WORLD-OF-WATERFALLS.COM (AND THEY SHOULD KNOW, RIGHT?)
5 VØRINGSFOSSEN
Probably Norway's most famous waterfall, it can be found at the head of the steep gorge of Måbødal Valley. The main flow of water is the result of several waterfalls converging, which makes it both unusual and stunning. A goody for rainbow spotting, this
4 VETTISFOSSEN
Situated in the Utladal Valley. This is the tallest unregulated 'free-leaping' waterfall left in Norway. At an impressive 275m, it's so-called because the water literally appears to leap off the cliff as it completely clear the rock face
3 MÅNAFOSSEN
Located in in Rogaland county, this 90m super-powerful waterfall is best viewed from above – but be careful not to slip! Catch it in the right light and you'll see some spectacular rainbows
2 MARDALSFOSSEN
At 655m, Mardalsfossen is the fourth tallest waterfall in the world and is allowed to flow freely during the tourist season. 'Uh-oh!' I hear you say. The dreaded 'T-word'. But fear not, Mardalstjønna Lake over which this waterfall, er, falls is a fairly quite and remote spot
1 LANGFOSS
Well, there had to be a winner and this is it. Langfoss claims top spot with waterfall lovers for its wide, thunderous, unregulated flow; its impressive 612m, and its spectacular view over the fjords. Located located at the end of Åkrafjord, there's an 'easy-toclimb' footpath which will take you all the way to the top. It's no wonder CNN voted it one of the world's most beautiful falls in 2010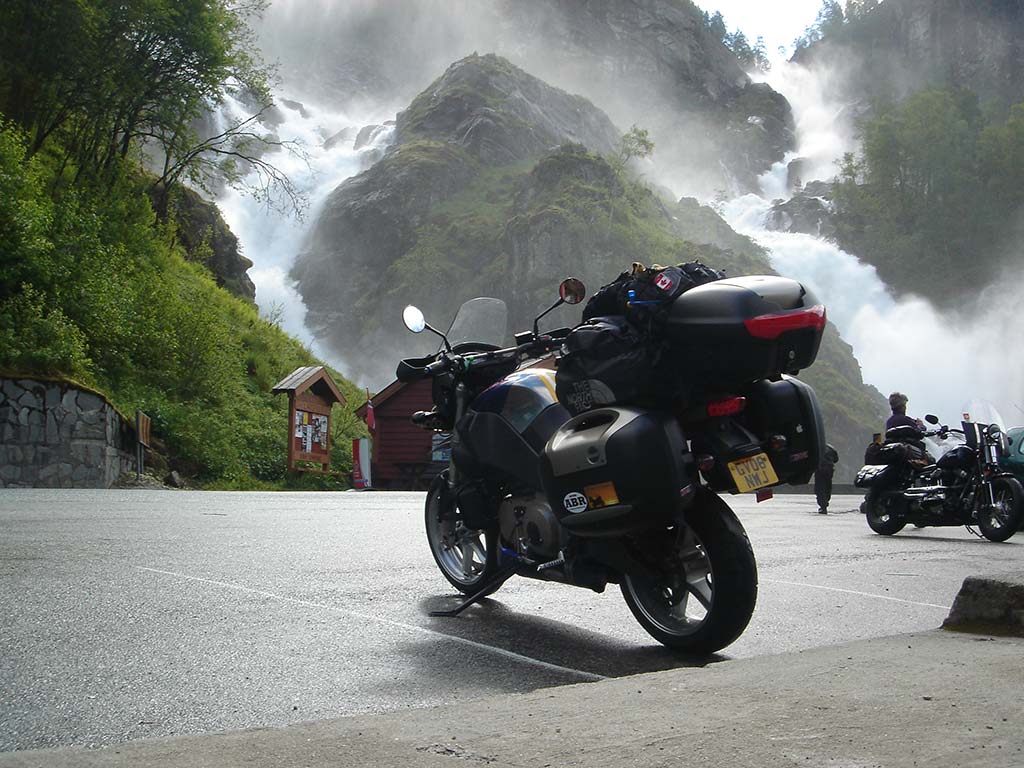 Tunnel Vision
Besides its awesome vistas, Norway's also famed for its epic tunnels. The country has over 900 tunnels in total, covering a distance of 750km. It's also home to the world's longest road tunnel, the Lærdal Tunnel, which is over 15 miles long and uses a special sunrise-like hues of lighting to ease claustrophobia and help riders concentrate during the 20-minute blast through the mountain range. The tunnel begins just east of Aurlandsvangen in Aurland and emerges 3.5 miles south of Lærdalsøyri in Lærdal. A total of 2,500,000 cubic metres of rock was removed from the mountains during the tunnel's construction from 1995- 2000 and it cost NOK 1,082,000,000 (£121,191,302) to complete.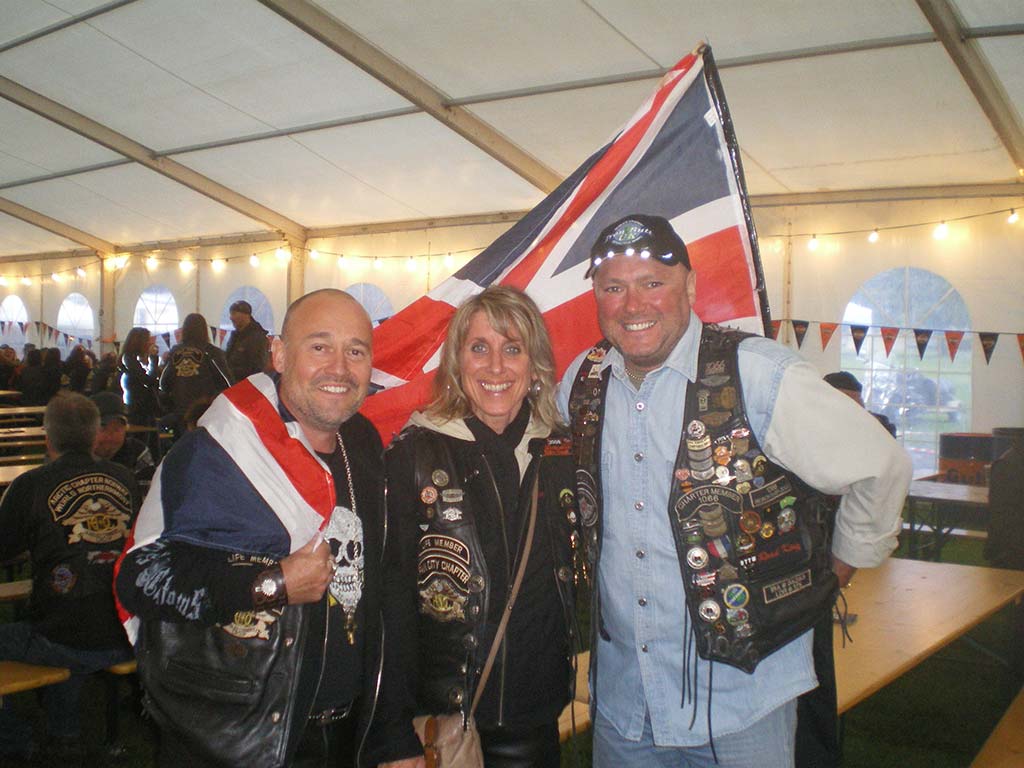 The Atlantic Road
At 8km long, the Atlantc Road is a pretty impressive stretch of zig-zags and twisties, which connects the towns of Kristiansund and Molde via a network of eight bridges. The road effectively island hops across the ocean and offers spectacular view over the Hustadvika from its panoramic view points; on a clear day it's possible to see whales and seals, and even get a spot of fishing in.
Who's riding?
Bob Eagle
Retired ad agency exec and financial adviser Bob is the master route planner. He's known for taking the longest, most scenic (indirect) route possible. He's a big fan of twisties.
Paul 'Grinnie' Grinsell
Fully paid-up member of the Iron Butt Association, Grinnie earns a living in trade exhibitions and publishing but dreams of spending miles on the road with just his iPod for company.
Ian 'Skelly' Skelton
Retired copper and current director of 1066 HOG Chapter, Skelly joined the Norway trip for a rest – he's currently organising a 2012 trip to the USA for about HOG 70 riders. Skelly is well travelled from his first job in the merchant navy.
James Sayer
A mixed-up Englishman who lives in Holland with his French wife. James started his trip a week earlier than the rest of us and was to carry on for a further 10,000 after we parted. Jealous? Us? Don't know what you mean!
Linda Bowman
Coffee addict, serial bikes swapper and avid jacket collector, Linda also does trips with her VW camper van and 1953 Chevy pick-up truck – oh, and her two girls as well. Linda holds an HGV licence and easily keeps up with the lads .
Johnny 'JP' Piper
Bike collector and serious customiser, Johnny is a self-confessed motorway junkie. He is a seasoned (but temperamental) traveller with a lot on his mind.
The Bikes
JOEL'S BIKE: 08 Buell XB12XT 'Red Buell', a merger of two brands with a custom paint job, Remus exhaust, K&N filter, CRG levers, and some Touratech extras. A good packhorse and quick to boot.
BOB'S BIKE: Bob selected his 2010 Buell XB12XT Ulysses for this trip from his stable of three bikes, the other two being Harleys. The Buell won out with its mixture of practicality and twisty fun.
PAUL'S BIKE: 2003 Harley Road King Classic. It was rebuilt and custom painted in British Racing Green after an off-roading incident in 2009 while en-route to European Bike Week.
IAN'S BIKE: Harley Street Glide with one major accessory – a St George's Cross flag
JAMES' BIKE: 2011 Harley Ultra Classic. In all, James and his steed will do about 15,000 miles around Europe from top to bottom this summer.
LINDA'S BIKE: 2010 Buell XB12XT Ulysses with graffiti custom paint and Jardine exhaust, plus some Touratech goodies like fog lights and a headlight protector.
JOHNNY'S BIKE: 2008 Harley Cross Bones with a rather moving exhaust note courtesy of Vance & Hines. Naturally Johnny has tweaked his machine with the likes of engine work and custom bars and seat.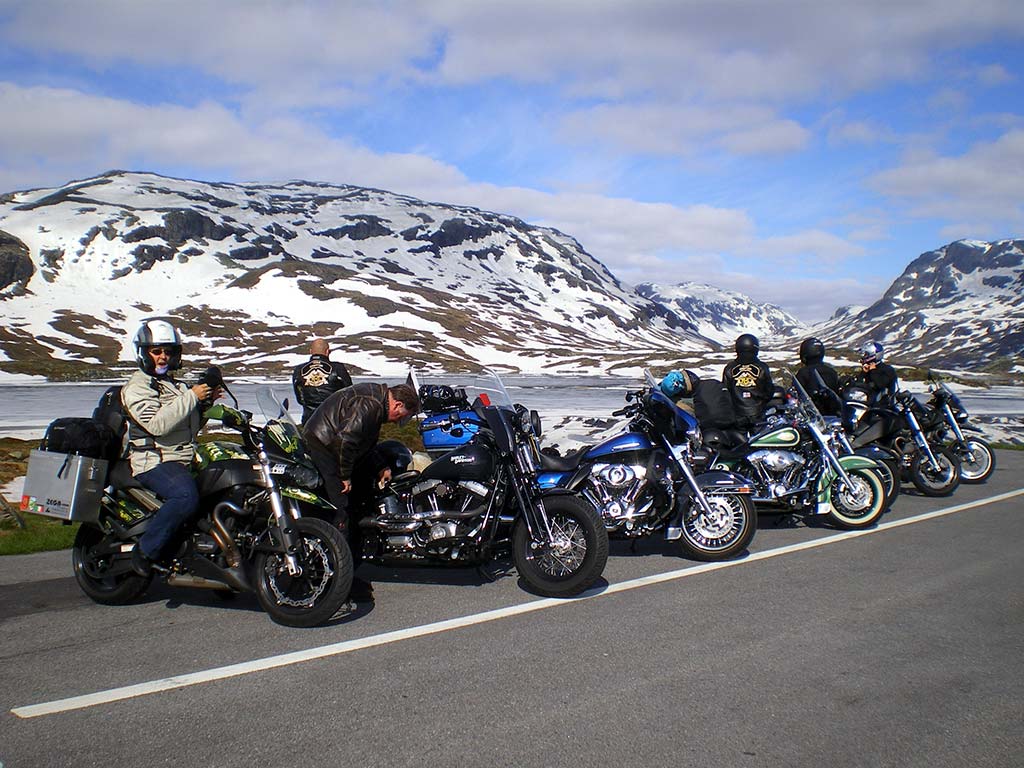 Who's Writing
Born and raised in Canada with generous helpings of travel, camping, fishing and motorcycles thrown in, Joel Gouin's the youngest member of the 2011 Norway contingent at a sprightly 44. He now lives and works in the UK and takes a 'little and often' approach to adventuring abroad by bike.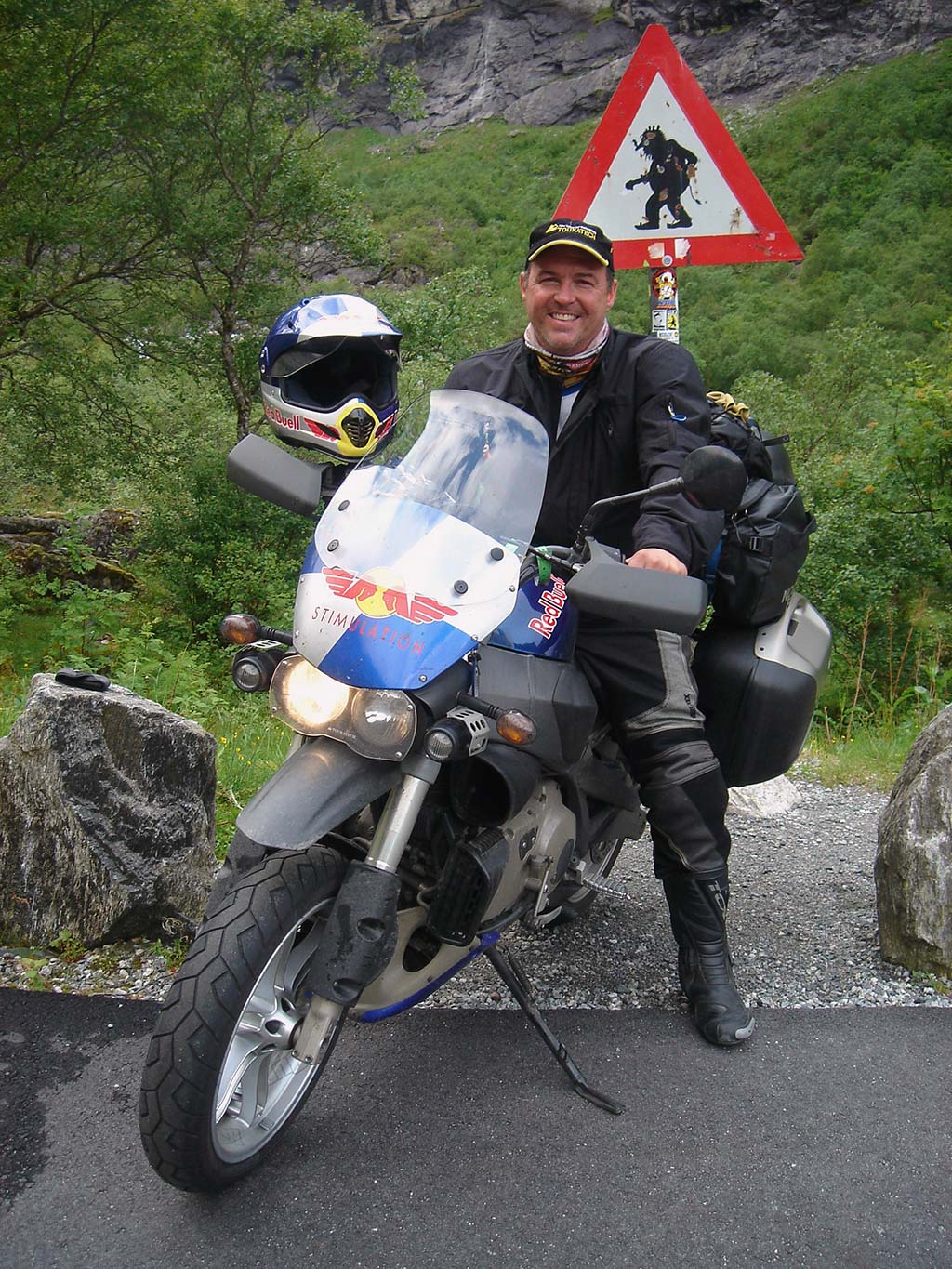 Photos: Joel Gouin