We've teamed up with TomTom to showcase some of the greatest rides in North America
Throughout 2017, we've featured the 100 greatest rides in Europe, as found pre-installed on the TomTom Rider 450. These rides provided routes through Western Europe that took in everything from the most exciting roads and stunning views to the various countries' fascinating history and diverse cultures.
For this issue, and to round off our TomTom Great Rides series, we've decided to head across the pond to the US of A and Canada, to look at 15 of the greatest rides in North America.
Those who have been to the States or Canada will know that they're two countries that are blessed with such a wide variety of landscapes. From the Appalachian Mountains in the east and the Rockies in the west to the beautiful coastlines and wild, untamed wildernesses of Alaska and Canada, these two countries offer it all.
North America covers an area of about 9.5 million square miles (for reference, the UK covers 94,060 square miles), and with such a large and diverse amount of land beneath your tyres, it's an adventure motorcyclist's playground. There are just so many roads that are worthy of being ridden, but we've chosen two, in particular, to feature in this issue of Adventure Bike Rider, Blue Ridge Parkway of Virginia and North Carolina, and Icefields Parkway of Alberta.
Both of these routes promise to take riders through some of the most scenically stunning areas of North America, along roads that were purpose-built.
---
Blue Ridge Parkway – Virginia and North Carolina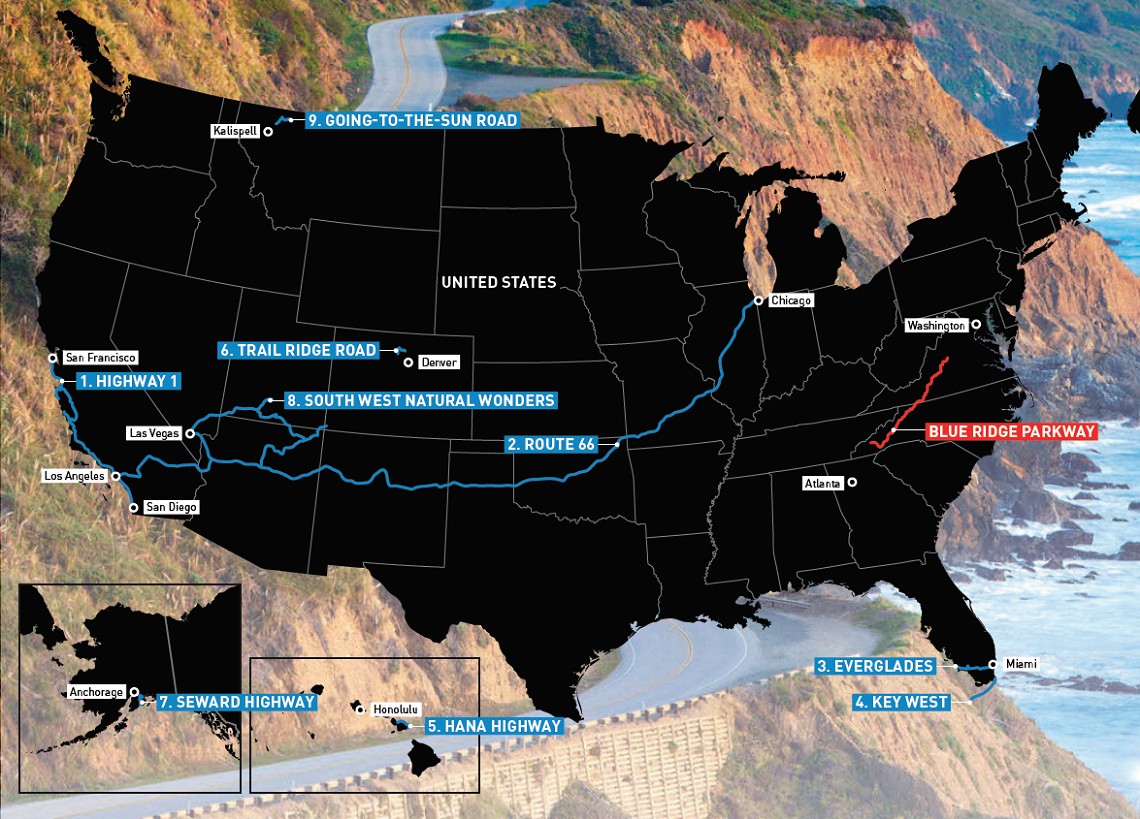 What's your favourite movie? It's a question that always seems to throw me. My mind inevitably goes blank and, to move the conversation on, I'll usually say the first film I can think of. But in an effort to master the answer to the question, I've done some thinking recently and gone through a list in my head, finally deciding on a firm winner. If asked the question now, I say with conviction that my favourite movie is The Last of the Mohicans.
I first watched it as a boy and was mesmerised by how 'cool' I thought Hawkeye (played by Daniel Day-Lewis), Uncas and Chingachgook were, and how villainous Magua was. The battle scenes got my blood flowing and the music, my god, the music was incredible.
But there's one particular scene that sticks in my mind, and I'm sure it's the same for many others who have seen the film, and that's the grand finale where Hawkeye and co are chasing down Magua and his band of Natives to rescue Cora and Alice.
The drama of the cliff-top run, the most epic piece of music playing, that awesome showdown between Chingachgook and Magua, and, of course, the sheer beauty of the location that the film was shot in.
I must have watched it in excess of 20 times now, and the scenery on display at the end of the film never fails to inspire me. So, imagine my delight when I discovered that, despite being set in the state of New York during the war between the French and English, The Last of the Mohicans was filmed in the mountains of North Carolina, and there's a fantastic road, the Blue Ridge Parkway, which takes you through and around the gorgeous wood-covered peaks, and within touching distance of many of the iconic locations in the film.
Running 468 miles roughly north to south, from Rockfish Gap in Virginia to a few miles north of Cherokee in North Carolina, Blue Ridge Parkway is a scenic road which mostly follows the spine of the Blue Ridge Mountains, one of many chains of mountains that form the Appalachians, which run almost the whole length of the USA.
The construction of the road took 52 years to complete in its entirety, opening fully in 1987, and since then it has become one of the most visited roads in the country. For motorcyclists though, Blue Ridge Parkway presents the perfect opportunity to ride through some of the most beautiful scenery around.
Over 160 bridges and six viaducts carry you across the many streams and ravines that bisect the route, while you can also take a short detour up Mount Mitchell, the highest mountain in eastern North America (2,037m).
Th e route is often impassable during winter due to snowfall, and during the main summer months it can be heaving with other road users, but pick your time right and you'll be able to enjoy the idyllic solitude of riding through the Blue Ridge Mountains.
Head there in the fall (sorry, autumn) and you'll be treated to the changing of the leaves when the canopy turns from green to a dramatic sea of red and orange.
While the ride can give you a real sense of being 'out there', provisions and accommodation are easy to come across, and the road isn't particularly challenging, making it a great target for new riders. There's one thing that has to be said though, if you do decide to ride it, make sure you watch The Last of the Mohicans before you go, it'll make it that little bit more special.
---
Want to ride in the USA?… Here's what you need to know…
When to go?
The USA is such a large country with so many different climates that you can really go all year round if you pick and choose when to visit.
The southern states remain mild throughout winter, but can get extremely hot in the middle of summer, while the northern states can see regular sub-zero temperatures and heavy snowfall through winter.
How long to take off work?
Ideally, if you're travelling across the Atlantic you'll want to take two weeks off work to make the most of your time there. Jet lag can hit hard, and it can take a few days before you're feeling like yourself.
Most of the routes mentioned above can be ridden in just a few days, but with such a huge number of things to see and do in the USA, you'll want to take your time and explore any area you're riding through in a bit more detail.
Is it for you?
Quite simply, the USA has something for everyone. The sheer variety of people, landscapes and terrains means that you'll likely be well catered for wherever you decide to visit, and if you like to eat you'll be in heaven.
The people in the USA are also incredibly friendly and make you feel extremely welcome. As with all countries, there are exceptions to that rule.
Visas
If you're thinking of heading to the USA, then you'll need to sort out your travel visa before you depart. British Citizens with ePassports can get an Electronic System for Travel Authorisation (ESTA) through the Visa Waiver Programme, which will allow you to travel to the US for up to 90 days.
You can do this on the ESTA website (www.esta.cbp.dhs.gov/esta/), and it's advised that you complete it at least 72 hours before departure. More information on visa requirements can be found on the Foreign Travel Advice section of www.gov.uk.
Nine more roads to ride in the USA
Highway 1 – 570 miles
Route 66 – 2,146 miles
Everglades – 125 miles
Key West – 101 miles
Hana Highway – 61 miles
Trail Ridge Road – 48 miles
Seward Highway – 127 miles
South West Natural Wonders – 1010 miles
Going-to-the-Sun Road – 50 miles
These routes are available for you to view in detail, and to download onto your SatNav from the TomTom website. Simply visit www.bit.ly/TomTomUSARoutes to access them.
---
Icefields Parkway – Canada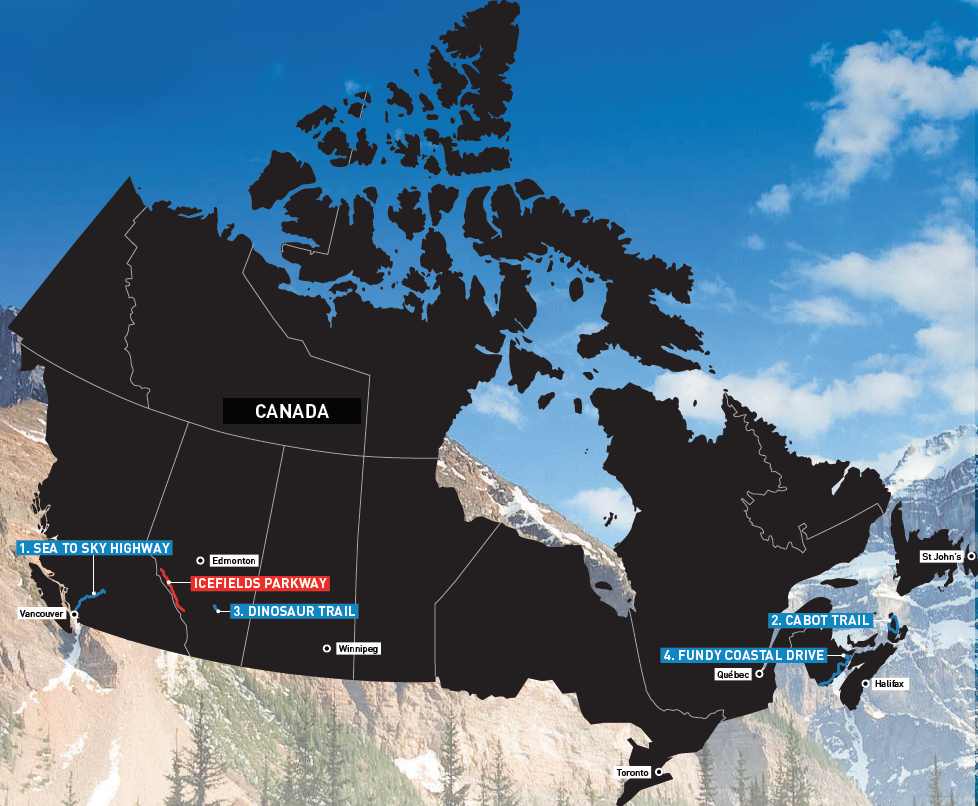 If you're thinking of heading to North America, don't forget about Canada! In 2002, during his Live on Broadway show, Robin Williams hilariously referred to the country as being "like a loft apartment over a really great party". And while he probably wasn't being too serious, Canada is a country that's often overshadowed by its rowdy southern neighbour. But that shouldn't be the case, at least not for motorcyclists.
Canada is home to some of the world's most beautiful, wild scenery, and the roads that take you through them are just incredible. While the USA might have Blue Ridge Parkway (and many, many more epic routes), Canada has Icefields Parkway.
Often described as one of the most spectacular journeys in the world, Icefields Parkway is one that should be on every rider's bucket list. The road links Banff with Lake Louise, and for 144 miles it transports you through a picture-perfect land of wilderness and wide, majestic valleys. Impossibly blue mountain lakes fed by ice-cold glacial rivers sit by the sides of the road, ancient glaciers and ice fields hang off the mountains above you and numerous animals call the forests around the road home.
The road itself is a dream to ride, though the 56mph speed limit that's in place means you'll want to hold off on that throttle. But that's no bad thing as this road isn't about speed, it's like a 144-mile long exhibition of natural beauty which will seduce you for its duration.
But it's not just the quality of the riding that makes Icefields Parkway such a draw. Throughout the journey there are numerous incredible viewpoints that'll demand your time, and you'll want to make sure you've got an empty memory card in your camera before you set off.
In the winter months, you'll probably want to stay away from Icefields Parkway, with plummeting temperatures and large amounts of snowfall making it a daunting proposition for any motorist, but between March and October you'll find the going is good. Typically, July and August are the most popular months of the year, with the road attracting some 100,000 vehicles in each month, so plan your trip wisely to escape the crowds.
With a speed limit of 56mph in place along the entirety of the road, from start to finish, the whole route is doable in around three hours, but to rush along this tarmac would be missing the whole point of the ride. Take your time and savour the views of the dramatic mountains around you, and immerse yourself in the sheer beauty of Canada's wilderness, you'll be glad you did.
---
Want to Ride in Canada?… Here's how you can…
When to go?
Despite the size of the country, the weather in Canada is largely the same no matter where you go, with four defined seasons. Of course, there are some regional variations, with mountainous areas seeing more rain and snow, and coastal regions typically being more temperate.
In the winter, it's cold pretty much everywhere in Canada and snowfall is common, while the summer offers long, sunny days and great temperatures for riding.
How long to take off work?
In a similar fashion to the USA, to really make the most of your trip to Canada you'll want to take around two weeks off work. Jet lag can hit you hard, particularly if you travel to the West Coast, so you'll want to make sure you've got a decent amount of riding time when you're not feeling too tired to enjoy the place!
Is it for you?
Canada is a land that's famous for its friendly, welcoming and diverse population. You'll feel at home right away, and the scenery is world renowned for its beauty. If you like to explore wide open spaces while immersing yourself in scenery around you, you'll love it.
Visas
Typically, British Citizens won't need a visa to visit Canada for short periods of time, but you will need to make sure you get an Electronic Travel authorisation (eTA) before you travel, which you can apply for from the Canadian Government website (www.cic.gc.ca).
It is recommended that you get this at least 72 hours before you depart.
Four more great rides in Canada
Sea to Sky Highway – 190miles
Cabot Trail – 184 miles
Dinosaur Trail – 33 miles
Fundy Coastal Drive – 272 miles
These routes are available for you to view in detail, and to download onto your SatNav from the TomTom website.
Simply visit www.bit.ly/TomTomCanadaRoutes to access them.