We travel to Spain for launch of Suzuki's new 'adventure' bike
For this issue we were kindly invited to attend the launch of the new V-Strom 1000, a bike that's been a long while in the making. The original big Strom (the German expression for stream, current or flow) was discontinued back in 2008, when emission regulations culled it from the UK lineup (it continued to be sold in other parts of the world until more recently). That bike always enjoyed a bit of a following with those that bought it. They liked that it was understated, comfy, cheap…
Ongoing rumours of a follow up were heard, with it not until last year's NEC show (2012) that a prototype of the new bike was finally displayed behind the safety of a glass case.
Teaser shots and videos followed throughout 2013, before the official unveil in Le Mans, which was covered in the last issue of ABR. A series of dealer roadshows then took place, with a pair of the new bikes touring the UK dealer network with open evenings for interested parties to see the bike in the flesh and possibly put a deposit down.
It's fair to say that reception has been mixed. The looks have certainly drawn attention, so too the price (at £9,995 some see that as being too expensive – compared to what?), not to mention the question of where it fits in to this ever burgeoning large capacity adventure bike market.
Is it a rival to a 1200 GS for example, or a Tenere, or an Explorer? Or conversely, is it more likely to be seen in comparison to a Kawasaki Versys 1000, Honda Varadero, or a Triumph Tiger 1050. After all, what exactly is an 'adventure bike?' What does it need to possess and look like for it to constitute as one? The reality for many of us that a large percentage of the miles we cover, regardless of how adventurous we feel, are actually conducted on A-roads and motorways, with it only that dream on the horizon that keeps this current 'adventure' moniker in fashion.
This new V-Strom then is then a mixed bag. On the one hand it has the obligatory beak (Suzuki claims to have started the trend way back in the eighties with the DR750), the 19-inch front tyre (shod in Bridgestone Battle Wings), and even the promotional video shows the test rider tearing across some dusty mountain track, stood up on the pegs. All very romantic. All very Ewan and Charlie.
In truth, this is a bike that will be used for commuting, long weekend touring, Sunday ride outs when the weather's nice, and possibly, for the occassional jaunt in to Europe. That's why, buried deep in the marketing literature (behind the more prominent strapline of, 'All Adventure, No Compromise, which seems a tad ambitious) Suzuki is honest enough to classify the new V-Strom 1000 as an 'adventure touring bike', which I think is where we're at.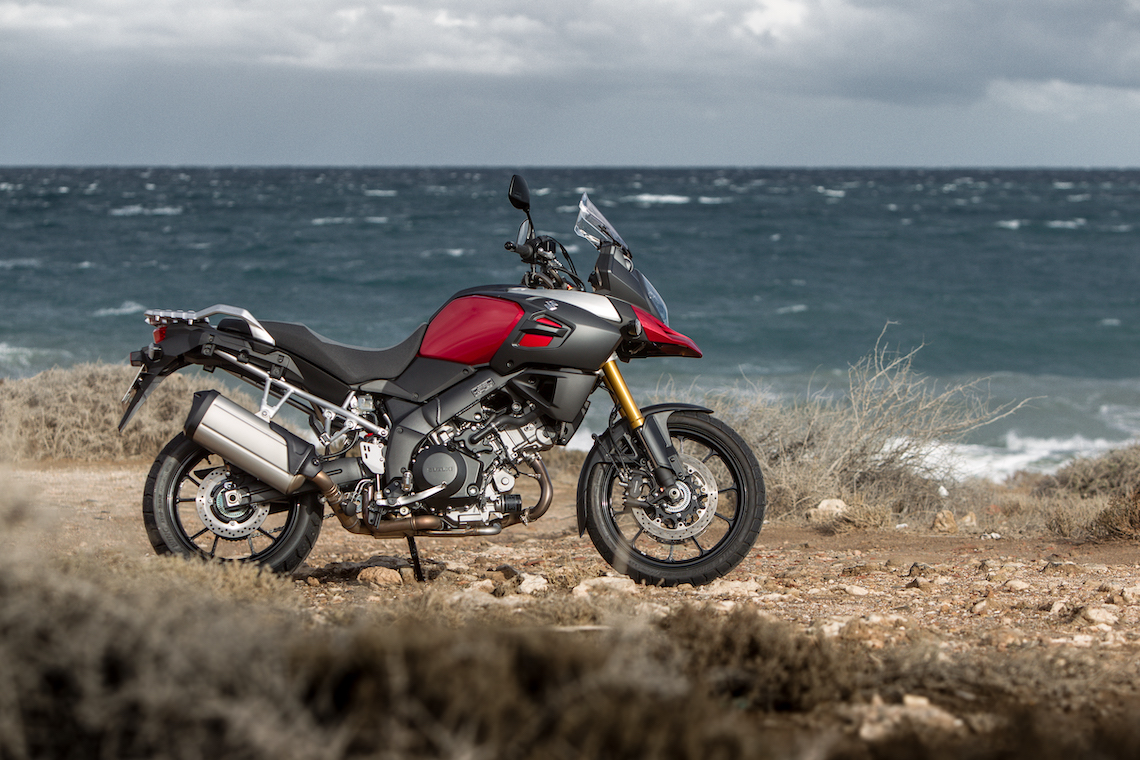 And so with that all said, we head to Almeria in Spain to see if this new V-Strom really is worth writing home about.
The Engine
The engine is a heavily revised update on the old one (originally from the TL1000). Cubic capacity is up 41cc from 996cc to 1037cc. As a result there has been a couple of horsepower power gain (now 99bhp), whilst peak torque of 76ft lb is now available at 4,000, some 2,400rpm lower down the rev range than on the previous V-Strom 1000.
The bore also grows by 2mm, whilst cylinders, cylinder heads, pistons, piston rings, connecting rods, crankshaft, clutch assembly and radiator have all been redesigned. There's a new flywheel, whilst Suzuki Clutch Assist System works as a slipper clutch for smoother downshifts. Suzuki claims that the focus has been on making the engine smoother at low to mid-range rpm, with refined fuel injection, increased inertia, added twin spark plugs and redesigned the magneto. Suzuki considered upping the displacement to 1100 or 1200, but felt it unnecessary in order to keep the weight down and pitch the bike squarely between the 800 and 1200 sectors.
How does that translate on to the open road? Well, you wouldn't hail it as a particularly fast bike, not in a savage way at least, but you soon realise that the sweet spot is right there in the mid-range, somewhere between 3 and 6,000 rpm. It will pull all the way to 9,00rpm redline, but it rarely feels necessary. The delivery is smooth and progressive. Pulling out of slow corners in second isn't intimidating, you can get on the power early. The low down fuelling is also good, with little shunting, only a touch when cold but soon clearing out.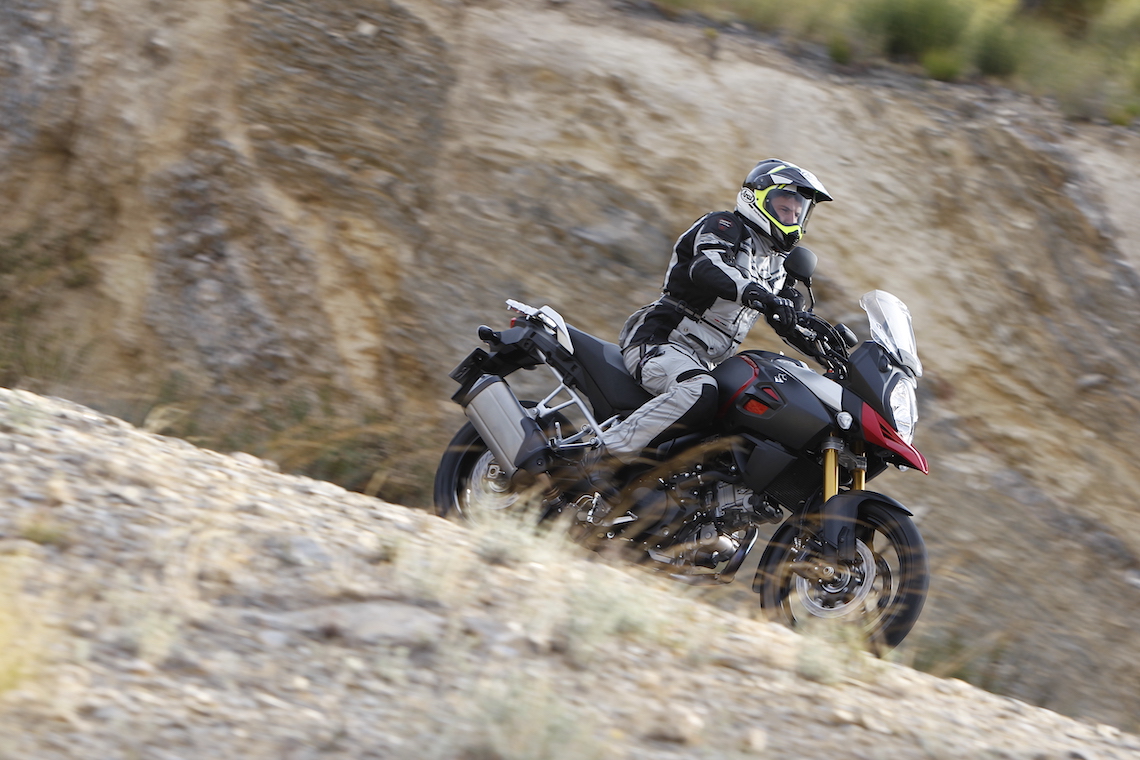 The exhaust isn't particularly vocal, it's quite mute if anything, with you just able to feel a touch of vibes coming through the bars and in to your fingers, especially after a seventy mile stint on the Spanish motorway, running a touch above legal speeds.
Compared to the bikes I've ridden recently, the engine is certainly more refined and pleasant than the F800 GS, but whilst the V-Strom has more torque than the Honda Crossrunner we rode last issue, it does miss that slug of adrenaline you get when you rang that Honda V4 out through the rev range. But grunt at any time, in any gear, is really what this engine's about. And that's what people loved so much about the last one. In terms of economy, the bike was reading 41.2 mpg at the start of the test. Resetting it later in the day the digits finally settled around about 47mpg, quite a way shy of the claimed 59mpg, but these were tight mountain roads, ridden at a decent pace and so on a long cruise it's probably likely that you could make the claimed figures.
The one thing that does need to be confirmed are service intervals. The previous model was every 3,500 miles, which isn't great in the modern market, with speculation for the new bike of it being closer to 6,000 mile intervals, but we wait for confirmation on that.
Handling
Cold damp mountain roads, riding at a pace above what I'd normally ride – trying to keep up with an ex-TT rider – all had potential for disaster, but one thing that did impress me about the big Strom was just how manageable and easy to ride it was. Suzuki has talked much about the reduced weight of the bike, which at 229kilos – eight less than before – isn't massively lighter than other bikes on the market, but somehow it feels lighter than that, even just lifting it off the stand and pushing it around the petrol station, it feels manageable and friendly. Out on the open road the V-Strom is a very direct, forgiving and composed bike. It tips in to corners easy, it tightens a line with ease and cornering soon becomes an unconscious and fun act. Over the previous generation V-Strom, this one's arguably a touch more firmly sprung (43mm inverted front forks), but I wouldn't say too firm, with the preload on this test bike set to standard (eleven clicks either side). The tyres fitted were Bridgestone Battle Wing (classed as an 'adventure' tyre, so with a bit of tread) the bike only running a 150 profile on the rear, so quite narrow by modern standards, which is probably what helped with the turn in.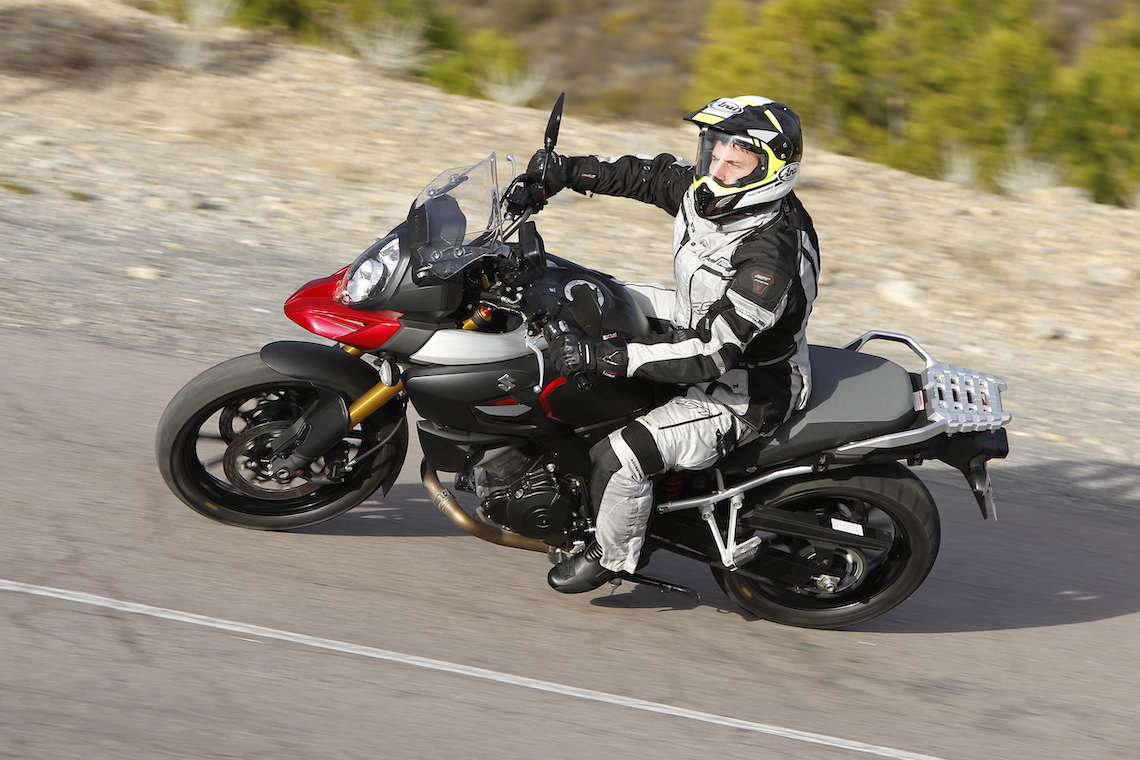 ABS is standard, so too traction control, which you can turn off completely or choose from two settings; low sensitiviy, or high sensitvity. Conditions, and confidence, weren't such that we tested the traction control on the roads around Almeria, but it's in the slow speed manoeuvres that it might prove most effective. Pulling out of wet junctions for example, when otherwise you might experience an embarrassing low-side. Unfortunately we didn't get to ride the bike on anything but tarmac. Further down the line we hope to see how it copes with some fire trails, but suspicion from this first ride is that it could be quite handy, what with the lightness of the bike and the simple manoeuvrability of the thing.
Looks
It's a mixed bag this one, as you'd be hard pushed to call it a good-looking or pretty bike, and yet at the same time there's something appealing about it, more important than that, something memorable. With the stacked headlights, the withered beak and the plastic clad tank, it's almost conventional, but then not quite. It's certainly a marked change from the previous V-Storm, which was far more conservative and understated by comparison. That was a large part of its appeal amongst riders who just wanted to go about their business without shouting about it. It is possible then that with the new design, Suzuki may just have alienated owners of the previous bike. Some are certainly sad to see the demise of the twin side-by-side headlights, which to them was iconic of the bike. Overall however, whether you care for the looks or not – the new Strom is certainly a bike with its own unique style, and that, in this crowded market, counts for quite a lot.
Fit and Finish
Some might call it nitpicking, but some of the finer detail does leave a little to be desired. Just little things, like the way the switchgear on the left of the handlebars was a matt finish, and on the right it was gloss. Then the protective sleeves over some of the plumbing. One to the rear brakes was wrapped in a cheap looking piece of silver tube. Another, from the radiator to the engine was a weaved fabric sleeve that was already beginning to fray. Little things that you'd notice when you cleaned the bike and stood and looked at it for a while. Then the exhaust valve sat on the pipe, just before it joins the can, with a plastic guard over the front of it that looks like it might serve as the perfect trap for road crud and grime. For anyone fussy about the cleanliness of their bike, this could be a difficult one to keep clean. The adjustable screen didn't always work either. It's on a spring loaded ratchet system, allowing you to push it forward and click it in to one of three different angles. Sometimes it clicked in to place, sometimes it didn't. Too much of a gimmick for some peoples' tastes.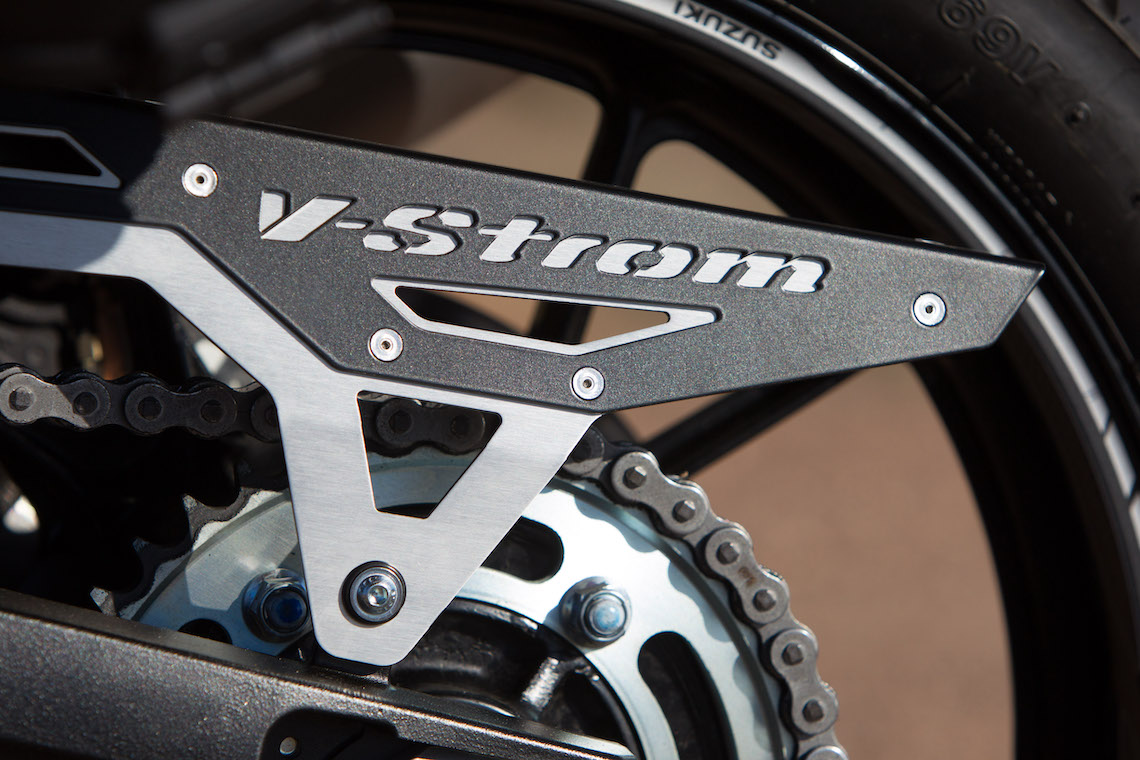 Equipment
The bike comes with ABS and traction control as standard. Sump guard, hand guards and a centre stand are optional extras. Also available is a three-part luggage system designed as an integrated part of the bike. Other options include heated grips, accessory bar (or engine guards), plastic sump guard, metal sump guard, V-Strom branded chain guard, LED fog lights and LED indicators. Not a massive list of accessories, but enough to give a fully kitted out bike a dose of extra presence, reminiscent of a softer, slimmer GS.
What was good about the panniers was that they were a good deal narrower than the width of the bars, something that's quite important when filtering through traffic. The top box is 35-litres, the left pannier 29-litres, and the right pannier 26-litres; smaller to accommodate the exhaust. In truth, they don't offer a massive amount of room, with it probably left to the after-market industry to bring us some decent metal panniers, but if nothing else, they certainly look the part.
Three seat heights also available. Standard is 850mm, the lower option is 820mm, whilst the taller option takes it to 885mm. All three will be available to choose from at a no cost option when collecting the new bike from the dealer. The fabric for the seat is said to be the same as that on the DRZ400 SM. We anticipate that at some point in the future a GT package will be launched, comprising the most popular accessories; centre stand, hand guards, luggage etc., just as it was the V-Strom 650. But that's just a hunch.
Practicality
In the real world, fuel economy is likely to be around 50-55 mpg, which, with a 20-litre tank (two litres less than on the previous model, should give a range of around 260 miles. Service intervals as mentioned are still to be confirmed. The adjustable screen – previously mentioned – gives a decent amount of wind buffeting when at its most reclined position, but push it forward to its most upright and you get less wind noise, but more 'booming' around the helmet. For me, and for others on the test, the wind noise was preferably to the 'booming'. Some of the switchgear I also found a little too small, most notably the indicator switch, especially when wearing thick winter gloves. The dashboard was incredibly useable however; a large analogue rev counter, with a digital speed readout. There's also a trip computer, temperature gauge, gear indicator and a handy power point mounted on the dash.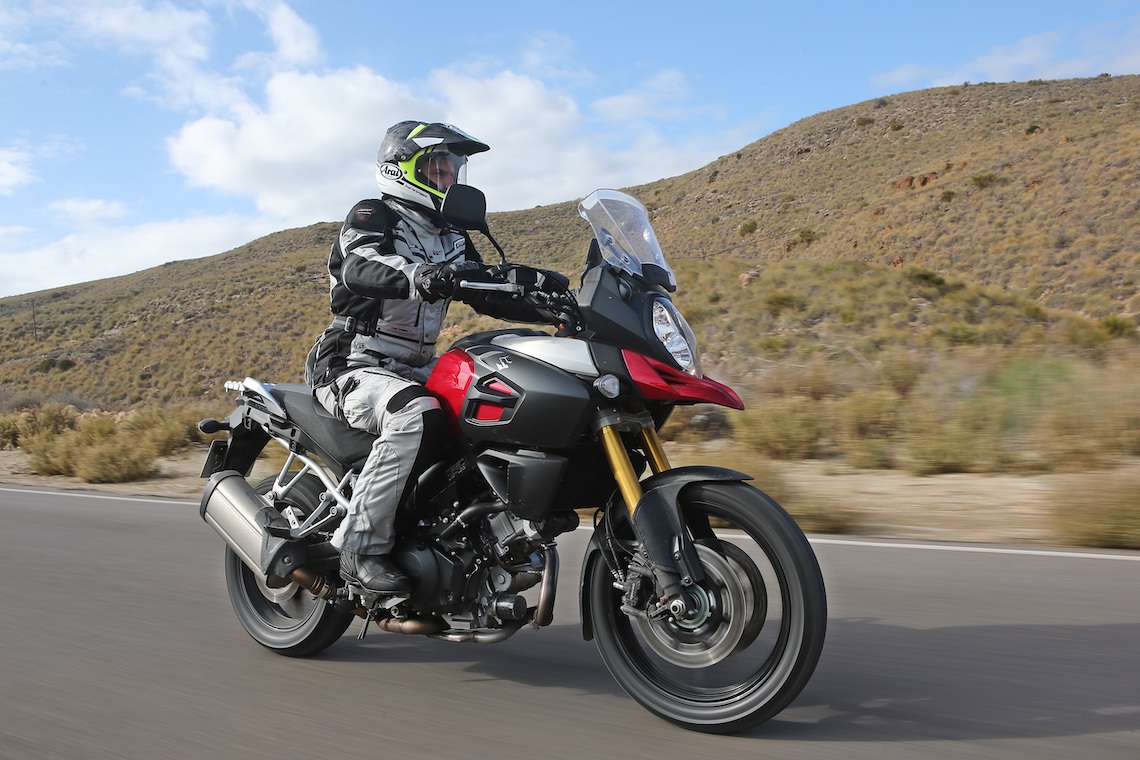 Who's going to buy it?
An interesting question, because arguably, the people less likely to buy it are riders of the old one. Despite the bike – the frame, the engine – being a revolution of the last one, the image of the bike, and the look of it, has changed drastically. It's no longer the understated commuter it once was. But then I might be completely wrong on that. Another possible clientele will be riders of the bigger adventure bikes; the GS 1200, the Explorer, even the 800 BMW GS, tempted by the V-Stroms more manageable weight and slimness in the saddle. It is though a very different image to a BMW or a Triumph, and that might matter to some. What we possibly might see is the V-Strom being the bike that finally brings in a new audience to the 'adventure' bike sector. The ageing superbike rider for example, who still wants a bit of performance and modern technology, such as the traction control, but who doesn't want to go down the Ewan and Charlie route with a GS or a Tenere, or even a Crosstourer. They might have considered a Versys 1000, especially as it's £500 cheaper, but perhaps want something a bit newer and fresher looking. The V-Strom 1000 might then just be that bike, one that is 'adventurous' enough to tempt them out of the saddle of their cramped GSXRs, but not too extreme that they feel they need to ride around the world to justify owning one. Last but not least, riders of the well respected 650 V-Strom might just see this new 1000 as a fitting trade-up for a little more power torque.
Conclusion
As far as motorbikes go, the last V- Strom 1000 never really set the world on fire. And perhaps in a way, neither will this one. But then it's a difficult market, with the all conquering BMW GS way ahead of everyone else in the sales chart. Maybe it's a case of too little too late for the new V-Strom. And yet, having said all that, having picked out its faults, I couldn't help but really like the bike and warm to it. It has a personality, a character, possibly because of these faults and those awkward looks. It rides beautifully too, and the way it turns and handles really sets it apart from some of the competition. The engine too, whilst far from being a firecracker, just gets on with doing its job, offering bags of useable, and well delivered power. The riding position is comfortable too, and the styling, as awkward as some might see it, is perhaps a nod to the cool and will get it plenty of attention out on the road. That price tag might just put some of the bargain hunters off, and it might need a discount or tempting accessory package to really shift it, but just maybe this will be the bike that finally widens the appeal of the 'adventure' bike market, which can only be a good thing. And regardless of all else, it is refreshing to hear a manufacture talking about weight reduction and the need to make their bikes more accessible and less intimidating. Judging by the comments we received at the NEC from owners of the current breed of bikes, that's the one thing the market is increasingly crying out for; decent performance, solid levels of kit, but without some of the weight and mass which has increasingly characterised the big bike market. The new V-Strom's out out in February.
QUICK SPEC
Model: V-Strom 1000 Price: £9,995 MPG: 59 (claimed) Range: 262 (estimated) Power: 99bhp Torque: 76ft lb Transmission: six-speed manual Seat Height: 850mm Wheels: 17-inch (f), 19-inch (r) Colours: red, white, black
ABR VERDICT
How versatile is the V-Strom? That engine is the heart of the V-Strom's appeal, and with it having a healthy dose of mid-range the bike should be versatile enough for whatever you wish to use it for.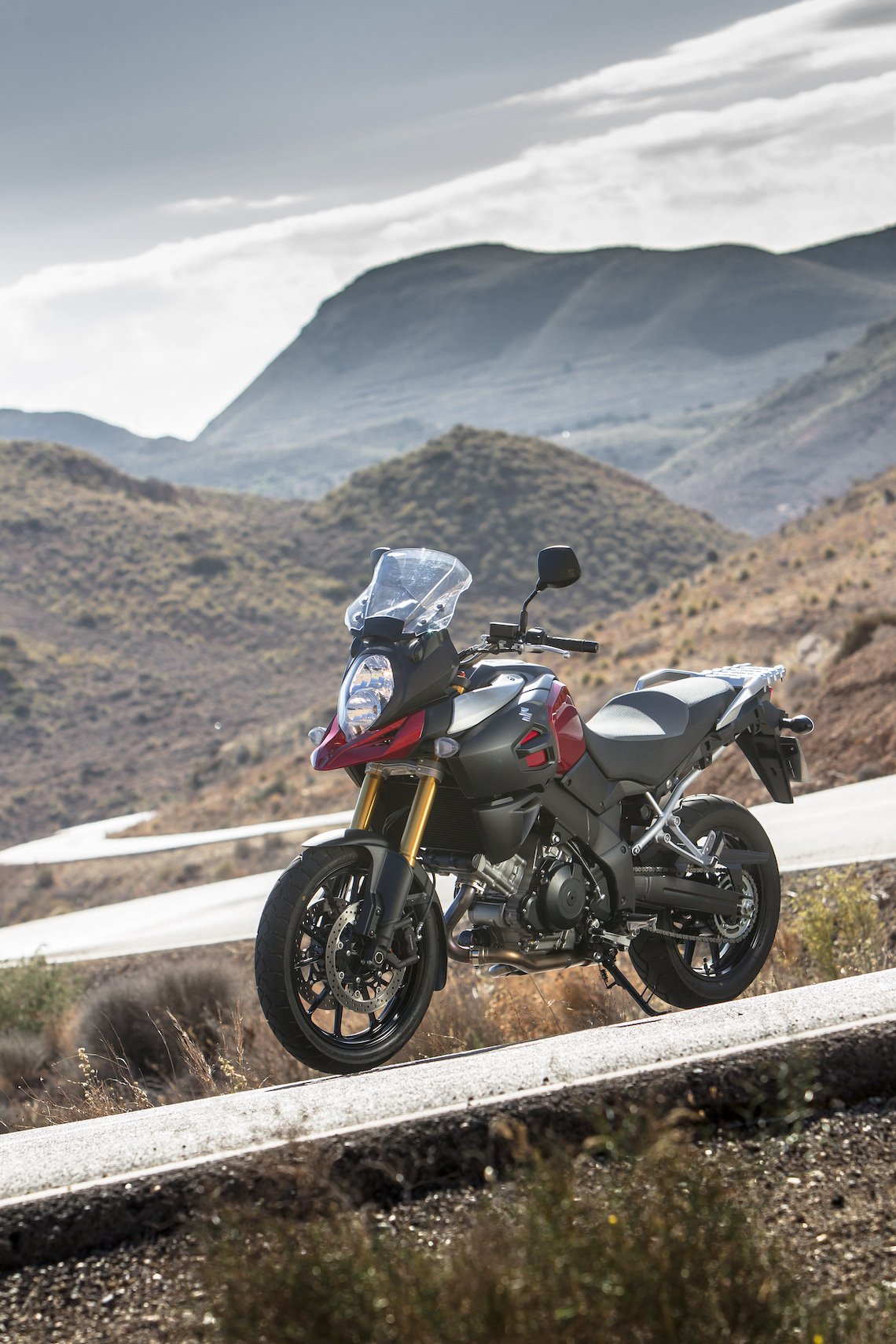 As a commuter? Decent fuel economy, a tall riding position and light to steer, even at low speeds, should help its suitability. Integrated panniers are narrower than bars, which should aid filtering.
As a weekend tourer? Perfect for this, the bike setting just the right tone for that long ride along the back roads to see a friend or relative, camping out if necessary.
As an off-roader? We didn't get to ride the bike off-road at launch, but we have a feeling that it should be decent enough on fire trails. Will be interesting to see how the traction control functions in such conditions.
As a continental road cruiser? It certainly seems to have the legs and comfort for it, nimble also if heading to Alpine roads. Service intervals – when confirmed – will play a factor if it's an extended continental cruise.
As a RTW overlander? It's unlikely, not to say it couldn't, but the reality is that people riding around the world generally do it on smaller, more manageable bikes. The DRZ400 for example. We need another one of those please Mr Suzuki.
As a pillion carrier? Only a short stint in the pillion seat so difficult to comment. Hopefully something we can test when ride the bike more extensively in the UK.
WANT TO RIDE THESE ROADS?
Getting there: Flying We flew direct with Easyjet which run a limited service to Almeria. Expect to pay betwen £100- £150 for a return flight. Flight time was two and a half hours.
Bike hire If you're looking to hire a bike once you land the best bet is to fly in to Malaga, where more options are available. For example, IMTBike has a location there, renting out BMW G650GSs from €504 for the week. Visit www.imtbike.com for more information and prices.
Getting there: Riding The most popular way of getting there would be by taking a ferry from Portsmouth to Bilbao. Brittany Ferries set sail from Portsmouth to Bilbao twice a week with the cruise taking roughly 24 hours. Costs per person on a motorcycle will set you back over £200 for a return. It's about a 600 mile ride down to Almeria from the port. Alternatively, Flybikefly (see page 57) offer a transport service, freighting your bike down to Malaga, and back, for £495. Great value and perfect for those short on time. Also a good way of getting down to Morocco without the long ride down. Equally, if you fancy a guided enduro tour of Spain try Redtread, with long weekends starting from £375, and the week costing from £735. Bike hire included. See www.redtread.com
Something to see whilst you're down there As well as great roads, the Tabernas Desert near Almeria is home to a place known as 'Mini- Hollywood', a collection of three sites that were used as filming locations for some of the most famous Spaghetti Westerns around. Films such as A Fistful of Dollars, For a Few Dollars More, and The Good the Bad and the Ugly, along with Indiana Jones and the last Crusade. You can take tours around the old sets for between eleven and twenty euros. You can even sleep there.