ABR editor James Oxley takes a look at the most exciting new adventure and touring bikes of 2022
TRIUMPH TIGER 1200
Price: From £14,600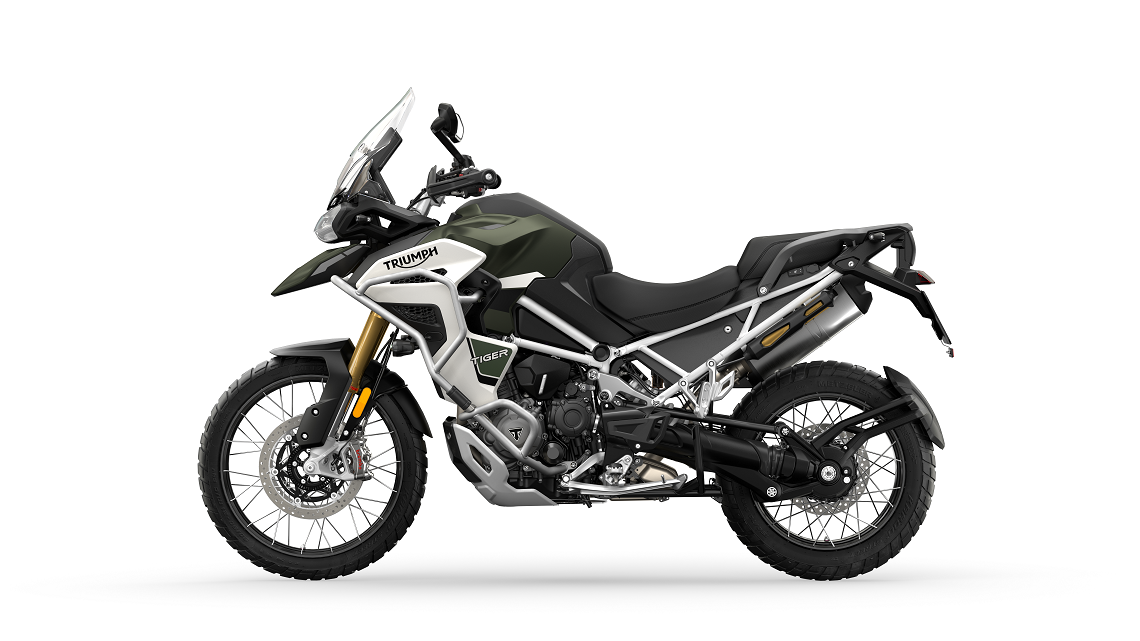 Triumph has completely overhauled the Tiger 1200 for 2022 in an attempt to rival the mighty BMW R 1250 GS at the top of the big adventure bike sales charts. And it's about time, as although we have a soft spot for the long-distance comfort of the previous Tiger 1200 model, it was a big, top-heavy beast that was in desperate need of an update.
So, what do we know about the new motorcycle? Well, it's going to be shaft driven and will feature a new 1,160cc, 148bhp triple engine with a T-plane crank, similar to that found in the Tiger 900 series. The aim of this design is to give the engine the low-end grunt and tractability of a twin, without compromising on the smooth characteristics of a triple.
This being Triumph, there are actually five different versions of the Tiger 1200 available. And, while I won't go into the full details here, the cliff notes are thus: you'll be able to choose from three road-focused versions and two off-road biased models.
This includes the rugged-looking Tiger 1200 Rally Explorer which boasts a whopping 30l fuel tank and a 21" front wheel, which is sure to give prospective GS Adventure buyers food for thought. The bike also features Brembo brakes, cornering ABS and traction control, Showa semi-active suspension, a blind spot radar system, keyless ignition, and heated grips and seats.
It's clear Triumph is serious about creating the ultimate big adventure bike, and we can't wait to test ride it very soon.
---
HUSQVARNA NORDEN 901
Price: £12,349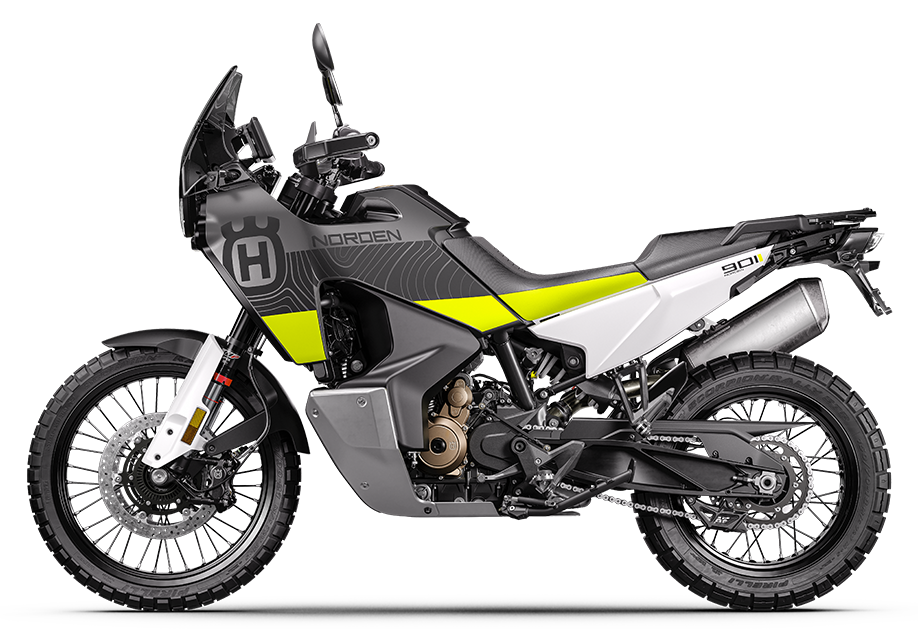 If you're in the market for a mid-sized adventure bike, you're currently spoilt for choice. And your decision just got harder with the release of the Husqvarna Norden 901, a machine designed for globe-trotting exploits as well as Sunday rides. Although the bike is based heavily on the excellent KTM 890 Adventure (KTM and Husqvarna are owned by the same company), its press launch in the Azores revealed this is very much a bike in its own right.
The Norden does however use the same 889cc parallel-twin found in the KTM which produces 105bhp and 100Nm of torque. It comes with spoked 21" front and 18" rear wheels, as well as Apex suspension with 220mm of travel at the front and 215mm at the rear.
Like the KTM, it also features a saddle-bag style fuel tank design to keep weight lowdown on the bike, although the Norden 901 has a more substantial fairing which will offer better weather protection. Husqvarna has been clear about its intentions to create a bike that is designed for travel. After riding it at its press launch we reckon it's a job well done. The Norden is a proper all-rounder that's just as at home covering long distances on continental road tours, as it is carving along mountain passes, or ripping up the trails when you reach your destination.
The 19l fuel tank will take you around 250 miles between fill-ups, and the bike comes equipped with all the technology you'd expect to find on a bike coasting upwards of £12,000, including a TFT dash, three rider modes, traction control, and cornering ABS.
---
HONDA NT1100
Price: £11,999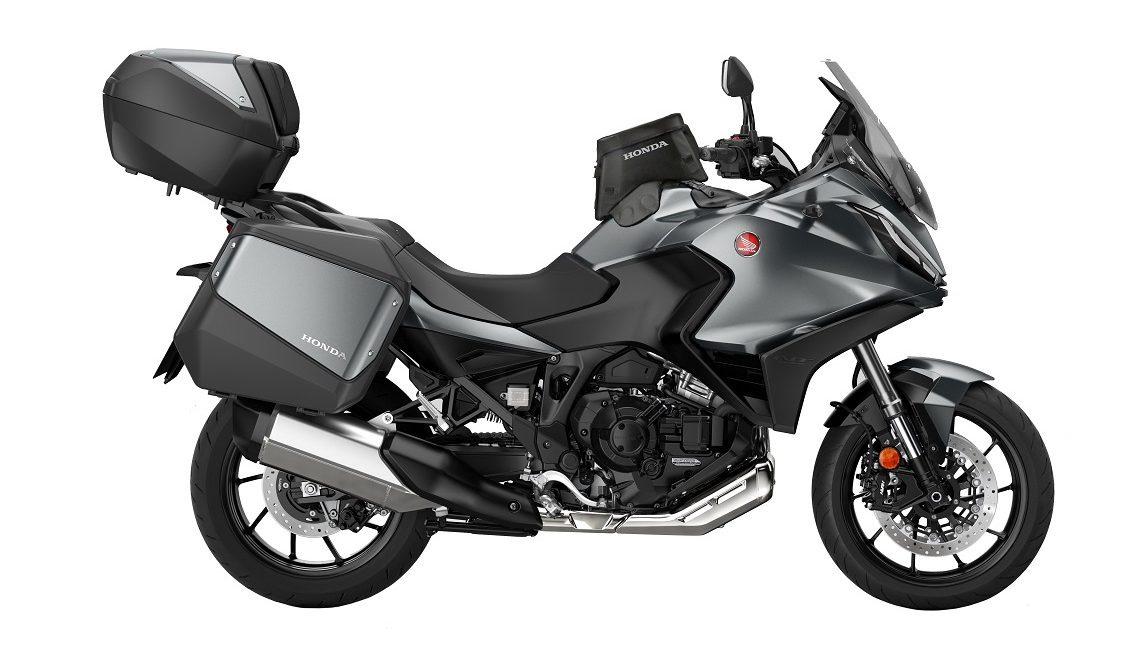 If you've always fancied an Africa Twin but you have no ambitions to ride off-road, then get down to your local Honda dealership and test ride the NT1100. This is because the Japanese manufacturer is pretty much an Africa Twin on 17" inch wheels.
OK, so there's more to it than that, but the bikes do have a lot in common, including that wonderfully tractable 1,084cc engine which makes 100bhp, the Africa Twins superbly balanced and agile frame, and the dual-screen TFT/LCD display and switchgear, among plenty of other components.
The fact Honda has chosen to base a road tourer on its big adventure bike should come as no surprise because the current incarnation of the Africa Twin is an excellent mile-munching machine. It will happily sit at motorway speeds for hours on end, before carving along mountain passes. The NT1100 builds on this with a redesigned fairing and a huge screen for better weather protection, as well as boasting immaculate detailing, smooth lines, and seamless engineering that make the bike feel every bit the high-end sports tourer.
Honda has also included a set of colour-matched panniers that come as standard. And while the overall styling may not be as pleasing to the eye as the adventure bike the NT1100 is based on, after riding it at its press launch in Spain, we can tell you this is a bike that feels positively glued to the road. It will cover long distances effortlessly morning, noon, and night.
The only question you need to ask yourself is how far do you want to travel?
---
MOTO MORINI XCAPE
Price: From £6,999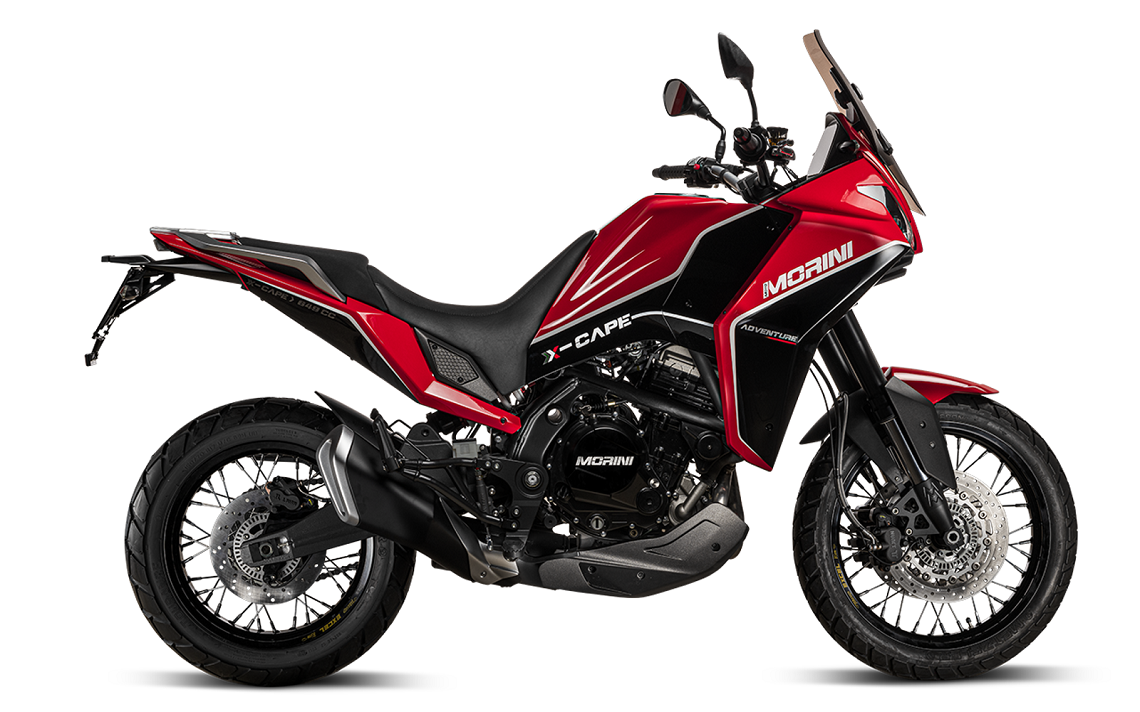 Moto Morini is a historic Italian brand which is now owned by the Zhongneng Vehicle Group based in China. So, the X-Cape is a Chinese bike but it was designed in Italy.
And boy, those Italian designers have come up with something special. The thoroughly gorgeous looking X-Cape immediately set pulses racing in the ABR offices, and I suspect throughout the land when photos were released of its sharp and sleek styling earlier this year.
It's the company's first stab at making an adventure bike and it should be applauded for producing a motorcycle that is arguably far better looking than many of the existing players on the market.
Rather than developing its own engine, Moto Morini turned to Kawasaki's ER6 649cc, liquid-cooled, parallel-twin powerplant which produces 60bhp and 56Nm of torque. It's a cracking choice for a mid-sized machine and boasts plenty of usable power whether your motorway cruising or hustling through the twisties.
The X-Cape is also pretty well specced for this price point too, with Brembo brakes, switchable Bosch ABS, Marzocchi suspension (175mm of travel front and rear), two rider modes (road and off-road), and did I mention those good looks? It weighs in at 213kg (dry), features an 18l fuel tank, and has a seat height of 845mm, with a lower 820mm option available.
The bikes we test rode in Sardinia a few months ago certainly impressed, feeling well-balanced, agile, comfortable, and lot of fun to ride. And despite the fact it is aimed predominantly at road use, it was handy on the trails too.
---
BMW K 1600
Price: From £20,215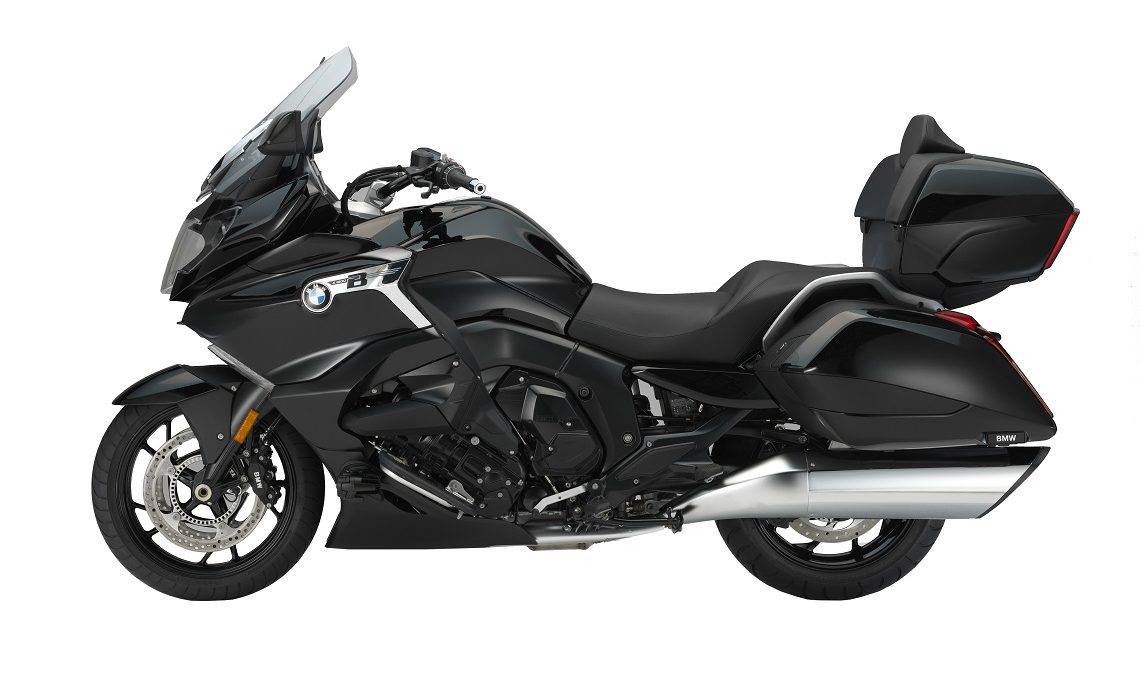 BMW has upgraded the K 1600 for 2022 in a bid to bring even more grandiose comfort to its luxury touring range, which was beginning to look somewhat outdated. So, for the new year there are four models of the big bike to choose from featuring different styling, luggage options, and long-distance luxuries like an onboard sounds system. Trust me, if you've never experienced the joy of belting out Bruce Springsteen on the M5, give it a try.
However, the model that most caught our eye is the top of the range Grand America which looks to rival the Honda Goldwing as the pinnacle of two-up luxury long-distance cruising.
For those of us who tour regularly with a pillion, you'll know their comfort is just as, if not more, important than yours. So, let your better half relax in throne-like comfort on the K 1600's pillion seat that features a large backrest and heated seat.
Elsewhere, you'll get all the luxuries you'd expect from a bike costing upwards of £24,000, including a mammoth 10.25" TFT display, reverse gear, keyless ride, electronic suspension, an adaptive headlight, a sound system… the list goes on.
Shifting the Grand America's 367kg along the road is a 1,649cc, six-cylinder engine that makes 160bhp and 180Nm of torque. And it features a shaft drive so you won't have to mess around maintaining a chain on your next continental adventure.
If you and your pillion want to be in the lap of luxury during your motorcycle adventures, the K 1600 Grand America is certainly worth a test ride.
---
TRIUMPH TIGER SPORT 660
Price: £8,450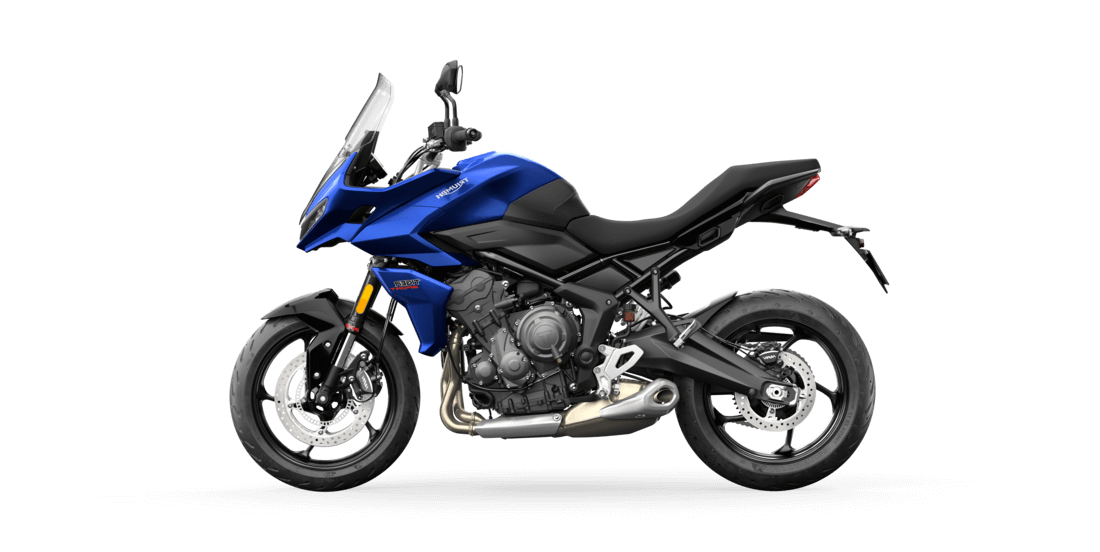 It's a Tiger by name but it's not an adventure bike and it won't take you off-road. Instead, Triumph's new mid-capacity machine is a road-focused adventure sports tourer, designed to perform on a daily commute, during weekends away, and on the occasional summer tour.
And while we weren't due to test ride the bike until after this issue of ABR went to print, Triumph has told us a quite a few details, so we do know plenty about the new Tiger.
For starters, it's powered by a 660cc triple-cylinder engine which makes 80bhp and 64Nm of torque. The bike features 41mm Showa upside-down forks, dual disc Nissin brakes up front, and a 17l fuel tank which will be good for around 200 miles between fill-ups.
Electronic aids include two rider modes (road and rain) and switchable traction control. There's also a mini TFT screen that can be connected to your phone to show turn-by-turn directions.
The bike weighs in at 206kg wet, and with an approachable seat height of 835mm, its clear this is a bike well suited to someone looking for their first 'big' motorcycle (the engine can be adapted for younger riders to meet A2 licence restrictions), or a rider who wants to take a step down from a larger machine.
Whether the sporty Tiger can tempt buyers who might otherwise have opted for a Yamaha Tracer 7 or Kawasaki Versys 650, only time will tell, but on paper at least, it looks like a contender.
---
APRILIA TUAREG 660
Price: £10,600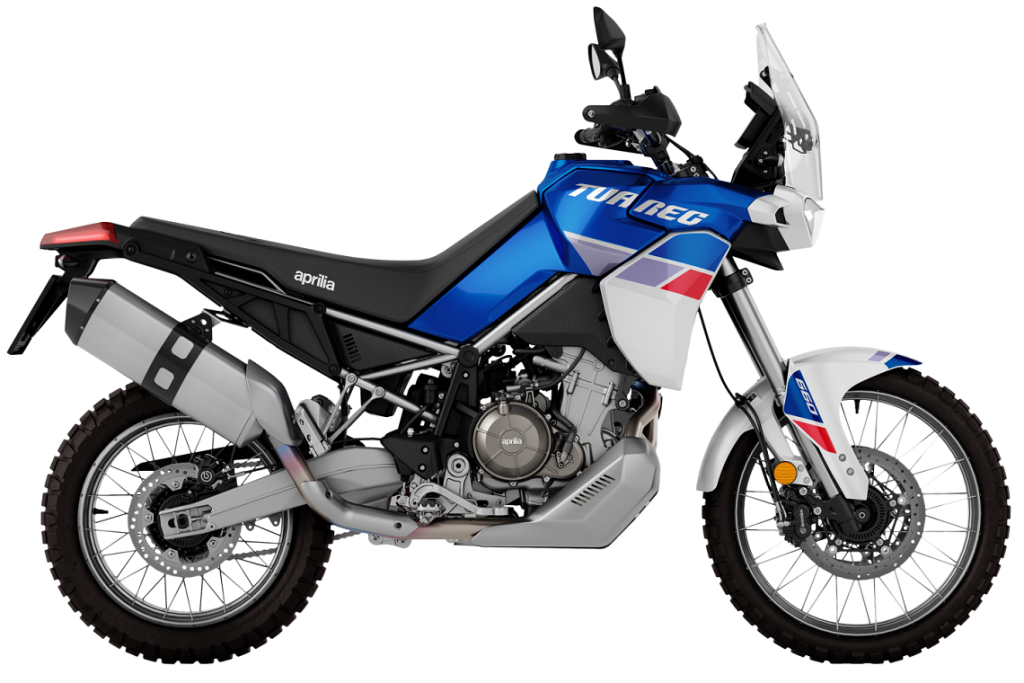 Aprilia admits it has gone for function over form with the Tuareg 660, and while I'm a fan of its rugged styling, it's certainly Multistrada V2.
But unlike those motorcycles, this is an adventure bike designed for people with genuine ambitions to ride off-road, a fact highlighted by the presence of 21" front and 18" rear spoked wheels, as well as a generous 240mm worth of suspension at both ends. When we hit the trails at the bike's press launch in Sardinia, it excelled, proving light, agile, and incredibly well balanced.
Impressively, the Tuareg was also very capable on the blacktop too. Its 659cc parallel-twin engine packs a real punch, making 80bhp and 70Nm of torque. This resulted in relaxed highway cruising before we hit the twisties and the Tuareg revealed itself to be an absolute hooligan. Trust me when I say this is a machine you can't help but have fun on.
Aprilia's new bike has drawn obvious comparison to the Yamaha Ténéré 700 due to their similar engine sizes and looks. But where Yamaha took a bare-bones approach to technology, Aprilia has embraced it, packing its new machine with a host of rider aids including four rider modes, five levels of traction control, and adjustable engine braking to name a few.
There's even cruise control as standard for your ride home from the trails. As a package, Aprilia has created a motorcycle nothing short of sensational.
---
DUCATI MULTISTRADA V2
Price: From £12,495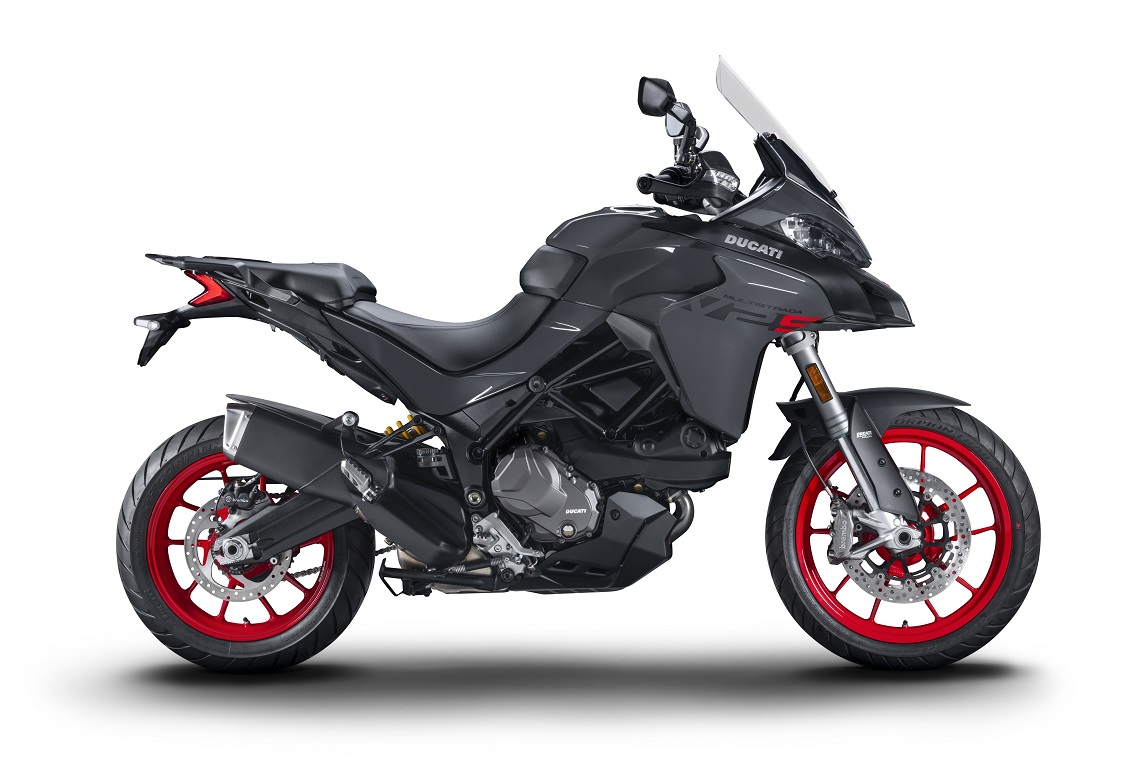 Ok, so Ducati hasn't reinvented the wheel with its new for 2022 Multistrada V2. In fact, the bike is basically last year's Multistrada 950 with a few updates, but that's no bad thing as the 950 was a fantastic motorcycle.
With this in mind, the V2 is powered by the same 937cc Testastretta engine albeit a tweaked version that now makes 113bhp compared to the 110bhp of last year's model.
However, the 2022 bike is also 5kg lighter than its predecessor, weighing in at 199kg (dry). Some 2kg has been shaved off the engine, with the rest coming from various lighter pieces of trim such as new mirrors and wheel rims.
This weight saving, combined with a 10mm lower seat height (790-830mm), and efforts to make that seat more comfortable, are all part of Ducati's attempts to make the V2 more approachable and easier to live with.
Indeed, the bike is marketed as 'your everyday wonder' and the ideal machine for daily use, including in the city (there's even a A2 licence compatible version available). But I've always seen Multistradas as touring bikes, and the V2 looks like it would be a cracking bike to hit the open road on.
There's plenty of power and weather protection for easy cruising, and being a Multistrada, it's going to be a hell of a lot of fun in the twisties too. There's also plenty of technology on offer to enhance your ride, including four rider modes, a 5" TFT display, cornering ABS, hill-hold control, and traction control.
---
SUZUKI GSX-S1000GT
Price: £11,599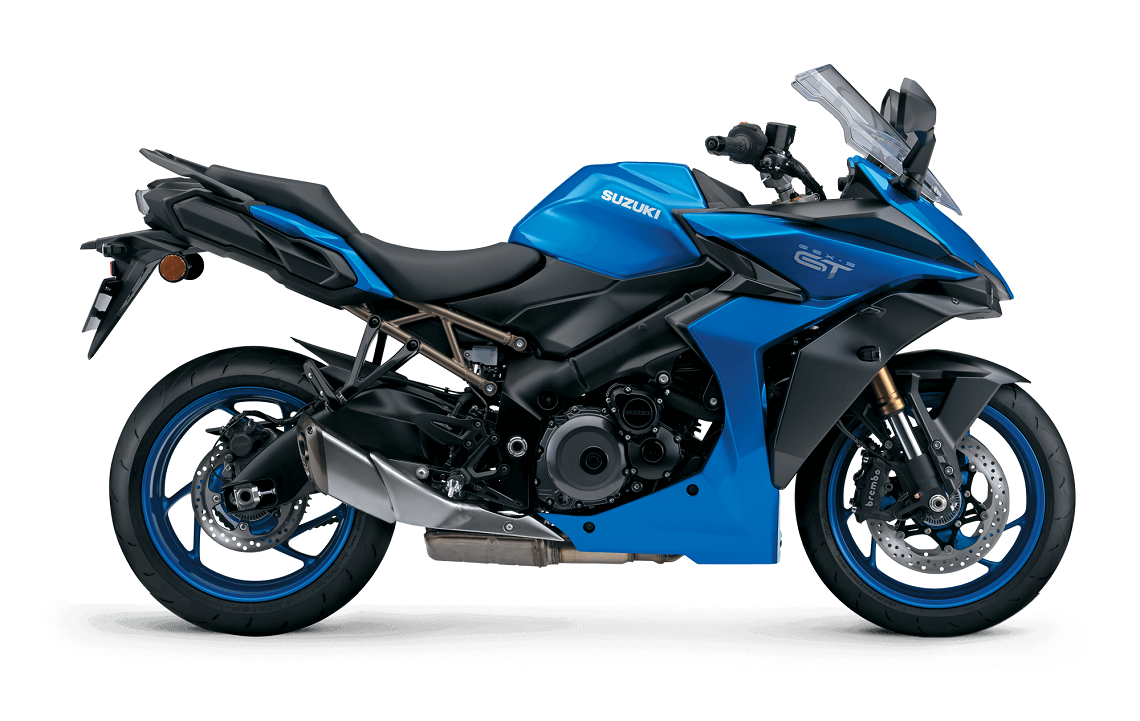 When I went to the press launch of the GSX-S1000GT in the autumn, Suzuki made a point of stressing its new bike was a 'traditional sports tourer'. I don't recall the word 'adventure' coming up once during the presentation, which is unusual considering the marketing power of the word in the motorcycling world.
Well, I certainly had an adventure on GSX-S1000GT during a two-day ride through Scotland which highlighted what a superb machine Suzuki has made.
The bike was not only thrilling to ride, but it was also very comfortable, despite the sports tourer stance that had me leant further forward in the saddle than I'm used to.
In fact, I can think of nothing I'd like more than to pack up the spacious colour-matched luggage and head off on a tour of Spain for a couple of weeks. And throughout I would be basking in the joy of riding the GT's silky smooth 999cc, four-cylinder engine, which packs 150bhp worth of pure motorcycling joy.
In fact, the bike is effortlessly quick, its handling is agile yet predictable, and the bike holds a line as if it was glued to the road. While it's not overloaded with technology, you will find a 6.5" TFT display, a quick shifter, cruise control, and a selection of rider modes.
I'm an adventurer biker through and through, but after spending two days riding the GT, even I was trying to figure out if I could find a spot in my garage for this thrilling 'traditional' sports tourer.
---
BMW R 18 TRANSCONTINENTAL
Price: £23,300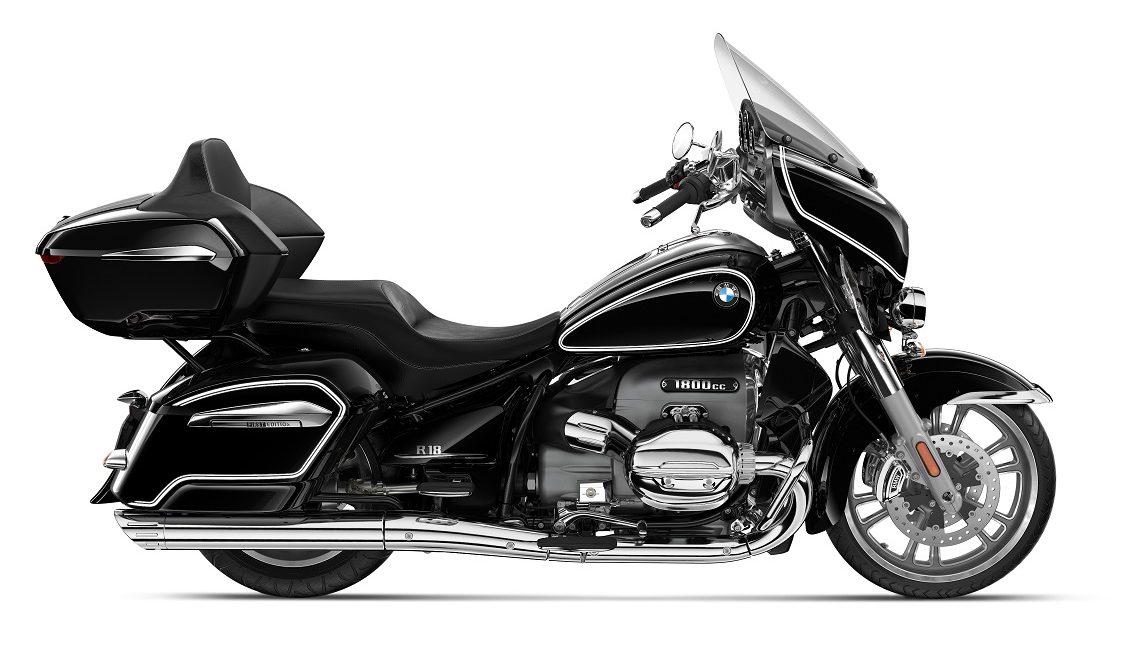 If you like your motorcycle touring to come with a huge slab of nostalgia and retro-cool, then BMW's R18 Transcontinental could be the bike for you.
And while it's not the usual type of bike we'd have in the ABR garage, any motorcycle that has been designed to take you on tour is ripe for adventure in our book.
This is a machine that oozes cruiser cool. Just looking at it makes me want to throw on a leather jacket and cruise across America with my wife as a passenger. And she would be basking in comfort nestled in the bike's luxurious pillion seat and backrest.
Propelling us and 398kg of metal along would be the R 18's 1,802cc boxer engine which produces 91bhp and 158Nm of torque at just 3,000rpm. It's a beast of an engine that ABR rode during the bike's press launch in Germany, and we loved every moment of it. Sure, agility in the twisties isn't its strong point, but sit back, relax, and revel in the throb of that boxer engine as you cruise down a highway, and you'll be a very happy biker indeed.
And while this may look like a retro cruiser, there is plenty of technology on board to keep you entertained and safe.
So, while you blast out the Rolling Stones through the onboard Marshall sound system and navigate the enormous 10.5" TFT display, you'll ride safe in the knowledge that the bike's automatic stability control is helping you stay upright, while its active cruise control provides a relaxing ride.
---
DUCATI DESERT X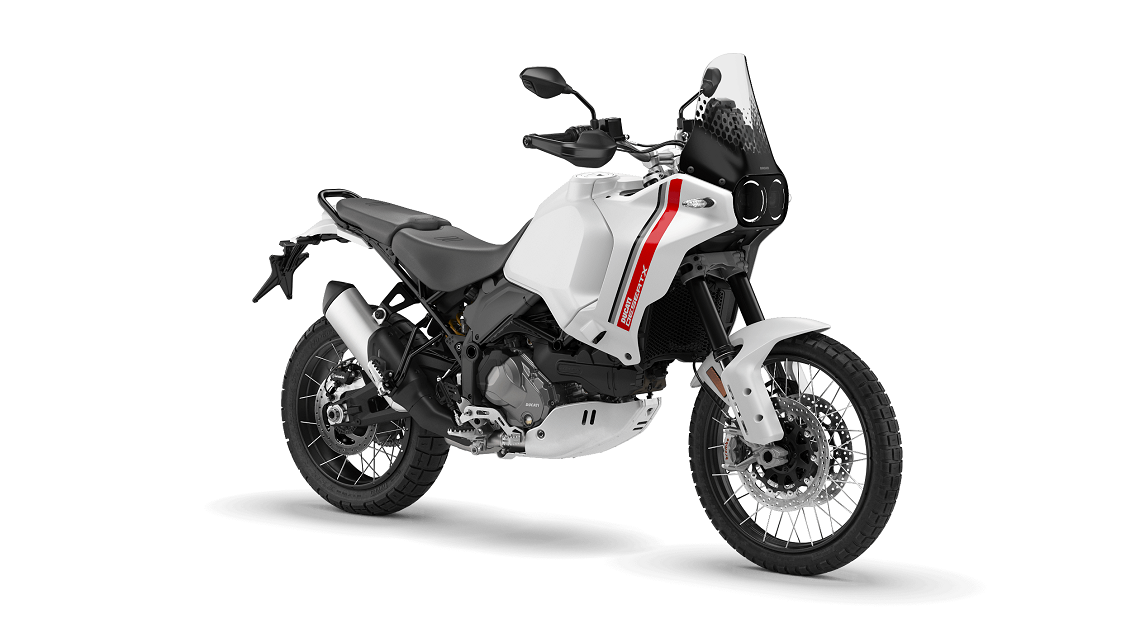 Two years after Ducati teased the world with its first glimpse of a Dakar-inspired concept bike, the team from Borgo Panigale has thrown its hat into the world of off-road mid-capacity adventure biking with the DesertX, which will appear in UK showrooms in May 2022.
And boy, does it look the part. The DesertX would fit in perfectly into a grainy Dakar highlight reel from the '80s, shot from a helicopter, with styling that pays homage to rally racing bikes of old. Plenty of manufacturers have adopted the Dakar-heritage look in recent times, but Ducati has raised the bar here.
Those looks aren't the only indication that this is a bike designed to excel in the rough stuff. It comes fitted with the same 937cc water-cooled Testastretta engine that features in the manufacturer's more road-focused adventure bike, the Multistrada V2. However, it's been detuned slightly for more manageable off-road performance, producing 110bhp and 92Nm of torque at 6,500rpm.
The off-road focus doesn't stop there. There are 21" front and 18" rear tyres clad in knobbly Pirelli rubber, and off-road focussed Kayaba suspension that provides plenty of travel, with 230mm at the front and 220mm at the rear. It also gives the DesertX a lofty 250mm of ground clearance, resulting in a pretty tall saddle height of 875mm.
Ducati says the saddle has been designed to taper at the tank though, claiming it'll allow those with shorter inner legs to reach the floor while also making the standing position more comfortable off-road.
The entire ensemble weighs in at 202kg dry, putting it in the same ballpark as its closest rivals, such as the KTM 890 Adventure and the BMW F 850 GS. Hauling everything to a stop are two 320mm discs and Brembo monoblock radial callipers at the front, and a 265mm disc and Brembo twin-piston calliper at the rear.
Ducati's original prototype showed the DesertX with a 30l rally-style dual fuel tank. That's gone on the production model, replaced with a 21l tank instead.
However, as a compromise Ducati has included the intriguing option of adding an extra 8l tank at the rear in the accessory catalogue, providing continent-conquering range, should you want it.
But don't be fooled into thinking this is a stripped-back bike that's solely focussed on dune bashing. There's also a host of tech and rider aids that you'd expect to see on a motorcycle costing close to £14,000. This includes a 5" TFT display, six riding modes (including an Enduro and Rally mode), full LED lighting, cornering ABS, wheelie control, and a quick shifter, all as standard.
Ducati has told us the DesertX will be appearing in showrooms from May 2022, with pricing starting at £13,795.
The Italian manufacturer has also confirmed that it'll be bringing a fleet of the new adventure bikes to Ragley Hall for the 2022 ABR Festival, giving ticketholders the opportunity to try it on the purpose-built off-road trail throughout the weekend.