Meet adventure rider Jason Zeil and his KTM 990 Adventure
As they say, 'it's all about the journey and not the destination'. Like most riders, I had no idea who 'they' were and it took me a long time to find the style of bike that best suited me. But after years of riding sports bikes on overseas trips, I'd come to the conclusion that I'd have been more comfortable staying at home and spending a few days in a headlock.
My 'road to Damascus' moment happened when I was riding down the coastal highway south of Muscat, Oman, with an old friend. Between us we'd managed to borrow a well used Yamaha XT 500 and Honda Africa Twin. The sky was an unblemished blue, we had the sea to our left and rolling desert and mountains to our right. We were setting out on an adventure that would see us spending the next couple of days diving and then heading off into the remote interior of the country. My passion for the big trailie was born.
After much deliberation, the final choice was between a BMW GS 1200 and the KTM 990. I'd taken both out on test rides, read the reviews, checked prices, talked to some local bike shops and listened to owners' opinions. After all the technicalities and research it all came down to the bike that appealed the most, the one I felt suited me and my riding style. I chose the KTM with its angled, bat-bike looks and the audio bliss of a full Akrapovic exhaust system.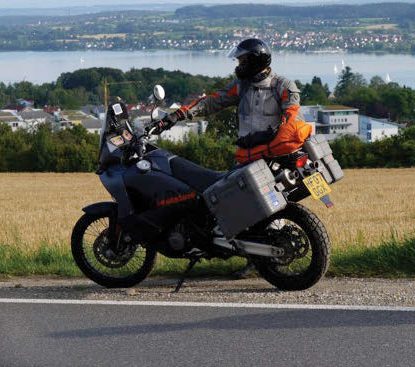 After two years of ownership, I can confirm the KTM is great fun and adaptable bike that lives up to its 'adventure' moniker. Best described as 'highly strung', it's the impatient cousin of the BMW GS, with a highly sensitive throttle and engine that runs hot (too quickly for my liking) if you get caught in traffic or idle at low speeds, especially in warm weather.
Fully loaded with panniers and touring kit the 990cc engine delivers plenty of power, but open that throttle too much and fuel economy really suffers. My best to date is 150 miles between fuel stops which means a few too many visits to garage forecourts on a long tour.
One major frustration I experienced was not being able to locate a KTM dealer in Innsbruck, Austria (KTM's homeland), to fix a broken clutch. We tried main dealers, tourist information and the internet. If I'd been riding a BMW, Honda or a Yamaha it wouldn't have been a problem. As it was, I had to tease the bike back to the ferry. This will be a factor I'll add
to the mix when buying a new bike in the future.
Racing heritage means this bike performs at a level beyond my riding ability. From the tight mountain switchbacks in the Alps to the maze of potholes known as the UK road system, this bike copes. Very, very well.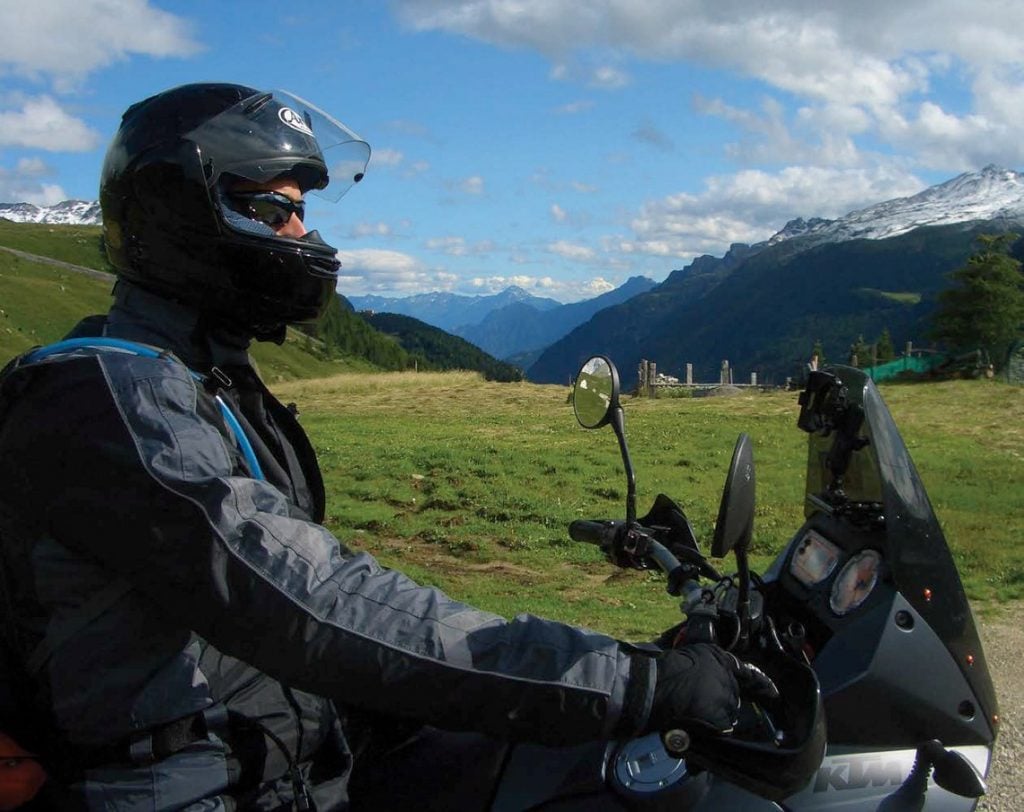 Top speed books out at 140mph. But I have no intention of confirming the manufacturer's claims as the front end becomes too light for my liking after 85mph.
Loading up the KTM with luggage couldn't be simpler. The GOBI lockable panniers slot easily into the rack where a single lever secures them to the bike. The panniers are huge, adding considerably to the width of the bike; so much so that I've decided to replace them with slimmer models (probably Touratech) to help with manoeuvering through traffic.
I'm looking forward to taking the KTM off-road far more in the future. Make a mistake at low speed and you'll need plenty of strength to hold this bike upright and recover. For more serious terrain the aftermarket upgrades seem to be the way to go.
At 6ft 2in this is a perfect size bike for me. The upright riding style is comfortable all day, though I'll be adding a windscreen spoiler to try and sort out the high-speed buffeting.
I've enjoyed every mile on the KTM. It's comfortable, looks great and has more than enough performance and presence on the road. A larger capacity fuel tank would make touring more pleasurable, as would being able to locate a service centre abroad. When I bought the KTM the only direct competition was the BWM GS range but now with Ducati and Yamaha throwing their hats in the ring will the 990 still be top of my list? Maybe.